Bellagio Buffet Price 2023: (Menu, Hours, Reservations)
(This article may contain affiliate links. If you click through and make a purchase, we will receive a small commission at no additional cost to you. )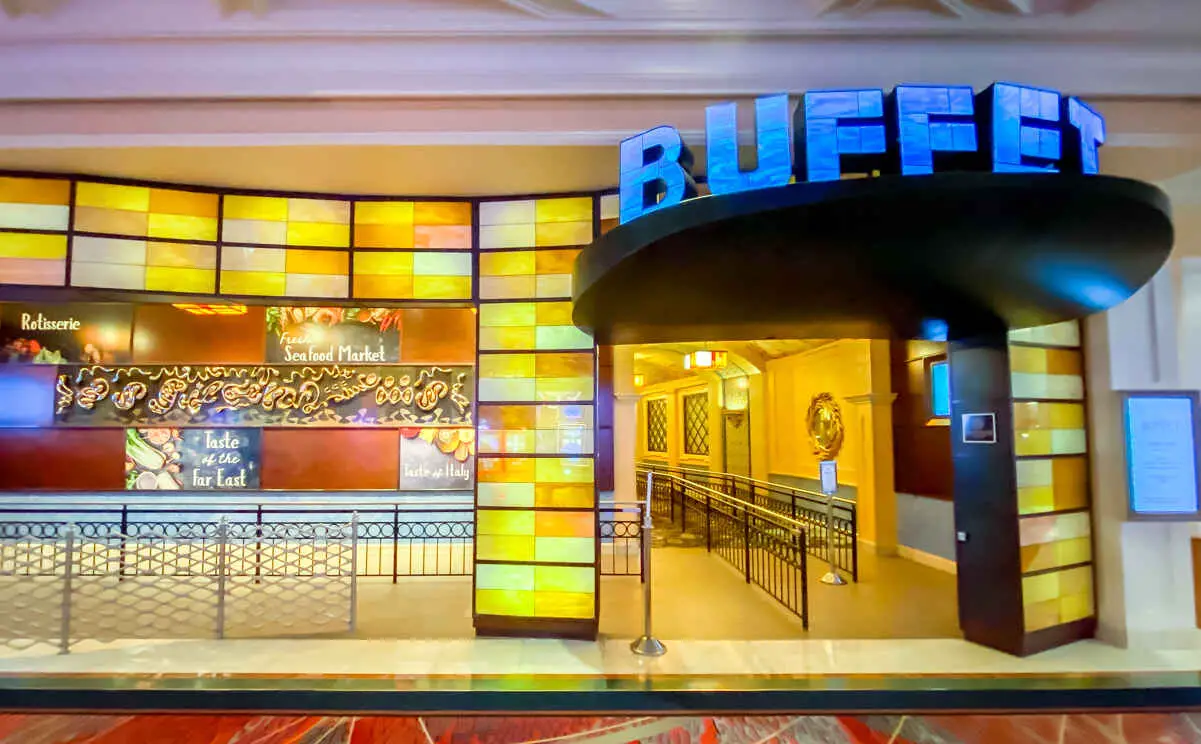 The Bellagio Buffet (aka The Buffet at Bellagio) in Las Vegas is a popular destination for people seeking a luxury buffet experience on the Strip. Known for its stunning setting and diverse food selection, the buffet is often regarded as a must-visit for anyone headed to Vegas.
But before you plan your visit, it's important to understand the Bellagio Buffet pricing so that you can budget for this delectable culinary adventure.
The Bellagio Buffet brunch prices are $44.99 from Monday to Thursday and $49.99 from Friday to Sunday. Meanwhile, dinner prices are $54.99 from Monday to Thursday and $59.99 from Friday to Sunday. Children aged 5 and below eat for free, while those 6 to 11 receive a 50% discount.
As you prepare for your visit, keep in mind that the buffet offers different packages and pricing options for various meals and hours throughout the day. With an array of food stations showcasing dishes from around the world, the Bellagio Buffet truly offers something for everyone.
In addition, it's worth taking the time to compare and contrast the Bellagio Buffet with other alternatives, as there are numerous fantastic buffet dining options available in Las Vegas.
RECOMMENDED: List of all Las Vegas Buffets Currently Open
Bellagio Buffet Prices (With & Without Beverage Package)
Adults and Children Buffet Price
Prices for the Bellagio Buffet depend on the day of the week and the time of day. The pricing is as follows:
Bellagio Buffet
Price
Hours
Brunch
Monday – Thursday: $44.99
Friday – Sunday $49.99
(Free for kids 5 & under free, 50% off for kids 6 – 11)
Daily: 8 AM – 3 PM
Dinner
Wednesday – Thursday: $59.99
Friday: $66.99
Saturday – Sunday: $74.99
(Free for kids 5 & under free, 50% off for kids 6 – 11)
Wednesday – Sunday:
5 PM – 9 PM
Beverage Package
(optional)
$24.99 (All you can drink for 2 hours)
Beer, Wine, Mimosa, Champagne, Bloody Mary
Keep in mind that during holidays (i.e., Mother's Day, Easter, etc.), you can expect higher pricing, so it's always a good idea to check up-to-date information before making your reservation.
Hot Tip: If you plan on gambling at any MGM Resorts properties while you're in Vegas, don't place your first bet until you've signed up for their free MGM Rewards player's card. It will allow you to accumulate points which can get you discounts or even free meals at the Bellagio buffet.
Beverage Package
When dining at the Bellagio Buffet, you can add to your experience by opting for their Beverage Package. This package allows you to enjoy unlimited alcoholic beverages during your meal. For an additional $24.99, you can indulge in a selection of beer, wine, and cocktails while savoring the delicious offerings at the buffet.
Drinks included in the drink deal are:
Beer
Wine
Mimosas
Champagne
Bloody Mary's
The drinks included in the beverage package are bottomless, so you have unlimited refills for up to 2hrs. Be aware, however, that the drink package does not include drinks from the bar, such as mixed drinks, spirits, and specialty cocktails.
Note: Non-alcoholic beverages (tea, milk, soda, etc.) are included in the regular price of the buffet.
Bellagio Buffet Hours & Reservations
Location and Hours
The Buffet at Bellagio is a popular dining destination located within the iconic Bellagio Hotel and Casino on the vibrant Las Vegas Strip. The buffet is easily accessible from the hotel lobby, near the Baccarat Bar and the Cirque du Soleil store.
Operating hours for the Bellagio Buffet are as follows:
Brunch: Monday – Sunday, 8:00 AM – 3:00 PM
Dinner: Wednesday – Sunday, 5:00 PM – 9:00 PM
Making a Reservation at The Buffet
The Bellagio buffet does not accept standard reservations. However, if you're hoping to avoid long lines during peak hours, you can purchase a VIP entry pass for around $15 from either the Bellagio reception or online. This lets you arrive at a certain time and skip the queue to enjoy a more seamless dining experience.
Note: The skip-the-line pass is an additional $15 per person.
While dining at Bellagio, don't forget to explore the other notable attractions at the resort, such as the Petrossian Bar, Conservatory and Botanical Gardens, the casino, and, of course, the mesmerizing Fountains of Bellagio.
RELATED: 15+ Las Vegas Restaurants with Views of Bellagio Fountains
Food Selection and Stations
At the Bellagio Buffet, you'll find a variety of food selections and stations to satisfy your cravings. Let's look at the buffet's different areas to discover what awaits you at mealtime.
Breakfast and Brunch Menu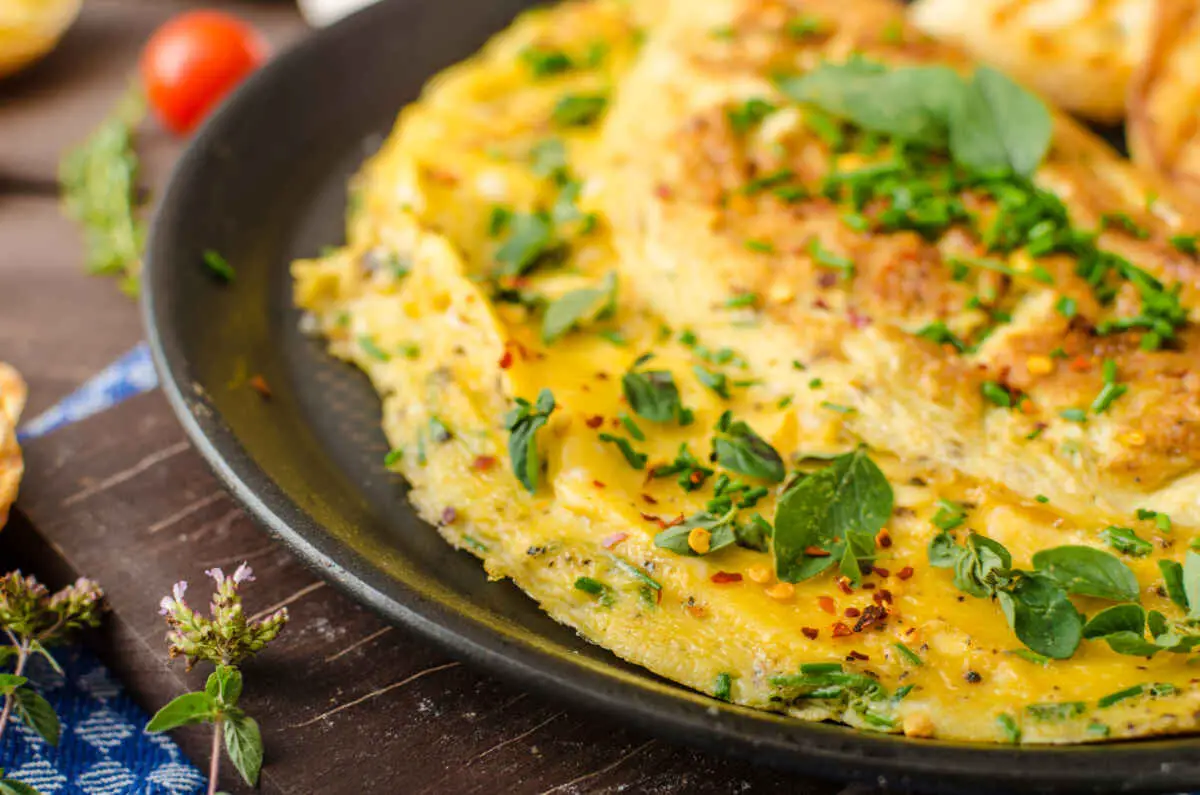 You'll find an extensive selection of dishes during breakfast and brunch at the Bellagio Buffet. Start your day with classic items like eggs, bacon, and sausage, or opt for a made-to-order omelet at the omelet station. If you prefer sweet over savory, indulge in pancakes, waffles, and freshly baked pastries. Don't forget to round out your meal with a variety of fruit, yogurt, and bagels.
If you're in the mood for something besides typical breakfast fare, the brunch menu also includes multiple stations that will leave your mouth watering. These include:
Sushi station – This station includes a variety of sushi rolls, such as California rolls, spicy tuna rolls, and shrimp tempura rolls. Additionally, it may also offer other Japanese dishes such as miso soup, edamame, and seaweed salad.
Seafood station – The seafood station at the Bellagio Buffet offers a variety of seafood options such as fish, shrimp cocktail, oysters, sushi rolls, smoked salmon, ceviche, and more.
Carving station – The popular carving station offers a variety of carved meats such as prime rib, turkey, ham, and pork. The meats are usually accompanied by sauces and sides such as mashed potatoes, gravy, and vegetables.
Italian station – Italian dishes such as pasta, pizza, meatballs, and chicken parmesan, among others. It may also offer antipasti dishes such as Caprese salad, bruschetta, and cured meats.
Asian station – Asian dishes such as stir-fry, dim sum, fried rice, and tofu. It also offers dishes from different regions of Asia, such as Chinese, Japanese, Thai, and Korean.
American station – Here you can expect a variety of American dishes such as fried chicken, meatloaf, macaroni and cheese, and mashed potatoes. Most days, it also offers grilled items such as hamburgers and hot dogs.
Salad Bar – Featuring a large variety of fresh greens, vegetables, and toppings to create custom salads. It also has pre-made salads such as Caesar salad, Greek salad, and fruit salad.
Each of these food stations is open and available during all of the brunch hours (8 AM – 3 PM.)
Dinner Menu
The dinnertime menu at the Bellagio Buffet offers a wide range of dishes to suit your palate. Savor American, Italian, and Japanese cuisine, including items like prime rib, pasta, and sushi. Choose from seafood options like shrimp, crab legs, and clams.
Here's a taste of The Buffet dinner menu:
Carved meats such as prime rib, turkey, and ham
Seafood such as crab legs, shrimp cocktail, and sushi rolls
Italian dishes such as pasta, pizza, and chicken parmesan
Asian dishes such as stir-fry, dim sum, and fried rice
American dishes such as fried chicken, meatloaf, and macaroni and cheese
In addition to the above, the dinner menu may also feature specialty dishes on certain nights such as King crab and Dungeness crab, quail, and leg of lamb, among others.
The carving station features different meats like ham and roast beef, while the pizza station serves up freshly baked slices.
Desserts and Beverages
Save room for the desserts! Whether you're dining during brunch or dinner, the Bellagio Buffet boasts an array of sweet treats, including cheesecake, ice cream, and fruit tarts. You can also find gluten-free, sugar-free, and vegan options to cater to different dietary needs.
The dessert menu at the Bellagio Buffet features a variety of sweet treats, including:
Cakes such as chocolate cake, carrot cake, and cheesecake
Pies such as apple pie, cherry pie, and pecan pie
Pastries such as éclairs, cream puffs, and fruit tarts
Cookies such as chocolate chip, oatmeal raisin, and sugar cookies
Ice cream and gelato with a variety of toppings
Other sweet treats such as bread pudding, rice pudding, and crème brûlée
Beverages are also an essential part of any dining experience, and the Bellagio Buffet offers a fair selection.
Sodas
Tea and coffee
Milk
Juices
These non-alcoholic beverages are bottomless and included in the price of your meal.
RECOMMENDED: The 6 Best Las Vegas Dinner Shows (Delicious Vegas Fun!)
Comparisons and Alternatives
The Bellagio buffet isn't the only high-end buffet in town. The Bacchanal Buffet and Wynn Buffet are both good alternatives. Let's see how they compare.
Bacchanal Buffet at Caesars Palace
The Bacchanal Buffet at Caesars Palace is another popular buffet option on the Las Vegas Strip. Known for its vast variety of dishes and live cooking stations, you'll find something to suit your taste buds. While the prices may be slightly higher than the Bellagio Buffet, the experience and food options might make it worth the extra cost.
Prices at Bacchanal Buffet:
Regular Brunch: $64.99 (Thursday to Monday, 9 AM to 1 PM) (Kids 4 -10 $32.50)
Crab Brunch: $69.99 (Thursday and Monday, 1 PM to 3 PM), (Kids 4 -10 $39.99)
Dinner: $79.99 (Daily, 3:30 PM to 10 PM), (Kids 4 -10 $39.99)
The Bacchanal Buffet is the largest buffet in Las Vegas with more than 250 menu items, 9 live chef stations, and 10 kitchens. While the Bellagio Buffet and Bacchanal Buffet compare nicely on the quality of the prepared food items, Bacchanal Buffet will have a larger variety of dishes.
Wynn Buffet
The Buffet at Wynn is another high-end alternative to the Bellagio Buffet and offers a unique dining experience on the Las Vegas Strip. With a variety of food stations and beautifully crafted dishes, the Wynn Buffet provides a visually stunning and satisfying eating adventure.
Prices at the Wynn Buffet:
Brunch: $46.99 (Monday to Thursday) | Hours: 8 AM – 1 PM
Weekend Brunch: $50.99 (Friday to Sunday) | Hours: 8 AM – 3 PM
Seafood Gourmet Dinner: $65.99 (Monday to Thursday), $74.99 (Friday to Sunday) | Hours: 1 PM – 9 PM
Endless Pour Beverages: $29.99 (Wine, Beer, Champagne, & Mimosas)
*Kids 3-9 received 50% off.
The Wynn Buffet offers a diverse range of food options from 16 live-action cooking stations. The buffet features classic dishes such as butcher-inspired cuts, shrimp cocktail, and sushi, as well as made-to-order choices like potato latkes and Asian-inspired dishes.
The buffet also has a Latin Street Food station and an all-new eggs Benedict station designed by Executive Chef Craig Herber. The buffet offers priority seating online and the option to pay in advance or at the table for greater ease and convenience.
The buffet is best known for its wide selection of dishes, fresh and small-batch preparation, and vegetarian and vegan-friendly options.
When choosing between the Bellagio Buffet, Bacchanal Buffet, and Wynn Buffet, keep your preferences, budget, and desired atmosphere in mind. Each establishment offers a unique and delicious experience on the Las Vegas Strip, making it hard to go wrong with any of these choices.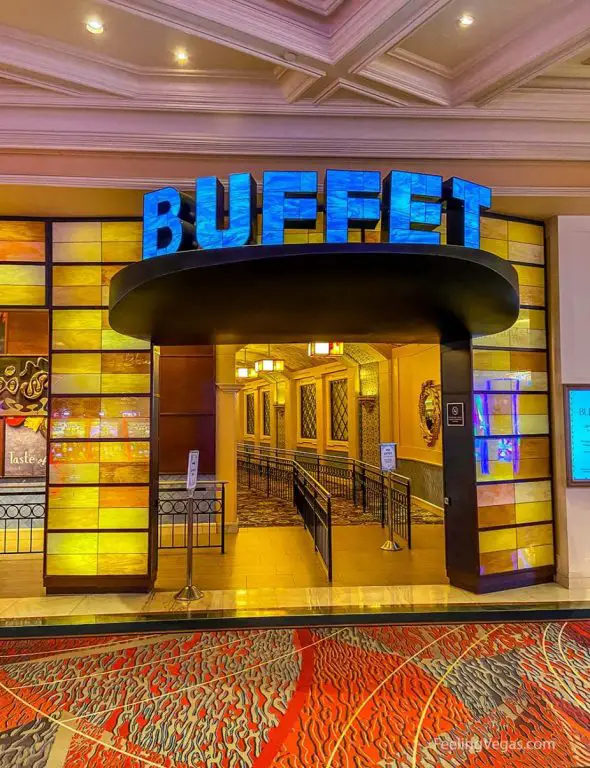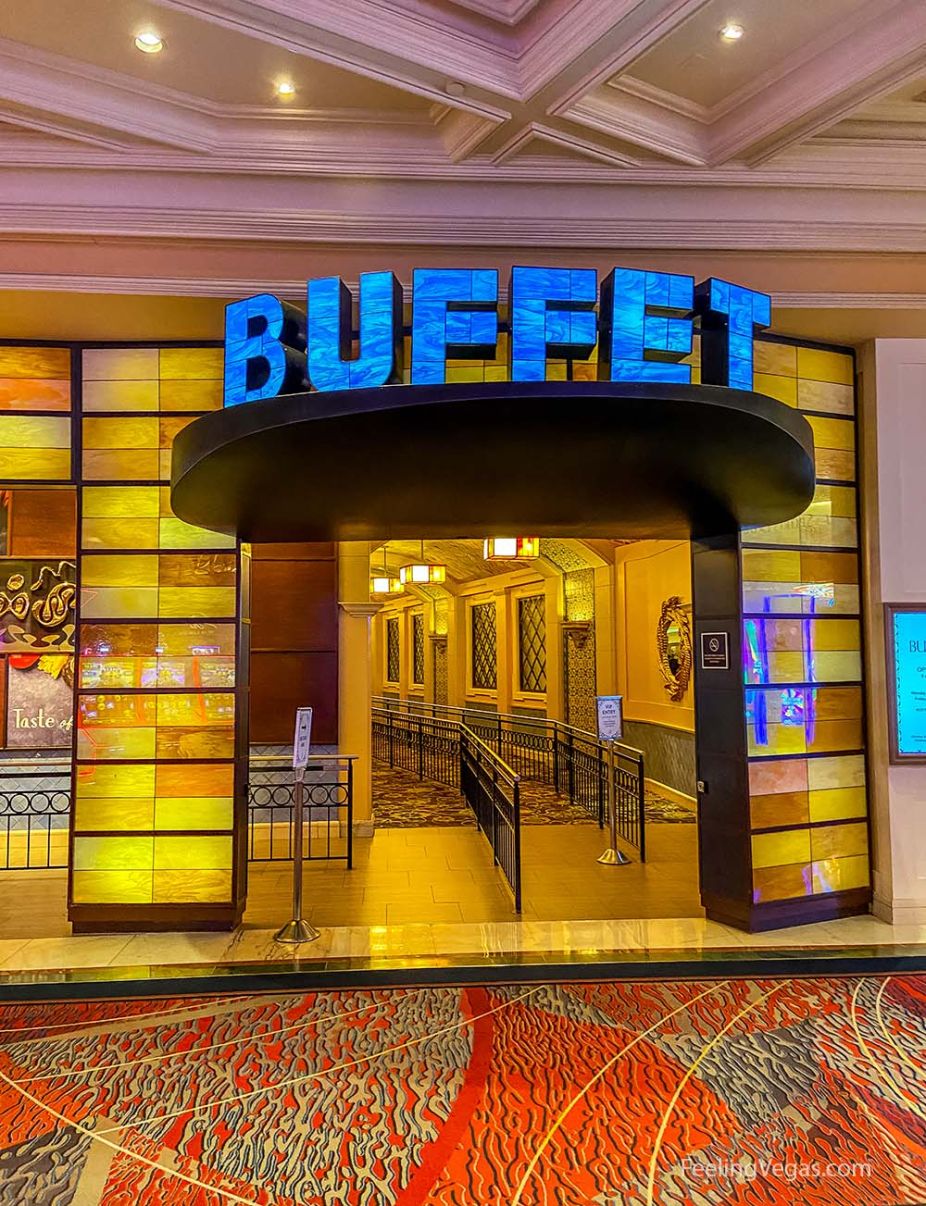 Compare and save! Check current Bellagio room rates at TripAdvisor!
Frequently Asked Questions
How much is the Bellagio buffet per person?
The cost of the Bellagio buffet changes based on the day of the week and the type of meal being offered. For example, the brunch buffet on Monday through Thursday is priced at $44.99 per person and $49.99 Friday through Sunday. Prices for dinner run between $59.99 and $74.99.
What are the lunch buffet prices?
Currently, there is no specific lunch buffet pricing as the Bellagio currently offers only brunch ($44.99 to $49.99) and dinner ($59.99 to $74.99) buffet options.
Are Bellagio buffet reservations available on OpenTable?
As of now, reservations for the Bellagio buffet cannot be made on OpenTable. It is recommended to either arrive early or anticipate a wait during peak meal times. You can, however, pay extra online to "skip the line."
Are there any discounts or coupons available?
You might find some discounts or coupons for the Bellagio buffet by having an MGM Rewards membership or through promotions run by MGM when booking your room.
What is on the brunch buffet menu?
The Bellagio brunch buffet offers a wide variety of cuisines, including Mexican, Chinese, Japanese, American, and sushi. There are also options for those with dietary preferences such as vegetarian, vegan, and gluten-free. You can find more information about their extensive brunch menu and offerings here.
Is there a dress code for the buffet?
While the Bellagio resort is known for its luxury, there is no specific dress code enforced at the buffet. Casual attire is acceptable, but it is always a good idea to dress neatly and respectfully to maintain the upscale atmosphere of the Bellagio resort.