MGM Grand vs. ARIA: Which Is Better? (Las Vegas)
(This article may contain affiliate links. If you click through and make a purchase, we will receive a small commission at no additional cost to you. )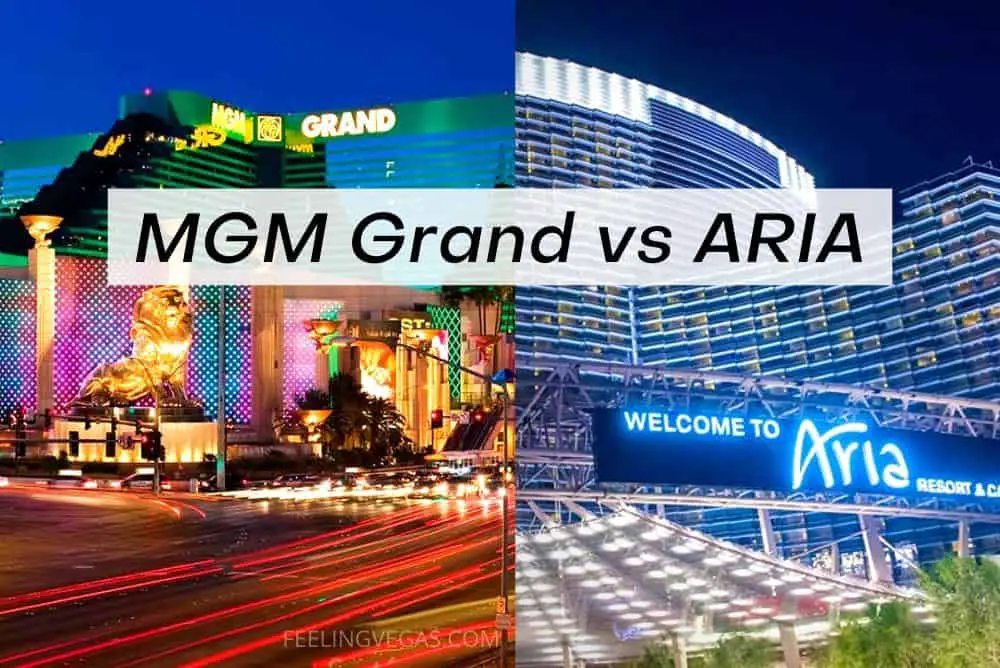 World-class entertainment at its finest or a modernistic-themed luxury resort with amazing boutique shopping? Comparing the MGM Grand and ARIA Resort & Casino is not easy since both of these resorts are one of Las Vegas's finest destinations, albeit for different reasons. Which begs the question, which of these two resorts is the better choice for your next Las Vegas vacation?
The MGM Grand is the better choice if you're on a budget and want to access a variety of top-notch shows and attractions all on one property. ARIA makes for a better choice if you prefer more luxurious accommodations, a lively party scene, and don't mind paying a bit more for it. 
Category
MGM Grand
ARIA
Room Prince
From $65 per night
From $129 per night
Resort Fees
$44.22 per day
$51.02 per day
Parking Fees
Self-Parking: $18 daily
Valet: $26 – $30 daily
Self-Parking: $18 daily
Valet: $30 – $35 daily
Location
On The Strip, at the southern end of the busy mid-Strip section
Busy mid-strip area
Shows
– KÀ by Cirque du Soleil
– Brad Garrett's Comedy Club
– Jabbawockeez
– frequent headliner concerts at the MGM Grand Garden Arena
None
Pools
4 medium-sized pools, 4 jacuzzis, 6.5 acres of pools, waterfalls plus a lazy river at the Grand Pool Complex
3 full-size pools, 21 and up pool club at Liquid within the property
Nearby Attractions
CSI: The Experience
– ARIA Fine Art Collection
– Crystals at ARIA campus
Name: MGM Grand
Address: 3799 S Las Vegas Blvd
Casino Floor: 171,500 sq ft.
Year Built: 1973
Number of Rooms: 6,852
Name: ARIA Resort & Casino
Address: 3730 S Las Vegas Blvd
Casino Floor: 150,000 sq ft.
Year Built: 2009
Number of Rooms: 4,004
Make no mistake about it; you will find amazing accommodations and a top-of-the-line atmosphere and ambiance at both of these resorts. Furthermore, a stay in either resort will fulfill any dream of staying at one of the best resorts on the Strip.
With that said, there are some major differences between the MGM Grand and ARIA. This article will serve to highlight those differences to make your choice a bit easier. 
Be sure to download our free Las Vegas Strip map so you can see just where these two hotels are located and find out which other casinos can be found nearby.
MGM Grand vs ARIA Standard Room Price Comparison
The MGM Grand Resort and Casino is the largest resort on the Las Vegas Strip and features nearly 7,000 rooms. This resort wants everyone to have the opportunity to experience what is considered to be the best all-around resort for entertainment in Las Vegas.
A standard room at MGM Grand starts at roughly $65 per night, with more expensive rooms running between $200 to $300 per night. 
ARIA focuses more on luxury in contrast to affordability, and the standard room rate at this resort starts at $129 a night, and the price continues to go up based on preferences for more luxurious suites. Technology and automation are some of the highlights of this resort, which is suggested by the modern style of architecture found throughout the resort.
Upscale luxury is the name of the game at ARIA. In addition, to the upgraded amenities, the standard room at ARIA is quite a bit larger at 520 square feet compared to the MGM Grands 350 sq ft. and is just a nicer room overall.
Here's what you'll get with a standard room at either hotel:
MGM Grand
ARIA
West Wing King:
– 350ft² (32.5 m²)
– King bed 
– 40'' (101cm) Flatscreen HDTV
– In-room wifi
– Seating area with one chair
– Desk
– Max guests, 2
Deluxe King:
– 520ft² (48.3 m²)
– King bed
– 42″ (106cm) LCD HD TV
– In-room wifi
– Dual Closets
– Seating area with two chairs
– Desk
– Dual vanity bathroom sink
– Soaking tub
– Max guests, 3
– One touch technology controls
lighting, curtains, music,
wake-up
MGM Grand & ARIA Resort Fees
The resort fees are a few dollars higher at ARIA ($45) than at the MGM Grand ($39). These fees cover high-speed internet use, workouts at the fitness center, local phone calls, and pool use. The resort fees are charged daily even if you don't intend to use any of these amenities. Resort fees of this type are common at all the resorts on the Strip. 
Parking Fees at ARIA & MGM Grand
Both ARIA and MGM Grand charge daily for parking. Self-parking at the MGM Grand is $15/day, and valet is $26 – $30/day. Self-parking at ARIA runs $18/day, while valet costs between $30 and $35 daily. The parking garages of both resorts are spacious and secure, so you will never have to worry about finding a good spot or the safety of your vehicle. 
Best Location? MGM Grand vs ARIA
Both the MGM Grand and ARIA occupy a distinct and exciting section of the Las Vegas Strip. ARIA is the centerpiece of an urban complex known as CityCenter, which occupies a space of roughly 76 acres in the design of a small city within a city.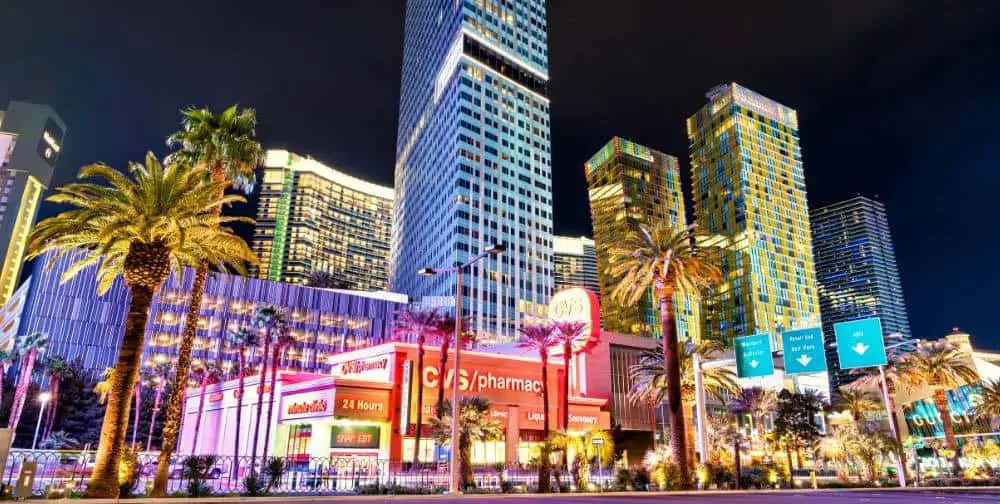 Touring this modern steel and glass complex can take hours, which you won't even notice as you take in the brightly-lit glass structures and elegant stores found at The Shops at Crystals.
MGM Grand is only a short distance from ARIA on the east side of the Strip across from New York, New York Hotel and Casino. Walking between the two resorts takes about 15 minutes, which will give you an opportunity to see this exciting part of the Strip in action. 
It's also worth noting that the MGM Grand is on the side of the Strip that is serviced by the Las Vegas monorail system. MGM Grand has its own monorail stop, which makes it convenient to get up and down the east side of the Strip.
You can find out more about riding the monorail and how to save some money doing it in our article here.
Comparing Shows & Entertainment at ARIA and MGM Grand
In terms of providing a top-tier entertainment experience, MGM Grand is one of the premier resorts on the Strip. KA by Cirque du Soleil combines mystical characters and acrobatics with the theatrics and excitement of a Broadway show. For comic relief, there is Brad Garrett's Comedy Club, where a revolving roster of comedians takes to the stage every night. 
Also, be sure to check the roster of the Grand Garden Arena, which hosts major concerts and sporting events all throughout the year.  
There are no major shows to be found at ARIA. This is certainly not a desirable trait for those who are looking for big flashy entertainment, yet it isn't necessarily a bad thing as it makes for a less chaotic hotel and enhances the refined feeling of the resort.
Just gazing at the state-of-the-art architecture both inside and outside of this resort is a form of entertainment in itself. Plus, you'll be very close to several other major resorts that have theaters and big shows you can see.
To be honest, it would be hard to find a resort on the Strip that has a larger variety of entertainment than what can be found at the MGM Grand. Hundreds of vacationers and locals alike crowd this famous resort just to catch all of the different events and spectacles that are staged here.
Since ARIA is lacking in stage shows within the resort itself, MGM Grand is clearly the better choice if that is the kind of entertainment you are looking for. 
Pools at MGM Grand vs ARIA
Both resorts feature some of the best pool complexes on the Vegas Strip. ARIA features three full-size pools and a virtual pool lounge called LIQUID Pool Lounge, which is an adults-only pool area complete with a vast bar and live DJs. This is one of the Vegas hotspots for day club pool parties!
The MGM Grand Pool Complex features four medium-sized pools and three jacuzzis. The big difference between pools at these resorts is size: The MGM Grand Pool Complex covers over 6 acres of poolside fun and relaxation, which means you can spend endless days lounging by the large lazy river and gorgeous pools.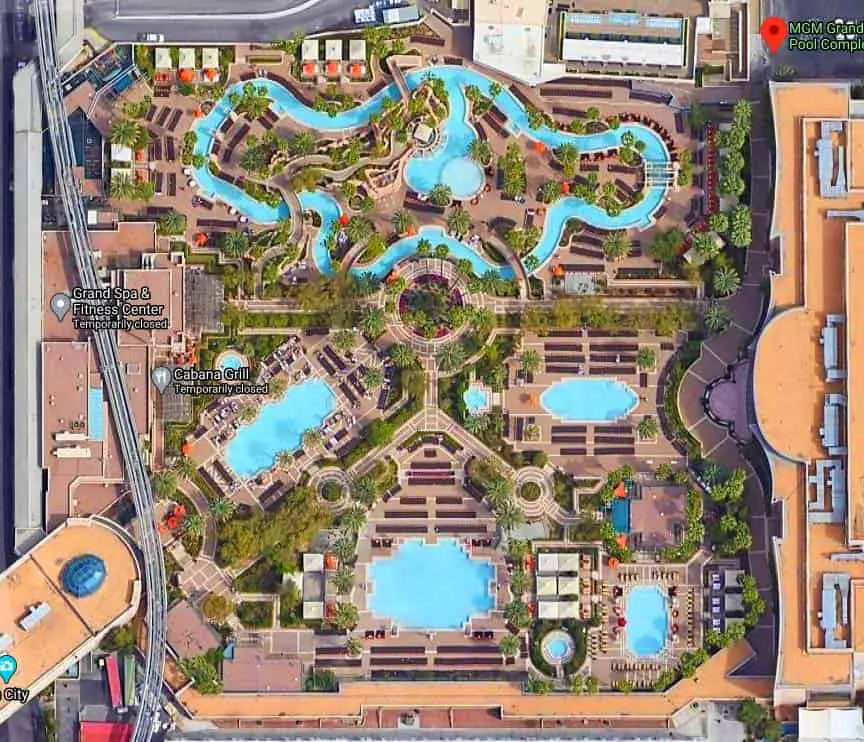 Since the Liquid Pool Lounge at ARIA is probably the most happening and exciting pool-themed party on the Strip, ARIA has a slight edge in this category if you're looking for a party. If not, then the MGM Grand pool area will fit the bill nicely and is the better choice if you're bringing the kids.
Comparing Nearby Attractions
When it comes to attractions, both resorts are in a great area of the Strip. ARIA is surrounded by several other huge properties, such as the Bellagio, Paris Las Vegas, Planet Hollywood, and The Cosmopolitan.
The MGM Grand is near New York, New York's iconic Statue of Liberty Replica, and The Big Apple Roller Coaster, which is one of my favorite things to do! It's also not far from the Tropicana and Excalibur hotels.
To be honest, you can't really go wrong here. With the abundance of attractions, casinos, and other resort properties available within this area of the Strip, you'll never lack for something to do any time of the day or night!
Conclusion
So, what is the better choice between two of the finest resorts on the Strip? It really depends on what you're looking for during your stay.
MGM Grand is an entertainment paradise complete with both affordable and expensive rooms, depending on your budget. ARIA is a showcase for modern elegance, premium shopping, and leisure. If you want a laid-back stay, ARIA will be your choice as it specializes in this atmosphere. 
MGM Grand has more to do and see on the property itself, but both resorts have unique traits for a variety of guests. In addition, both resorts are within walking distance of each other, so no matter which you choose, you'll be able to conveniently see and do everything the mid-Strip area has to offer. 
Other Las Vegas Hotel Comparisons
Check out how these hotels stack up to one another:
Aria vs. Bellagio: Which Las Vegas Hotel is Better? – Find out here
MGM Grand vs. MGM Signature – Which one's best?
MGM Grand vs Luxor – Read here
MGM Grand vs Park MGM: Which is Better? – Find out here
ARIA vs Vdara: Choosing the best – Read here
Paris Las Vegas vs MGM Grand: Who comes out on top? – Article here
MGM Grand vs Mirage – Which to choose?
Wynn vs ARIA: Luxury in Las Vegas – How to decide
MGM Grand vs Venetian: Who's tops? – How to decide
MGM Grand vs. Mandalay Bay: Which Is Better? – Read Article