MGM Grand vs. Venetian: Which Is Better? [Las Vegas]
The Venetian and the MGM Grand hotels in Las Vegas are two of the top resorts on the Strip. While each property is massive in size and full of fun and entertaining things to do, that's where many of the similarities end. With the many differences between the MGM Grand and The Venetian, how do you decide which resort is the better choice for your Las Vegas stay?
MGM Grand is the better choice if you want to experience some of the finest entertainment in all of Las Vegas. The Venetian offers more of a boutique experience, with an emphasis on opulent accommodations, fine dining, and world-class shopping.
The following table lists many of the major comparisons and price points between MGM Grand and the Venetian: 
Category
MGM Grand
Venetian
Room Price
From $69 average/night
From $176 per night
Resort Fees
$44.22 per day
$51.02 per day
Parking Fees
Self-Parking: $18-$23 daily
Valet: $35 – $40 daily
$18 per day
Location
On the Strip
On the Strip
Major Shows
– KÀ by Cirque du Soleil
– Brad Garrett's Comedy Club
– Jabbawockeez
– David Copperfield
– frequent headliner concerts
at the MGM Grand Garden Arena
– Atomic Saloon
– Misc guest performers
Pools
4 medium-sized pools, 4 jacuzzis,
6.5 acres of pools, waterfalls plus
a lazy river at the Grand Pool Complex
4 elegant pools with splash
pad for the kids
Nearby Attractions
– CSI: The Experience
– Statue of Liberty replica
– The Big Apple Roller Roller Coaster
– Madame Tussauds
– Gondola Rides
– The VOID: Virtual Reality
(This article may contain affiliate links, which means we might earn a small commission if you click and make a purchase. Thank you!)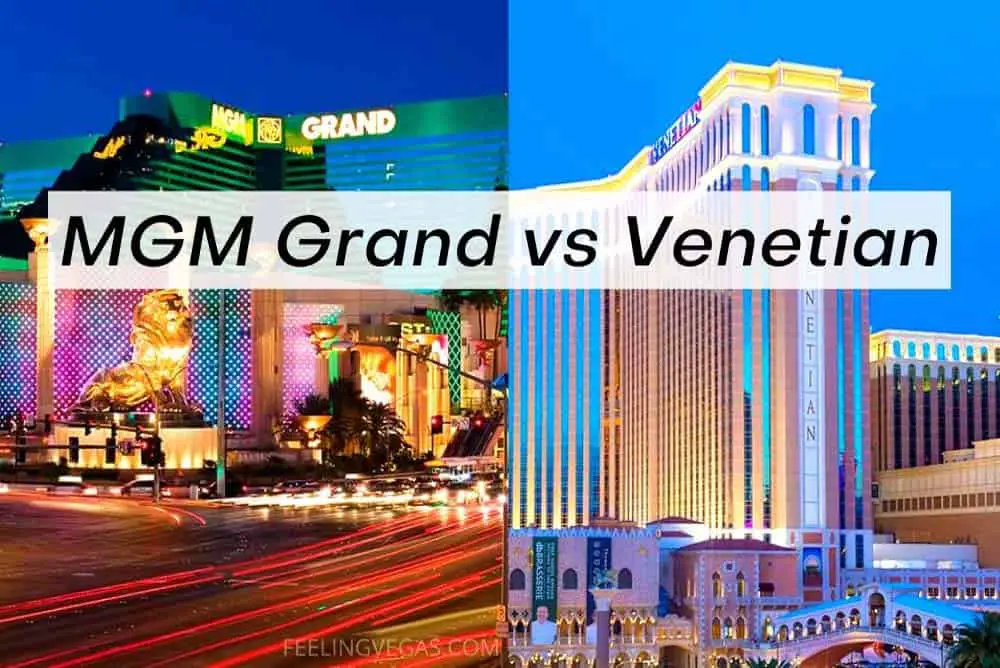 Name: MGM Grand
Address: 3799 S Las Vegas Blvd
Casino Floor: 171,500 sq ft.
Year Built: 1973
Number of Rooms: 6,852
Name: The Venetian
Address: 3355 S Las Vegas Blvd
Casino Floor: 138,000 sq ft.
Year Built: 1999
Number of Rooms: 4,049
Comparing two of the Strip's most iconic resorts is not an easy task, especially since either choice represents some of the best of Las Vegas. You will find that while the MGM Grand is the more affordable choice, the Venetian is also pretty affordable considering its reputation.
Read on to find out more about the differences between the hotels, as well as a summary of the entertainment options and attractions of each resort.
Download our Free Strip Map to see where both of these properties are located and to find out which other properties are close-by.
MGM Grand vs. Venetian Standard Room Price Comparison
The biggest similarity between rooms at these resorts is the large range of options that you can choose from. MGM Grand has both affordable rooms as well as luxurious suites, while every room at The Venetian is a suite, from the standard room to the most luxurious. 
You can expect a typical starting rate at the Venetian of around $176 per night for a standard suite. The rooms can go up to several hundred or more a night depending on size, views and amenities.
Since every room is a suite, however, you can be confident that each is luxurious and full of amenities. You can see in the chart below that even the standard rooms at the Venetian have a lot going for them.
MGM Grand
Venetian
West Wing King:
– 350ft² (32.5 m²)
– King bed 
– 40'' (101cm) Flatscreen HDTV
– In-room wifi
– Seating area with one chair
– Desk
– Max guests, 2
Luxury King Suite:
– 650ft² (60.4 m²)
– King bed
– 46″ HDTV
– Sunken living room
– In-room wifi
– Sofa bed, table & chairs
– Desk
– Remote controlled curtains
– 130ft² (12 m²) Bathroom
with double vanity, separate
tub and 19″ HDTV


Comparison of the standard rooms at MGM Grand and The Venetian
The MGM Grand Resort and Casino is the largest resort on the Las Vegas Strip and features nearly 7,000 rooms! The great thing about the MGM Grand is that regardless of budget, everyone has an opportunity to stay here and experience the wide variety of entertainment available.
A standard room at MGM Grand generally runs roughly $69 per night, with more expensive rooms running $200 to $300 per night and up. 
In summary, MGM Grand has a wider variety of rooms and suites available, whereas the Venetian offers stunning suites at every level. Unless budget is the primary concern, The Venetian definitely edges out MGM Grand in this category.  
MGM Grand & Venetian Resort Fees
Each property charges a daily resort fee, with the Venetian costing about seven dollars more per day, which is normal for the boutique resorts on the Strip. These fees cover high-speed internet use, workouts at the fitness center, phone calls, and pool use.
So the MGM Grand has a slightly cheaper resort fee as well as a larger selection of less expensive room rates, both of which are good for the budget-conscious. 
One slight difference in listed resort fee amenities is that the Venetian includes a complimentary newspaper. In and of itself not worth the extra resort fee but it's still a nice touch.
Parking Fees at Venetian & MGM Grand
The MGM Grand charges $18 (M-T) and $23 (Fri-Sun) for parking, while the Venetian charges $18 a day to park for hotel guests. The parking garages of both resorts are spacious and secure, so you'll never have to worry about finding a good spot or the safety of your vehicle. 
Best Location? MGM Grand vs Venetian
Both resorts are in good locations on the Las Vegas Strip. MGM Grand is located at the southern end of the popular mid-Strip area near both New York, New York, and ARIA, which offers a great opportunity to see some of this area's top attractions.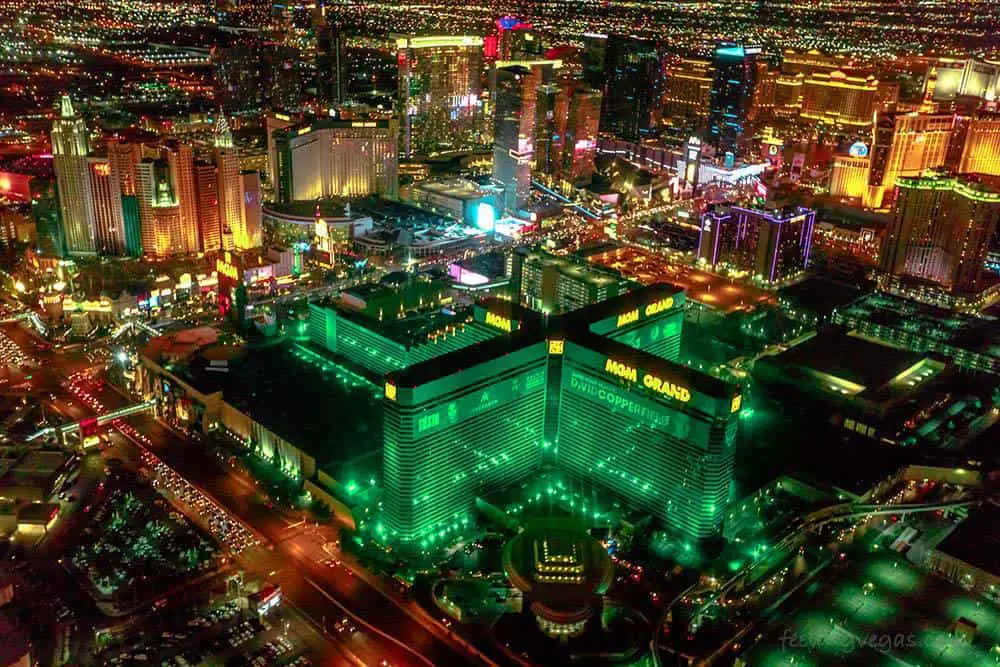 The Venetian is located further north near Treasure Island, The Mirage, and The LINQ Promenade. There are many exciting things to do and see in the areas around both resorts, so it's really a matter of preference.
Comparing Shows & Entertainment at Venetian and MGM Grand
In terms of providing a top-tier entertainment experience, MGM Grand is one of the premier resorts on the Strip. The MGM Grand has a bunch of shows including KA by Cirque du Soleil, which combines mystical characters and acrobatics with the theatrics and excitement of a Broadway show. For comic relief, there is Brad Garrett's Comedy Club, where a revolving roster of comedians takes to the stage every night. 
Also be sure to check the roster of the Grand Garden Arena, which hosts major concerts and sporting events all throughout the year. It can be said that MGM Grand is the most entertaining resort on the Las Vegas Strip, rivaled only by Caesars Palace; therefore, this is the resort of choice if you want the most entertainment in once place without having to leave the property. 
The Venetian, on the other hand, is a prime spot for Las Vegas nightlife. Tao Nightclub offers one of the most popular and hippest nightclub experiences in Las Vegas. The Venetian is also one of the premier resorts on the Strip for fine dining.
The Venetian does have some live entertainment, however. The Atomic Saloon is a sexy wild west show full of gunfights and acrobatics.
You can also find a revolving selection of headlining musical acts including the likes of Tony Bennett, Sarah Brightman, Adam Lambert, and ZZ Top at the Venetian!
Pools at MGM Grand vs Venetian
The pool areas at both of these hotels are pretty amazing!
The MGM Grand Pool Complex is 6.5 acres of outdoor fun! The complex features four medium-sized pools, and three jacuzzis, as well as a lazy river.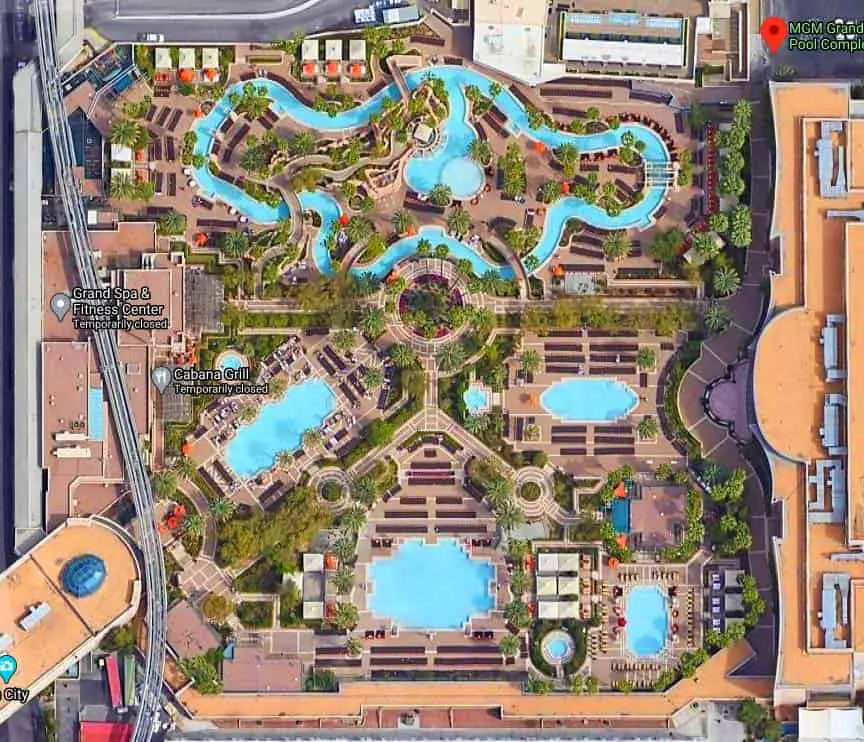 The Venetian Pool Deck is over two acres and contains four pools to choose from plus a splash pad for the kids. The truth is, no matter which of these resorts you choose, you will be experiencing some of the largest pool areas of any properties on the Strip.
When it comes to decor and architecture, The Venetian's pools are breathtaking, giving this resort a slight edge. 
Comparing Nearby Attractions
In terms of nearby attractions, the MGM Grand is near New York, New York's iconic Statue of Liberty Replica, and The Big Apple Roller Coaster, which offers amazing views of this area of the Strip.
This is also a great area to walk in! A walk from the MGM Grand to the Bellagio Fountains will take you about 20 minutes and you'll find plenty to do and see as well as several other iconic hotels and casinos along the way.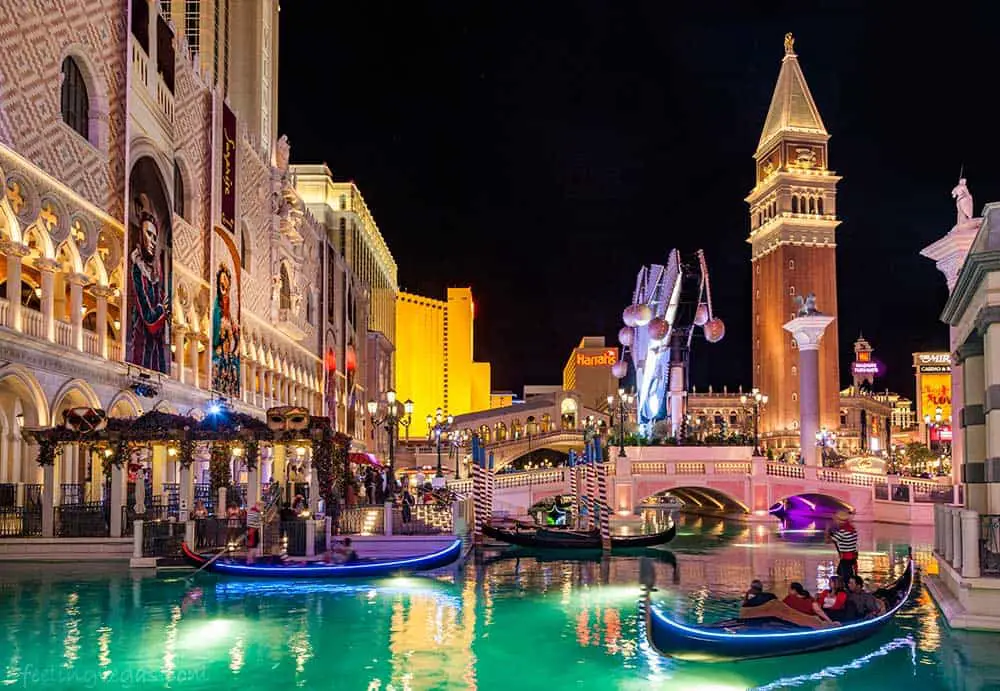 The Venetian is filled with Renaissance-inspired art and architecture and has numerous attractions within the property, including The VOID, which is an immersive virtual reality experience that places you in a lifelike virtual world in real-time and the famous gondola rides on the Grand Canal. 
Outside of the hotel, you'll find that you're very near the LINQ Promenade and the High Roller Observation Wheel as well as Harrah's and the Flamingo properties, giving you plenty of activities within walking distance.
Conclusion
If you enjoy a more laid-back atmosphere with top of the line amenities and surroundings, The Venetian will probably appeal to you more.
On the other hand, a stay at the MGM Grand is setting you up to experience some of the Strip's most exciting entertainment options. 
The better choice comes down to what kind of resort experience you're seeking. I hope this article has given you the information you needed to determine which resort will best suit your needs for your next trip to Las Vegas!
Other Las Vegas Hotel Comparisons
Check out how these hotels stack up to one another:
MGM Grand vs Luxor – Read here
MGM Grand vs. MGM Signature – Which one's best?
MGM Grand vs ARIA – How to decide
MGM Grand vs Park MGM: Which is Better? – Find out here
MGM Grand vs Mirage – Which to choose?
Paris Las Vegas vs MGM Grand: Who comes out on top? – Article here
Venetian vs. Wynn: How to choose? – Find out here
Bellagio vs. Venetian (Which Las Vegas Hotel to Choose?) – HERE
MGM Grand vs. Mandalay Bay: Which Is Better? – Read Article
Sources: