Paris Las Vegas vs. MGM Grand: Which Is Better?
The MGM Grand in Las Vegas is a staple for major, star-studded headlining concerts and events, which makes it a natural choice for many Las Vegas visitors. Paris Las Vegas offers an elegant and wholly-unique French atmosphere, including a replica of the Eiffel Tower nearly half the size of the real thing. Both hotels are spectacular, but which of the two resorts is better?
If you are looking for European-styled elegance with a great location on the Strip, Paris Las Vegas is your best choice. If, however, you want a bigger resort with more activities, food, shows, and a much bigger pool area, you'll want to choose the MGM Grand.
Here is a chart comparing the highlights of Paris Las Vegas and MGM Grand:
(This article may contain affiliate links, which means we might earn a small commission if you click and make a purchase. Thank you!)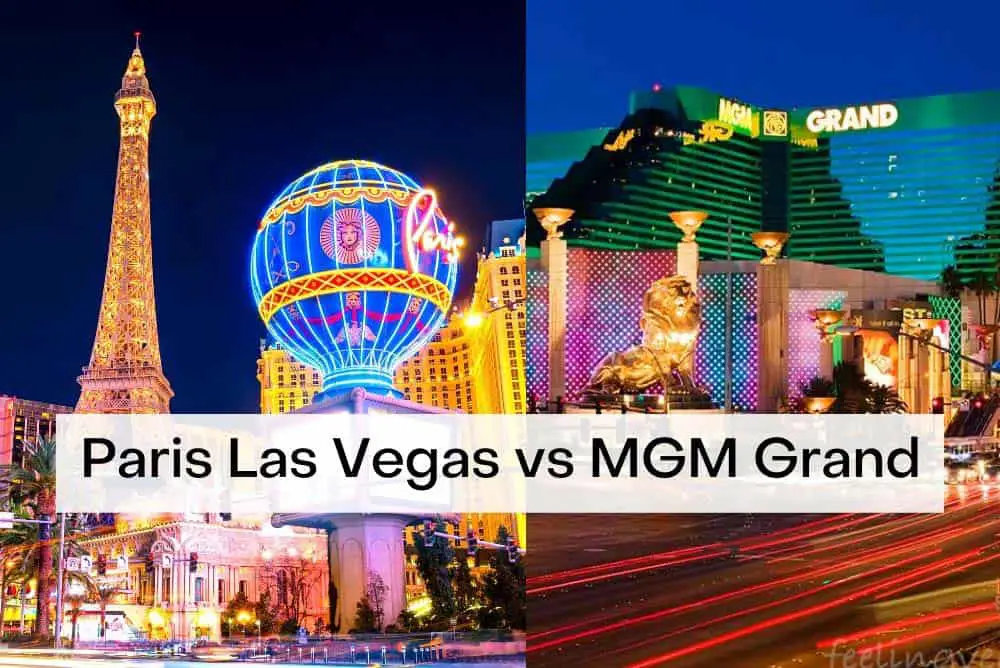 Name: Paris Las Vegas
Address: 3655 S Las Vegas Blvd
Gaming Floor: 95,263 sq ft.
Year Built: 1999
Number of Rooms: 2,916
Name: MGM Grand
Address: 3799 S Las Vegas Blvd
Gaming Floor: 171,500 sq ft.
Year Built: 1973
Number of Rooms: 6,852
The MGM Grand is the largest resort on the Las Vegas Strip, with over 6,000 rooms. Because of this, there are many attractions and entertainment choices to be experienced at this resort.
Paris Las Vegas, while not as large as the MGM Grand, offers a healthy dose of European flavor, charm, and elegance. It's a little bit of Paris, France, without the long flight.
This can make choosing between the two hotels very difficult.
By the time you're done reading this guide, however, you'll have a good idea of which hotel will be the right one for your Las Vegas visit.
Be sure to download our FREE map of the Las Vegas Strip so you can see where both of these hotels are located on the Strip!
Paris Las Vegas & MGM Grand Room Rates Compared
The MGM Grand in Las Vegas is a major destination for headlining music stars all throughout the year. This makes this resort a highly popular destination for vacationers or visitors in town to see their favorite band or performer.
In addition, the MGM Grand is a huge resort, which means they have many room types and are able to accommodate every traveler's budget and personal style.
Less than half the size, Paris Las Vegas is a themed resort that will appeal to guests looking for a more elegant vacation experience. You'll feel like you've been transported to Europe, as every room in the resort has a certain Parisian style and charm.
A standard room at MGM Grand generally starts as low as $65 per night, depending on the date, with more expensive rooms running between $200 and $300 per night.
This is an amazing rate considering all of the premium experiences that can be had within the MGM Grand, such as dining options from famous chefs and a riveting nightclub experience at Hakkasan–a premiere Las Vegas nighttime destination.  
Paris Las Vegas is to royalty what MGM Grand is to celebrity culture; room rates at Paris Las Vegas start around $115 and travel upwards of $500 per night.
There isn't anywhere near as much entertainment as what can be seen at MGM Grand, yet a stay at Paris Las Vegas is a guaranteed experience in elegance and refined atmosphere. 
So the starting room rates at Paris or MGM Grand are quite different. Being more of a boutique hotel, Paris Las Vegas is definitely more expensive. The standard rooms at Paris have a more exclusive feel and atmosphere when compared to the standard rooms at the MGM Grand.  
Paris vs MGM Grand Resort Fees
Resort fees at Paris Las Vegas ($52 per day) are significantly higher than those at MGM Grand ($44 per day). Both resorts state that high-speed internet access, phone calls, and use of the fitness center are included in the respective resort fees.
With the exception of the pool, you can expect no additional perks for this lofty fee. Unfortunately, resort fees are the standard of nearly all resorts on the Las Vegas Strip these days. Paris has higher resort fees, but the rooms are generally a few dollars cheaper, so as far as the daily resort fee goes, it's pretty much a wash when comparing the two. 
MGM Grand & Paris Las Vegas Parking Fees
MGM Grand and Paris Las Vegas both charge hotel guests for parking ($18 per day). There is plenty of parking at both resorts, so space is not an issue.
The daily parking fee you pay as a hotel guest at the MGM Grand is also good for any of the resorts up and down the Strip that are owned and operated by MGM Resorts (Luxor, Mandalay Bay, Mirage, New York-New York, and Excalibur). 
Paris and MGM Grand Both Have Excellent Locations On The Strip
Both resorts are located in the prime mid-Strip area of Las Vegas Boulevard.
Paris Las Vegas is located right across the street from the famous Bellagio Fountain, while the MGM Grand is a couple of blocks south across from the New York-New York Hotel & Casino. As such, there is a lot to do and see in this area, up and down both sides of the Strip.
It takes about 20 minutes to walk from one resort to the other without stopping but trust me when I say there is a lot you'll want to stop at along the way. This section of Las Vegas Blvd. (between these two resorts) is the best walking area on the Strip. This is where you want to be!
Paris Las Vegas vs MGM Grand Shows & Entertainment
As far as entertainment goes, the MGM Grand has one of the best musical and sporting arenas in Las Vegas. The Grand Garden Arena plays host to dozens of big-name concerts, championship fights, and sporting events throughout the year. This spacious arena is one of the most energetic and popular attractions in Las Vegas.
In addition to this venue, the MGM Grand is home to one of the hottest shows in town. KA by Cirque du Soleil is an amazing show that blends acrobatics with a mystical storyline and broadway quality production values!
For comic relief, the hotel even has its own comedy club. Brad Garrett's Comedy Club has some of the best-known comedians in the world performing on its stage nightly.  
While Paris Las Vegas does not offer nearly as much as the MGM Grand in terms of shows and overall entertainment options, it does offer a couple of shows of interest. Anthony Cools – The Uncensored Hypnotist and FRIENDS! The Musical Parody. You can catch both highly-rated play most nights at Paris.
It's a bit unfair to even attempt to do a comparison of these two resorts when it comes to entertainment.
MGM Grand is one of the premier resorts in Las Vegas for major shows from big stars in the entire city. Therefore, MGM Grand is certainly the better choice when it comes to entertainment.
Paris & MGM Grand Pools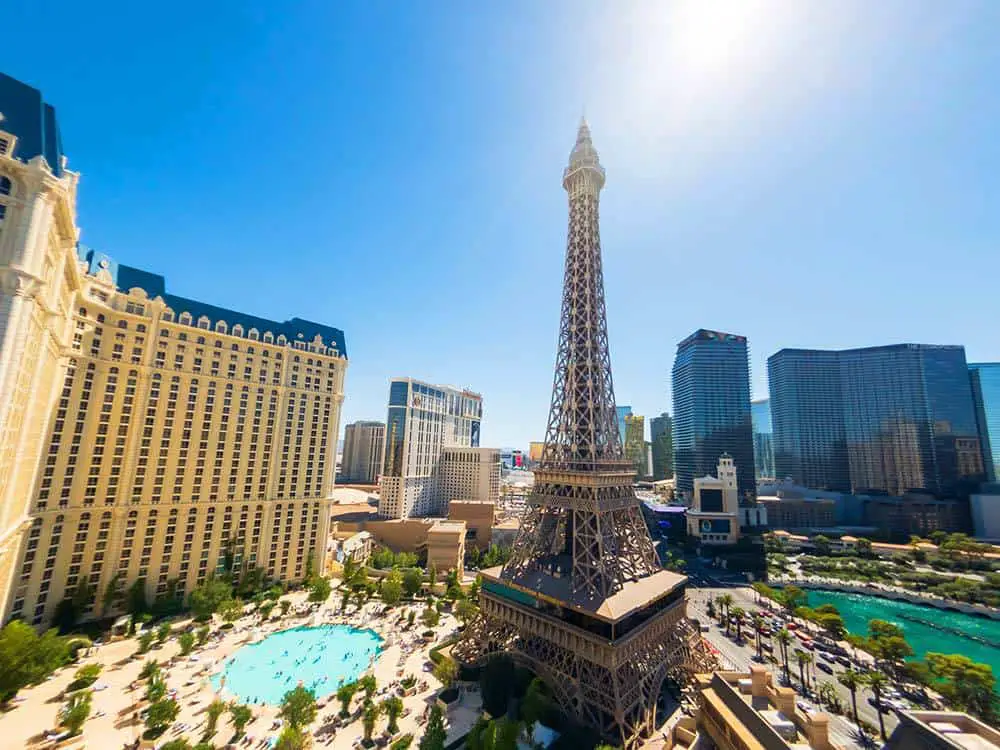 Both resorts feature an impressive pool area, yet both pool complexes couldn't be more different. The Soleil Las Vegas Pool at Paris is a single Parisian-themed pool that sits right next to the giant replica of the Eiffel Tower.
Laying by the pool while looking up at the Eiffel Tower is a quintessential Las Vegas experience and one you won't soon forget!
In this way, the Soleil is much more visually-impressive than the Grand Pool Complex at MGM Grand, which is not to say that MGM's pool area isn't impressive in its own right.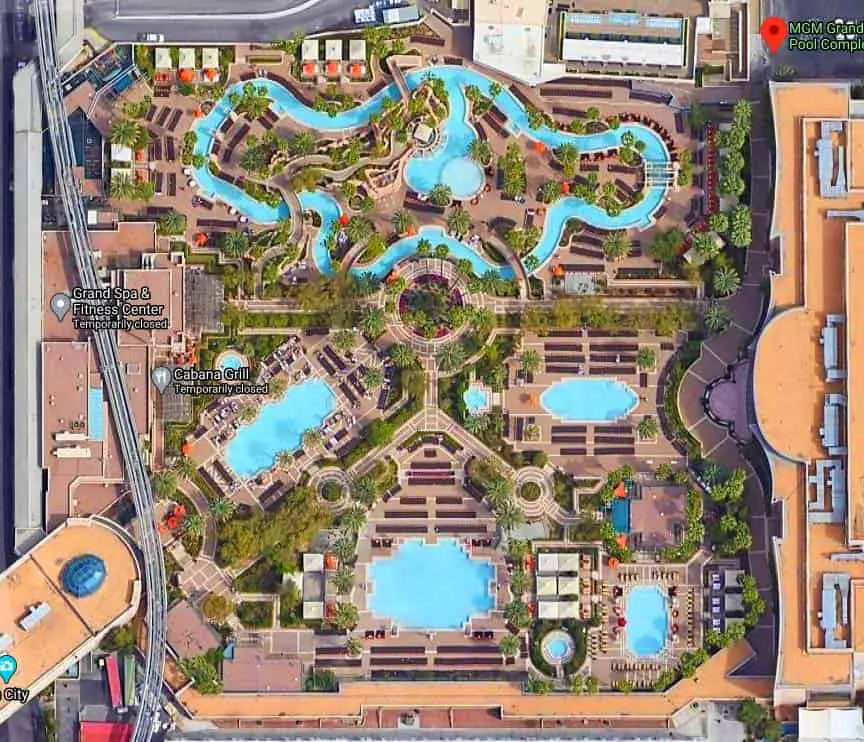 While the Paris Soleil pool is a great experience for those that want to relax in refined elegance, it is, in fact, a very small pool area when compared to the 6.5 acres of fun and relaxation that can be found at the MGM Grand Pool Complex. The complex features four medium-sized pools, three jacuzzis, and a large lazy river.
If we are basing the decision on looks and elegance, Paris Las Vegas is the better choice in this category. If you'd like to have a bit more activity in your pool day, the MGM Grand pool area takes the nod.
Nearby Attractions on The Strip
As I mentioned before, both resorts are in excellent locations on the Strip and are surrounded by many things to do and see within a short walking distance.
Attractions Near Paris Las Vegas
These are just a few of the things to check out within walking distance of Paris Las Vegas (I've included the approximate walking time to each):
Bellagio Fountains (8 min)
Grand Bazaar Shops (4 min)
Planet Hollywood (8 min)
The Shops at Crystals (15 min)
Bally's Las Vegas (6 min)
Miracle Mile Shops (5 min)
And, of course, the Eiffel Tower Viewing Deck at Paris Las Vegas is far too much of a Las Vegas icon to pass up in terms of attractions. From the viewing deck, you will get to see an incredible view of the Las Vegas Strip day or night.
Attractions Near MGM Grand Las Vegas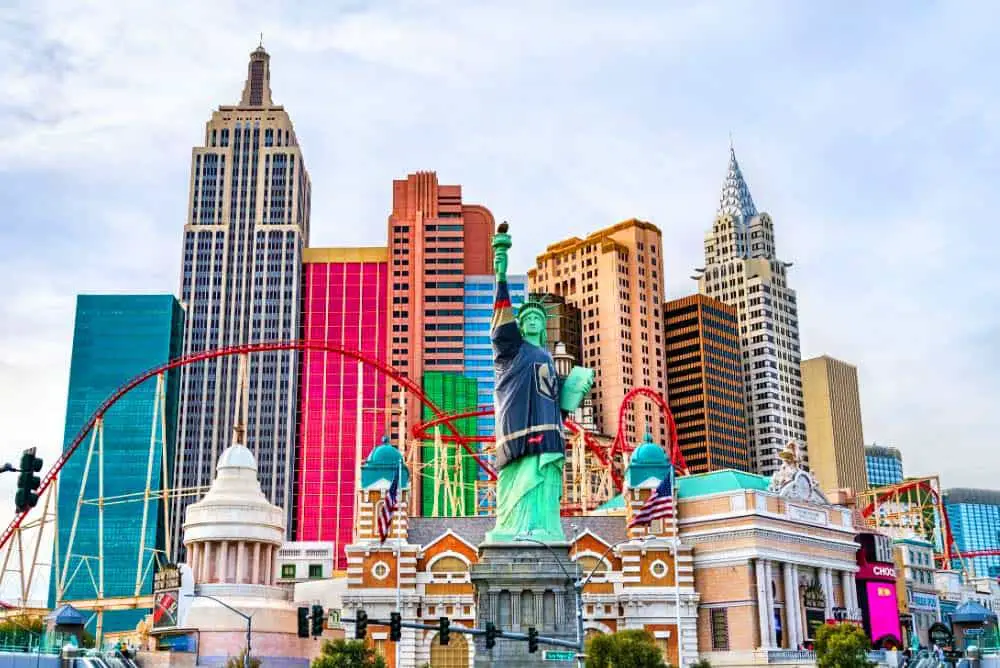 Here are just some of the attractions you'll find within a short walk of the MGM Grand:
Statue of Liberty Replica (4 min)
New York – New York Casino (3 min)
Hershey's Chocolate World (3 min)
T-Mobile Arena (9 min)
Excalibur Casino (6 min)
Tropicana Las Vegas (1 min)
One of my favorite attractions close to the MGM Grand is the Big Apple Roller Coaster on top of the New York-New York casino.
You can ride the coaster day or night for spectacular views of Las Vegas Blvd! For a completely different experience, they even have the option to wear virtual reality goggles while riding the coaster!
Conclusion
So, you can't go wrong by choosing either of these resorts. The final verdict between these two fine hotels is going to come down to personal preference. Do you prefer the European elegance of Paris Las Vegas or the great entertainment available at the MGM Grand?
Both Paris Las Vegas and MGM Grand are beautiful, massive resorts that guarantee an amazing experience. MGM Grand has more to offer on the premises due to its sheer size.
The MGM Grand Garden Arena alone is worth the price of this resort since you get to stay in a resort that frequently has celebrity guests as their patrons. 
Of course, that isn't the main reason that MGM Grand is better, yet it is an exciting prospect to consider!
Other Las Vegas Hotel Comparisons
Check out our other comparisons of Las Vegas Hotels:
MGM Grand vs. MGM Signature – Read here
MGM Grand vs. Mirage – How to decide?
MGM Grand vs. Venetian: Who's tops? – How to decide
MGM Grand vs. Park MGM: Which is Better? – Find out here
MGM Grand vs. Mandalay Bay: Which Is Better? – Read Article
MGM Grand vs. Luxor: Who comes out on top? – Article here
MGM Grand vs ARIA – How to decide
Paris Las Vegas vs. Bally's: Which to choose? – Find out now
Paris Las Vegas vs. Treasure Island: Which Is Better? – Find out here!
Paris Las Vegas vs. Caesars Palace: And the Winner is… – More Here!