Do Rooms at the Palazzo Have..? (Things To Know)
(This article may contain affiliate links. If you click through and make a purchase, we will receive a small commission at no additional cost to you. )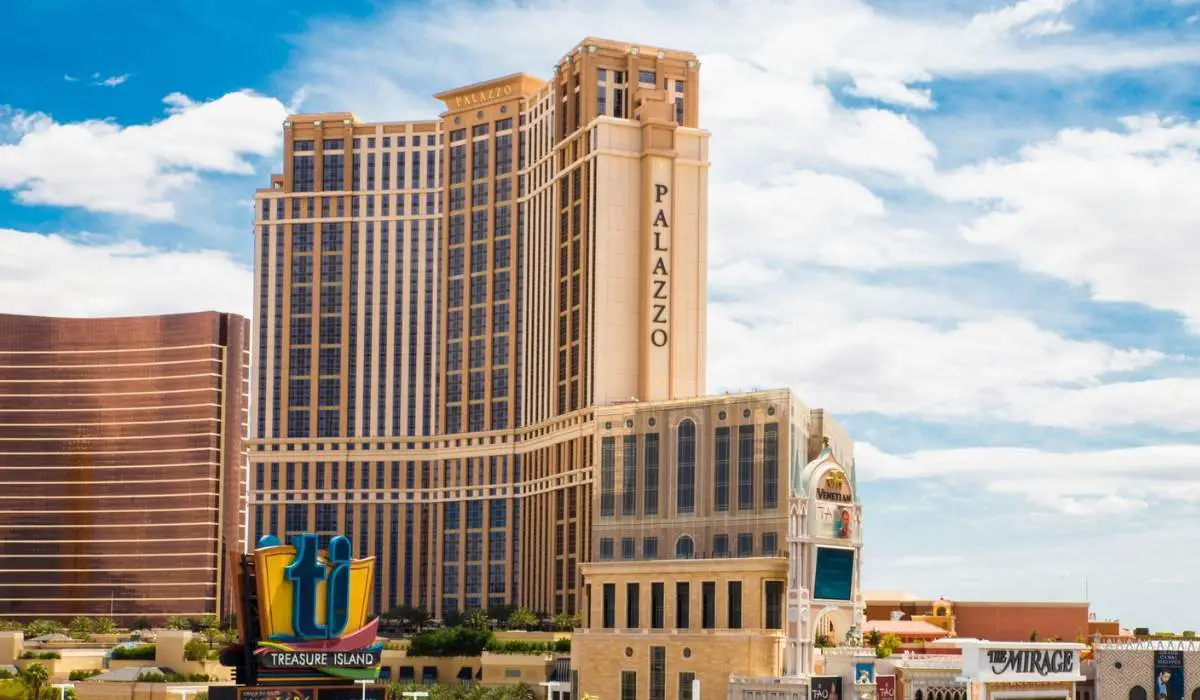 The Palazzo at the Venetian Resort is one of the most popular hotels on the Las Vegas Strip. The hotel is known for its casino, heated swimming pools, luxury cabanas, and collection of fine-dining restaurants. However, the Palazzo is also extremely popular for the luxurious rooms it provides.
The rooms at the Palazzo are extraordinarily luxurious, with most having a separate living space, open bedroom, marbled bathroom, Roman-style bathtub, and a separate work desk, among other things. They also have excellent in-suite dining options for their guests.
The Palazzo is also known for providing luxury rooms at relatively inexpensive rates compared to most other hotels of its caliber. In this article, we'll look at the various things the rooms at the Palazzo have to offer and what to keep in mind if you're planning to book one. 
Compare and save! Check current Palazzo room rates at TripAdvisor.
What Rooms at The Palazzo Offer
Most of us have a general idea of what 5-star hotel rooms in Vegas look like. However, let's look at the various elements that make the Palazzo rooms unique and the amenities they offer their guests.
Different Levels of Luxury at The Palazzo
The Palazzo has different kinds of rooms guests can choose from. However, even their lower-cost rooms have a luxurious element to them. Here's a list of the various rooms available at the Palazzo.
Luxury King Suite
This room is the largest of its kind on the Strip (720 sq. ft.), with the Palazzo claiming that it's roughly double the size of your average Vegas luxury suite. The luxury king suite has a separate section for the living room with an open bedroom connecting to it. Sleeping in the king suite is a must-try experience, and most guests claim they have never slept as well anywhere else.
This suite comes with a marbled bathroom, an oversized tub, a work desk for business matters, and an in-suite safe in case you feel extra cautious. Did we mention that the bathroom has a 22-inch (55.88 cm) flatscreen TV as well? That's right, luxury at its finest. 
Luxury Queen Suite
The Luxury Queen suite is similar to the king suite except that this room has two luxury Queen-sized beds (instead of a single King) for guests to sink into. You'll also find a dedicated work desk and a phone that links to the reception. Of course, these features are standard in all rooms.
Premium King Suite
This suite is similar to the Luxury King and Queen, except that it boasts 940 square feet of space. In addition, all premium rooms also come with a view of either the Strip or the resort's swimming pool.
The premium suites also have a sunken living room area plus a sizeable walk-in closet. The room also features remote control-activated curtains and a bathtub.
Grand One Bedroom Suite
The perfect getaway for the upscale traveler, the one-bedroom suite (1,280 square feet) comes with an Italian-style double-door entrance and a fully stocked refreshment center. These rooms also have a walk-in closet for your clothes and luggage, in case you need a space to organize your stuff.
And if you have company over, there's an extra pull-out bed on the sofa.
Executive Suite
The word executive is typically used to describe a lower-level suite, but the rooms at the Palazzo are built for luxury, and this tier of rooms is no different. These rooms (1,850 square feet) have a separate area for the bedroom and a foyer designed with Italian-style flooring. The executive suite also offers a marbled bathroom along with a jetted tub instead of a regular bathtub. 
All executive rooms come with either a piano, pool table, or home theater system.
Penthouse Suite
The Penthouse Suite comprises 3,000 square feet (278.71 sq.m) of space designed with a contemporary look and feel. The Italian-style decor adds a bit of old-world charm to the area, giving it a plush and luxurious vibe.
Aside from a grandmaster bath, dual-head showers, and a giant bathtub, booking the penthouse suite also grants you access to the Prestige club at the Palazzo, which among other amenities, offers you an included continental breakfast. You are also entitled to VIP concierge services during your stay.
If that's not enough, the Penthouse suite also has a fully-stocked bar, pool table, and even a massage parlor for those relaxing evenings after a long day at the casino. 
Presidential Suite 
The Presidential Suite (6,277 square feet) is much-coveted by most Las Vegas tourists due to the balcony jacuzzi that overlooks the Strip. Here you can kick back and relax after a long day and watch the city lights while lounging in a pool of warm, relaxing water.
The presidential room also has a media room, a massage parlor, and a workout room for guests who want to stay active and healthy even on holiday. 
Chairman Suite
The Chairman Suite (6,367 square feet) comprises a terrace room that overlooks the Strip, making the perfect backdrop for a cup of coffee in the mornings. Like the other suites here, the chairman suite is also known for its lavish living and dining area and luxurious Italian marble foyer.
As a bonus, the chairman suite also comes with a steam or sauna room in addition to the workout room and massage parlor. And if you get the right chairman suite, you'll even have access to your own private pool. 
These are the different kinds of rooms available at the Palazzo. As you can see, while some may be considered 'lower tier' rooms, they still have the design elements and amenities you'll find in luxury suites.
Now let's look at some things that all rooms at the Palazzo offer.
High-Speed Wifi at The Palazzo
Wifi is non-negotiable no matter where you're staying because you never know when you'll need the internet. Fortunately, every room in the Palazzo is equipped with high-speed internet, the cost of which is included in your booking fee.
Additionally, each room has a dedicated workspace, in case you want a work zone where you can send out emails or get on urgent calls.
Palazzo's Luxury Bedding 
It's no secret that the Palazzo hotel is one of the best places to sleep in Las Vegas, as the staff is laser-focused on their guests feeling rested and rejuvenated for the day ahead. Comfortable mattresses with soft pillows offer the perfect environment for a good night's rest. 
Remote-Controlled Drapes and Lighting
An essential feature of luxury rooms is the presence of technology to make your stay more comfortable. At the Palazzo, all rooms come with remote-controlled drapes and lighting options, so you don't need to move around too much to make your living space more comfortable.
Additionally, remote-controlled lighting helps you create the kind of mood or environment you need for the situation.
Covered Parking Garage
On booking any room at the Palazzo, you receive a complimentary, self-parking space within a covered garage. In addition, you can always opt for valet services for just $35 a day.
Television Sets at The Palazzo
Every room at the Palazzo has a television in three spaces:
The living room
The bedroom 
The bathroom
Aside from these TV sets, some rooms also have a separate media room or home theater system. However, these may be subject to availability at the time of your booking.
Bathtubs at The Palazzo
You want to be careful when entering the bathrooms at the Palazzo because they can be difficult to exit once you go in. They are that impressive! Aside from separate showering sections, every bathroom is also fitted with a bathtub, either roman-style or a jetted bathtub, so you can kick back and relax.
Palazzo Rooms Have Vanity Areas
If you're in Vegas, you're probably not there to spend your entire time in the hotel room (unless you are, in which case there's no better place than the Palazzo). The Vegas nightlife and the various casinos on the Strip require a certain level of dressing up and feeling good about how you look.
Fortunately, every room in the Palazzo is fitted with a vanity section that includes a dressing table and a mirror so you can get ready before heading out. This may not seem like a big deal, but it's nice to have a dedicated space where you can spend time getting ready for the night.
Dining Tables Inside Palazzo Rooms
While this one seems obvious, you'll be surprised at how many hotels pay attention to every detail regarding luxury but skip the basic amenities. Every room at the Palazzo is equipped with a dining table and plenty of other regular furniture, so the space still feels homely.
In-Suite Dining at The Palazzo
Most travelers despise room service at their hotels in Vegas, considering there are so many exciting restaurants to choose from. However, there may be times when you want a break from the bustle of the Strip and catch up on some alone time in your room.
Or perhaps you're back from a night of hard partying, and you need to eat something to quell the next day's hangover. Whatever the case, the Palazzo is known for its excellent in-suite dining options and room service. 
Unlike most hotels where options are limited to the most simple meals, rooms at the Palazzo offer guests a menu as comprehensive as any Vegas restaurant. You can even order specially crafted vegan dishes from your room, which is unique as most hotels provide basic steaks, sandwiches, and burgers as in-suite dining options.
What the Palazzo Rooms Don't Have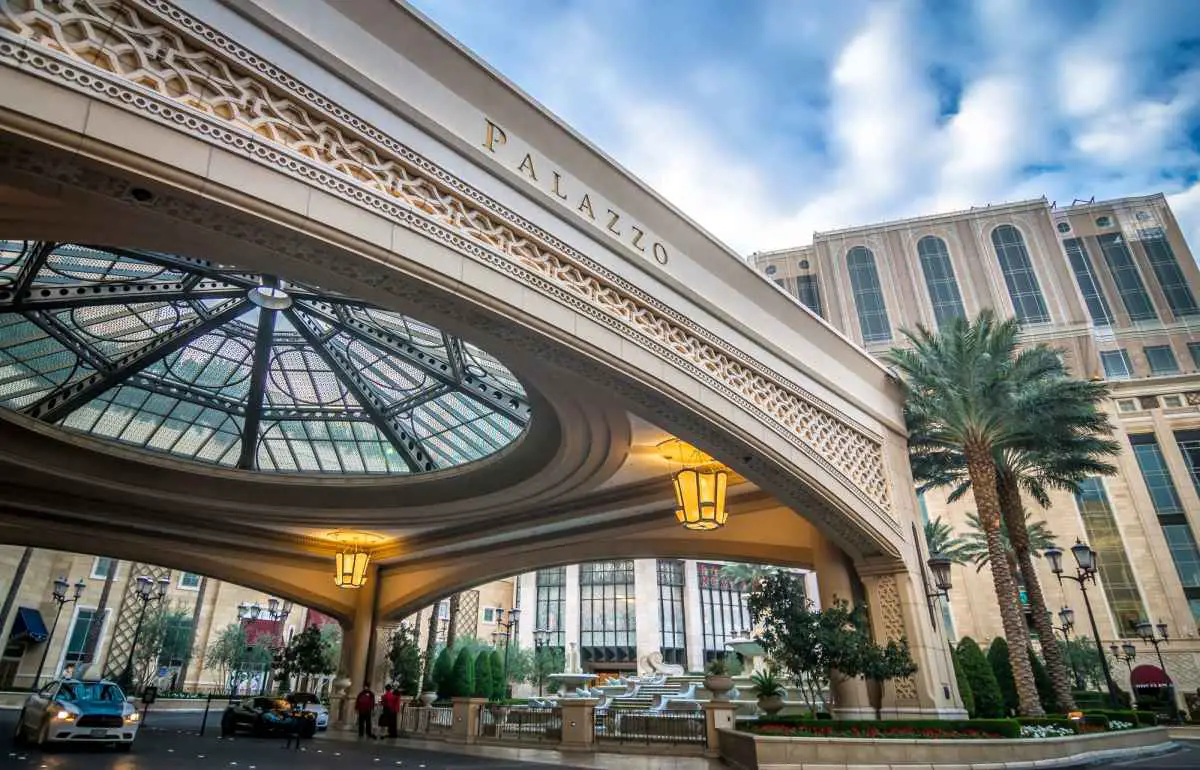 As you can see, the Palazzo rooms are built for luxury, and you can enjoy a range of amenities from the comfort of your room. And these amenities don't include the various attractions the Venetian Resort offers its guests. However, there are a few things to keep in mind when booking a room at the Palazzo. 
Refrigerators (Yes and No)
The rooms at Palazzo have refrigerators (aka mini bars) that are filled to the brim with drinks and snacks available to purchase, but you're unlikely to find any spare room in them for your personal needs. In other words, rooms at the Palazzo don't have empty refrigerators, and you will need to speak to the hotel in advance and book one if needed.
Some guests may require refrigerators to store medicines, and sometimes they're nice to have around to chill your wine or beer while you lounge in the room. 
While the room isn't typically fitted out with one, you can always request the Palazzo for an empty refrigerator in advance so they can arrange it.
Note: Be careful when looking inside the mini-fridge in any of The Palazzo rooms. In addition, to each fridge being packed with items for purchase, the fridges also contain sensors to tell when you've taken something. Just taking something out of the fridge to look at it can have that item immediately and automatically billed to your room.
No Microwaves
Again, microwaves aren't a necessity. But if you're looking to heat your food before eating in your room, you'll have to figure out another way. While the hotel may arrange for a refrigerator, they probably won't go out of their way to give you a microwave.
No Coffee Machine 
While every room is equipped with a coffee table where you can enjoy a cup while reading the morning news, there are no coffee machines. As such, you'll have to order coffee through room service or bring your own coffee machine.
No Slippers
If you're staying at the Palazzo, it's a given that you'll get into one of their seven swimming pools at some point (all of them are heated as well!). Every room is stocked with robes you can lounge in or take to the Palazzo pool deck. However, the rooms don't come with slippers for guests. Slippers are available, however, but you'll have to order those specifically at the reception.
Palazzo Rooms Have Selective Amenities
Now, remember all the amenities we mentioned while discussing the types of rooms? Yes, the Palazzo rooms are fitted with amenities that can make other luxury hotels seem like motels in comparison. However, the amenities we discussed aren't always available at the same time.
For example, some presidential suites may have either a sauna or workout room but not both. Additionally, some of the amenities, like the massage parlor and the jacuzzi, can be enjoyed depending on their availability. Some rooms have these facilities while some don't, and guests can only enjoy rooms with certain amenities if they book rooms at the correct time.
Additional Palazzo Room FAQs
Are all rooms at The Palazzo Suites?
The Palazzo at The Venetian Las Vegas is an all-suite hotel, meaning that every room is a suite. Suites are available from 720 sq ft. (Luxury King Suite) all the way up to 6,367 sq ft. (Chairman Suite).
Should I stay at Palazzo or Venetian?
The Palazzo and The Venetian are connected luxury resort properties. While they share many of the same amenities, The Venetian is considered to have more bustling activity, while The Palazzo is a little quieter.
For more info comparing these two Las Vegas resorts and help deciding which one to choose, see our article: Venetian vs. Palazzo
Does the Palazzo have regular rooms?
All the rooms at The Palazzo are suites, meaning that there are no "regular" rooms that you might associate with a standard hotel.
Do rooms at The Palazzo have hair dryers?
Each room at The Palazzo includes a hair dryer, so you won't need to take up space packing one in your luggage.
Do Palazzo rooms have an iron?
Rooms at The Palazzo have both an iron and an ironing board, so you can make sure to look your best when heading out on the town.
Do Palazzo rooms have sofa beds?
Many of the suites at The Palazzo come with a sofa bed in the living area. However, if you will be needing a sofa sleeper, it is important to request one when making your reservation.
Does The Palazzo provide robes?
Each suite at The Palazzo will have thick, luxurious robes for your comfort. Additional robes can be requested if necessary.
If you're in the Palazzo, don't forget to go to the pool. Check out my other guide to learn more about the pools in Palazzo. I've listed all the things you need to know. Palazzo Pools: 7 Things You Should Know.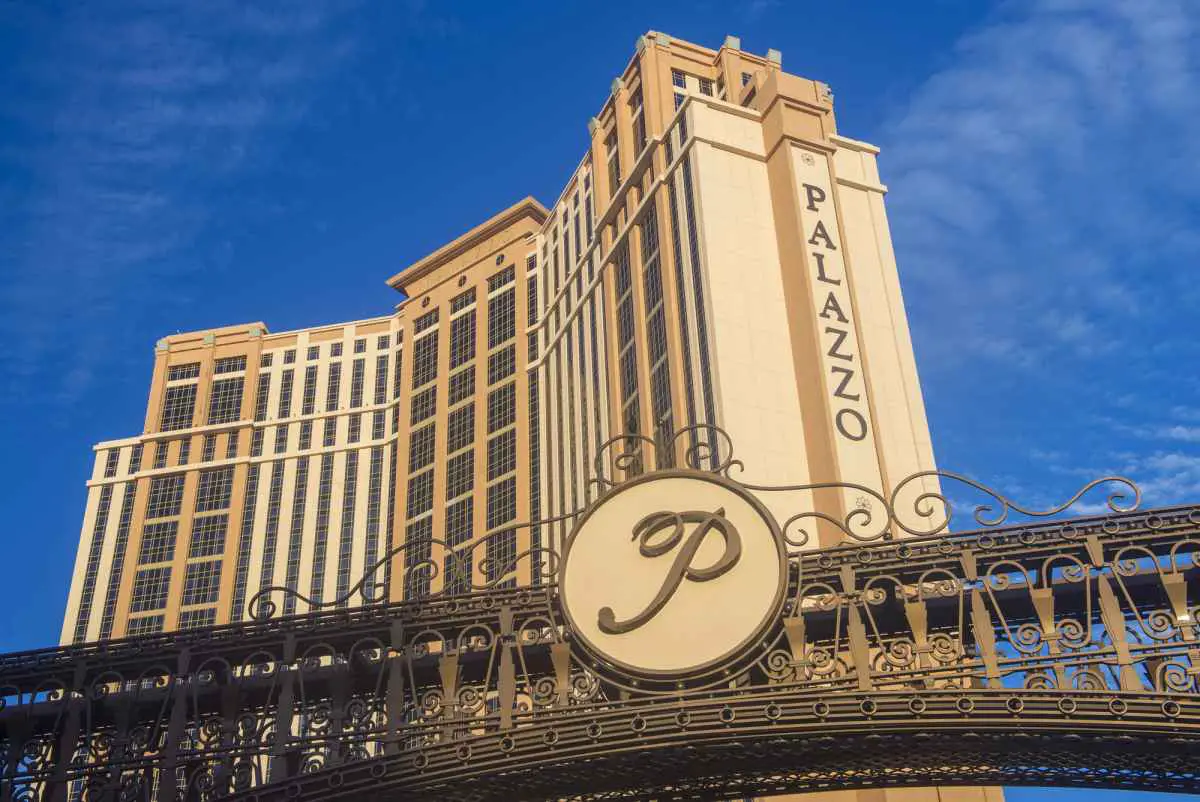 Do Rooms at the Palazzo Have – Final Thoughts
The Palazzo is famous for the amenities offered. However, the rooms are especially well known for their relatively low rates compared to the level of luxury provided. If you're looking for a luxurious stay during your time in Vegas, few places can offer the value for money you'll find here at the Palazzo.
Just remember that some amenities are only offered depending on availability so ask the hotel concierge before you confirm your booking.