Does Circa Have Balconies? (Downtown Las Vegas)
(This article may contain affiliate links. If you click through and make a purchase, we will receive a small commission at no additional cost to you. )
While Circa's newly-constructed rooms and suites in downtown Las Vegas offer chic art-deco-themed interiors with captivating views over the downtown area, the Strip, and the Valley's mountain ranges, none of the rooms have a balcony.
Now that you know the answer to the question "does Circa have balconies?", let's see what this fantastic resort does offer.
Circa Resort & Casino is the latest to make its mark on the downtown area of Las Vegas with the official opening of a 777 room hotel tower with a huge swimming pool and rooftop lounge. Circa's unique 71-degree sloping tower tapers over the Las Vegas skyline and is currently the tallest building north of the Strip.
Note: If you're set on having a room with a balcony, check out these Las Vegas hotel rooms with balconies.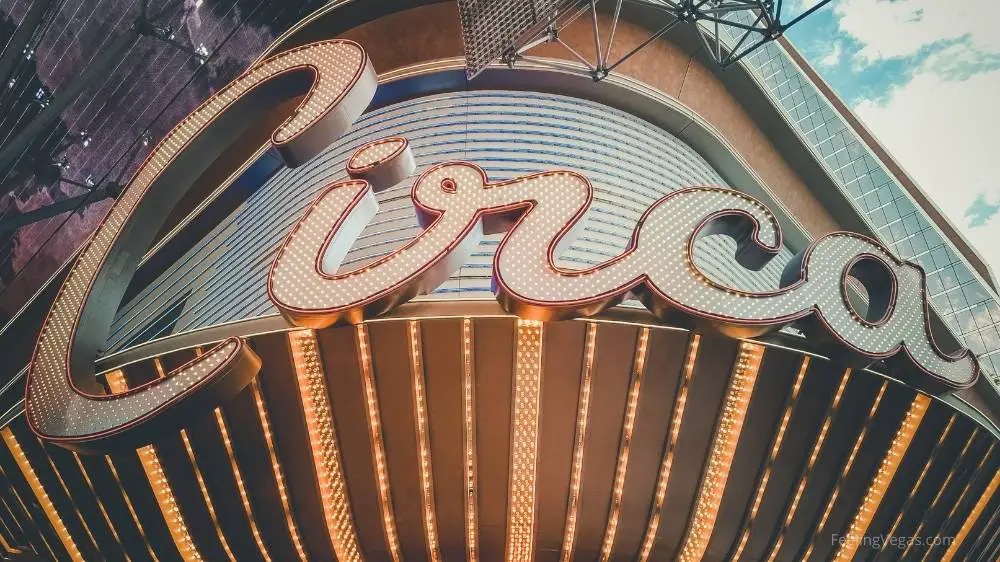 What are the Circa room options?
Circa's standard rooms are fully equipped and offer guests a Serta Prestige king mattress, a mini-refrigerator, and a tablet that can be used to control room lighting and book on-site facilities. Some rooms also offer built-in beds that can be pulled from the wall to accommodate an extra person in the living space. 
Circa standard rooms
Circa's standard rooms range from 403 to 752 square feet and are designed to maximize space and allow versatility. Along with a range of bed size options (single king, flex kings, single or double bed arrangements), there is also plenty of seating for guests to relax and lounge within each room.
All standard rooms have an ensuite bathroom complete with an oversize walk-in shower clad with peach-accent marble and matching tapware.
Circa studio rooms
With limited numbers available, Circa's Studio rooms offer a lofty 360-degree experience with a centrally positioned king-size bed and large floor-to-ceiling windows providing striking views of Las Vegas. There's also spacious living and dining space for guests as well as the same bathroom options found in the standard rooms.
Circa suites
Circa's stunning suites are offered in various sizes spanning from 822 to 1,612 square feet. All rooms feature a well-appointed living space complete with a black-quartz dining table, a wet bar with a fridge, as well as a 65-inch HD TV. 
Circa bunk suites
If you're looking to hit the famous Las Vegas Strip with a group of friends, then Circa's bunk suites are a retro-appointed room option that offers 700 sq. foot rooms. Each bunk room offers 4 bunk beds with a smaller bedroom space but provides guests with a stunning living space complete with a wet bar and drinks counter that's perfect to get the party started. 
Circa premium suites
For those looking to hit Vegas in style, you can't go past the incredible premium suite options offered by Circa. One room, in particular, is the Founder's Suite, a stunning 1,830 square foot 2 bedroom suite that will provide a taste of old-school Vegas glamor and luxury. 
The suite is beautifully decorated and features a huge living area with a dining table for 6, a full wet bar, an electric fireplace, and some of the best panoramic views on offer of the downtown area of the Las Vegas Strip. 
While there are no balcony or terrace options available for Circa suites or Circa premium suites, guests can enjoy the striking views through floor-to-ceiling windows, and Circa's sunset and sunrise suites offer unparalleled views of the stunning desert and valley landscape. 
→ Take a look at Circa's rooms and room rates here.
Summary
While none of the rooms at the Circa resort are available with a balcony or terrace option, guests are instead offered some of the most striking views of Las Vegas and the surrounding valley and mountain ranges with huge floor-to-ceiling windows. 
Be sure to see all of our Circa articles here. They'll tell you everything you want to know about Circa Resort & Casino.
RECOMMENDED: Circa vs. Golden Nugget: Which Is Better? (Las Vegas)
Related Articles
UP NEXT: 9 Best Off-the-Strip Las Vegas Hotels (Revealed!)
References:
https://www.circalasvegas.com/
https://www.prnewswire.com/news-releases/now-open-vegas-circa-resort–casino-debuts-hotel-tower–legacy-club-rooftop-lounge-301198567.html