Stay in Las Vegas For Free or Cheap (Here's How)
Have you ever wanted to go to Las Vegas but found the prices for an overnight stop too steep? A hotel in Las Vegas can cost a fortune, but what option do you have? How about a free or heavily discounted room?
One of the best ways to get a free or cheap room in Las Vegas is to find a Vegas hotel that offers a loyalty program you can join. In addition, you can sign up for a casino player's card and/or sign up to hotel and casino mailing lists to get a free or reduced rate room in Sin City.
Let's look in a bit more detail at how you can get a free or reduced rate hotel in Vegas, and what you'll need to do to ensure you can stop in Vegas without blowing your entire budget on a hotel room for the night.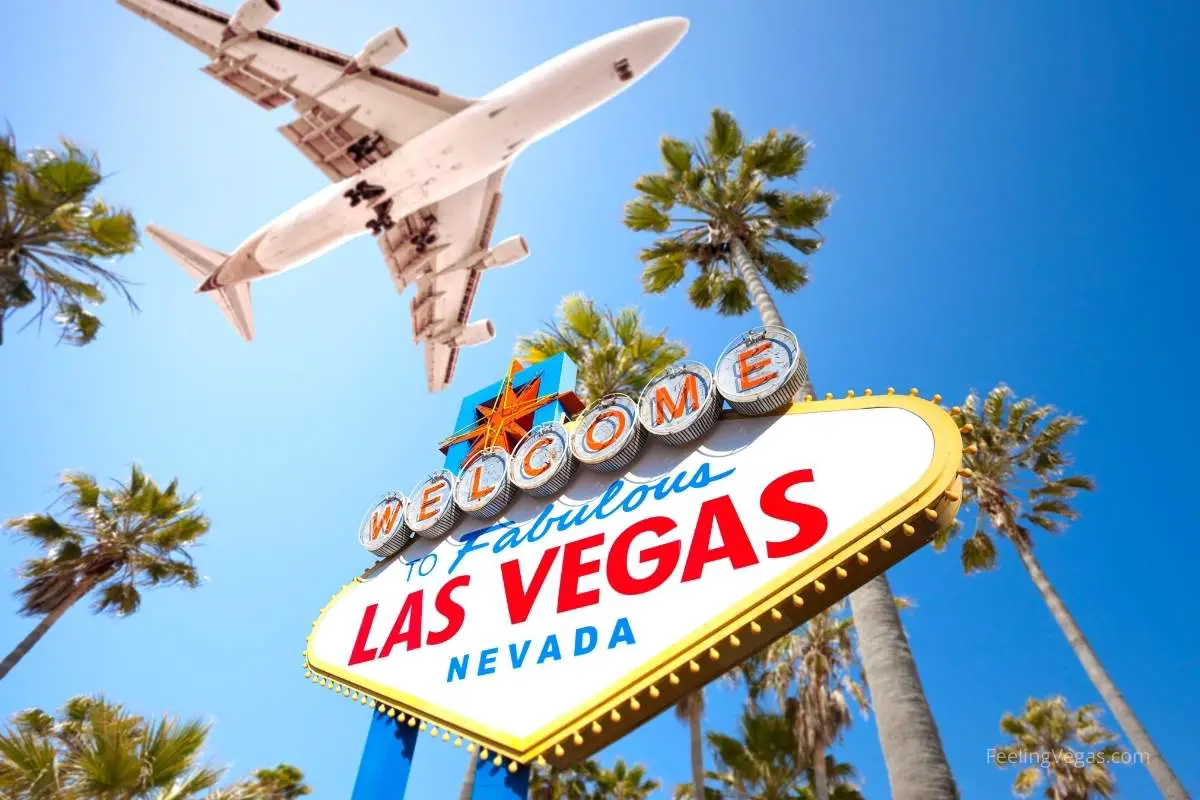 (This article may contain affiliate links, which means we might earn a small commission if you click and make a purchase. Thank you!)
How Can I Stay In Las Vegas For Free?
If you want to stay in Las Vegas without paying for it, you should look for a hotel that offers an attractive loyalty program.
Alternatively, look into casino loyalty programs, or try signing up for a player's card or adding yourself to the casinos' mailing lists so you can receive deals and freebies. Don't try to get casinos to give you a room based on your spending – unless you're a seriously big spender.
Tip 1: Use Las Vegas Hotel Loyalty Programs
There are a few Las Vegas hotel loyalty program options, but be aware that you'll need quite a lot of points, even for one night in Vegas. If you want to stay for longer, you're going to have to do some major collecting.
To maximize your chances, make sure you partner with a program as soon as you can so that you start collecting points as soon as possible for your hotel stays worldwide.
You should also choose a program that you are likely to use a lot so you'll be able to maximize the points. This used to be much harder, with only a couple of options, but now, there are more choices.
This is constantly changing, so you'll need to check with the hotels, but at present, you can choose from a fairly wide range. The table below includes the hotel loyalty programs presently available for properties in Las Vegas:
Hotel Loyalty Rewards
Programs
Las Vegas Hotel Properties
Marriott Bonvoy
– Marriott Las Vegas
– Marriott Vacation Club Grand Chateau
– Springhill Suites by Marriot Las Vegas Convention Center
– Residence Inn by Marriott Las Vegas Hughes Center
– Fairfield Inn by Marriott
– Courtyard by Marriott Las Vegas South
– Residence Inn by Marriott Las Vegas South
– Residence Inn by Marriott Las Vegas Convention Center
Wyndham Rewards
– Wyndham Grand Desert Resort (no resort fee)
– Wyndham Desert Blue
Choice Privileges
– M Resort Spa Casino
– Quality Inn
– Rodeway Inn & Suites Las Vegas Strip
– Bluegreen Vacations Club 36
– Comfort Inn & Suites Henderson
– Comfort Inn & Suites Las Vegas
Radisson Rewards
– Treasure Island TI
Best Western Rewards
– McCarran Inn
– North Las Vegas Inn & Suites
– Hoover Dam Hotel (Boulder City)
– The Strat
– Casino Royale-Center Strip
– Las Vegas West
– Henderson Hotel
– Las Vegas South (Henderson)
Hilton Honors
– Las Vegas Hilton at Resorts World
– Hilton Grand Vacations on Paradise (Convention Center)
– Elara by Hilton Grand Vacations (Center Strip)
– Tropicana Las Vegas by Hilton
– Hilton Garden Inn Las Vegas | Henderson
– Home2 Suites by Hilton Las Vegas South
– Hilton Garden Inn Las Vegas Strip South
– Homewood Suites by Hilton Henderson / South Las Vegas
World of Hyatt
– Hyatt Place Las Vegas
– Hyatt Place Las Vegas Silverton Village
– The Signature at MGM Grand
– Vdara
– Mandalay Bay
– Bellagio
– New York-New York Hotel & Casino
– Delano Las Vegas
– MGM Grand
– Luxor Las Vegas
– Aria
– Excalibur
– NoMad Las Vegas
– Park MGM Las Vegas
Each one of the above programs has multiple Las Vegas hotels to choose from when planning your stay.
Which one will suit you best depends heavily on the deals that they have going at the time you sign up, and the sort of budget you spend on hotels each year. You should have a good idea of this before signing up for a program. It's also worth checking out what features are on offer before you choose your program.
You might be considering signing up for lots of programs, but this probably isn't the best idea.
You will end up spreading your points too thin if you are trying to get them from multiple companies at once unless you spend a huge amount of time staying in hotels and you can't stick with one brand over the others for some reason.
You should think about other aspects than just how frequently you visit the hotel (although this will be a major factor). For example, look at how quickly points expire, how well the hotel rewards your spending, and what their blackout dates are like. All of these will help you to decide which hotel loyalty program is best for you.
Tip 2: Use Casino Loyalty Programs (Players Card)
Many Las Vegas casinos offer great loyalty programs to their patrons in the form of a Player's Card, so this is another option if you don't want to sign up for a hotel loyalty program. However, you will often need to be in Vegas before you can start racking up points, which could make it harder to reliably get a free hotel room. Maybe for your next trip.
If you want to try this, there are plenty of options that will let you earn points and sometimes other rewards – like free hotel rooms if you're lucky.
Look into the MGM Rewards program (owned by MGM), and Caesar Rewards Gold, which regularly offers free or discounted stays at any Caesars owned hotel. Other tiers may also offer free or discounted rooms.
Ideally, you'll want to sign up for a Player's Card before you start gambling. This will track your spending throughout your stay, earning you points that may be used on a hotel room (or possibly an upgrade).
To get a Las Vegas casino player's card, you can either:
Sign up on the casino's website (make sure you choose the casino attached to the hotel you want to stay at)
Or, you can sign up for the card at the player's desk in the casino (only takes a few minutes)
The disadvantage of using a player's card to get your free room is that it may prompt you to gamble more and more throughout your stay because you'll feel like your money is at least going toward a future hotel room or reward.
However, if this increases your overall gambling spend, you aren't really getting a "free" hotel room – you've just put more money into the casino than you would have without the player's card. It's fine to use this as a strategy, but make sure you do so knowingly, or you may spend more than you would have just paying for the room.
RECOMMENDED: How to Bring and Carry Money in Las Vegas (Explained)
Tip 3: Sign Up For Las Vegas Casino and Hotel Mailing Lists
You can always find companies that will give you freebies in exchange for your information – so why not sign up for mailing lists for Las Vegas hotels or casinos that you want to stay at?
You are more likely to get discounted, rather than totally free, rooms using this method, but it's still worth doing.
If you are also collecting points you might then be able to use these in combination with hotel room sales in order to take further advantage of a discounted room, but check, as these offers will often exclude the use of points so you might end up having to pay the discounted rate OR decide to use your points.
RECOMMENDED: The Bellagio Casino: 21 Answers You Should Know (Las Vegas)
Can I Get A Las Vegas Hotel Room Comped Instead?
One of the most reliable ways to get a free or "comped" overnight stay in Vegas is to spend money gambling in the casino. If you impress the casino with your dedication, they might offer you a nice room as a reward.
This way may not work quite as well as it used to, but players can still get perks or comps, including free rooms. You don't have to be a super high roller to start getting discounts and if you plan to be gambling anyway why not try. Just make sure to use your player's card anytime you're spending money on the casino floor as I mentioned above.
It's worth noting that even if you do receive a discounted or comped room, many hotels will only offer a future comped room, not one for the current night. This means you probably won't be able to stay in Las Vegas for free tonight using this strategy.
The casinos are more likely to try to induce you to come back to Las Vegas in the future by sending you an offer for a comped room once you're home again.
For those who want to try this anyway, make sure you are playing at the hotel where you would like to stay the night, rather than moving between casinos. You are more likely to get noticed and comped if you stay in the same place, while if you move around, your overall spend is likely to remain insignificant.
If you plan to try this strategy, make sure you've got the funds set aside for a night somewhere just in case it doesn't work out.
RECOMMENDED: How Much Money The Average Person Loses in Vegas (Wow!)
Conclusion
If you want to stay in Las Vegas for free, your best option these days involves finding a hotel chain with a great loyalty program and signing up for it. You will then need to collect points until you've got enough to exchange them for a free trip!
More From FeelingVegas