Do Las Vegas Casinos Still Allow Smoking? (Explained)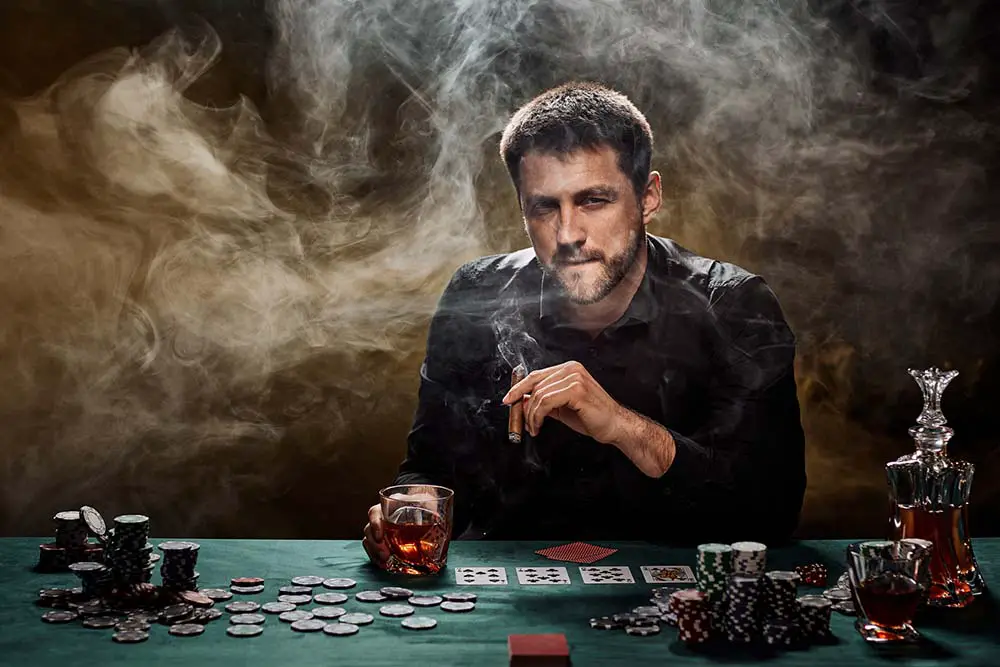 (This article may contain affiliate links, which means we might earn a small commission if you click and make a purchase. Thank you!)
Are you heading to the Las Vegas casinos and wondering whether smoking is still permitted in these places? A lot of smoking laws have changed in recent years, so where does that leave you?
Smoking is popular in many Las Vegas casinos, and it remains permissible in most, but not all. The Park MGM, for instance, is the first 100% smoke-free casino in Las Vegas. While smoking is still allowed on the gaming floor in most casinos it is increasingly not allowed in many other public spaces.
It can be a little confusing to understand where you can and cannot smoke in the Las Vegas casinos, because the rules vary. Let's find out a bit more about this!
Do Las Vegas Casinos Allow Smoking?
Although smoking has been banned in the majority of indoor, public spaces in the last few years, most Las Vegas casinos (both on and off the Las Vegas Strip) still permit patrons to smoke inside when gaming. However, not all of them do, and any areas of a casino property that allow minors nearby cannot allow smoking (this is a legal requirement).
This means that there tend to be specific areas in which you can smoke, rather than just anywhere in the entire casino. The rule is that you may smoke in most casino outdoor areas, and also in the gaming pits since this is an area where minors are prohibited.
There is a strong correlation between the act of smoking and the craving to gamble, which may be why many casinos still permit smoking, despite recent laws and the preferences of other patrons. Several studies have been done that explore the relationship, and these have all indicated that smoking increases the appetite to gamble.
Why Isn't Smoking Banned In All Las Vegas Casinos?
At present, the law (Nevada Clean Air Act) bans smoking in all public indoor places apart from those specifically exempt – which includes casinos. Other places where indoor smoking is permitted include strip clubs, tobacco stores, and certain bars (as long as under 21s are banned).
Smoking in Las Vegas casinos was specifically excluded from the law when it was put into place, and interestingly, in places where smoking is banned in casinos, there has been a noticeable drop in revenue.
Sin City casinos have therefore fought to keep smoking as an acceptable activity in certain parts of the building as a means of protecting their interests and ensuring their patrons continue to spend money. They are for-profit businesses, and currently, a smoking ban is not in their interests.
That said, the tide is turning as more and more Las Vegas casinos are considering becoming non-smoking. The further this movement goes, the greater the pressure on the remaining casinos will become.
Which Las Vegas Casinos Allow Smoking?
The following are just a few of the dozens of casinos in Las Vegas that allow smoking on the gaming floor:
The MGM Grand
The Venetian and Palazzo (on the gaming floor)
Caesars Palace
Wynn Resorts
Resorts World Las Vegas (on the gaming floor)
Las Vegas Sands (on the gaming floor)
It is important to check before attending a casino, however, because the rules and regulations are changing. Call the casino in advance and ask if they allow smoking to ensure this is still the case.
RELATED: Smoking at The Venetian Las Vegas (Is it allowed?)
Which Las Vegas Casinos Do Not Allow Smoking?
The only casino in Las Vegas that does not allow smoking at all that I'm aware of currently is the Park MGM. This Las Vegas property was the first to become entirely smoke-free, and that includes the casino and gaming areas.
This also includes NoMad Las Vegas, which is a separate hotel located within the Park MGM. They, of course, share the same casino.
That being said, there are plenty of casinos that have non-smoking areas within the casino floor. While Park MGM may have been the first, as trends change, it may not be the last entirely non-smoking casino in Las Vegas.
RELATED: Smoke-Free Casinos in Las Vegas: The Truth
Why Are Some Vegas Casinos Banning Smoking?
If there is evidence that reduced smoking equals reduced profits for Vegas casinos, you might be wondering why some casinos have banned smoking anyway. There are a few answers to this:
It is harmful to casino workers (as has been backed up by studies).
It creates an unpleasant atmosphere for non-smoking patrons.
The overall number of smokers is declining so a ban has a decreased impact.
Smoke is damaging to the interior of casinos; cigarette smoke is notoriously hard to remove from interiors and soft furnishings.
There is some sense of public responsibility; casinos are getting a bad image by allowing smoking in their venues, and this is likely to increase as public opinion turns against smoking even further.
There are, therefore, quite a few good reasons for Las Vegas casinos to ban smoking, even if it has an impact on their profits. It should be noted that the Coronavirus pandemic likely affected this too; with more and more awareness about the importance of lung health, it's harder for the casinos to justify their acceptance of smoking.
However, a blanket ban is probably a long way off for some, and it may be many years before Las Vegas smokers have to leave the casinos in order to light a cigarette or cigar.
Which Was The First Smoke-Free Casino?
Park MGM became Las Vegas's first smoke-free casino when it reopened after the Coronavirus pandemic in 2020. The whole resort is smoke-free, including the casino floor, so it's an ideal spot for non-smokers but not so great if you prefer to gamble with a cigarette in hand.
RELATED: 15 Smoke-Free Hotels in Las Vegas: On or Near the Strip
Can You Vape In Las Vegas Casinos?
E-cigarettes and vaping are classified under the same laws as smoking, according to the Nevada government. That means that you cannot vape when you are in any of the places where smoking would be prohibited.
Hotel lobbies, indoor restaurants, theaters, arcades, and more areas may ban vaping because minors are permitted in these spaces, or for other legal reasons. You can vape on the gaming floor in many of the Las Vegas casinos, but the simple rule is: if you cannot smoke, you cannot vape.
You won't be able to do so in your hotel room either, so make sure you are aware of this before you try it, or you'll face a fine.
Can You Smoke In Las Vegas Casino Restaurants?
No, you cannot smoke in the casino restaurants in any of the Las Vegas casinos unless they are outdoor restaurants. In most cases, any indoor area where food is being prepared must be smoke-free, and this is true for restaurants.
If you wish to smoke while enjoying your meal, you will have to step outside. Alternatively, choose one of the outdoor restaurants along the Strip, as these do still permit smoking.
The smoke-free rule is also true for the arcades and theaters associated with the casinos. If you wish to smoke, you will have to step outside. In general, Vegas hotel lobbies will be smoke-free too.
The casinos must adhere to the law, and if minors could be present in an indoor space, a smoking ban must be imposed, regardless of the casino's wishes.
Can You Smoke In Las Vegas Hotel Rooms?
Most casinos will not permit guests to smoke in their rooms, and even the MGM Grand, which is the most famous smoking casino, does not allow smoking in its hotel rooms. In fact, there is a hefty fine for doing so.
Given how strong cigarette smoke can smell in an enclosed space, along with other things like the increased risk of a fire and the fact that it could affect other guests and contaminate linens that are used in multiple rooms, this is not particularly surprising.
RELATED: Smoking in Las Vegas Hotel Rooms
Conclusion
Many Las Vegas casinos do permit smoking on the gaming floor and in designated smoking areas but not in other areas of the property.
There has been a lot of pushback against smoking in recent years, and increasingly, Vegas casinos are turning away from it or limiting it, despite the potential profit hit they face.