Does Treasure Island Have Balconies? (Las Vegas)
(This article may contain affiliate links. If you click through and make a purchase, we will receive a small commission at no additional cost to you. )
Treasure Island hotel rooms do not feature balcony or terrace options. TI, however, is famous for its iconic pirate ship and its location (just slightly north of center) on the Strip. Treasure Island hotel offers great rooms at very affordable prices and is ideal for families or large groups. 
Treasure Island (also known as TI Hotel & Casino) opened in 1993 and was originally designed with a pirate theme focused on family-friendly entertainment.
While the iconic pirate ship remains at the entrance to the complex, the pirate show is no longer running and the ship is used for other live performances.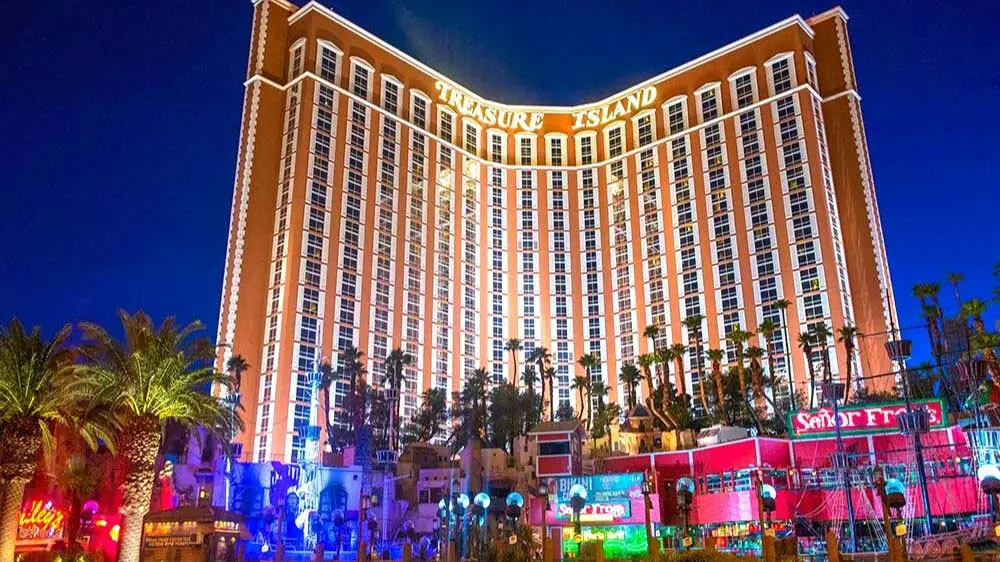 Treasure Island Hotel rooms
Treasure Island resort has undergone significant renovations over the years and now features a hotel with 2,884 rooms and 220 suites, a tropical pool, spa, a wellness center, as well as a 1,200 square foot arcade with retail shops and attractions.
All of TI's hotel rooms have recently been renovated and include new furniture and fixtures with rooms including USB ports, a mini-fridge, flat-screen TVs, and generously sized bathrooms with marble floors.
While the interior may have been significantly remodeled, the exterior of the hotel tower hasn't changed and does not have balconies or terraces attached to any of the rooms. 
There are plenty of room options available, however, with rooms ranging from 400 square feet all the way up to 1,800 square feet for the opulent Penthouse Suite.
The rooms are well-proportioned and offer excellent value for money for a hotel so well positioned on the famous Las Vegas Strip. 
Note: There are only a few hotels on the Las Vegas Strip that offer balcony rooms. Find out which one's they are in our article: 10 Best Las Vegas Hotels with a Balcony or Terrace.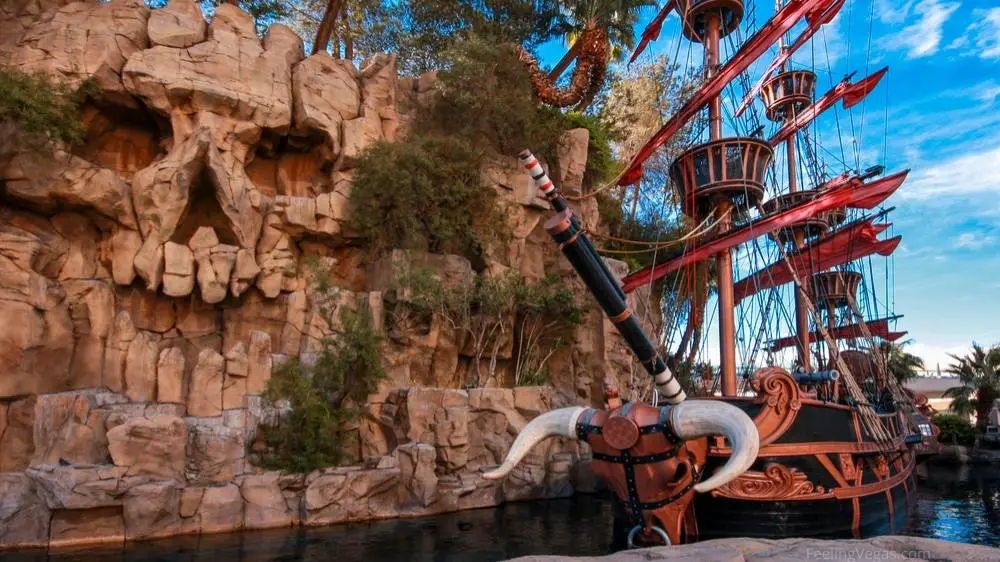 Deluxe rooms at Treasure Island
The Deluxe Rooms are the smallest on offer and cover 400 square feet.
The rooms are fitted with a king-size bed or 2 queen beds and all offer floor-to-ceiling windows with stunning views of the mountain horizons or views of the Las Vegas Strip over Sirens Cove to the front of the complex.
All Deluxe rooms are climate controlled, as such the windows cannot be opened. 
The Deluxe Rooms have recently been redecorated and feature a tasteful palette of colors, new furniture, and artwork, as well as a generously sized bathroom complete with marble floors and countertops and a large soaking tub. 
Petite Suite/Tower Suite at Treasure Island (TI)
The Petite Suites offer a king-size bed along with a small sofa and desk within the 630 square foot floor plan.
With the additional space, the bathroom is also slightly larger and offers a separate full private shower and a large whirlpool tub. 
The Tower Suites are slightly larger and offer 930 square feet of space with a king-size bed, sofa, writing desk, and a small dining area. The bathrooms are the same as the Petite suite. 
Both suite options offer stunning views, either of the mountain horizons or overlooking Sirens Cove and along the Strip.
All rooms at Treasure Island are climate controlled without any windows that open and do not offer balconies or terraces. 
Premier Suite/Penthouse Suite
At the top end of the hotel's range are the Premier Suites and Penthouse Suites offering luxurious and comfortable accommodation at 1,300 and 1,800 square feet respectively.
Both suite options have 2.5 bathrooms with marble floors and countertops and baths. As with all rooms at the Treasure Island Hotel & Casino, even the Premier and Penthouse Suites do not offer balconies or terraces.
→ Check room rates at Treasure Island (TI)
Summary
Treasure Island Hotel and Casino is a fantastic and affordable accommodation option if you're planning to hit the Las Vegas Strip with a family in tow.
The hotel has an excellent location and the rooms are very well priced compared to many other hotels that line the Strip.
Each of the room options is spacious and provides all the facilities for a comfortable stay, but sadly, none offer a balcony or terrace. 
Be sure to see all our Treasure Island articles here.
Related Articles:
Up Next: How To Choose a Hotel in Las Vegas (The Ultimate Guide)
References:
https://en.wikipedia.org/wiki/Treasure_Island_Hotel_and_Casino
https://treasureisland.com/hotel/1/deluxe-rooms
https://treasureisland.com/hotel/2/petite-suite
https://treasureisland.com/hotel/4/tower-suite