Mirage vs. Bellagio: Which Is Better? (Las Vegas)
The Mirage is an iconic staple of Las Vegas, which was aided in part by the long-running presence of Siegfried and Roy and makes this resort a must-visit for any Las Vegas enthusiast. The popular Bellagio sets the standard for opulence and is home to the famous Bellagio Fountains.
Both resorts are eye-popping and unique in their own ways, but when it comes to choosing which Las Vegas hotel to stay at, you'll need to know which one will best suit your needs, Mirage or Bellagio?
If you're deciding between the Mirage and Bellagio for your visit to Las Vegas, you'll want to choose the Bellagio if you are looking for an experience of luxury and elegance in a prime location. However, you may want to consider the Mirage if you're looking for a less expensive option overall.
So, between the Mirage and Bellagio, which is best to stay in? The following chart compares the highlights between both the Mirage and Bellagio: 
Category
The Mirage
Bellagio
Room Price
From $59 per night
From $159 per night
Resort Fees
$44.22 per day
$51.02 per day
Parking Fees
Self-Parking: $15 daily
Valet: $26 – $30 daily

Self-Parking: $18 daily
Valet: $30 – $35 daily
Location
Slightly north of Mid-Strip
Mid-Strip
Major Shows
– The Beatles LOVE by Cirque du Soleil
– Terry Fator
– Motownphilly by Boyz II Men
– The Aces of Comedy
O by Cirque du Soleil
Pools
1 Very large tropical pool,
1 Adults only "top-optional" pool
1 huge jacuzzi
5 full-size pools, 4 jacuzzis
Nearby Attractions
– The Mirage Volcano
– Fountains of Bellagio
– Conservatory and Botanical Gardens
– Close to many other casinos
(This article may contain affiliate links, which means we might earn a small commission if you click and make a purchase. Thank you!)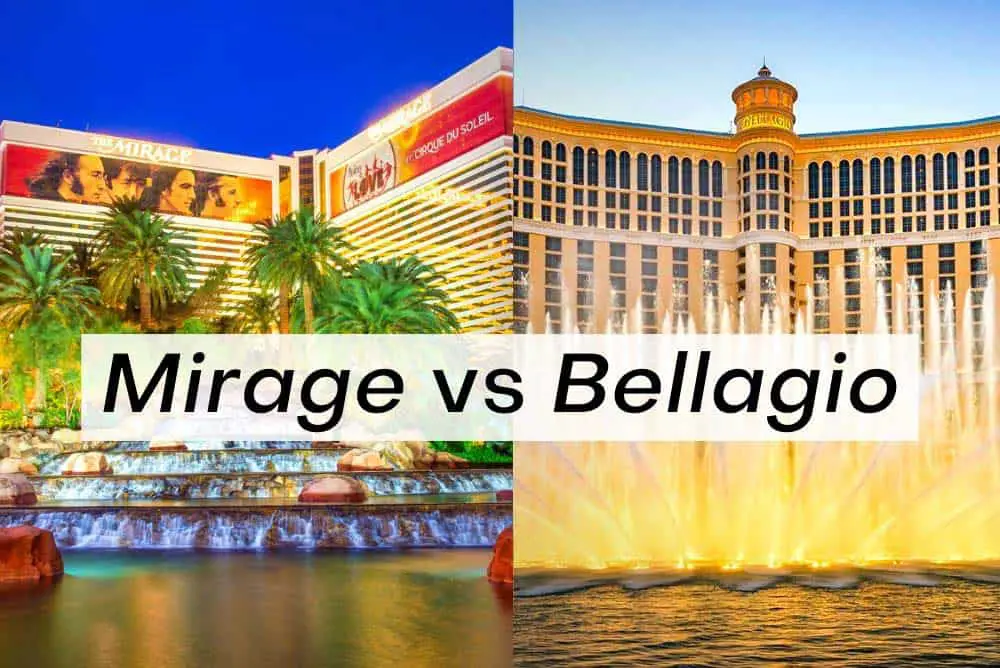 Name: The Mirage
Address: 3400 S Las Vegas Blvd
Casino Floor: 100,000 sq ft.
Year Built: 1989
Number of Rooms: 3,044
Name: Bellagio Hotel & Casino
Address: 3600 S Las Vegas Blvd
Casino Floor: 156,000 sq ft.
Year Built: 1998
Number of Rooms: 3,950
A stark contrast between these two iconic resorts is the overall price and the variety of entertainment options. While the Mirage has more in-house entertainment, Bellagio offers stunning visual surroundings that are some of the best in all of Las Vegas.
Making a choice between these two resorts is difficult, but this article will attempt to help narrow the field with an in-depth analysis of all that each resort has to offer.
Mirage vs Bellagio: Comparing Room Rates
There couldn't be a bigger difference between these two resorts than the price of various rooms within them. Bellagio is known as the most opulent and romantic of nearly all of the resorts on the Las Vegas Strip, which means this resort comes with a higher price tag.
The Mirage offers a more affordable rate of the two while still maintaining its long-running reputation as a great choice for Las Vegas entertainment. 
A standard room at the Mirage generally runs about $59 per night, which is the standard for most mid-range resorts on the Las Vegas Strip. Mirage room rates typically cap at the $200 to $300 range, which is a vital point to keep in mind if you are wanting to stay in a Las Vegas Strip resort on a budget.
The affordable rates are complemented nicely by the entertainment offerings, as well as all of the typical amenities you can expect from a Vegas hotel/casino. 
Affordability is not necessarily in Bellagio's financial vocabulary; this resort is more expensive, yet you will certainly get what you pay for. A standard room at Bellagio starts at about $159 per night, with rooms running into the thousands of dollars a night for some of the more high-end suites.
When you stay at Bellagio, you are paying for some of the most high-end rooms that the Las Vegas Strip has to offer. 
Which is better? Well, this is truly based on what you are looking for.
Most people know that Bellagio is going to be expensive, and with that in mind, the prices should not be that alarming. The Mirage is more affordable and has more entertainment to offer, even if this resort is located just a bit further from the main action in the middle of the Strip.
Resort Fees at Bellagio and The Mirage
The resort fees of each of these resorts are another thing to consider. Both hotels charge daily resort fees that are at the high end of the spectrum for Las Vegas. High-speed internet access, phone calls, use of the fitness center, and pool access are what are included in this fee.
Unfortunately, the fees are not optional, even if you don't intend to use any of the amenities.
| Hotel | Resort Fee |
| --- | --- |
| The Mirage | $44.22 |
| Bellagio | $51.02 |
Resort fees are generally unwelcome by visitors, but almost every major hotel/casino in Las Vegas charges them. There are a few big hotels on or near the Strip or downtown that don't charge resort fees, and you can find out which ones in our article here.
In the end, it ends up being pretty much all the same. If the property didn't charge a resort fee, then the room rates would just be higher. But it's good to know that you'll need to add the resort fee to the daily cost of the room to get an accurate daily room rate.
Mirage and Bellagio Parking Fees
The parking fees are currently the same at Bellagio and The Mirage. If you choose to use self-parking, the fee is $18 per day.
Premium valet fees at Bellagio are $30 – $35 per day, while they are slightly less at Mirage at $26 – $30 a day.
Locations Compared: Mirage vs Bellagio
When it comes to desirable locations, the Mirage is slightly north of the most active part of the Strip. It's not that it's terribly far away it's just that in terms of walking to other attractions and properties, it's not as convenient.
Bellagio, however, sits right in the middle of the main activity on the Strip, which is preferable for guests who want to be near the center of activity. It's an easy walk from the Bellagio to many other nearby casinos and attractions.
The Mirage, however, is perfectly fine, especially since this resort has a slew of entertainment options and amenities on the property itself for you to enjoy. Also, you can easily walk from the Mirage to Treasure Island in about 7 minutes (there's even a free tram that'll take you from The Mirage to Treasure Island).
A 10-15 minute walk or five-minute drive will have you at Caesars Palace and the Bellagio. This area is one of the busiest areas on the Strip.
Be sure to download our free map of the Strip showing where all the hotels and casinos are located on Las Vegas Blvd. It will help you get your bearings.
Major Shows at Bellagio and The Mirage
In the face of the impressive level of elegance that the Bellagio offers, the Mirage really shines when it comes to entertainment options between the two resorts.
In addition to the impressive Cirque du Soleil show The Beatles LOVE, the Mirage also has some of the Strip's best comedy offerings with The Aces of Comedy and ventriloquist Terry Fator. There is always something entertaining to do at the Mirage. 
Bellagio is more subdued in terms of shows, and this is understandable since this resort strives to be more about luxury and relaxation.
Currently, you can take in O by Cirque du Soleil, which blends aquatic acrobatics with visually-stimulating surrealist images. This particular offering by Cirque du Soleil is one of the more eclectic and unique of the troupe's current Las Vegas offerings.
Mirage vs Bellagio Pools
When it comes to swimming and jacuzzis, Bellagio excels in this department. With 5 full-size pools and 4 jacuzzis spread throughout a beautiful garden setting means that guests will have a better opportunity for a bit of privacy. This is part of what makes Bellagio such an attractive resort option for romantic getaways.
The Mirage has two pools. They have one huge full-sized pool set in a lush and tropical setting that is just beautiful. On a busy day, this pool can get crowded and take on a sort of a pool party vibe. I personally love hanging out in this pool on a hot day with a cold drink in my hand, chatting with all the visitors doing the same thing as me.
The second pool at The Mirage is called the Bare Pool Lounge. It's a smaller and more private pool area that is "top-optional" and is for adults only.
The Bellagio & Mirage – Nearby Attractions
Being on the Las Vegas Strip, both of these hotels are literally surrounded by attractions! Each one, however, has a water feature attraction right outside its doors that are not to be missed.
The Mirage Volcano is a Las Vegas staple. By day it's a lovely lake with rocks and waterfalls. By night it's an exploding volcano featuring fire, lights, and music. The volcano erupts nightly at 8 & 9 pm on weeknights and also at 10 pm on Fridays and Saturdays.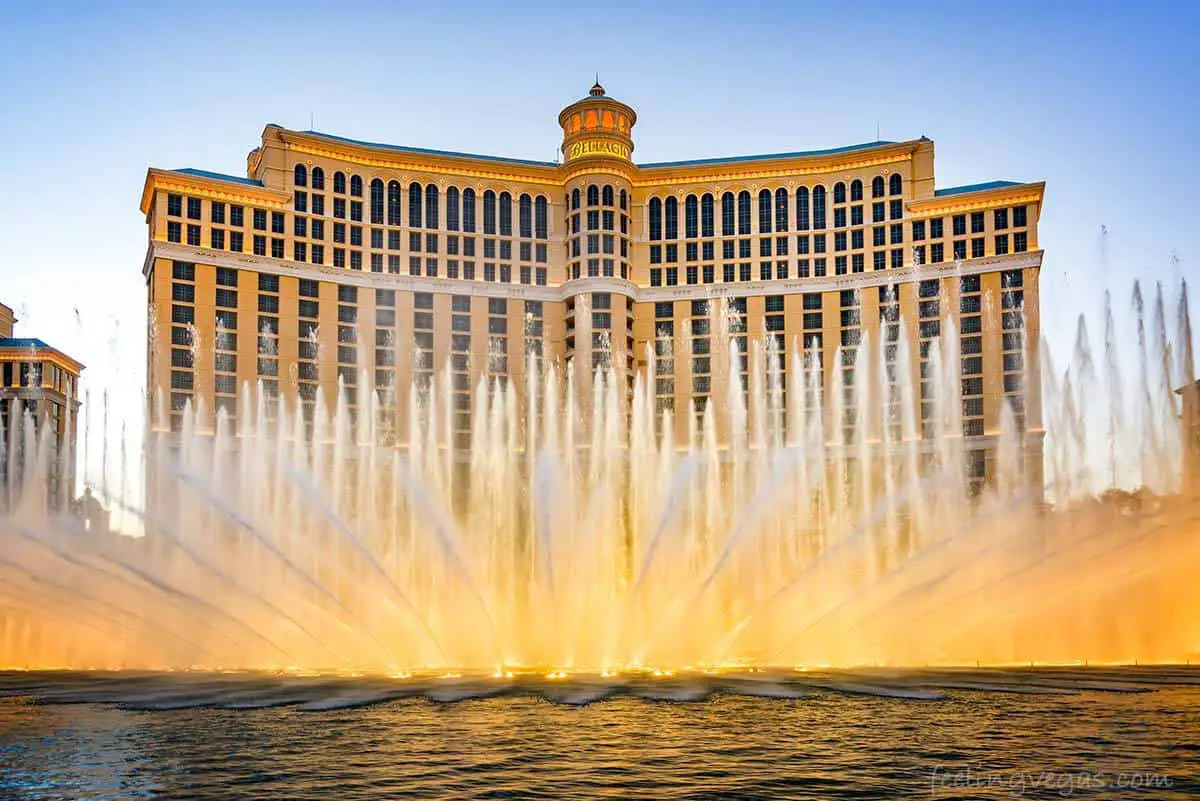 Bellagio has an attraction that, for years, has been the very essence of Las Vegas! The Fountains of Bellagio shoot jets of water hundreds of feet into the air in time with the music. You can see our article here for a complete list of showtimes and songs.
Also, inside the Bellagio, you'll find the Conservatory and Botanical Gardens, as well as the Bellagio Gallery of Fine Art, both of which you'll want to see.
Mirage or Bellagio – Conclusion
I think when choosing between the Mirage and Bellagio, the choice is easy if you are looking for a romantic getaway: Bellagio.
This beautiful resort has a relaxed and refined atmosphere that prioritizes leisure and beauty over energetic entertainment (although you can still find plenty of exuberant activities nearby right outside on the Strip).
If overall affordability and entertainment choices are your priorities, then the Mirage is the way to go.
Both resorts are staples of the Las Vegas experience, and I hope this article has helped you decide which resort is right for your Las Vegas vacation. Enjoy your stay!
Other Las Vegas Hotel Comparisons
Check out these other comparisons of Las Vegas Hotels.
Wynn vs. Bellagio: Who's the best? – Find out here!
Luxor vs. Mirage: Who comes out on top? – Article here
Aria vs. Bellagio: Which Las Vegas Hotel is Better? – Find out here
Bellagio vs. Venetian (Which Las Vegas Hotel to Choose?) – HERE
MGM Grand vs. Mirage: And the winner is… Find out here