14 Best Las Vegas Hotels With in Room Jacuzzi (Very Cool!)
(This article may contain affiliate links. If you click through and make a purchase, we will receive a small commission at no additional cost to you. )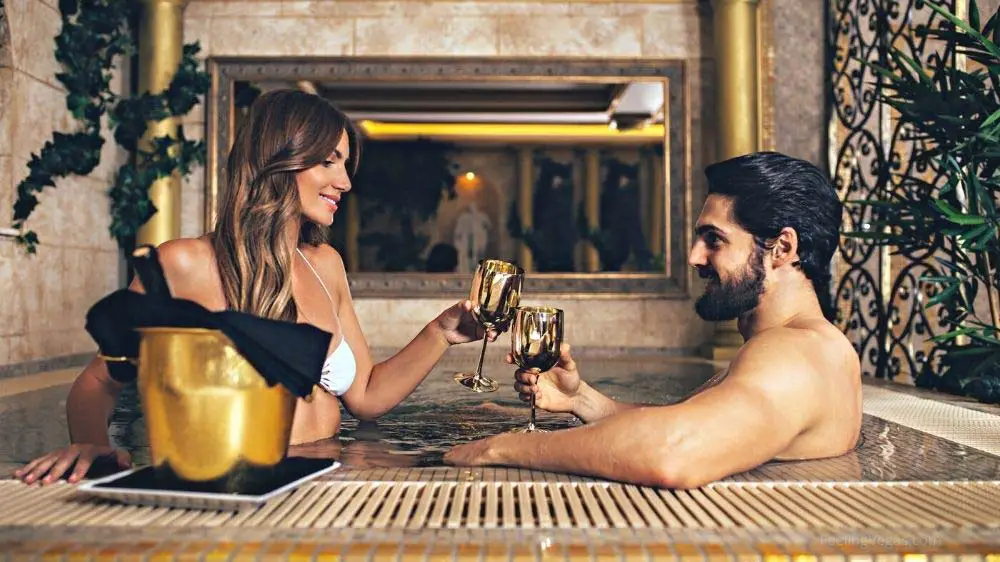 When you're planning your trip to Las Vegas, you want to be pampered. Most hotels have some kind of pool or spa, but what if you want some privacy in the hot tub? Whether you're treating yourself on a solo trip or taking a romantic getaway with your partner, check out this list of the best Las Vegas hotels with an in-room jacuzzi.
Here are the 14 best (and coolest!) Las Vegas hotels with in-room jacuzzi:
The Cosmopolitan
New York New York Las Vegas Hotel & Casino
JW Marriott Las Vegas Resort & Spa
MGM Grand
Treasure Island Las Vegas
ARIA Resort & Casino
Paris Las Vegas
Elara by Hilton Grand Vacations
Trump International Hotel Las Vegas
The Venetian Resort
Palms Casino Resort
Caesars Palace
Bellagio Las Vegas
Tropicana Las Vegas by Hilton Hotel & Resort
But which one of these hotels is right for your trip? Let's take a deep dive into the best Las Vegas hotels with in-room hot tubs.
1. The Cosmopolitan
There are so many Las Vegas hotels with a jacuzzi in the room–and even more with other kinds of luxurious, relaxing bathtubs. The Cosmopolitan kicks off this list because it has such a wide range of amazing rooms and relaxing tubs, with and without jets.
These rooms aren't inexpensive, but they're luxurious. The Cosmopolitan also boasts many high-end restaurants and casino games that make it worth your time.
Terrace Studio
The Cosmopolitan's Terrace Studio features a king bed, a private terrace, and a double-vanity bathroom with a full-sized bubbler tub.
Bubbler tubs pump hot air through the water instead of recirculating pressurized water like a standard hot tub. As a result, a long soak in a bubbler tub is just as relaxing as in a jacuzzi.
Terrace One Bedroom Suite
The Terrace One Bedroom Suite also boasts a private terrace, but this room has a rare Japanese soaking tub. These tubs are deep and built into the floor, allowing you to immerse yourself vertically in warm water.
You'll be hard-pressed to find another hotel in the city with tubs like these. If you're looking for Las Vegas hotels with deep soaking tubs, they don't get much deeper than Cosmopolitan's Japanese soaking tubs. Sure, it isn't a jacuzzi, but it's relaxing.
The Lanai Suite
The Lanai Suite at The Cosmopolitan doesn't have a hot tub, but it does include a personal plunge pool. This high-end suite channels the atmosphere of an island beach house, making it the perfect place to take a private swim.
Bungalow Suite
The pièce-de-résistance for the Cosmopolitan hotel rooms with an in-room jacuzzi is the Bungalow Suite. The three-story suites are luxurious and high-tech.
The hot tub at the Bungalow isn't technically in the room–it's on the terrace!
When you book a stay at the Bungalow, you get your very own plunge pool jacuzzi on the private terrace, with a great view of the Strip.
As you can imagine, the three-story rooms aren't cheap, but you get what you pay for. Your stay at The Cosmopolitan Bungalow will be decadent, filled with touch-screen devices, round-the-clock service, and dips in your private outdoor hot tub.
Check current Cosmopolitan room rates at TripAdvisor
2. New York New York Las Vegas Hotel & Casino
The New York New York Las Vegas Hotel & Casino may be best known for the roller coaster that runs in and around the building, but it's also one of the top hotels in Las Vegas that offers in-room tubs.
Several of the suites you can book contain tubs for you to unwind in, alone or with a partner. These are:
Compare current New York New York room rates at TripAdvisor
3. JW Marriott Las Vegas Resort & Spa
All rooms at the JW Marriott have jetted marble tubs in the en suite bathrooms. These baths are large enough for two and feature relaxing whirlpool jets to help you unwind.
It's no surprise that the Marriott includes a jacuzzi in every room. This hotel doubles as a luxurious spa, with a focus on the healing power of water. If you want to soak, relax, and wash your stress away, you can do it in the privacy of your room or in the high-class spa.
JW Marriott isn't on the Strip but is found in the nearby town of Summerlin. So if you'd rather take in the beauty of the Nevada desert than the lights and sounds of the Strip, JW Marriott is the hotel for you.
This hotel is about pampering and relaxation, not nightlife–though the Strip is just a short drive away if you decide you want to play.
Check current JW Marriott Las Vegas room rates at TripAdvisor
RELATED: 12 Best Las Vegas Hotels With Suites (Extra Roomy!)
4. MGM Grand
The MGM Grand in Las Vegas has several options for rooms with a private spa tub. Staying at the MGM Grand also means you'll be close to plenty of shows, nightclubs, restaurants, and casinos, so you'll never run out of things to do.
The Signature at MGM Grand
The suites at the MGM Grand's Signature hotel are designed for your comfort and convenience. All suites are spacious, with a full kitchenette and king bed, and the bathrooms all contain a whirlpool spa tub.
Check out the Deluxe Suite, the simplest of the Signature's rooms, or treat yourself to one of their rooms with a Balcony Strip View.
The bathrooms at the Signature also feature a TV, so you can watch a movie while you enjoy your hot tub.
MGM Grand SKYLOFTS
If you're looking for a more luxurious experience, the MGM Grand SKYLOFTS can deliver. You'll stay high above the Strip with an incredible view, 24-hour butler service, and an infinity spa tub.
An infinity tub allows you to fully immerse yourself in the water. The tub has a rim around the edge to catch any overflow water, so you don't have to worry about spilling or splashing.
As far as Las Vegas hotels with jacuzzis go, the SKYLOFT's infinity hot tub is the most indulgent.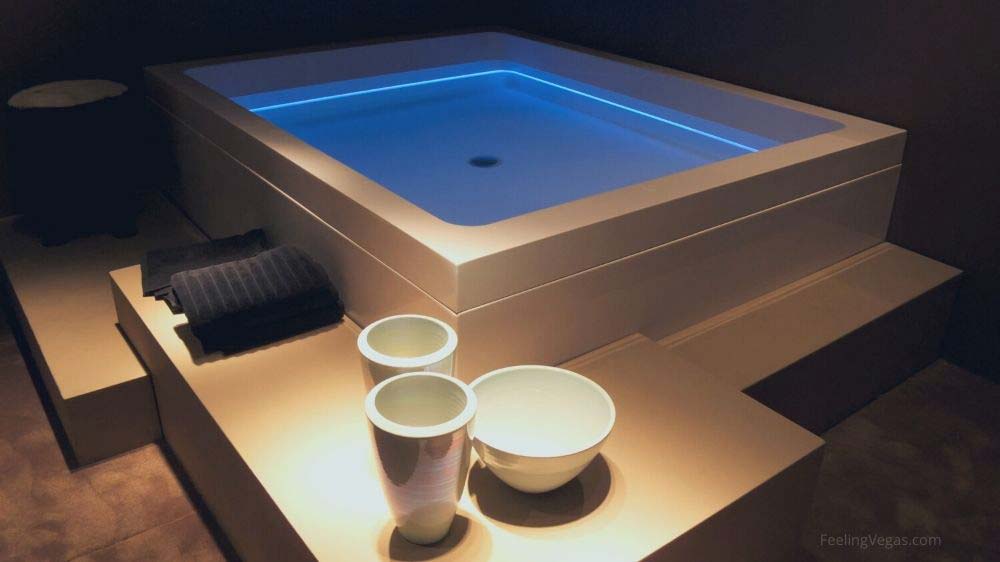 Compare room rates at MGM Grand and Signature at MGM Grand at TripAdvisor
5. Treasure Island Las Vegas
The suites at the Treasure Island Hotel are some of the most affordable on this list. Even the Petite Suite, the smallest of the TI suites, is more spacious than some rooms at more high-end hotels. All suites include a whirlpool tub in the marble bathroom.
Treasure Island promises lots of entertainment for guests, from Cirque du Soleil to the Marvel Avengers S.T.A.T.I.O.N. to several themed bars and lounges.
You can go bull-riding at Gilley's Saloon, play the slots in the casino, sip margaritas at Señor Frog's, and then relax in the jetted hot tub in your room–all without leaving the hotel.
Treasure Island is definitely worth your consideration if you're planning your trip on a budget, but you still want to enjoy the experience of a Las Vegas hotel with an in-room jacuzzi tub.
Check current Treasure Island room rates at TripAdvisor
6. ARIA Resort & Casino
The ARIA Resort & Casino is another MGM property, and this one is focused on giving you a high-end, romantic experience.
The ARIA suites all include a whirlpool tub in the bathroom. From the stunning views of Studio Panoramic Tower Suite to the indulgence of the One Bedroom Sky Suite, the ARIA has plenty of options for a luxurious hotel room with an in-room hot tub.
If you decide to stay at one of the Sky Suites, you'll also get access to a private pool just for Sky Suite guests, a lounge with complimentary snacks and drinks, a personal concierge, and more.
Check room rates at ARIA and ARIA Sky Suites at TripAdvisor
RELATED: How To Choose a Hotel in Las Vegas (The Ultimate Guide)
7. Paris Las Vegas
Paris Las Vegas is one of the most recognizable buildings on the Strip. If you want a classic Vegas experience at a themed hotel, Paris Las Vegas is a great choice.
All the suites at the Paris Las Vegas include a whirlpool tub in the bathroom. You have a wide range of room styles and levels of luxury.
From the modern Burgundy Suite to the opulent St. Tropez Suite, these beautiful rooms bring the best parts of French culture to Las Vegas for you to enjoy along with your in-room hot tub.
The Louis XV Suite is the most decadent suite you can find, with over 3,000 square feet (278.71 square meters) of space and Versailles-themed decor. If you want to live like a king, this room is for you.
No matter which room you choose, your stay at a Paris Las Vegas suite is sure to be luxurious.
Check current Paris room rates at Paris Las Vegas
8. Elara by Hilton Grand Vacations
The Elara, Hilton's high-rise hotel on the Strip, offers a chic and modern experience. Instead of the immersive theming, you'll find at other hotels, the Elara is crisp and elegant. Suppose you'd rather not stay in a hotel that doubles as a casino, but you want to be close to the nightlife and entertainment. In that case, Elara is the perfect choice for you.
There are two one-bedroom suites at the Elara that include a jacuzzi tub.
The One-Bedroom King Suite has an oversized jetted bathtub for you and your partner to enjoy together.
If you're looking for a hot tub to relax in alone, the Junior 1 King Suite has a smaller bathtub with jets, perfect for you to unwind on your own.
Check current Elara room rates at TripAdvisor
9. Trump International Hotel Las Vegas
The Trump International Hotel towers over most of the hotels on the nearby Strip. It's a quiet respite from the hustle and bustle of Las Vegas, but it's only a short walk from the non-stop partying the city is known for.
All the rooms, not just the suites, have a large marble tub with jets in the bathroom. You'll also find gorgeous views, plush beds, and access to an indulgent spa and restaurant.
The Trump Hotel is all about comfort and luxury. It's the perfect place to get away from the noise and lights of Sin City without ever leaving Las Vegas.
Check current Trump International room rates at TripAdvisor
10. The Venetian & The Palazzo
When staying at the Venetian Resort in Las Vegas, you have two options: the Venetian and the Palazzo. The Venetian has a wider variety of suites and entertainment, while the Palazzo is newer, quieter, and the rooms tend to be larger. Both hotels have access to celebrity chef restaurants, pools, nightlife, and casinos.
Between the two Venetian Resort hotels, you have plenty of options for a high-end hotel room with a hot tub.
Venetian Suites
The Venetian has several suites that include a jetted tub. Try the Grand King Suite, Grand One Bedroom Suite, or the Executive King Suite for a relaxing bath  (The latter two suites also have a double-headed shower you can try).
Compare and save! Check current Venetian room rates at TripAdvisor.
Palazzo Suites
The Palazzo also has rooms with a jetted tub. The Grand One Bedroom Suite and the Executive Suite both have an oversized marble tub with jets for you and a partner to enjoy.
The Palazzo is quieter than most other Las Vegas hotels with in-room jacuzzis, which makes it the perfect choice for a relaxing, romantic getaway.
Check current Palazzo room rates at TripAdvisor
RELATED: Venetian or Palazzo in Las Vegas (How to Choose?)
11. Palms Casino Resort
For an artsy, high-end hotel experience, check out the suites at Palms Casino Resort.
The Studio Suite and One-Bedroom Suite are both king-sized luxury rooms that feature a whirlpool tub in the bathroom.
If you'd prefer something a little more decadent, the Penthouse Suites offer a jacuzzi tub on the balcony. You can also enjoy a deep soaking tub in the bathroom if you'd rather stay indoors.
You'll need to venture to the balcony if you want to use those relaxing water jets.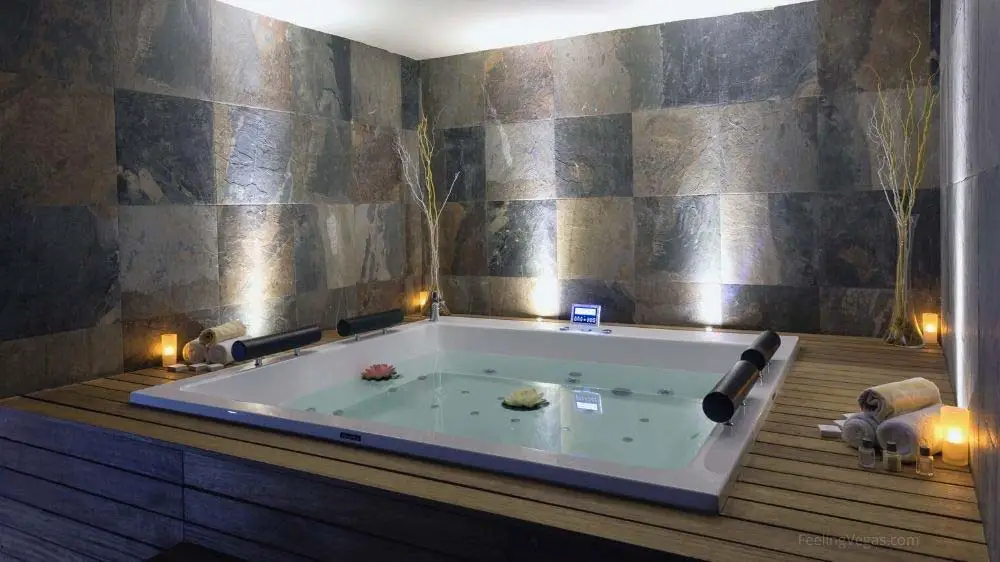 Check current Palms Casino Resort room rates at TripAdvisor
12. Caesars Palace
Caesars Palace is all about luxury, bringing the larger-than-life decadence of the Roman empire to the 21st century. It should be no surprise that they have numerous options for a hotel room with its own jacuzzi.
The Palace Rooms and Augustus Rooms have jetted tubs in the bathroom. These are some of the more standard rooms you can find at Caesars Palace, but when you're relaxing in your in-room hot tub, you'll feel like royalty.
But suppose that's not indulgent enough for you. In that case, the Villas at Caesars Palace are massive, multi-room apartments with private spa tubs.
Check current Caesars Palace room rates at TripAdvisor
13. Bellagio Las Vegas
The Bellagio is another MGM property, and this one is perfect for a romantic getaway. All of the suites include a tub with whirlpool jets and mood lighting, plush robes, and a separate steam shower.
What better way to unwind after a long day on the Strip?
These rooms at the Bellagio typically aren't cheap, but you're paying for a refreshing, romantic experience for you and your partner.
Check current Bellagio room rates at TripAdvisor
14. Tropicana Las Vegas by Hilton Hotel & Resort
The Tropicana brings the atmosphere of a beach house to your Las Vegas stay. From the palm trees by the pool to the massive spa, the Tropicana will make you feel as refreshed as if you're on a beach vacation.
For a room with a whirlpool bathtub, try the Club Spa Suite or the Grand Palm Suite. Both of these rooms include a sauna in addition to the romantic, jetted tub for two.
As you can see, there is no shortage of Las Vegas hotels with an in room jacuzzi, jetted hot tub, or whirlpool. The hard part is picking the room that's going to be right for you.
Check current Tropicana room rates at TripAdvisor
Additional Sources: