14 Las Vegas Hotels with Balconies (Hotel Rooms On or Near Strip)
(This article may contain affiliate links. If you click through and make a purchase, we will receive a small commission at no additional cost to you. )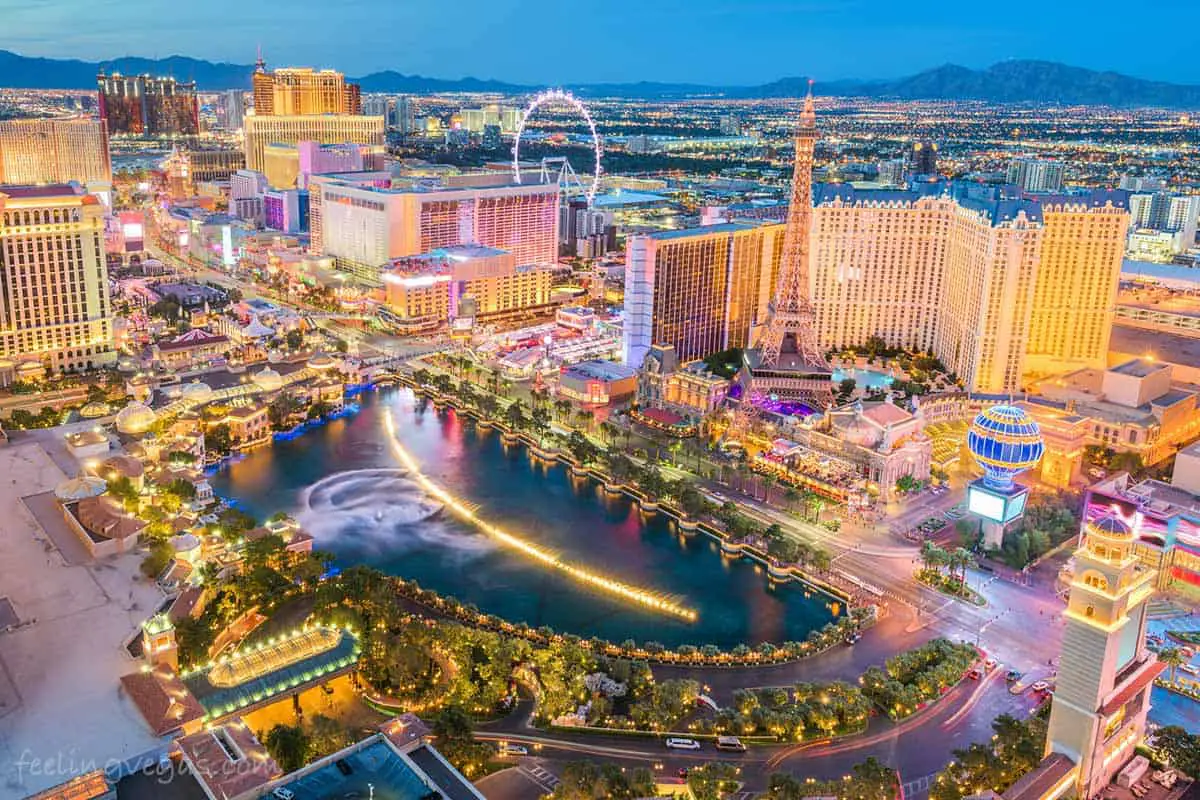 Balconies and terraces allow you to watch the best things happening in Las Vegas without leaving your hotel. Las Vegas is nothing, after all, if not a feast for the eyes.
Here are the best Las Vegas hotels with balconies (click the link to jump to that section):
There are many more Vegas balcony rooms, of course, but I'm just highlighting the very best. Depending on how much you want to spend, if you wish to be on the strip or not, and what you may want to do while you're here will help determine which hotel with a private balcony or terrace you'll want to choose. I'll explain everything below.
Las Vegas Hotels with a Balcony or Terrace (On The Strip)
First off, there aren't any hotels on the Las Vegas strip where ALL the guest rooms have terraces or balconies. Instead, you'll have to specially request a balcony suite and be willing to pay extra for it, in most cases a lot extra. This is why it's so important to research your hotel beforehand to ensure they have what you want.
The Cosmopolitan is the only hotel on the strip where MOST rooms have balconies. Some other hotels on the strip have a few rooms with a balcony, but it's rare and hard to find. It'll be easier to find somewhere with this feature off the main strip.
How do you find the perfect hotel, then? If you want to make sure you and your family find the perfect hotel with a balcony, it will take some work. While this isn't a complete list of hotels with balconies in Vegas, it's an excellent place to start.
Here are the top hotels on Las Vegas Strip with a balcony:
1. Balconies at The Cosmopolitan of Las Vegas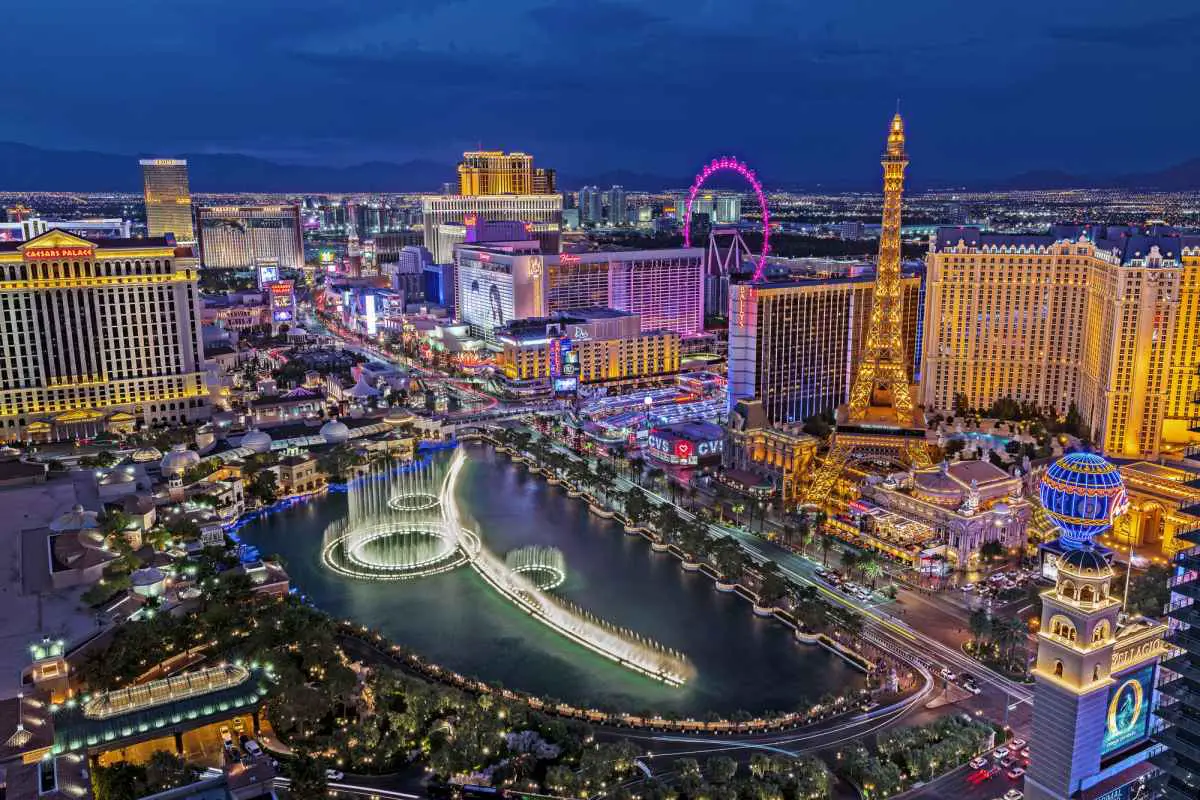 This is the only hotel on the strip that has a multitude of rooms with balconies. In fact, the majority of rooms at The Cosmopolitan have balconies. This is very rare on the strip. Other hotels on the strip that have balconies usually only have a few rooms at best that will contain a balcony or terrace, and they tend to be very expensive.
The Cosmo is a luxury resort right on the Strip in the heart of Las Vegas. It offers high-class luxury suites, fancy restaurants with gourmet food, and a high-tech casino. It has over 3,000 rooms available to book.
The Cosmo's balcony rooms (The Cosmopolitan refers to them as terraces, but they are actually balconies) have lovely views of the strip. The Cosmo is the only hotel directly on the strip with multiple balcony rooms, giving you the best chance to snag one with a great view.
Bryan and I went to a party in one of the larger "terrace rooms" during the National Association of Broadcasters (NAB) conference a while back, and the views from the balconies are really quite spectacular, especially if you are overlooking the Bellagio Fountains.
Take a look at some of the terrace rooms available at The Cosmopolitan. The balcony room prices are pretty affordable, there are quite a few to choose from, and they provide some of the most breathtaking views on the strip.
The Cosmo is also famous for its restaurants, so be sure to order room service from one to enjoy on your balcony during your stay.
The Cosmopolitan is, without a doubt, one of the best Las Vegas hotels with balcony or terrace.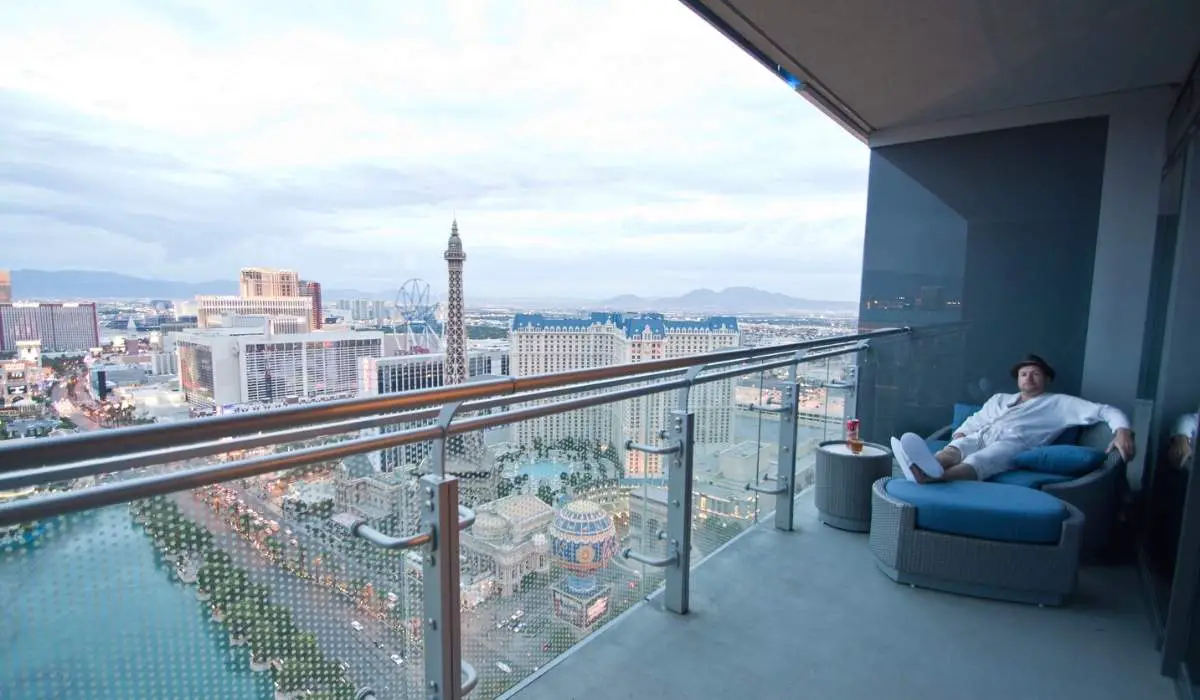 → Check Room Rates at The Cosmopolitan (TripAdvisor)
2. Terraces at Caesars Palace Las Vegas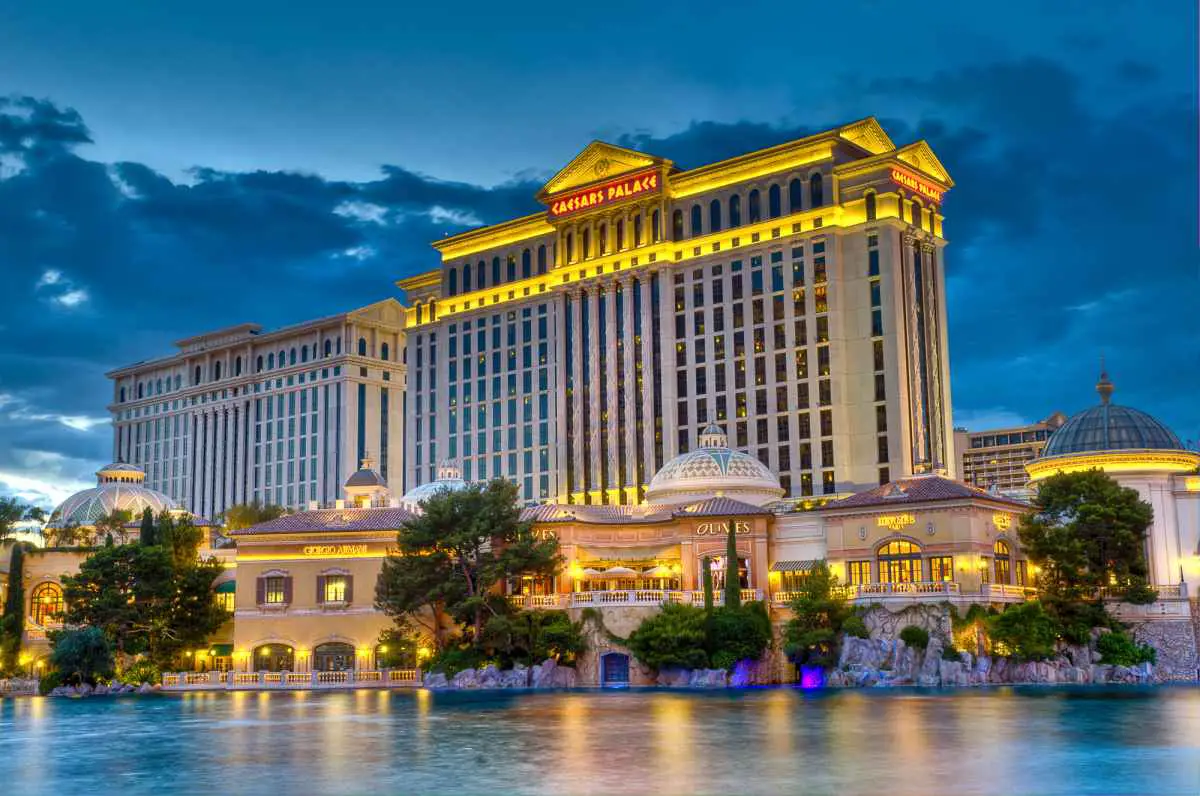 Caesars Palace is probably the most famous Las Vegas hotel. It's one of the most iconic hotels in Vegas, and if you want a private terrace and have the money to spend, you can rent one of the villas.
The penthouse villas have terraces in addition to fireplaces, hot tubs, media rooms plus a whole lot more. These villas start at 2040 square feet and go up in size from there, and are large enough for multiple people to stay. This is truly living like an Emperor on the famous Las Vegas strip.
Caesars Palace is a luxury hotel and casino, so no matter what room you stay in (balcony room or not), it's going to be nice. It's considered a landmark of of the city, and the casino has almost 4,000 rooms. It also has several celebrity restaurants run by famous chefs. They even have a traditional Asian specialty restaurant that gets high reviews.
If you can snag one of the coveted penthouse terrace rooms off Caesars Palace, you'll be able to look down from your balcony onto the heart of the strip. Everyone gathers around Caesars Palace, as it's so well known and loved. Be sure to have the full Vegas experience by ordering room service when you're ready for some downtime.
Caesars Palace has had a multitude of very famous entertainers perform at their event center. Everyone from Frank Sinatra, Shania Twain, and Matt Gross have all performed here (website).
→ Check Availability at Caesars Palace (TripAdvisor)
3. MGM Grand Skyline Terrace Suites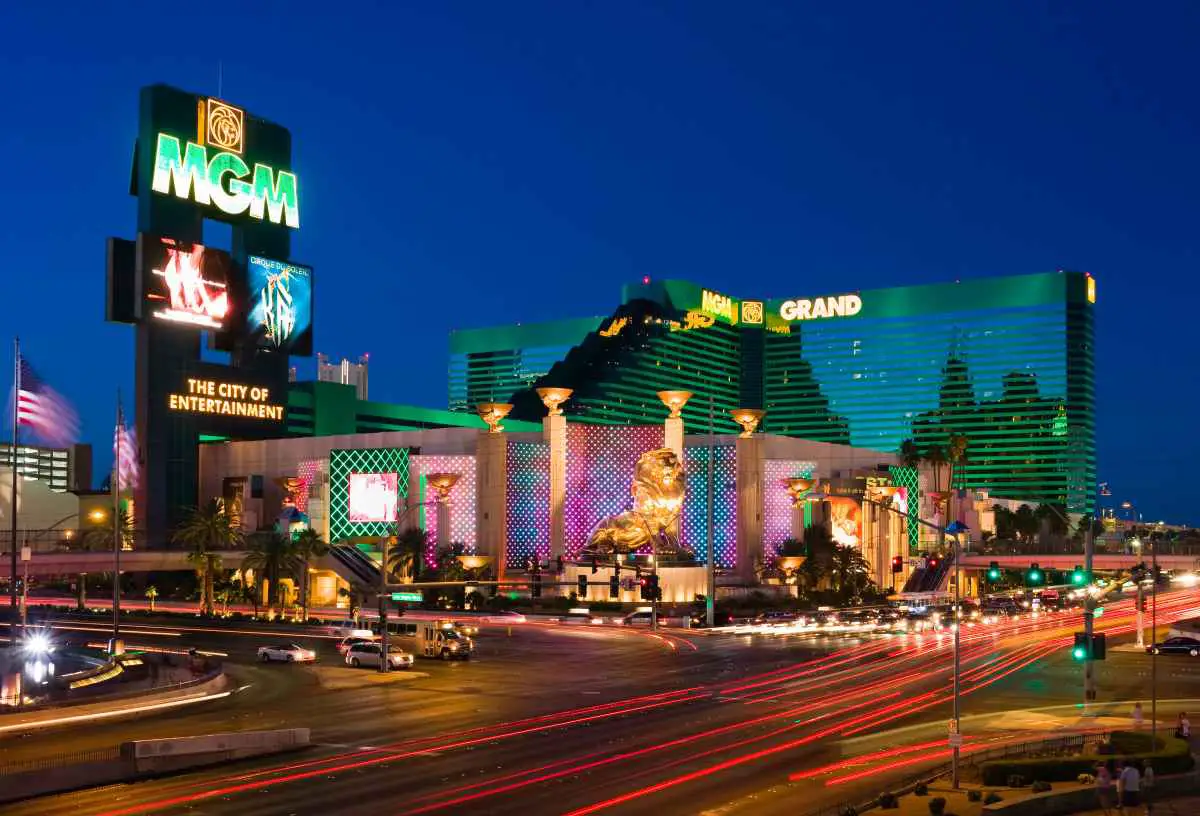 The MGM Grand is right on the strip and has a few rooms with balconies (Skyline Terrace Suite), but they are on the more expensive side. You'll have to specially request these rooms when you make your reservation. However, if you can afford them, they're definitely worth the extra money.
The MGM Grand Hotel is just that, grand. It's the largest hotel in the United States, with nearly 7,000 rooms. While Caesars Palace is iconic, MGM Grand Hotel is sheer impressiveness. It has a Hollywood theme, very lavish and plush, with five different pools.
Just like with other hotels on the strip, the MGM Grand Hotel's view from its balconies is postcard perfect. You can see all the partying on the streets and hear the noise, but not be smack in the middle of it. The MGM Grand's theme may fit your style better, as well.
The MGM Grand Hotel is the home of David Copperfield, Brad Garret's Comedy Club, the Jabbawockeez from the first season of America's Best Dance Crew, and Kà, a production by Cirque de Soleil. It also has plenty of other entertainment available, depending on the season.
→ Check Room Rates at MGM Grand (TripAdvisor)
4. New York-New York Las Vegas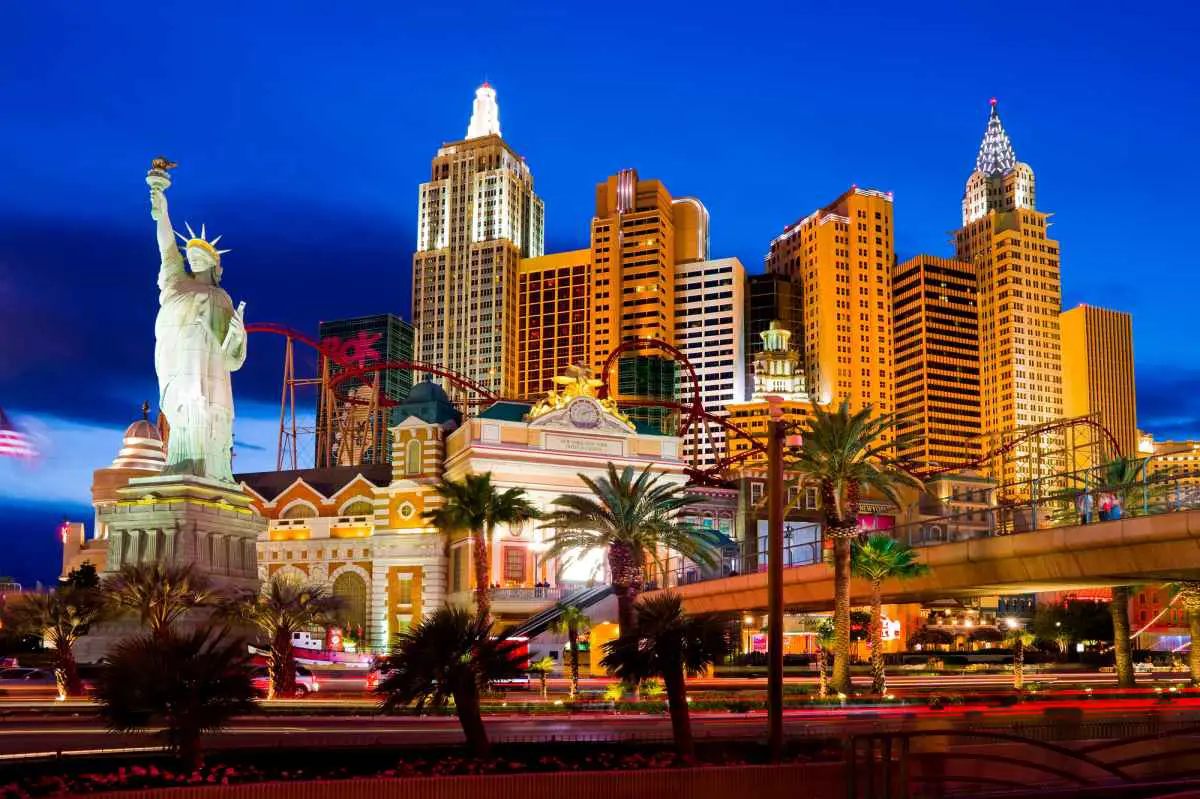 The Carlyle penthouse at the New York-New York, also known as NYNY, has a balcony. Again, because it's on the strip and it's a penthouse, you'll be paying a first-class price for this exclusive suite. However, the rest of the rooms at New York-New York Hotel & Casino aren't overly expensive, unlike some of the others on the strip.
Owned by MGM Resorts, who also owns the MGM Grand and the MGM Signature, the New York – New York Las Vegas hotel and casino is styled after the skyline in New York City. It also houses one of the flagship Hershey's Chocolate World stores. It's a 13,000 square foot store containing everything Hershey's Chocolate-related, and it's one of the only eight such locations in the world.
The hotel's balcony also offers a great view down on the strip, but you have to snag that Carlyle Penthouse. Because it's the only room in the hotel with a balcony, you'll have to book in advance or hope for good luck.
Not only is the hotel modeled after New York City, but it also hosts one of the Cirque de Soleil shows called Zumanity. On top of that, it even has its own rollercoaster that runs on top of and around the hotel itself. Now known as the Big Apple Coaster, it was initially called the Manhattan Express.
→ Check Room Rates at New York-New York Las Vegas (TripAdvisor)
5. Bellagio Las Vegas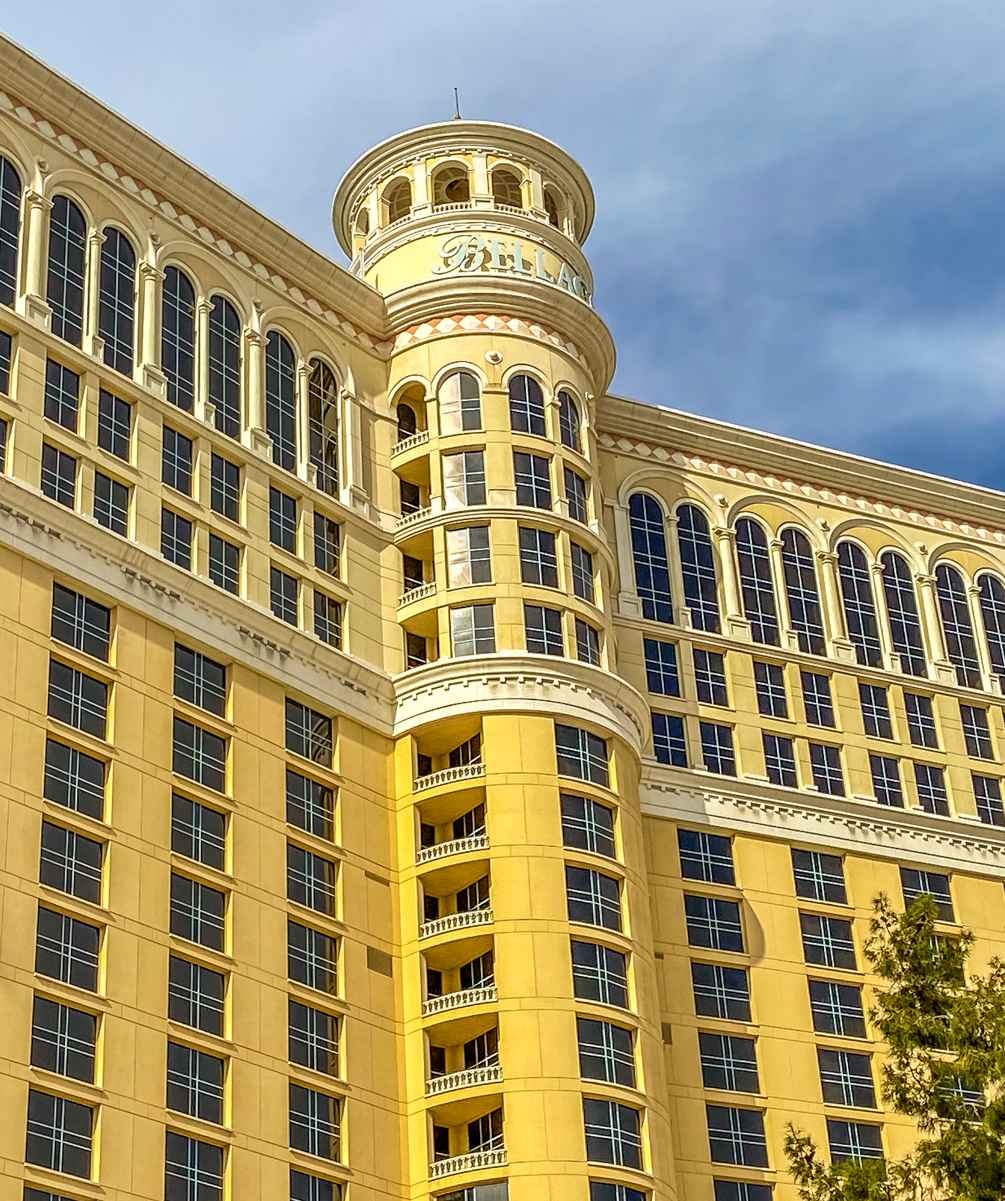 The Bellagio hotel has what they call their "Lakeview Suites" available for rent with balconies. The Lakeview Suites are available with one or two bedrooms if you're traveling with multiple people or just want more space. Of course, these rooms are more expensive than your typical room at the hotel.
The Bellagio is known for its class and grace. It's designed with an Italian theme and is less showy and flashy than Caesars Palace. It's one of the most iconic luxury resorts in all of Las Vegas.
The Bellagio is home to one of the most prominent features on the strip, the Bellagio Fountains. You can have a great view of the lake and fountains from your balcony in one of the Lakeview suites.
The Bellagio has over 3,000 rooms and is a bit smaller than most of the other hotels we've looked at so far. The Bellagio is a very nice hotel with great rooms. It also has a permanent Cirque de Soleil show, titled "O." If you're interested in poker, the Bellagio is known for its famed poker room, which is the place to go if you're visiting Las Vegas, and you are or want to be a poker champ.
→ Check Room Rates at Bellagio (TripAdvisor)
6. Polo Towers Balcony Suites (Be Sure to Check Availability)
The Polo Towers have studios, one-bedroom, and two-bedroom suites available. Each of these options has some rooms with a balcony, so you'll need to make sure to request one when you make your reservation.
If you feel like you're stretching your Vegas travel budget but still want to be overlooking the strip, this may be the perfect spot for you. The Polo Towers Villas advertises itself as "a budget-friendly option right in the heart of the strip!" They offer amenities such as a rooftop pool, spa, and fitness center.
The Polo Towers certainly are the most affordable option on the strip if you want a balcony, and they have a good amount of rooms available with balconies overlooking the action. If you want a hotel that isn't quite so expensive, is on the strip, and offers rooms with balconies, you'll want to take a look at the Polo Towers.
If you want to save even more money and find a suite with a balcony, you can browse the timeshares by owner market. Privately owned and operated marketplaces such as SellMyTimeshareNow allow you to search by amenity, so you can find rentals at Polo Towers Villas with balconies, usually for a much lower price.
→ Check Room Rates at Polo Towers (TripAdvisor)
We can show you all the places to find free parking on the Strip.
7. Tropicana Las Vegas – Bungalows with Garden View Patio Terrace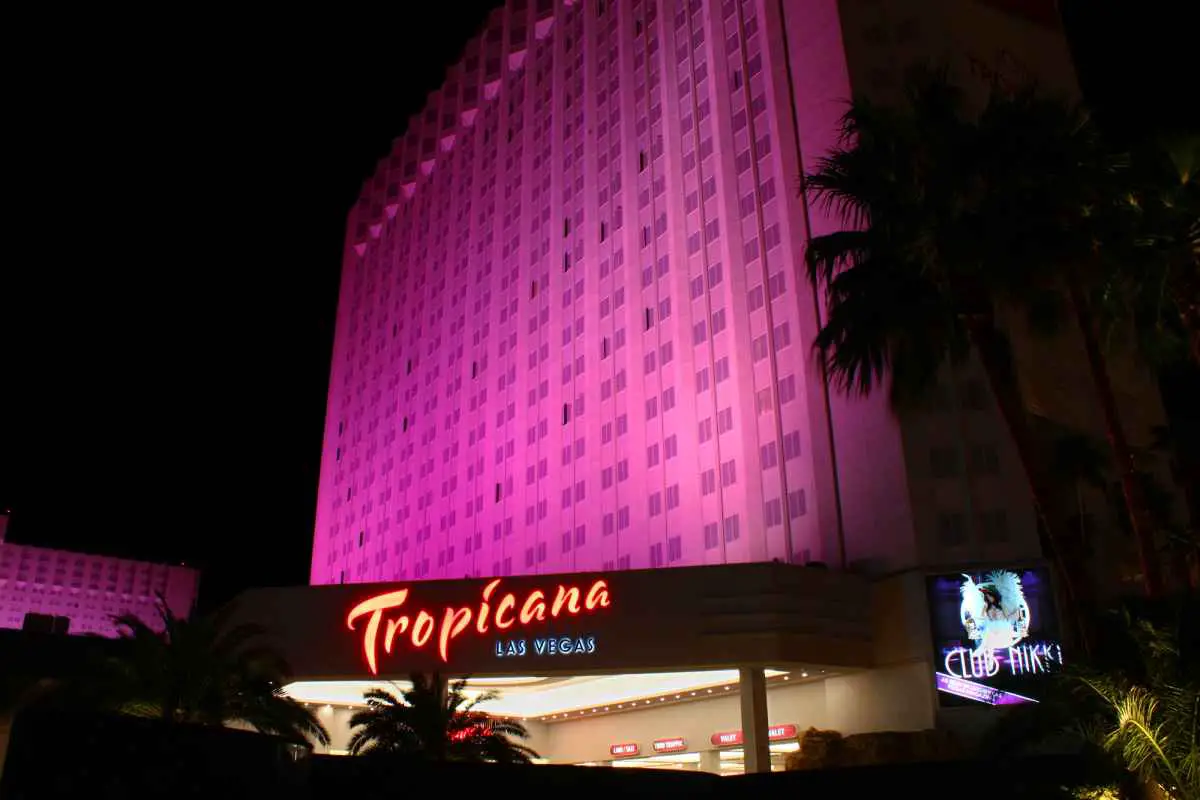 The Tropicana is a famous Las Vegas hotel with a ton of history. When you think back to old-school Vegas with showgirls and mobsters, this is the place.
Located near the south end of the strip, it's situated on one of the busiest pedestrian intersections with excellent walkable access to the strip and all its activities.
Though it's one of the original iconic casinos built during the post-world war II boom, it has been remodeled several times over the years and is full of modern charm.
If it's a patio terrace you're looking for, then you'll want to check out the Tropicana Pool Villas. These rooms feel more like private bungalows overlooking the pool and garden areas. The rooms on the ground floor have private terraces for you to lounge on and lush tropical garden views. The Tropicana benefits from a great location on the strip and is quite affordably priced.
Also, the bungalow suites are modern in every sense of the word. Each one offers state-of-the-art technology that will allow you to control the lighting, sound system, temperature, and TV from touchscreen pads in every room.
While the above are the best Las Vegas Strip hotels with balconies, there are several off-strip properties that have accommodations with a balcony that are worth mentioning.
→ Check Room Rates at Tropicana (TripAdvisor)
Map of Hotels with Balconies On and Near The Las Vegas Strip
For convenience, this interactive map shows where each of the hotels with balconies is located on or near the Las Vegas Strip.
Green = On the Strip Blue = Near the Strip
Las Vegas Balcony Hotels (Near The Strip)
Of course, if you move off the strip a bit, you will find more hotels with balconies in Las Vegas. If you're willing to be off the strip during your Vegas trip, here are a few other ideas for you.
Note: Some of the following hotels are just a few blocks from the strip, so you'll still be close to the action. It's also important to note that having a hotel off-strip can save you a lot of money as the room prices are generally much lower.
8. Signature at MGM Grand Hotel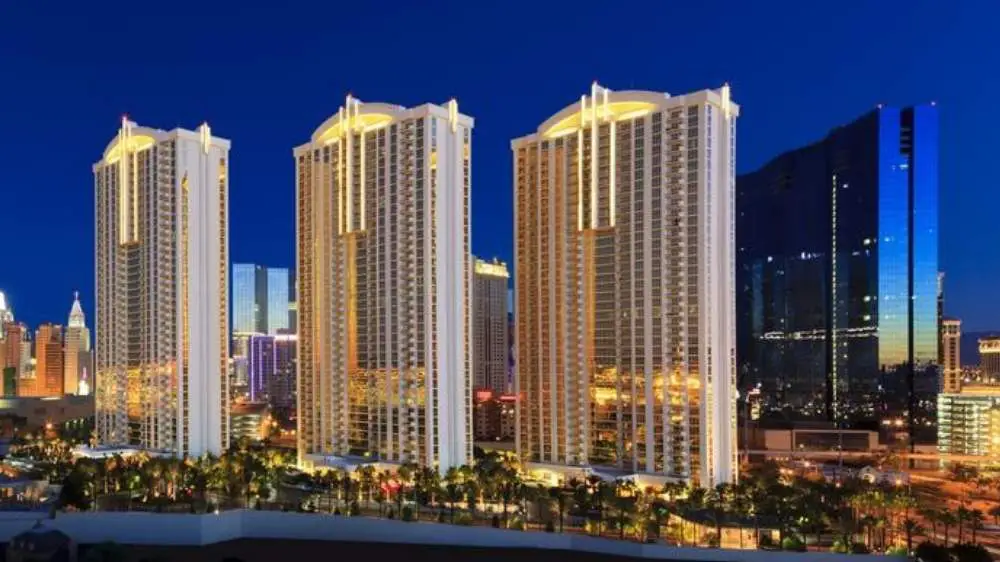 While not as luxurious as the MGM Grand Hotel, the MGM Signature Hotel still has a lot to offer. It also has more balcony rooms than the Grand, so you will have an easier time scheduling a reservation with a balcony here than at the Grand.
The MGM Signature Hotel is the more upscale sibling of the MGM Grand Hotel and, as such, comes with a higher price tag. The hotel is just that, a hotel, without a casino in it, unlike most Vegas propertiesf. It's intended for you to be able to easily walk over to the nearby MGM Grand and play.
A balcony from the MGM Signature Hotel will let you step out and get fresh air. Because the hotel was built set back from the strip, it doesn't really have stellar views of Las Vegas Boulevard. However, you will get more space and be able to enjoy the fresh air.
When you're staying at the Signature at MGM, you'll have full access to the amazing pool area at the MGM Grand next door, including multiple swimming pools and a lazy river. The hotel also has a great spa, plus free internet.
→ Check Room Rates for Signature at MGM Grand (TripAdvisor)
9. OYO Hotel & Casino Las Vegas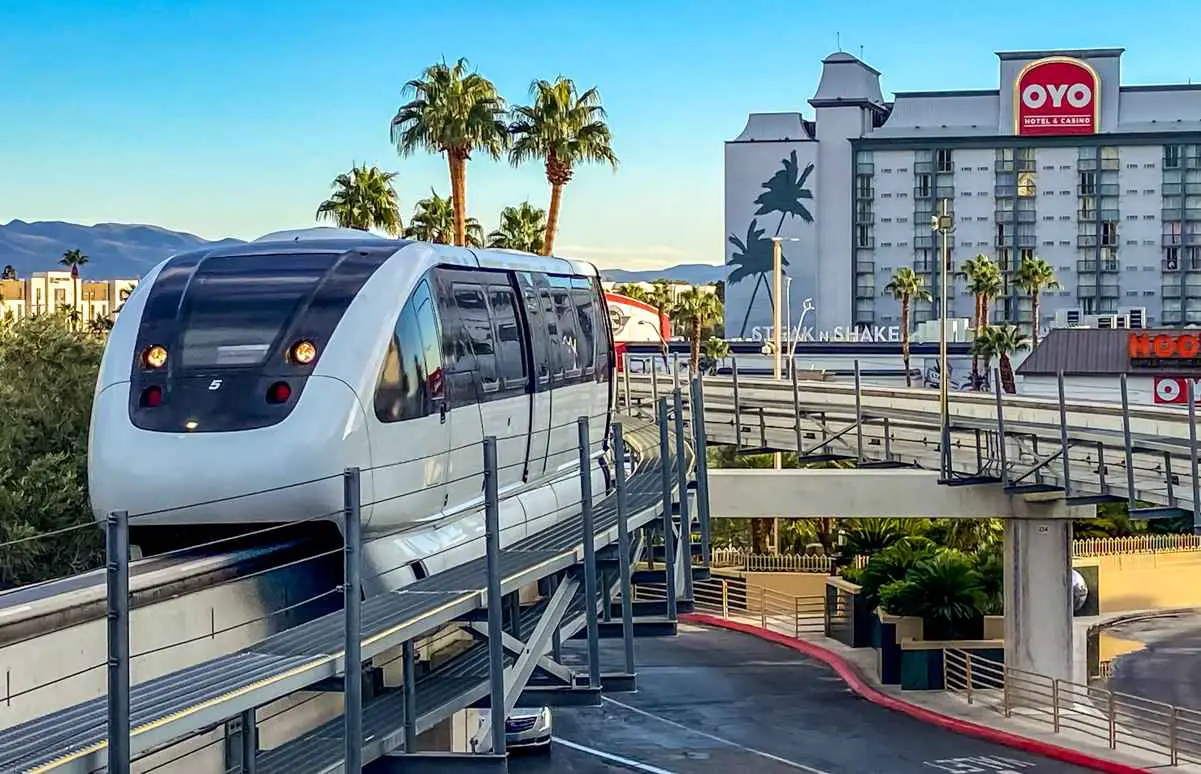 The OYO Hotel and Casino Las Vegas (formerly Hooters Casino Hotel) also has a great location at the southern end of the strip. Although it's maybe half a block from the actual strip, it is in an ideal location to walk one of the most exciting areas of the Strip.
This hotel has rooms situated in two different towers, and the good news is that all the rooms in the Bay View tower have balconies with sliding glass doors.
The balconies may not have a view directly looking down on the strip but depending on which side of the building you're on. You'll either have beautiful views of the surrounding hotels towering above the strip, or you'll be overlooking the pool.
The room rates here are very affordable, as well.
→ Check Room Rates at OYO Hotel & Casino (TripAdvisor)
10. Palms Place Suites and Balconies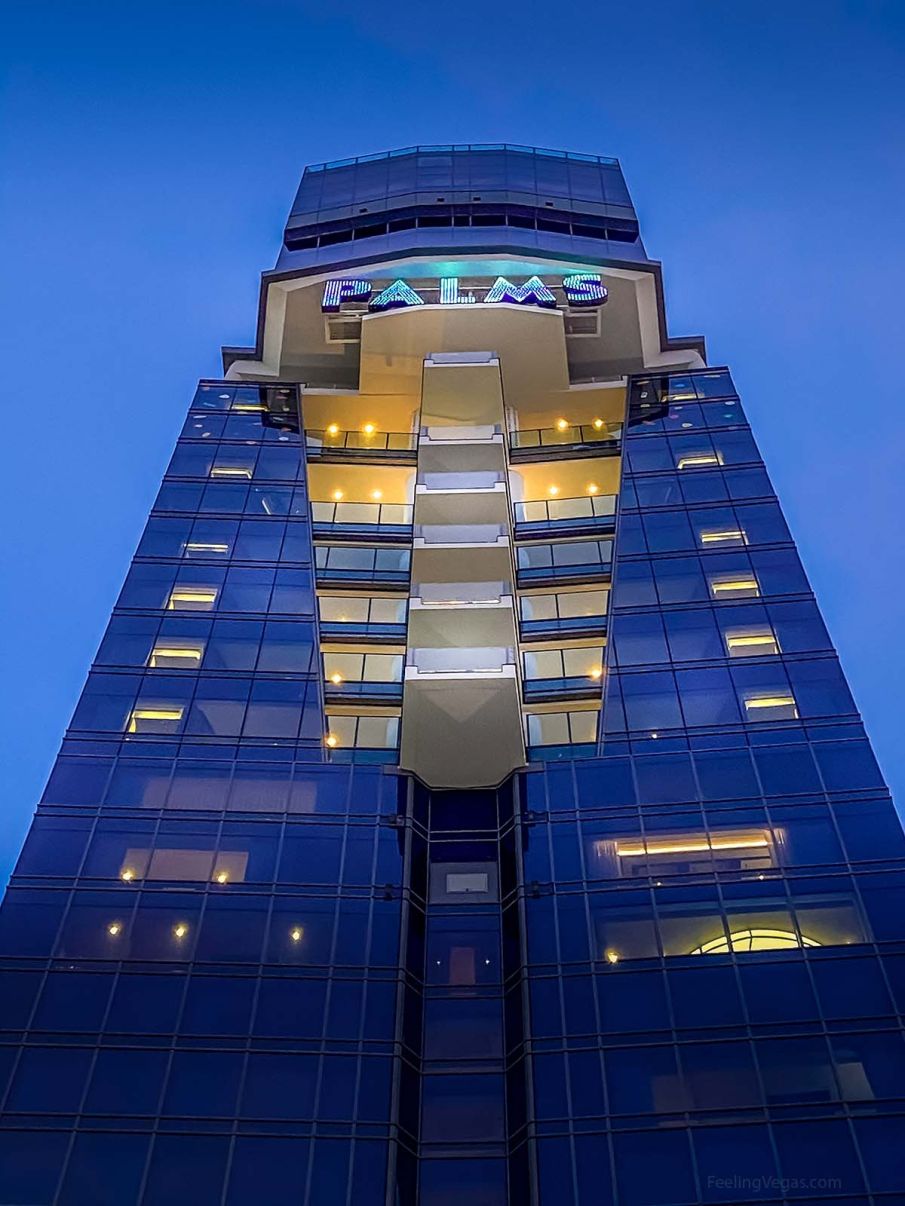 Palms Place is an off-strip property located a few blocks from Las Vegas Blvd., but it still gets a strong 4-stars on online reviews. It offers luxury, but being off the strip, it will be less expensive. However, as with all off-strip hotels, you need to think about how much time you want to spend on the strip and how much time you'll need to spend to get where you want to go.
There is a unique situation with the balcony rooms at Palms Place that you'll want to make a note of. First, the rooms all have balconies, BUT they are mostly locked and are not accessible!
Some of the rooms here are privately owned and rented through Airbnb. If you book one of these rooms, you may have access to the balcony (check the Airbnb listing for info), but if you reserve directly through the hotel, all reports indicate that you won't have access to the balcony.
You do, however, have access to the restaurants and the casino within the building. Also, being off the strip, the property is a little quieter if that's something you're looking for in a hotel.
Another unique thing about this hotel is that Palms Place is a mostly smoke-free hotel, a rarity in Las Vegas. If you're like me and struggle to breathe with heavy cigarette smoke, Vegas can be a rough place to be. Note that smoking is permitted in the casino and on three floors of one of their towers, but the rest of the hotel is smoke-free.
→ Check Room Rates at Palms Place (TripAdvisor)
11. The Platinum Hotel & Spa (Every Room Has A Balcony)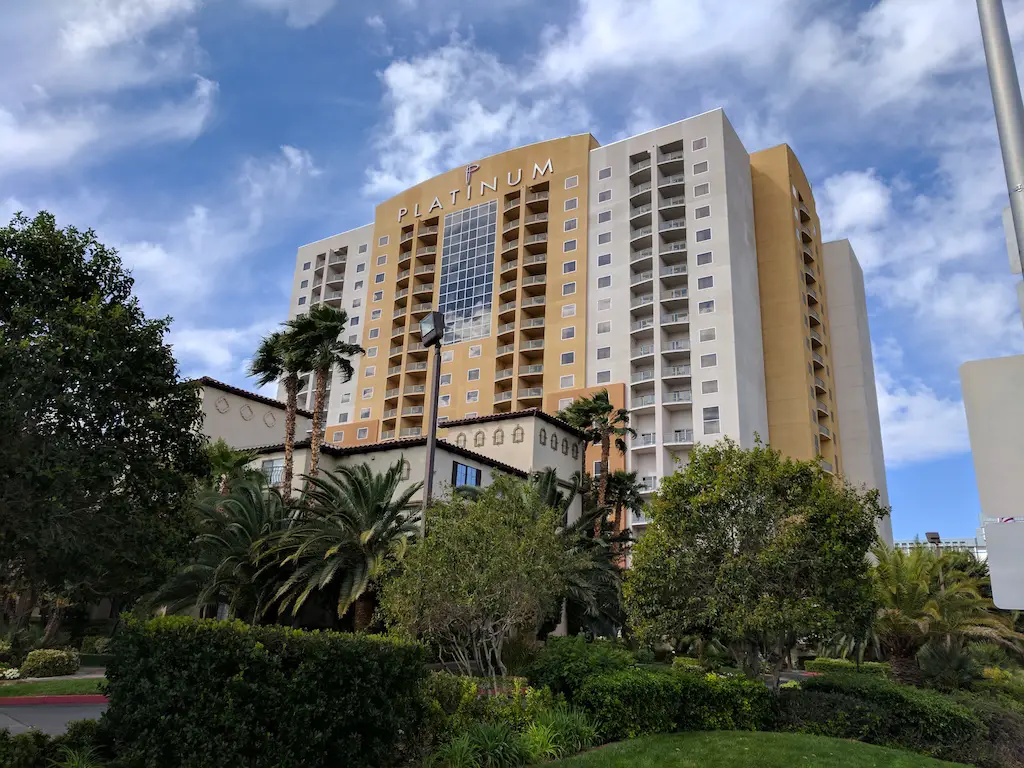 The Platinum Hotel and Spa holds a special place in the hearts of its regular guest. It's a boutique all-suite hotel with some of the largest standard suites in Vegas. On top of that, every room at The Platinum features a sliding glass door that leads to a private walk-out balcony.
This non-smoking hotel does not have a casino, making it a quiet haven to relax. However, if you're worried about missing out on the action due to its off-strip location, you have nothing to worry about.
The Platinum is located just two blocks from the strip near Bally's and across Las Vegas Boulevard from Bellagio, making it an ideally located off-strip property.
→ Check Room Rates at The Platinum Hotel (TripAdvisor)
12. Staybridge Suites (All-Suite with Balconies)
Located a half-mile from the strip is Staybridge Suites. This newly renovated, extended-stay hotel is bright and modern, plus each of its suites has its own private balcony. In addition to views of Vegas from the balcony, each room comes with a full kitchen and a complimentary breakfast every morning.
The other amenities include a luxurious pool, fitness room, and free Wi-Fi throughout the property.
If you're looking to catch an NFL game while you're in town, then this is a great place to stay because it's not far from Allegiant Stadium. The hotel also offers a free shuttle to get you to and from the airport and the Vegas Strip.
→ Check Room Rates at Staybridge Suites (TripAdvisor)
13. Desert Paradise Resort (Balcony or Patio Terrace)
Desert Paradise Resort is another all-suite hotel where each room features a private balcony or patio terrace. The suites also include a full or partial kitchen area, living room, and dining area.
The amenities of the hotel include multiple swimming pools and hot tubs, a game room, a fitness center, laundry facilities, and an outdoor barbecue area.
Located approximately two miles from the Luxor on the Vegas Strip, the hotel is not too far from the fun.
→ Check Room Rates at Desert Paradise Resort (TripAdvisor)
14. Club de Soleil (Pool View Balconies)
If you're looking for a place where you're family can stretch out, then you'll want to take a look at Club de Soleil. Each of their one or two-bedroom suites features your own European-style wrought-iron balcony so you can enjoy the view of the luxurious pool and surrounding area.
In addition to the private balcony, the rooms incorporate a full kitchen or kitchenette, fireplace, washer/dryer, multiple televisions, and jacuzzi tub. Free Wi-Fi can be accessed from every suite.
The resort amenities include tennis courts, a fitness center, a clubhouse, miniature golf, two pools, a hot tub, and barbecue grills.
→ Check Room Rates at Club de Soleil (TripAdvisor)
Two More Las Vegas Hotels With Balcony Rooms Near The Strip
In addition to those mentioned above, here are a couple more Vegas hotels near the strip that offer a balcony room:
Ellis Island Las Vegas – This hotel is located just a few blocks off the strip, and every room comes with a small balcony. The balconies have limited views, but it's a nice place to sit out with a drink.
Tahiti Village – Tahiti Village is found on Las Vegas Blvd., but it is several miles south of the main action. That being said, this hotel has a couple of room options that include a walk-out balcony overlooking the beautiful pool area.
Why You'd Want a Las Vegas Hotel With a Balcony
What's the biggest perk of a Las Vegas hotel room balcony aside from the fact that they are rare? Especially on the strip? Why should you spend more money just to look down on a street?
For the view of the strip itself, of course! On the strip, you can go out on your balcony, day or night, and watch everything that's happening while not having to be in the hustle and bustle all the time.
The views are amazing, and it's nice to be able to enjoy some quiet private time outdoors. Vegas can be crowded, and it's pretty hard to have any place all to yourself in Sin City. A balcony provides just that!
Also, if any of the casinos are setting off fireworks, which sometimes happens because "hey, it's Vegas!" you'll have a better view out on your balcony. Balcony rooms in Las Vegas allow you to get the most out of your vacation.
What is the Difference Between a Balcony and a Terrace?
Why Don't More Las Vegas Hotel Rooms Have Balconies?
Balconies and terraces are typical in many vacation locations, as people like to have rooms where they can step outside. It can be a major draw for people if they know they'll be able to sit out on a terrace or balcony and enjoy their morning cup of coffee or a cocktail in the evening.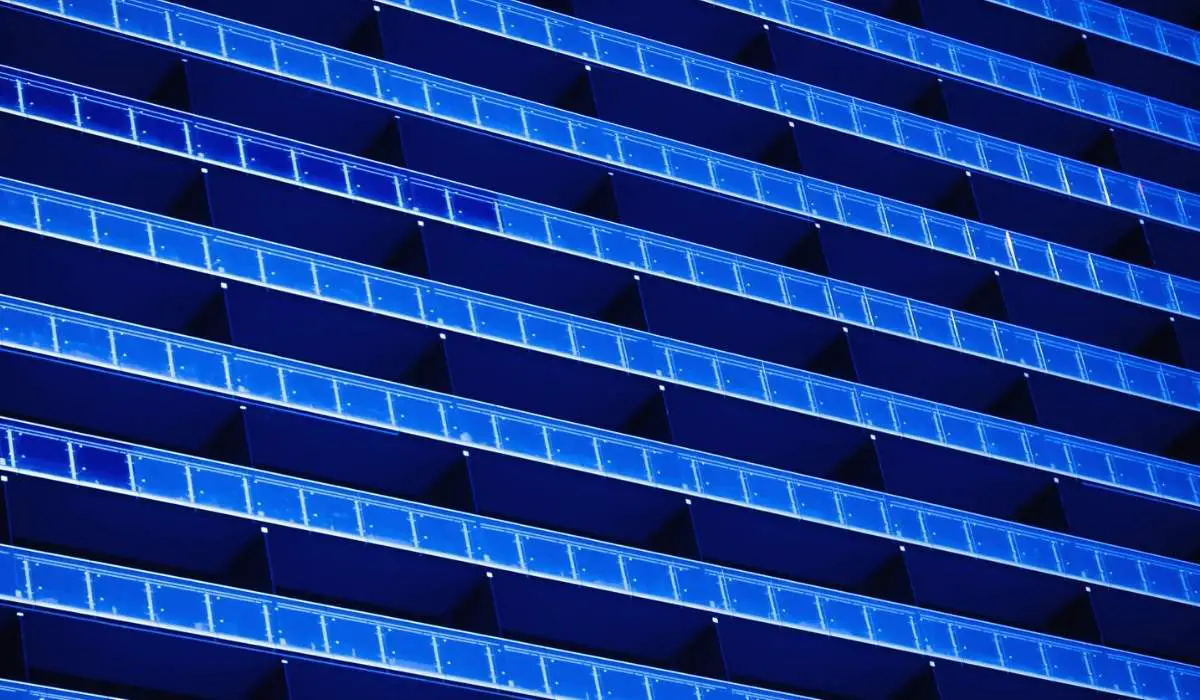 Las Vegas is such a major tourist spot; why don't more hotel rooms have balconies? Well, there are a few reasons for that. If you've ever stayed in a property on the Strip, you've probably noticed that the hotel windows don't fully open, if they open at all. Most Vegas tower hotel windows today rarely open.
I've heard it explained that terraces and balconies are expensive to build and require more construction time and cost than a plain window. While I suppose that's true, I believe there are two main reasons for the lack of balconies in Las Vegas.
First, having a door out to a balcony that can be left open for various reasons dramatically increases the air-conditioning costs in Las Vegas, where it's really hot a lot of the time.
Second, it's a fact that accidents are more common on high rises with balconies and terraces, and with all the drinking that goes on here, the percentage of accidents would be even higher in Sin City.
This is the primary reason why the majority of Las Vegas hotels don't have windows that open at all, much less have a balcony or terrace. If a balcony-related accident occurs at a hotel, the hotels know they will be held liable, and, of course, they want to avoid that scenario.
What Makes a Great Las Vegas Hotel Room?
Just because a hotel has a balcony or terrace outside your room doesn't mean it's the best fit for you. When someone says a hotel was the best thing ever, you should ask why. If they prioritize being close to the clubs, that could be why they think it's the best. What if you don't like clubs?
Here's a list of some things people tend to focus on when rating a hotel, regardless of if it has balconies or terraces or not:
Location. Now that you know where to look for some hotels with great balconies or terraces in Las Vegas, you still need to figure out which one is in your ideal Vegas location.
Amenities. If you want to gamble your heart out but also be able to get a massage and see a show. Don't just focus on the balcony; make sure your hotel has all the other amenities you want.
Services. Similar to amenities, if you want to be able to order room service to eat on your terrace at midnight, you should make sure your hotel has 24-hour room service. The same with other services such as turndown, shoe shining, etc.
Price. Of course, you may also need to think about the budget. Unless you comfortably have the means, you probably don't want to book a Caesars Palace penthouse for an extended stay just because it has a balcony unless you're prepared for the bill. Don't let yourself get caught off guard when you check out.
Time Spent. Finally, you should ask yourself just how much time you think you will be spending on your Vegas hotel balcony. No sense in paying extra for a balcony room if you're not going to spend much time enjoying it.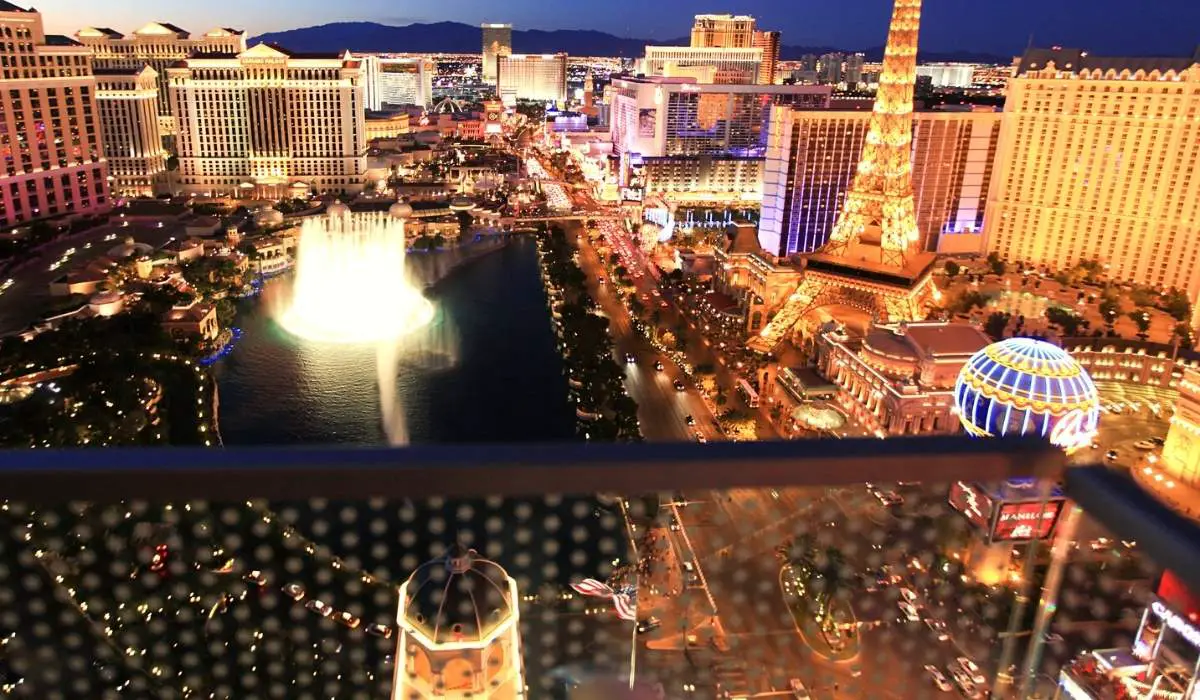 Summary
The top choice for Las Vegas hotels with a balcony is, without a doubt, The Cosmopolitan. You'll have the greatest chance of finding a room with a balcony right on the Las Vegas Strip. As a bonus, a Cosmo balcony will overlook the spectacular Bellagio Fountains.
If you keep the tips I talked about in this article in mind while searching through the available Vegas properties, you should have a great visit plus enjoy a wonderful view!
Need more help deciding on a Vegas hotel? Then, check out our article: How To Choose a Hotel in Las Vegas. It's the ultimate guide to finding the best hotel for your Sin City vacation.