If you're heading to Las Vegas and looking for a hotel that's right in the middle of the glitz, glamour and action on the Strip you may want to compare Paris and Bally's. These two hotels have a lot going for them but is Paris Las Vegas or Bally's the better choice for your Vegas vacation?
Paris Las Vegas is your best choice for combining a European styled resort full of charm and elegance, with a great location right on the Las Vegas Strip. Bally's, however, is the better choice if you are wanting a more affordable Las Vegas hotel option that is still in a great mid-Strip location.
This table will give you a quick breakdown of the various highlights between Paris Las Vegas and Bally's: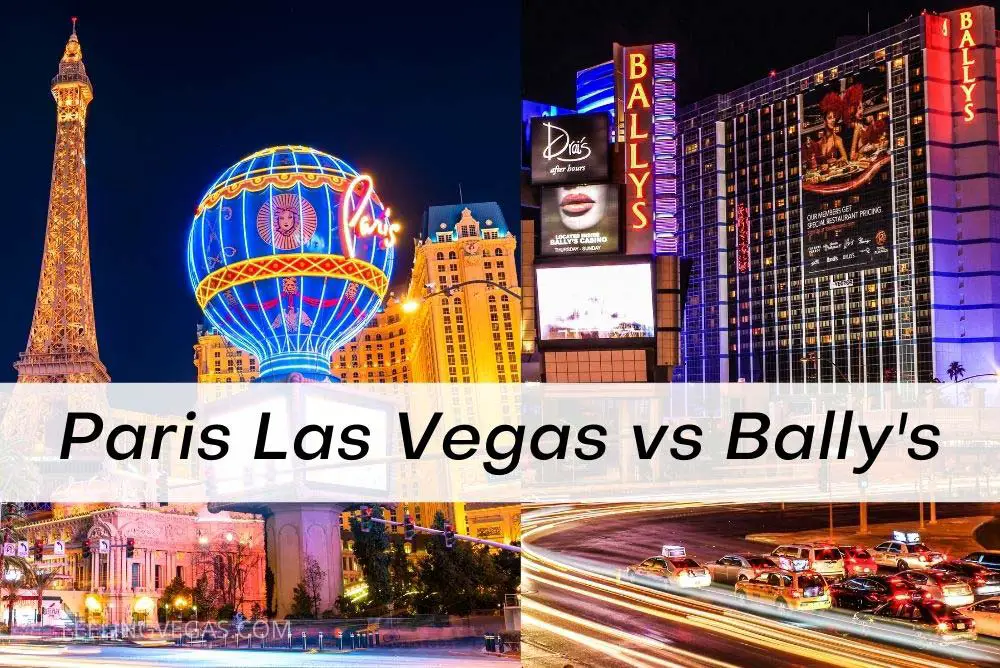 Name: Paris Las Vegas
Address: 3655 S Las Vegas Blvd
Casino Floor: 95,263 sq ft.
Year Built: 1999
Number of Rooms: 2,916
Name: Bally's Las Vegas
Address: 3645 S Las Vegas Blvd
Casino Floor: 67,000 sq ft.
Year Built: 1973
Number of Rooms: 2,812
On the surface it looks like these two properties are pretty comparable but let's dig down a little deeper to see if there are any differences that will make your choice a bit easier.
If your primary goal is to be right in the heart of the action on the Las Vegas Strip, it doesn't get much better than a stay at Bally's, which blends both a vintage and modern Las Vegas atmosphere to great effect.
Paris Las Vegas is also in the center of the action on the Strip and offers a unique Las Vegas experience with an emphasis on all things Parisian. Paris has a more refined vibe and is one of the top choices in Las Vegas if you're planning a romantic weekend.
These resorts offer a very different vibe from one another, yet are both superior resorts. 
Location: Paris vs. Bally's
Bally's is located right next to Paris Las Vegas. In fact, the two properties are both owned by Caesars Entertainment and are even connected by an interior walkway between the hotels.
When it comes to location on Las Vegas Blvd., these hotels are in the center of the action that comprises the middle area of the Strip, right next to Flamingo Road.
(Download our FREE Las Vegas Strip map here to see the location of all the hotels on the Strip).
The only real difference in location is that the entrance to Paris is right on the Strip, while the Strip side entrance to Bally's is set back from the street about 150 yards.
Although this doesn't help narrow down your choice much, it's good to know that this is a very desirable area to stay in no matter which hotel you decide on.
Comparing Paris and Bally's Standard Rooms & Rates
Based on the table at the top of this article, it isn't difficult to see that Bally's offers a less expensive starting room rate for guests on a budget. What makes Bally's such a great choice for budgeted stays is the fact that the entertainment and quality of the resort are still top-notch!
The room rates at Bally's range from the moderately inexpensive to a few hundred dollars a night for the premium suites. There's nothing wrong with saving a few bucks on a hotel so that you have more money to spend doing fun things in Vegas, right? 
Paris Las Vegas, on the other hand is a more extravagant resort. Paris's most affordable room runs about $59 a night, which is $26 higher than the standard room at Bally's. It's not a huge difference, but it starts to add up if you're planning to spend several nights. 
Let's compare the standard rooms and amenities at Paris and Bally's.
Paris Las Vegas
Bally's Las Vegas
Burgundy King Room:

– 390 sq ft.
– 1 King bed
– Flat-screen TV
– In-room wifi
– Sitting area with 1 chair
– Desk
– Bathroom features separate
shower and marble countertops
– Room safe
– European Elegance
Resort King Room:

– 450 sq ft.
– 1 King bed
– Pillow-top mattress
– 42″ LED TV
– In-room wifi
– Sitting area with 2 chairs
– Desk
– Room safe
– Separate shower
Resort Fees at Paris & Bally's
Resort fees for both resorts are the same at $37 a day. Resort fees cover internet access, phone calls, and usage of the fitness center for both Bally's and Paris Las Vegas. As ridiculous as resort fees are to begin with, at least the price is the same at either of these resorts.
These aren't the highest resort fees on the Strip but they are on the higher end. If you want to see at a glance how much resort fees are for all the major resorts on the Strip, visit our resort fee guide here.
Paris vs. Bally's: Shows & Entertainment
What might help make the choice somewhat easier is the differences in entertaining shows each resort offers. Of course, you easily walk to the other property to catch one of their shows but it's always kind of nice to see a show you really want to see without having to leave your own hotel.
Shows at Bally's
The X Rocks Topless Revue at Bally's is an adult-oriented extravaganza of sultry burlesque and rock 'n' roll performances with plenty of high-octane energy and visual wonder. 
Similarly, Extravaganza–The Vegas Spectacular blends vintage Las Vegas with modern vibes to present an eye-popping production that includes acrobatics, dancing, and comedy into a show that more than lives up to its name. For a more otherworldly experience, there is Paranormal Mind Reading Magic, which will certainly make for an interesting evening. 
For fans of Harry Potter, Bally's also has a parody show called Potted Potter. It covers all 7 Harry Potter books in about 70 minutes!
Shows at Paris
Paris has a nice selection of shows as well. Anthony Cools puts on an adult-themed hypnotist and comedy show. It's the longest running hypnotist show in Las Vegas.
Then there is FRIENDS! The Musical Parody. If you loved the tv show Friends, you'll get a real kick out of this parody! This show's been a big hit!
So it's clear to see that both hotels offer a blend of entertaining shows. While neither Paris or Bally's has one of the major production shows on the Strip, you can find several of these shows within walking distance nearby. For instance, you'll find one of the biggest shows in Vegas, 'O' by Cirque du Soleil, right across the street at the Bellagio.
Dining: Paris Las Vegas vs. Bally's
As for on-site dining, you'll find plenty of upscale and casual restaurants throughout both properties.
Bally's Las Vegas Restaurants
Here are a few of the dining options at Bally's
NOBU
BLT Steak
Burger Brasserie
Buca di Beppo
Tequila Taqueria
Nosh Deli
Paris Las Vegas Restaurants
Here's a selection of Paris Las Vegas dining options.
Gordon Ramsay Steak
Martorano's
Eiffel Tower Restaurant
Mon Ami Gabi
Brioche by Guy Savoy
Beer Park
Without a doubt, Paris is the winner in this category. Not only is Paris home to a couple of celebrity chef restaurants, they have one of Las Vegas's premiere outdoor dining experiences (Mon Ami Gabi), and they have the Eiffel Tower Restaurant with an amazing view of the Bellagio Fountains.
(Find out all the restaurants with views of the fountains in our article here).
While Paris may have a leg up on Bally's when it comes to dining, remember that the resorts are located right next to each other and with just a short walk you can experience the complete dining options of each hotel.
Pools: Soleil (Paris) vs. Blu Pool (Bally's)
If your dream Las Vegas vacation includes plenty of time lounging by the pool, you'll want to know a bit about each resorts pool deck.
Both resorts feature one full-size pool, yet the Parisian-inspired Soleil Las Vegas Pool at Paris Las Vegas is simply breathtaking to behold! It's a gorgeous pool set beneath the Las Vegas version of the Eiffel Tower.
The Blu Pool at Bally's is also massive, with private cabanas for rent for those who want to spend an entire day at the pool. It's quite nice but doesn't compare to the Soleil Pool at Paris.
In terms of visual splendor, Paris Las Vegas is the clear choice if you're looking for a superior pool. 
Parking Fees at Paris & Bally's Las Vegas
The parking fees for both properties are the same. Self parking is currently free for registered guests, while valet parking at both properties runs between $18 – $30 per day.
Attractions and Shopping: Paris or Bally's
Bally's and Paris Las Vegas each have attractions worth mentioning. 
The Eiffel Tower Viewing Deck at Paris has long been established as offering some of the best views of the Las Vegas skyline, yet the Swarovski Starburst located at Bally's is an iconic fixture of any Las Vegas New Year's Eve celebration. But this dazzling light show doesn't just illuminate on December 31; you can catch the show every night between 8:55-9:05 PM. 
Each resort has many leisure activities to take advantage of. Golf and tennis are readily available each day when staying at Bally's, as well as premium shopping at the Grand Bazaar Shops and Bally's Avenue Shops. Choosing to have a drink at Napoleon's Lounge in Paris Las Vegas is always a guarantee for a lively and energetic nightcap experience. 
When it comes down to it, Paris Las Vegas slightly edges out Bally's in this category. But again, since both of these resorts are located in one of the liveliest sections of the Las Vegas Strip, each resort is a nearby attraction of the other.
Not to mention, your just feet away from one of the most exciting areas on the Las Vegas Strip that includes several other world-famous resorts and attractions!
How To Choose
There is much to be gained from an extravagant and unique experience while staying in Paris Las Vegas, but the sheer affordability and centralization to the Las Vegas Strip make Bally's a great choice as well. 
Bally's is a great choice if you're looking to experience some of what made old school Las Vegas so great at an affordable rate, while Paris Las Vegas is a bit more upscale and refined making it the best choice for a romantic getaway.
The final verdict all comes down to what you prefer: vintage Las Vegas (Bally's) or a more modern and elegant vibe (Paris Las Vegas). 
Other Las Vegas Hotel Comparisons
Check out these other comparisons of Las Vegas Hotels.
Paris Las Vegas vs. Treasure Island: Which Is Better? – Find out here!
Paris Las Vegas vs. Caesars Palace: And the Winner is… – More Here!
Paris Las Vegas vs. MGM Grand: Which too choose? – Article here
Sources