Paris Las Vegas vs. Treasure Island: Which Is Better?
A lavish, Parisian-themed vacation or a decently-priced getaway at one of the Strip's best mid-range resorts? Comparing Paris Las Vegas and Treasure Island is not as easy as you may think since there are attractive attributes that come with staying at either resort. Paris Las Vegas is considered a more exclusive boutique resort, whereas Treasure Island is more accessible to any budget. Since both of these features are enticing, which is better, Paris Las Vegas or Treasure Island?
Paris Las Vegas is better if you want to be closer to all of the action on the Strip, though it is significantly more expensive. On the other hand, Treasure Island (TI) is the way to go if you want to save some money on your Las Vegas trip while still enjoying all that the city has to offer. 
Here is a chart comparing the highlights of Paris Las Vegas and Treasure Island:
(This article may contain affiliate links, which means we might earn a small commission if you click and make a purchase. Thank you!)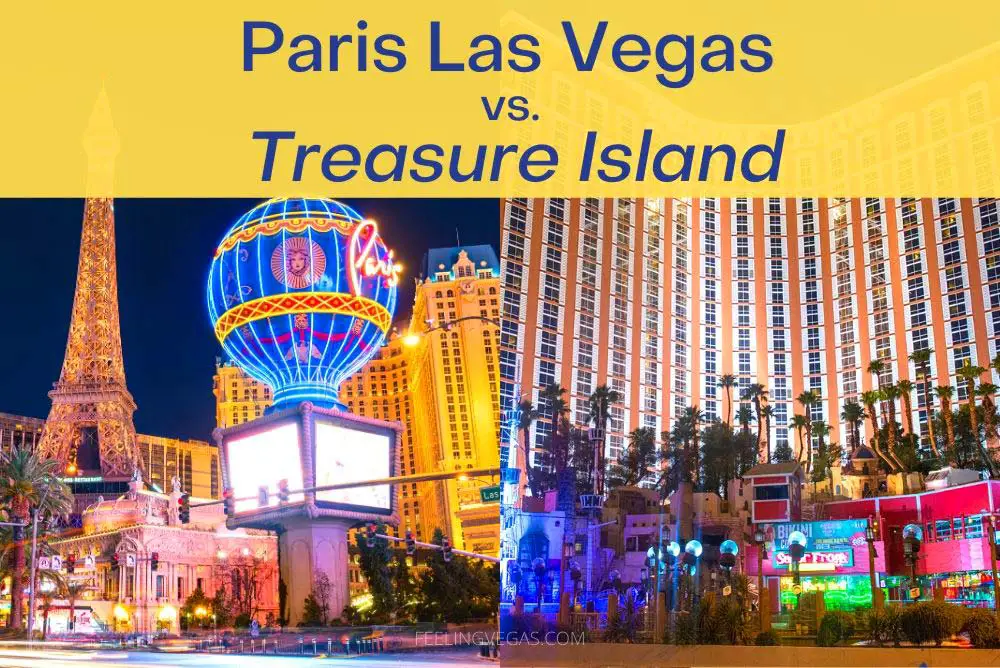 Name: Paris Las Vegas
Address: 3655 S Las Vegas Blvd
Gaming Floor: 95,263 sq ft.
Year Built: 1999
Number of Rooms: 2,916
Name: Treasure Island – TI Hotel & Casino
Address: 3300 S Las Vegas Blvd
Casino Floor: 95,000 sq ft.
Year Built: 1993
Number of Rooms: 2,884
Staying at Paris Las Vegas is a luxury that many people plan for well in advance of their trip and is considered one of the most romantic hotels/casinos in Las Vegas. Opulent surroundings and immaculate elegance await your every turn in this boutique resort.
Treasure Island is a bit less opulent, but your stay is still going to be luxurious, just much more affordable.
Opinions will be divided with this comparison, but this article will explore the best features of both resorts to help narrow down your decision. 
Room Rates: Paris Las Vegas vs. Treasure Island (TI)
Paris Las Vegas sits in an elite category when it comes to resorts on the Las Vegas Strip. This resort is managed by the same company that owns Caesar's Palace, which means you can expect only the finest of accommodations.
Room rates at Paris Las Vegas start at $69 and travel upwards of $500 per night. The prices are high; however, you will clearly understand why when you enter the exquisite rooms available at this resort.
Treasure Island or TI as it's being called these days, belongs to a group of resorts on Las Vegas Boulevard that combine the best features of the Strip with the affordability and laid-back atmosphere of Downtown Las Vegas.
Rooms at Treasure Island start around $56 per night and go upwards of hundreds of dollars per night for the deluxe and premium suites.
You can get the best of what Paris Las Vegas has to offer or, you can opt for a more affordable room at Treasure Island with decent amenities. 
When it comes to room rates, you should never think that Treasure Island is any less of a resort just because it has lower rates. In fact, this resort has worked hard to get rid of its former image as a novelty themed hotel that relied on cheesy pirate gimmicks in the past.
After a long renovation in the 2000s, Treasure Island is now both contemporary and affordable, depending on the type of room you choose. 
Due to the availability of room types and affordable rates, Treasure Island is the better choice for those on a budget. 
Resort Fees: Paris Las Vegas vs. Treasure Island
The resort fees for both hotels are pretty close to the same, but Treasure Island includes a bit more in their price than what is stated by Paris Las Vegas. At Treasure Island, the following is included in the resort fee:
Phone calls and faxes
Complimentary newspaper
High-speed internet access (higher speeds are available at additional prices)
Pool access
Fitness center
Use of business center and computers
In comparison, Paris Las Vegas includes the following in their resort fee:
High-speed internet access
Fitness center
Phone calls 
Pool access
So over and above Paris, Treasure Island will give you a free daily newspaper (which is nice) and use of their business center. These things may or may be of importance to you but it's good to know what you're getting.
Free Parking at Treasure Island and Paris Las Vegas
This ones easy. Treasure Island wins hands down!
You'll get completely free parking at Treasure Island, while you'll need to pay $18-$23 a day to park at Paris Las Vegas.
Location: Paris Las Vegas vs Treasure Island
Paris Las Vegas is located right smack dab in the center of the action on the Strip. In addition to its reputation for elegance, this prime location is one of the features that makes the resort so popular.
You can simply walk out of the front doors and find yourself in the middle of the excitement and activity no matter what time of the day or night. 
Treasure Island is not too far from this central location; however, it's about a 15 to 20-minute walk to reach Paris and the mid-Strip area. You can also take the free tram that runs from TI to the Mirage to help save some walking distance (especially during the day).
Even though Treasure Island is not in the Strip's most prime location, it's not that far away and there are still many popular resorts nearby if you want to stretch your legs and do some sightseeing. 
You can download our free map showing where each of these hotels are located on the Strip as well as seeing which other properties are nearby.
Shows at Paris vs Treasure Island
Both resorts are a bit lacking when it comes to in-house shows and entertainment compared to some of the other big-name hotels. At Paris Las Vegas, you can currently attend Anthony Cools' comedy show, which is an adult-oriented mixture of raunchy humor and hypnotherapy–which is equal parts hilarious and odd all at once.
Apart from that, you will have to make do with the stunning architecture and amazing resort amenities or head to one of the nearby casinos for more entertainment options. 
Treasure Island has a thriving nightlife scene with Gilley's Saloon that combines an extensive menu and bar with a wild west theme that will make any evening spent here memorable.
The headlining show at Treasure Island is Mystere by Cirque du Soleil. This acrobatic spectacle is the longest-running Cirque du Soleil show in Las Vegas. 
You will likely have more fun overall at Treasure Island; however, both resorts are about the same in this category. 
Pools: Treasure Island & Paris Las Vegas
Both resorts feature one full-size pool. Although you only have one pool to choose from, the Soleil Pool at Paris Las Vegas is definitely more visually appealing with its elegant European theme.
You can lounge poolside while staring up at the Eiffel Tower replica that stands over the Strip.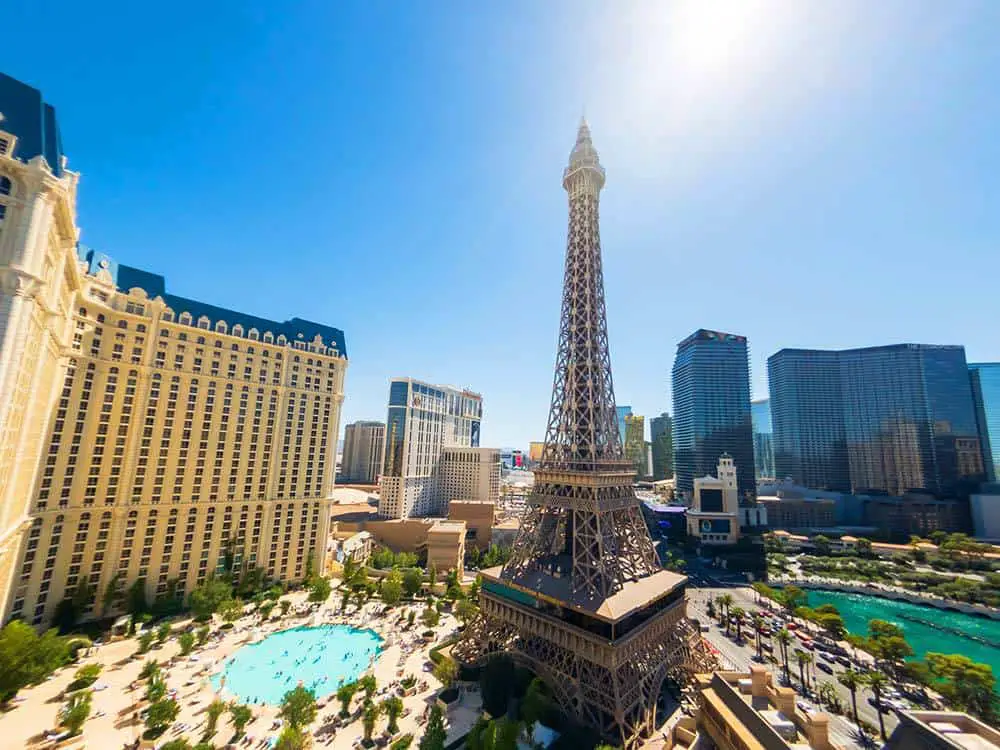 The pool complex at Treasure Island is considerably more modest, although the pool does feature a live DJ that gives this pool a bit of a dayclub vibe. The TI pool area also features a 25-person capacity jacuzzi, which is big enough for you and all your new friends.
Paris Las Vegas is certainly the better choice for those looking for an amazing pool experience.  
Paris and Treasure Island Nearby Attractions
Paris Las Vegas has the iconic Eiffel Tower, which is a must-see attraction when in Las Vegas. You can either have dinner at the Eiffel Tower Restaurant which is on the 11th floor of the tower or head to the very top and check out the view of the Strip from the Eiffel Tower Viewing Deck.
Otherwise, at Paris, you are literally surrounded by some of the most iconic hotels and casinos on the Strip including the Bellagio (the fountains are right across the street from Paris), ARIA, The Cosmopolitan, Caesars Palace, and the list goes on. These are all within easy walking distance!
Treasure Island never receives much attention in this category; however, the Marvel Avengers S.T.A.T.I.O.N. is an innovative on-site attraction that offers an interactive and informative tour of the Avengers franchise. Not to be missed if you're a Marvel fan!
As I mentioned before, there is a free tram that will take you over to the Mirage, where in the evenings you can catch the Mirage Volcano erupting. Definitely something you'll want to see! Or you can take a 5-minute walk over to the nearby Fashion Show Mall where they host runway fashion shows every weekend.
In the end, however, nothing comes close to the amazing view from the Eiffel Tower Viewing Deck. 
Conclusion
So, is the Parisian elegance of Paris Las Vegas better than the affordable and casual atmosphere at Treasure Island? This decision is going to be based on what you want out of a resort.
Paris Las Vegas is the obvious choice if you want to experience a great location and some of the finest accommodations in Las Vegas. It's also an ideal choice for a romantic weekend getaway.
However, if you're looking to save some money to spend on other Las Vegas attractions, Treasure Island has more affordable rooms while still having a pretty decent location on the Strip. 
Other Las Vegas Hotel Comparisons
Check out these other comparisons of Las Vegas Hotels.
Paris Las Vegas vs. Caesars Palace: Which Is Better? – Find out Here!
Paris Las Vegas vs. MGM Grand: Which too choose? – Article here
Paris Las Vegas vs. Bally's: Which to choose? – Find out now
Paris Las Vegas vs. Caesars Palace: And the Winner is… – More Here!
Luxor vs. Treasure Island: Who Comes Out on Top? – Read Article Here
Sources: