8 Cheap Places To Rent An Exotic Car in Vegas (So Cool!)
(This article may contain affiliate links. If you click through and make a purchase, we will receive a small commission at no additional cost to you. )
When you visit Las Vegas, luxury is part of the experience, and what better way to enhance that experience than by driving an exotic car. However, even though you're just renting it, that dream car is going to come at a high cost.
Fortunately, depending on where you go, some rental companies offer deals and discounts that can help make your exotic car driving experience as affordable as possible.
Here are 8 cheapest places to rent an exotic car in Vegas:
Select Exotic Cars
Affordable Dream Drive
Royalty Exotic Cars
LVC Exotic Rentals
Diplomat Exotic Rentals
Turo
Exotic Car Rental Today
All Star Cars
Keep reading as I go over these eight exotic car rental companies in Las Vegas and detail the benefits and approximate costs so you can live your dream of driving an exotic sports car or luxury vehicle in Vegas without breaking the bank.
1. Select Exotic Cars in Las Vegas
Select Exotic Cars has one of the biggest fleets available in Las Vegas, offering everything from the Lamborghini Aventador to the Ferrari Spider Convertible. Select Exotic Cars in Las Vegas will help make that fantasy come true no matter your dream exotic car.
Their cheapest option starts at only $299.
They offer a simple online booking process that only takes a few minutes to complete, with no need to make multiple trips to the showroom just to rent the car for a few hours. This allows you to reserve your vehicle before you ever arrive in Las Vegas, ensuring that your desired model is available during your trip.
One thing that makes Select Exotic Cars different from the competitors is that they offer unlimited miles with every rental. Many exotic rental car companies make you sign an agreement that you will not drive more than a certain amount of miles.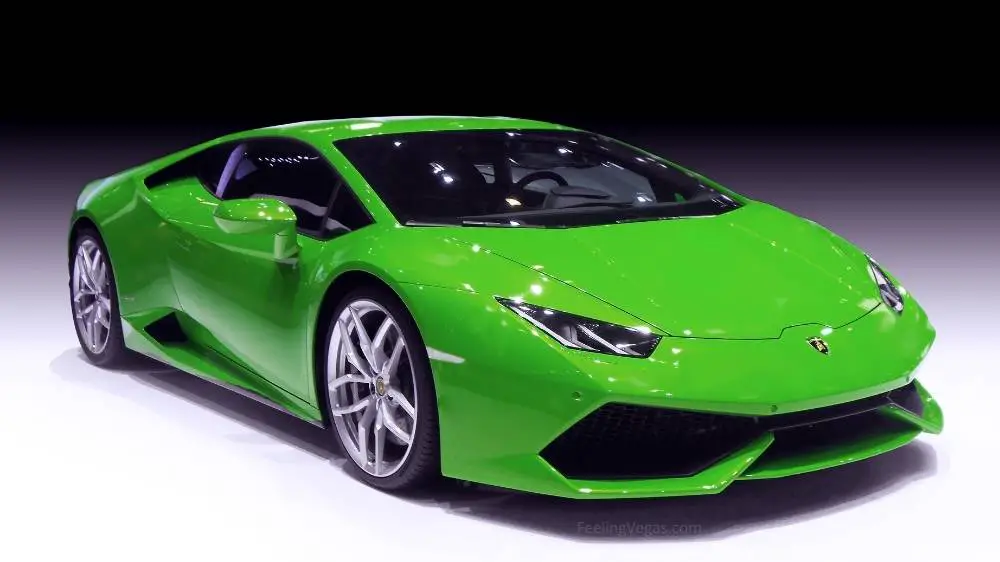 If you do, you'll have to pay more for any additional miles when you return the car.
At Select Exotic Cars, they want you to focus on your exotic car experience, not the number of miles you're driving. They also fill your car up with a complimentary tank of gas at no extra charge so you can get right to speeding through Sin City.
2. Affordable Dream Drive: Exotic Cars to Rent in Vegas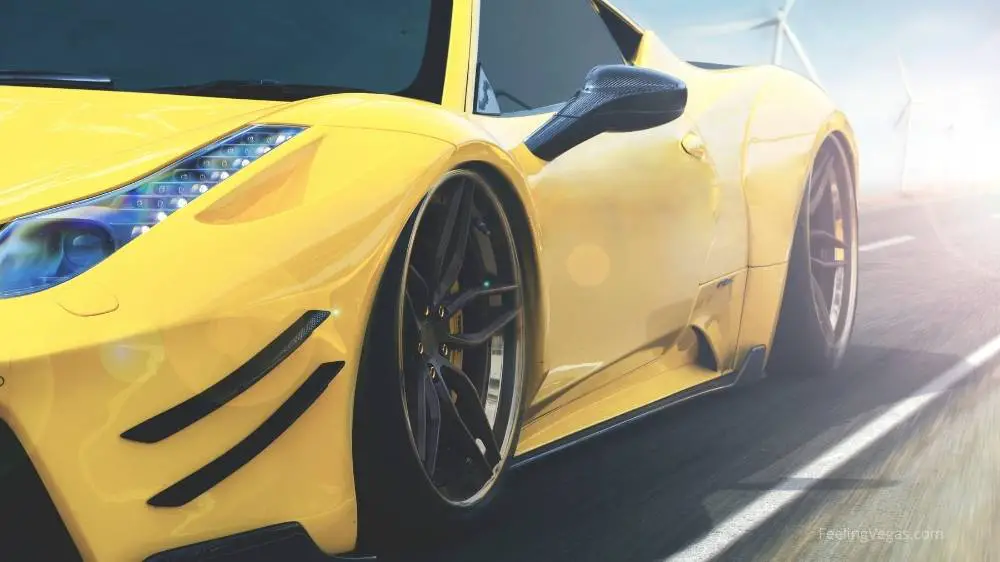 Affordable Dream Drive is exactly what its name suggests. It's one of the most affordable options on this list.
They don't offer as wide a variety as some other exotic car rental companies. However, they still provide plenty of amazing cars to give you that taste of luxury, including Ferraris, Lamborghinis, and Porsches.
They don't require a security deposit, and their cheapest rental starts at only $149.
The downside to all of this is that they seem to be a lower-budget operation overall. Their rental process is not nearly as streamlined as some of the other companies, and they don't provide much information on the specifics of the rental agreement, including how long you can rent the vehicle.
If you'd like to rent a vehicle from them, you'll need to contact them with the number listed on their website or by filling out their interest form.
3. Royalty Exotic Cars in Las Vegas
Royalty Exotic Cars in Vegas offers the largest selection of luxury and exotic vehicles for rent in the Las Vegas Valley. They offer everything from the newest Ferrari sports cars to a luxury SUV if you're taking a group trip.
They offer three different time slots that you can rent for, four, eight, and 24 hours, which is amazing because you'll only have to pay for what you want.
Royalty Exotic Cars also has a price match guarantee, so if you find the exact same vehicle elsewhere for less, they'll match that price. Their cheapest luxury car rental is a Lamborghini that starts at only $640 for a four-hour rental.
One thing to keep in mind about Royalty Exotic Cars is that they have strict requirements when it comes to who they'll rent to.
You must be at least 25 years old, have a valid US driver's license, and have private insurance that meets all of their insurance requirements. To check exactly what these requirements are and if your insurance qualifies, you'll need to read their standards on their website or give them a call.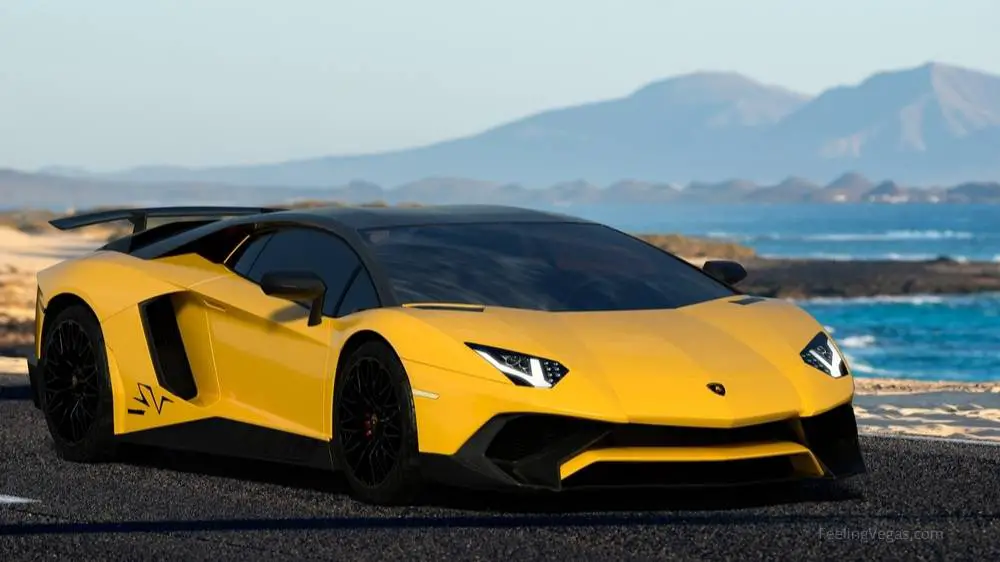 Royalty Exotic Cars' rental process is also super simple. All you have to do is browse through their selection of exotic cars and choose which model you want. Then, you'll select the date you want to pick it up and how long you want to rent it for.
You'll be able to submit your payment online then all you'll need to do is provide your proof of insurance when you pick the vehicle up.
4. LVC Exotic Car Rental (Largest Selection of Newer Model Cars in Vegas)
Out of all the rental companies on this list, LVC Exotic Rentals offers the widest variety of new model cars, meaning 2021 and 2022 versions of many popular vehicles such as the Lamborghini Urus and the Corvette C8 Convertible supercars.
You can rent one of their exotic cars for anywhere from two hours to seven days, so no matter how long you're in Vegas, you'll be able to enjoy your exotic car experience. Their cheapest two-hour rental starts at $149.
They offer unlimited miles with every luxury car rental and make it easy to book your vehicle online with instant confirmation. That means no waiting on hold for the company's representative to check if the car you want is still available.
To rent from LVC Exotic Rentals, you'll need to be at least 25 years old, have a valid driver's license, have a major credit card for your refundable deposit, and have current auto insurance.
Related: Renting a Slingshot in Las Vegas (What You Need To Know)
5. Diplomat Exotic Rentals Las Vegas
At Diplomat Exotic Rentals, they offer their rentals in three different time slots. You can rent one of their exotic cars for either four, eight, or 24 hours. Most of the exotic cars in their fleet are Lamborghinis or Ferraris, but they also have a few other models, such as Porsche and McLaren.
You must be a minimum of 25 years of age to rent one of their exotic cars, and you'll need to bring your proof of insurance as well as a major credit or debit card to pay the deposit. Of course, you must also have a valid driver's license, although it doesn't matter which state or country issued it.
The cheapest exotic vehicle that Diplomat Exotic Rentals offer is their Porsche GT3 911 which starts at $349 for a four-hour rental.
If you want to book your rental ahead of time, the process couldn't be more straightforward. All you have to do is fill out their simple online booking form and wait for a representative to contact you with the next steps on how to pick your luxury car up when you get there.
6. Use Turo to Rent an Exotic Car Straight From The Owner
If the rental agencies that I've mentioned so far haven't appealed to you, or they're just completely out of your price range, another great option is going through a company called Turo. They allow you to rent exotic and luxury cars from private owners instead of through a rental company.
The benefit of going with a company like Turo is, for one, you'll save money. Most of the exotic car rentals on Turo are only a few hundred dollars per day as opposed to a few thousand.
You'll also have less hassle when it comes to arranging the pickup, paying for extra miles, and making sure that you have hundreds of thousands worth of insurance covering you.
You'll also be able to directly connect with the owner, learn about the car's history, and get personal recommendations regarding where you should drive it or fun things to do in the area.
The downside to going through a company like Turo is that it may be more challenging to find the exact car you're looking for at the precise time you want it. You'll also have to deal with a private owner which, in some cases, could be more complicated than going through an established dealership.
However, it's typically easy to avoid this by simply reading the owner's reviews beforehand and contacting them about any specific rules they may have for their vehicle.
7. Exotic Car Rental Today (Las Vegas)
If you need your vehicle for more than a couple of hours but still want to keep the price as low as possible, Exotic Car Rental Today in Las Vegas could be your best choice. They're less flashy than other dealerships, and their selection is a little bit smaller, but their prices are tough to beat.
Exotic Car Rental Today guarantees that their exotic cars are the lowest price possible and, based on what I saw on their website, it seems to be true.
They only give information on their per day prices, and they're significantly lower than the competitors. For example, they offer a Huracan Spyder for only $699 per day, which is at least 50% lower than any other prices I've seen.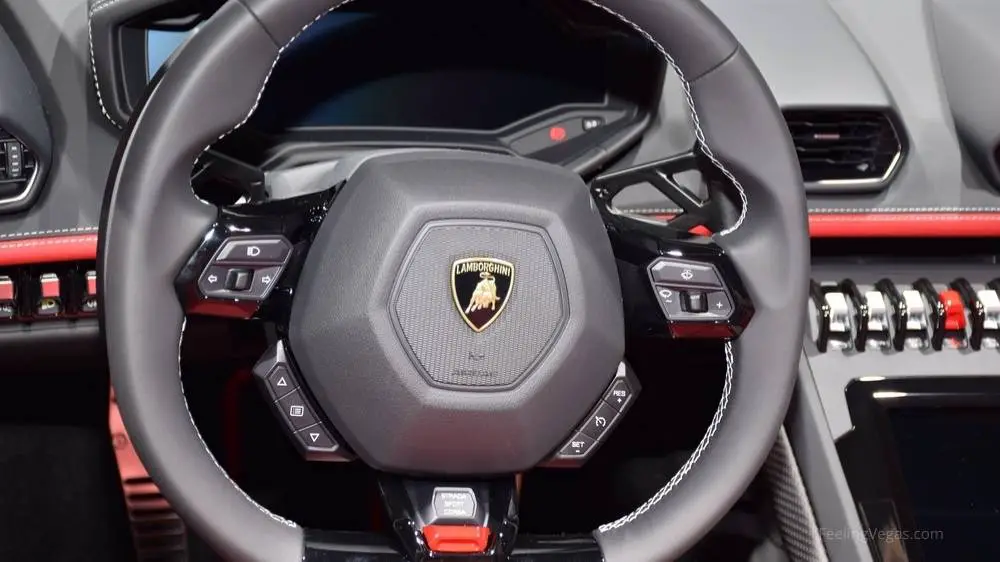 Unfortunately, to get more information on the requirements to rent and things of that nature, you'll need to call the company as they don't provide extensive information on their website.
However, don't let this dissuade you from using them as they do have good reviews when you look up their company.
You'll just have to be willing to make the phone call if you want a better price.
8. All-Star Cars (Exotic Car Rental in Vegas)
For our last, but definitely not least, Las Vegas exotic car rental company, we have All-Star Cars.
If you've been reading about the last several Vegas car rental companies and thinking that your exotic car dream may not come true because you're under 25, never fear, because all Star Cars is here.
In contrast to the other companies in this list, All-Star Cars only requires their drivers to be 21 years of age when they rent the car.
However, most of the other regulations are the same. You'll still need to present a valid driver's license, a major credit or debit card, and show proof of current auto insurance.
They have one of the smaller exotic car selections on this list, but they still have a few different Ferrari, Lamborghini, and Corvette options.
Their prices are also lower than most other companies on this list.
Their website states that although they typically rent their cars out for half or full days, they also offer an hourly rate. This is great if you're just stopping in Las Vegas for the weekend, you can only afford an hour, or if you're there for business and only have a few hours to spare.
This makes it way more accessible for everyone to have their exotic car dream come true because you won't be locked into having to pay for the car for a whole day.
One downside is that they don't have a price match guarantee, unlike other competitors on this list. However, they do have group and military discounts, so it's still possible to lower the price in some ways.
Related: Find out how a guy rented a Lamborghini in Las Vegas for $99!
Wrapping Up
And there you have it! If you've ever dreamed of renting an exotic sports car or luxury ride, Las Vegas is a great place to do it.
You can cruise the Strip in your fancy ride or head out on the highway into the desert for an adrenaline-pumping ride you won't soon forget.