Car Rental in Las Vegas if You're Under 25 (Explained)
As a popular spot for 21st birthdays, bachelor and bachelorette parties, and vacations, Las Vegas is a young person's paradise. While you're here, having the freedom and convenience of quick access to a vehicle may be worth the cost of a car rental. But can you even rent a car in Vegas if you're under 25?
When you're under 25, you can still rent a car in Las Vegas. However, you will need to pay extra fees along with the normal rental fees. You will also have a limited selection of vehicles to choose from, as not all cars are available for drivers under 25 years of age.
Keep reading for details on car rental in Vegas if you're under 25, including some tips for where to get your rental, tips on renting vehicles, and some car rental alternatives. 
Click to find the best deals on car rentals in Las Vegas (Discover Cars)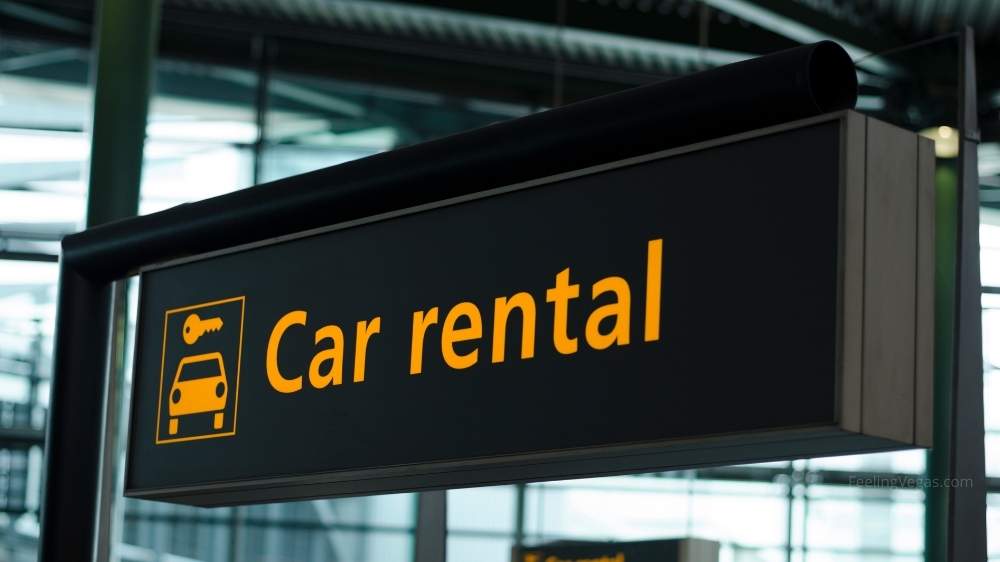 (This article may contain affiliate links, which means we might earn a small commission if you click and make a purchase. Thank you!)
What Do I Need To Rent a Car in Las Vegas if I'm Not 25? 
It's a common misconception that one has to be over 25 to rent a car. 
To rent a car in Las Vegas if you're not yet 25, you'll need to pay an additional fee, called the Young Renter Fee or Underage Driver's Fee. You'll probably be limited in the kind of vehicles you're permitted to rent. 
Why There Is an Additional Fee To Rent An Auto Under 25
Paying extra just for being younger than 25 is annoying. 
Still, according to the National Highway Traffic Safety Administration, drivers under 25 are much more likely to be involved in automobile accidents, so a young driver is statistically riskier to rent to. How much you'll have to pay depends on the type of car and location. 
Where To Get a Las Vegas Rental Car if You're Under 25
You have some options when it comes to car rental in Las Vegas. Let's take a look at them now. 
Young Renter's Fee Applies
Hertz rents cars to drivers 20 years and older who have a valid driver's license that's been in good standing for more than a year and a valid debit or credit card. You'll have to pay a "Young Tenant Daily Fee." Additionally, you cannot rent the Dream Car or Prestige and Adrenaline vehicles. 
Avis automatically applies an underage surcharge for young renters between the ages of 21 and 24. Those who rent with Avis will have a few more vehicle options than with other companies, as renters who are under 25 are allowed to rent economy through full-size cars, premium cars, convertibles, and intermediate and standard SUVs. 
Underage renters are not permitted to rent full-size SUVs, luxury vehicles, minivans, or specialty cars. 
Enterprise rents to drivers 21 and older in Nevada. You will be required to pay a "young renter fee" of $25 a day. Under-25 renters are permitted to rent economy, compact, intermediate, standard, and full-size cars. They are also permitted to cargo vans, minivans, pickup trucks, and SUVs with seating up to five passengers.
National Car Rental rents vehicles to those 21 and older, but like other companies, add a "Youthful Surcharge" to the daily cost. This surcharge is $25 a day. 
Alamo rents to licensed drivers over 21 but applies a "Youthful Surcharge" to those under 25. This cost is usually $25 a day but could vary depending on what vehicle you rent.
Thrifty Car Rental offers rentals to drivers 20 and up and charges a Young Driver Fee. Renters under 25 are excluded from specialty vehicles. 
Other Las Vegas Fee Rental Options For Drivers Under 25
Advantage rents to drivers 21 years of age and older. Renters under 25 are subject to additional surcharges. They are also not allowed to rent luxury cars, minivans, specialty vehicles, or full-size or premium SUVs. If a renter under 25 wants to add an additional driver to the rental, the second driver must be older than 25. 
Budget rents to drivers under 25, but only if they make their reservations in advance. In addition, Budget requires younger drivers to show an accepted credit card, not a debit card. Their daily surcharge is $27 a day. 
Surcharges For Everyone Under 25
Most renters under 25 will have to pay a surcharge. However, there is an exception. Enterprise, Hertz, and Avis waive the fee for renters under 25 if they are USAA members. 
Additionally, military personnel and government employees under 25 are typically waived from any additional fees incurred due to age requirements if renting for authorized government travel. They must show the rental location their official orders. 
Tips for Car Rental in Las Vegas
If you're under 25, this may be your first time renting a car. Here are some suggestions to make the process as quick and easy as possible.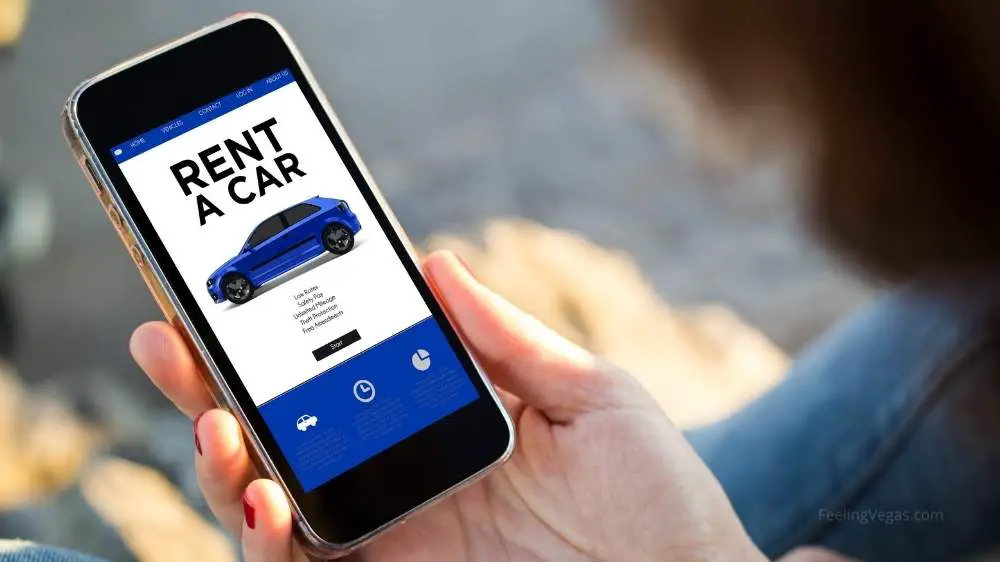 Be Familiar With the Car
While it may be tempting to rent the fanciest and flashiest car you can, you'll feel most comfortable driving a car that's similar to the vehicle type you normally drive, and you'll be safer on the road. And it might cost a lot less money to get a modest vehicle.
Know What You Need To Bring
Does your auto insurance have coverage options for rental cars? If not, you should get insurance when you rent the car, just in case. Bring an ID, your auto insurance card, and a credit card when you pick up your rental. 
It's best to make the process as efficient as possible, and you'll need all of these things to secure your rental. 
Reserve In Advance 
This ensures that you get the car you want, or at the very least, you'll know what car you'll be driving, so there's no need to stress or debate once you get to the rental counter or store.
Additionally, some companies give a discount for prepaying online, which can give you more money for having fun in Vegas and make that under-25 surcharge hurt a little less. 
Keep the Car Clean
What happens in Vegas doesn't always stay in Vegas. Any car that gets returned trashed will get charged a cleaning fee, which will be extra annoying after paying extra to rent the car in the first place. Save yourself the trouble and cost by having a trash bag in the car and avoiding eating in your rental. 
Rent Elsewhere and Stick To One Driver
Sometimes the convenience of having a car right after your flight and just before your departure is worth the extra cost, but if you're already paying a surcharge, it may be worth it to take public transportation or a ride-share to your hotel first and then find a place to rent. 
Here are 7 ways to get to your hotel from the Las Vegas airport that doesn't involve renting a car.
Avoid additional driver fees by just designating one person to stay behind the wheel. 
Also, so you're aware, many of the larger hotels on the Las Vegas Strip have a car rental customer service agent on-site at the property, which can make getting your car easier than getting it from the airport.
Inspect the Vehicle and Shop For the Best Rate
Check the inside and outside of your rental and note any damages with the Vegas rental car company, and take several photos. A car rental agency can charge you for any ding or scratch, so be meticulous. 
Check different companies and locations to see how the price changes, and look online for any coupons you may be eligible for. 
Check For Bonuses and Partnerships
Las Vegas car rental agencies have a lot of partnerships with other companies like credit card issuers, hotel chains, and airlines. If you have hotel points or airline miles, you can check and see what car rental agencies they have partners with to see if you're eligible for anything. 
Save Money By Not Getting GPS
Vegas car rental agencies will often charge on average $10-$15 a day to include a GPS, but you can use a smartphone and download any maps you'll need offline to use for navigation. Or, you can plan your route ahead of time and print out your directions. If all else fails, ask for directions.
You can quickly find and compare the best car rental rates in Las Vegas at Discover Cars.
Las Vegas Car Rental Alternatives 
Do you want to avoid paying for a car rental, and the associated fee of being under 25? There are other ways to get around Vegas without dealing with the expense and stress of renting and driving a car. 
Here are some alternative transportation options: 
Take a taxi. Taxis can be expensive, and you have to line up at a taxi stand, but they are always available, and you can sit back and relax as someone else does the work of navigating Vegas traffic for you. 
Lyft and Uber are available in Vegas. These ride-share services are a good option for those traveling in groups, as it's easy to split the cost of the ride in the apps. 
Buses give tourists a way to get around without having to rent a car. The buses are operated by the Regional Transportation Commission of Southern Nevada and make navigating the Strip inexpensive and relatively quick. 
Walking is an option, especially if you're staying on the Strip. There are plenty of crosswalks and pedestrian bridges that allow safe navigation. However, the Strip is long, and the temperature in Vegas can be quite hot, so this may not be the best option for most tourists. 
The Las Vegas Monorail is a good choice if you're sticking to the Strip. The monorail runs behind the resorts between the Sahara and MGM Grand. Mobile ticketing is available, and it costs $5 for a single ride. 
Electric bicycles are available at 21 stations throughout Vegas. Unlimited rides for a full day costs $5, and a three-day pass is $10. 
Hire a limo driver. Hey, go big or go home, right? This option is pricey, but if you're with a large group of people who are willing to split the cost, it may end up being worth it, especially if it's a special occasion. 
While there are some good reasons to rent a car in Las Vegas, here are 3 things you should consider first to truly understand if renting a car in Sin City is even necessary.
Conclusion 
If you're young and headed to Vegas, you can still rent a car from your pick of reliable and well-known companies. Just be prepared to pay that additional young driver surcharge and to be limited in your vehicle choice.
Really, it's not about what you're driving but where you're driving it! You'll still be living it up in Las Vegas, so don't let that additional fee stop you from hitting the road.