Renting the Best Party Bus in Las Vegas (How Much?)
(This article may contain affiliate links. If you click through and make a purchase, we will receive a small commission at no additional cost to you. )
Las Vegas is the ultimate adult playground, and there's no shortage of fun things to do! However, if you're traveling with a larger group of people, it can be like herding cats trying to get everyone on the same page.
One cool idea for a large group of people in Las Vegas is to rent a party bus. Renting a party bus can help you experience the best of Sin City and makes sure that your group has an awesome Vegas experience.
Party buses are ideal for an excursion on the Strip, bachelor/bachelorette parties, birthday parties, weddings, prom, and custom tours. The cost of a party bus rental will depend on factors like the size of the bus, how long you rent the party bus, and the number of people traveling.
The rest of the article will give you an idea of what to expect concerning rates, amenities, and restrictions. At the end of the article, I'll also share a way that you can have the perfect party bus experience without renting your own party vehicle.
So, who has the best party buses in Las Vegas?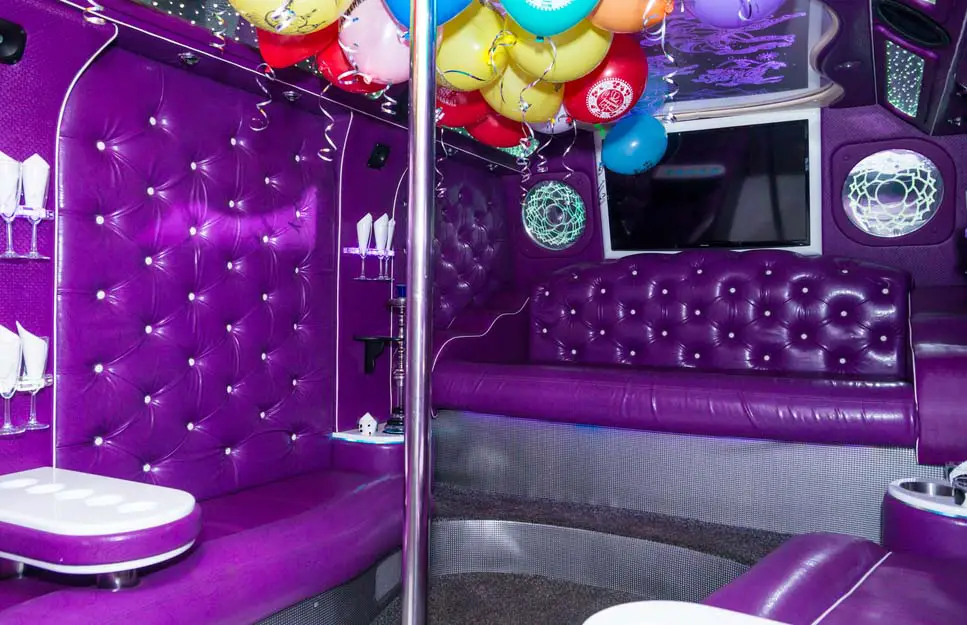 Let's kick it off with the largest bus company in Nevada, Bell Limousine. The company has been operating since the 70s and offers a variety of vehicle options. These include 140 buses, some of which are party buses. 
Their Las Vegas party bus can accommodate up to 20 passengers and comes with a fully-equipped, premium entertainment system. They also stock alcoholic beverages upon request.
Cost: $120/hour (2-hour minimum). The rates do not include taxes and fees.
A subsidiary of Bell Limousin called Presidential Limousine is also worth checking out. They have a limo bus that seats 20 passengers, which you can rent for $190 an hour. The party bus comes with complimentary champagne, bottled water, ice, and barware.
Another big name in Nevada's transportation industry is Crown Las Vegas. They have a wide-ranging fleet of vehicles, including luxury party buses that seat anywhere from 1 to 30 passengers.
Each party bus features a sound system, LED TVs, disco lights, a mini-fridge, dance poles, and a restroom. Drinking on the bus is allowed, but smoking is prohibited. E-cigarettes and vaping devices are fine.
Crown Las Vegas permits persons of all ages on their party buses, except when there's alcohol present. In which case, they only allow persons of the legal drinking age. All buses hold valid liability insurance to cover passengers.
Cost: $100/hour to $300/hour. The cost depends on the bus you select. You'll pay a deposit of about 15% to 20% via credit card but can pay the balance in cash.
Related Reading: How Much To Tip Your Limo Driver in Vegas (Explained)
DiscoBus Las Vegas takes transportation in Las Vegas to a new level with their luxury party buses that come with a live DJ! They offer two Disco buses: The Phoenix and Zeus. Both of these can seat up to 40 passengers each.
Each Disco bus has a bar, several 30″ (76.2 cm) TVs, a powerful sound system, a smoke machine, laser lights, among other features. The bus is literally a nightclub on wheels. One that allows drinks and food from outside under certain conditions. Smoking is, however, prohibited.
DiscoBus Las Vegas also offers complimentary bottled water, ice cubes, and cups. And the DJs keep you entertained with music that matches the theme of your evening. 
Cost: $290/hour, including taxes and gratuities. A $100 non-refundable deposit is required. You can settle the balance in cash or with a debit or credit card.
Serving the Las Vegas area since 2008, Earth Limos' fleet of party buses comprises late-model luxury vehicles. They have 26 passenger, 33 passenger, and 42 passenger party buses.
They've equipped each bus with lounge-style seating, luggage storage, fiber optic lighting, illuminated rear controls, and a 12 Volt power source. The bus also comes with a fully-uniformed chauffeur and complimentary bottled water.
Earth Limos requires a minimum booking of 1.5 hours for each party bus. And if you'll have a toddler or infant with you, you can rent a car seat for $15.
Cost: They'll provide a quick quote upon request. Rates will not include taxes and fees (e.g., fuel surcharge), and prices may increase on holidays.
Sin City Club Crawl is a transportation brokerage and mainly deals with transport between nightclubs or what they call "club crawls." However, they also rent party buses.
There's "The Monster," which is a 60-passenger double-decker party bus. It comes with a bathroom, 2 bars with a refrigerator, 4 dance poles, 5 LCD TVs, a 10000W sound system, and LED club lights.
Other options include "The Party Train," one of the biggest party buses in the country. And "The Black Pearl," which can seat up to 28 passengers. Sin City Club Crawl charters out these buses from other companies. They do not own any party buses.
Cost: You can request quotes for party bus rentals on the Sin City Club Crawl website.
Elite Transportation offers an array of party buses with different seating capacities. You can select a party bus that seats 20-25 passengers, 26-28 passengers, 30-36 passengers, or 37-40 passengers.
Some of the amenities outfitted in the buses include lounge-style seating, a 42" flat-screen TV, a DVD player with Bluetooth connection, fiber optic lighting, a dance pole, and luggage storage. They do not allow animals, food, or smoking on the party bus.
Cost: Quotes are provided upon request.
RECOMMENDED: Las Vegas Airport to The Strip in a Limo (How Much?)
The list wouldn't be complete without Las Vegas Party Bus Limo. The company has a wide array of luxury vehicles, including party buses that can comfortably accommodate anywhere from 1 to 44 passengers.
Depending on the size of your group, you can either rent a party bus that seats 26, 33, or 44 passengers. The buses feature fiber optic lighting, air conditioning, lounge-style seating, dancing pole, flat-screen TVs, and impressive stereo sound systems.
Las Vegas Party Bus Limo service promises top-of-the-line driving by their well-groomed, professional chauffeurs. On the day/night of your event, the chauffeur will arrive early at the pickup location and later drop you off at the agreed location.
Cost: Quotes are available upon request. 
Pre-Scheduled Party Bus Tours
If the idea of booking and planning your own party bus sounds like too much, or if your travel group is on the smaller side, you can still experience the Vegas mobile party scene by taking a pre-scheduled party bus tour.
These party bus tours will get you cruising the famous Las Vegas Strip, bars, and clubs even if you're just a single traveler.
The buses come stocked with tunes, lights, and adult beverages as well as VIP access to must-see Las Vegas nightclubs and bars.
A party bus tour in Vegas is a great way to make some new friends while having the time of your life!
UP NEXT: Are Clubs Free In Vegas? Best Nightclubs in Las Vegas