White Castle in Las Vegas (Menu, Locations, Delivery, Hours)
If you've never been to a White Castle, you will finally have abundant chances to do so on your next visit to Las Vegas. This fast-food chain is world-famous for its tiny, delicious sliders and has opened several locations within Las Vegas city limits that serve their delicious menu late into the night. 
It's easy to satisfy your White Castle craving while in Las Vegas at one of the four different locations. You can find each location serving up sacks of their delicious sliders, sides, and combos. Hours vary by location, but several offer 24-hour service and delivery options. 
In the rest of this article, we will take a closer look at what this fast-food chain has to offer the Las Vegas population and its visitors. We will see what's on the menu, where you can find each location, how to get your signature sliders delivered to your hotel, and what hours you can enjoy this fast-food chain's signature dishes.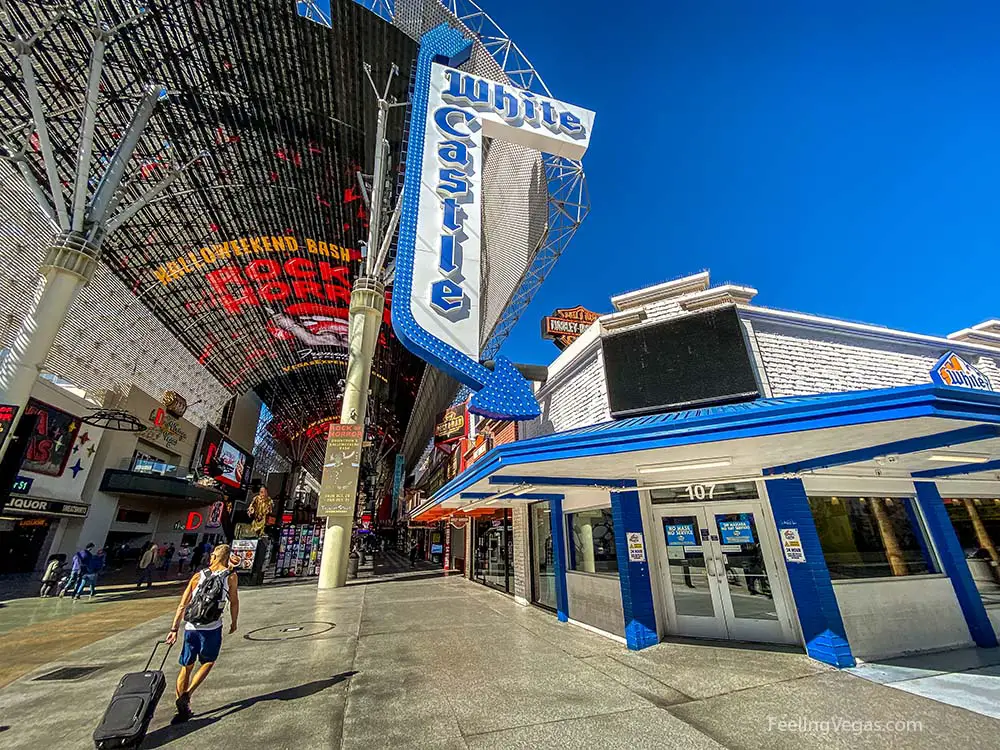 (This article may contain affiliate links, which means we might earn a small commission if you click and make a purchase. Thank you!)
White Castle Menu
White Castle has been crowned the originator of the fast-food burger industry, opening up its first location way back in 1921 in Wichita, Kansas. The fast-food chain always had a vision for its menu, and it has always focused around the signature sliders. Since the first sacks sold back in the 1920s, the White Castle menu has always celebrated these little burgers.
White Castle sliders are small, bite-sized square burgers that have been the main menu item since their beginning. They are served up the same each and every time, creating consistency and nostalgia around the experience of eating them. 
The sliders were born out of a determination to change the public perception of the ground beef industry in the United States at the time. 
Upton Sinclair's book The Jungle had recently captured public attention, and people were not energized to consume as much ground beef as they once had. White Castle founders Walter Anderson and Edgar Ingram designed their restaurant with pristine stainless steel fixtures to give it the look of a sanitary place to prepare food. 
The restaurant was a huge success, and so began the American love of fast food burgers. McDonald's, Burger King, and other similar fast-food chains wouldn't open for decades after the initial success of the White Castle restaurants.
Even Time magazine would come to name the White Castle slider as the most influential burger of all time in 2014.
Nowadays, you can find an expanded menu that continues to celebrate the signature White Castle sliders. While you can still buy them "by the sack" just as you would have done in the 1920s, there is plenty about the menu that has changed and evolved in the last century of the restaurant's existence.  
While some chain locations boast extensive breakfast options and vegetarian delights, the menu at the Las Vegas locations is more focused on traditional options. Let's take a look at what you are guaranteed to find, no matter which of the four Vegas locations you choose to visit. 
White Castle Las Vegas Menu
At any of the four locations in Las Vegas, you can expect to see the same menu offering you several slider combos, slides, drinks, and desserts. 
The Vegas Slider Combos give you six different options to choose from. You can go for the original slider, cheese slider, double slider, double cheese slider, chicken slider, or fish slider. Any of these combos will come with a drink and a side of fries.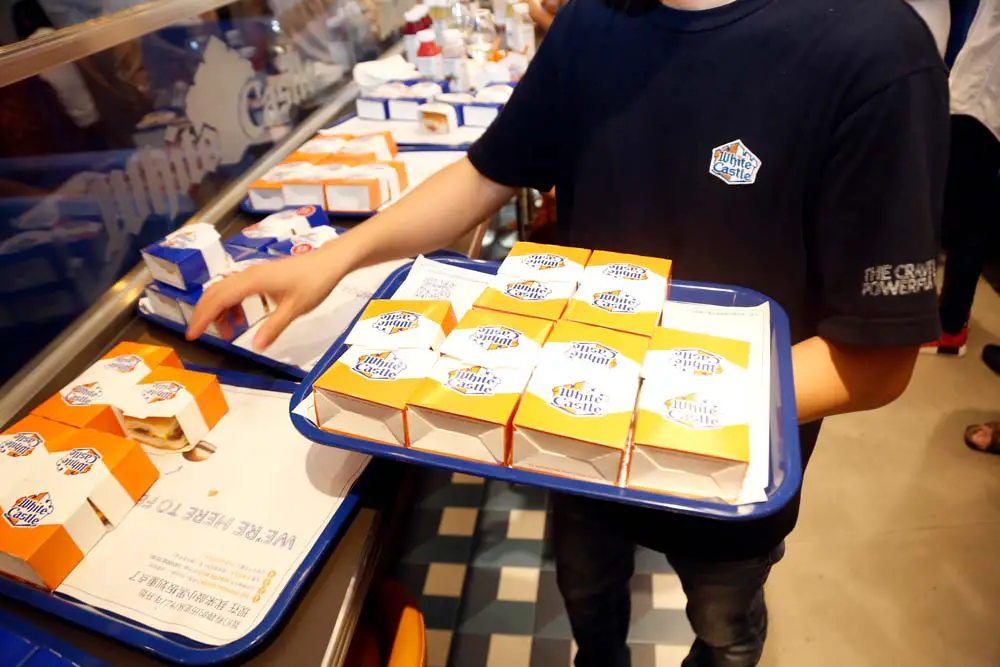 If you need more than just the two sliders that come in each combo, you can go for a traditional sack of sliders or a crave case. A sack will give you ten original sliders, while the crave case will provide 30.
You can also find other sides to choose from, like onion chips or chicken rings. You are sure to find a freshly fried side just for you to perfectly pair with your choice of sliders.
Like most other fast-food restaurants, you can find a wide range of soda, milkshakes, energy drinks, coffee, and juice on the drink menu. One thing that makes the Las Vegas locations special is their beer and wine menu. 
These locations are authorized to serve alcohol, so you can easily wash your sliders down with an ice-cold beer. You can even opt for the souvenir cup with any of their beer options to take a bit of your White Castle restaurant experience home with you.
If you are craving something sweet after all your sliders and sides, White Castle has a few on-a-stick sweets for you. You can choose between their fudge-dipped cheesecake or fudge-dipped brownie– both served on a stick. 
If you're not in the mood for chocolate, you can go for the gooey butter cake-on-a-stick option. In the Las Vegas locations, you might even be able to get your hands on a bag of mini-donuts. 
White Castle Las Vegas Locations
When in Las Vegas, you have four different White Castle Vegas locations to choose from. No matter where you are, you are never far away from a delicious sack of sliders for you and your friends. 
The first location is right on the Las Vegas Strip at 3411 S Las Vegas Boulevard (google maps). You can find this location on the first floor of the Best Western Plus Casino Royale. This is the ideal spot to stop by when walking around the Strip.
The next location is Downtown, found at 107 N 4th Street (google maps). This location is a ton of fun! It's located on the corner of Fremont Street and 4th Street and is just steps away from the worlds largest street party at the Fremont Street Experience. It has all the same menu options and stays open particularly late on the weekends. 
Next up, we have the I-15 and Jean location (google maps). This one you'll find when you're heading out of town on Interstate 15 south (about 26 miles from the Strip). The address for this White Castle is 1 Goodsprings Road. This location is part of an elaborate gas station (World's Biggest Cheveron) and features a drive-thru to get you your sliders without even getting out of the car.
Finally, we have the fourth and final location (google maps). This Paradise location (a couple blocks from the Strip) is found at 4501 Paradise Road, and while the building features limited hours, they have a 24-hour drive-thru that is sure to please the late-night crowd.
Tip: When you're downtown, you might also want to check out the Heart Attack Grill!
White Castle Las Vegas Hours
White Castle is well-known as a late-night haunt where you can feast on a tray of sliders at just about any hour. Each location in Las Vegas has its own set of hours, but many of them either close late or simply never close, making it easy for you to get your hands on a slider at any time. 
The Las Vegas Strip location is open 24 hours a day, 7 days a week. This restaurant is the perfect location to drop by after a wild night on the street and feast on a sack of sliders before heading back to your hotel.
The Downtown location is open late, but not around the clock. This location opens at 11 am each morning. It closes at midnight Sunday through Thursday and at 2 am on Friday and Saturday. 
The I-15 and Jean location has more restricted dine-in hours, officially from 9 am to 3 pm each day. However, their drive-thru is currently serving customers from 8 am to 7 pm daily. 
The final Paradise location offers dine-in options from 11 am to 2 am daily. However, this location features a 24 hours drive-thru option. This means you can grab a burger and fries at the end of your night without getting out of your car. 
White Castle Las Vegas Delivery
If you're already back in your hotel room and are craving a sack of sliders, you're in luck. White Castle delivers. You can use several food delivery apps to order directly off of the White Castle Menu. 
You can use Grubhub, Ubereats, Postmates, or DoorDash to get White Castle delivered to you. Check the delivery locations available through each app to find the one that will work for you and your closest White Castle. 
With these apps, you can do all of your ordering online, track your order once you have submitted it, and even qualify for special discounts on your first order. 
Final Thoughts
While White Castle locations can be hard to find in some parts of the country, you have plenty of opportunities to feast on their signature sliders while in Las Vegas. With four different locations and with more than one offering 24-hour service, you will be spoiled with options to try White Castle in Las Vegas. 
UP NEXT: 16 Cheap Places To Eat on the Las Vegas Strip (Map)