Renting a Slingshot in Las Vegas (What You Need To Know)
(This article may contain affiliate links. If you click through and make a purchase, we will receive a small commission at no additional cost to you. )
Do you want to cruise around Las Vegas in style and have all eyes on you at every stoplight? Do you want to feel the freedom of the open road and take in all the sights and sounds that the greater Las Vegas area has to offer? If yes, (and why wouldn't it be yes), you should consider renting a Polaris Slingshot during your next trip to Las Vegas. 
Renting a Slingshot in Las Vegas requires drivers to be at least 21 years of age, have a valid driver's license and proof of insurance. Pricing varies based on the company, transmission type, and the length of rental. Protective eyewear and helmets are recommended.
The rest of this article details what exactly a Slingshot is, how much to rent, what you need to rent, the best companies to rent from, safety suggestions, what to bring, and where to go on your Slingshot adventure.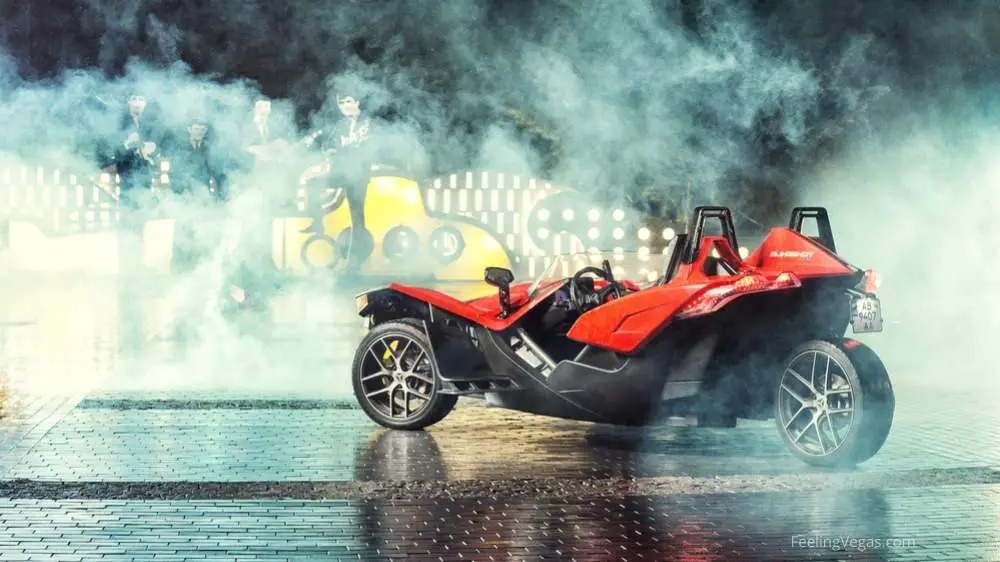 What Is a Slingshot?
A Polaris Slingshot is a three-wheeled road vehicle with no roof or doors that sits 5" (12.7 cm) above the ground. It's similar to a motorcycle and a convertible, but not quite. The vehicle connects the driver and passenger to the world around them, providing complete access to the open road. 
At most rental companies, the transmission is available in both automatic and 5-speed stick-shift. 
Las Vegas is a great place to cruise around in a Polaris, as you'll be able to take in the buzz and excitement of the Las Vegas Strip or journey into the desert to see everything the Las Vegas area has to offer. Are you ready to take on the open road in Vegas? 
Keep reading to discover everything you need to know about renting a Slingshot in Sin City. 
How Much to Rent a Slingshot in Vegas
Renting a Slingshot in Las Vegas will cost as little as $169 for a two-hour rental but can go all the way up to $1,679 for a 5-day rental. A three-hour Vegas Slingshot rental will be approximately $249 with a single full-day rental running $549.
Slingshots can be rented in Vegas for multiple time periods so there is sure to be a perfect rental length and cost to meet your needs and budget.
What Do You Need To Rent a Slingshot in Vegas?
To rent a slingshot, you need to be at least 21, while some places require drivers to be at least 25. You must currently hold a valid driver's license and show proof of insurance. Drivers and passengers must wear closed-toe footwear, and the total weight of the riders cannot exceed 450 lbs (204 kg). 
Typically, passengers must be 13 years of age or older. 
Calling ahead and booking your rental is always a good idea, as Slingshot rental is a fairly common Vegas tourist activity and many companies run out of available vehicles. 
Slingshot Companies You Should You Rent From in Las Vegas
There are plenty of companies in Las Vegas that offer Slingshot rentals. 
Here are some of the best: 
Vegas Jeep Tours: They offer both automatic and manual transmission Slingshots with sport suspension, a 100-watt sound system, plus a backup camera. You can rent for 4, 24, 48, 72, 96, or 120 hours, with prices ranging from $249-$1,679 depending on the length of rental and transmission type. 
Adrenaline Rush Slingshot Rentals: They also offer automatic and manual transmission options. Their Slingshots have custom seats and upgraded suspension. Rentals are for 2, 4, 6, 8, or 24 hours, with a price range of $169-$699. 
Vegas Scooter and Slingshot Rentals: This rental service offers manual and automatic Slingshots with premium sound and GPS navigation for three-hour or full-day rentals. For a manual, the price is $249 or $449. Automatic rental is $349 for three hours or $549 for a full day.  
Before renting a Slingshot from any of these companies, however, be sure to check Groupon here first. You can often find a discount on your Las Vegas Slingshot rental.
Safety Considerations Of Driving a Slingshot
Like any vehicle, a Slingshot is as safe or dangerous as the driver operating it. However, there are some additional safety measures to consider. 
Slingshots have no roof, windshield, doors, or side windows, so wearing a helmet is recommended, although not required in Nevada.
Make sure you're always wearing your seatbelt and have some eye protection (sunglasses). 
Additionally, keep an eye on your speed. Slingshots are light, so it may be easy to go faster than you realize. There are no airbags, and you're driving on real roads with other vehicles, so don't go too fast. 
What Do You Bring on Your Las Vegas Slingshot Adventure?
Depending on the weather, you may want to bring appropriate clothing, sunscreen, and rain gear on your Slingshot adventure. Make sure you bring plenty of water to stay hydrated. The most important piece of gear, though, is a good pair of sunglasses to protect you from both the wind and sun. 
Because Slingshots are open-air vehicles, your eyes are subject to dirt and wind as you cruise down the road. Some eyewear like these RIVBOS Polarized Sports Sunglasses (Amazon).
The RIVBOS glasses are heavily tinted and polarized, so they'll be great protection from the sun, and they're stylish enough to be worn casually poolside or walking down the VegasStrip.  
Places To Go With Your Las Vegas Slingshot Rental
So, you've decided to rent a Slingshot, now where should you go with it? Here are the best places to go in and around the Las Vegas Valley: 
The Las Vegas Strip is a stretch of Las Vegas Boulevard known for its resort hotels, casinos, and restaurants. Most of the Strip is designated as an All-American Road, and you'll love cruising while seeing the resorts, skyline, architecture, and lights. 
Fremont Street is located in the downtown casino corridor of Vegas and is home to some of the world's most famous casinos, including Binion's Horseshoe, Fremont Hotel, Golden Nugget, Circa, and more. 
The Hoover Dam was constructed during the Great Depression and is the highest concrete dam in the Western Hemisphere. The dam was also named one of the Top 10 Construction Achievements of the 20th Century and is located about 30 minutes outside of Vegas, an easy and fun trip in your Slingshot. 
Lake Mead, the largest reservoir in the United States, is only 24 miles (39 km) from the Strip and has stunning views of teal-blue water and wilderness. 
Valley of Fire State Park is a great location for hiking, photography, and a picnic for lunch if you need a break from driving your Slingshot. 
Boulder City offers an escape from the hustle and bustle of Las Vegas and is a perfectly quaint and historic town with boutiques and golf courses to enjoy. 
Red Rock Canyon is a beautiful natural area just 20 minutes or so from the Strip. It offers a 13-mile loop road through the red rocks and is possibly one of the best scenic drives close to Vegas.
If you'd really like to get out into the desert, then you should head to Nelson Ghost Town about an hour outside of Las Vegas. You can combine this with a short side trip to the Colorado River and Nelson's Landing cliff jumping area.
Conclusion
Are you now convinced that you should let your hair down and explore Las Vegas and its surrounding area in a Polaris Slingshot rental? 
Make sure that you have a valid driver's license and proof of insurance for your next trip to Sin City and rent a Slingshot from Vegas Jeep Tours, Adrenaline Rush Slingshot, or Vegas Scooter and Slingshot Rentals to give yourself the freedom to explore the city your way. 
More From FeelingVegas