Wynn vs. Palazzo: Which Is Better? (Las Vegas)
So, as a discerning traveler looking for a touch of luxury, you've found there's no shortage of top-class hotels in Las Vegas. Still, you've whittled it down to the Wynn or the Palazzo, and now, the hard part. You need to make a decision.
So, Wynn vs. Palazzo: Which is Better?
Based on a variety of reviews and comparisons, the Wynn comes out on top. But only just. With not much separating them based on guest reviews, let's have a look at the primary considerations that influence most of us when choosing a hotel.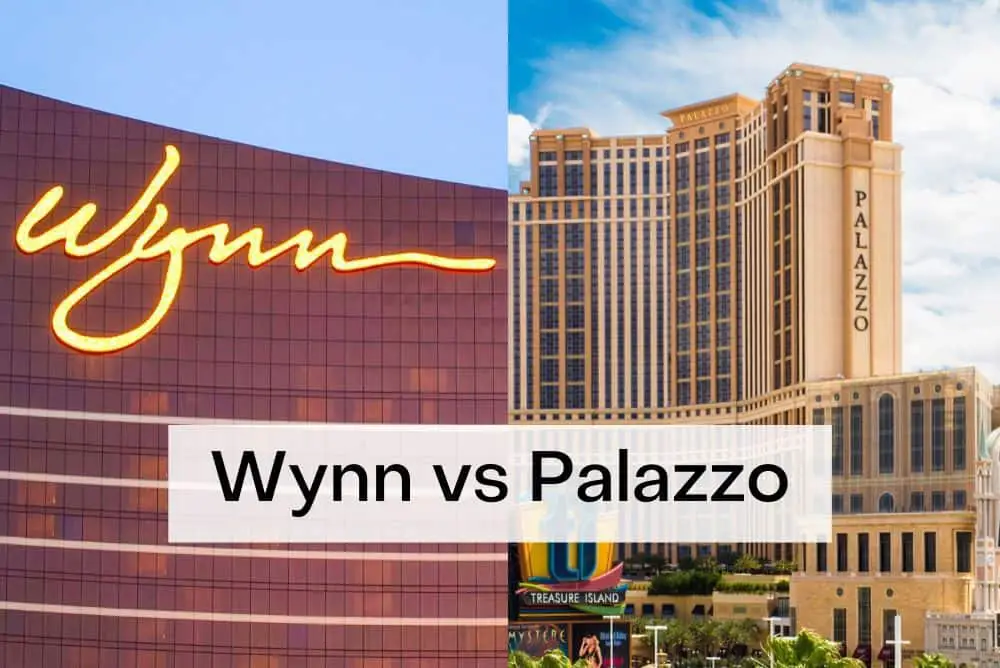 Wynn vs Palazzo at a Glance
Category
Wynn
Palazzo
Room Price
From $193 night
From $168 night
Resort Fees
$51.02 per day
$58.38 per day
Parking Fees
Free Parking
Free Parking 
Location
The north end of The Strip, 1.3 miles (2km) from the busy mid-Strip area
The north end of The Strip, 1 mile (1.62km) from the busy mid-Strip area
Major Shows
– various live comedy & music shows
– Atomic Saloon
– variety of live music
Top Dinning
– Cipriani
– Costa Di Mare
– Lakeside
– Mott 32
– Matteo's Ristorante
– Majordomo
Pools
4 pools, 2 jacuzzis
7 pools, 4 hot tubs
Nearby Attractions
– Wynn Golf Club
– Lake of Dreams
– The Spa
– Fashion Show Mall
– Gondola Rides
– Canyon Ranch Spa
– Madame Tussauds
Name: Wynn Las Vegas
Address: 3131 S Las Vegas Blvd
Year Built: 2005
Number of Rooms: 2,716
Name: The Palazzo
Address: 3325 S Las Vegas Blvd
Year Built: 2007
Number of Rooms: 3,068
Well, it still looks fairly even. If you're a golfer, maybe The Strip's only golf course at the Wynn will clinch it. Or, if price is your driver, you'll be veering towards the Palazzo. But really, there's a whole lot more to look at before you can make an informed decision. 
However, your problem is research takes time, and it can be tempting just to roll the dice. But, there'll be plenty of time to do that when you get to Vegas. Now's the time to play your cards right, so continue reading to help you decide which is better, Wynn, or Palazzo.
Wynn vs. Palazzo Las Vegas – How Do They Compare?
Both resorts are massive hotel and entertainment complexes linked to sister resorts — Encore for Wynn and The Venetian for Palazzo.  Beautifully designed interiors exquisitely maintained grounds, and impeccable service is standard fare for both the Palazzo and the Wynn, which is why it's so hard to choose.
So, let's compare in more detail what each resort offers.
Standard Rooms Compared at the Palazzo & Wynn
Here's what you can expect for the starting prices shown above:
Wynn
Palazzo
Wynn Resort King/Two Double Beds:

– 640ft² (59.5 m²)
– King bed or two Doubles
– 507-thread-count Egyptian linens
– 55'' (140cm) 4K UHD TV
– Bedside mobile phone charging
– Touch-screen curtain, lighting, room service, and privacy controls
– Oversized marble bath and separate shower
– Floor to ceiling windows
– Sofa and dining area
– Desk
– Mini-bar
– Views of The Strip or the valley
Luxury King/Double Queen Suite:

– 720ft² (67m²)
– Oversized King bed
– TVs in the bedroom (55''/140cm), living area (49''124cm) and bathroom (22''/56cm)
– Remote controlled Roman shades and curtains
– 130 ft² (12m²) bathroom with oversized marble bath and separate shower
– Separate split-level living area with sofa and dining table for 2
– Desk
– Fully stocked refreshment center
So, room-wise, each has similar offerings, but with a slight twist to distinguish them from each other. But you can be sure that even these entry-level rooms exude elegance and class. 
The Wynn does it in an understated way with calming neutral tones and natural light flooding through the floor-to-ceiling windows. With the sumptuous Egyptian linen, you may not want to leave your bed, let alone your room.
The Palazzo is an all-suite resort and boasts the largest standard rooms on The Strip. The stylishly executed Italian-inspired design features a split-level living area adding that extra bit of class. 
Download our Free Strip Map here to see where all the hotels are located along Las Vegas Blvd.
Luxury Room Offerings: Wynn or Palazzo
If you're feeling a little more indulgent or need more space, both resorts offer larger accommodations.
At the Wynn, its top-end suite is the 1817ft² (169m²) Wynn Tower Suite Salon with its own massage room and a granite bar area.
Perfect for unwinding after a hard day hunched over the tables. Additionally, Tower suites have an exclusive entrance and registration lobby, and access to a private pool.
Closest in size, the Palazzo offers a 1850ft² (172m²) Executive One-Bedroom King Suite, which boasts a double-door entrance and Italian marble foyer. Additionally, there's a jetted marble bathtub and an optional pool table or piano.
So, plush and luxuriant would describe the decor and furnishings at both resorts. Although the Palazzo wins on size, the final choice comes down to personal preference.   
Dining at the Wynn & Palazzo
The vast array of dining options at each resort is mind-boggling!
At the Wynn, you'll find twenty fine and casual dining restaurants, plus five bars and lounges.
The Palazzo boasts thirty-five restaurants, cafes, and bars.
The Palazzo has the most restaurants, but both resorts cater to a wide variety of culinary tastes. Whichever resort you choose, you'll be spoilt for choice.
Shopping at the Wynn or Palazzo
Shopping at both resorts is extensive, covering a wide range of products.
The Wynn Plaza and Wynn Esplanade are both beautifully designed, as you'd expect from a high-end mall brimming with major luxury labels. The atrium roof and the red-carpeted walkways give an appropriate air of exclusivity.
The canal snaking through The Shoppes at the Palazzo, plus the Gondola rides, pay surprisingly tasteful homage to the resort's Venetian theme. Although it caters to a wider range of budgets, the luxury brands are prominently on display.
If it's big-name labels you're after, the Wynn looks like the best bet. For a slightly broader offering, then you'll be looking at the Palazzo.
Venetian vs Palazzo: Check out our article here to see the comparison.
Wynn & Palazzo Casinos
The Wynn's casino is a vast expanse covering the whole gamut of gambling desires. Whether it's table games, slots, poker, or sports betting, the Wynn has it all.
The revamped sportsbook area provides bettors with an impressive 160° view of the betting action, making for a truly immersive experience.
The casino at the Palazzo is smaller, which some may find appealing.
But, it doesn't have its own poker room, and sports betting is via a kiosk. For the full sportsbook and poker room experience, you'd have to head over to the Venetian, which shouldn't be a big deal as the two hotels are connected.
Palazzo vs Wynn: Loyalty Reward Programs
These are just some additional things that the resorts offer guests. They may not be deal clinchers, but they're worth considering as they can add to the value of the overall package.
The Wynn offers Red Card membership where your room key doubles as a membership card. It gives access to member-only room rates and rewards members with credits for casino play. Credits can be redeemed for free slot play, complimentary rooms, dining or spa services.
The Palazzo's Grazie rewards program awards points in the casino and on expenditures throughout the resort. Rewards are in the form of discounts on shopping, services, and various attractions within the resort.
The casino rewards offers are reasonably standard, but Palazzo's program gives rewards for other spending within the resort, not just casino play.
Wynn vs Palazzo Reviews — What Do They Say?
As mentioned above, there's not much separating the two based on travel writer and traveler reviews. However, overall, the Wynn just edges it.
Tripadvisor ranks the Wynn 4th out of 275 Vegas hotels — The Palazzo is ranked 24th. In giving Wynn a 5-star rating, Forbes Travel Guide called it a luxe wonderland. It highlighted the internal and external design fusing together nature, art, and luxury, the extensive range of high-end shops, the sheer variety of culinary delights, and those floor-to-ceiling windows.
Having said that, although Forbes Travel Guide only awarded the Palazzo a 4-star rating, it was no less complimentary about it. It noted the elegant luxuriousness of the rooms as well as the array of dining and shopping options.
Conclusion
So it's decision time. I've given you as much information as I can in order for you to compare the two properties. The takeaway from the above is that whichever you choose, the Wynn or the Palazzo, you're not going to lose. For once, the house doesn't have the edge.
Other Las Vegas Hotel Comparisons
Check out these other comparisons of Las Vegas Hotels.
Wynn vs ARIA: Which is better? – Find out here!
Venetian vs. Wynn: How to decide? – Here's how
Venetian or Palazzo: How to choose – Read Article