Mandalay Bay vs. Mirage: Which Is Better? (Las Vegas)
(This article may contain affiliate links. If you click through and make a purchase, we will receive a small commission at no additional cost to you. )
When it comes to providing the full-on Vegas experience, both Mandalay Bay and The Mirage are more than capable of delivering. Each of these hotel/casinos are brimming with entertainment and other amenities to keep you satisfied throughout your stay. 
But you still need to decide which one to go with. Mandalay Bay vs. Mirage, which is the best choice for your Las Vegas vacation?
The Mirage is the best choice if you want to be in the heart of the action on the Las Vegas Strip with plenty to see and do nearby. On the far south end of the Strip, Mandalay Bay is a worthy choice as well, especially if you want to catch a game or event at either Allegiant Stadium or T-Mobile Arena nearby.
Category
Mandalay Bay
The Mirage
Room Price
From $65 per night
From $69 per night
Resort Fees
$44.22 per day
tax-included
$44.22 per day tax-included
Parking Fees
Self-Parking: $15 daily
Valet: $26 – $30 daily
Self-Parking: $15 daily
Valet: $26 – $30 daily
Location
Southern end of the Strip
Slightly north of Mid-Strip
Major Shows
– Michael Jackson ONE by Cirque du Soleil
– The House of Blues
– The Beatles LOVE by Cirque du Soleil
– Terry Fator
– Motownphilly by Boyz II Men
– The Aces of Comedy
Pools
– 3 full-size pools
– adults-only pool
– 1.6 million-gallon wave pool
– Sandy beach and lazy river
1 Very large tropical pool,
1 Adults only "top-optional" pool
1 huge jacuzzi
Nearby Attractions
– Shark Reef Aquarium
– Concerts on the Beach
– Mandalay Bay Events Center
– The Mirage Volcano
Mandalay Bay and The Mirage: Comparing the basics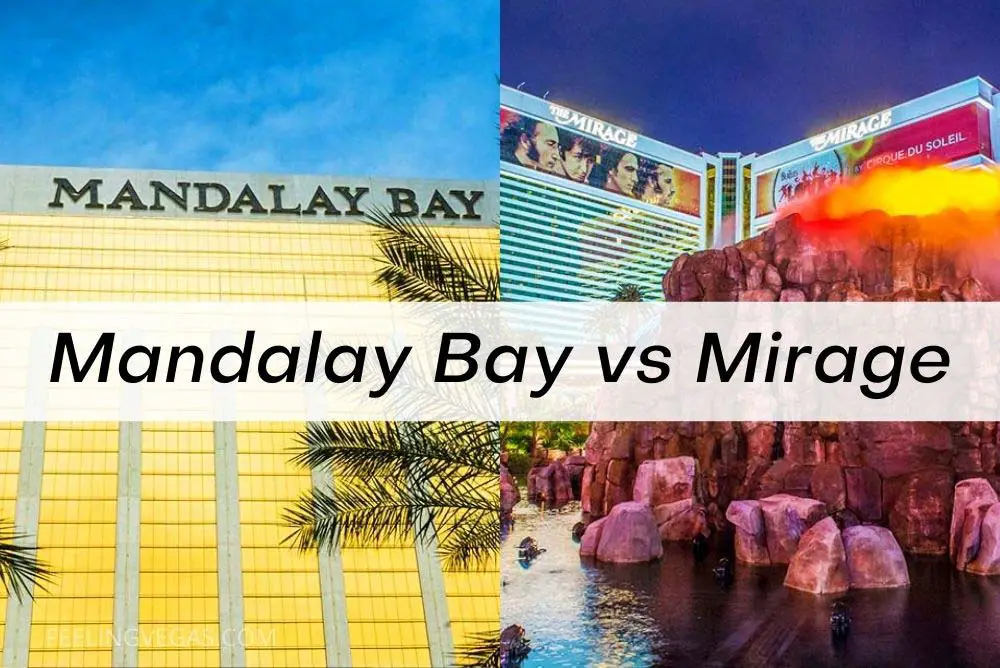 Name: Mandalay Bay
Address: 3950 S Las Vegas Blvd
Casino Floor: 135,000 sq ft.
Year Built: 1999
Number of Rooms: 3,209
Name: The Mirage
Address: 3400 S Las Vegas Blvd
Casino Floor: 100,000 sq ft.
Year Built: 1989
Number of Rooms: 3,044
It's hard to make a choice based on a quick summary, howevr. There's always a lot more detail behind the headlines. If you really want to find out which hotel is best for you, keep reading to find out.
Mandalay Bay vs. Mirage — How Do They Compare?
Mandalay Bay's 3,209 rooms make it slightly larger than the Mirage, which has 3,044 rooms. But overall, the two properties are very comparable in terms of the number of guests each can provide for.
The Mandalay Bay's accommodation options range from 550ft² rooms, all the way through to an enormous 5,610ft² four-bedroom Presidential Suite.
At the Mirage, you'll find 394ft² rooms, going up to the 1714ft² Hospitality Suite. But if you really want to indulge yourself, the Mirage's Lanais and Villas (up to 8,554ft²) cater to the super-luxury end of the market.
As you can see, both have an impressive range of accommodations, which gives them broad appeal across all budgets. 
So, let's get into the details to see how they compare.
Comparing The Standard Rooms at Mandalay Bay and The Mirage
Of course, what you get for your money when you book a room is always one of the first considerations. So, let's compare a standard room in each hotel and see what you'll get.
Mandalay Bay
Mirage
Resort King:
– 550ft² (51 m²)
– King bed
– Pillow-top mattress
– Flat screen TV
– In-room wifi
– Floor to ceiling windows
– Seating area with two chairs
– Minibar
– Safe
– Various views of the Strip or mountains depending on room
– Max guests, 3
Resort King:
– 394ft² (37m²)
– King bed
– 42''(107cm) LCD TV 
– In-room wifi
– Blackout shades
– Desk with media hub and charging points, executive chair, plus additional chair
– One armchair
– Minibar with snacks and drinks at a cost
– JBL Horizon Bluetooth speaker with dual USB charging and ambient lighting feature
– Max guests, 3
Comparing the standard rooms at Mandalay Bay and The Mirage
Okay, so Mandalay Bay offers a lot more in terms of space. Now, the extra space may not matter if you're spending most of your time enjoying the resort's many amenities. But, it's always good to feel you can just spread out and relax in your room, especially when you're on holiday.
Another difference between the standard rooms in the two resorts is in the bathrooms. The Mirage's bathroom is a bit of a squeeze. You'll find you probably need to close the door before you can move around freely inside. Also, the shower is a shower-bath combo.
On the other hand, the larger bathroom at the Mandalay Bay, with a separate shower, and a spacious countertop with two sinks, seem to add a touch of class.
And, of course, there are the floor-to-ceiling windows in the Mandalay Bay's standard room which makes the room light and airy, emphasizing the contemporary design and feel.
So, although the in-room amenities look about the same, at the entry-level, you'll get more space and value for the money at Mandalay Bay.
Dining (Mandalay Bay vs Mirage)
With about thirty dining options spanning the smart-casual range and a variety of international cuisines, you'll be spoiled for choice at Mandalay Bay. Some well-known culinary celebrities, like Wolfgang Puck, Shawn McClain, and Hubert Keller, have specialty restaurants here.
The Mirage has fewer options but still has dozens of restaurants and bars throughout the property. Nevertheless, it provides a reasonable choice of cuisines, including a Tom Colicchio steak house. So, there's still enough here to keep most people satisfied.
So, for on-site dining, the Mandalay Bay takes the crown. However, since the Mirage, is at the center of the busiest part of The Strip, there are many more dining options very close by.
Shopping at Mandalay Bay and The Mirage
There's a reasonable enough collection of shops at The Shoppes at Mandalay Place, which links the resort to the neighboring Luxor casino. You'll find a range of mainly clothing and jewelry outlets here. However, you'll have to go elsewhere if high-end designer fashion is your weakness.
The range of items offered at the Mirage Shops is even more limited. But, it's location comes to the rescue, as it's only 0.5 miles from The Forum Shops at Caesars Palace. About the same distance in the other direction, you'll find the Fashion Show Mall. 
So, if you want designer shopping, there's plenty of that within easy reach of the Mirage.
If designer shopping is your thing, then you'll want to see our article about the best malls and shopping destinations on the Strip right here.
Comparing The Casinos Between Mandalay Bay and Mirage
The Mandalay Bay's 135,000ft² casino, provides around 1,200 slots and video poker machines alongside its abundant table games. It's a relatively small number for the size of the space, which gives the casino a roomy feeling. There's also a small poker room and a sizable sportsbook, so most gambling preferences should be covered here.
The Mirage's 100,000ft² casino is smaller, but it manages to squeeze in 2,000 slot machines, plus an array of table games. Like Mandalay Bay, there's also a separate poker room and sportsbook.
So, both casinos have more than enough to satisfy even the most demanding gambler.
Entertainment at Mandalay Bay vs. The Mirage
As you've seen above, there's no shortage of on-site entertainment at either of these resorts, including their own Cirque du Soleil productions. Enough is going on at each venue to keep you occupied throughout the day and night.
That's if you can drag yourself away from the pools.
The Mandalay Bay's pool area, Mandalay Bay Beach, brings the seaside to the desert. Its 11-acres provide ample room for relaxing. Or, for something more active, roll with the waves in the wave pool or float down the lazy river.
The pool at the Mirage is almost as impressive and in keeping with the resort's tropical theme. It's a vast expanse of water punctuated by waterfalls and surrounded by lush greenery.
Both have cabanas for hire, along with your own cabana host. But, even if you don't splurge on a cabana, each has a poolside bar and cafe, plus plenty of lounge chairs, making it very possible to stay all day.
Due to its mid-Strip location, the Mirage is literally surrounded by world-class entertainment and you'll find plenty of shows and attractions within walking distance.
While Mandalay Bay is at the far southern end of the Strip, it's very much within walking distance of both Allegiant Stadium and T-Mobile arena. If you've come to Las Vegas for sports (go Raiders!) or major headlining performers at either of these two locations, Mandalay Bay provides easy access to both.
Conclusion
So, which is better: Mandalay Bay or The Mirage? 
As you've seen, in terms of resort amenities, you'd be hard-pressed to separate these two.
If you prefer more room space and you're happy staying within the confines of your resort, the Mandalay Bay complex offers excellent value. 
However, if you want to be in the thick of the action on The Strip, then the Mirage will suit you down to the ground. Its location will make up for the smaller entry-level room.
Well, that's the easy part, now for the hard part. You have to decide.
Other Las Vegas Hotel Comparisons
Check out these other comparisons of Las Vegas Hotels.
Mandalay Bay vs Bellagio: How to choose? – Article here
MGM Grand vs. Mandalay Bay: Which Is Better? – Read it here
Luxor vs. Mirage: Who comes out on top? – Article here
MGM Grand vs. Mirage: And the winner is… Find out here
Mirage vs. Bellagio: Which one? – Check it out here
Mandalay Bay vs. Delano: Which Is Better? – Read more
Mandalay Bay vs. Luxor: Which to choose? – Find out!
Sources: