The Cosmopolitan vs ARIA (Which Las Vegas Hotel is Best?)
(This article may contain affiliate links. If you click through and make a purchase, we will receive a small commission at no additional cost to you. )
Suppose you're planning a trip to Las Vegas and trying to decide between staying at The Cosmopolitan or the ARIA Resort & Casino. In that case, it's important to know the differences between these two properties in order to choose the best hotel for your stay. So, how does a trendy hotel like The Cosmopolitan compare to the high-end luxury of the ARIA Resort & Casino on the Las Vegas Strip?
The Cosmopolitan is the right choice if you want a luxury hotel with a room that has an outdoor balcony overlooking the Strip. While ARIA is the best choice for those wanting to experience luxury in an ultra-modern property with a vibrant party scene. Both hotels have a prime location on the Vegas Strip.
The Cosmopolitan and the ARIA Resort & Casino are both 5-star hotels located in the heart of The Strip in Las Vegas. The Cosmopolitan aims for a feeling of private urban residence with luxury features, while ARIA prides itself on being technologically advanced with very modern architecture and amenities.
Both properties offer an impressive amount of services and features, so how do you choose between these hotels for your next trip to Las Vegas?
We're going to compare The Cosmopolitan vs ARIA based on the criteria that is important to most guests when choosing a Las Vegas hotel. By the end of this article, you will know which of these Las Vegas hotels is the one for you.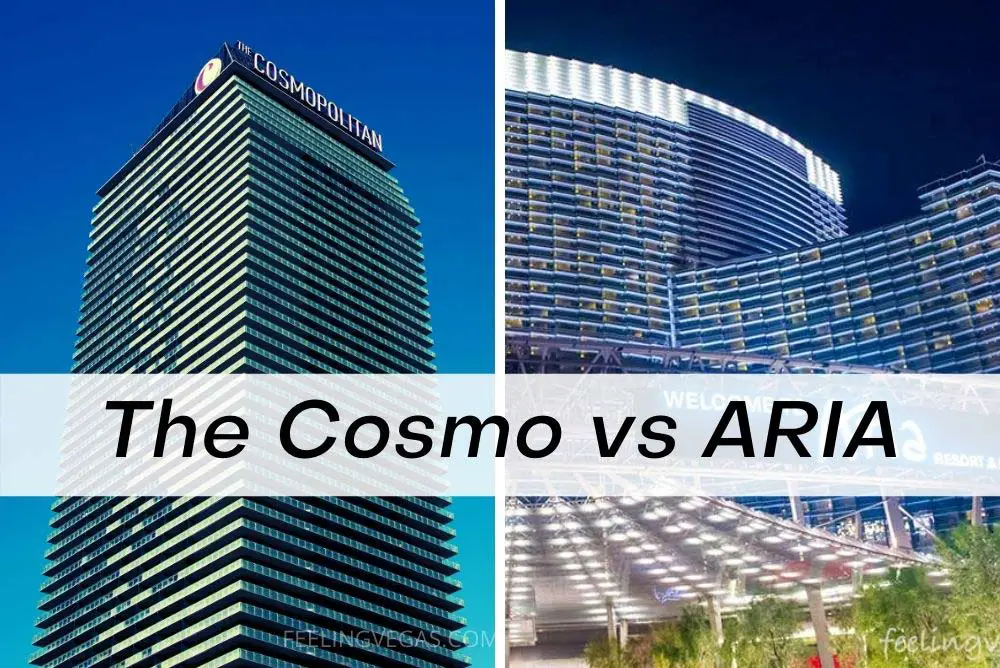 First, let's quickly compare The Cosmopolitan and ARIA at a glance in the tables below.
Category
The
Cosmopolitan
ARIA
Room Price
From $147 per night
From $125 per night
Resort Fees
$45 per day
before taxes
$45 per day
before taxes
Parking Fees
Free Self-Parking & Valet for hotel guests
Self-Parking: $18 daily
Valet: $30 – $35 daily
Location
Busy mid-Strip area
Busy mid-Strip area
Major Shows
None
None
Pools
– The Chelsea Pool
– Boulevard Pool
– 3 full-size pools + 21 and up pool club at Liquid within the property
Spas
– Sahra Spa
– The Spa at ARIA
Nearby Attractions
– Bellagio Fountains
– Eiffel Tower
– ARIA Fine Art Collection
– The Shops at Crystals
– Skybar at the Waldorf Astoria
Name: The Cosmopolitan (aka The Cosmo)
Address: 3708 S Las Vegas Blvd
Casino Floor: 110,000 sq ft.
Year Built: 2010
Number of Rooms: 3,027
Name: ARIA Resort & Casino
Address: 3730 S Las Vegas Blvd
Casino Floor: 150,000 sq ft.
Year Built: 2009
Number of Rooms: 4,004
The Cosmo vs ARIA: Standard Room Comparison
Both hotels have a selection of different room layouts available, however, for comparison's sake, we're going to compare what is considered to be the standard room for each hotel.
The Cosmopolitan: City Room QQ
The standard room at The Cosmopolitan is called the City Room QQ. With 460 sq. ft. of living space, and two queen beds, this room works well for up to four people traveling together and is great for families with kids.
The room comes decked out with the latest technology, including sophisticated entertainment systems. You'll find a plasma-screen television that includes access to personal subscription services like Netflix and Pandora, as well as high-speed Wi-Fi. 
In addition, each room comes with a large luxury-style bathroom with a double sink vanity so multiple people can be getting ready for a night out on the town at the same time.
The City Room has large floor-to-ceiling windows (some of the City Rooms have smaller windows depending on availability) with views of the surrounding city and mountains, but it is the only level of room at The Cosmo not to have a balcony.
One of the greatest features of many of the rooms at The Cosmopolitan is that they come with an expansive outdoor terrace with gorgeous views of the Strip (including a spectacular Bellagio Fountain view).
The Cosmo is the only major resort on the Strip to have balconies in the majority of its rooms (2,200 rooms out of 3,027 rooms have balconies), but in order to get a balcony, you'll need to step up to the next sized room the Terrace Studio room for about $40 more per night (in my opinion the views are worth it!).
The Cosmopolitan
ARIA
City Room QQ:
– 460 ft² (42.7 m²)
– Two Queen beds
– Flat-screen plasma TV
– In-room wifi
– Floor-to-ceiling windows with city view
– Cozy seating area with two chairs
– Desk
– Luxurious bathroom w/ dual vanity sink
– Shower or bathtub
– High-end technology controls amenities
throughout the room
– Max guests, 4
Deluxe King:
– 520 ft² (48.3 m²)
– 1 King bed w/ 300 thread count linens
– 42″ (106cm) LCD HD TV
– In-room wifi
– Floor-to-ceiling windows
– Seating area with two chairs
– Desk
– Dual vanity bathroom sink
– Soaking tub
– One-touch technology controls
lighting, curtains, music,
wake-up
– Max guests, 3
Comparing the standard rooms of The Cosmopolitan & ARIA at a glance.
ARIA: Deluxe King Room
ARIA Las Vegas is an ultra-luxury hotel featuring beautiful modern glass architecture throughout and is the largest hotel in the world to have received a Leadership in Energy and Environmental Design (LEED) Gold certification for meeting green building standards. 
Highlights of the room include 520 sq. ft. of living space, a large king-sized bed (triple sheeted with 300 thread count linens), a desk, and a comfortable seating area. These rooms have stunning views of the city and/or the Strip from huge floor-to-ceiling windows. They all include a stocked mini-bar, expressive artwork, and an in-room safe.
The ARIA is particularly proud of its high-tech amenities, which include a 42-inch LCD television and a room control system to customize surroundings like curtains, lighting, and temperature. Each room has a 10″ tablet (similar to an iPad) to control each one of these features.
You can sit on the bed while using the tablet to control the lighting throughout the room, automatically open and close the blackout window curtains, change the thermostat, and control the television.
In addition to the room-wide wifi connection, the room also has a panel with connection ports for gaming consoles, MP3 players, DVD players, and laptops.
The bathrooms come with plush robes, 100% cotton linens, dual granite vanities, a shower with a bench, and a luxury soaking tub.
Casinos: The Cosmopolitan or ARIA
Both hotels have large casinos on their properties, with ARIA's casino being slightly larger. 
ARIA Casino
ARIA, as befits a mega-resort in Las Vegas, has an on-site casino with 150,000 sq feet of gaming floor that includes slots, table games, and a race and sports book.
The ARIA casino is different from traditional Las Vegas casino designs, however, because the architecture allows for natural light to enter through skylights and exterior windows (It's strange but nice to see natural light in a casino!)
The Cosmopolitan Casino
The Cosmo, on the other hand, has a slightly smaller 110,000 sq foot casino where you'll find slots, casino tournaments and events, table games, and a sportsbook. You can join the Identity Membership & Rewards program to receive points for every $1 spent in the casino and get exclusive offers to use in the casino, poolside, and other areas of the hotel. 
The Cosmopolitan & ARIA: Bars and Lounges
Both The Cosmopolitan and ARIA have numerous bars and lounges scattered throughout their properties. You'll never go hungry or thirsty at either resort, but knowing a little about the venues available may help narrow your decision a bit.
The Cosmopolitan Bars & Lounges
There are plenty of different bars and lounges here with their own themes and highlights. The largest is The Chandelier which houses three lounges over three levels. This famous bar is actually located inside a giant three-story crystal chandelier! It has elements of a playground, art exhibit, and cocktail haven all in one!
Other lounges at The Cosmo include:
Ghost Donkey – is a secret Mezcal & Tequila Lounge – which features snacks and drinks with a Mexican flavor. 
The Barbershop Cuts and Cocktails – the front is a barber shop, with a Prohibition-era lounge in the back with vintage cocktails and whiskey. 
Vesper Bar – a modern lounge offering sophisticated cocktails in style. 
Marquee Nightclub & Dayclub – a large event space featuring world-famous DJs, several dance floors, and a pool deck. This is where the party happens!
CliQue – avant-garde, high-end lounge filled with stylish people. It serves artisanal cocktails and small plate dishes served in a swanky environment.
Race & Sports Book – it serves unexpected dishes and cocktails and has views of the LED screens displaying horse races and sporting events. 
ARIA Bars & Lounges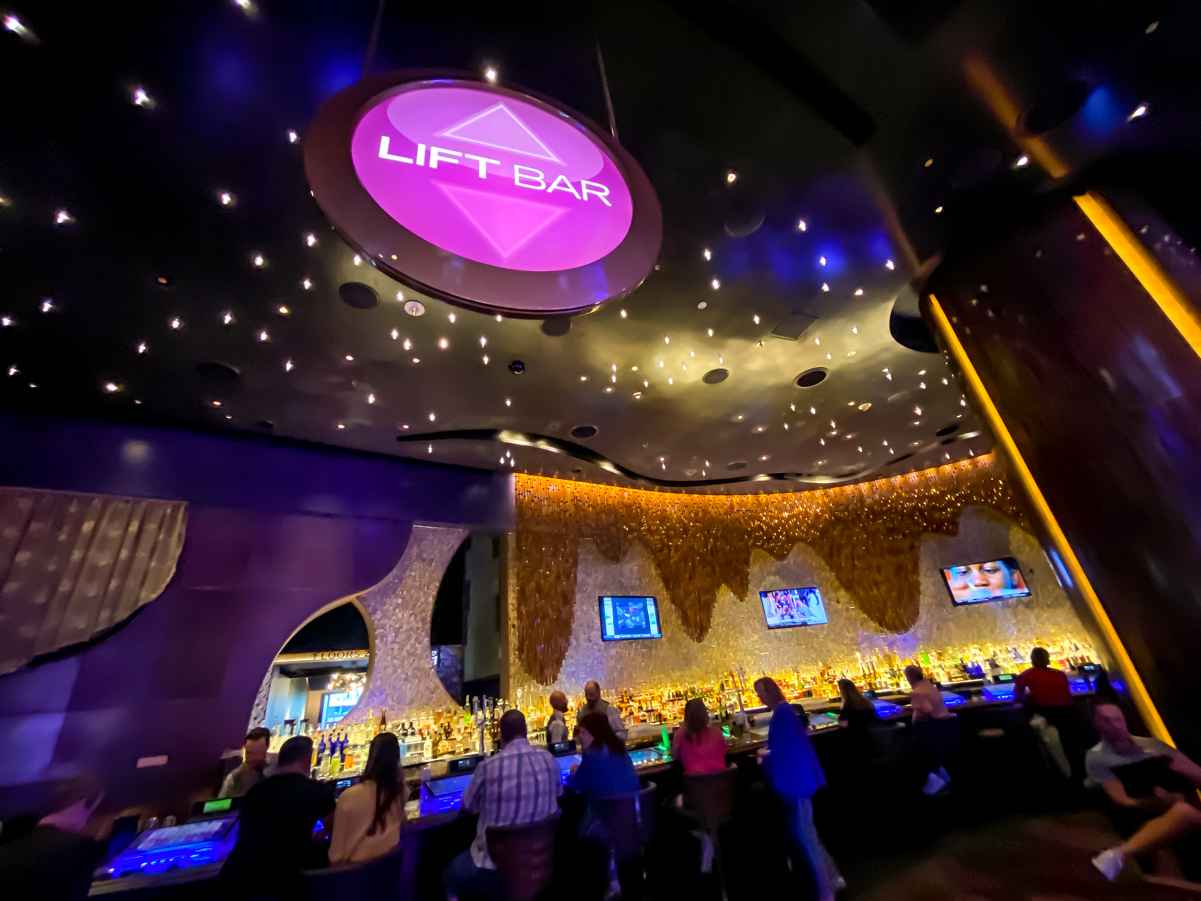 ARIA also offers many different bars and lounges throughout the hotel, including:
Lift Bar – open 24/7 and serving signature cocktails in a relaxed setting. 
Lobby Bar – this comfortable bar is the perfect place to chill before heading to dinner or out for the evening. 
Gem Bar – is a modern bar serving craft beers and organic cocktails in the heart of the casino floor. 
Sports Bar – has comfortable lounges surrounded by TVs displaying sports games in every direction. 
Baccarat Lounge – a relaxing and luxurious lounge offering an intimate bar experience along with some classic jazz. 
High Limit Lounge – you can enjoy a cocktail and play a high-stakes game here at the same time. 
LIQUID Pool Lounge – an adult-only pool lounge that offers live DJs and a day-club experience. 
Here's a link to an article on our website with much more information about each of the bars and lounges at Aria.
Restaurants and Dining: ARIA vs Cosmopolitan
The Cosmopolitan and ARIA each have a multitude of restaurants and cuisines available in-house. Each resort has a wide range of dining options available to suit different budgets and occasions. 
Restaurants at The Cosmopolitan
The Cosmopolitan has a very large selection of restaurants and dining options, including:
Overlook Grill – adjacent to the Boulevard Pool, this casual dining area serves breakfast, brunch, and lunch. 
Wicked Spoon – serving multicultural cuisine that ranges from familiar staples to seasonal dishes. 
Eggslut – an all-day breakfast joint with everything on the menu featuring eggs.
Bang Bar by Momofuku – a David Chang concept where they serve bāng bread and spit-roasted meats.
Beauty & Essex – TAO Group and acclaimed chef Chris Santos bring you unique sharing plates served in a jewel box themed dining room. 
Blue Ribbon – Master chefs and restaurateurs Eric and Bruce Bromberg have created this upscale American dining experience. 
China Poblano – chef José Andrés has created this fusion of Mexican and Chinese dishes. 
é by José Andrés – avant-garde Spanish cuisine in a small private room.
Hattie B's Hot Chicken – Southern-style food in a casual environment serving hot chicken and Southern sides.
The Henry – a modern American eatery that is open 24/7 that has a casual upscale charm. 
Holsteins – offers elite burgers and a twist on traditional American snacks. 
Jaleo – a Spanish tapas restaurant offering authentic small dishes in a colorful setting. 
Lardo – Portland chef Rick Gencarelli is behind this over-the-top sandwich eatery serving big sandwiches bursting with flavor. 
Red Plate – serves authentic Chinese cuisine in an unparalleled dining experience. 
Scarpetta – Italian cuisine is offered that is earthy yet modern. 
STK – a modern take on the traditional steakhouse housed in a bustling dining atmosphere. 
Tekka Bar: Handroll & Sake – this sushi bar was inspired by ancient gambling destinations in Japan. 
Zuma – serves modern Japanese cuisine in an elegant and sophisticated setting. 
Restaurants at ARIA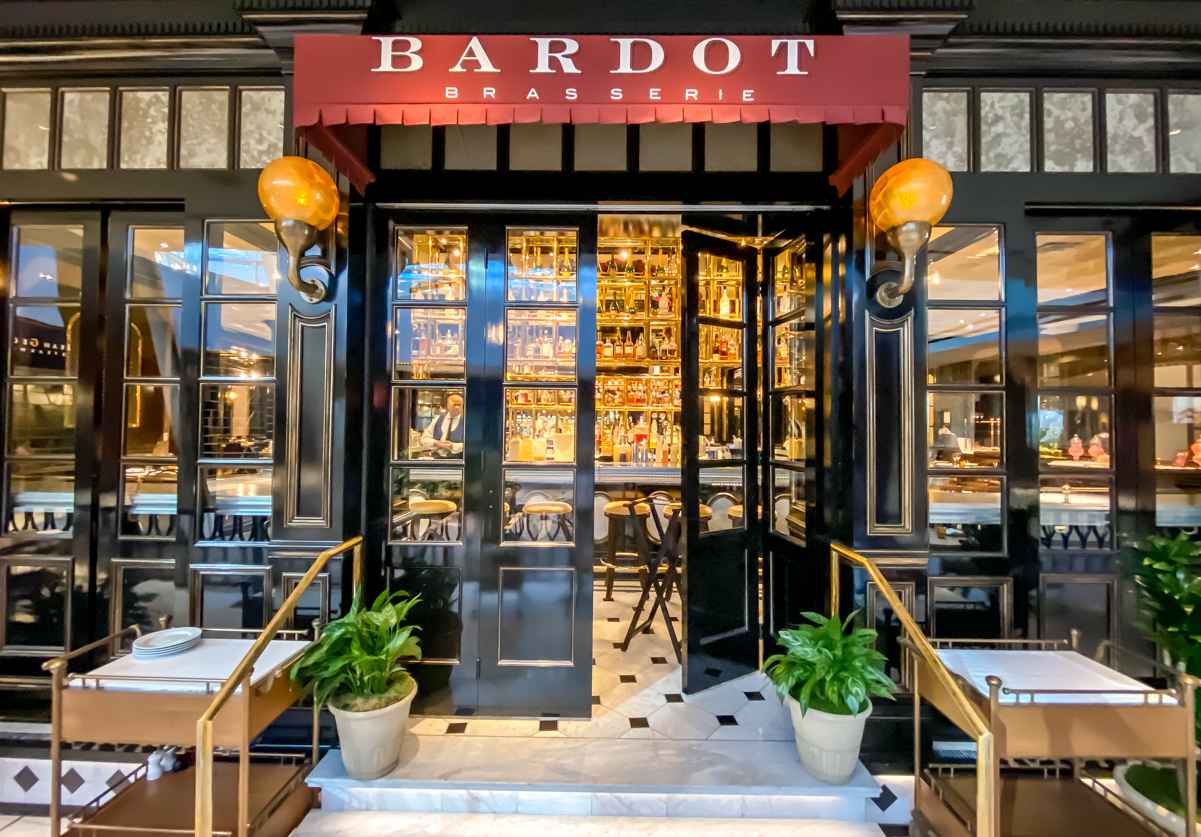 ARIA has a collection of restaurants with critically acclaimed chefs and varied cuisines on offer, including:
ARIA Patisserie – French pastries, salads, and juices, where everything is handcrafted daily using the freshest seasonal ingredients. 
Din Tai Fung – Taiwanese cuisine serving steamed dumplings and noodle dishes. 
Breakfast at the ARIA Campus (CityCenter) – featuring classic breakfast options and inventive dishes. 
Jean Georges Steakhouse – a traditional steakhouse by world-renowned chef Jean-Georges Vongerichten. 
Carbone – Italian cuisine brought to you by Mario Carbone, Rich Torrisi, and Jeff Zalaznick.
Bardot Brasserie – chef Michael Mina produces classic French cuisine here. 
Salt & Ivy – this café and patio bar offers a casual dining experience serving American cuisine.
CATCH – a seafood restaurant serving Asian-influenced sushi, seafood, and steak. 
Lemongrass – Specializes in modern Thai dishes and authentic fare. 
Burger Lounge – a casual place to enjoy the classic American burger. 
Moneyline Pizza & Bar – American cuisine you can eat while watching sports. 
Javier's – this Southern Californian favorite has a restaurant open in the center of the casino and serves Mexican cuisine. 
Blossom – serves Chinese cuisine in an opulent setting. 
The Pub – casual dining experience serving American pub classics.
Julian Serrano Tapas – serves small plates of Spanish fare to share.
Here's a link to an article on our website with additional information about each of the best restaurants at Aria.
Entertainment Options at The Cosmopolitan & Aria
While neither of these two resorts have one of the big production shows in town, they do have some on-site entertainment to enjoy.
The Cosmopolitan Entertainment
The Cosmopolitan has five main entertainment venues in the hotel:
The Chelsea – a concert and performance venue that is 40,000 square feet and attracts music performers, comedy acts, and sporting events. 
The Pool Marquee – a daytime experience of music and food by the pool, and on weekends in the evenings, it turns into an outdoor lounge.
OPM – this adults-only futuristic spaceship show is housed in the OPIUM Theater. 
The Barbershop – this cocktail and whiskey lounge has live bands play from Tuesday through Sunday nights. 
CliQue – this lounge bar has personalized and table-side mixology accompanied by nightly entertainment. 
ARIA Entertainment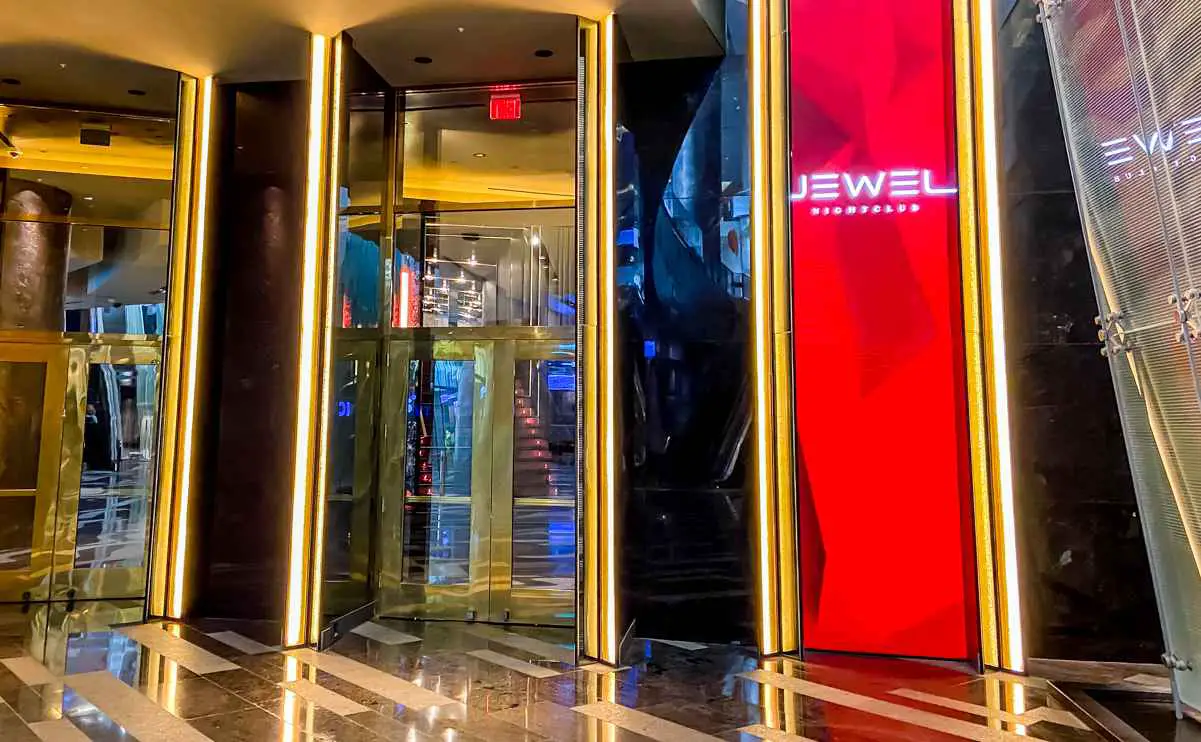 ARIA is well-known for its exciting lounges and nightlife at JEWEL Nightclub from the Hakkasan Group, that is spread across more than 24,000 square feet. JEWEL features multi-faceted experiences and events, including world-class DJs and performers. 
It also has a 16,000-square-foot day club at LIQUID Pool Lounge. There are eight secluded cabanas that can be booked or day beds to enjoy this luxurious adult experience. 
ARIA is also quite close to the T-Mobile Arena (a 10-minute walk) that is home to a regularly rotating calendar of shows, headlining acts, concerts, and sporting events. 
If you're interested in seeing one or more of the bigger shows in town, there are several located at resorts very close -by. They include:
Swimming Pools: The Cosmopolitan or ARIA
Both of the hotels have a similar pool setup and offer luxury features. 
Pools at The Cosmopolitan
There are two distinct pool areas at The Cosmopolitan:
Boulevard Pool – Providing a vibrant social space, the Boulevard Pool has music, drinks, and food. A place to see and be seen, with great views of the Strip in every direction.
The Chelsea Pool – Offers a relaxing oasis where you can take a break from the excitement happening on the Strip. The pool area plays calming, ambient music and sounds to add to the level of relaxation.
For an added Vegas experience, both pools have daybeds and cabanas available to rent. The cabanas come with a dedicated server, a stocked fridge, a complimentary fruit plate, and a host of other creature comforts.
Pools at ARIA
The ARIA has three outdoor ellipse-shaped pools complete with a pool bar. These pools are made for lounging and taking it easy. If you're looking for more excitement, you can check out the LIQUID Pool Lounge. It's a separate, 50-seat restaurant, pool area, and bar, where DJs provide live entertainment. This is where you'll find the pool party!
At either the regular ARIA pool area or LIQUID, you can reserve seating for the day or rent a cabana. The cabanas come with a ceiling fan, coffee table, large couch, assorted non-alcoholic beverages, side table, dining chairs, dining table, misting service (in-season), music docking station (upon request), personal safe, umbrella, poolside Wi-Fi access, refrigerator, storage cabinet, telephone, television, and towel service. 
Nearby Attractions: ARIA and The Cosmopolitan
Both The Cosmo and ARIA are located in what I think is the best location in Vegas, right in the center of the Las Vegas Strip.
So, needless to say, there is a never-ending selection of activities, attractions, and shows found all around these two hotels. There are many other nearby resorts within walking distance, including:
Bellagio
Caesars Palace
Paris Las Vegas
Bally's
Planet Hollywood
This area of the Strip is also one of the most walkable areas, with large sidewalks and pedestrian bridges so that you can easily explore both sides of Las Vegas Boulevard. Here are just a few of the attractions that are right next door to each of these hotels.
Download our FREE map of the hotels on the Las Vegas Strip here
The Cosmopolitan: Nearby Attractions
The Cosmopolitan is located just a short walk from the famous Bellagio Fountains as well as the Bellagio Conservatory & Botanical Gardens where you can admire amazing seasonal displays made entirely from flowers. 
The Cosmo is also very close (right across the street) to the Eiffel Tower Viewing Deck. This 460-foot high observation deck is a half-scale replica of the Eiffel Tower found in Paris, France. 
ARIA: Nearby Attractions
The ARIA is located next door to the famous Skybar (at the Waldorf Astoria), which has large floor-to-ceiling windows with gorgeous views of The Strip. This sleek lounge serves creative cocktails and has an incredible ambiance.
If world-class shopping is your thing, then you'll love The Shops at Crystals, located right in front of the ARIA. It's one of the best shopping malls on the Las Vegas Strip.
The ARIA is also closer to the T-Mobile Arena, which hosts many sporting events. You'll find Vegas Golden Knights games there, UFC events, basketball tournaments, and even concerts.  
ARIA also has its own elevated tram to get you to several places without wearing out your legs. The ARIA Express is a free tram that runs every few minutes with stops at ARIA, Vdara, The Shops at Crystals, Park MGM, and Bellagio. This can be a significant benefit to staying at ARIA, especially during the hot summer months.
The Cosmopolitan vs ARIA: What's the verdict?
The Cosmopolitan and ARIA both offer extravagant experiences and features. Both would be excellent choices to stay at, with plenty of unique dining areas and bars to keep you busy. 
If you want a private balcony with an unparalleled view of the Strip, choose The Cosmopolitan. If the luxurious party scene is more your thing, then ARIA will be the right choice.
Being that they are both in the same area on the Strip, you won't miss out on all the great attractions found in this fun and busy area.
Each hotel has incredible rooms to stay in and wonderful decor throughout.
Either way, the offerings are immense, and the service is exceptional, making a stay at either hotel an absolute pleasure. 
More Las Vegas Hotel Comparisons
Discover Other Helpful Las Vegas Hotel Articles:
References:
https://www.cosmopolitanlasvegas.com/