If you've ever flown down a zipline, then you know what an amazing adrenaline rush it is! If you're into ziplining and headed to Las Vegas, then you're in for a treat! Vegas is known for its unique attractions, so it should come as no surprise that there are several fun Las Vegas zip line experiences found both on and off the Strip. So, what is the best zipline in Vegas?
The 4 best zipline Vegas attractions are:
Rio Zipline (aka VooDoo Zipline) at Rio
Slotzilla Zipline in Downtown Las Vegas
Fly LINQ Zipline on the Vegas Strip
Flightlinez Bootleg Canyon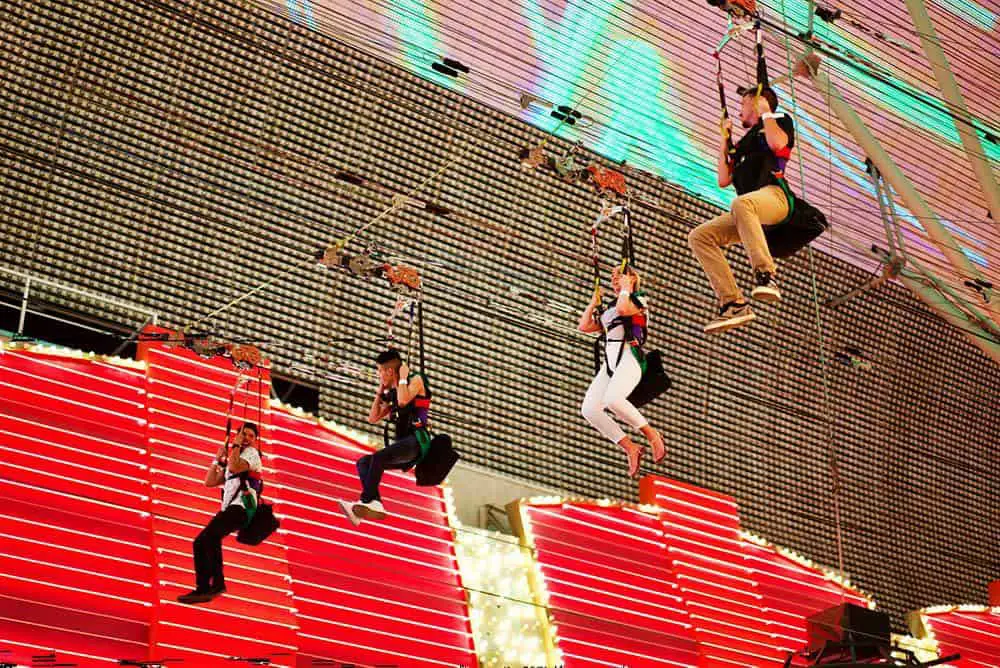 VEGAS Attractions For Less! Las Vegas doesn't have to be expensive → Get Deals
If you're planning a visit to Sin City and you're looking for something a bit different to do while you're here, a great idea would be to zipline Vegas! A Las Vegas zip line will surely help make your trip a memorable one! Why not have a go of one…two…three…or even all four of the top ziplines here in Las Vegas. Some people collect zipline experiences like other people collect hats and Las Vegas' ziplines will not disappoint.
Keep reading to find out about each of the ziplines, their hours, prices, and where you can look for discount tickets.
Rio Zipline at Rio Hotel and Casino
The Rio Zipline (also referred to as the VooDoo Zipline) runs between the two separate towers of the Rio Hotel.  It is the highest (500 feet above ground) zipline in Vegas. Because you'll be so high above the Las Vegas skyline, you will have a fantastic view as you zip through the sky.
This zipline is designed to be ridden in a seated position with two seats connected side by side so you and your riding partner can grab on to each other as you're dangling above Las Vegas.
By day, the view of the Strip and the Las Vegas Valley is great but if you decide to try the Rio Zipline at night, you'll get the added bonus of enjoying the amazing lights of Vegas.  If you have other plans for your night that's okay, the Rio Zipline is great for people watching during the day, as you'll also get a great view of all the people down in the pool below!
To access the Rio Zipline, you'll need to head to the Rio Hotel and head up to the 52nd floor. This should give you a sense of just how high up this zipline actually is – it's certainly not one for the faint-hearted! The seat of the zipline is quite small, which really adds to the sense of danger (in a good way, of course!). Despite this, the zipline is quite safe thanks to the seatbelt that keeps you securely in place.
Rio Zipline Discount
The most cost-effective way to enjoy the Voodoo Zipline at the Rio is to buy a pass on Groupon (if one is currently available). You'll save a few bucks for a single rider and even more if you pick up passes for 2 or even 4 riders. Rio also offers discounts on their zipline for locals and active military, Once you get to the bottom, you'll be handed a discount coupon that will let you go again for a greatly reduced cost.
Rio Zipline Rules
You will need to be at least 4 feet tall to ride the Rio Zipline with a combined weight between the two riders to be no greater than 450lbs. Individuals must not weigh more than 300lbs. Be sure to arrive early as the tickets can sell out fast!
You'll need to bring a picture ID and fill out a waiver before you can ride. Any loose items will need to be removed before entering the launch area. Cameras, including GoPro-type devices, are not allowed.
Rio Zipline Hours
You'll find the Rio Zipline open during the following hours:
Monday – Thursday 3pm – 11pm
Friday – Sunday 11am – 12am
After 7:30pm you must be 21 years of age or older to ride
SlotZilla Zipline in Downtown Las Vegas
The SlotZilla Zipline in downtown Las Vegas is another exciting ride for adrenaline junkies. This zipline is is part of the Fremont Street Experience. The zipline launches from a giant multi-story slot machine called SlotZilla. For those of you staying on the Strip, you'll need to grab an inexpensive Uber to get to downtown.
Is it worth going to Fremont Street and downtown Las Vegas? Find out in our article here.
You'll have two options to choose from on this ride – the Zipline and the Zoomline. On the Zipline, riders take off in a seated position from seven stories high and go halfway (two city blocks) down the Fremont Street Experience.
On the Zoomline, riders take off from higher up in a "Super-hero" flying position and travel the entire length of the street (5 blocks). Specifically, the Zoomline sets off from eleven stories in the air and travels a total of 1,750 feet!
The Fremont Street Experience has an immersive light show that plays on the ceiling of the canopy built over the entire Fremont Street pedestrian area. The ziplines run just under this canopy and offer not only an amazing view of the lights but you'll also be flying over the huge crowds of people partying on the street below you.
SlotZilla Zipline Discount
Because it's always great to pay less for something you want to do, I recommend checking Groupon for Slotzilla Zipline discount tickets. They're not always available but are a great deal when they are.
SlotZilla Zipline Rules
Zipline guests must weigh at least 50lbs to fly. While Zoomline guests must be a minimum of 80lbs to ride. The maximum weight limit on both of these rides is 300 pounds. Guests must be no taller than 6 feet 8 inches. There aren't any age limits as long as the rider falls within the weight guidelines. Finally, guests under 16 must be accompanied by another rider (on their own separate line, of course) who is 16 or older.
The only downside to the Zipline and Zoomline on Fremont Street is that the lines can become quite long on weekend nights, often an hour or more.   
SlotZilla Zipline Hours
The hours for SlotZilla are as follows:
Monday – Wednesday 12pm – 1am
Thursday – Sunday 12pm – 2am
Looking to cool off from the hot Vegas sun? Find out about the Best Water Parks in Vegas in our article here!
Fly LINQ Zipline (Zipline Vegas Strip!)
Fly LINQ Zipline Discount
Fly LINQ Zipline Rules
Fly LINQ Zipline Hours
Flightlinez Bootleg Canyon in Boulder City
* Bootleg Canyon Zipline is temporarily closed at this time. I will update this once they are open again.
If you're looking for something to do away from the Strip and the idea of spending part of your day or night flying over the Mohave Desert on multiple ziplines sounds like the kind of excitement you're looking for, then this is the one for you!
Flightlinez Bootleg Canyon is much more of a total experience than the other ziplines on this list. Rather than being a "one and done" attraction, this experience is a full 3 hours of ziplining for anyone looking to have an exciting adventure!
Flightlinez has four different ziplines that cover a total of 1.5 miles and stretch over vast desert canyons. Plus if you feel the need for speed, you'll get it here, with zip lines reaching speeds of up to 65 – 70 mph! The Bootleg Canyon zipline is located near Boulder City, which is about thirty miles away from the Las Vegas Strip. You can either drive out on your own or they will provide transportation from the Excalibur Hotel on the Strip.
These ziplines offer amazing, unique desert views that you can enjoy while flying at high speeds. In addition to the daytime tours, Flightlinez also offers special sunset and moonlight flights as well!
Flightlinez Bootleg Canyon Coupon
While you'll generally pay around $160 to book this tour, you can sometimes find a discount coupon available through Groupon. They also have a special deal for local Nevada residents, offering them a $25 discount.
If you're looking for something a bit different to experience while you're in the Las Vegas area, this is definitely one of the best and most unique options available.
Flightlinez Bootleg Canyon Rules
In order to participate riders must weigh between 75 – 250 lbs. Tennis shoes or hiking boots are required as well. They also recommend bringing sunglasses. Water is provided but it wouldn't hurt to bring your own in addition.
Flightlinez Bootleg Canyon Hours
Daily – Flightlinez offers zipline tours every day of the week all year long. The office is open from 8am – 5pm.
Sunset Tour – The sunset tour is timed so that you start your adventure while the sun's still shining but you will fly into the sunset on their longest run ( 1/2 mile long) about halfway through your tour. The company provides headlamps as well for when it starts getting dark out.
Moonlight Tour – The moonlight tour is only offered 3 days a month on the day of the full moon in addition to one day before and one day after.
Find "27 Exciting Things to Do Off The Strip in Las Vegas" in our article here.
Las Vegas Zip Line Prices
Now that we know there are plenty of ziplines to choose from, you're probably asking "What is the cost of the zip line in Las Vegas?" Below is a table showing the best ziplines in Vegas and their current prices.
| Zipline | Price | Location |
| --- | --- | --- |
| Rio Zipline (aka VooDoo Zipline) | $34.00 | Rio Hotel and Casino |
| Slotzilla Zipline in Downtown Las Vegas | $39-$59 | Fremont Street, Downtown Las Vegas |
| Fly LINQ Zipline on the Vegas Strip   | $35 | The LINQ, Las Vegas Strip |
| Flightlinez Bootleg Canyon | $135-$159 | Mojave Desert, Boulder City |
Las Vegas Zipline Cost
What Hotel in Las Vegas Has A Zip Line?
The hotel in Las Vegas with a zip line is the Rio Hotel & Casino. The Rio has two large hotel towers and the Voodoo Zipline runs between them. At 500 feet above ground this is the highest zipline in Vegas.
What is The Best Zip Line in Las Vegas?
Since the best zipline is always the one you're closest to I'd say either FlyLINQ (on the Strip) or SlotZilla (Fremont Street downtown) are the two top ziplines in Las Vegas. They both provide amazing views are are the two zipline locations that you'll most likely find yourself close to when visiting Las Vegas.
Is There a Weight Limit For Las Vegas Zip Line?
The majority of ziplines in Vegas have a weight limit of 250-300lbs. The Voodoo Zipline at the Rio, however, can accomodate riders up to 450lbs.
Best Las Vegas Zip Line – Final Thoughts
As you can see, there are a number of exciting and exhilarating ziplines to try out in Las Vegas. Whichever zipline you choose, you are guaranteed a great time that will offer you a whole new perspective of the fantastic city that is Las Vegas.
There are a great variety of Vegas zip line experiences, ranging from short to long, full days out to a quick, exciting rush, and from larger budgets to cheaper options. The best zipline in Vegas for you will depend on your budget and how much of an adrenaline junkie you really are!
We hope this guide has helped you to identify the best Las Vegas ziplines to try out on your next trip!