Is Las Vegas Safe at Night? The Complete Guide
(This article may contain affiliate links. If you click through and make a purchase, we will receive a small commission at no additional cost to you. )
Las Vegas is one of the most popular tourist destinations in the world, and much of that has to do with the fun, entertaining nightlife that's offered in this famous city.
Filled with a bevy of casinos and hundreds of 24-7 places to go for entertainment, most visitors are drawn to Las Vegas because it offers plenty of fun, unique experiences not found elsewhere.
Safety, at night in particular, is always a concern whenever you are traveling someplace new, so you'll have to be careful visiting Las Vegas, too.
Las Vegas is generally safe at night, but like any big city, it's important to take precautions. Stick to well-lit, busy areas and avoid walking alone in deserted areas. Be aware of your surroundings and keep your valuables close.
It's also a good idea to stay in well-reviewed hotels and avoid staying in areas known for crime. Las Vegas has a strong police presence and many security measures in place to ensure the safety of visitors. Overall, as long as you use common sense and take precautions, you should have a safe and enjoyable time in Las Vegas at night.
Since there isn't a lot of information available on the Internet today about how you can stay safe when visiting Las Vegas at night, I created this guide to help you out. Below I'll cover how you can prepare yourself to stay safe at night in Las Vegas, where to go, what to do, and places you should avoid while on your trip.
You can get a printable map of the Las Vegas Strip on our website here.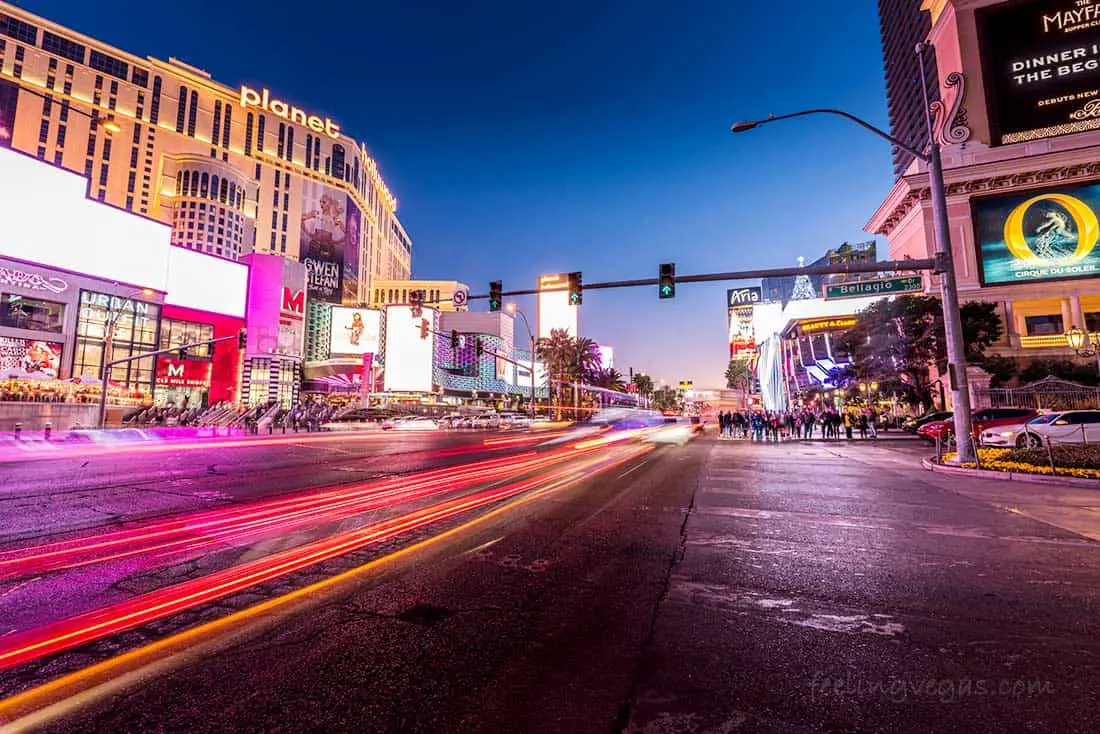 Staying Safe in Las Vegas
In the last decade, Las Vegas has earned a reputation as a family-friendly travel destination, but it's also a city that's known for its unique vices.
Because you'll be more likely to run into debauchery and low inhibitions at night in Las Vegas, you'll want to keep an eye out for criminals and scammers who exist to target unknowing tourists out for a fun night.
Las Vegas is a safe city for travelers, however. If you didn't already know it, the casinos in Las Vegas are looked at as some of the safest places in the country for tourists to visit.
While Las Vegas is quite safe in general for tourists, it's also clear that Las Vegas still isn't the safest city in the world. Because Las Vegas is such a large city that attracts so much tourism, you'd expect it to have a higher crime rate than a smaller city.
Fortunately, due to the large crowds and heavy presence of police and security, the majority of criminal activity along the Strip and other tourist areas in Las Vegas will consist of non-violent offenses. Pickpocketing and crimes of opportunity (ie. petty theft) are the most likely.
I regularly go down and walk around the Strip at night while carrying my expensive camera gear and feel completely safe.
Feeling safe and avoiding trouble in Las Vegas is mostly a matter of using some common sense. Let's get into the specifics.
Walking at Night in Las Vegas
If you've never visited Las Vegas before, you'll find that walking is one of the best ways to get around the Strip and downtown areas. Not only will walking give you easier access to some of the places you'll want to visit, but you'll be able to see and experience many things you would have missed if traveling by car.
The fact is, the most popular tourist areas on the Las Vegas Strip can be difficult to access with a car. That's because the Las Vegas Strip is notoriously congested with traffic and it's not easy or cheap to park.
(Read my article about where to find free parking on the Las Vegas Strip here).
Since many of the tourist sites people want to see are on the Strip, you may realize you'd be better off walking these areas during your trip.
While walking through Las Vegas at night is one of the best and most convenient ways to see the city, we all know that walking through big cities at night isn't always the safest thing to do.
When you are walking through Las Vegas at night, you need to be aware of your surroundings, watch out for traffic and be prepared for the weather.
Precautions to Take When Walking in Las Vegas at Night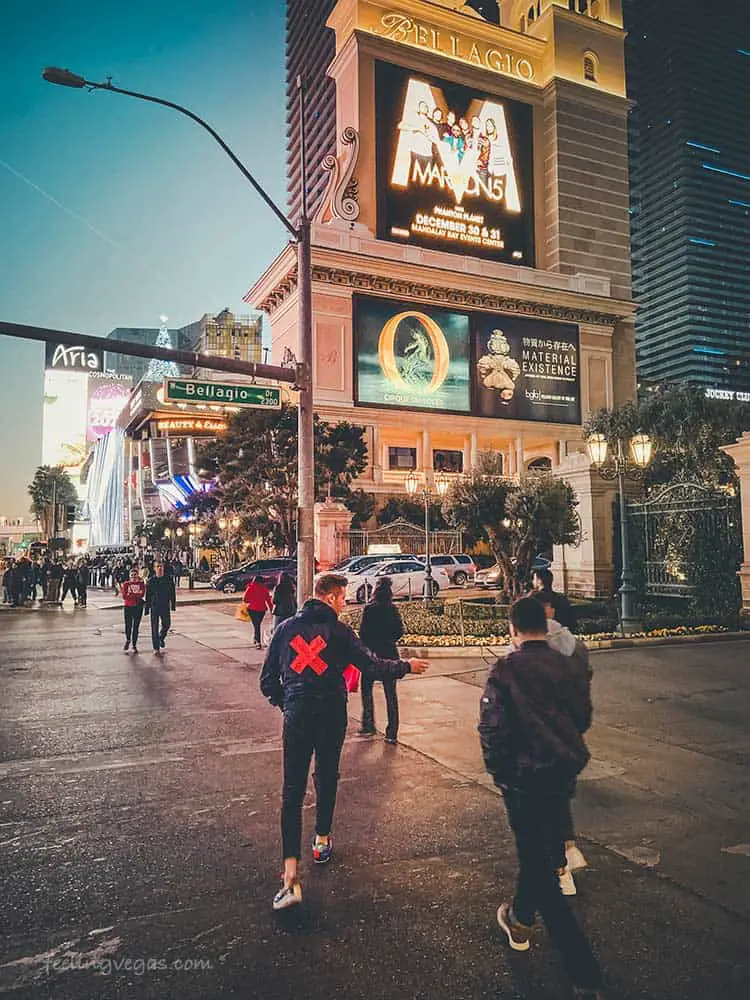 Most locals will tell you that the best way to see Las Vegas is by traveling on foot. However, walking around Las Vegas at night might not seem like the safest option. If you take a few precautions, however, before you embark on your trip, you should be able to stay safe while walking in Las Vegas at night.
Below I'll list a few precautions you should take so that you can stay safe while walking in Las Vegas.
#1: Be Ready for Hot Weather
Let's start with the weather. Yep, I said it, the weather. At certain times of the year, the weather can be one of the biggest safety risks you will face in Las Vegas.
The weather during the summer here can get absolutely blisteringly hot. What many people don't realize, however, is that during June, July, August and into September it doesn't cool off much at night.
It can be midnight and still be over 100°F (38°C) with a relative humidity of 13% or less. (source)
So, Las Vegas can feel like a baking oven at times even at night. While you might assume that most visitors would be prepared for the heat, they'll experience in Las Vegas, that's not always the case. 
Not everybody comes to Las Vegas prepared for the heat, and that means they might wind up experiencing illness and health issues because of the weather.
If you're considering walking around Las Vegas during the summer, when it's very hot, you might need to think again. Walking around Las Vegas on a hot summer night can create a bevy of health problems.
To make sure you stay healthy when walking around Las Vegas at night, make sure to do the following:
Make sure you take plenty of water with you and keep drinking copious amounts of it throughout the evening. This is especially true if you're drinking alcohol.
Don't spend too much time outside when the weather is scorching. Take plenty of opportunities to duck into a store, casino or attraction where there is air conditioning so you can cool off.
Pace yourself since the hot weather can make it difficult for your body to recover from some of the activities you'll be doing.
With those concepts in mind, you should be prepared to handle the heat you'll encounter when you are walking around Las Vegas at night during the summer months.
Now that we know you'll be prepared for the heat when you're visiting, let's cover how you can avoid crime and trouble when exploring Las Vegas at night.
#2 Stay Focused on Your Surroundings
It goes without saying that you should always be aware of your surroundings when traveling in a big city but in Las Vegas, it's especially easy to get distracted by all the sights. If you've been drinking the possibility of getting distracted goes way up!
Here are some ways to protect yourself while out and about in Vegas at night:
Safety Tips for Walking in Public Areas of Las Vegas
As I've previously mentioned, many crimes in the tourist areas are "crimes of opportunity."
Pickpockets can be found on the Strip as many tourists tend to walk around with large amounts of money in their pockets. Crowded areas with lots of close contact are where pickpockets can strike.
Snatch and grab crimes can sometimes also be a problem in a big city.
Follow these tips to keep yourself and your possessions safe:
Keep your money in a difficult to get to spot. When traveling I like to use a money belt like this one on amazon. I hang mine around my neck and keep it under my shirt.
Men should keep their wallets in their front pockets and ladies carrying purses should carry them on their shoulders or under their arms. Also, in regards to purses or bags, never hang them on the back of a chair (like at a restaurant or buffet).
Don't walk around with your cellphone in your hand in a public place and be aware when using your phone so that a thief doesn't run up and grab it out of your hand.
Know where you're headed. Use a map or app to plan your route ahead of time. I like to set up walking directions on my google maps phone app. After starting the app I put my phone in my pocket and keep my hand on it so I can feel when it vibrates telling me I need to make a change in direction. Don't hold the phone out the whole time you're walking.
Stay in the tourist areas! I can't stress this one enough. Walking down the Strip at night or downtown near the Fremont Street Experience you're unlikely to have any problems but don't venture down a dark side street. You'll know your heading out of a tourist area if it starts getting darker and there are less and less people around you. Time to turn around and head back.
Keep your expensive jewelry at home or in the hotel room safe. I know that getting dressed to impress is important to some Las Vegas visitors but why invite trouble? If you want to wear it to a casino or club fine but leave it somewhere safe when out walking at night.
When looking at the sights, take some time to look all around you, particularly be mindful of what is going on behind you. This is especially true if you find yourself in an area where there aren't lots of people.
It's best to ignore panhandlers. While you typically won't see panhandlers on the Strip, there will be panhandlers in other areas of the city. While I'm not unfeeling regarding their plight, it's not the safest practice to pull out money to give to a panhandler on the street, especially at night.
Finally, note that you are not required to give money or a donation to any street performers, club promoters, street vendors or otherwise. Beware of anyone approaching you on the street asking for money.
#3 Las Vegas Pedestrians: Watch Out For Traffic
It might not sound like the truth, but THE most significant safety threat for people walking around Las Vegas day or night is traffic. In Las Vegas, pedestrians often get hit, and it's a major problem in the city.
You'll need to be aware of the traffic as you walk and keep an eye out for distracted drivers. Also, pay attention at intersections in Las Vegas, which can be very dangerous for crossing pedestrians.
Before you start exploring Las Vegas and walking around, you should have some plan or itinerary for your outing. Make sure you do some research before you set out on your trip so you'll know how far and long you'll be walking, and so that you can plan your route ahead of time.
By planning your journey ahead of time, you should be able to select the safest streets to travel on well ahead of time.
According to the Las Vegas Review-Journal, there has been an increase in pedestrian accidents across the country, including Las Vegas. Nevada is 11th in the nation when it comes to pedestrian fatalities. Even worse, the state saw a 24% rise in pedestrian accidents during the year 2015-2016. 
So pay close attention when walking through an area that's in close proximity to traffic.
Safety Tips for Pedestrians in Las Vegas
One of the things that surprised me when we moved to Las Vegas was how expensive the auto insurance rates were. I'm not sure I've ever lived in another place with such bad drivers.
As a pedestrian, you can't just assume everyone is watching out for you, especially at night. Take your safety into your own hands by using the following tips.
Don't Jaywalk – Walking against the light is a dangerous proposition in Las Vegas. You have to be careful enough when you are crossing legally. Don't make matters worse by trying to cross the street against the light.
Use Crosswalks – Getting drivers to pay attention to pedestrians is difficult enough without people darting out into traffic trying to cross the street because they didn't want to walk another 50 feet to get to the crosswalk. Unfortunately, pedestrians are hit in Las Vegas every day and usually, it's because they are not crossing the street at an intersection.
Drinking and Walking – One of the amazingly fun things about Las Vegas is you can openly drink as you walk down the street in some areas of town. The Las Vegas Strip and parts of downtown are two of these areas. As you can imagine this sometimes leads to inebriated pedestrians who cause accidents by suddenly stepping off sidewalks into traffic. Don't be that guy or gal!
Fortunately, on the Strip they've worked to try and eliminate some of these problems. Barriers have recently been erected along the most popular pedestrian areas of the Strip to keep some of these things from happening. These barriers keep people on the sidewalk, and cars in the street where they belong.
Avoiding Risky Alcohol-Related Situations in Las Vegas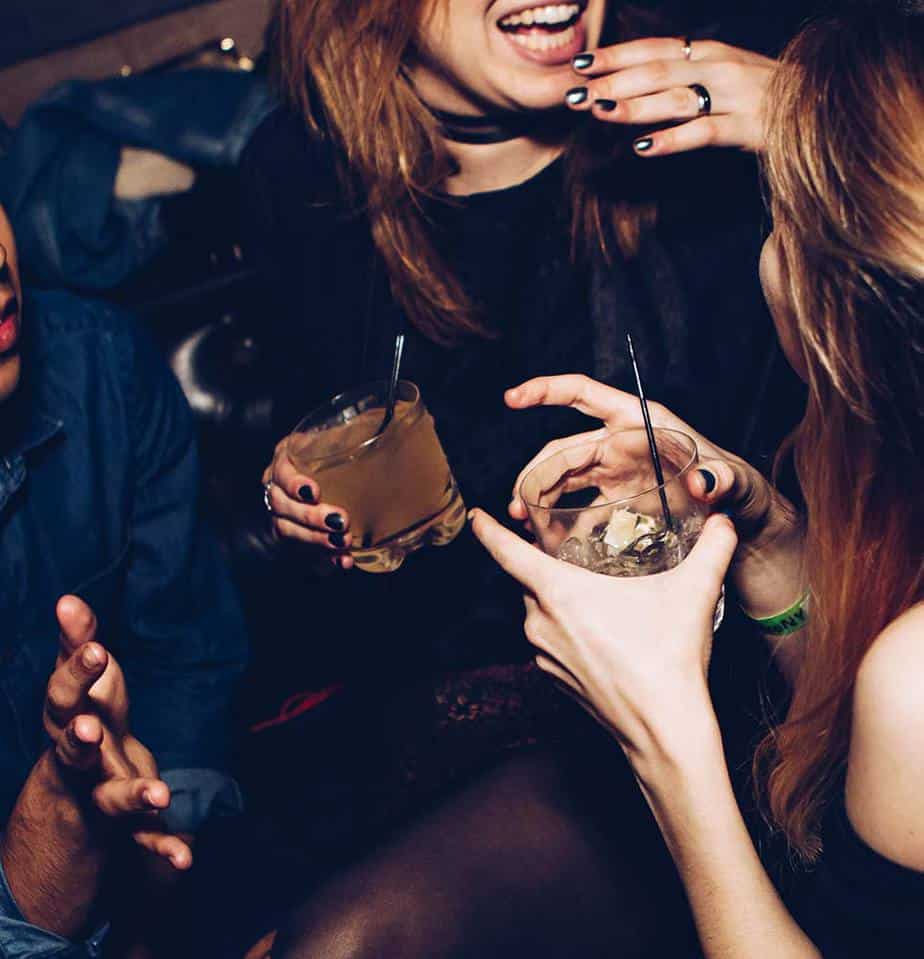 A lot of people come to Las Vegas to party and whether you're partying a little or a lot there are some things to keep in mind for your safety when drinking in Vegas:
Don't ever accept a drink from anyone you just met. Get all your drinks directly from the bartender or wait staff.
You should only go out with friends you know and can trust. Be sure to return home with the same friends (don't leave a friend behind).
Decide carefully who, if anyone, you invite to your room.
Don't give out your hotel and room number to anybody you meet in a bar.
Don't leave your drink anywhere. If you have to leave your drink for some reason, get a new one.
Know your limits. This is a big one for Vegas! People come to get wild and that's okay but try not to overdo it. At the very least it could ruin the rest of your trip, at most it could put you into a dangerous situation.
Las Vegas Areas and Neighborhoods to Avoid
Historically, Las Vegas was first established by the mafia, so it's not surprising that we still have crime, gangs, and homelessness in Las Vegas today.
However, some parts of Las Vegas are safer than others. The Las Vegas Strip, which is where most tourists frequent, will be one of the safest places you can go to enjoy yourself.
Since Las Vegas's economy depends on the Strip staying safe for travelers, it's very well-lit, and you'll find security cameras, guards and police everywhere.
As soon as you leave the vicinity of the Las Vegas Strip, you'll have to be more alert about your surroundings. The side streets on the Strip are very dark at night, and many of them can feel unsafe.
On the Strip, you should avoid traveling north of the Encore resort as a tourist because the area tends to get very dark the farther north you get.
Also, be wary as you get closer to the University of Nevada, Las Vegas (UNLV), and also by Harry Reid International Airport (formerly McCarran Airport), there's been an increase in car break-ins as well as vehicle theft and vandalism in these areas.
Just to the west of the Las Vegas Strip is another area you'll want to avoid. It's a low-income area that was hit pretty hard by the recession a few years back and can be a rough neighborhood.
Other than the tourist areas of the Fremont Street district and the Fremont Street Experience, downtown is not a good place to be at night (particularly north of the 515 freeway).
Other crime-ridden areas that you'll want to avoid when walking in Las Vegas at night include the area near H and Doolittle streets, Balzar Avenue, and Eastern Avenue and Mojave Road near Highway 95.
The good news is that as a tourist you're not likely to have any reason to go to any of these areas but I wanted to make sure you were aware of them.
Keeping Your Travels Safe in Las Vegas
Besides walking, there are other options for getting from place to place when visiting Las Vegas. You may want to check out our complete guide on how to get around Las Vegas without a car here.
Taking taxis, rideshares, shuttles, and monorails are a safe way to get from point A to point B safely in Las Vegas day or night.
Las Vegas offers plenty of safe public transportation if you need to take a break from walking now and then. Let's cover some of these other safe and secure options you can use when traveling in Las Vegas.
The Las Vegas Monorail
Another way you can travel safely around the Las Vegas Strip is by using the Las Vegas Monorail. The Monorail includes active security cameras, which you'll find at each station and on every train.
In addition to this, all of the Monorail's stations have security officers patrolling to protect travelers. Also, every day, the system receives maintenance checks. You'll also see explosive-detecting dogs present at the Monorail every day, keeping things safe for tourists.
The Las Vegas Bus System
Another way that you can safely travel around Las Vegas is by using the city's bus system. The Las Vegas bus system equips all of its buses with real-time surveillance cameras.
Besides that, the Las Vegas city bus system is known for being quite safe and is a reliable way of getting people to their destinations.
Uber, Lyft, and Taxis
Las Vegas also offers plenty of Uber, Lyft, and taxicab choices. In Las Vegas, rideshare drivers must pass a vehicle inspection and background check to drive in the city. So, Las Vegas does monitor its drivers.
Another thing to keep in mind is that Uber just added a 911 button to its app, and it also lets you share your ride and broadcast your progress with others. That makes you pretty easy to track. 
So, unlike a taxi, which isn't entirely as trackable, if you are worried about staying visible and safe, Uber is a great way to go. Plus, Uber and Lyft typically also cost a lot less than taxis in Las Vegas, so that should help you out if you are traveling on a budget. 
Avoid the Taxi Long Haul Scam
While we're talking about taxis, it's worth mentioning that Las Vegas taxis sometimes try to take visitors the LONG way to their destination in order to drive up fares.
This is especially a problem that affects first-time visitors and those trying to get to and from the airport. A taxi from Harry Reid International Airport to the middle of the Strip is about 3.8 miles away and should cost you roughly $23.
This is why I prefer to use an Uber or a Lyft. I've got the app in my hand and I can see the route we're taking in real-time. It becomes clear pretty quickly if we're going out of our way.
Solo Travelers and Las Vegas
If you are planning to travel to Las Vegas alone, and you'll be experiencing Las Vegas by yourself, then we'll cover a few extra tips to help keep you safe on your journey below.
Keep an eye on your surroundings and make sure you are aware of the people around you as you travel.
Don't spend time alone with a person you just met in Las Vegas, even if they seem very nice. Keep yourself visible in public places when doing things with strangers.
If you don't feel safe walking, then think about taking the bus, cabs, or the Strip monorail.
Avoid walking through dark parking lots or parking garages alone. Instead, ask hotel or casino security to give you a safe escort.
If for some reason you don't feel safe going back to your room by yourself, you can ask a member of hotel security to escort you back to your room. It's always a good idea to do this if you've won a large sum of money in the casino because that makes you an obvious target to thieves.
Remember, there are pickpockets in all big cities. So, it's a good idea to use a money belt, buttoned pockets, or some other method to hide your money and credit cards.
Never carry all of your money with you when you are traveling in Las Vegas. Instead, take the money you need for the day, and maybe one credit card. Leave the rest of your cash in your room safe, or you can ask the hotel to keep it in a safety deposit box.
If you can ditch carrying a purse, then do so. It's possible to have one's bag snatched in Las Vegas. However, if you don't bring it, you won't be targeted. If you do have to bring your purse with you, remember you should never hang it on the back of your chair when out in a public place.
You'll find a lot of free tourist shows on the Strip. When those happen, the crowds tend to swell up around you. If you notice that, make sure you watch people that are trying to invade your personal space. Also, keep your hands on your money.
When traveling alone anywhere, make sure you don't drink too much alcohol. While it's fun to party in Las Vegas, if you get overly intoxicated and you're by yourself, you are making yourself a prime target.
Don't take your eyes off of your drinks when in Las Vegas because you don't want to give anyone the chance to slip something into your drink. This is especially important when traveling alone.
Final Thoughts
Las Vegas is a safe destination for families, couples, groups of friends and solo travelers. With a little bit of preparation and some common sense, you'll be able to easily avoid any problems.
Use the information I've laid out in this guide to stay safe and have a wonderful trip to Las Vegas, Nevada!
If you found this article helpful, please SAVE THIS PIN to one or more of your boards on Pinterest. Thank you!