10 Grocery Stores on The Las Vegas Strip (Grocery Store Map)
(This article may contain affiliate links. If you click through and make a purchase, we will receive a small commission at no additional cost to you. )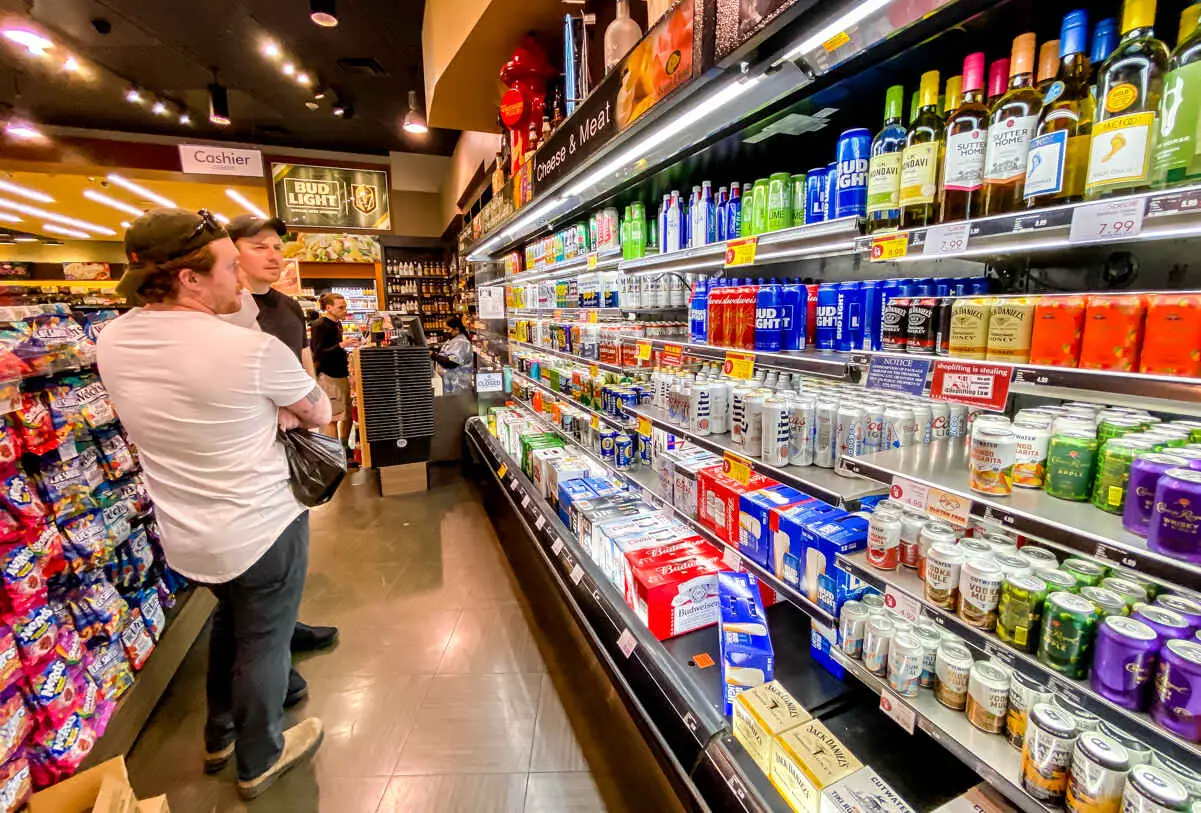 Finding a proper grocery store on the Las Vegas Strip is next to impossible. Fortunately, however, there are a few traditional grocery stores close by. In addition, you can find several convenience and drug stores on the Strip itself which carry a limited selection of groceries and alcohol.
Vons is one grocery store you can find close to the Las Vegas Strip. It's located less than 3 miles (4.82 km) from the north end of the Strip. Vons carries everything you'd expect from a supermarket. Other grocery stores located near the Vegas Strip include Whole Foods, Albertsons, and Walmart.
Looking for a grocery store near your Strip hotel? This article will walk you through the closest markets and grocery stores you can find on or near the Strip, including all the necessary details. Read on to see the map and get directions!
Grocery Stores Las Vegas Strip (Map)
Below you'll find an interactive map of grocery stores located on or near Las Vegas Blvd. The easiest way to use this is to find your hotel (zoom in if you need to) and look for the nearest red location icon with a shopping cart.
If you click on a market location you will get the market's address and the option to get turn-by-turn directions to the destination from wherever you are.
1 & 2. Vons Grocery Stores (South & Center Strip)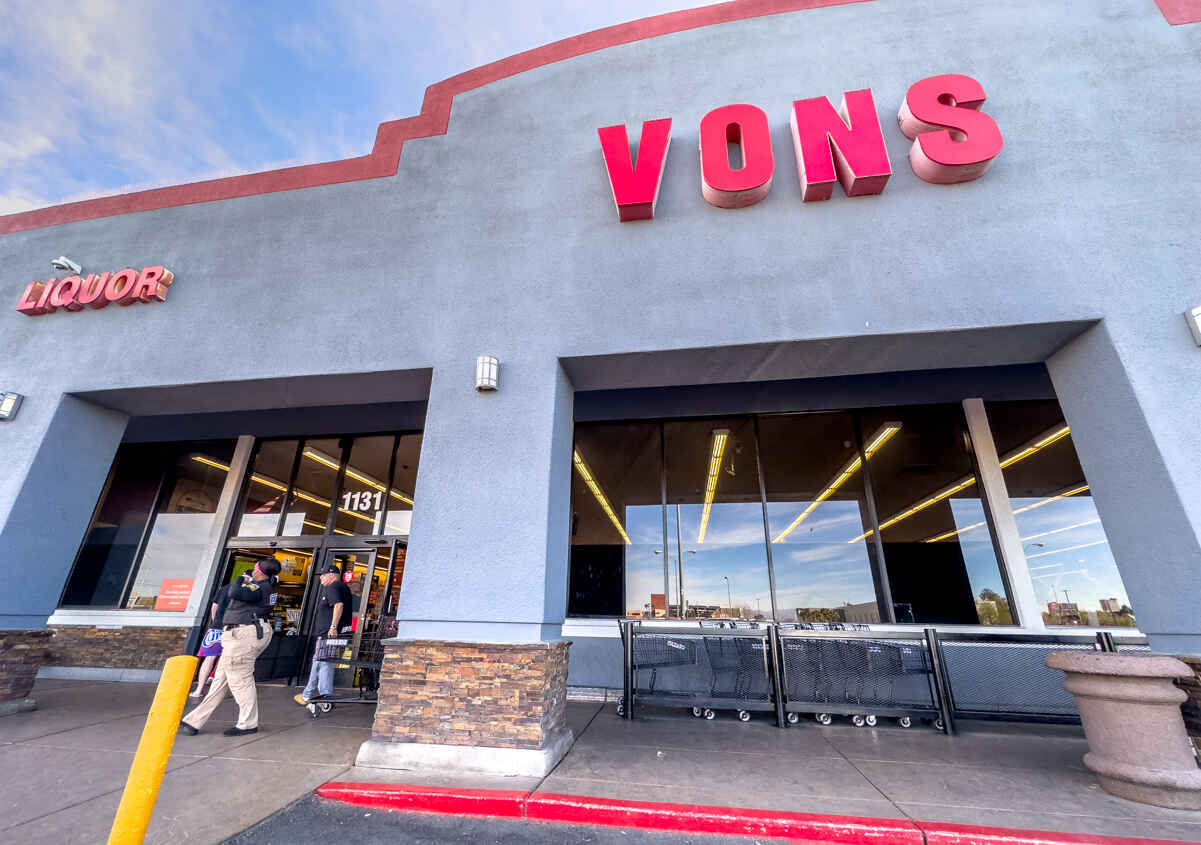 You can find two Vons grocery stores relatively close to Las Vegas Boulevard.
The first Vons is located near the south end of the Strip making it a convenient destination for those staying at or near the following hotels:
Luxor
Excalibur
Delano
Mandalay Bay
MGM Grand
The address is: 1131 E Tropicana Ave, Las Vegas, NV (google maps)
The second Vons location is several miles north making it more convenient for those staying in or near center Strip hotels including:
Bellagio
Paris
Caesars Palace
Wynn
The Venetian
The address is: 1155 E Twain Ave, Las Vegas, NV (google maps)
The Vons stores are segmented into various departments. You can easily locate what you want.
Butcher: The butcher offers a wide range of meats and seafood. I bet you can find what you love there.
Produce: Here, you'll take your pick from different kinds of clean, fresh vegetables and fruits.
Floral: You'll find a range of Debi Lilly design™ flowers.
Bakery: The bakery offers various types of cakes and pastries. You can even get your cake customized.
Deli: Deli trays and platters are readily available at the deli department.  
Liquor: If you're looking to pick up some alcohol to supplement the high-priced drinks you're buying on the Strip, this is a great choice. Here, you'll find a fairly large assortment of liquor, beer, and wine.
The Vons on Twain has an added feature: it has a gas station where you can refill your car.
Each Las Vegas Vons location also offers delivery services for a small fee. For example, you can pre-order a cake so it'll be ready and customized to taste before pick up. You can do this via Von's App. Both Vons locations open at 6 am and close at 10 pm.
3. Whole Foods Market (South Las Vegas Blvd.)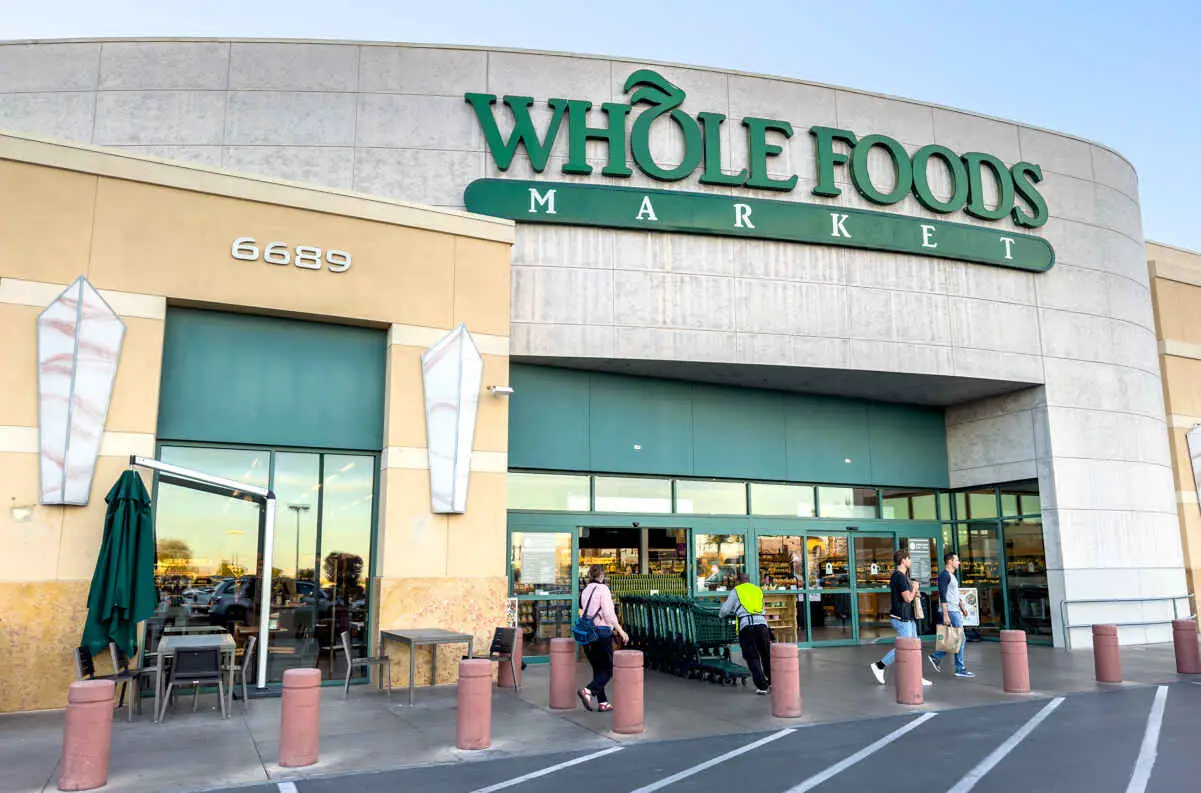 If you're looking to pick up some healthy things to eat while you're in Las Vegas, Whole Foods Market is the place for you. Whole Foods is the home for fresh, organic, natural fruits and vegetables, legumes, grains, fish, meat, seafood, and a variety of specialty products that cater to a wide array of dietary preferences.
It's located in Town Square Mall at 6689 Las Vegas Blvd S (google maps). Now, while this grocer is actually on the Strip, it's quite a ways from the majority of Strip hotels. You'll find it south of the Welcome to Las Vegas Sign. It's about 1.8 miles (2.9 km) south of Mandalay Bay. 
Whole Foods is a United States Department of Agriculture (USDA) certified organic foods market and their daily hours are from 7 am until 10 pm.
In terms of price, however, their foods can be on the costly side but if you're wanting healthy choices in between partying it up in Las Vegas, this is the place to go.
One of the benefits of shopping at Whole Foods is that they often offer samples for you to try. While this is common in many stores, something I didn't know until recently is that you can ask an employee for a sample of just about anything in the market and there is a good chance they will open up a package and let you try it!
4. Target On The Strip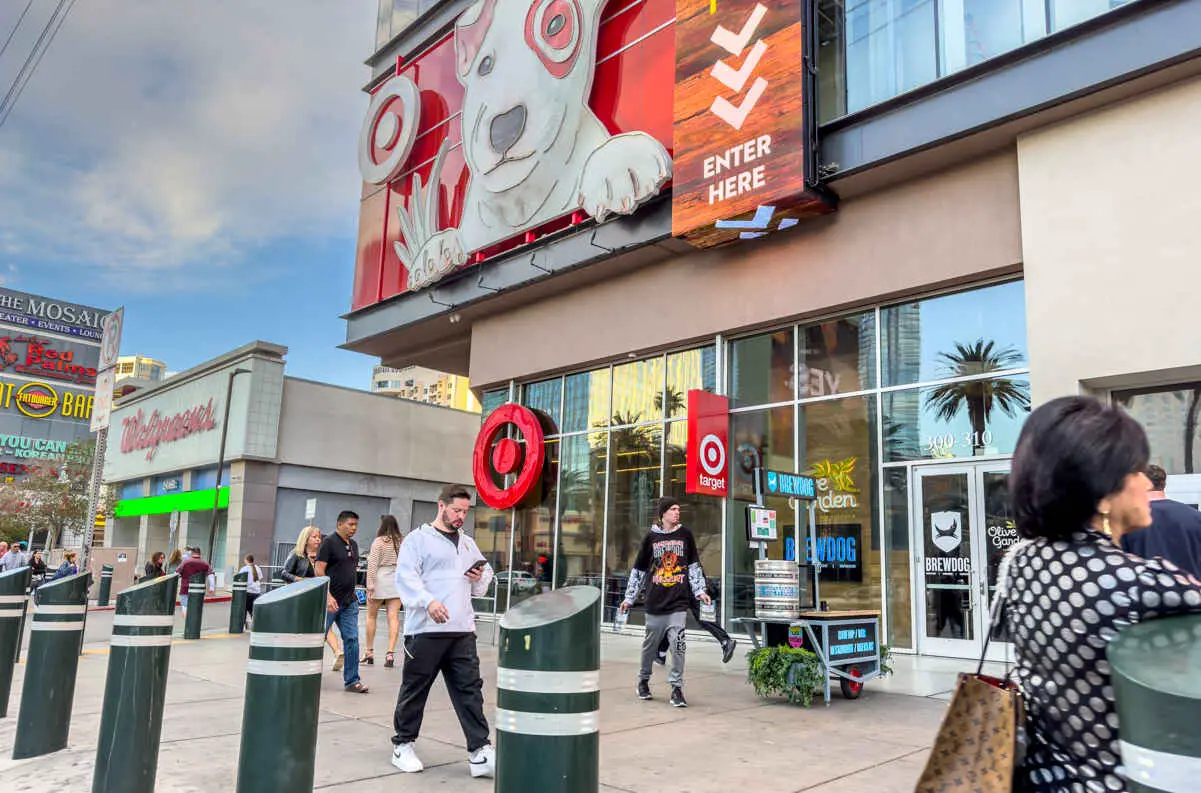 There are several Target Stores close to the Strip, however, the one I'll talk about, is the Target on the Strip.
The Strip Target is located across the street from Park MGM at 3767 Las Vegas Blvd S Ste 100 (google maps). It's part of the Showcase Mall and is just north of M&Ms World and the Coca-Cola Store. It's an extremely great location for those staying at or near MGM Grand.
Target Store details: Target offers a wide range of items: groceries, stationeries, bags, jewelry, swimsuits, glasses, take-home foods, fresh fruits, cosmetics, chargers, pharmacy, liquor, wine, snacks, parfait, and many other essentials.
In fact, you can find almost anything you need at the Target Store. They're open on Sundays to Wednesdays from 7 am to 10 pm and on Thursdays to Saturdays, from 7 am to 12 am.
For easy service, you can download their App or visit their website. You can even have someone shop for you and have it delivered.
RECOMMENDED: Ross Dress for Less on the Las Vegas Strip (Directions & Hours)
5 & 6. Walmart Supercenters (North & South Strip Access)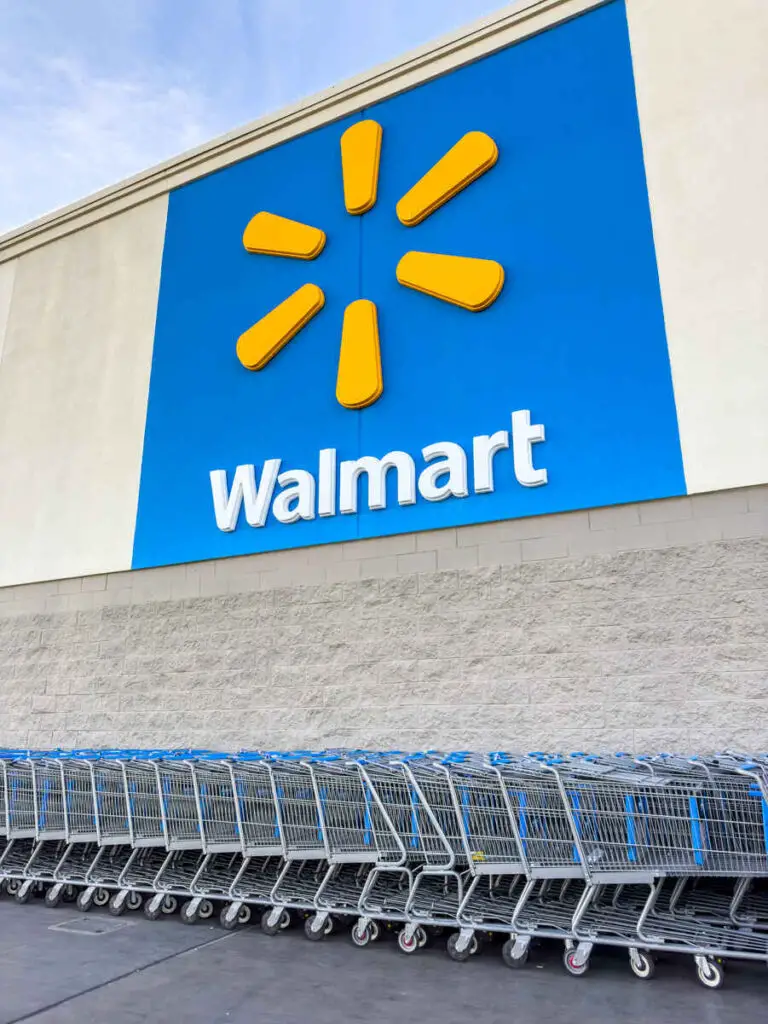 Walmart Supercenters are quite super, as its name implies. In addition to groceries, you can find just about anything you need or forgot to bring with you. They sell furniture, games, clothing accessories, bikes, toys, electronics, cakes, etc.
The store is segmented into various departments:
Groceries: Every Walmart Supercenter includes a full-sized grocery store.
Electronics: You'll find TVs, printers, phones, laptops, etc. from different brands and at different price points.
Bakery: Cakes, pastries, cookies, etc.
Hardware: Building materials, tools for plumbing, electricity, etc., paint, etc.
Fashion: Clothing for women, men, and children, including other accessories.
Health Services: Pharmacy, prescription, injections (COVID-19), etc.
Furniture: For homes, offices, studies, bedrooms, etc.
Toys: Toys for all ages.
Video games: You can get your video games here.
Patio and garden: Whatever you need for your outdoor home and garden.
There are two Walmart Supercenters located near the Strip. 
One is located north of the strip at 4505 W Charleston Blvd, Las Vegas (google maps). Convenient access from The Strat, SAHARA Las Vegas, Resorts World, Circus Circus, and nearby hotels.
The second is located on the south strip at 3075 E. Tropicana Blvd, Las Vegas (google maps). This location is easily accessed from mid-Strip to south Strip hotels including, MGM Grand, ARIA, The Cosmo, Bellagio, Mandalay Bay, and more.
Walmart is always there to serve you 24 hours a day, every day. However, their pharmacy is open Mondays to Fridays from 9 am to 9 pm, Saturdays from 9 am to 10 pm, and Sundays from 10 am to 6 pm. Walmart also offers delivery services. You can check out their App or website for more details on their services.
7. Smith's Food and Drug (Center & North Strip Locations)
Smith's Food And Drug is a grocery store chain found throughout Las Vegas, NV and there is a location about 2.5 miles (4.02 km) west of the Strip and the I-15 freeway at 4001 S. Decatur Blvd (google maps). This location is easy to reach from hotels located around the area of Bellagio, Horseshoe, Caesars Palace, Paris, Harrah's, and more.
There is another handy location slightly north at 4840 W Desert Inn Rd. (google maps). This is a suitable location for those staying at or near Wynn Las Vegas.
Smith's sells an assortment of meat, fish, seafood, frozen foods, fresh fruits, vegetables, etc. The market also has a pharmacy for picking up prescriptions. Plus, there is an entire grocery aisle dedicated to adult beverages of every kind.
Smith's also regularly offers discounts and promotions if you have the store's app. Their products are relatively affordable, especially when compared to some of the other grocery stores in the area.
8 & 9. Albertsons Grocery Store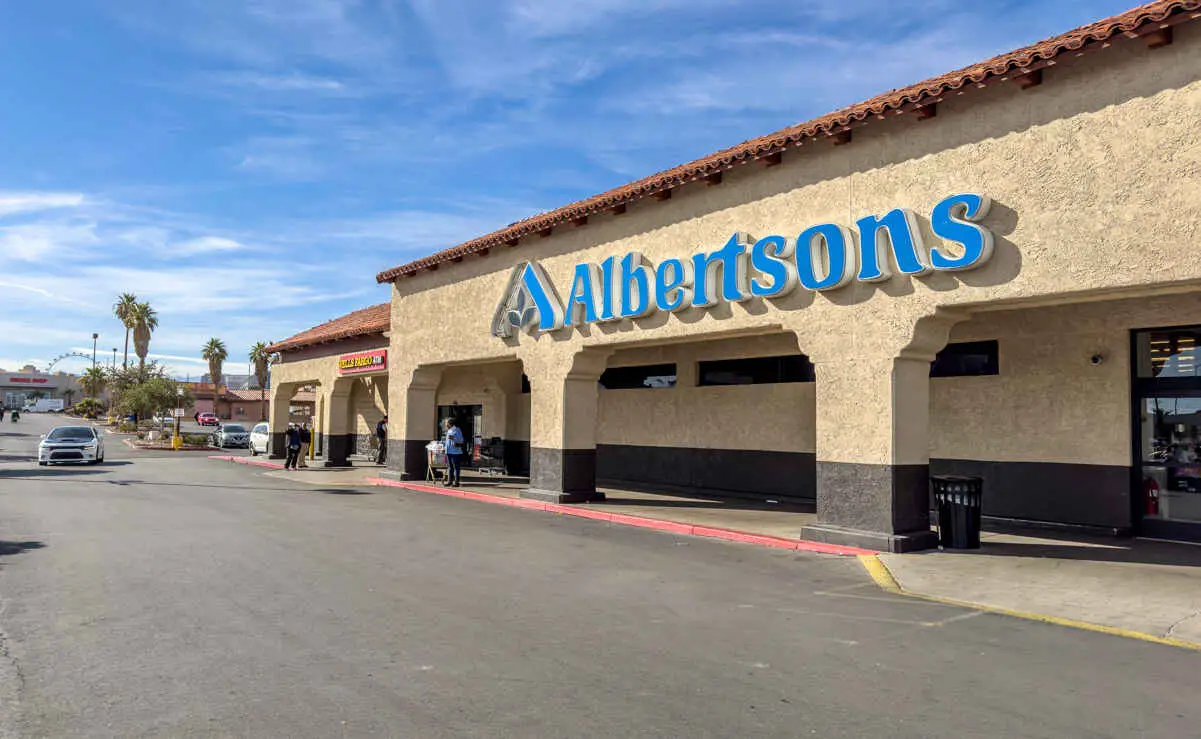 Albertsons is a supermarket packed with groceries of all kinds, including fresh produce and meat. There are two Albertsons near the strip: The first one is at 1300 E. Flamingo Rd, east of the center Strip area. The second is located at the north strip at 1760 E Charleston Blvd, which provides good access for those on the far north end of the Strip or downtown.
You will find the following departments in the market:
Bakery
Fresh seafood
Floral
Fresh produce
Service Deli
Fresh meat
Liquor
Pet care
Beer/Wine
They are open from 6 am-10 pm every day. They also offer delivery services.
RECOMMENDED: The Best Outlet Malls and Stores In Las Vegas
10. International Marketplace
The International Marketplace is located west of the mid-strip area at 5000 S. Decatur Blvd (google maps). The International Marketplace lives up to its name based on the items they sell.
You will find different kinds of foods from over 50 countries in this place. Irrespective of where you're from and your choices, there's a great chance you'll find exactly what you need here.
Aside from the wide array of cultural foods to choose from, they also sell toys, kitchen utensils, souvenirs, and more. It's an international market, so there's no telling what you can find. They also have a spot where they sell hot prepared food that's ready to eat. You can eat to your fill and continue your search. 
International Marketplace is a massive Las Vegas store filled with loads of goodies which makes it a fun place to visit, even if it's just for sightseeing. They are open from 9 am-6 pm every day except Sundays when they are closed.
Smaller Food, Convenience, & Drug Stores on The Vegas Strip
If there's no room in your itinerary to leave the Strip and hit up a traditional grocery store, there are some drug stores, convenience stores, and small markets on the Strip that may meet your needs. I'll discuss a few of them below.
Century Food Mart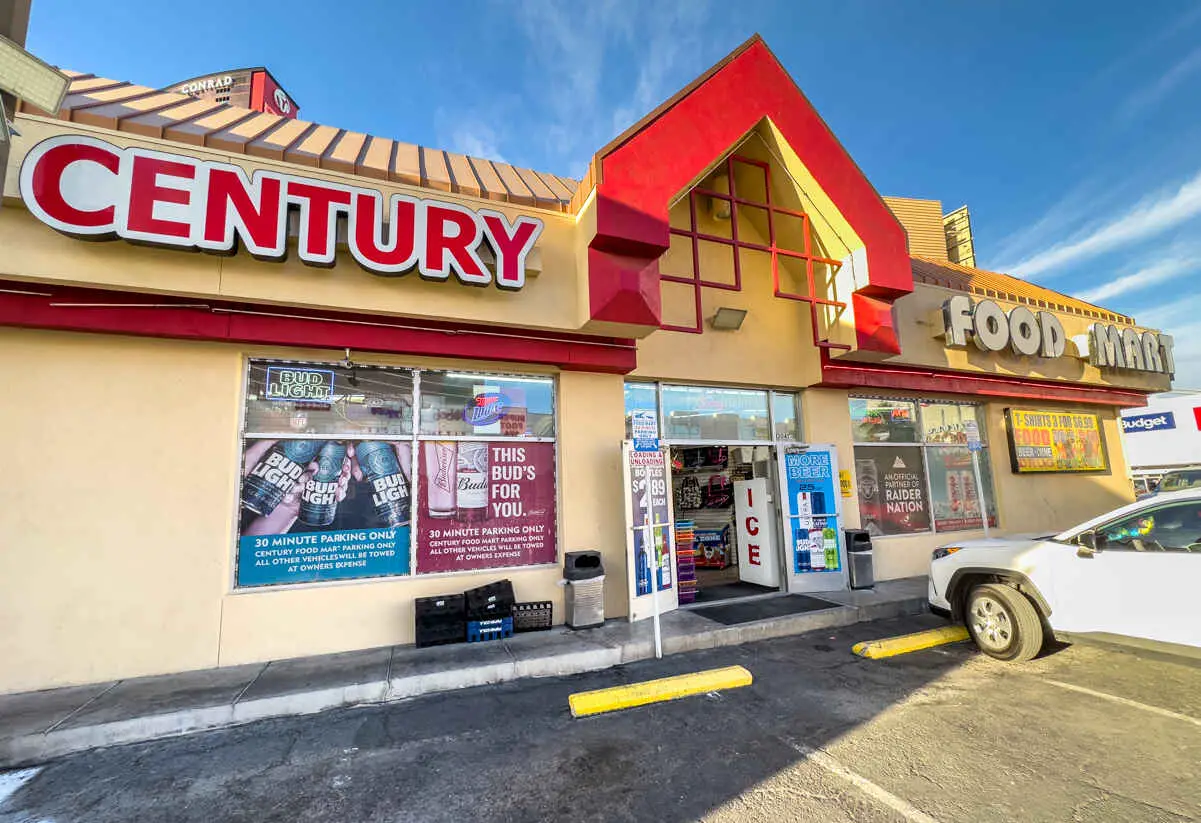 Century Food Mart is located on the Strip at 3041 S. Las Vegas Blvd, Las Vegas, NV (google maps) next to Encore and Wynn. The small market deals in various items, such as:
Drinks: They sell wine, beer, liquor, soda, water, energy drinks, soft drinks, etc.
Groceries/Food: Pastries, snacks, Ramen noodles, Deli meat, bread, fresh fruits, etc.
Souvenirs: Cards, shirts, key chains, caps, mugs, etc.
Clothing: Skirts, gowns, shirts, trousers, etc.
Travel accessories: Chargers, heaters, selfie sticks, batteries, etc.
Toiletries/Medicine: Toothpaste, drugs, sunblock, etc.
They are open on Mondays to Thursdays from 9 am to 2 am. On Fridays and Saturdays, from 9 am to 5 am. On Sundays, they're open from 9 am to 4 am.
Walgreens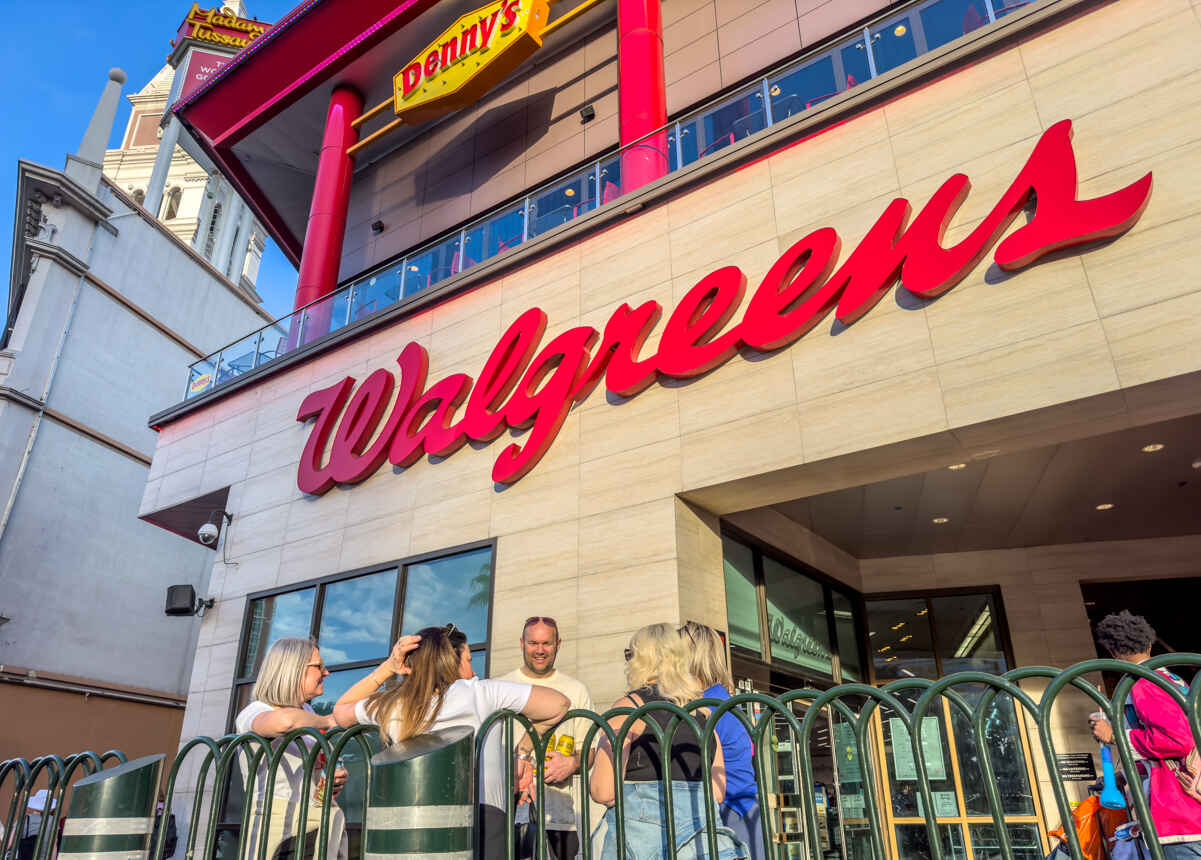 Walgreens is a drugstore chain that can be found in various locations up and down the Strip (google maps). As such, you are sure to find one nearby if you are in the resort corridor.
Walgreens sell many items, including fresh fruits, salads, caps, sunshades, toiletries, souvenirs, cosmetics, beer, liquor, soft drinks, etc. You can get almost anything you need in a Walgreens store.
A Walgreens location can be found every few blocks on the east side of the Strip (there are 5 locations on the Vegas Strip). One reason they have spread so fast is that they have quality products at affordable prices. The price of goods in a Walgreens shop on the Strip is the same as that in a Walgreens store elsewhere, and that's something you can't say for every Las Vegas store.
ABC Stores Las Vegas Strip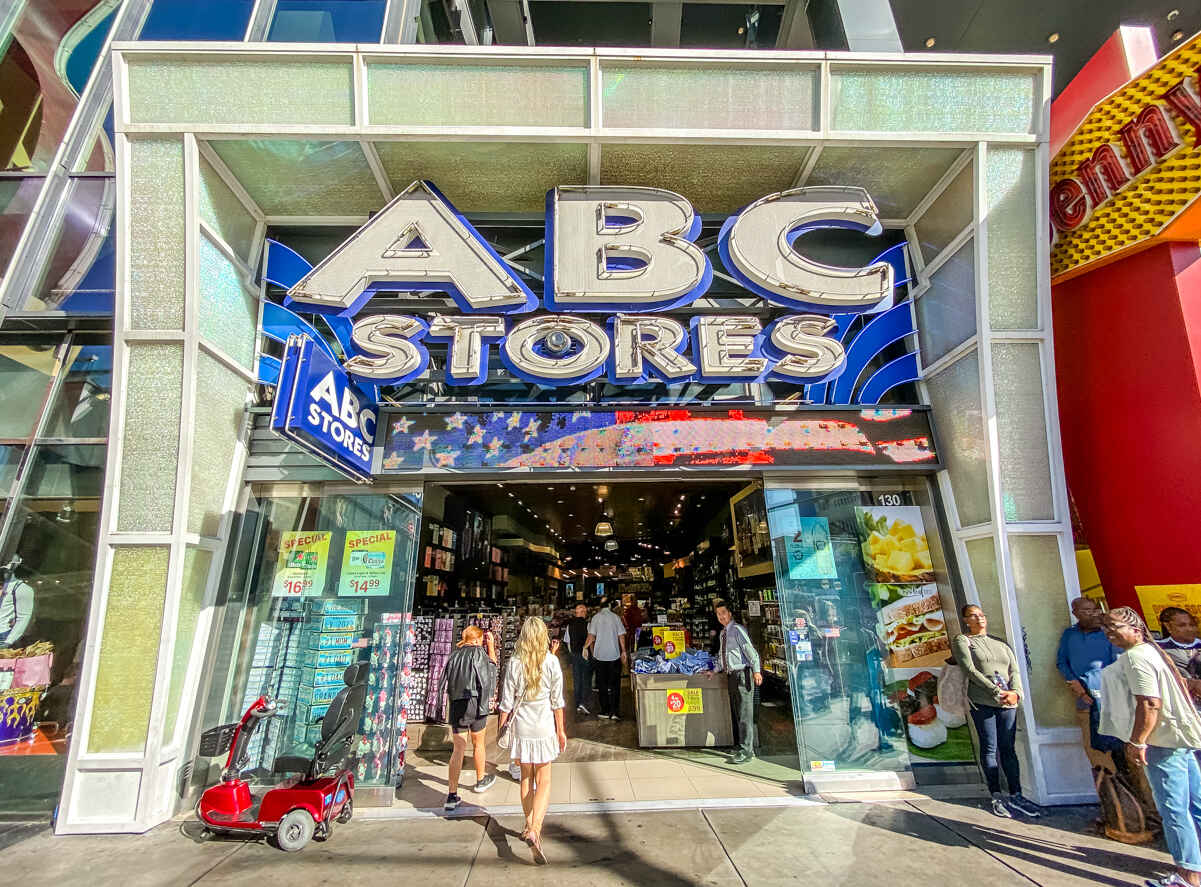 ABC Stores is a popular chain of convenience stores found in Hawaii. Due to Las Vegas's large population of Hawaiian transplants, ABC Stores can now be found throughout the tourist areas of the Strip and downtown. Of the eight ABC Stores locations in Las Vegas, five of them can be found on the Strip.
ABC Stores are basically your typical convenience store, but with a touristy Hawaiian flare. Here, you can find liquor, souvenirs, groceries, clothing, cosmetics, drugs, etc. They have a whole lot to offer at a reasonable price.
You can find ABC Stores at the following addresses on the Strip:
3663 Las Vegas Blvd. (2 locations at Planet Hollywood/Miracle Mile Shops)
3771 Las Vegas Blvd. (Just north of the M&Ms World store)
3200 Las Vegas Blvd. (At the Fashion Show Mall)
ABC Stores are open Mondays to Thursdays, from 9 am to 11 pm, and on weekends, from 8:30 am to 12 am.
CVS on Las Vegas Strip
CVS is a nationwide drugstore chain that can come in handy as a place to pick up a few of the items you may want or need while you're in Las Vegas. They carry everything from vitamins, water, food, beauty items, and of course, alcohol! It's one of the top destinations for grabbing a few things to take back to your hotel room.
You'll find two CVS locations on the Strip making them a convenient stop when walking the Strip as they are both in very popular areas. The first location is at 3758 S Las Vegas Blvd, Las Vegas, NV (google maps), just a short walk south of ARIA.
The second location is at 3645 Las Vegas Blvd, Las Vegas, NV (google maps), which is right across the street from the Bellagio Fountains making this an excellent quick stop to pick up any necessary supplies.
Both CVS locations on the Strip are open 24 hours a day, 7 days a week.
ALSO SEE: 12 [AMAZING] Shopping Malls on the Las Vegas Strip!
Conclusion
Now you know where to go for groceries as well as some everyday necessities when you're visiting the Las Vegas Strip.
If you need a full-sized, traditional grocery store, you can find a Vons, Albertsons, Smith's, or even a Walmart within just a few miles of popular areas on Las Vegas Blvd. Otherwise, you can head to one of the other convenience stores or markets that I talked about right on the Strip.