Does Red Rock Casino Have Airport Shuttle? (Las Vegas)
(This article may contain affiliate links. If you click through and make a purchase, we will receive a small commission at no additional cost to you. )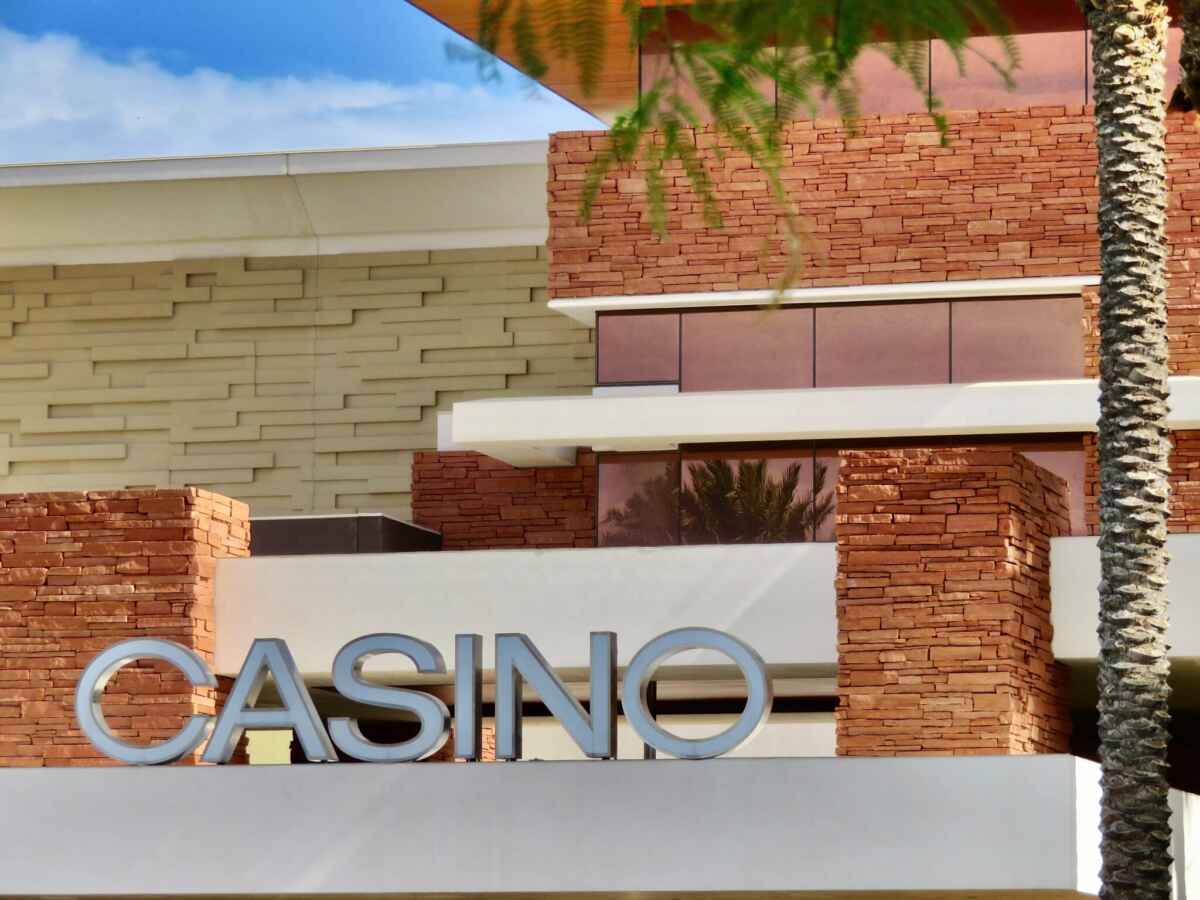 You've just landed at the Las Vegas airport and are excited to start your Red Rock Casino Resort and Spa vacation! However, you'll need to secure transportation to this beautiful resort first. Does Red Rock Casino have its own shuttle from the airport?
Red Rock Casino does not have its own shuttle from the Las Vegas airport. You can, however, use a third-party shuttle, but you will likely find that a taxi, Uber, or even a limo is a better option to get from the airport to Red Rock. 
In this article, I will discuss the best ways to get to Red Rock from the Las Vegas airport. 
Compare and save! See current room rates at Red Rock Casino at TripAdvisor.
An Airport Shuttle Bus to Red Rock Casino is Not The Best Way
Red Rock Resort & Spa is about a 20-minute drive from Harry Reid International Airport (LAS). (Note: Until 2021, the airport was called McCarran International Airport, so you may still see information regarding that name, just know it's the same airport.)
First, you can use one of several third-party shuttle services to get you from the airport to the hotel. However, please note that these services are not the fastest, easiest, or most convenient way to get to the Red Rock property. On average, you should plan for a total trip of well over an hour to get to the hotel riding on a shuttle.
An airport shuttle won't leave the airport until it has a certain amount of passengers onboard, so you may have to wait for a long time. Airport shuttles will also need to make several stops at other properties before getting you to your hotel, and they are only the cheapest option if you are traveling with two people or less.
We've written a complete article about using Las Vegas airport shuttle service you can check out if you'd like.
Best Ways To Get To Red Rock Casino Resort & Spa From The Vegas Airport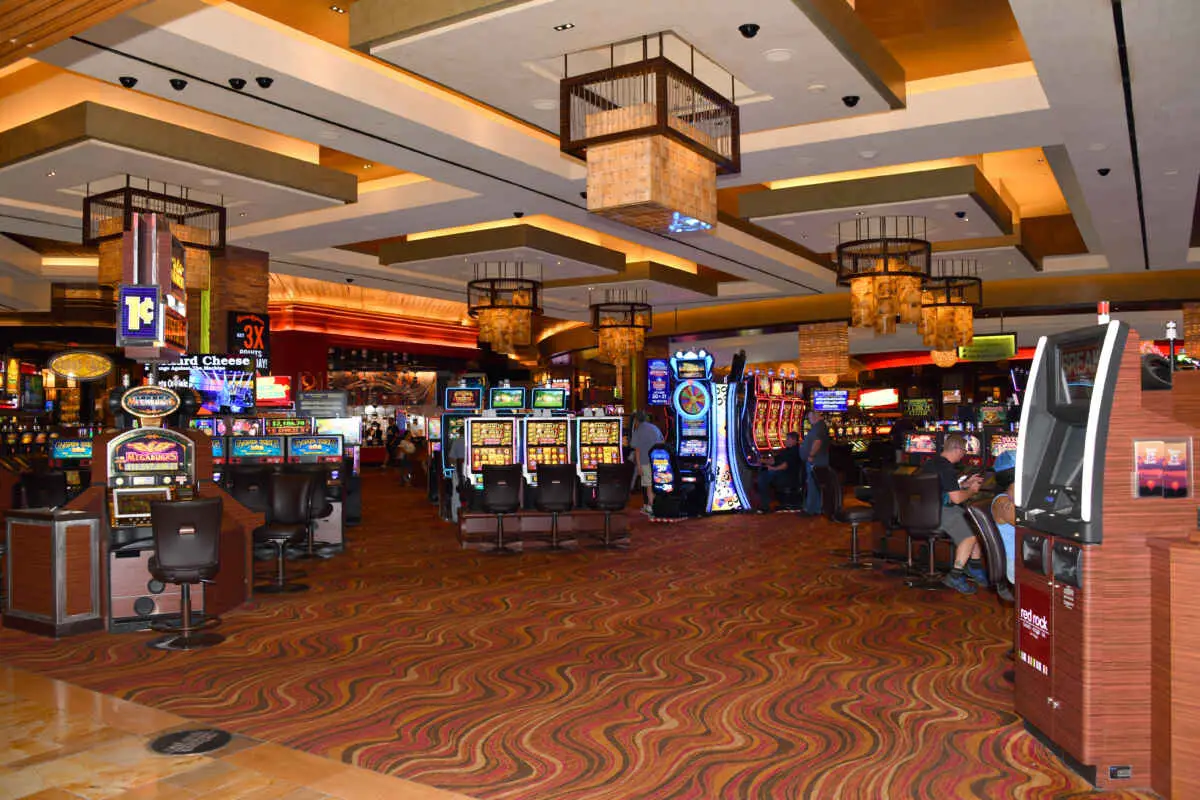 A taxi or Uber is your best and quickest option if you want to take the most direct route from the Vegas airport to Red Rock Casino. Using either of these transportation methods will get you to your hotel much sooner and be about the same price or even more cost-effective than a shuttle when traveling with more than two people.
Taxi/Uber To Red Rock Casino (Best Choice)
The most direct route to Red Rock casino from the airport is by taking either a taxi or an Uber.
For a taxi, you'll simply need to head to the airport's ground transportation area and grab the first taxi in line. It'll leave as soon as you're ready to go. Red Rock is further away from the airport than hotels on the Strip, so it will be a bit more expensive and cost around $50.
To take an Uber from the airport, you'll need to head to the "rideshare" area (follow the ground transportation signs). Once there, you can use the Uber app on your phone to request a ride. Once a ride is requested, you'll need to wait a few minutes for your car to show up. Unlike taxi drivers, Uber drivers have to park at a nearby location and only come in to pick up passengers once a ride is ordered.
The standard UberX ride can hold up to four passengers and will cost around $42 to go from the airport to Red Rock Casino.
Note: Be aware of surge pricing. If you need a ride at a particularly busy time in Las Vegas, the price may be much higher. The Uber app will tell you before you order the ride if it's going to cost more than normal. If that's the case, consider using a taxi instead as they don't charge more when demand is higher.
Airport Limousine to Red Rock Resort (Luxury Option)
If you want to splurge on going to the Red Rock resort in style, a limousine service can take you there from the airport in style. They are sometimes cheaper than a taxi, depending on the rates and if you order one ahead of time. 
The driver will take you directly to where you need to go and be waiting for you when you get off your flight.
Town Car Service To Red Rock Casino (A Good Choice)
A town car service is another reliable way to get to the Red Rock Casino, but it's different than a taxi or uber service because the airport has approved the drivers, which means that the TSA has pre-screened the drivers. This allows them to park and come into the airport to meet you and assist with your luggage. 
This service can be on the pricey side just because of the area you'll be in. Town cars aren't too far off from a regular taxi or uber, so it might be worth it to use a town car to feel safer and get directly to the Red Rock without extra stops. 
I contacted the Red Rock concierge (702-797-7877) and was told they could arrange a town car from the airport to the resort for $65 plus taxes and tip.
Rent a Car at The Las Vegas Airport (Ongoing Transportation in Las Vegas)
If you'd rather have your own car while staying in Vegas, there is a car rental place right next to the airport with a convenient shuttle to get there from the airport. There are multiple car rental companies to choose from, including all of the big names.
I'd recommend heading over to RentalCars.com where you can get a quote from several Las Vegas car rental companies so you can be sure to get the best price.
You can get a car that day and rent it for as many days as you need while visiting Red Rock Casino and the Las Vegas area. There is a lot to do and see in and just outside Las Vegas that may require a car. 
RELATED: Should You Rent a Car in Las Vegas? 3 Things to Consider
Can You Take the Bus To the Red Rock Casino?
You can use the city bus to get to the Red Rock Resort, but this won't take you directly to your destination. You'll get there eventually, but there are dozens of stops along the way, and it may take you a lot longer than you'd like to get there. 
This is the cheapest way to get to Red Rock from the airport, but you will likely waste hours of your precious vacation time.
The bus starts at $5 and goes up a few dollars if you're going to a hotel past the strip, and since Red Rock is a few miles north west of the strip, expect to pay a higher rate when using the bus.
RECOMMENDED: How to Get Around Las Vegas Without a Car
Don't wait! Check current Red Rock Casino room rates and book your stay today!
Activities At or Within Walking Distance of Red Rock Casino
Red Rock hotel and casino is close to many fun attractions and activities. Many are within walking distance, and you can enjoy these without worrying about transportation. They are:
City National Arena: This is the home to the Vegas Golden Knights, so if you're a hockey fan, you can take a short walk to see them play. The arena has open skate nights where you and friends or family can go skate in the arena. 
Downtown Summerlin: Summerlin is a great place to go because it has everything from cute local shops to restaurants and outdoor events. The Las Vegas ballpark is also in this area, so there are unlimited options for you to choose from. 
Flying Pig Lounge (Lucille's Smokehouse Bar-B-Q): This is the place to go inside Red Rock if you like a southern/western vibe. Enjoy some good cold brews and delicious baby-back ribs. 
Sandbar Pool and Grille: Red Rock resort has a beautiful pool area with a bar and gambling tables to enjoy poolside. There is also bowling, a movie theatre, and of course, plenty of options from the casino. Options such as numerous poker tables, slot machines, blackjack, and many more are available at the Red Rock, so you don't have to travel anywhere. 
Red Rock is an expensive resort and can get heavy on your pocketbook. As such, the variety of attractions surrounding it does help in making your trip that much more economical without compromising any of the thrill and enjoyment. [XX Reasons Why Red Rock Casino is So Expensive]
Conclusion
While the Red Rock Resort Spa doesn't have a private shuttle that will take you directly to the resort from the Vegas airport, there are several other ways to get there. The most convenient transportation method, while still being economical, is to use either a taxi or an Uber. The pickup will be quick and they'll have you to your hotel in no time.
Traveling to Red Rock via a town car, limousine service, or rental car are other options that you can look into for transportation to this beautiful resort property.