Aria Buffet Prices, Hours & Menu (Closed)
(This article may contain affiliate links. If you click through and make a purchase, we will receive a small commission at no additional cost to you. )
Update: The Aria Buffet was temporarily closed during the pandemic in March of 2020 and has never re-opened. Since that time, it has been decided by Aria's management that the Aria Buffet will remain closed permanently.
Aria is one of the nicest and most upscale resorts on the Las Vegas Strip. So it makes sense that they would have one of the best buffets in town. Serving breakfast, lunch, and dinner as well as a fabulous weekend brunch the Aria buffet has a reputation for excellence.
In order to make the most of your dining experience, you'll need to know prices as well as the hours the buffet is available and the menu of food choices available.
Aria Buffet Prices, Hours & Menu? The Aria buffet prices can range from about $30 to $60 depending on the time and day of the week. For an additional charge of $20, each diner can enjoy "All You Can Drink" alcoholic beverages. The Aria Buffet is open from 7 AM to 10 PM, seven days a week. The menu choices run the gamut from fresh seafood and crab legs to Mediterranean, American, Italian and Asian dishes.
The Aria Buffet is often counted as one of the best when it comes to Las Vegas buffets, for both quality and price.  Knowing your options ahead of time can help you plan your days and budget accordingly. The aim of most casinos is to make sure you have plenty of money to spend on the games, so their buffets are reasonably priced. The Aria Buffet follows this formula and gives you and your group a great quality meal for a fair price.
Keep reading as I'll lay out all of the specifics and options below.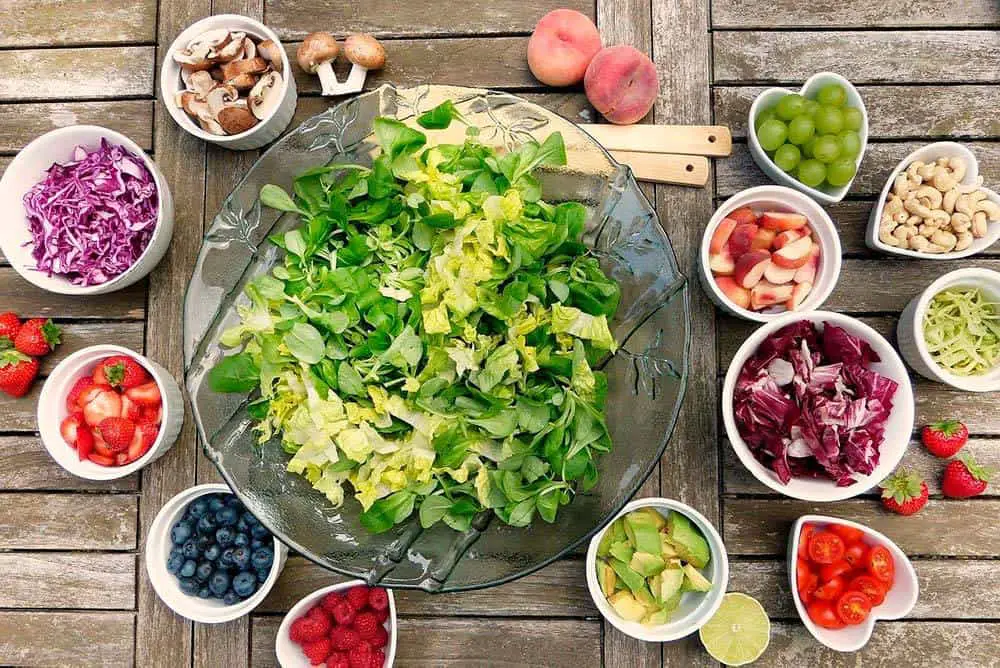 The Aria Buffet – How it Works
The Aria Buffet is still a buffet and has the same basic structure and set-up as any buffet. There are multiple options and dishes for each mealtime, but the specific dishes can vary depending on the time and day of the week.
As for the price, the amount will vary depending on the specific day and time. In addition, there is an all-day option for customers who plan on eating at the buffet for each meal. Non-alcoholic drinks will come with the base price, and so will beer, wine, and champagne. Mixed drinks will come with an extra cost, though there is an unlimited premium drink option as well.
Aria Buffet Prices
| Meal | Price | Days | Hours |
| --- | --- | --- | --- |
| Breakfast | $29.99 | Monday – Friday | 7am – 11pm |
| Lunch | $29.99 | Monday – Friday | 11am – 3pm |
| Dinner | $40.99 | Monday – Thursday | 3pm – 10pm |
| Gourmet Dinner | $45.99 | Friday – Sunday | 3pm – 10pm |
| Brunch | $35.99 | Saturday & Sunday | 7am – 3pm |
The price of Aria's buffet varies depending on the day of the week and the meal you are enjoying.
Monday through Friday offers both breakfast and lunch for around $30 for adults (13 and up) and usually under $20 for children ages 5 to 12. Saturday and Sunday, the Aria buffet offers brunch, and the prices are just a little bit higher then. Note, there are no specific lunch offerings on the weekends.
The Aria Buffet offers a regular dinner buffet Monday through Thursday. This buffet is offered at $40.99 for adults (13 and up) and is free for children ages 5 – 12. Friday through Sunday, the dinner buffet is a gourmet dinner. The pricing is about $45 for adults (13 and up) and free for children 5 to12.
Keep in mind that the free pricing for children at dinner applies to two children for every one paying adult. If you have five or more children, the price switches to $15 per child.
Prices can change during holidays, along with the offerings on the Aria Buffet. These prices may also change from the time of the posting of this article.
Aria Buffet Hours
The Aria Buffet hours are pretty standard. The hours of operation are the same all seven days of the week. From 7 AM to 10 PM the Aria Buffet will be open and available to casino guests. The meals offered change depending not only on the day and time but also on the day of the week. There could be menu changes in accordance with holidays.
Breakfast: Offered Monday – Friday from 7 AM to 11 AM.
Lunch: Offered  Monday – Friday from 11 AM to 3 PM.
Brunch: Offered Saturday and Sunday from 7 AM to 3 PM.
Dinner: Offered daily from 3 PM to 10 PM.
Please note that dinner is offered every day from 3 PM to 10 PM, but there is a gourmet dinner from Friday night to Sunday night.
Aria Buffet Menu
Since it is a buffet, there is no set menu. The Aria Buffet has multiple stations that provide even the pickiest eater with many options. The buffet is listed as American food, but there are plenty of other genres offered on the Aria Buffet menu.
The buffet stations include:
Salad: Customers can make their own salad at the salad bar. There will be multiple options laid out for a variety of salads.
Fish Market: Offers fresh seafood, as well as popular seafood dishes such as sushi, paella, and more. Crab legs are offered daily during dinner hours.
American: The American offerings include New York-style pizza; assorted smoked, grilled or roasted meats at the carvery; and classic American comfort foods.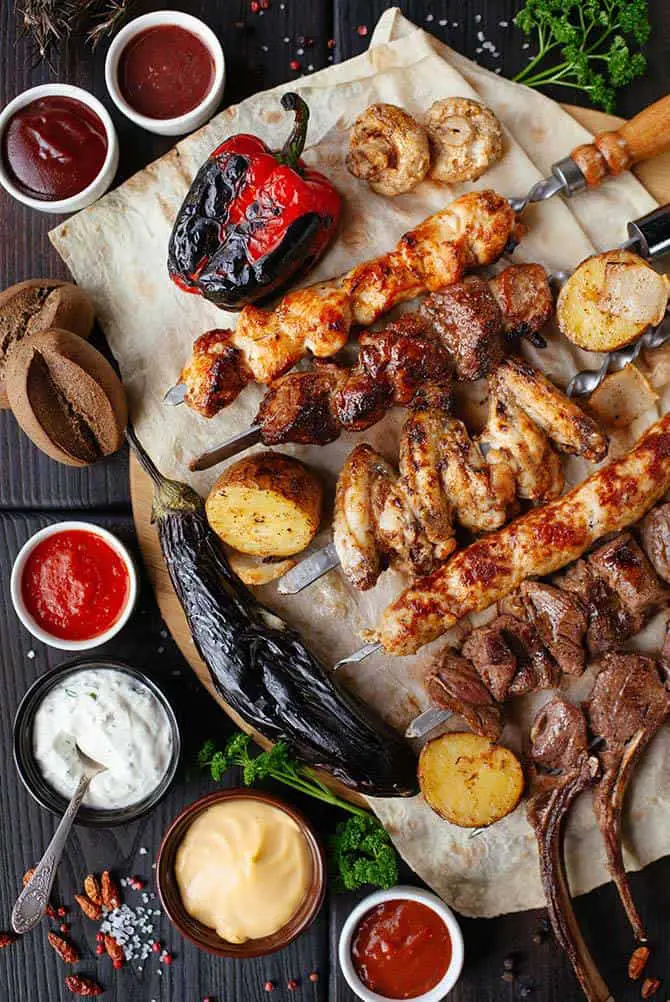 Latin: Offerings from all around South America, including ever-popular Mexican foods.
Italian: Classic Italian selections, including a range of pasta – and gluten-free pasta.
Asian: Samplings from all over the Asian continent, authentically prepared daily.
Mediterranian: Dishes from the Middle East and North Africa, often healthier options including multiple premade salads.
Tandoori: Naan, Chicken, Vegetables and more made to order right in front of you in an authentic tandoor oven.
Dessert: Cakes, gelato, cookies and assorted baked goods that are made on-site daily.
The Sweets Corner is open daily from 9 AM to 10 PM.
The Aria Buffet All Day Option
If you plan on eating all your meals at the buffet, the Aria has an option that could help to save you money. For $60 per person, you can eat at the buffet all day long, paying one price for all meal options. All-day buffet passes can be purchased on a daily basis. They are good only for the date of purchase and will expire at 10 PM nightly.
For an additional $20 per person, you can get premium bottomless drinks as well. These passes are good for only 2 hours after the purchase time.
Aria Buffet all-day passes are only offered Monday through Friday. You can see the concierge or the hostess at the buffet for more information on purchasing.
(For Parking Rates at ARIA please see our article here).
Private Dining and Large Group Options
If you are looking for a more intimate option, it is possible that you may want to look into one of Aria's other dining options. Aria offers several restaurants spanning multiple genres, with world-renowned chefs and top of the line ingredients. Some of these include:
Jean Georges Steakhouse
Catch
Bardot Brasserie
Carbone
(source)
If you and your group want to enjoy the plethora of options available at the Aria Buffet stations, there is likely plenty of room for you all. The main dining room associated with the buffet can accommodate up to 200 people at a time.
If you have a group that has 14 or more people in it, you will need to contact the Aria in advance. You can do so by phone (702-590-8638) or email ([email protected]).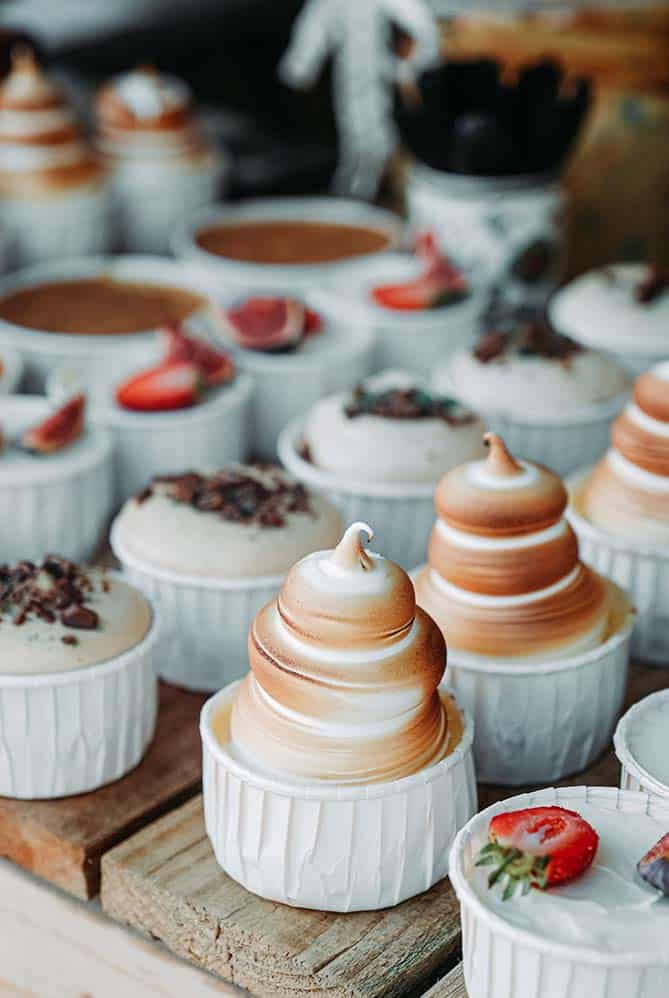 The Aria Buffet Wrap-up
The Aria Buffet is often included in lists talking about the best buffets in Vegas. With its affordable price tag and extensive options, I'm confident you will enjoy the experience.
There are a few key things to remember. Anyone over 12 will be priced as an adult.
Weekends offer only brunch, not breakfast or lunch. Groups over 14 will need to book tables in advance. Holidays can change things, so be sure to look at the dates of your trip and if any holidays fall with your range, you may want to call the Aria and see if there are any significant menu or price changes associated with them.
The Aria buffet provides world-class options at wallet-friendly prices, and you will not be disappointed with your visit. Make sure to show up hungry 🙂
More Eating in Las Vegas Articles
Find out How Much it Costs to Eat at Hell's Kitchen Las Vegas here.
Learn which are the 15 Best Vegas Restaurants with Views of Bellagio Fountains in our article here.
Which are the Best Breakfast and Brunch Buffets in Las Vegas? Find out here.