How Many Floors Does Aria Have? Reaching New Heights at Aria Resort & Casino
(This article may contain affiliate links. If you click through and make a purchase, we will receive a small commission at no additional cost to you. )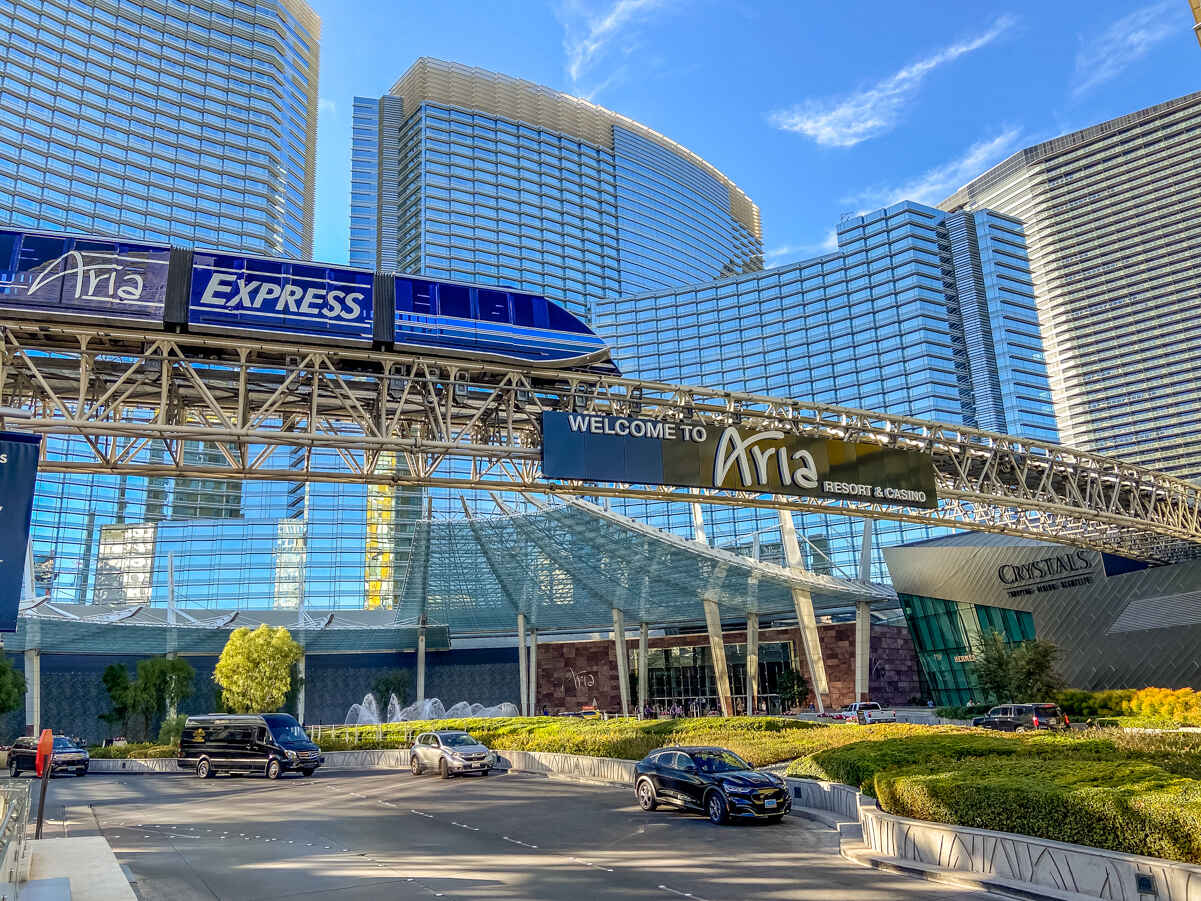 If you plan on visiting Vegas and want to stay at a nice hotel on the Las Vegas Strip, you'll want to consider Aria Resort & Casino. Aria Hotel is known for its modern design and eco-friendliness. There, however, is some confusion about how many floors are found in the Aria Hotel.
Aria Las Vegas has 50 floors in the main tower. However, the last floor is labeled 61 because the hotel does not include floors 13 or 40 to 49 due to superstition. Most of these floors contain hotel rooms and suites.
In this post, I will answer this question in greater detail and provide additional information about the Aria Hotel. Let's get started!
Compare and save! Check current ARIA room rates at TripAdvisor!
A Quick Tour of Aria's 50 Floors
Aria is one of Vegas's largest hotels, with over 4000 rooms and over 560 suites. The Aria property also includes a massive casino, several restaurants, nightclubs, a huge convention center, plus many more attractions.
The main tower at Aria Hotel has 50 floors, but you may be surprised to see that the last floor is labeled floor 61, which prompts many websites to mistakenly assume that there are 11 more floors than there are in reality. This happens because many gamblers are quite superstitious, so the hotel excludes floors with unlucky numbers.
For instance, as you may know, the number 13 is commonly considered bad luck, so there's no 13th floor at the Aria. Additionally, many Asian cultures consider numbers starting with 4 bad luck; thus, you won't find floors 40 to 49 at Aria. As a result, right after floor 39, you'll go up to floor 50.
Each one of these floors contains hundreds of rooms and suites of different sizes, views, and amenities. The rooms are well furnished and use intuitive technology to operate the lighting, temperature, and TV. Depending on your choice, you may have a villa-like suite or a standard room, but the overall experience at Aria is generally quite luxurious.
Most of these 50 floors contain only hotel rooms and suites, while most of the attractions, restaurants, and clubs are located on the lower promenade levels. The casino takes up most of the entire first floor, while the convention center and meeting rooms are on the first, second, and third levels. The pool, spa, and fitness center are on the hotel's second level. 
RELATED: Do Aria Rooms Have…? (17 Things To Know)
Aria Resort & Casino: Amenities and Entertainment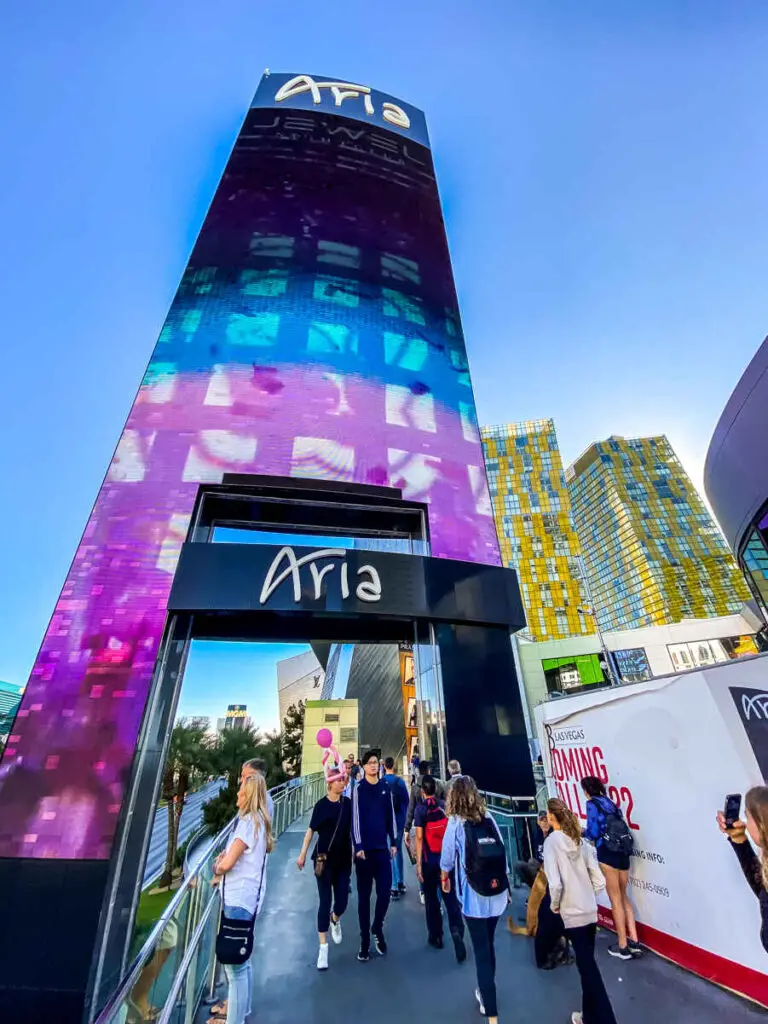 Inside Aria Las Vegas, guests can find a variety of amenities and entertainment options, ensuring that there is something for everyone to enjoy. Some of the amenities available include:
Pool
Aria has three pools, namely the Palm Pool, Yucca Pool, and Sky Pool, for guests to enjoy. All three are outdoor pools, but at least one is heated in winter, so you can enjoy it year-round.
The Sky Pool is an exclusive pool for Sky Suite guests, while the other pools are available for all Aria guests. Plenty of lounge chairs are available for guests, but you can reserve a cabana if you're in a large group and want to ensure enough seats for everyone.
Shopping 
You can find a great shopping center (The Shops at Crystals) in Aria with many famous and exclusive brands. You can shop for anything from designer clothes to expensive wine and spirits. Aria also includes shops where you can purchase souvenirs, merchandise, and snacks.
Spa
The Spa at Aria is one of the most popular and in-demand spas in Las Vegas and was rated a Five-Star award by Forbes. The spa offers a wide range of therapies, including a variety of facials, massages, and body treatments, all designed to promote relaxation and rejuvenation.
Guests can also enjoy the spa's many amenities, such as heated-stone ganbanyoku beds, infused salt rooms, eucalyptus steam rooms, and redwood saunas. The Spa at Aria is a popular destination for those seeking a tranquil and indulgent spa experience in Las Vegas.
Fitness Center
Aria also has a fitness center, which guests of the hotel can access for free. The gym features 6,000 square feet of space and is equipped with innovative Technogym equipment. Guests can choose from a variety of exercise equipment, that includes ellipticals, treadmills, stationary bikes, and an impressive number of free weights.
The Fitness Center also features a rock climbing wall and offers personal training sessions with certified trainers. With a beautiful view overlooking the pool, guests can break a sweat while enjoying the surroundings. The Fitness Center at Aria is a popular destination for those looking to maintain their fitness routine when traveling to Las Vegas.
Restaurants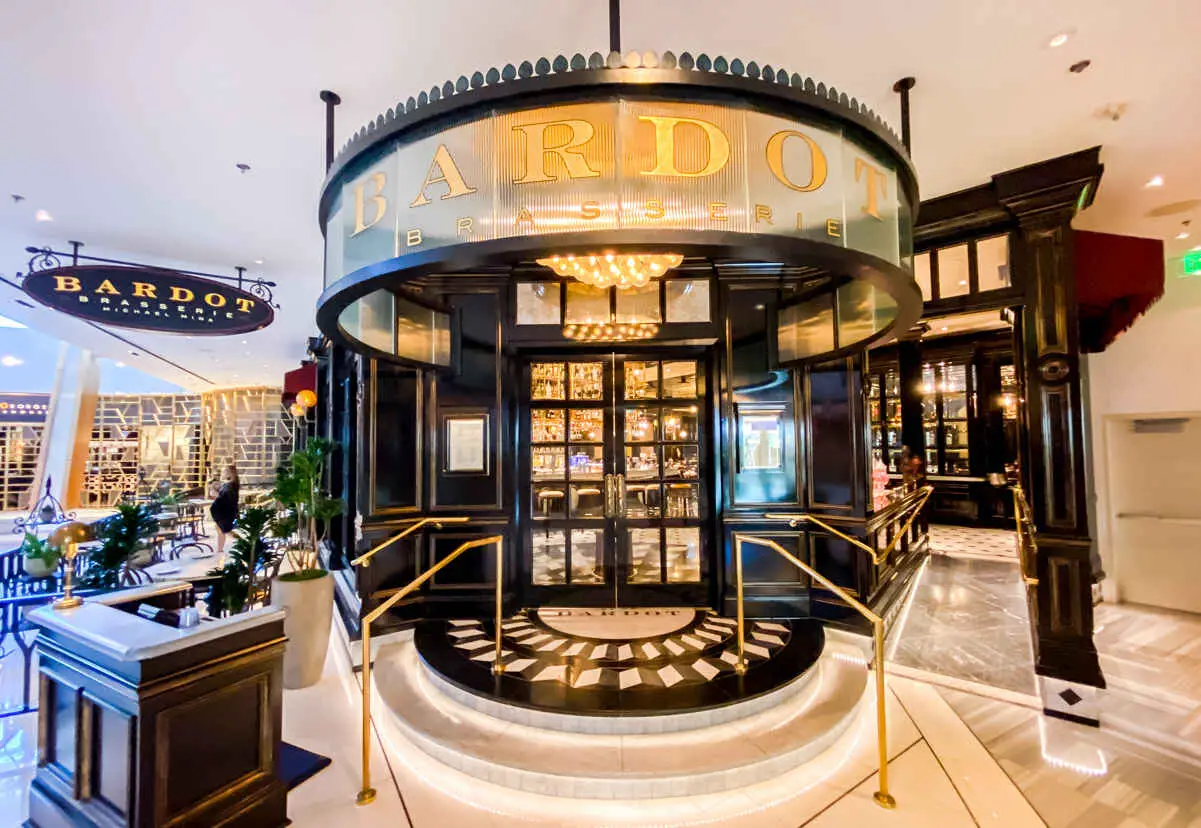 There are 16 restaurants and 10 bars at Aria Las Vegas, so you have plenty of options if you decide to dine in. Still, I recommend only checking out one or two places you're most curious about. Vegas is known for its restaurants and cuisine worldwide, so it would be a pity not to explore outside your hotel.
Also, keep in mind that most of these restaurants are relatively fancy, and prices may be a bit high, but the experience and the food are definitely worth it.
If you enjoy seafood, consider dining at CATCH, a fantastic restaurant located on the casino floor. If you like Italian food, you may enjoy Carbone, another fancy place that offers great Italian cuisine with a twist. Or, you can eat at Posh Burger if you want something faster and cheaper.
You can learn more about each one of these Aria restaurants in my article, 8 Best Restaurants at Aria Las Vegas (Revealed!)
Also, if you need a drink to wash down all that food but don't always want to pay Aria's sky-high liquor prices, I recommend you read my post on liquor stores near Aria Las Vegas.
Clubs
Aria is home to two of the most popular nightclubs in Las Vegas. JEWEL Nightclub, is a 24,000 square foot space featuring world-class DJs and a state-of-the-art lighting and sound system. The club offers a variety of VIP experiences, including skybox suites and private tables.
Another popular destination is the High Limit Lounge, which offers a more intimate setting for guests to enjoy drinks and conversation. Additionally, the Baccarat Lounge is an intimate bar located at the edge of the Baccarat Room, offering a sophisticated atmosphere and a wide selection of premium spirits.
With its variety of club options, Aria is a popular destination for those looking to experience the vibrant nightlife scene in Las Vegas.
CHECK OUT: 7 Best Bars & Lounges at Aria Las Vegas (Take a Look)
Casino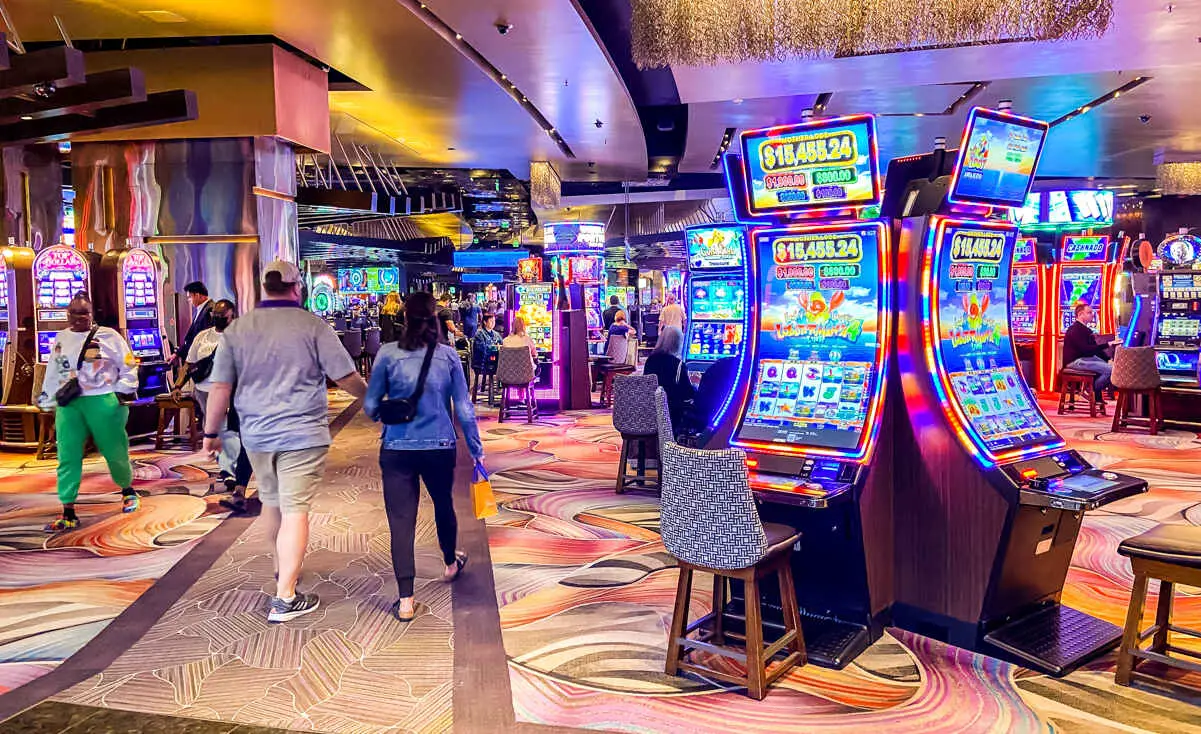 A central focus of Aria is, of course, the gaming area. The casino floor at Aria is a massive 150,000 square foot space that features a wide variety of gaming options.
Guests can choose from a range of table games, including blackjack, craps, roulette, and baccarat, as well as a large selection of slot machines and video poker games. The casino also offers a high-limit gaming area for those looking for a more exclusive experience.
Additionally, the Aria casino features a state-of-the-art race and sports book, where guests can place bets on their favorite sports teams and horse races. With its expansive gaming options and luxurious atmosphere, the Aria casino is a popular destination for those looking to try their luck in Las Vegas.
Find the best deals on ARIA rooms and save big with TripAdvisor!
Conclusion
Aria Las Vegas is one of the biggest hotels in the world, containing thousands of rooms and suites. There are several buildings, but the main tower is 50 floors tall. However, since there are no floors with numbers 13 or 40 to 49, the hotel is often incorrectly noted as having 61 floors.
With its modern design, eco-friendly features, and world-class amenities, Aria has become a popular destination for travelers from all over the world. Whether you're looking to try your luck on the casino floor, indulge in a spa treatment, or experience the vibrant nightlife scene, Aria has something to offer for everyone.
So the next time you're planning a trip to Las Vegas, be sure to add the Aria Hotel to your list of must-visit destinations.