Excalibur Parking Fee in 2023 (Tips & Tricks)
(This article may contain affiliate links. If you click through and make a purchase, we will receive a small commission at no additional cost to you. )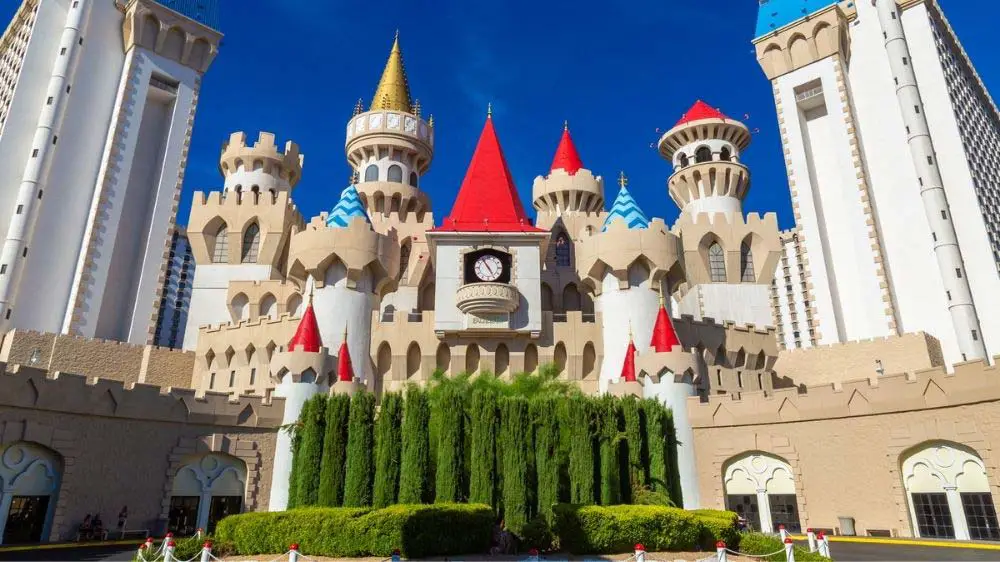 When you're driving down the Las Vegas Strip, and you see a giant medieval castle, you know you've arrived at the Excalibur Hotel and Casino! But you'll need to pay to park in order to go inside and experience everything Excalibur has to offer.
So what are the parking rates at Excalibur?
Self-Parking fees at Excalibur Las Vegas depend on the day of the week.
Monday – Thursday:
1st Hour – Free
1 – 4 Hours – $15
4 – 24 Hours – $18
Every additional day (24 hours) or part thereafter – $18
Friday – Sunday:
1st Hour – Free
1 – 4 Hours – $20
4 – 24 Hours – $23
Every additional day (24 hours) or part thereafter – $23
The self-parking fee at Excalibur is free for the first hour and then between $15 to $23, depending on how long you stay and what day of the week it is. Valet parking is also available at Excalibur and costs between $35 and $40 a day.
Below I'll explain all the different parking rates at Excalibur Las Vegas, how to use its various parking facilities, plus give you some tips on where you can park nearby for free. Finally, I'll even share a trick you can use to park for free at Excalibur!
Compare and save! Check current Excalibur room rates at TripAdvisor.
Excalibur Las Vegas Overview
Originally founded 30 years ago, the Excalibur Hotel & Casino is Las Vegas' sixth-largest hotel. Its facade is one of the most striking on the Strip, resembling the structure of a Disney castle with colorful roofs and towering turrets. It gets its name, of course, from the legendary sword of King Arthur.
That being said, in recent years, the interior of the casino and hotel has been renovated to look more modern and has moved away somewhat from the medieval theme. It was initially owned by Circus Circus Entertainment, who built the complex, and at the time of its construction, the Excalibur was the largest hotel in the world. It is now the 11th largest.
The hotel offers roughly 4,000 rooms and suites. The property also has a 100,000 square foot gaming floor with approximately 1,200 slot machines, making it a favorite among bettors. In fact, in 2003, a man won a jackpot of $39.7 million at Excalibur!
The venue hosts three permanent shows and includes a pool area, an enormous spa and fitness center, numerous restaurants, and a large food court. Even though Excalibur is one of the oldest of the major hotels on the Strip, it's still a big draw for those visiting Las Vegas. 
Self-Parking Fee at Excalibur Las Vegas (Excalibur Parking)
As part of the MGM Resort family, Excalibur was subject to the company's decision in 2016 to begin charging all of its visitors, even hotel guests, to use its parking facilities. This caused most of the other hotels on the Strip to institute a paid parking fee as well.
Self-Park Rates at Excalibur Las Vegas
Hours Parked
Mon – Thurs
Parking Cost
Fri- Sun
Cost
1st Hour
Free
Free
1 – 4 Hours
$15
$20
4 – 24 Hours
$18
$23
Each Additional 24hours
$18 each day
(or part thereafter)
$23
Note: Nevada residents get slightly longer to park for free at Excalibur, three hours in total, though only if they can provide valid identification, such as a driver's license.
These parking rates are the same whether you are staying at the hotel or not. The only benefit for hotel guests is that they receive in-and-out privileges at all MGM properties in Las Vegas. 
For example, if you're a hotel guest at Excalibur and pay for a full day of parking, you can also go and park at the MGM Grand, Luxor, Bellagio, New York-New York, etc., during the same day at no extra cost. You can also come and go from the Excalibur parking facilities as you please.
The parking rates at Excalibur are the same as those at several other MGM properties – including the MGM Grand, Mandalay Bay, and New York-New York – apart from Bellagio and ARIA, which are slightly more expensive.
The one hour of free parking could come in handy for certain situations, like paying someone there a short visit, but in reality, most people who need to park at Excalibur will be doing so for more than one hour.
These fees certainly seem high, but they are actually in line with most other Las Vegas properties on the Strip.
How To Get Free Parking at Excalibur (Two Ways)
While paying for parking stinks, there are actually two ways you can self-park for free at Excalibur, they are:
Become a Pearl or higher level member of the MGM Rewards Players Club (Formerly M Life Rewards) by spending money at MGM properties.
Or, increase your player's club card to Pearl level by getting an MGM Rewards Mastercard.
If you're an MGM Rewards Players Club member at the Pearl, Gold, Platinum, or Noir level, you get the privilege of free parking at any MGM property, including Excalibur.
The players club is free, but the base level of MGM Rewards memberships is Sapphire, which unfortunately does not include free parking. So you'll need to increase your rewards level by gaming at MGM casinos to at least the Pearl level in order to get free parking.
If you're not a big gambler, you can get your players club level automatically bumped up to the Pearl level by applying for the MGM Rewards credit card.
This is how we get free parking at all MGM properties. It's quite easy, and we explain the simple process in our post How to Get Free Parking at MGM.
How Does Self-Parking Work at Excalibur Las Vegas?
Excalibur is relatively unique in Las Vegas in that it actually offers parking spots on every side of the resort, some of which are in covered parking garages while others are uncovered parking lots.
The venue has two convenient multi-story parking facilities. The newer garage features ten stories in total, offering 3,000 parking spaces.
The original parking facility still remains though it is smaller, with just three levels of parking. Both these garages sit at the back behind the resort.
Excalibur also includes numerous outdoor parking lots, which, though a lot smaller, provide more convenient options as they are much closer to the main sections of the resort.
In part, the newer parking garage was built to offset the increased demand for parking at the nearby T-Mobile Arena. Many visitors to that venue will choose to park at Excalibur as it is one of the closest hotels to the arena.
Note: Parking rates at Excalibur are subject to increases during popular events at T-Mobile Arena, like concerts or boxing and UFC fights.
For those using any of these parking facilities, you will be given a ticket once you enter a parking area, and you must keep this ticket safe as you will need it to pay your parking fee with it when you're ready to leave. Lost tickets usually result in a $30 charge for the day.
Once you are ready to leave, take this ticket to one of the self-service kiosks to process your payment before heading out to your car. The process is slightly easier for hotel guests as they can just present the key card for their room, and the parking fee will be charged directly to their room.
Likewise, MGM Rewards members at the Pearl level and above only need to present their card when entering and exiting the parking garage to access the free parking.
Valet Parking Fees at Excalibur Las Vegas
Self-parking can be stressful and somewhat time-consuming, which is why – like other properties in Las Vegas – Excalibur offers valet parking.
Understandably, however, the valet parking fee comes at a higher cost than self-parking. 
Valet Rates for Excalibur:
Excalibur Valet Parking
Day of Week
Valet
Fee
Monday – Thursday (Weekdays)
$35
Friday – Sunday (Weekends)
$40
Free Valet Parking – Valet parking is free of charge to Gold, Platinum, and Noir MGM Rewards members – but not Sapphire or Pearl members.
How Does Valet Parking Work at Excalibur Las Vegas?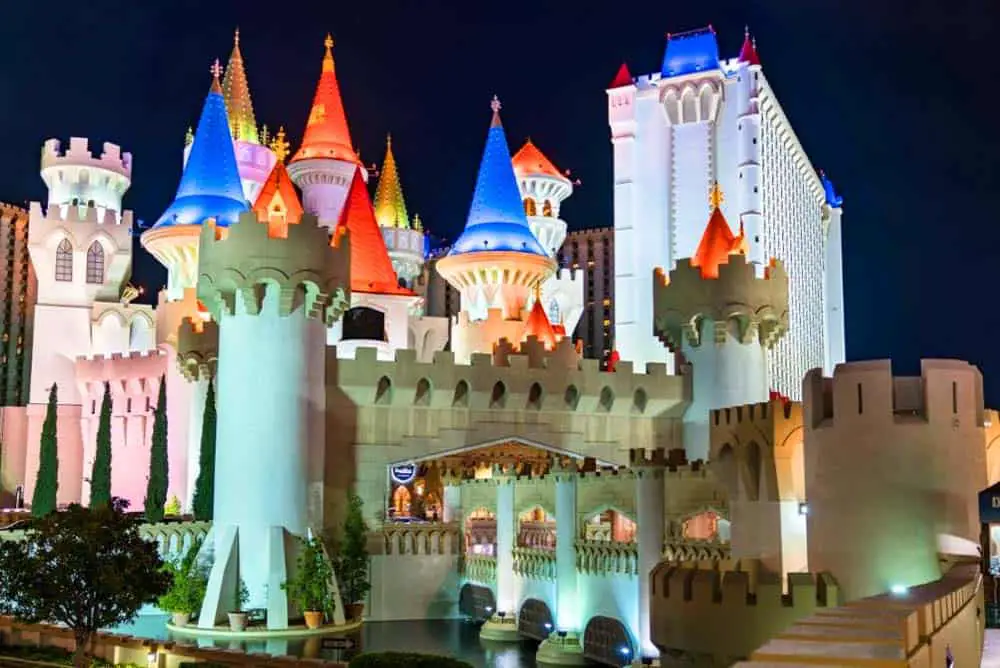 There is just one valet parking area at Excalibur, and it can be found at the main entrance to the resort off Las Vegas Boulevard. The process is simple; just approach the valet kiosk and wait to be served. 
When you hand over your keys, you'll be given a numbered ticket that you need to keep ahold of. Once you're ready to collect your car again, you just need to hand this ticket back in at the kiosk and pay your fee.
When collecting your car, it can take anywhere between 5 and 15 minutes for staff to bring it back around to you, so if you're in a rush, you'll need to plan ahead for this extra time!
Note: You'll need to pay the valet parking rates each time you use the service, even if you are a hotel guest. 
Hotel guests can have valet fees charged straight to their room if that is more convenient for them.
Gold, Platinum, and Noir rewards members need to present their MGM Rewards card in order to access the free valet service.
Is There Free Parking Near Excalibur?
If you'd rather not pay the parking fees at Excalibur when visiting the resort, there are a couple of nearby parking options that are free. The first is just across the road at the Tropicana Las Vegas, where there is free parking for any and all visitors. This is ideal, as you can use one of the pedestrian bridges to cross over the Strip to access Excalibur from the parking facility.
Note: While parking is generally free at Tropicana, a parking fee will be charged to non-hotel guests during large events at T-Mobile Arena.
Alternatively, slightly further east of the Strip is the OYO Hotel and Casino (formerly Hooters), which also offers complimentary parking. It's a longer walk, as OYO is not technically on the Strip, but it shouldn't take much more than 10 minutes.
Is There Parking for Oversized Vehicles at Excalibur?
Excalibur does have a parking area for oversized vehicles. It's one of the few large resorts on the Strip that does. It costs $30 for up to 24 hours for vehicles less than 30 feet and $50 for any vehicles that are over 50 feet in length.
These oversized parking spaces are subject to availability and cannot be reserved ahead of time.
RELATED: Where to Park an RV in Las Vegas: A Comprehensive List
Final Thoughts on Parking Rates at Excalibur
With its close proximity to the T-Mobile Arena and its enormous gaming floor, Excalibur is still one of the most popular hotel-casino resorts for visitors to Las Vegas. While some of these guests will fly into town, many patrons will be driving, so knowing the parking rates and procedures at Excalibur is important if you have a vehicle.
Excalibur's uncovered parking lots provide easier access to the main complex, while the two multi-story parking garages offer many more spaces, as well as some shade and a bit of added security for your vehicle.
Free parking at Excalibur is only available to appropriate MGM Rewards members and MGM Rewards Mastercard holders. However, a few nearby areas offer complimentary parking to everyone, meaning you'll likely find somewhere to leave your car no matter your budget.
Find the best deals on Excalibur rooms and save big with TripAdvisor!
Parking Rates at Other Las Vegas Hotels & Casinos
Source: