Las Vegas Airport Food (Where to Eat at LAS)
If there's anything you can trust about Las Vegas, it's that it always goes grand. From the moment your plane lands to the moment it takes off, you can only expect to be treated to the best- and that includes even the most minuscule details, like the food you can choose from at the airport.
The Las Vegas Airport has a plethora of dining options to choose from, whether you need to grab a quick bite or would prefer a sit-down meal. There are great choices regardless of terminal or gate location, so you can rest easy knowing you'll never go hungry at the Las Vegas airport.
In this guide, I'll break down all of the food options you'll find at Harry Reid International Airport (LAS), including where to find them, so you can maneuver through your cravings like a pro!
Las Vegas International Airport Food (A-Gates, Terminal 1)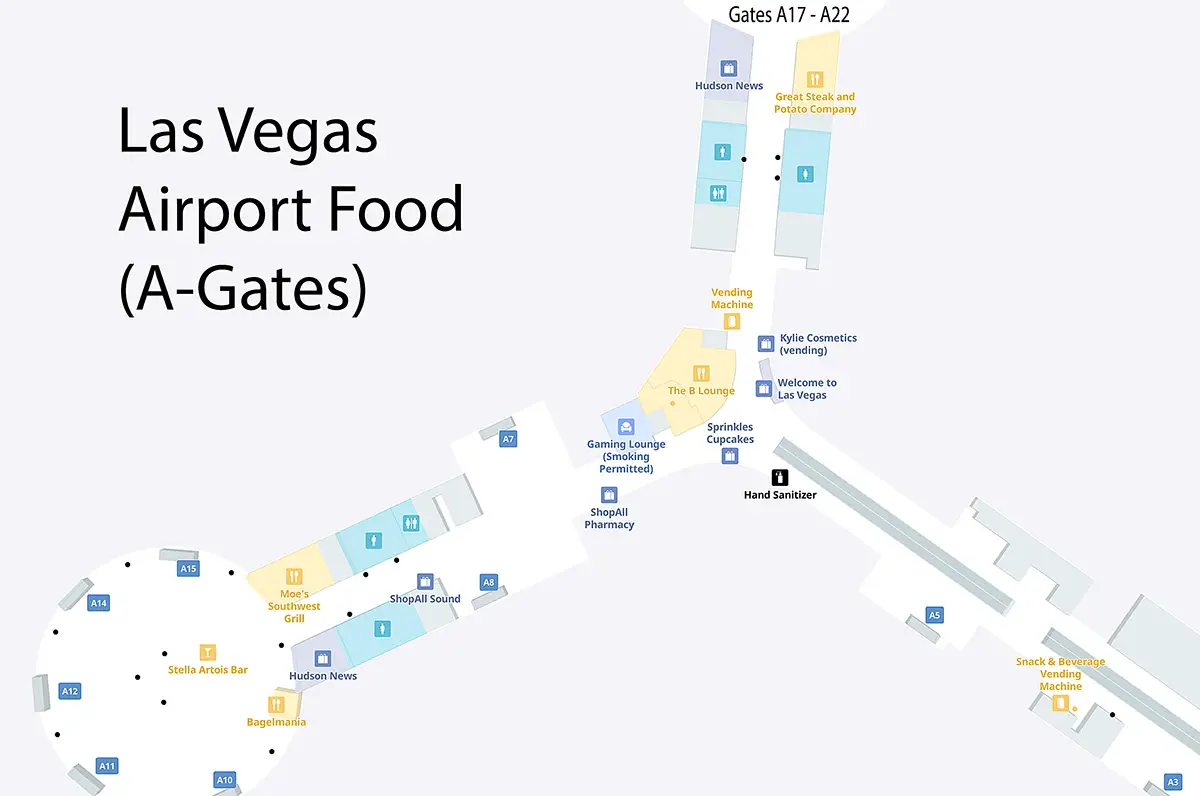 (This article may contain affiliate links, which means we might earn a small commission if you click and make a purchase. Thank you!)
If you're flying with Allegiant Air, chances are you'll find yourself setting up camp at the A-Gates. You can get there by going through the security gates at airport Terminal 1 and taking a right to the moving walkways once you reach the divide. 
If you want more variety, the B and C Gates are accessible at the other end of the walkway. However, if you're looking to stay near your gate, here are the dining options you'll have within your reach:
Vending Machine
Located: Near Gate A3
Looking for something quick? There are foodstuffs and beverage machines near A3 with a simple selection of snacks and drinks, perfect if you're just in the mood to graze!
The B Lounge
Located: Near Gate A7
Don't get the place confused for a restaurant- you won't find waiters taking orders or servers making their way around the floor. Instead, you'll be greeted with a Budweiser-style ambiance and a low-key feel.
There have a handful of standard beers on tap (Bud Light, Natty Lite, etc.) and serve casual bar snacks at the ready. They also have wraps and sandwiches, but they're of the same caliber as the food items in the little shops located on the grounds, so you shouldn't stop by if you're looking for a hot and fresh meal!
Dunkin' Express
Located: Near Gate A7
This next location is perfect if you find yourself at Harry Reid Airport during breakfast time!
Dunkin' Express offers all of the goodies, bites, and drinks you would expect from your typical Dunkin' Donuts establishment, but with a conveniently sized location that essentially makes it a grab-and-go stop. 
Moe's Southwest Grill 
Located: Near Gate A15
There are few meals more airport appropriate than the selection you can find at Moe's Southwest Grill! You can choose from quesadillas, burritos, nachos, and chips dipped in Moe's world-famous queso sauce, a stop at Moe's is a fantastic way to kick off (or complete) your visit to Las Vegas!
This dining option is fully customizable, so it can satisfy the palates of even the pickiest eaters! Be prepared for a bit of a line, though, as this is one of the more popular locations at the airport.
Vegas Airport Food (B-Gate, Terminal 1)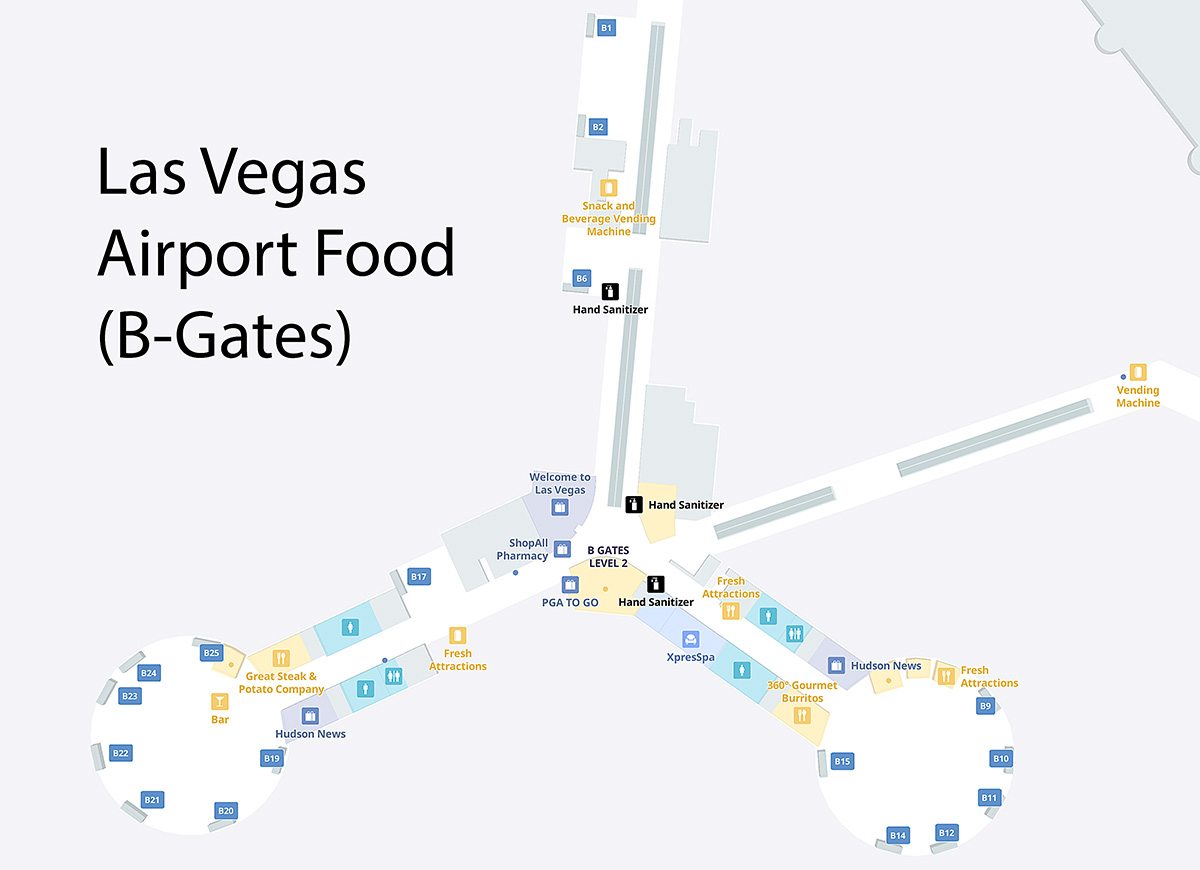 For those who are flying with Southwest or Spirit Airlines, you'll be posted at B-Gates. This main terminal has seven different food options but is connected to both the A-Gates (via walkway and C-Gates (via short walk). 
Vending Machines
Located: Near Terminal 1 Gate B2
Here's where you can find another selection of affordable drink and snack items you can choose from at your leisure!
Fresh Attractions
Located: Near Gate B9 and B15
Sometimes you want to stick to the classics, and Fresh Attractions is the perfect place to go for just that! Grab a newspaper, a pack of gum, or even a freshly made wrap or sandwich to keep you full and happy before your flight (or before you take on Sin City!). 
Red Star Lounge
Located: Near B9
It doesn't matter if you've just landed or you're bidding farewell to the city for the meantime- it is always 5 o'clock somewhere.
Grab a drink at the Red Star Lounge, an understated mini-booth serving the works! Stocked with liquors, cocktails, and beers on tap, this bar is a perfect stop for a quick sip or to check out the scores of the latest game.
Einstein Bros. Bagels
Located: Near B9
Maybe you want to fill up with some carbs before you stop by Red Star Lounge, or just have a hankering for an everything bagel with a schmear of cream cheese. Whatever your reason is for wanting the classic sandwich, Einstein Bros. is inarguably the best place to go. 
Located right next door to Red Star Lounge, the tiny booth has all the flavors you would expect at the larger stores- including lox!
360° Gourmet Burritos
Located: Near B15
This next stop may seem unassuming, but with incredibly unique dining choices like the teriyaki burrito or a gourmet spinach burrito- stopping for a meal at 360° Gourmet Burritos is honestly a no-brainer. Affordable, quick, and super customizable, this is a popular stop at LAS for a reason.
Mrs. Fields/Port Of Subs
Located: Near B25
Where else would you find a dual restaurant combo as good as Mrs.Fields and Port Of Subs? Since this dining option serves two super popular meal/snack options, expect a bit of a line.
Thankfully, the wait is worth the reward since you can eat freshly baked cookies or a delicious sub made with love after just a couple of minutes.
ALSO SEE: 14 Things to Do at The Las Vegas Airport Before Your Flight
A+B Rotunda (Vegas Airport Food Terminal 1)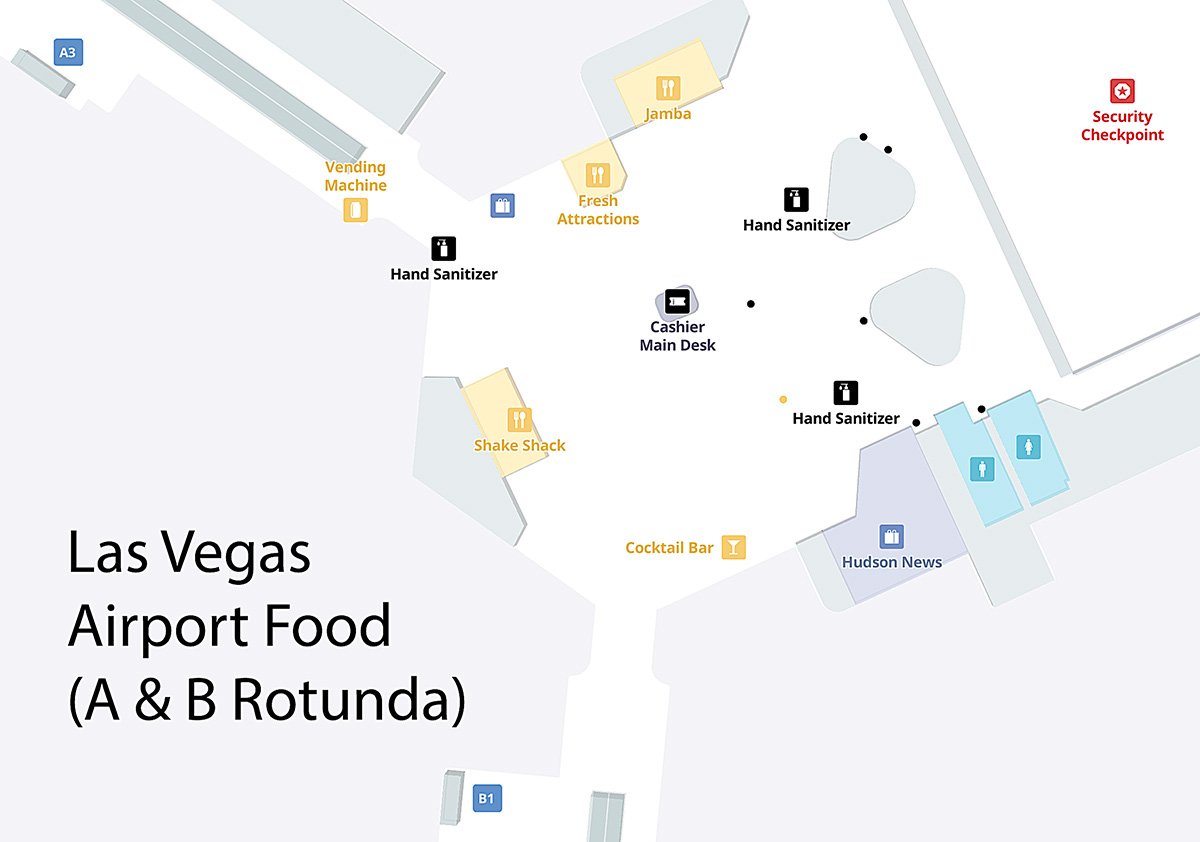 Located: In the A and B Rotunda
The word that Harry Reid International Airport (formerly McCarran Airport) had decided to open a Shake Shack was happy news for travelers who frequently fly into Vegas.
It's one of the largest restaurants on the grounds and serves the full menu of a standalone Shake Shack- from their 100% Angus burgers to all the custards and shakes your stomach can dream up.
Harry Reid Airport Dining (C-Gates, Terminal 1)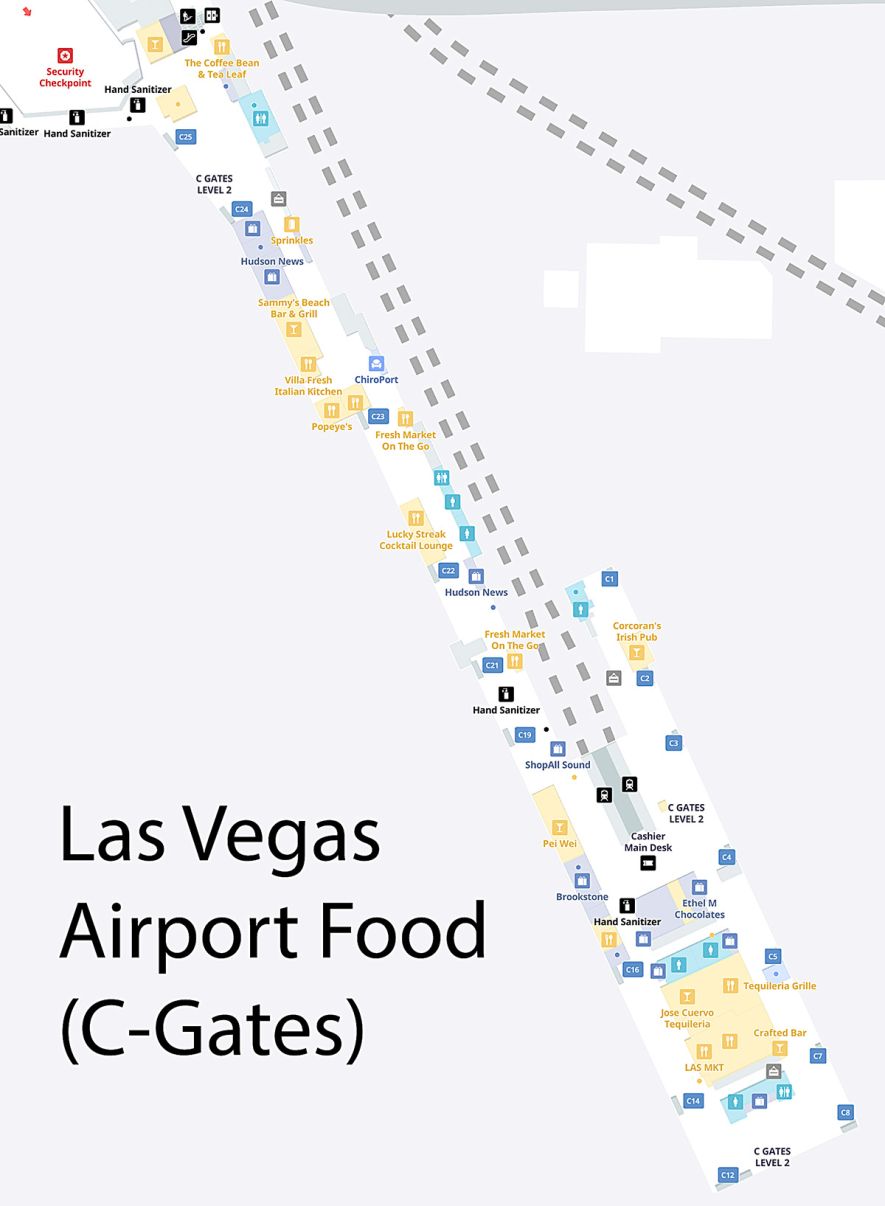 The C-Gates concourse is super long, so it's no surprise that it has the most dining options of any of the other gates.
Simply go through the C/D gate security area, and take the green line monorail to get to gates C1-C21. You can also walk along the esplanade if your gate is a higher number since they're posted in descending order.
Corcoran's Irish Pub
Located: Near C2
Ambiance is everything, and Corocoran's is the perfect place to go if you want the feel of an Irish Pub. It's moderately sized and serves all the Irish classics, including Guinness on tap.
They have a couple of eating options, mainly pre-made wraps, and sandwiches, but they'll let you eat your outside food as long as you order a drink. Expect airport prices!
Vending Machines
Located: Near C4
Your standard drink and snackfood vending machines.
The Coffee Bean & Tea Leaf
Located: Near C4
Anyone who's flown knows how draining traveling is. Get your caffeine fix, or fill up with a café pastry or two.
Open from 6 AM to 11 PM, you can choose from hot, iced, and frozen coffee drinks and hot and iced teas. It's also a great place to pick up a thermos- so you can keep your coffee hot during your flight!
Jose Cuervo Tequileria
Located: Near C5
Though it's never too early for a drink, Jose Cuervo Tequileria is one of the few bar-type locations in the airport that offers hot and fresh meals that aren't served anywhere else on the grounds.
So it doesn't matter if you just want a couple of shots or if you're in the mood for an empanada, a burger, or huevos rancheros- this is the stop for you.
Fresh Attractions
Located: Near C14
Another newsstand-style stop, the whole family can enjoy a quick bite at Fresh Attractions.
Burger King
Located: Near C14
A classic fast-food location, Burger King, is the perfect place to stop by if you have hungry kids or if you're not wanting to stray from the classics.
You can find all the traditional menu items at the ready but be forewarned that there's limited seating at the restaurant itself. Grab something that can easily be eaten at your gate to avoid potential messes.
Vending Machine
Located: Near C14
The Great American Bagel Bakery
Located: Near C16
Known for their freshly made sandwiches and other deli-style eats, this stop is fantastic if you want an energy-boosting breakfast, a hearty lunch, or even just a bag of chips. They have all the classic bagel styles and fillings (both savory and sweet), so you can satisfy cravings with just a short wait in line.
Auntie Anne's
Located: Near C16
Considering that there are only a handful of places you can find Auntie Anne's (mainly in strip malls), it's only justified to treat yourself to some cinnamon bites or a pepperoni pretzel on an otherwise mundane day at the airport. The booth is typically busy, especially during the afternoon, so be ready to wait in line for a bit!
Starbucks
Located: Near C16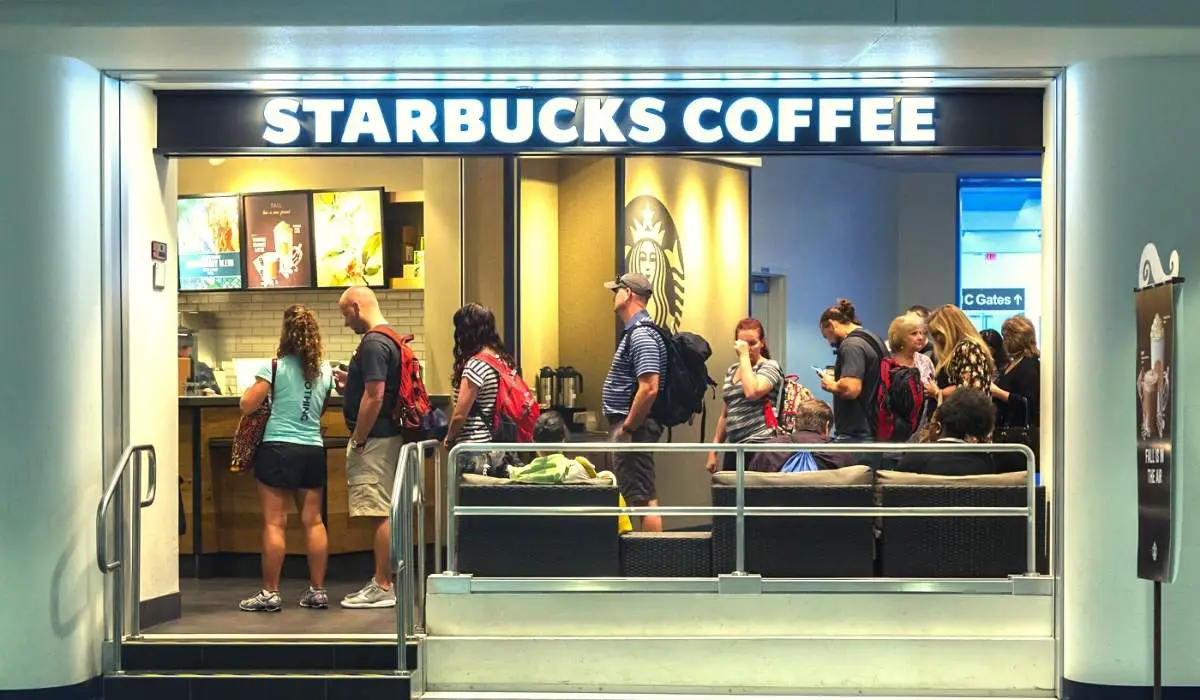 Universally loved, if there's any coffee and snack franchise that's recognizable by travelers to Las Vegas, whether continental or otherwise, it's Starbucks. Be prepared, this is perhaps the most popular location in the airport, and it's very rarely empty. If you have the app, I'd recommend ordering ahead so you can beat the lines.
Pei-Wei
Located: Near C19
There are few options more filling than a heaping serving of Chinese food- which makes Pei Wei such a fantastic choice for those looking to fill up before or after their flight.
Offering chow mein, rice bowls, shareable options, and even breakfast choices- this restaurant is a perfect stop if you have a long wait, layover, or time to kill.
Vending Machine
Located: Near C19
Fresh Market On-The-Go
Located: Near C21
If you're in a rush or just want something to hold you over until you get to your hotel, Fresh Market On-The-Go offers a plethora of different options from the mildly hungry to the near starving.
However, be ready to spend higher-than-average amounts of money on standard fruit cups, sandwiches, and wraps (they're all made fresh, though!).
RECOMMENDED: How Early To Arrive At Las Vegas Airport? (Flying Home)
Lucky Streak Cocktail Lounge
Located: Near C22
Modeled after the classic cocktail lounges you can find on The Strip, Lucky Streak serves a medley of American classics: wings, hotdogs, hamburgers, and subs.
As for their drink collection, there are few bar locations that are as elaborate as this stop! They have a menu of beers, wines, cocktails, and spirits (and non-alcoholic options too!).
Jersey Mike's Subs
Located: Near C22
Sub sandwiches are super filling, but they're also conveniently portable, making them perfect to carry back to your gate before a flight. Jersey Mike's Subs will keep your belly happy while acting as a light, healthier option choice to hold you over until your next meal.
Fresh Market On-The-Go
Located: Near C23
Villa Fresh Italian Kitchen
Located: Near C23
Warm, homestyle cooking feels like being wrapped in a warm hug, which is exactly how it feels to eat at Villa Fresh Italian Kitchen.
Walk the display case and be enticed by the smells of warm pizza, pasta, and paninis. Since they're ready-made, you don't have to wait- simply choose what you want and head back to your gate!
Sammy's Beach Bar & Grill
Located: Near C24
Though you may be in Las Vegas, why not make a stop at a Hawaiian watering hole?
Sammy's Beach Bar & Grill hosts a super colorful, tropically-themed eating stop (complete with surfboard decor) that serves appetizers, salads, and casual dining options like quesadillas. They also have an array of alcoholic drink options for those 21+.
The Coffee Bean & Tea Leaf
Located: Near C25
Jamba Juice
Located: Near C25
Sometimes you're in the mood for a healthier option, and Jamba Juice knows that being healthy doesn't necessarily mean you need to sacrifice flavor!
Jam-packed full of veggies, fruits, and all the necessary vitamins and minerals you need during a day of travel. If you want something a little more filling, they also serve healthy wraps and sandwich options.
Barney's Lounge
Located: Near C25
Harry Reid Airport banned smoking on the grounds some time ago, much to the dismay of many patrons.
However, smokers have a safe place to relax with a cigarette (while keeping away from other travelers) inside Barney's Lounge! They serve some sandwiches and wraps but are mainly known for the smoke-friendly ambiance and their drinks.
ALSO SEE: Shops in Las Vegas Airport (Stores & Brands at LAS)
Airport Food Las Vegas (D and E Gates, Terminal 3)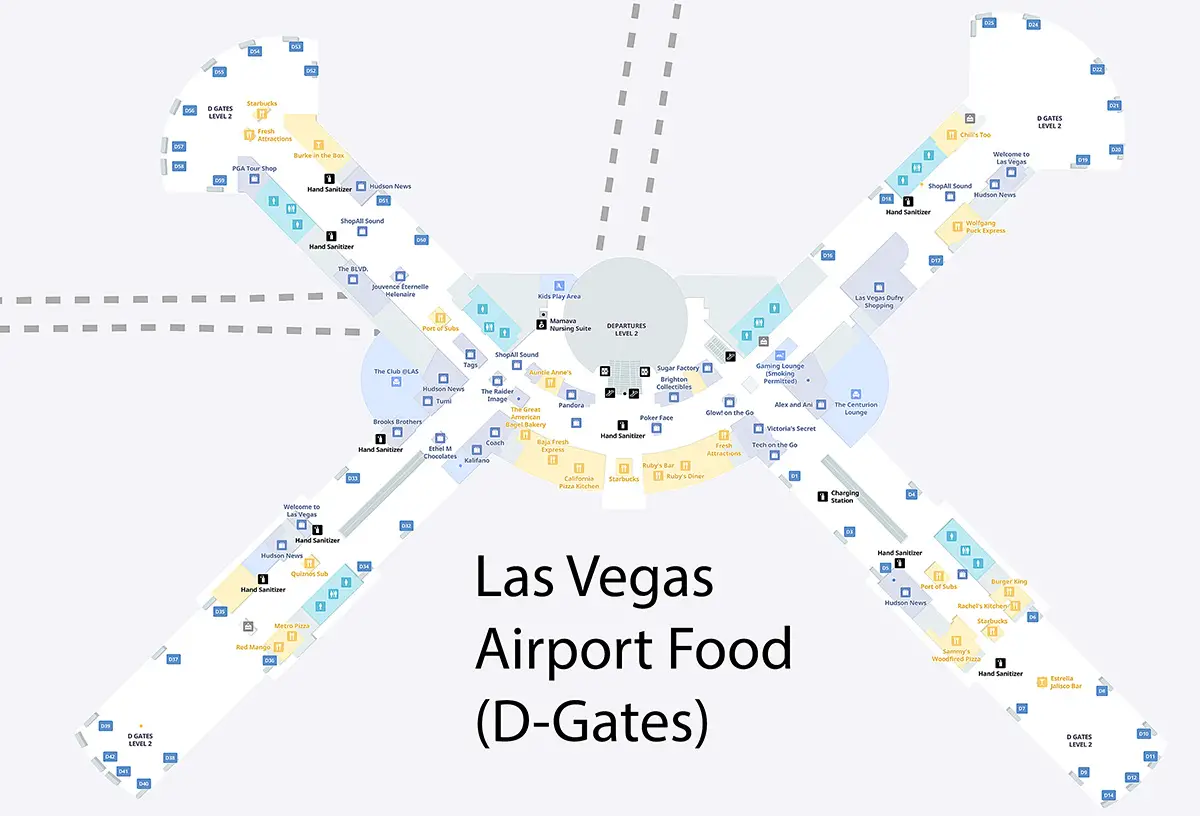 If you're flying internationally, you'll find yourself at D and E Gates. There are several dining options in this area, as well as the large lounges that some airlines offer, so you'll have no shortage of grub. Since you have access to both the D and E gates from this concourse, so you can move freely between the two, although the D and E gate areas are a ways apart.
Port Of Subs
Located: Near D4
Though it's not attached to a Mrs.Fields, this Port Of Subs is still a great option to grab a bite!
Burger King
Located: Near D6
Rachel's Kitchen
Located: Near D6
A restaurant chain that can only be found in the Las Vegas valley, Rachel's Kitchen is the perfect dining option for those who want something healthy, fresh, and crazy delicious!
Breakfast is served all day (the custom omelet is the most popular option), but they also have gourmet and affordable sandwiches, wraps, salads, soups, and more! 
Starbucks
Located: Near D6
It's always nice to find a convenient Startbucks!
Estrella Jalisco Bar
Located: Near D7
Appropriately placed near multiple rows of slot machines, what better way to welcome yourself into Las Vegas (or bid it adieu) than with a drink at the Estrella Jalisco Bar?
It's a small booth and moderately pricey, so I'd definitely consider it a place you'd go for a welcome cocktail rather than a place you would open a tab (theoretically, of course).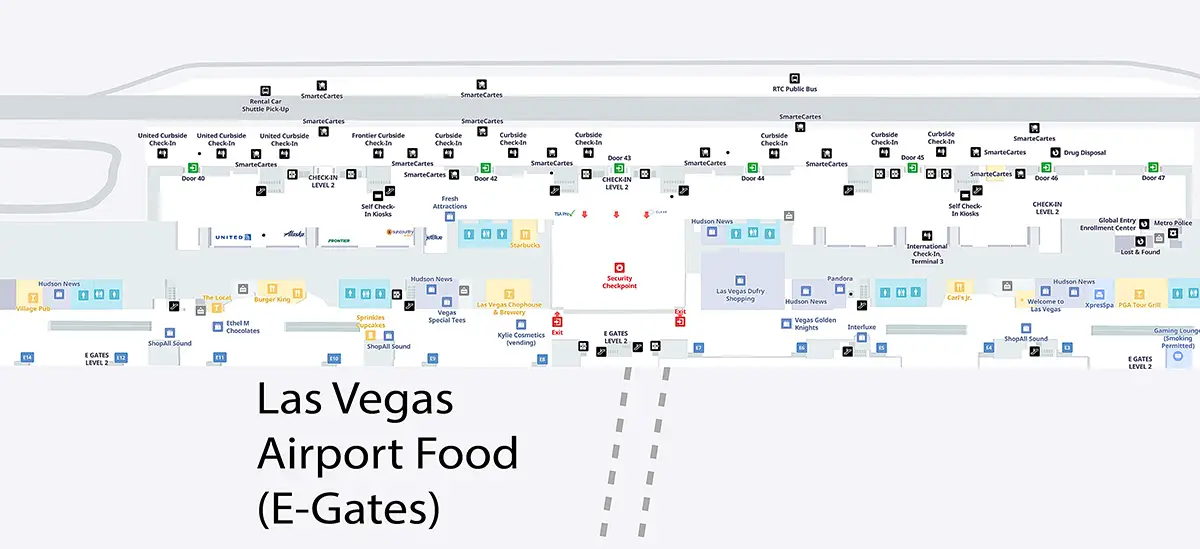 PGA Tour Grill
Located: Near E3
If you love spending time on the golf course, you'll enjoy your time at the PGA Tour Grill. This grill is unlike the majority of airport food destinations in that it specializes in healthy food for people with active lifestyles.
Some of their healthy ingredients include quinoa, arugula, beans, and edamame. You can also grab a specialty cocktail, kick back and watch the latest PGA tour action on one of the large-screen televisions.
Starbucks
Located: Near E4
Grab a coffee or a pastry on the go.
Carl's Jr.
Located: Near E4
Fast foods that are good to go. Grab a burger, drink, and fries to take on your flight.
Las Vegas Chophouse & Brewery
Located: Near E8
If you're looking for a sit-down restaurant where you can order a craft beer and a delicious cut of meat, then you're looking for Las Vegas Chophouse & Brewery. Located in Terminal 3 near gate E8.
The Coffee Bean & Tea Leaf
Located: Near E10
Fresh coffee and tea featuring leaves and beans from around the world. The Coffee Bean & Tea Leaf also offers a selection of croissants and toasted breakfast sandwiches as well as iced coffee treats.
Burger King
Located: Near E11
A classic American fast food burger joint.
The Local
Located: Near E11
The Local is a small airport counter featuring a full bar and grab-and-go food options.
Village Pub
Located: Near E14
The Village Pub, as you may have guessed, offers standard pub fare along with a selection of craft beers. It's a great casual place to hang out if you've got some time before your flight.
Munchies Available in The Airport Esplanade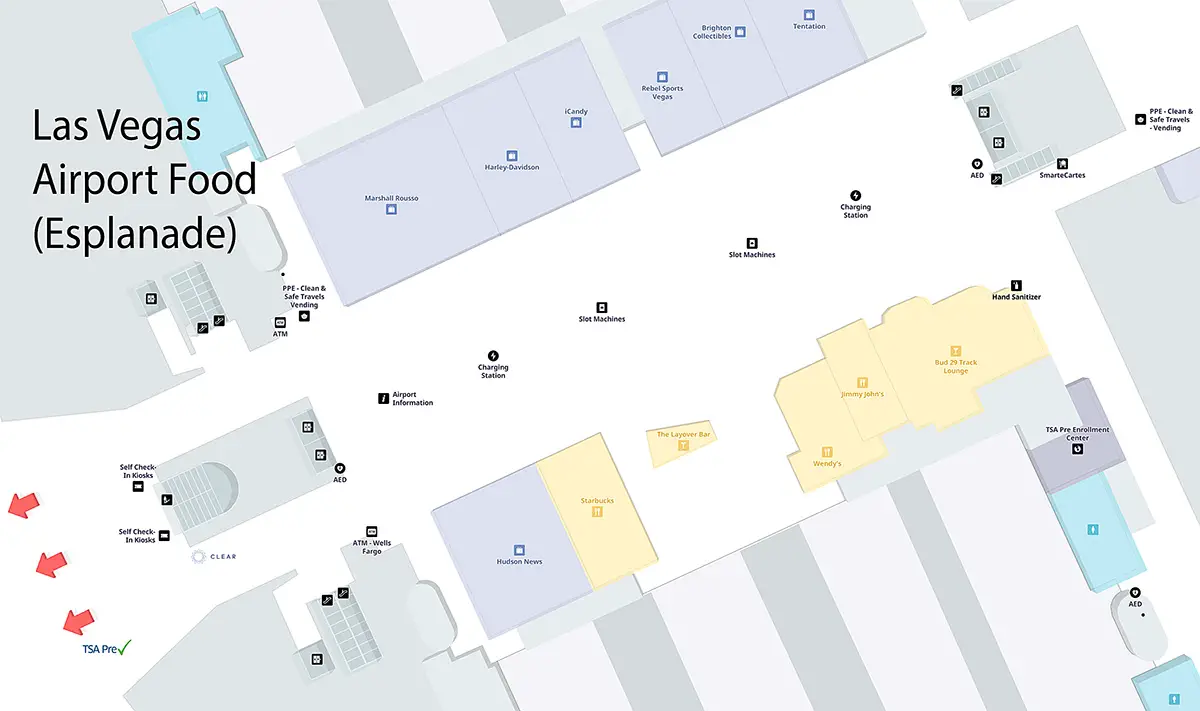 Perfect for those who have a long wait in between connecting flights, the esplanade is located outside of TSA lines- also making it a great place to grab a bite before your flight or if you're in nino rush to leave the airport.
Starbucks
Located: Along the esplanade (Starbucks concourse)
The Layover Bar
Located: Along the esplanade
The closest you'll get to a true bar experience at the Las Vegas Airport is definitely by tucking into The Layover Bar. There's fast service, traditional bar food, drinks (from beers to cocktails), and sports games playing on their plethora of TVs. 
Wendy's
Located: Along the esplanade
This Wendy's location is perfect if you have family waiting to pick you up at the airport since it's accessible even if you don't have plane tickets.
It's a popular waiting location during layovers, and has a tv-screen that shows when staff is working on your order, so you don't have to wait around the counter. Instead, grab a table in their roomy dining area.
Jimmy John's
Located: Along the esplanade
Right next door to Wendy's is the freaky-fast dining option that we all know and love. Jimmy John's is a restaurant option that is beloved for its easily digestible, yummy, and freshly made sandwiches.
This is a great place for a quick bite, but what's extra great is the fact that they're made-to-order, so you can rest assured knowing you're not eating stale food.
Airport Baggage Claim (Coffee or a Bite Before Hitting The Strip)
Before you hail a cab or meet with your ride, why not grab a pastry or a drink over at…
Starbucks
Located: Near Baggage Claim 1
Conclusion
Harry Reid International Airport (also known as LAS) has perhaps the richest dining options of any airport in the country- from casual drinks to full-blown Italian dinners. And after this article, you'll know of them all, down to the most hidden vending machines!