Caesars Palace vs Bellagio (Which Las Vegas Hotel is Best?)
(This article may contain affiliate links. If you click through and make a purchase, we will receive a small commission at no additional cost to you. )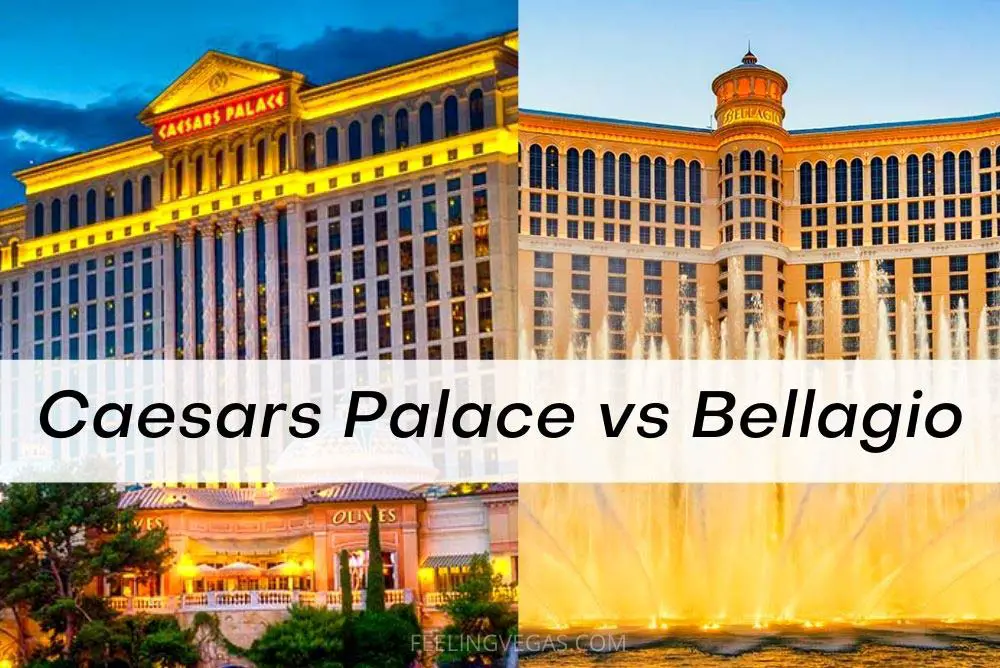 The truth is, if you're planning a visit to Las Vegas, you'll guarantee yourself a better vacation by choosing the right hotel. If you're trying to decide between Caesars Palace and Bellagio Hotel & Casino, it's important that you know what each hotel has to offer before you can make the right choice.
Guests praise both hotels; however, when you closely compare Caesars Palace vs Bellagio, one hotel clearly stands out as the better choice for the majority of people.
Caesars Palace is generally the best choice for most guests due to its lower price, large range of entertainment options, and impressive shopping experience found at The Forum Shops. Bellagio, however, is the right choice for guests who want a more refined and luxurious experience overall.
Let's take a closer look at the differences between Bellagio and Caesars Palace:
Category
Caesars Palace
Bellagio
Room Price
From $69 per night
From $159 per night
Resort Fees
$45 per day (plus tax)
$45 per day (plus tax)
Parking Fees
Self-Parking: $18 daily
Self-Parking: $18 daily
Valet: $30 – $35 daily
Location
Great location on the Strip (mid-Strip)
Exceptional mid-Strip location
Shows
– Absinthe
– The Colosseum (big-name performers)
– O by Cirque du Soleil
Pools
– 7 pools
– 5 full-size pools
– 4 jacuzzis
Attractions
– The Forum Shops
– The Fall of Atlantis Show & Aquarium
– Bellagio Fountains
– Conservatory & Botanical Gardens
Name: Caesars Palace
Address: 3570 S Las Vegas Blvd
Casino Floor: 124,181 sq ft.
Year Built: 1966
Number of Rooms: 3,960
Name: Bellagio Hotel & Casino
Address: 3600 S Las Vegas Blvd
Casino Floor: 156,000 sq ft.
Year Built: 1998
Number of Rooms: 3,950
Best Strip Location: Bellagio or Caesars Palace
The location of your hotel is absolutely critical for getting the most out of your trip to Las Vegas. Fortunately, both Caesars Palace and Bellagio are conveniently located right in the center of the Strip, offering easy access to nearby shopping, dining, and entertainment venues.
Bellagio is right across the street from Bally's Las Vegas, where there are many restaurants, bars, and stores to explore. Caesars Palace hotel is across the street from The Linq Promenade, which is the place to be on the Strip when looking for fun, shopping, and access to the best views in Las Vegas from the High Roller.
The good news is when it comes to an excellent location on the Las Vegas Strip, there is no need to decide between Caesars Palace or Bellagio. It is a tie, as both properties are found in the bustling center Strip area.
To see all the nearby casinos, you can download a free Las Vegas Strip map from our website here.
Caesars Palace vs Bellagio: Comparing the Standard Rooms
Both hotels offer premium rooms, including suite and fountain view room options. The rooms at the Bellagio are extra roomy, with all the comforts expected in a top-notch Las Vegas hotel, including beautiful decorations, plush bedding, and incredible views.
Caesars Palace Las Vegas offers elegant rooms as well, including suites and deluxe accommodations, all finely decorated and complete with comfy bedding. Though fabulous, the rooms at Caesars Palace, however, are just not as spectacular as those found at the Bellagio.
Although each hotel offers fountain view rooms, the views of the fountains are much more spectacular and entertaining from a Bellagio hotel room.
Caesars Palace
Bellagio
Forum Classic:
– 475ft² (44 m²)
– King bed
– Pillow-top mattress
– LCD TV
– In-room wifi
– Seating area with plush chair and mini loveseat
– Deluxe bathroom w/rain showerheads
– Minibar
– Safe
– Various views of the Strip or mountains, depending on the room
Bellagio Resort King:
– 510ft² (47.4 m²)
– King-sized bed
– Luxury bedding (Hypo-allergenic)
– 40″ (102cm) Flat-screen TV
– Wifi (In-room)
– Media plug-ins & docking station
– Marble vanity in bathroom with separate soaking tub & shower
– Floor-to-ceiling windows
– Seating area (two chairs)
– Minibar
– Safe
– Views of the Strip or Valley, depending on the room
Comparing standard room amenities at Caesars Palace and the Bellagio.
Overall, the standard room at Bellagio is higher-end, roomier, and offers better views than the standard room at Caesars Palace.
Best Casino: Caesars Palace vs. Bellagio
The casino at Caesars Palace is a must-visit when exploring Las Vegas (even for non-hotel guests). With 185 table games, more than 1300 slot machines, and 18 sportsbook televisions, there is no doubt that Caesars Palace has one of the best casinos in Vegas!
If, however, you're looking for a casino with a more relaxed atmosphere that's not as busy as Caesars Palace, the casino at Bellagio is the place to go. This casino offers all the gaming excitement of Caesars Palace but is not as crowded or high-energy.
At Bellagio, you'll find a variety of slot machines and table games, including the famous Bellagio poker room. As an MGM Resort, BetMGM Sportsbook is also available at Bellagio.
Although Caesars Palace has a smaller casino floor compared to the Bellagio, it wins between the two because of its more exciting Las Vegas casino vibe!
Best for Dining: Caesars Palace or Bellagio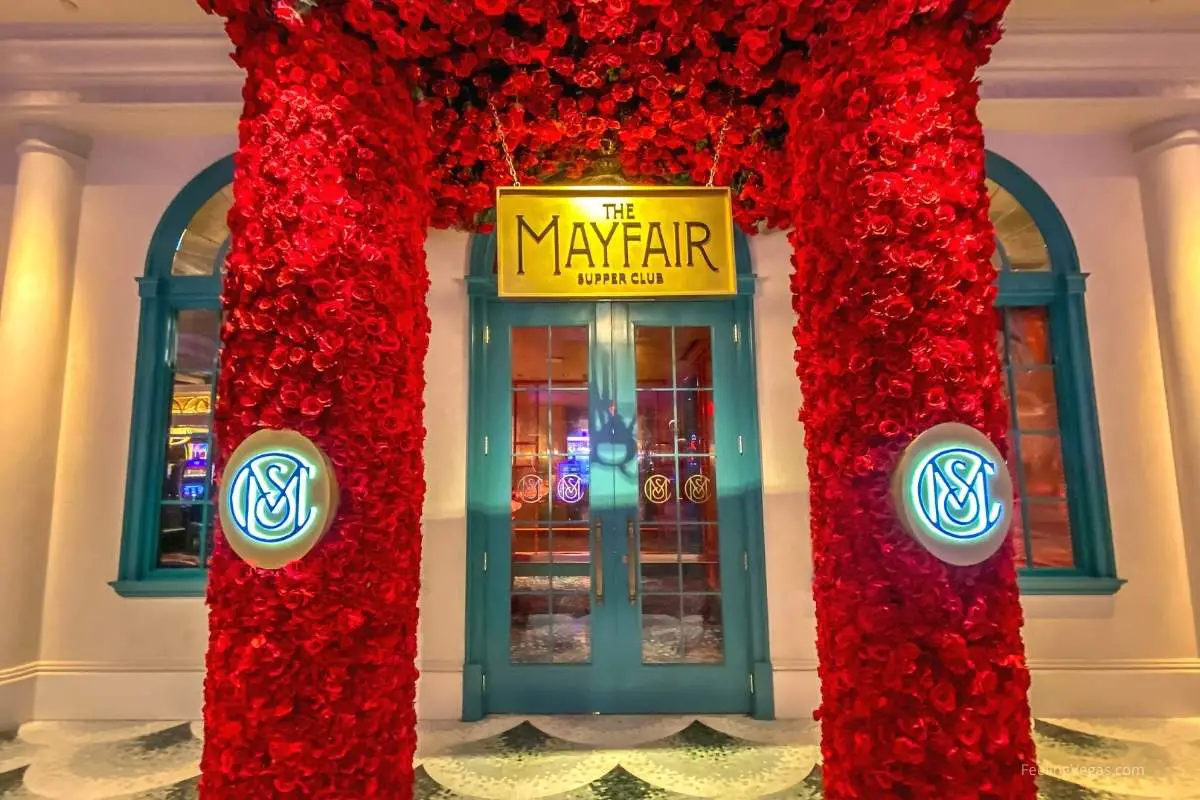 Bellagio has many options available for guests to grab a bite to eat. With 19 different restaurant options available (several with views of the Bellagio Fountains), guests can enjoy anything from fine dining to quick service meals. Fine-dining options include steakhouses, American cuisine, seafood, Italian cuisine, and Pan-Asian. The possibilities are near endless, making finding something to eat at Bellagio possible, even for the pickiest of eaters.
Caesars Palace offers guests the opportunity to dine like an emperor, with 22 different dining options available. Options available at Caesars Palace include fine dining to casual restaurants and quick meal locations to coffee shops.
However, the most significant difference between Caesars Palace and Bellagio is that Caesars Palace is home to several restaurants owned by world-famous chefs, such as Giada, Guy Savoy, Bobby Flay, and Gordon Ramsey (Hell's Kitchen).
Though both hotels offer fantastic dining options at multiple restaurant venues, there is no doubt Caesars Palace comes out on top when comparing Caesars Palace vs Bellagio restaurants.
Best for Nightlife: Bellagio or Caesars Palace
Bellagio is home to a few nightlife venues, including Lily Bar & Lounge, Baccarat Bar, and Petrossian Bar. These venues offer a place for those seeking nightlife outside the casino to grab a drink, mingle with others, and enjoy their visit to Las Vegas.
Caesars Palace offers nightlife seekers a place to party at the palace as they treat their guests to nightlife fit for a King or Queen. There are many bars and lounges throughout the hotel, including Omnia Nightclub, Montecristo Cigar Bar, and Purple Zebra, that offer guests plenty of things to do in the evenings.
When staying at Caesars Palace, a must-visit is Vanderpump Cocktail Garden, where you can experience a taste of Los Angeles in a unique, decadent cocktail space.
Due to its larger selection of nightspots and its on-site nightclub, the win goes to Caesars Palace in this category.
Best Choice for Entertainment: Caesars Palace vs Bellagio
The Colosseum at Caesars is one of the best venues for entertainment in Las Vegas. This venue features some of the biggest names in show business, including comedy and music. You can check out the upcoming performances at the Colosseum here.
Bellagio also offers entertainment, although not nearly as plentiful as that found at the Colosseum. While at Bellagio, guests can enjoy "O" by Cirque du Soleil, visit the Bellagio Gallery of Fine Art, and explore the Bellagio Conservatory & Botanical Garden. Also, don't forget the famous Bellagio Fountains as they dance to music.
I'm putting this category down as a tie as there are so many excellent entertainment options available at both properties. In addition, because these two resorts are so close to each other, you'll be able to enjoy the entertainment at either hotel with just a short walk.
Caesars Palace or Bellagio for Shopping?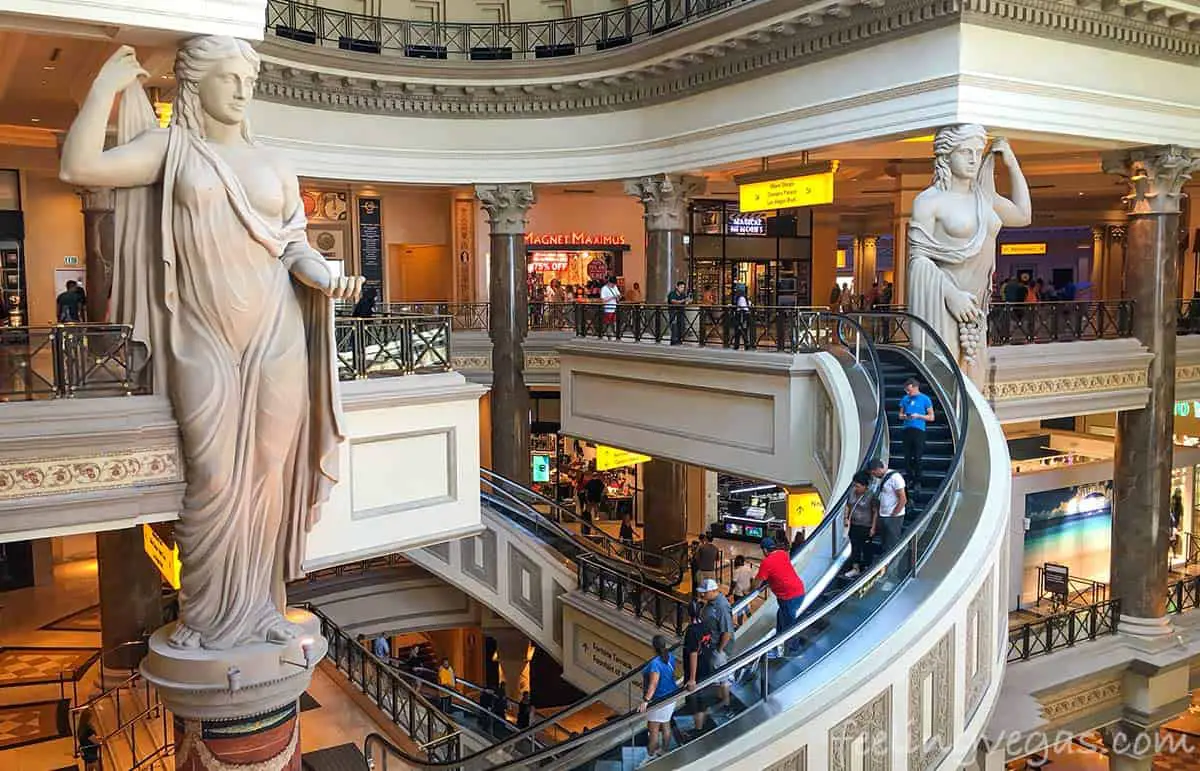 Bellagio is home to 28 different stores featuring everything from accessories to clothing and jewelry to gourmet snacks. Some of the best places to shop at Bellagio include Chanel, Louis Vuitton, Essentials, and Tiffany & Co.
Caesars Palace, on the other hand, is home to a huge number of shopping venues, many located in The Forum Shops. The Forum Shops is a huge shopping mall designed with a Roman theme that's home to over 160 specialty stores and plenty of fine dining.
Both venues offer fantastic shopping opportunities; however, it would be difficult for any other shopping experience to top The Forum Shops at Caesars Palace due to its fabulous scenery and unique style.
Best Hotel for Families: Bellagio or Caesars Palace
Unlike some other resorts on the Las Vegas Strip, Caesars Palace and Bellagio are not well-known for being particularly kid-friendly.
Though many families do stay at Bellagio and Caesars, there is not a lot available on-site to keep the kids busy and entertained. However, since both resorts sit near the center of the Strip, it is easy to walk to other nearby properties to enjoy their activities.
If you're looking for great hotels for families, check out our article: 9 Best Las Vegas Hotels for Kids and Families (On The Strip).
Best for Weddings and Newlyweds — Caesars Palace is The Winner
Caesars Palace offers wedding planning services to help couples tie the knot while in Las Vegas. This hotel is the perfect location for couples seeking a unique wedding venue to say "I do" in style. Caesars Palace has two indoor chapels and an outdoor chapel – Venus Garden – all of which are perfect for a Vegas wedding.
Bellagio also offers wedding planning services as well, and couples can even get married in front of the Bellagio Fountain. However, when it comes to the best wedding venues, Caesars Palace stands out the most.
Additionally, Caesars Palace has more entertainment, shopping, and dining opportunities, making this hotel the best place for newlyweds to stay.
Best for the Travel Budget: Caesars Palace vs Bellagio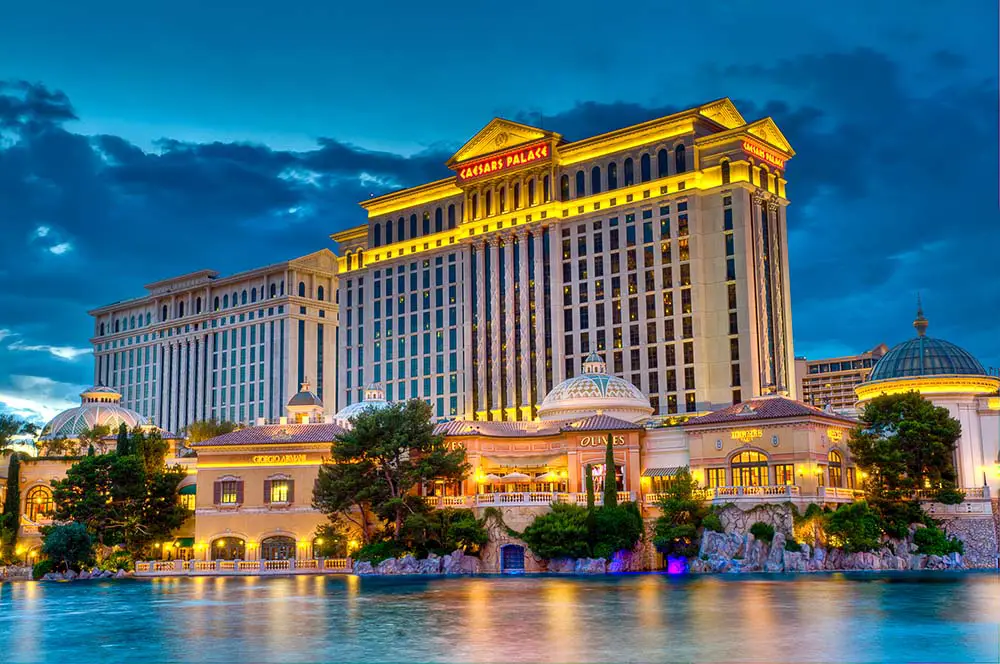 Though both Bellagio and Caesars Palace are not on the budget end of the Las Vegas hotel room spectrum, they aren't on the highest end either, although you'll find the Bellagio to be quite a bit more expensive than Caesars.
During a recent search to book similar rooms on the same night in July, the Bellagio offered a rate of $199 for a single night, with a $45 resort fee. For the same night, the rate provided by Caesars Palace was $99 for a single night, with a $45 per night resort fee.
This makes Caesars Palace the best choice for keeping to a travel budget when comparing single-night rates and resort fees.
Caesars or Bellagio: Best for Amenities
Both Bellagio and Caesars Palace offer plenty of amenities allowing guests to feel like they are staying in the lap of luxury. Both resorts have pools, a spa, concierge service, in-room dining, a fitness center, and transportation services.
For those looking for a hotel with many amenities, either of these two resorts offers plenty of options.
Swimming Pools: Caesars Palace & Bellagio
Guests at Bellagio can treat themselves to a romantic atmosphere with a Mediterranean-infused al fresco poolside experience. The pool area at Bellagio is one of the most inviting pool decks on the Las Vegas Strip and offers plenty of space to sit in the sun, dip your toes in the water, or go for a relaxing swim.
The pool at Bellagio offers guests reservable cabanas, day beds, and lounge chair seating. Additional poolside services at Bellagio include massages and cocktail service.
Caesars Palace has seven pools for guests to enjoy, all offering a place to relax, catch some rays, and cool off in the pool. What makes the outdoor pool at Caesars Palace the best to enjoy is the swim-up blackjack tables, cocktail service, and unlimited access to outdoor fun. With reservable cabanas and daybeds, guests can craft their outdoor experience, making it possible to spend an entire day poolside.
Spa Comparison: Bellagio vs Caesars Palace
Bellagio Las Vegas stands out when comparing spa services at the two hotels. Bellagio Spa & Salon offers guests an opportunity to fully transform themselves in a relaxing environment. Inspired by the Conservatory, this spa aligns its service with nature and rituals from far-off places with ancient traditions. Guests will enjoy signature treatments as they slip into an immersive experience filled with harmony and regeneration.
Qua Baths and Spa at Caesars Palace are unique and a must-visit for those seeking to relax. The experience at this spa provides the ultimate relaxation opportunity many guests love. Though Qua Baths and Spa is a fantastic location, there is something extra luxurious about the Bellagio Spa & Salon that makes it stand out.
Caesars Palace vs Bellagio: Which is the Better Hotel Choice?
The Bellagio and Caesars Palace are two of the finest hotels to stay at when visiting Las Vegas. However, when comparing the two, Caesars Palace generally edges out the Bellagio for many visitors due to its lower cost, wide range of entertainment, free parking for guests, and expansive shopping.
What you plan to do during your Vegas getaway can impact which hotel you choose. The best thing about both of these hotels is they are close enough to each other that if you stay at one, you can easily walk to the other to enjoy additional entertainment, shopping, and dining experiences.
Compare More Las Vegas Hotels
Check out these other comparisons of Las Vegas Hotels or see our complete hotel comparison guide here.
Sources: