Is it Hard to Find Work in Las Vegas? (Top Employers!)
(This article may contain affiliate links. If you click through and make a purchase, we will receive a small commission at no additional cost to you. )
If you're considering a move to Las Vegas you'll no doubt be looking for work. So in this article, we'll explore the job situation here in Las Vegas. We'll cover which positions are generally available and what the employers in Vegas are looking for. Also, I'll share with you several of the biggest employers and the best job opportunities in the city.
But first things first: Is it hard to find work in Las Vegas?
It is not difficult to find work in Las Vegas. If you are looking for a job in tourism, healthcare, finance, or entertainment, there are many jobs available in the city. If you work in another field, you may have more difficulty finding employment in your area of expertise.
If you were born and raised in Las Vegas and are ready to enter the job market, or you're considering a move to Las Vegas but need to know the job outlook, then this article is for you!
Read on to discover more about the types of jobs available in Las Vegas, the required qualifications, and who are the largest employers in town.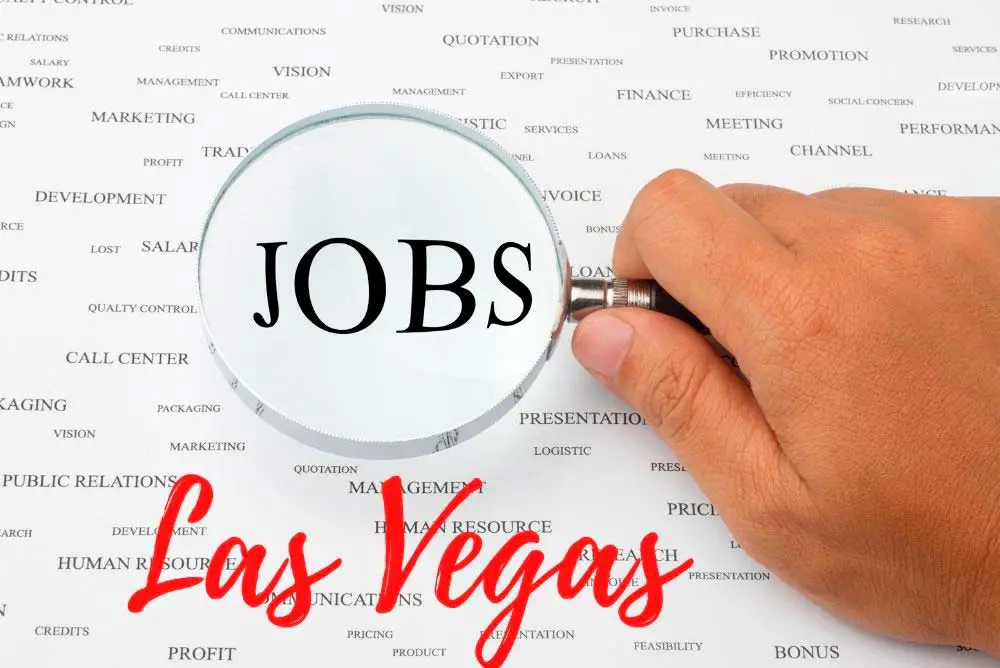 Is it Easy to Find a Job in Vegas?
The answer to this question is – simply – it depends. Las Vegas is a very interesting city when it comes to employment. The Vegas economy, as well as its job market, is very unique when compared to most other American cities.
Las Vegas is a town whose economy is largely based on tourism and other supporting service jobs. Other areas of employment are present, but without a doubt, the majority of job opportunities are found in the tourism and hospitality sectors.
The majority of the remaining jobs are focused on medical professionals, teaching, and financial services, all jobs that require college degrees or specific training. So while Las Vegas does have job opportunities outside the tourism field, they are much more limited in scope unless you're experienced in one of these industries.
So, What Does This Mean For Your Job Opportunities in Las Vegas?
Well, the first thing you need to know is that most employers desire tourism or service-related employees, preferably with some experience, but do note that experience is not required for many entry-level jobs.
In other words, if you're looking for a job in hotel management, employers will want someone with experience. However, there are many entry-level jobs available in the never ending amount of hotels, casinos, attractions, and entertainment venues in Las Vegas, many of which don't require previous experience.
Some of the jobs in the Vegas tourism market include:
Bartender
Cocktail waitress
Dealer
Housekeeping
Security
Host/Hostess
Casino floor
Hotel desk
Slot technicians
Cashiers
Attractions
Retail
Uber/Lyft drivers
Entertainers
and so, so many more…
The other jobs in town with a high(er) demand are those in the fields of medicine, teaching, and finance, so if you don't want to work in tourism and you're not qualified for any of these three fields, you might have a hard(er) time finding a job in Vegas.
Las Vegas is a Transient Town and How This Affects Employment
Las Vegas is what's known as a transient town, meaning that people move in and out of Las Vegas on a regular basis. People come and work for a while, then decide they don't like it or find another opportunity elsewhere and move on.
What this means for the job market is that there is an endless amount of churn when it comes to employees. This creates both problems and opportunities for the would-be job seeker.
First, if you're looking for a job then this is an opportunity! Due to the high turnover rate, large employers are almost always hiring and you should be able to find a job fairly quickly.
On the problem side, employers know that if you leave there will be someone else along quickly to fill your position. This is why many jobs in Las Vegas are relatively low-paying positions with pretty demanding employers.
Getting a Job With a Criminal Record in Las Vegas
Another thing that can make finding a job difficult in Las Vegas is obtaining a sheriff's work card. A Sheriff's Card (aka Work Card or Work Permit) is required by law for all employees working in gaming establishments as well as many other places of business.
To get a Sheriff's card, you'll need to go through a thorough background check to see if you have a criminal record, which automatically disqualifies you for many jobs, no matter how unrelated and minor your offense might be.
If you have a criminal record, know that not all jobs in Las Vegas require a Work Card but the gaming industry here is very strict and you cannot get a casino-related job with a current felony record.
What the Job Market's Like in Las Vegas
According to U.S. News, Las Vegas has a less healthy job market than other similar urban areas, which is all a consequence of the above-discussed reasons.
The unemployment rate is around 5%, which is not high per se, but it's still higher than the national average (c. 3.6%).
Roughly 15 years ago, Las Vegas had a healthier job market with an unemployment rate below the national average, but the situation started getting worse in 2007, just before the financial crisis, and it hasn't returned to its old numbers yet.
This is also reflected in the average annual salary, which is significantly lower than the national average.
Vegas workers earn just below $65,880 per year on average (roughly $5,490 per month), which is lower than the national average of $70,280 (roughly $5,856 per month).
That difference of $300-500 per month can be significant for a worker, which explains why the job market in Vegas is not among the best in the United States.
High-demand jobs in Vegas
As I've stated several times, Las Vegas is focused on entertainment and tourism. A direct result of this is that practically 70% of Vegas jobs fall into one of those two categories.
Jobs in Highest Demand – Casino operators, workers in fast-food chains and restaurants, hotel workers, and similar jobs are usually high-demand jobs in Vegas so if you have experience in those fields and can pass a background check, you might be able to start working in these Las Vegas industries pretty easily.
There is an informal rule in town that the bigger employers won't hire you unless you've been living in Vegas for at least a couple of years.
This may make sense as the best employers in Vegas are looking for more stable and less transient employees. If you don't have experience, you may want to look for a job in a smaller casino or hotel chain to start with as it can be a great way to get the experience that larger employers are looking for.
Healthcare & Finance Jobs – Now let's talk about the remaining 30% of the in-demand jobs in Las Vegas. A majority of these jobs are available for healthcare professionals and financial experts, which also significantly decreases your chances if you don't have a degree in any of those fields.
Educational Jobs – Teaching and education also make up a large chunk of the jobs in Las Vegas. The Clark County School District, believe it or not, is THE single largest employer in Las Vegas. There is a steady demand for teachers and education professionals in the Las Vegas valley.
Information Technology (IT) Jobs – Last but not least, Las Vegas is steadily becoming a hub for Information Technology (IT) experts (Google and Amazon have both moved into the valley in recent years), so it's safe to assume that IT jobs are also going to be in high demand in the years to come.
After we moved to Las Vegas in 2016 my son attended an IT college here in town and now has a great job working in the IT department at a local school. Everything runs on computers these days so IT professionals will always be in demand. This includes everything from the biggest casinos all the way down to the smallest of mom and pop retail businesses.
This, of course, does not mean that you can't find any other jobs in Vegas, just that it's substantially more difficult because the demand is not as high and the turn over rate of these positions is not as constant as in the tourism sector.
But think about it, Las Vegas is just like any other town once you get away from the tourist areas. There are a lot of jobs necessary and available that support the people who live here. Auto mechanics, dry cleaners, pet groomers, insurance agents, car dealers…you name it and Las Vegas probably has it to one degree or another.
The Largest Employers in Las Vegas
Now that we've talked about the job market here in Las Vegas, I'm going to list for you the biggest employers in the city to give you an idea of where to look for a job.
It should not come as a surprise that this list is going to be filled with casinos and hotels, but there are also other companies, as you're about to see. This is the list of the 10 largest companies in Las Vegas:
Clark County School District
As I previously mentioned, Las Vegas' single largest employer is the Clark County School District (CCSD), so if you're a good teacher, don't hesitate to check this out. Find jobs at CCSD.
MGM Resorts International  
This is a global company that offers the best in entertainment, having high-quality hotels and casinos that are known for giving the best service to their customers. MGM Resorts International is the largest company based in Las Vegas and owns nearly half of the hotels on the Las Vegas Strip. Find jobs at MGM Resorts.
Caesars Entertainment
Caesars might just be the best-known Las Vegas-based company, due to is frequent appearances and mentions in popular culture. They also offer high-quality hotels and casinos, with a diversified and unique experience for its guests. It also offers a variety of job opportunities. Find jobs at Caesars.
Boyd Gaming
Run by the family of founder Sam Boyd, Boyd Gaming is one of the top casino and entertainment companies in the U.S. and own and operate ten hotel/casino properties in Las Vegas. Find jobs at Boyd Gaming.
International Game Technology
IGT is a worldwide provider of gaming solutions and equipment. With over 12,000 employees across the globe, they have a large presence here in Las Vegas. Find jobs at IGT.
Las Vegas Sands
This company provides integrated luxury casino/resort properties including The Venetian, among others, here in Las Vegas. They offer a lot of high-quality services for their guests and is one of the major players on the Las Vegas scene. Find jobs at Las Vegas Sands.
Johnson Electric
Surprisingly enough, this is not an entertainment company, but a company that produces actuators, motion subsystems, motors, and related electromechanical parts for the auto, and medical industries.
It's a large worldwide company that's managed to find its spot among the entertainment giants here in Las Vegas. Find jobs at Johnson Electric.
Wynn Resorts
This is another entertainment-based company that owns and operates casinos and hotel properties in Las Vegas. It offers high-quality accommodations and a gambling experience worthy of The Entertainment Capital of the World. Find jobs at Wynn Resorts.
Clark County
After the Clark County School District, the Clark County Government is the second single largest employer in Las Vegas. As you might imagine, they have a large variety of jobs located across the Vegas Valley. Find Clark County Government jobs.
Station Casinos
I'll conclude this list with yet another hotel and casino giant located in Las Vegas. Station Casinos owns and operates over a dozen large hotel/casinos. Find jobs at Stations Casinos.
Final Thoughts
Finding a basic job in Las Vegas is generally pretty easy, especially if you want to work or have experience in the tourism industry. Even though tourism accounts for a large majority of the jobs here in Las Vegas, there are other opportunities available depending on your needs.
I've told you how difficult it is to find a job in Las Vegas, the state of our job market, and the basic labor conditions.
You also know how much money you can expect and which jobs are the highest demand jobs in the city. I've also provided you with a list of the biggest employers in Vegas.
And that's it – although it's easy to find "a" job in Vegas, it can be quite difficult to find a career-level job unless you have specific qualifications, but it's not impossible. With a bit of work, you just might find yourself a great job in Vegas, so good luck!
Related Topics:
How Much Do Dealers Make in Vegas? The Real Deal!
Is Las Vegas a Good Place to Live for Families? An Essential Guide
Do Las Vegas Locals Go to the Strip? The Truth is…
---
Sources:
U.S. News – Las Vegas, Nevada Job Report
Zippia – 20 Best Biggest Companies to Work for in Las Vegas, NV