Driving in Las Vegas: A Local's Top Tips for a Smooth Ride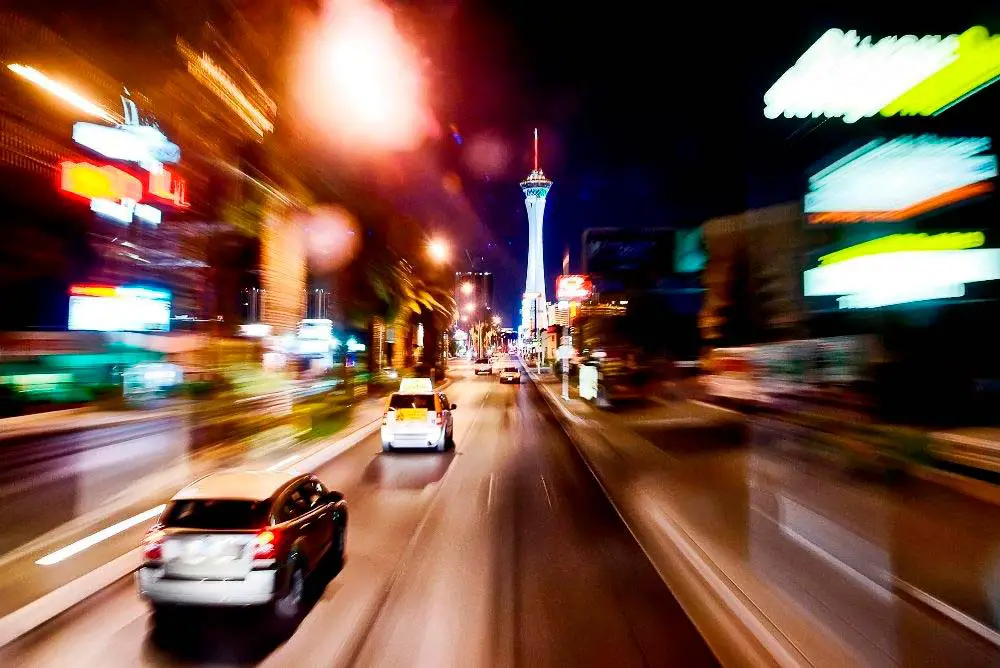 (This article may contain affiliate links, which means we might earn a small commission if you click and make a purchase. Thank you!)
Let's face it, driving in Vegas can be a challenge, and that's true whether you live here or are just visiting. Tons of cars on the road, mixed with Las Vegas's 24-hour lifestyle, makes driving here somewhat different than in other cities. So what is it like to drive in Las Vegas?
Operating a motor vehicle in Las Vegas can be a hectic experience with many distractions. You will need to be vigilant for other drivers and pedestrians doing the unexpected while navigating the basic rules of the road. Successfully driving in Las Vegas requires a driver who drives defensively and is alert to changing conditions.
Whether you live in Las Vegas, are new to the area, or are just in town for a visit, there are some things you'll need to know to make driving in Vegas easier and safer. Read on to discover my advice for driving in and around Las Vegas, Nevada.
What It's Like to Drive in Las Vegas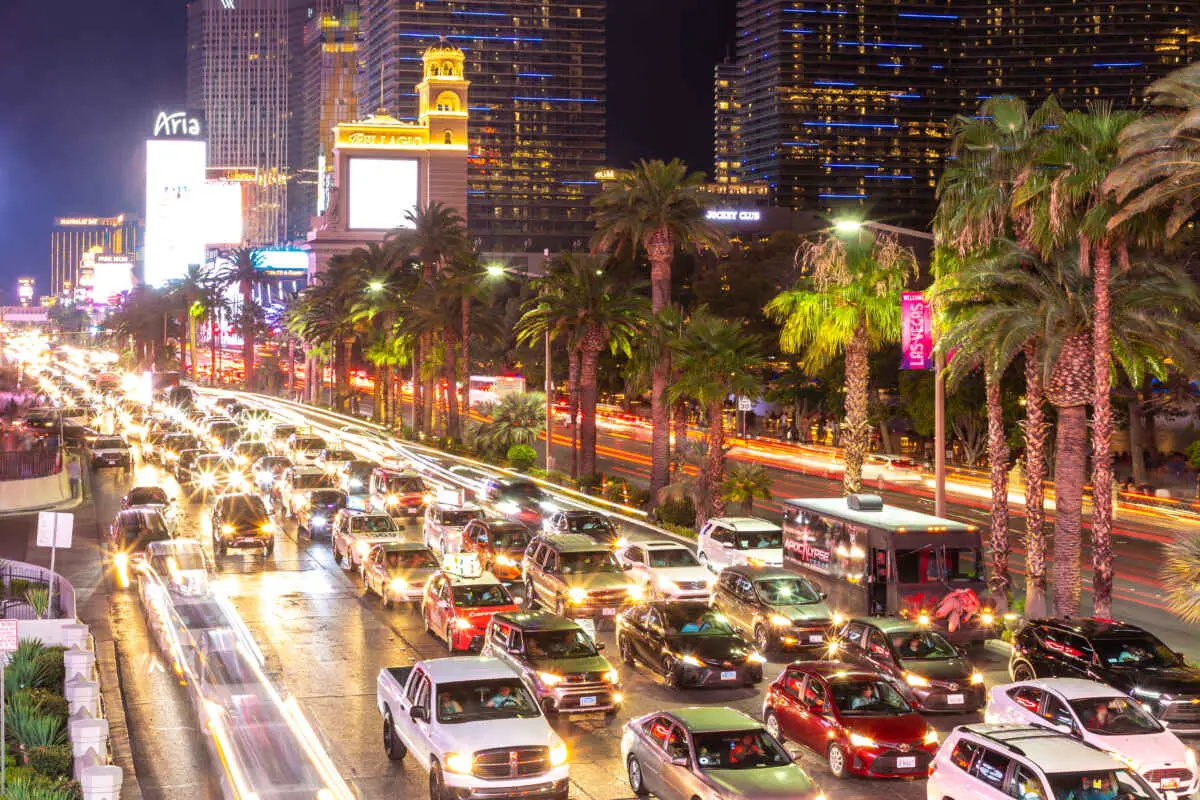 Depending on the area of town you're in and the time of day or night, driving in the city can either be a relatively calm experience or a downright hectic one.
In the tourist areas, you'll be surrounded by hordes of pedestrians (some of which will be quite inebriated), a lot of traffic, and plenty of visual distractions (casinos and attractions galore!)
In other parts of town, you'll find local pedestrians and many drivers of dubious skill and judgment. Yet as you get out further away from the Strip, you'll begin to find a calmer atmosphere on the roads.
Regardless of where you're driving, there are some things that are specific to Sin City that you'll want to be aware of.
Las Vegas Street Layout (Grid System, Mostly)
First, it will be good to know that Las Vegas streets are laid out in a way that makes sense. For the most part, the roads don't have a lot of confusing twists and turns. As a directionally challenged person myself, I really appreciate that!
You can get on a road like Sahara or Tropicana on one side of the valley, and it will go straight across to the other side of the valley. There are certainly exceptions, but for the most part, this is how it works.
Also, in some cities, the same road can change names three or four times in just a few miles. Generally, that isn't the case here, which is nice.
Long Traffic Signals
Las Vegas is home to the never-ending traffic signal. The traffic signals in Vegas are some of the longest traffic lights I've ever experienced in my years of driving. There are a ton of traffic signals, and if you get stopped at a red light (and you will), it may last five minutes or longer.
For instance, we only live 6 miles from the Strip, but with stoplights, it will often take us upwards of 20-30 minutes to get there. So if you're planning to head across town on surface streets, be sure to add in some extra time to account for slow traffic lights.
Another note about the traffic lights in Vegas is that they don't seem to be timed for the speed of the traffic in any way. So maintaining a constant speed from one light to the next doesn't help to line things up so that you can hit mostly green lights. Why not? I have no idea. I guess it would make too much sense 🙂
U-Turns in Vegas
U-turns in Las Vegas are as common as slot machines. Not only are U-turns legal, but they seem to actually be encouraged by the city as a means of controlling the traffic.
Driving through Las Vegas, you'll probably see more people making u-turns in a single outing than you'll see in any other city in a month! The only thing you'll need to watch out for besides being hit or hitting someone while making a U-turn is the occasional sign saying that U-turns are not allowed.
These "no U-turn" signs are rare. You'll see many more signs saying that a U-turn is okay. Basically, you can make a U-turn just about anywhere as long as there isn't a sign saying you can't.
Las Vegas Freeways
The Las Vegas freeway system is comprised of three main freeways that transport drivers around the heart of the metropolitan area. These three interstate freeways (I-15, I-215, and I-515) basically create a rough circle around and through the cities of Las Vegas, Henderson, Green Valley, and Paradise (where the Las Vegas Strip is located).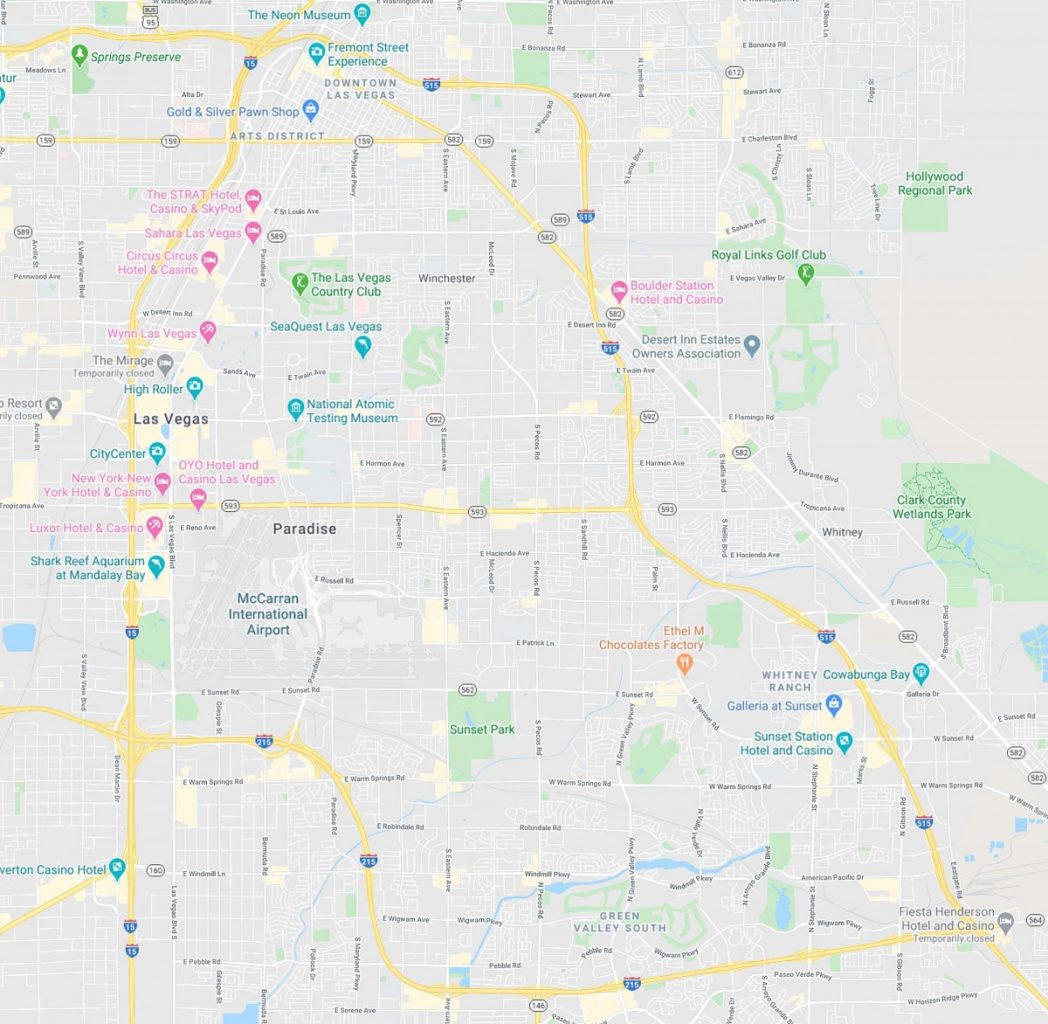 There are no freeway connections cutting across the middle of town. What this means is that if you're going to take the freeway to your destination, you may actually have to jump on a freeway headed in completely the wrong direction in order to loop around the northern or southern end of the city to get yourself pointing back in the direction you originally wanted to go.
For instance, below is an image of a route from Treasure Island TI (on the Strip) to Sam's Town on the east side of town. So while Sam's Town is located southeast of Treasure Island, you'll have to head north on the Interstate 15 (I-15) for several miles before connecting with the 515 freeway that eventually curves around and heads back south towards your destination.
I don't know about you, but I'm not fond of getting to my destination by driving miles in the wrong direction! The alternative, of course, is to take surface streets across town.
Driving Surface Streets in Las Vegas
According to the Google map route (pictured above), avoiding the freeway by taking a surface street and cutting directly across town is another option. While this is a more direct route with fewer total miles driven, it will still take roughly the same time because of all the traffic lights.
So in cases like these, whether you choose to take the freeway or not is up to your personal driving preferences. I find that no matter which route you choose if you're trying to get somewhere on the other side of town, it will take about 30 minutes or more on average to get there. So keep that in mind when planning an outing.
Is it Difficult to Drive in Las Vegas? (Bad Drivers)
Las Vegas driving can be a bit difficult, and as I mentioned, it pays to be a defensive driver. Las Vegas drivers, in my experience, are some of the worst drivers I've ever seen, and I learned to drive in Southern California!
So it's best to remain alert for other drivers doing some pretty questionable things while on the road.
Car Insurance and Car Accidents in Las Vegas, Nevada
Poor drivers, along with the 24-hour lifestyle, have made car insurance rates much higher in Clark County than anywhere else I've ever lived.
Car insurance is 38% more expensive in Las Vegas than the national average due to several factors, such as high urban population density, vehicle theft rates, relaxed alcohol laws, and the increase in liability because of Las Vegas party-goers.
You can tell that the car accident rate is high by noticing all of the billboards around town advertising for accident lawyers. If you read the news, you can see that all kinds of auto-related injury accidents occur daily in Sin City. These include:
Pedestrian accidents
Car accidents
Bus accidents
Having said that, driving a car in Las Vegas is not a whole lot different than in any other large city, but there are a few important and unique tips I can share for driving that are important to know when in Vegas.
My Tips For Driving in Vegas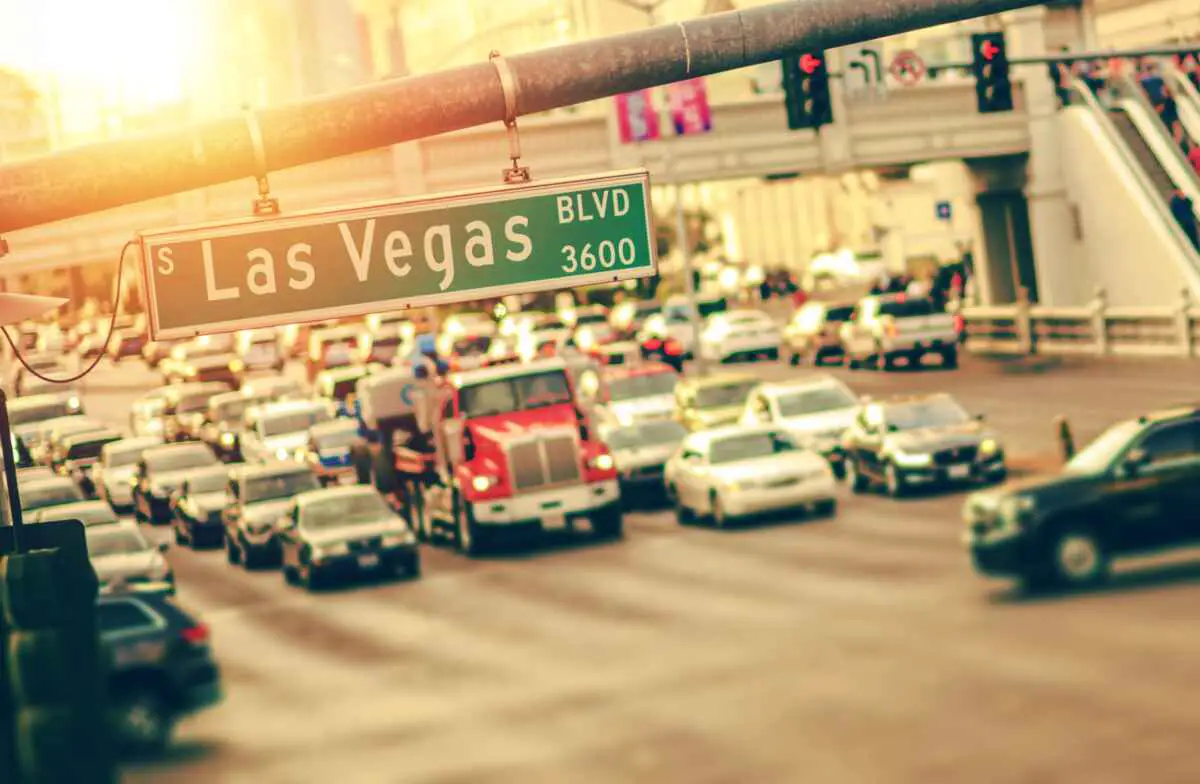 #1 – Watch Out for Pedestrians
When driving anywhere in the Las Vegas Valley, you'll want to take special care to watch out for pedestrians. Like the drivers, they don't always follow the rules, and you may find a person crossing the road in the least likely spot. This is especially a problem at night when it's difficult to see.
People wearing all dark clothing don't think twice about running across a busy street at night if it saves them from walking a few extra feet to a crosswalk.
This isn't as much of a problem down on the Strip (Las Vegas Blvd) as it is throughout the rest of the city because many of the walking areas along the Strip are blocked off with barriers so that pedestrians can't just cross wherever they want to.
#2 – Don't Hit The Gas as Soon as The Light Turns Green
Las Vegas drivers are notorious for running red lights. The reason for this is the long stoplights I talked about earlier. When people have been sitting at a light for five minutes, and they finally make it up to the intersection, they don't want to miss the light and sit there again for another five minutes. So they run the red light.
As Jeff Spicoli says in Fast Times at Ridgemont High, "It was yellow a minute ago… I'm sure of it."
Important: It's not uncommon to have a light turn red and still see several more cars making their way through the intersection. I sometimes push through a light later than I should have and am amazed when I look in my review mirror and see that three or four cars behind me also went through the light.
So if you're at the front of a line of cars at a red light, don't hit the gas as soon as the light turns green. Hesitate for just half a second and look carefully before heading into the intersection to see what might be coming at you. It's a great habit to get into to avoid getting t-boned in a Las Vegas intersection.
#3 – Turning Right on a Red Light
Making a right turn at a red light is perfectly legal in Las Vegas unless marked otherwise. That being said, there are several things to watch out for when turning right on a red light. Besides watching for traffic moving through the intersection from other directions, you'll also need to watch for people making U-Turns.
While looking left to avoid traffic coming from that direction, most drivers will start to pull out cautiously to make the right turn, but if you're not careful, you will run right into a person making a U-turn. A lot of accidents in Las Vegas happen this way.
Also, pedestrians on the corner to your right have a habit of stepping out into the street whether they have the light to cross or not. There's a lot going on when making a right turn at a red light in Vegas.
#4 – Use Alternate Routes and Shortcuts
Desert Inn Road is the only road in town that goes under the Las Vegas Strip instead of across it. If you're anywhere near Desert Inn and you need to get across to the other side of the Strip, it's a great choice.
Because the road goes under the Strip it avoids a lot of traffic congestion (as well as several stoplights) that happens on and near Las Vegas Boulevard. This can save you quite a bit of time.
Here are a few more roads that provide shortcuts when driving in the city:
Industrial Road: Running parallel to the Strip on the west side, Industrial Road is an excellent alternative to Las Vegas Boulevard.
Frank Sinatra Drive: Located on the east side of the Strip, Frank Sinatra Drive offers easy access to numerous casinos and attractions.
Paradise Road: This street runs north-south, connecting the Strip to downtown and the Las Vegas Convention Center.
#5 – Run Errands Early to Avoid Traffic
You may not want to hear this, but running errands around town is much faster and easier in the morning. Happily, I'm not talking about running errands at the crack of dawn!
Running errands between 8:30 am and 11 am will save you a lot of time on the road and in the stores. After about 8:30 am, all the kids are in school, and the school buses are off the road. Also, people who had to be to work by 8 am are off the road as well. There's a nice window of a few hours where driving in Vegas is a much more calm and mellow experience.
#6 – Don't Drive Behind a City Bus
It took me a while to learn this one. I guess I'm kinda slow. When driving anywhere in Las Vegas, don't drive behind one of the city buses, or you'll find yourself stuck behind it when they stop in the street to pick up and drop off passengers.
Public buses (known as The Duece) in Las Vegas only travel in the right-hand lane. On some streets, buses will have a place to pull off the road to exchange passengers, but many streets don't have a pull-out for the bus stop.
In this case, the bus will have to stop in the street, and you'll be stuck as all the traffic behind you zooms by without a chance for you to change lanes and get around. Note: This is not a problem on the Strip, as all the bus stops are pull-outs.
#7 – In Fact, Don't Drive in the Right Hand Lane at All
When you're cruising around town, it's actually best to avoid the right-hand lane all the time unless you need to make a right-hand turn. With all the pedestrians crossing the street at busy intersections, it just takes one car that needs to make a right-hand turn to cause all the traffic in the right-hand lane to come to a dead stop while waiting for the pedestrians to clear the crosswalk.
Staying out of the right-hand lane can really speed up your journey!
How is the Traffic in Las Vegas?
Now, let's discuss the overall traffic situation in Las Vegas. When we moved to Las Vegas in 2016, we moved from a small community in Washington State, so needless to say, the traffic was much more intense comparatively here in Vegas.
Having said that, I grew up and learned to drive in and around Los Angeles, California, and Las Vegas traffic is nowhere near that intense!
Even though Las Vegas is an all-hours city, there is still such a thing as rush hour traffic, and even outside of rush hour times, there can be a good bit of traffic congestion in Las Vegas.
You can find out everything you need to know about traffic and rush hour in Las Vegas in our article: How Bad is the Traffic in Las Vegas? (What You Need to Know).
Speed Limits
In Nevada, speed limits vary based on the type of road. Residential areas typically have a speed limit of 25 mph, while the maximum allowed on urban freeways is 65 mph. Interstate 15 (I-15) is the primary freeway used by drivers to access the Strip, popular among both tourists and locals.
It's important to obey all posted speed limits and drive according to the flow of traffic.
Parking Options in Las Vegas
Finding a parking spot in Las Vegas can sometimes be one of the most challenging parts of driving in the city, especially in the downtown area and on the Strip. However, if you plan ahead, you can avoid unnecessary stress.
There are various parking options available in Las Vegas, including paid parking garages, metered street parking, and some free parking options.
Downtown, there is very little free parking, so your choices are either a paid parking garage or a metered parking space on the street. Remember to look into downtown parking options beforehand, as this can save you time and frustration.
Gas Stations and Prices
To keep your vehicle fueled up during your Las Vegas adventure, it's essential to know where the gas stations are located. You'll find gas stations near the Strip by Circus Circus and across from Mandalay Bay. Other streets with numerous gas stations include Paradise Road, Maryland Parkway, Tropicana Avenue, and Flamingo Road.
It's also helpful to compare gas prices and find the most affordable options during your Vegas trip. Prices may vary depending on the location and time of year, so it's essential to keep an eye out for the best deals.
In general, gas stations located further away from the Strip and major tourist attractions tend to have lower prices.
For example, we almost always fuel up at Costco, as it's among the cheapest gas stations in town. Costco, of course, requires a membership and may or may not be convenient based on where you are in town.
Renting a Car in Vegas
If visiting Las Vegas without your own vehicle, a variety of car rental options are available for getting around the city. At the airport, there are several rental companies to choose from, including Budget, Dollar, and others.
Many of these companies offer competitive rates and a wide selection of vehicles to accommodate any traveler's needs. If renting a car is in your future, I recommend checking out Discover Cars. There you can compare all the best car rental deals from a variety of companies.
Road Trips from Las Vegas
If you're visiting Las Vegas, you might wonder why you would even need a car to begin with. After all, there are plenty of ways to get around in Vegas without a car, but if you're planning on an extended trip to Vegas, I highly recommend getting off the Strip for a day (or even two or three), hitting the open road and discovering some of the really cool places within easy driving distance of Las Vegas.
Did someone say road trip?
Photo: Colorado River and Horseshoe Bend near Page, Arizona
Lake Mead and Hoover Dam
Just 30 miles southeast of Las Vegas, you'll find Lake Mead – the largest reservoir in America. A perfect destination for spring and summer road trips, Lake Mead offers outdoor enthusiasts a chance to swim, fish, and boat.
Nearby is the famous Hoover Dam, a must-visit engineering marvel. Consider a stop at Boulder City on your way back to Las Vegas for some charming small-town vibes.
RELATED: Is It Free to Visit the Hoover Dam? (What You Need to Know)
Death Valley National Park
Embark on an adventure to one of the hottest places on earth – Death Valley National Park. This 3-hour drive from Las Vegas leads to a unique and unforgettable landscape featuring sand dunes, colorful badlands, and salt flats.
Explore the park during the cooler months, as summer temperatures can be dangerously high.
ALSO SEE: 13 Best National & State Parks Near Las Vegas (AWESOME!)
Lake Havasu and Colorado River
Journey to the Arizona side of the Colorado River and discover beautiful Lake Havasu. Perfect for water activities and lounging on sandy beaches, this sunny oasis also boasts the historic London Bridge, transported all the way from England in 1968.
A 2.5-hour drive from Las Vegas, Lake Havasu is an ideal destination for a weekend getaway.
Sedona, Arizona
Sedona offers a magical experience with its iconic red sandstone formations and picturesque landscapes. This 4.5-hour drive from Las Vegas allows visitors to hike famous trails like Cathedral Rock and Bell Rock while soaking in the stunning views.
Sedona's vibrant art scene and energy vortexes also draw numerous tourists each year.
Lake Powell, Horseshoe Bend, and Antelope Canyon
Embark on an epic journey to explore the natural wonders of Lake Powell, Horseshoe Bend, and Antelope Canyon. These wonders, all within a 5-hour drive from Las Vegas, provide opportunities for boating, fishing, and photography.
The fascinating geological formations and breathtaking landscapes make this road trip an unforgettable experience.
For even more driving adventures near Las Vegas, check out our article 16 Best Day Trips from Las Vegas.
Frequently Asked Questions
Is driving in Vegas easy?
Driving in Vegas is relatively easy, as the city is well laid out and has a grid-like structure. However, some challenges may arise due to road construction throughout the town and the long traffic signals (sometimes five minutes or longer) prevalent in the city.
What are the typical speed limits on Las Vegas roads?
Speed limits vary, but generally, expect a speed limit of 65-70 mph on the highways. Within city limits, the speed limit is usually between 25-45 mph. Be cautious of construction zones, as speeding fines can double to $410.
Do you need a car as a tourist in Las Vegas?
As a tourist in Las Vegas, you don't necessarily need a car. Many attractions and hotels are located along the Las Vegas Strip, which is very walkable. Additionally, there are alternatives like taxis, rideshare services, and public transportation that provide convenient options while visiting the city.
How is the traffic during rush hour in Las Vegas?
Rush hour traffic in Las Vegas can be heavy and slow-moving, especially on the major roads and around the Las Vegas Strip. Expect delays during peak travel times, typically between 3 PM and 6 PM on weekdays and Sundays, heading out of town on I-15 south towards California.
What's the best time to drive through Las Vegas?
To avoid heavy traffic, the best time to drive through Las Vegas would be during off-peak hours—late night, early morning, or mid-day. Keep in mind that weekends can also be busier due to increased tourist activity.
Is it better to walk or drive on the Las Vegas Strip?
Walking on the Las Vegas Strip is often the preferred method of transportation for tourists, as many of the attractions are within a short distance of each other. Walking, instead of driving, allows you to experience the sights and sounds of the Strip more intimately and avoid potential traffic congestion or parking challenges.
RECOMMENDED READING: Las Vegas Strip FREE Walking Tour & Map (19 Must-See Stops!)
Final Thoughts
Las Vegas sure is an interesting city to drive in! Like any other city, Vegas has its own peculiarities when it comes to driving. If you use the information I provided in this article and incorporate some or all of the tips, I think you'll find out that driving in Las Vegas quickly becomes second nature.
Related Posts:
Should You Rent a Car in Las Vegas? 3 Things to Consider