3 Reasons Why Las Vegas Has So Many Casinos (Explained)
(This article may contain affiliate links. If you click through and make a purchase, we will receive a small commission at no additional cost to you. )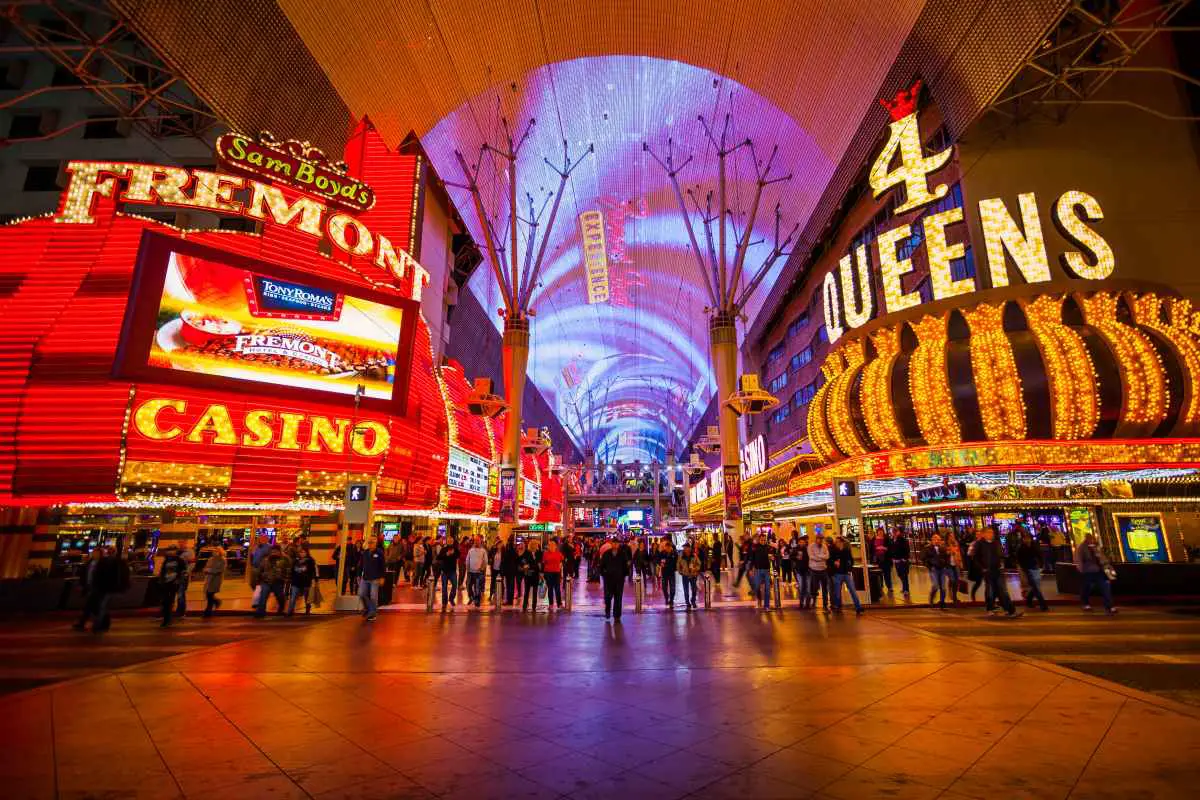 Las Vegas is a huge tourist destination, and it is well known for its entertainment, over-the-top hotels, wedding chapels, and of course, its casinos. But why does Las Vegas have so many casinos, and how did the city become well-known for gambling?
Las Vegas has so many casinos because Nevada legalized gambling statewide, and it did so early. It was also the birthplace of hotel-casinos, which made gambling vacations popular and easy. Now that the city is so popular for casinos, they need many of them to meet the demand.
This article explains why Las Vegas has so many casinos, including the history of Las Vegas and gambling, the creation of hotel-casinos and the famous Strip, and the demand for casinos in Las Vegas thanks to its high tourism. 
1. Nevada Legalized Gambling Early On
On March 19, 1931, Nevada legalized gambling throughout the entire state. The state legislature decided to do this to help the economy rebound after the Great Depression. (See Also: Why Are So Many Things Legal in Las Vegas?)
Nevada was hit hard during the Great Depression. Nevada relied heavily on mining before the start of the depression, but the mines were no longer producing as much revenue as they were before. 
However, as gambling picked up in the state and Las Vegas became the most popular destination for people to gamble and spend money on other entertainment, the economy picked up. Today, the casinos in Las Vegas are a huge source of tax revenue for the government, which is why they're open to so many operating in the city. 
Today, Nevada is one of only two states that have legalized gambling statewide, the other being Louisiana.
This decision to legalize gambling has paid off. In 2020, casinos in Las Vegas and other parts of the state brought in $1.33 billion in tax revenue and another $44 million in other revenue for the government. 
This tax revenue comes on top of the high property taxes that hotel-casinos pay. MGM Properties, the highest taxpayer, paid $3.56 billion in property taxes alone.
If you want to learn more about how Las Vegas turned into the casino-filled tourism center it is today, take a Las Vegas Strip Walking Tour. This private walking tour takes you to all the sites you and your group want to see. You will learn about the history of the Strip, see some of the most famous landmarks, and hear all the interesting stories about the city and how it came to be what it is today. 
2. Hotel-Casinos First Started in Vegas
Ten years after gambling was made legal in Las Vegas, the first-ever hotel-casino opened in 1941. It was called El Rancho Vegas, and it was on the Strip. It was actually not called the Strip when the hotel was built, but the name came after. The founder chose the area as it was cheaper than buying property downtown and was not subject to the city's taxes. 
He bought a lot of the land surrounding the hotel and casino, which he used to build parking lots, restaurants, a pool, and a travel agency. The area started booming, with people traveling here specifically to gamble. As vacationing to Las Vegas specifically to gamble increased in popularity, more resorts with lodging and casinos started to pop up, many of which were also on the area now known as the Strip.
Unfortunately, El Rancho Vegas is no longer standing. It was destroyed in a fire in 1960. Some rooms survived the fire, so it was used as a motel for another two decades before the remaining building was demolished.
But there are plenty of other hotel-casinos in its place today. Two of the biggest mega-resort brands are MGM Resorts and Caesars Entertainment. 
MGM Resorts owns the most properties in Las Vegas, with 14 properties throughout the city. Caesars is the second largest, with ten properties in Las Vegas.
On just the Strip, there are more than 30 casinos in total, many of which are also part of a resort hotel. Then, in the surrounding area and Las Vegas in general, there are many more. There are around 60 or so full casinos in the city. There is no shortage of places to gamble in Vegas, which is why gambling is the main reason people come here. 
It's easy to get lost among all the things you can do in Las Vegas, which is why I wrote a guide with all the resources you need to know about before stepping foot in Sin City.
3. The Demand for Las Vegas Casinos Is High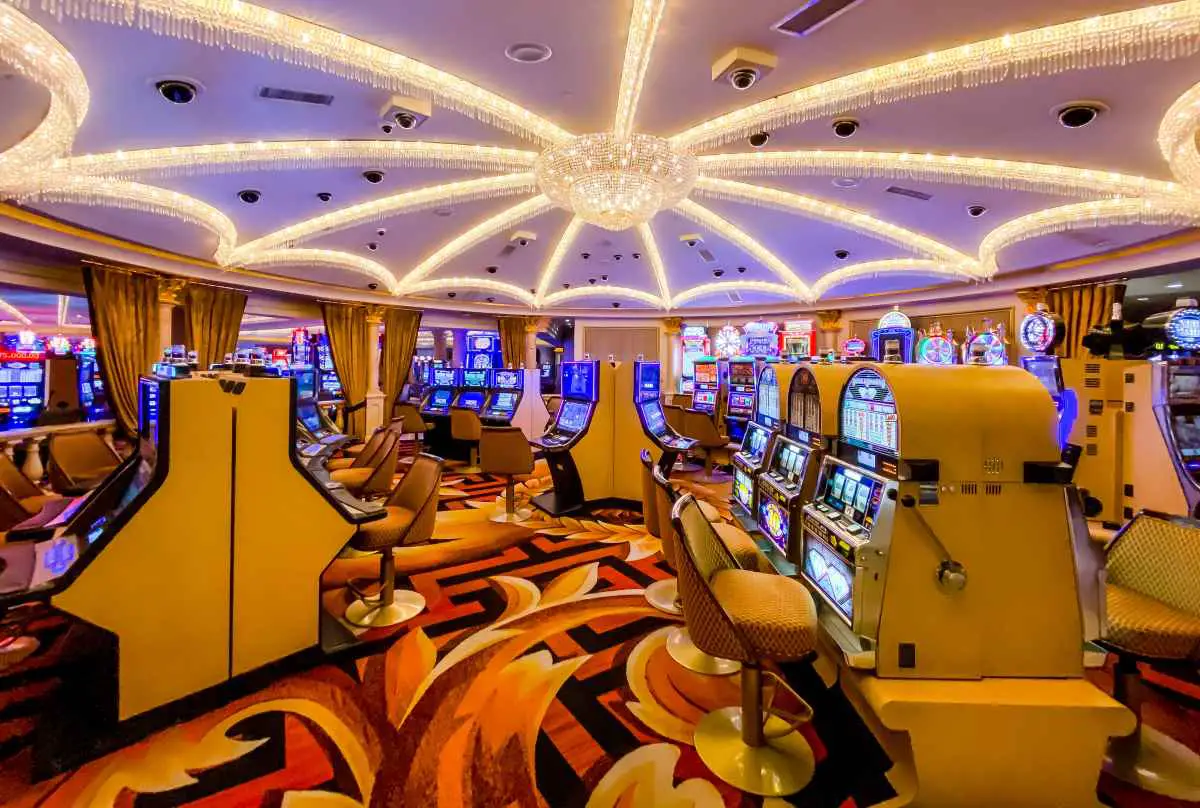 Since casinos are a huge draw in Las Vegas, people come there specifically to gamble and enjoy the convenience of a casino and hotel in one. Since the demand is high, supply is also high, and Las Vegas needs a lot of casinos to keep up. 
In 2021, more than 32 million people visited Las Vegas, and these numbers were down from normal as tourism was still down from the COVID-19 pandemic. In 2019, more than 42 million people visited Las Vegas. 
As tourism in Las Vegas continues to bounce back, tourism numbers will eventually exceed 2019 numbers. All the casinos in Las Vegas will end up back at peak capacity. 
With so many millions of people coming to the city, many of whom come with the main purpose of gambling, there must be many casinos in the city to accommodate them. 
Of course, not all these people come to the city to gamble, but even those whose main goal is not to gamble during their visit might still visit a casino and spend time gambling. ( See Also: Should You Go to Las Vegas if You Don't Like Gambling?)
If Las Vegas did not have as many casinos as it does, the ones it did have would be overcrowded, and people would be less inclined to come to the city to travel. But, since Las Vegas has so many casinos, people have many options for where to gamble, and they know there will always be somewhere to go. 
And hotel-casinos help, too. Combining the two helps make it easier for people to travel here and gamble.
Tip: If you need help choosing the right hotel for your stay in Las Vegas, I wrote an article with the best hotels in each category.
Reasons Why Las Vegas Has So Many Casinos – Conclusion
When the state of Nevada legalized gambling in 1931, the number of casinos in Las Vegas began to grow. Vegas was an ideal spot for this to happen as one of the country's largest public works (Hoover Dam) began construction a short time later and brought a flood of workers to the Vegas Valley.
As Sin City began to combine hotels and casinos into the same property, this began to increase the idea of Las Vegas as the perfect vacation destination.
In addition, because both the local and state government in Nevada benefit from large casino revenues, the building of new casinos is encouraged in Las Vegas, and that is why Vegas has so many casinos today.