Is Lake Las Vegas Worth Visiting? (Photos)
(This article may contain affiliate links. If you click through and make a purchase, we will receive a small commission at no additional cost to you. )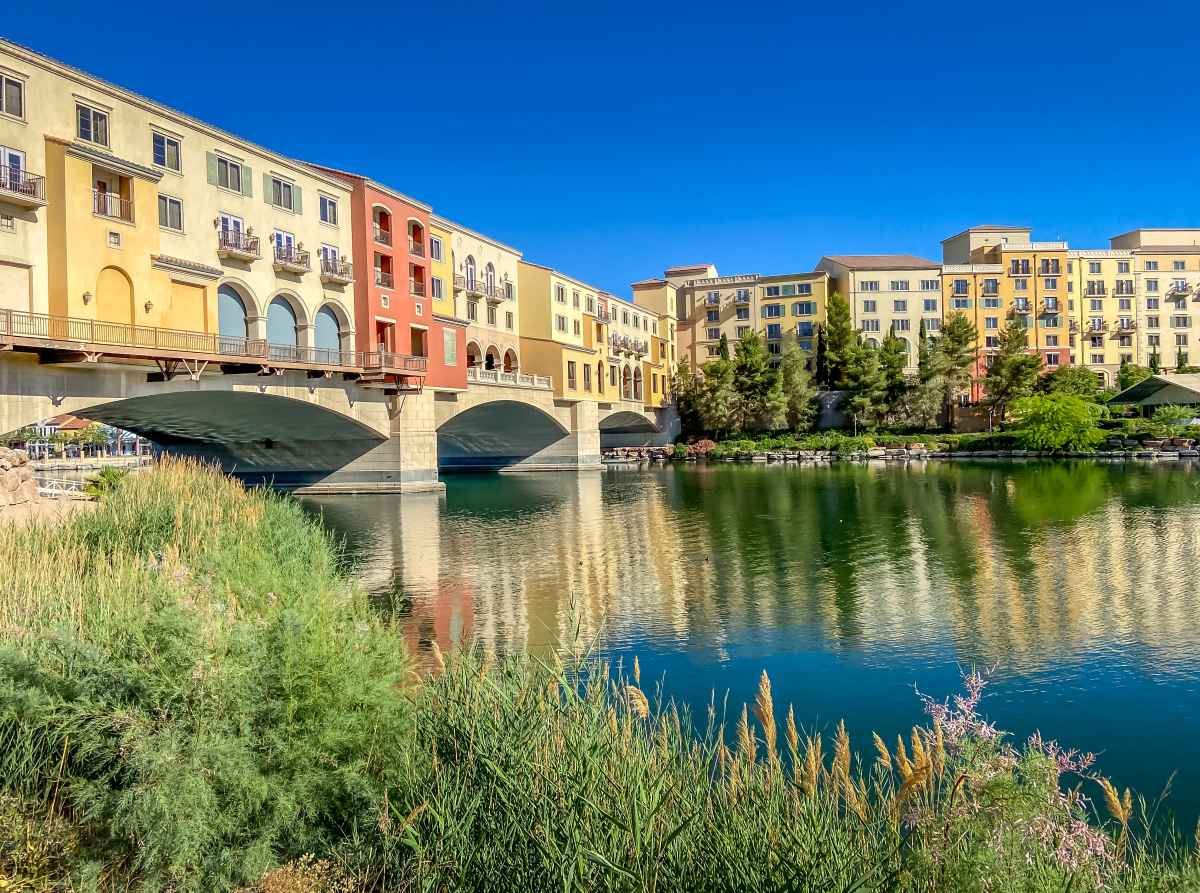 Lake Las Vegas is an attraction that often gets overlooked as most tourists prefer gambling in world-renowned casinos and enjoying all the Las Vegas Strip has to offer. However, if given a chance, Lake Las Vegas can show you a different side of Vegas that you probably didn't know existed. So is visiting the man-made attraction worth it? 
Lake Las Vegas is worth visiting as it offers many attractions, including miles of hiking trails, world-class golf courses, fun water sports, and a wide variety of restaurants. The lake's attractions are easily accessible from Las Vegas as the lake is only 20 miles (32.2 km) away from the city.
Let's take a 'deeper' look at Lake Las Vegas and its attractions to determine whether it's a legit destination when in Vegas. Ready? Let's dive in! 
The Attractions of Lake Las Vegas
Although Lake Las Vegas has somewhat failed to live up to the hype, it remains a worthwhile destination suitable for both individual and family visits. The man-made lake offers peace and serenity and is a great destination when looking to ditch the pomp and glamor of the Strip for a relaxing outdoorsy vibe. 
Here are some of the main attractions of Lake Las Vegas.  
1. Hike Henderson's Famous Trails (Lake Las Vegas)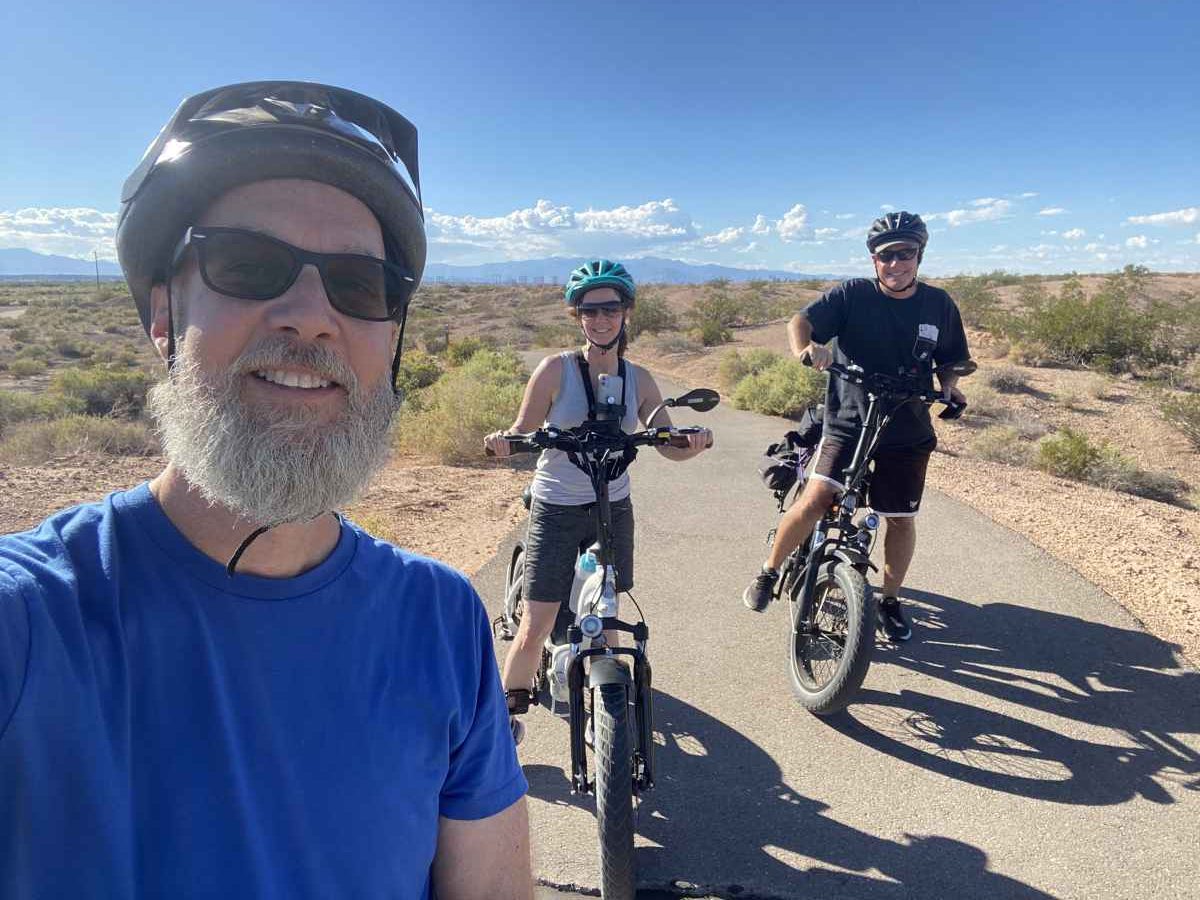 Lake Las Vegas is technically located in Henderson, a city in Nevada's Clark County that boasts an extensive trail system. You can find a map of the area's trails and pick the perfect one for you. If you prefer wheels instead of walking, tackling the hiking trails with a bike is also a great option. 
The mountainous desert scenery and Nevada's wildlife make on-foot excursions around Lake Las Vegas memorable. Due to the desert heat, I'd strongly advise against hiking the trails during the height of summer. You're better off hitting the trails as summer gives way to autumn. (Can you walk all the way around Lake Las Vegas? Find out here.)
2. Have Fun on the Water in Lake Las Vegas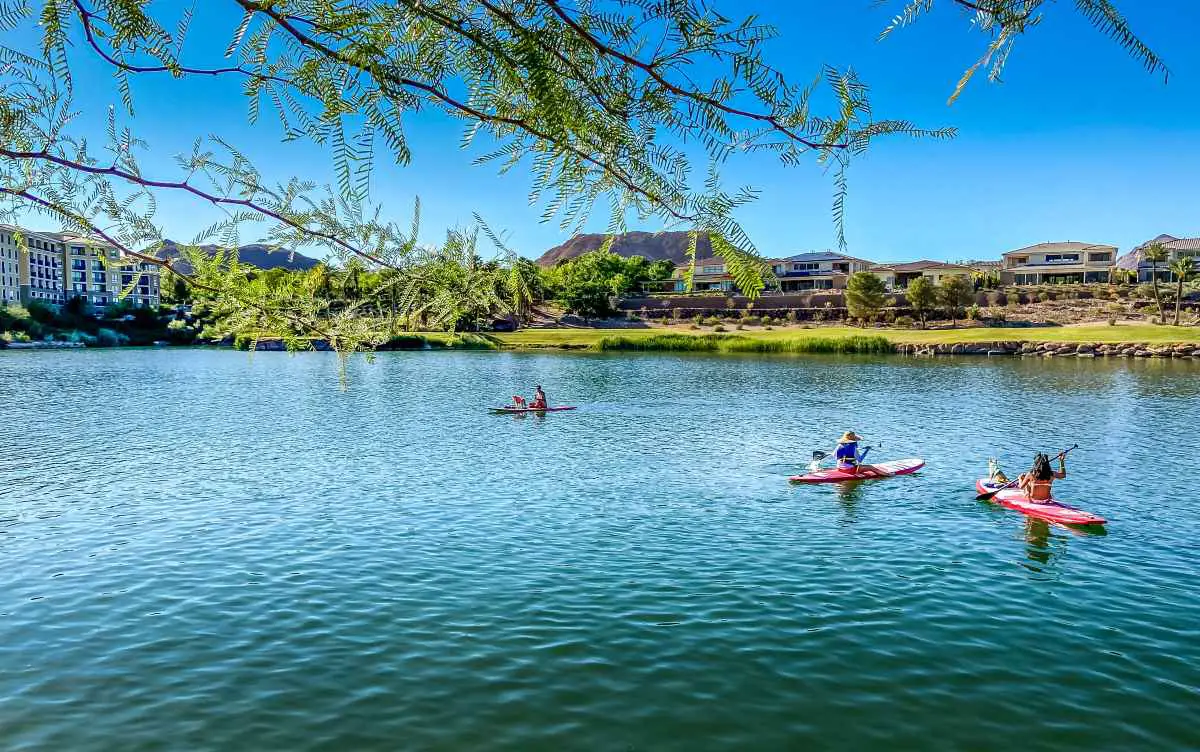 Lake Las Vegas doesn't disappoint in terms of summer watersports and winter activities. The calm lake waters create the perfect setup for paddle boarding during those sunny afternoons, while you can also rent a kayak and traverse the sizeable reservoir. 
Thrillseekers can explore flyboarding and e-foiling on the lake. At night, the glowing kayaks and paddles add warmth to the night's cold air. 
And you can also enjoy the man-made lake during the winter. Lake Las Vegas' famous neon ice rink opens on 1st December and closes on 15th February. The synthetic ice rink offers ice skating, music, and fire pits for warmth. 
3. Play Golf With Friends in Lake Las Vegas
One advantage of Lake Las Vegas is that it lies so close to the Las Vegas Strip, and yet it feels a world away. It is an exemplary location to enjoy a break from the city – and what better way to relax than enjoying some quality time on a golf course? 
The Southshore Country Club and Reflection Bay Golf Club in Lake Las Vegas were designed by champion golfer Jack Nicklaus. The former is only open to members and their guests and has high membership rates, making Reflection Bay the perfect choice for a short visit. 
If you'd like to know places where you can enjoy affordable golfing in Las Vegas, refer to our comprehensive list of golf courses that charge under $100.
4. Unwind at Lake Las Vegas's Resorts and Spas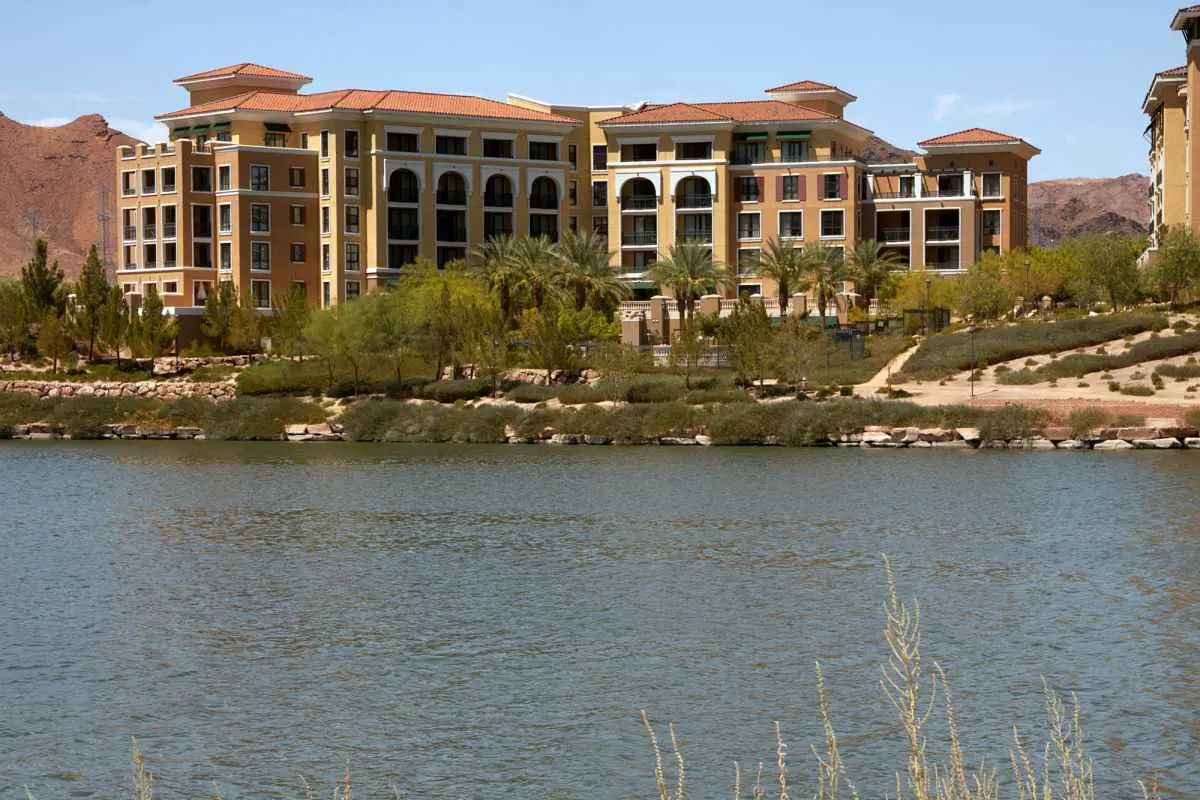 The Hilton, formerly a Ritz-Carlton, is arguably the most famous resort in Lake Las Vegas. It has rooms offering lake views, a swimming pool, and several fine-dining options. The resort's Spa Ravella is a popular attraction that provides serene conditions for relaxation and unwinding. 
The Westin Resort also has a pool and multiple dining options. It also has a spa to rival the Hiltons' famous Spa Ravella. There's not much difference between The Hilton and The Westin – the choice between either often hinges on personal preference.
MonteLago Village Resort also offers guestrooms and suites, a fitness facility, two swimming pools, and access to two golf courses. You can also explore various dining options in and around the resort. 
5. Enjoy All Manner of Foods and Drinks at Lake Las Vegas Restaurants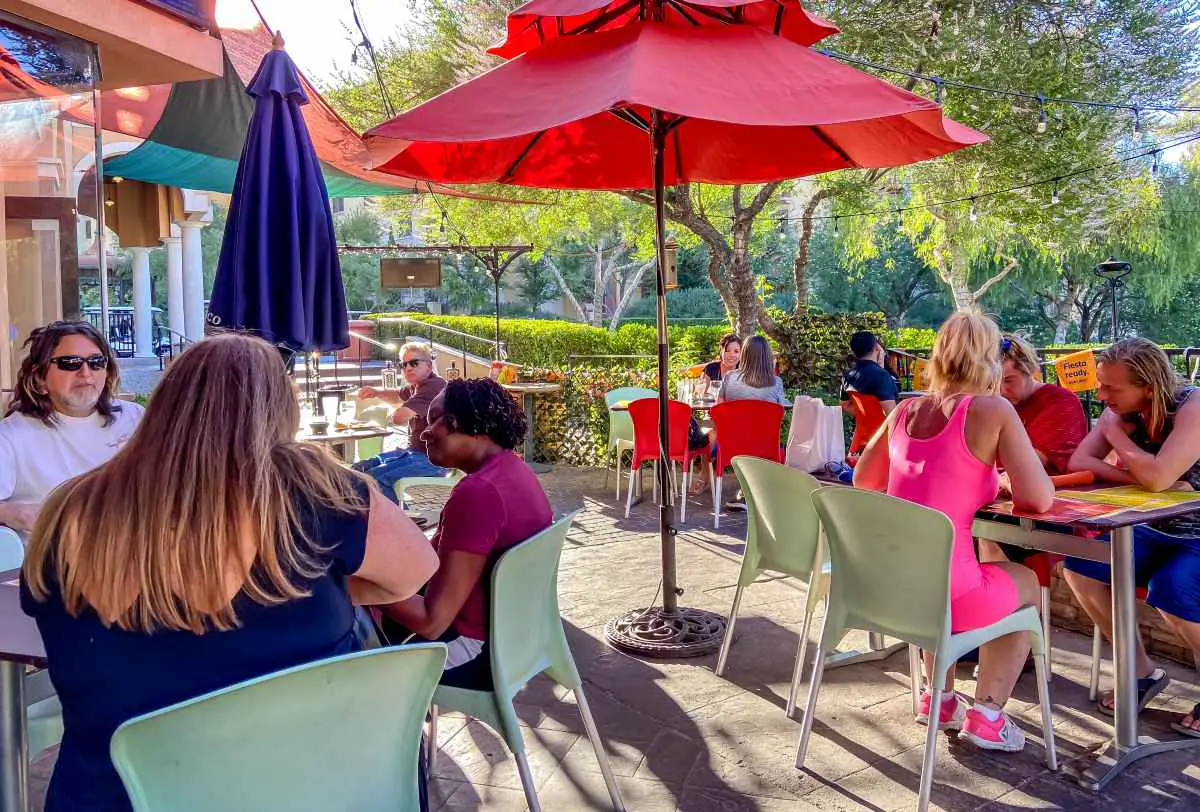 Lake Las Vegas offers plenty of fine dining options, with restaurants offering cuisine from all over the world. The famous Mimi & Coco Bistro has several Mediterranean dishes to die for. It's a popular choice for visitors, especially at night, as it's only a few steps from the Las Vegas lake. 
The Vino del Lago is another popular destination – the wine outlet allows guests to dispense their fill of wine from taps installed in the shop. Guests can choose from over 24 different wines. 
For a taste of Italy in Las Vegas, you can visit the family-owned Luna Rossa. The establishment offers roasted meats, thin-crust pizzas, pasta, grilled fish, and many more. 
6. Go Yachting or Fishing at Lake Las Vegas
The marina in the middle of the desert has Duffy boats and yachts you can rent for a tranquil afternoon or evening on the lake. You can have a picnic on the boat or yacht using supplies bought at The Village, a premier destination for shopping, fine dining, and recreational events in Henderson. 
The restaurants at Lake Las Vegas offer some of the best fish in Las Vegas, but if you prefer feasting on your own catch, the lake has plenty of bass and carp. You must stay at an Airbnb or at one of the lake's hotels and have a fishing license to fish legally on Lake Las Vegas. 
A 1-day Nevada fishing license costs less than $20 online.
Unfortunately, all areas of Lake Las Vegas are private. However, if you want to enjoy spending time there, read my guide, in which I explain ways to gain access to Lake Las Vegas.
The Takeaway
Lake Las Vegas is a unique destination with plenty of offerings, including water sports, shopping, golf, and fine dining. One complaint about Lake Las Vegas is that some of the shops at The Village closed and are yet to reopen.
Other than that, the scenic man-made lake is worth a visit. With a good plan, you can explore most of what the lake has to offer in one day.