Does Las Vegas Sell Lottery Tickets? (Where to Buy!)
When people around the world think of Las Vegas – they think of gambling. And rightly so! The Entertainment Capital of the World is home to some of the planet's most magnificent casinos and gaming establishments. But what about the lottery, does Las Vegas sell lottery tickets as well?
You may be surprised to learn that Las Vegas does not have a lottery, and lottery tickets are not sold anywhere in the state. Nevada State prohibited the use of lotteries in 1864 in the state's constitution. Article 4, Section 24 specifically states that lottery tickets may not be sold.
Because of this, Nevada remains one of only five states in the United States without a lottery. But the locals haven't taken this without a fight. Nevada lawmakers have faced numerous legal challenges in the past 40 years, all of which failed due to local casinos' resistance. 
The fact that lottery game tickets aren't sold in Nevada is highly controversial and has sparked debates over constitutional reform for over a century. But there doesn't seem to be a change on the horizon. 
The good news is that there are some places close by to get your Las Vegas lottery fix.

(This article may contain affiliate links, which means we might earn a small commission if you click and make a purchase. Thank you!)
Where Can I Buy Lottery Tickets in Las Vegas?
Even though lottery tickets aren't available for sale in Las Vegas, there are fortunately a few places to buy Powerball, Mega Millions, and scratch off tickets nearby. These spots are the best options for Las Vegas lottery tickets for residents and visitors alike.
The Primm Lotto Store (California State Line)
You'll need to cross state borders to purchase a ticket. You'll find a popular lottery store in Primm, which is right at the California state line. This is the closest place to buy a lottery ticket from Las Vegas.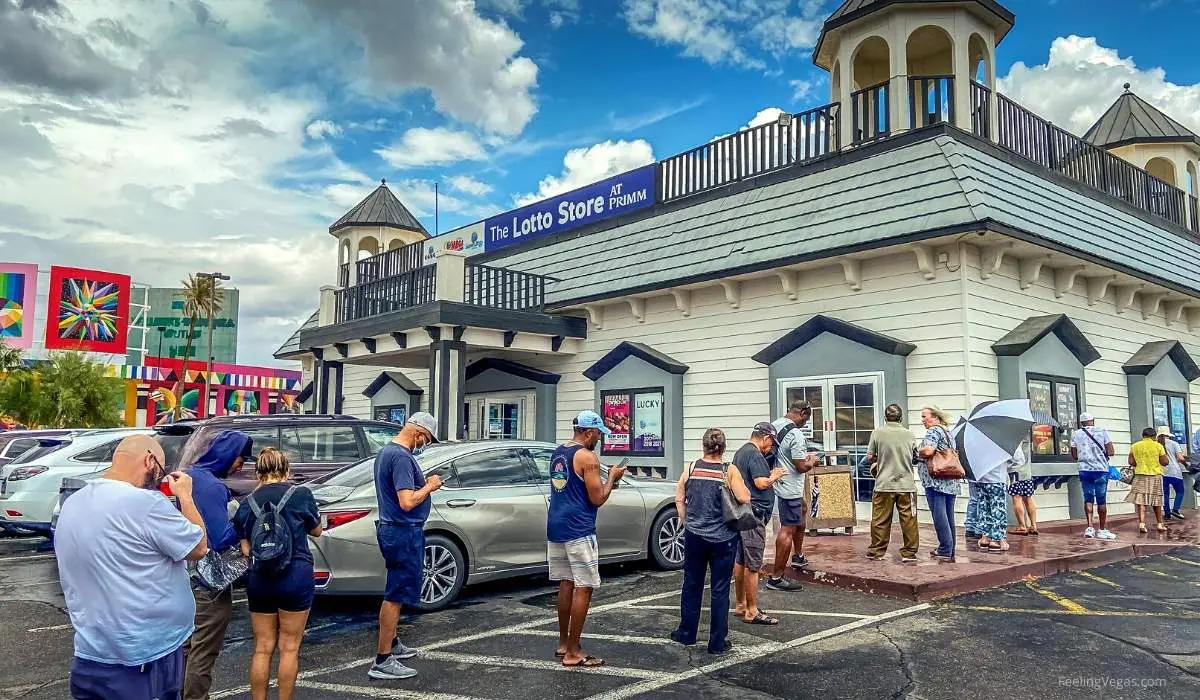 While the small town of Primm is located in Nevada, you'll find the Primm Lotto Store just south of the state line near the outskirts of town.  
It's by far the most popular lotto store in the United States and has been number one out of over 18,000 lottery outlets for the past 30 years! 
You can quickly head here from Las Vegas. If you drive down Interstate 15 towards Los Angeles, you can get off at Primm and find the Primm Lotto Store south of the state line near the Outlet Mall. The drive will take you about 38 minutes (40 miles) each way.
(Find out the best times to drive towards Los Angeles from Vegas or vice-versa in our article here).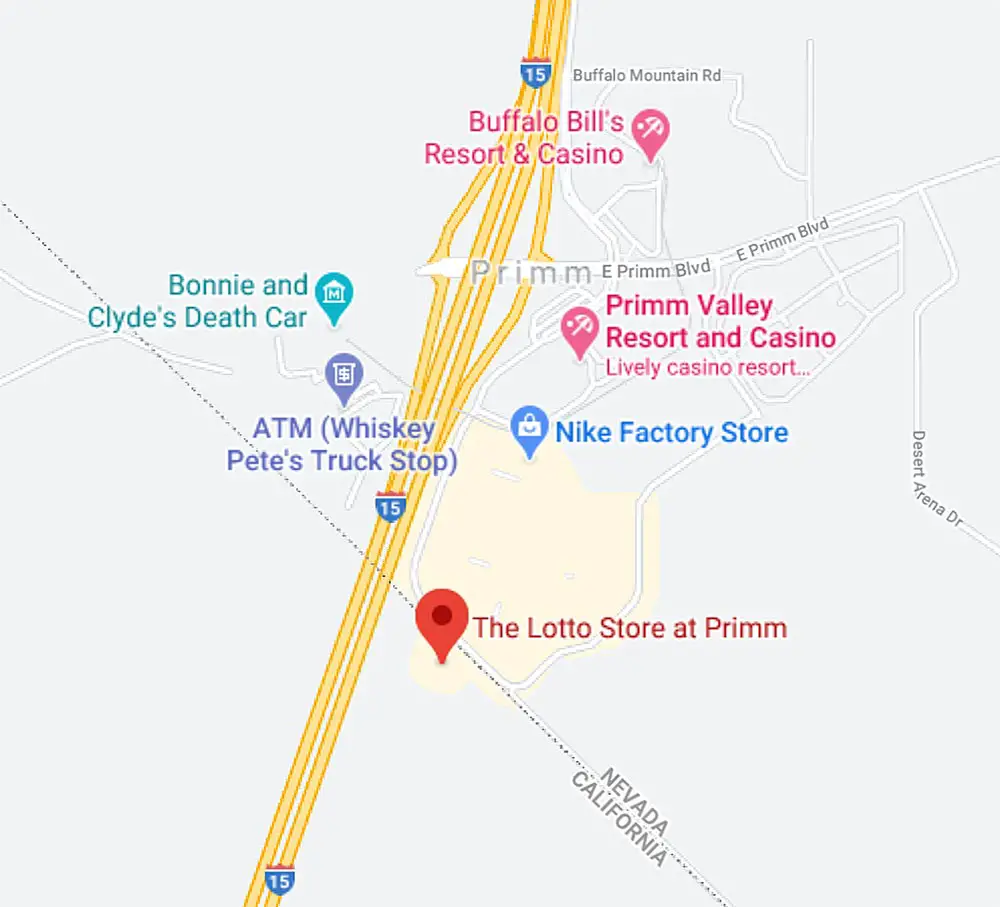 Get turn-by-turn directions to the Primm Lotto Store here (google maps)
The Lotto Store hours are 10am – 5pm, seven days a week
The Primm Lotto Store Phone Number is (702) 679-5402 (you may want to try calling ahead to get an idea of wait times).
The store, however, is incredibly popular, and you might be standing in line for quite a while. It's not unusual to stand in line for up to 3 hours or longer if a large lottery jackpot is up for grabs.
Therefore, another great option is one of several locations that sell lottery tickets in Baker, CA (google maps). It is an additional 30-40 minute drive south down Interstate 15 from Primm, but you could be standing in the Primm line for that long anyway. 
Nearby Arizona Lottery Tickets
Another option is to head to Arizona. The two most popular stores are:
Arizona's Last Stop (google maps), which is in White Hills, and approximately 67 miles from Sin City.
Grand Canyon Travel Center (google maps) at Willow Beach, which is about 77 miles from the Strip.
These are both great options if you live in Las Vegas, Nevada, or are traveling to and from the city along this route and want to purchase a lottery ticket. 
Is There Anywhere Else to Get Lottery Tickets?
Yes, the other two options for Nevada residents are to head to either Idaho or Oregon. It's possible to buy tickets in stores in either of these states. But these are both very long trips from southern Nevada, and it's only recommended if you're already in the northern part of Nevada, close to these states' borders. These options obviously don't work well from Las Vegas.
Las Vegas is also very close to the border of Utah. Unfortunately, Utah is one of the other handful of U.S. states that don't sell lottery tickets.
So the best places to buy lottery tickets from Vegas is to drive to either California or Arizona. Fortunately, Sin City is not too far from either of these two state's borders.
Can You Win The Lottery If You Are a Resident of Nevada?
So, Nevada not having its own state lottery begs the question: Can you play and win the lottery in another state?
Despite stores not selling lottery tickets in Las Vegas, you can still legally play and win even if you live in Nevada. The only issue is you may have to pay extra state tax on top of any taxes that already apply for the winning ticket.
Does Las Vegas Have Scratchers?
What about scratchers, can you buy a scratch ticket in Vegas?
You cannot purchase lottery scratch off tickets in Las Vegas or anywhere in Nevada state. The closest places to buy scratchers are across the nearby borders of California and Arizona.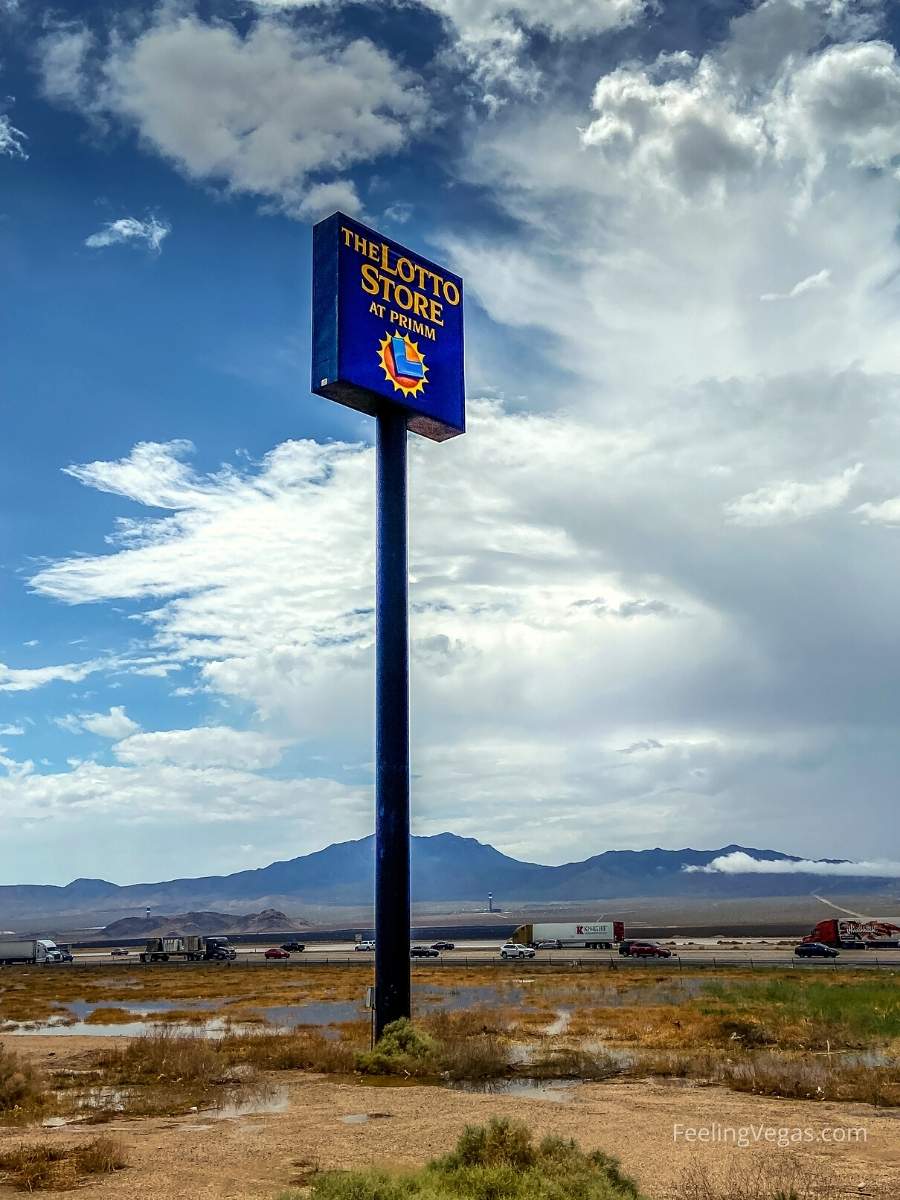 Why Is There No Lottery in Las Vegas?
There is no lottery in Las Vegas because having a lottery would be contrary to the interests of Vegas casinos. Las Vegas casinos have a powerful lobbying group that has continued to block the selling of lottery tickets in Las Vegas.
Las Vegas casinos would prefer that you spend your money on the casino floor.
Does Las Vegas Have Mega Millions?
Las Vegas does not have Mega Millions. The State of Nevada does not have its own lottery and does not participate or sell tickets for the Mega Millions game. You will have to head to a nearby state to get a ticket.
Can You Buy Lottery Tickets Online in Nevada?
No, you cannot legally purchase a lottery ticket online while you are within Nevada. The Nevada State Constitution prohibits the buying or selling of lottery tickets anywhere within the state's boundaries and this includes any online lottery purchases.
Conclusion
For a city that's so well known for its gaming, it may be surprising that there is no Las Vegas lottery. Fortunately, however, Vegas lottery tickets aren't totally out of the question for locals and visitors alike. A relatively short 30 minute drive to the border of California will allow you to get your Vegas lottery fix.
More Las Vegas Questions and Answers
References:
Lottery Critic – Lottery in Nevada?
Nevada State Constitution – Section 24
Wikipedia – States with No Lotteries