How Often Do Casinos in Vegas Change The Cards? (Revealed)
If you have been at the gaming tables in Vegas for a while, it won't be long before you start to notice dealers switching decks.
They will regularly open up a fresh deck of cards.
So, how often does this happen? Can you predict when a fresh set of cards is going to be used? We are going to talk about all of that in this article.
So, how often are cards changed in Vegas?
Most cards at Vegas casinos are changed every 8-hours. However, games that require a lot of shuffling and dealing can see them changed every hour or so. Las Vegas dealers are free to change out the cards whenever they wish, but they must always use a fresh pack of cards when they do so.
Let's explain this a little bit. We are sure that some of you are itching to know why Vegas dealers switch out cards often.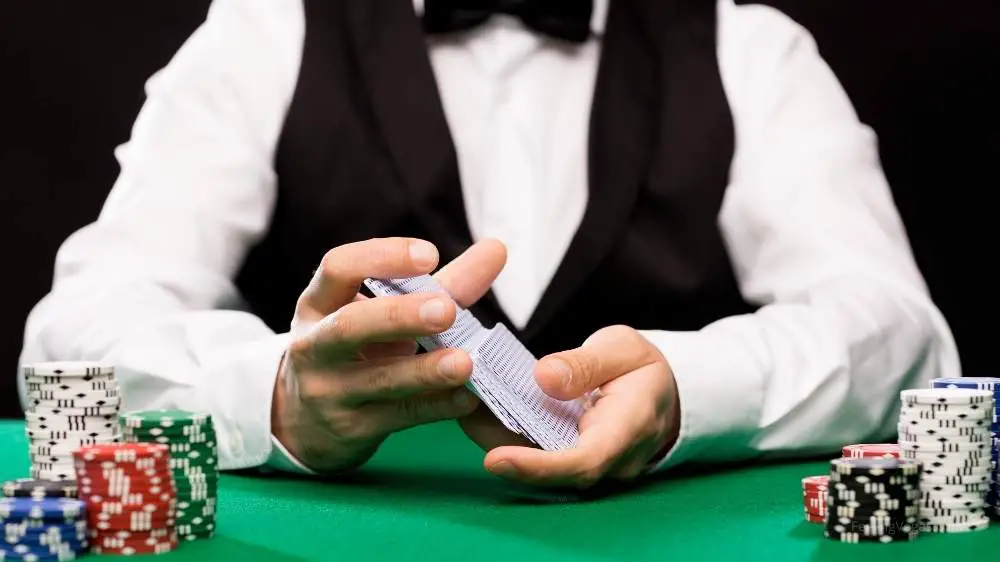 (This article may contain affiliate links, which means we might earn a small commission if you click and make a purchase. Thank you!)
How Often Do Casinos In Vegas Change Their Playing Cards?
Well, it depends on the game being played, the dealer, and the casino.
Most playing cards will be used for an 8-hour shift.
At the end of the 8-hour shift, the cards will be removed from the table and a new pack will be opened.
This is just a guideline, though.
While playing cards are rarely used for longer than 8-hours, a lot of cards will be used for a lot less than this.
If a game requires a lot of card dealing (e.g. 8 deck shoe), then the cards will be changed out very frequently. It could be every 30 minutes to an hour.
Of course, the dealer also reserves the right to swap out cards whenever they see fit.
So, if they believe the cards are starting to become a bit tatty or identifiable, then they can whip out a new deck.
In Las Vegas, and elsewhere, you cannot predict when a new deck of cards will be used, nor is there any benefit in doing so.
RECOMMENDED: How to Bring and Carry Money in Las Vegas (Explained)
Why Do Las Vegas Casinos Change Cards?
As much as casinos don't want you to win cash, they are built on a principle of fairness.
As playing cards are used, the edges start to become tatty.
Small creases may appear on the card. There may even be identifiable bends.
Eventually, if you pay enough attention, you will be able to identify certain cards without looking at the card's face.
This is a problem. The dealer shouldn't know what the cards are, nor should the players.
By swapping out the cards regularly, only cards with non-identifiable features will be used.
It makes the game fair.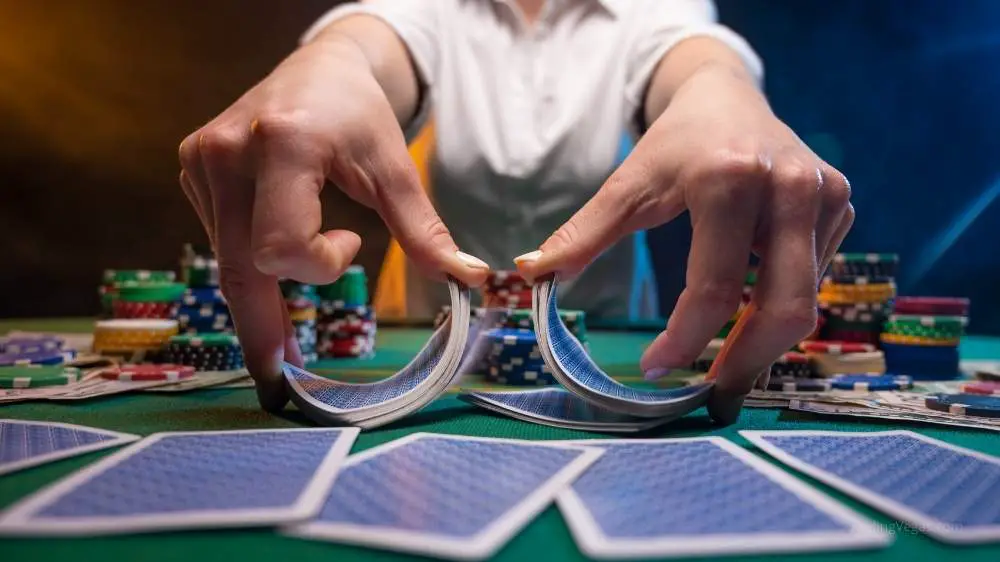 Can Las Vegas Casino Playing Cards Ever Be Reused?
Not in the casino, no. They will be recycled.
Casinos cannot risk there being flaws in their cards.
They do not want certain cards to be identifiable. It is unfair for everybody playing.
This means that any casino cards that have been used at a casino table will be removed from circulation.
We know that some casinos do sell their playing cards once they have been used, but these are few and far between.
If you are at a casino and want to get your hands on some branded cards, you can always check out the souvenir shops in and around the resort property.
When you do find previously used casino playing cards for sale, know that the cards will most likely have a hole punched through the entire deck.
This is how Vegas casinos are assured that their branded decks never get put into play again inside the casino.
It is important to remember that casinos have strict rules about the cards that can be used at their tables.
They won't just pull out a random deck of cards to play with. Every single deck will have gone through a rigorous inspection.
If a deck doesn't live up to the standards of the casino, it isn't used.
RECOMMENDED: Are Las Vegas Casinos Rigged? What You Need to Know
Conclusion 
Expect Vegas dealers to change cards whenever they want.
Most cards will be swapped out at the end of a dealer's shift.
However, they can also be swapped out at any point if the dealer believes that the cards are a little bit too 'used'. 
More Las Vegas Casino Info