Is Tao Free if You Stay at the Venetian? (Tao Beach & Nightclub)
(This article may contain affiliate links. If you click through and make a purchase, we will receive a small commission at no additional cost to you. )
If you're staying at the Venetian in Vegas, you must visit its popular clubs, the Tao Dayclub and Nightclub. These establishments boast A-list entertainment and amenities that'll undoubtedly elevate your Vegas experience. However, clubs can be pricey to enter, especially those in lively cities like Vegas – and you might be wondering if you'll need to fork out cash to visit Tao even if you're staying at the hotel. 
If you stay at the Venetian, you can enter Tao for free at night and during the day. You must provide your hotel room key card and valid photo ID to verify your guest status. This complimentary perk can only be unlocked until 3:30 p.m. for the Dayclub and until 1:00 a.m. for the Nightclub. 
In this article, I'll go over the Tao entry fees and how being a guest at the Venetian helps you avoid them. I'll also arm you with vital information you should have before visiting these clubs.
Compare and save! Check current room rates at The Venetian (TripAdvisor)
Free Entry to Tao Beach Club & Tao Nightclub if you Stay at Venetian
As in many Vegas nightclubs, men pay a higher cover fee than women at Tao. Typically, it'll cost men at least $30 to enter the Nightclub, whereas women's payment starts at $20. The Tao Beach Dayclub charges similarly.
Entry fees increase when there are on-demand celebrity performances and during holiday events. Since Tao is the place to be for many a Vegas clubgoer, prices can go much higher during these times.
Fortunately, if you've chosen to call the Venetian Resort Las Vegas your home during your stay, Tao allows you to bypass these charges. This applies to guests who stay at the Venetian, Venezia, and Palazzo Towers.
What's better? You can bring along a plus-one per room key. 
However, you'll need to show up before certain times to enjoy this complimentary entry, which is 3:30 p.m. at the Dayclub and 1:00 a.m. at the Nightclub. Frequently, you'll encounter long lines at the entrance, so be sure to plan for at least a 30-minute wait. 
RELATED: Do Rooms at the Venetian Have…? (15 Things To Know)
Tao Nightclub and Dayclub: What You Need To Know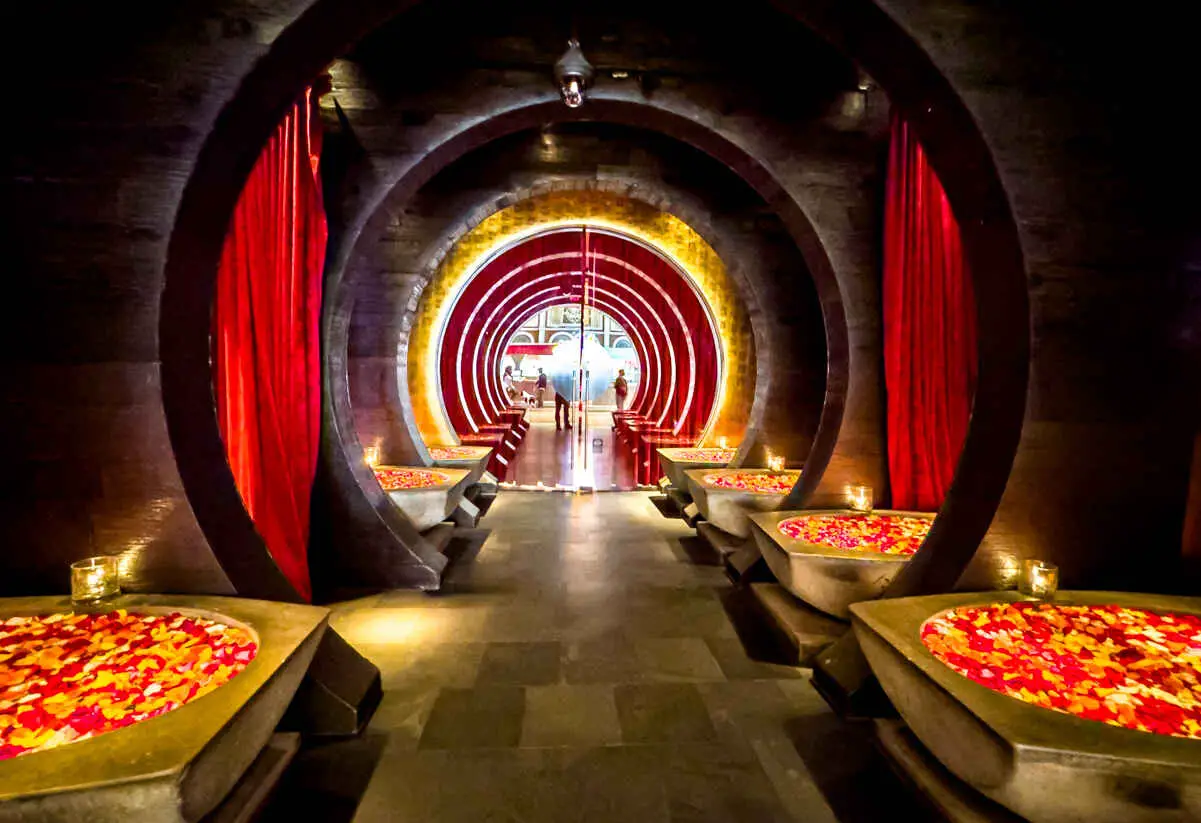 Las Vegas is as energetic as it is diverse. And some rules and conventions in one establishment may be the exact opposite of those in another. Below are some essential pieces of info you should have at your fingertips before visiting Tao: 
Tao Nightclub Guest
Operating hours: Tao Nightclub operates Thursdays to Saturdays from 10:30 p.m. to 3:00 a.m. If you wish to experience delectable pan-Asian cuisine before you get to the dance floor, the Tao Asian Bistro opens from 5:00 p.m. to 10:30 p.m. Sundays through Wednesdays and till 11:30 p.m Thursdays through Saturdays. 
Door experience: Skipping the line is nearly impossible as a Tao guest because the bouncers are notoriously strict. Consequently, you'll have to wait patiently in line, even if your name is on the nightclub guest list. If you have a table reservation, you can trim the waiting time. 
Activities: Tao is a regular spot for celebs like Jay-Z and the Kardashians. Additional amenities include secluded sky boxes and renowned live DJs. Worship Thursdays are particularly popular with patrons. For a detailed outline of individual nights' activities, peruse the club's events calendar.
Dress code: Upscale nightlife attire is the name of the dress at Tao. For men, this means buttoned-down shirts with collars and dress shoes. Athletic wear and swimwear are a hard no, so are open-toed shoes. Women have a more flexible dress code. Everyone's dressed to impress, so consider this when you select your outfit. Find out more about Tao Nightclub's dress code requirements here.
Drinks: Fitted with three bars, you'll be spoilt for choice in the drinks department. Individual drinks usually start at around $15. Tao bottle service is also available.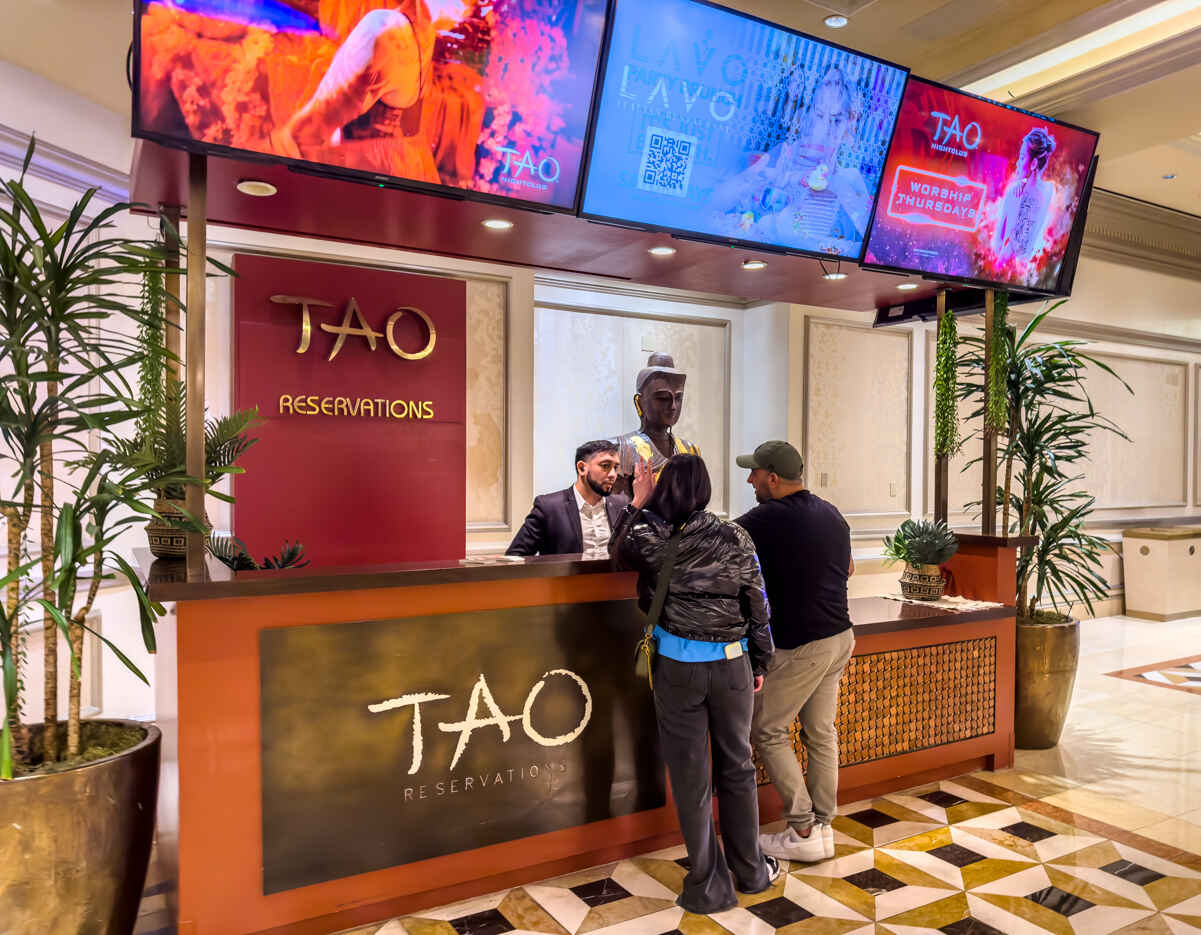 RECOMMENDED: 19 Best Restaurants in Venetian Palazzo (Casual to Fine Dining)
Tao Beach Dayclub Guest
Operating hours: Tao Beach Dayclub runs Thursdays through Sundays from 11:00 a.m. to 6:00 p.m. 
Amenities: A pool party vibe dominates the Dayclub, colored by a myriad of rejuvenating cocktails, platinum-selling DJs, and a relaxed Balinese atmosphere. You can bask under all this in your private cabana. Poolside cuisine from all over the world is also on offer.
Activities: While it's always a party at the Tao Dayclub's pool, the newly-introduced Out of Office Thursdays are quickly becoming a fan favorite. Here's the beach club's events calendar with every day's exclusive events. 
Dress code: The beach club requires patrons to be in upscale-style swimwear at the venue. Athletic wear, jeans, torn clothing, sweats, etc., are prohibited.
Drinks: During the day, Tao offers both food and drinks. You can check out the beach club's menu here. 
Why is The Venetian So Expensive?
The Venetian Las Vegas is one of the Strip's most luxurious resorts, and unsurprisingly you have to pay more for this level of sophisticated luxury. Having said that, the Venetian is a truly amazing property and is one that no visitor to Las Vegas should miss visiting, even if you're not staying there.
I can sing the Venetian's praises all day, but Vegas has numerous breathtaking hotels. Read this article to choose the Vegas hotel that's best for you. 
RECOMMENDED: Want to know what to wear at the Venetian in Vegas? Click on the link to find out more about the dress code.
Find the best deals on rooms at The Venetian and save big with TripAdvisor!
Final Thoughts
The Venetian Hotel in Las Vegas goes above and beyond to enrich its guests' stays. First on their checklist to achieve this goal is allowing guests to enter the Tao Beach Dayclub and Nightclub for free.
Enjoying Vegas' dayclub scene and nightlife has never been so easy.