Las Vegas vs. Miami Vacation: How Do They Compare?
With hundreds of travel destinations around the United States, it can be challenging to decide where to head for your next vacation. You may want to consider a popular destination like Las Vegas, Nevada, or Miami, Florida. Both cities are well-known for their numerous features that attract millions of visitors each year.
Las Vegas vs Miami for vacation and how to choose? A
lthough both cities are popular tourist destinations, Las Vegas is well known for its nightlife—like its casinos, fine dining, entertainment, shows, and nightclubs—while Miami offers more daytime attractions, such as parks, beautiful beaches, art districts, and cultural hubs.
Las Vegas and Miami are a couple of the most highly sought after travel destinations within the United States and for good reasons. However, the best city for your next getaway will depend on your budget, how much time you have, who you travel with, and the overall experience you wish to get out of your vacation.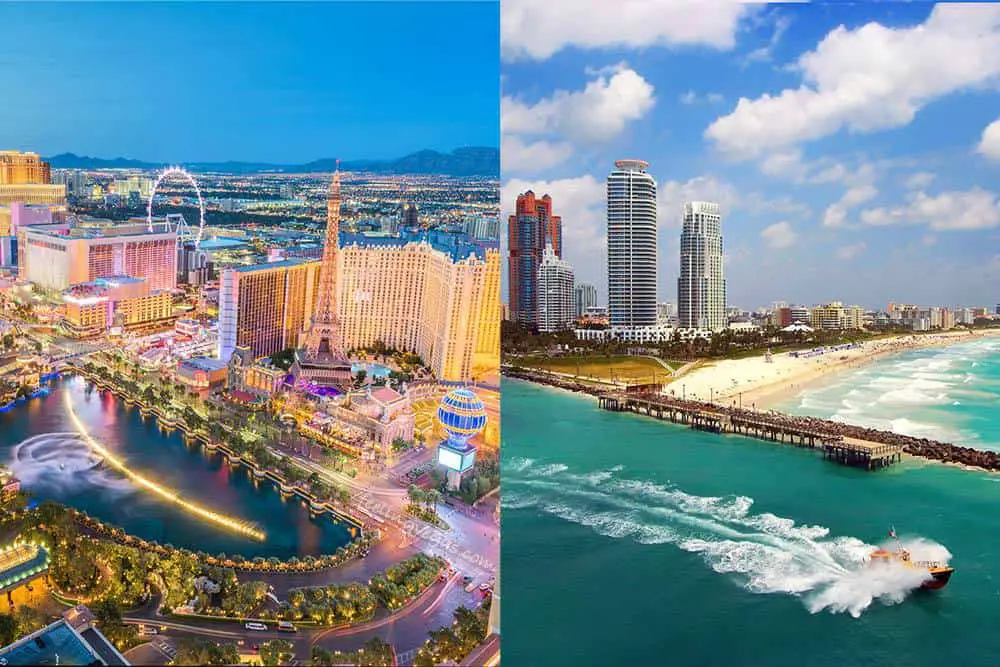 Visiting Las Vegas, Nevada 😎
When people think of Las Vegas, they imagine elegant hotels, huge casinos, five-star restaurants, and spectacular entertainment venues and options. Luckily for them, this vision is not too far from the real thing.
Planning Your Visit
Preparing for a trip to Las Vegas can become quite overwhelming when you start to consider all of the options there are available. However, as long as you take the time to do a bit of research and pre-trip planning, you'll end up having an enjoyable, stress-free experience once you're there.
Best Times of Year to Travel to Las Vegas
Las Vegas hosts millions of visitors each year (over 43 million to be exact), both from the United States and abroad. If you plan on traveling here, your instinct may be to try and choose an off-season when the city is less likely to feel overcrowded by tourists.
Unfortunately or perhaps fortunately, Las Vegas doesn't really have an off-season. People visit the city year-round. I said fortunately because unlike most places, the energy and vibe in Vegas is really at it's best when there are lots of other people around. It's just more fun!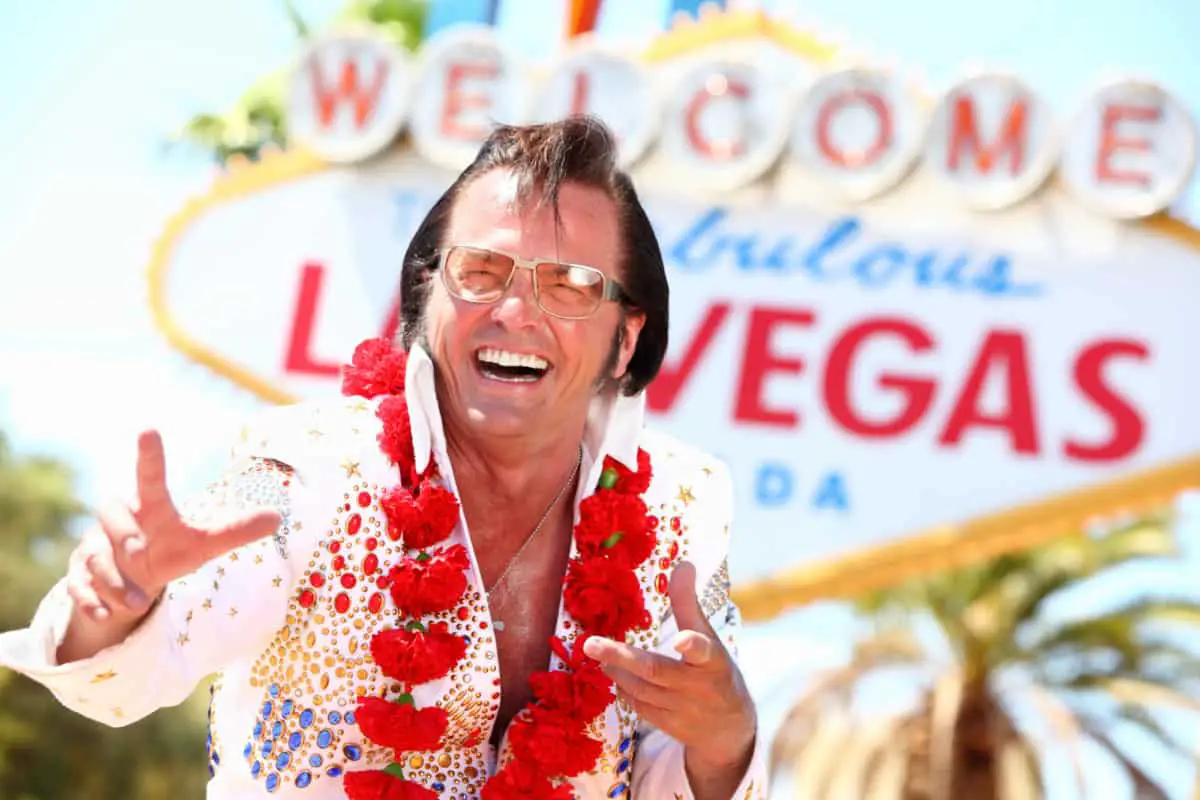 In addition, people often forget that Las Vegas is, at heart, a desert town; it can get pretty hot, with temperatures rising well past 100 degrees Fahrenheit on some of the hottest days of the year.
With these factors in mind, many people believe that the best time to visit Las Vegas is between March and May, and from September to November. During these months, you'll be able to avoid the extreme desert heat that comes during the summer.
However, if it's Las Vegas' pool scene you're looking to enjoy then I'd recommend visiting between April to September. All the most fabulous Vegas pools and pool clubs are open and at their best.
Be sure to check out our guide to the best pools in Las Vegas. The article has a list of incredible Vegas pools you can visit even if you're not a guest of the hotel.
If you're looking to avoid crowds as much as possible I'd recommend that you come to Vegas during the middle of the week. Las Vegas definitely gets busier on the weekends and is considered by many to be a weekend getaway destination, so by making a mid-week trip, you'll avoid some of the crowds. You will also be more likely to find hotel rooms at lower rates, too.
Transportation
There are multiple transportation options for you to travel to Las Vegas, and many different ways to move about the city:
Getting to Las Vegas
The most common forms of transportation people take to get to Las Vegas are by car and by plane. The best transportation option for you will depend on where you currently live. For example, many residents of southern California, western Arizona, and southern Utah choose to drive to Las Vegas since 'Sin City' is within just a few hours' drive.
In addition, with so much natural beauty surrounding Las Vegas ( ie. multiple national and state parks), those who are on road trips in the area often make a pit stop in Las Vegas.
(If you're traveling in an RV check out our guide to RV parks between Las Vegas and the Grand Canyon).
If you live further across the country, like on the east coast or Midwest, you may find it's easier for you to fly—although there's no stopping you from embarking on a cross-country road trip if you have the time to spare!
Moving Around Las Vegas

Because many of Las Vegas' popular attractions are located on the well-known central "Strip," there are many places you can get to by simply walking.
However, if you want to explore the entirety of what the Strip has to offer and beyond, it's recommended that you use a ride-sharing service—like Uber & Lyft—the Las Vegas monorail system, taxis, or some other form of public transportation that Vegas has to offer, like The Deuce bus transportation system.
You can check out our article here about how to get around Las Vegas without a car.
You also have the option to rent a car to move about, but it usually ends up being more trouble than it's worth.
See our article here to find out about the 3 things to consider before choosing to rent a car in Las Vegas.
Recommended Hotels
Las Vegas has many hotels for you to choose from, both located up and down the Strip as well as the surrounding areas. The following are some of the best-rated hotels in Vegas by class:
| | | |
| --- | --- | --- |
| Hotel* | Hotel Class | Features |
| ARIA Sky Suites | 5-star | Personal concierge; private pool; art gallery; lounge with free food and drink; access to the ARIA Resort |
| Four Seasons Hotel Las Vegas | 5-star | Family-friendly; outdoor pool; fitness center; spa; on-site restaurants and bars; access to the Mandalay Bay's restaurants and pools |
| Delano Las Vegas | 4.5-star | On-site restaurants, bars, and a cafe; spacious rooms; on-site spa and lounge; located across from Mandalay Bay |
| The Platinum Hotel & Spa | 4-star | Gaming-free environment; comfortable beds and couches; spacious rooms with in-suite kitchen; complimentary Wi-Fi; on-site WELL Spa; indoor and outdoor swimming pools |
| Aliante Casino & Hotel | 4-star | Off-Strip location; modern furnishings; lower limit casino tables; on-site full-size movie theater and restaurants |
| Downtown Grand | 3.5-star | On-site restaurants and casino; outdoor pool with poolside bar; free Wi-Fi; 24-hour fitness center; on-site bar and lounge |
| Courtyard by Marriott Las Vegas Convention Center | 3-star | Smoke-free; on-site fitness center, bar and lounge, coffee shop and cafe, snack bar and deli, and 24-hour business center |
| Desert Rose Resort | 3-star | Fireplace; complimentary coffee and tea; on-site fitness center, spa tub, and outdoor pool |
*Note: Las Vegas is known to host hundreds of conventions throughout the year, so hotels can book fast, and at a very high rate as the convention dates get closer. Make sure you check out the city's convention schedules to see which hotels are hosting them and when so that you'll be able to choose affordable lodgings better.
Notable Attractions in Vegas
The following are ranked as some of the best things to do and see while you're in Las Vegas:
Of course, casino locations aren't the only options for attractions in this lively city; check out some of the local festivals and events, or visit the nearby Adventuredome Theme Park while you're here! 
Popular Restaurants
Las Vegas has all sorts of dining options to explore along the Strip. Some of the highest-ranked restaurants worth trying include:
(Source)
Visiting Miami, Florida 🏝
Miami is a very diverse city that serves as a major hub for transportation, business, and resorts for the United States, the Caribbean, and Latin America. It is the go-to destination for many winter vacationers, as well as an all-encompassing stop suited for both work and play for those traveling for business.
Planning Your Visit
Like any other planned trip, you'll need to determine when you want to visit Miami, how you want to get there, and where you should stay while you're there.
Best Times of Year to Travel to Miami
Many people see Miami as a place to go during the winter to escape colder temperatures, so it is often busier around this time of year. For that reason, it is usually best to plan a trip to Miami after the winter season ends.
If you plan on checking out the beaches Miami has to offer, I recommend that you visit between the months of March and May.
This is around the time of year when the temperature begins to heat up, but not so much that you'll be uncomfortable lounging in the sun on the sand; the average high temperatures will range from the upper 70s in March to the mid-80s by May.
You'll also want to avoid the hurricane season that kicks in at the beginning of June and goes through October. Plus the humidity at this time of the year is quite high and can make things very uncomfortable.
Also, keep in mind that many college students head to Miami during spring break, usually in March. This means that you are likely to see more crowded beaches and popular destinations in the city during this time. If you want to avoid the crowds in the spring, it's recommended that you aim to plan your trip closer to the end of April or in May. 
Transportation
There are many transportation options available for getting to and around Miami:
Getting to Miami
Most people end up flying to Miami's International Airport (MIA), or one of its nearby major airports, to vacation here, although there are a few who may prefer to drive down Florida's coast from neighboring states.
Moving Around Miami

If you plan on spending most of your time near the beaches, you're better off exploring the area on foot or bicycle, especially if you plan on renting a room at a hotel nearby.
If you want to give your feet a break, but don't have a bicycle handy, don't worry: there are plenty of bike rental shops in the area!
For travelers wanting to see more of the city, you have the option of taking a taxi, ride-share service, or the SoBe Local bus and trolley system. There's also Tri-Rail, Miami's train transportation system if you want to visit a neighboring city. A rental car is also a good option if you're going to explore further out into the city.
Recommended Miami Hotels
Whether you want to stay beach-side or in the city's center, Miami has a range of highly-rated hotels to fit any of your traveling needs:
| | | |
| --- | --- | --- |
| Hotel | Hotel Class | Features |
| Mandarin Oriental, Miami | 5-star | Quiet atmosphere; spacious bathrooms and private balcony; views of the city and bay; infinity pool; on-site restaurants |
| The Ritz-Carlton Key Biscayne, Miami | 5-star | Nearby attractions; heated outdoor pools; RUMBAR lounge; on-site spa and restaurants |
| The Biltmore Miami Coral Gables | 4.5-star | Famous guest list; luxurious setting; on-site pool, golf course, and restaurant |
| Trump National Doral Miami | 4-star | Full-resort experience; on-site spa, pool, tennis courts, and golf courses; upscale and casual dining available |
| Hotel Colonnade Coral Gables | 4-star | Modern rooms with high-tech amenities; meeting spaces; on-site restaurant, cafe, and espresso bar |
| YVE Hotel Miami | 3.5-star | Free Wi-Fi; wedding services; on-site Biscayne Tavern |
| Homewood Suites by Hilton Miami Airport West | 3-star | Outdoor pool; smoke-free; fitness center; complimentary coffee and tea; free buffet breakfast, self-parking, and airport shuttle; on-site business center, meeting room, and dry cleaning |
| Marriott's Villas at Doral | 3-star | On-site restaurant, outdoor pool, and 24-hour fitness center; free Wi-Fi and self-parking; spa tub and massage/treatment rooms; dry cleaning available |
Notable Miami Attractions
While you're in Miami, check out these popular attractions and things to do:
Popular Restaurants
Because Miami is an international city, you can find all types of delicious cuisine to try during your stay. Some of the most highly-rated restaurants in the Miami area include:
| | | |
| --- | --- | --- |
| Restaurant | Cuisine | Cost ($) |
| CVI.CHE 105 | Peruvian, Latin, Seafood | $-$$ |
| Crust | Italian, Pizza | $-$$ |
| Steak Brasil Churrascaria | Steakhouse, Brazilian, Latin, BBQ | $-$$ |
| Ferraro's Kitchen Restaurant & Wine Bar | Italian, European, Mediterranean | $-$$ |
| Aromas Del Peru | Peruvian, Spanish | $-$$ |
| El Pollo Inka Miami | Peruvian, Seafood, South American, Latin, Spanish | $-$$ |
| Pollos & Jarras | Barbecue, Peruvian, Latin | $-$$ |
| Basilico Ristorante | Italian | $-$$ |
| El Mago de las Fritas | Caribbean, Latin, Spanish, Cuban | $ |
| Vero Italian Restaurant | Italian, Pizza | $-$$ |
Las Vegas vs Miami: Which City is Best to Visit?
Both Las Vegas and Miami are wonderful cities worth visiting at least once in your life (In my opinion they're both worth visiting multiple times if you can 😉 However if you're stuck on where you should go first, consider these factors:
Budget
If you have a more modest budget, a trip to Miami may be the better option for you. Its hotels are smaller, affordable, and are usually closer to local attractions like the beach, so you can save money on walking or biking from place to place rather than using a ride-sharing service or rental car.
Las Vegas, on the other hand, almost requires you to have extra funds on hand if you plan on gambling while you're there. Many of the hotels have everything you need in one place (restaurants, casinos, entertainment, etc.), but you ultimately end up paying more for the convenience.
In addition, if you want to explore more of Vegas, you will need to have additional funds for a ride-sharing service or taxi to get around.
(Find out how much money you should take to Las Vegas in our article here).
Timing & Length of Stay
When are you planning to go on your trip? Will you be traveling during the holidays or for summer vacation while the kids are out of school? Are you just looking for a quick getaway from work?
What about how long you want to stay? If you have more time on your hands, like a week or two, you may want to consider a road trip to either Las Vegas or Miami.
If you're opposed to a long drive, consider staying a week in Miami, since it has many attractions for visitors to explore.
If you only have as little as a couple of days or a long weekend, then Las Vegas may be the better option; because many of its popular destinations are open 24/7, you may find that you are able to experience a whole lot in Vegas in as little as one weekend.
(Find out how long you should plan to stay in Vegas in this article on our website).
Travel Companions
Will you be going alone, with a significant other, family, or a group of friends? Both Las Vegas and Miami are ideal locations for those traveling with small groups of friends.
Even single travelers and couples can enjoy the things both cities have to offer.
However, if you plan on traveling with family or young children, you may prefer to go to Miami, as it has a wider variety of kid-friendly attractions. In fact, Miami is only a few hours' drive away from Orlando, home to Disneyworld and Universal Studios!
Also, if you wanted to spend a day away from the kiddos, some hotels actually offer babysitting services, too.
On the other hand, Las Vegas has become a very family-friendly travel destination as well so no need to limit yourself there if you're traveling with kids.
Conclusion
Ultimately, the best choice when choosing between Las Vegas vs. Miami for a getaway really comes down to personal preference. I feel confident that no matter what you choose, you'll end up having a wonderful time!
I hope this article helped you make the best decision for your upcoming vacation!
More Las Vegas Travel Comparisons
Find out how these vacation destinations stack up to Las Vegas.
San Diego vs. Las Vegas: Which is the better vacation? – Article here
Las Vegas or Los Angeles for Vacation: How to Decide? – Find out here
Las Vegas vs. New York City Vacation: Which one?
Las Vegas vs. San Francisco: How to Decide?
Nashville vs. Las Vegas: Which Is Better for Vacation? – Find out here
Reno vs. Las Vegas: And the winner is – Find out in our article here
Palm Springs vs. Las Vegas Vacation: Which one's right for you?
Las Vegas or New Orleans for Vacation: How to decide?
Las Vegas vs Orlando: Best for vacation? Find out here