Las Vegas vs. New York City Vacation: Which Is Better?
New York City is a world-renowned destination that offers a distinctive cultural experience with its very own nickname: the Big Apple. Las Vegas comes with its own nickname too: Sin City, and it offers glitz, glamour, and a non-stop party atmosphere.
These two cities share some similarities but in the end, couldn't be more different. While both Las Vegas and New York have a lot to offer, which one will be the best choice for your next vacation?
Head to New York City for skyscrapers, food, iconic neighborhoods, museums, and to feel the fast-pace of big city life. A trip to Las Vegas will include glitz, glamour, parties, gaming, relaxation, and some of the most over the top casinos found anywhere in the world.
The chart below compares some of the vacation highlights between Las Vegas and New York City:
Category
Las Vegas
New York City
Cost of Stay: Weekly
$1,785 per person
$1,676 per person
Transportation
Monorail, shuttle buses, taxis, Uber, Lyft, local bus service
Subway system, local bus service, taxis, Uber, Lyft, commuter rail, ferry system
Notable Attractions
– Las Vegas Strip,
– Fountains of Bellagio,
– Iconic Casinos/Hotels,
– Downtown Las Vegas,
– Hoover Dam,
– Statue of Liberty (Replica)
– Empire State Building,
– Central Park,
– The Metropolitan Museum of Art,
– 9/11 Memorial Museum,
– Statue of Liberty,
– Brooklyn Bridge
Weather
Warm and dry most of the year
Hot and humid summers, cold winters
Food and Drink
International cuisine, western US cuisine, numerous bars, and lounges
International cuisine, numerous bars, and lounges
Activities for Kids
-Discovery Children's Museum
– Sharks Reef
– Downtown Container Park
– High Roller Observation Wheel
– Waterparks
– Adventuredome
– One World Observatory
– Pip's Island
– Gulliver's Gate
– Museum of Ice Cream
Nature Attractions
– Red Rock Canyon
– Valley of Fire State Park
– Clark County Wetlands Park
– Lake Mead
– Bryant Park,
– Hudson River Park
– Conservatory Garden
(This article may contain affiliate links, which means we might earn a small commission if you click and make a purchase. Thank you!)
It may seem virtually impossible to compare any destination to New York City, which is the beating heart of the United States. Every kind of culture you could imagine thrives in New York City, but in terms of a vacation to the Big Apple, there are some similarities that can be drawn between this thriving metropolis and Las Vegas.
Read on to find out more about the highlights between each city and which is the better overall vacation destination.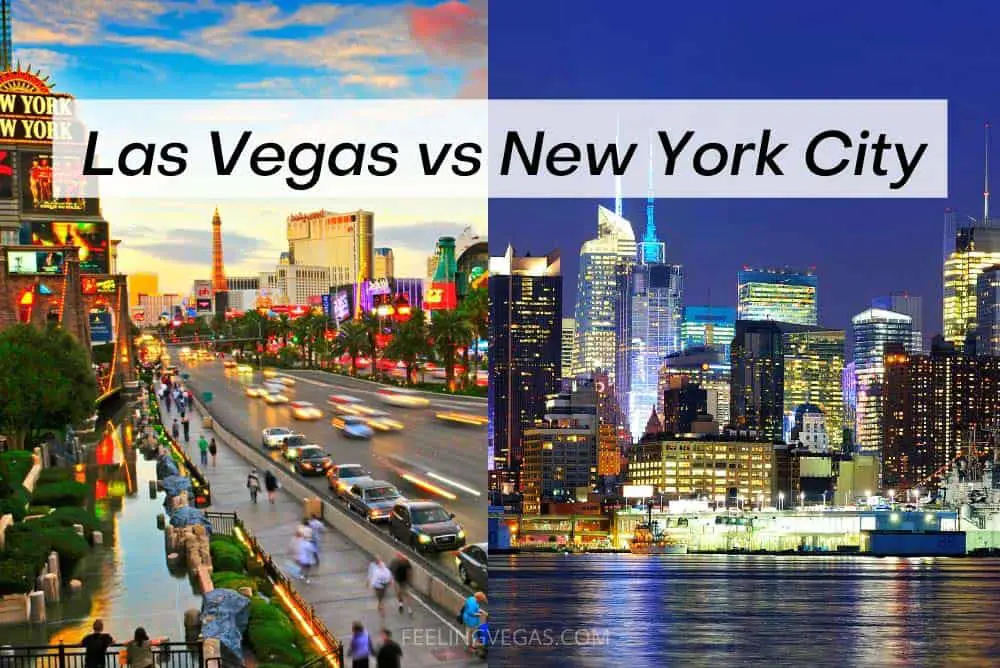 Las Vegas vs. New York City: Cost of Stay
When it comes to costs, a standard, one week vacation to either New York City or Las Vegas is virtually identical.
A vacation to Las Vegas is slightly higher based only on the possibility of incurring more financial costs due to the readily available gaming options in Las Vegas casinos. (You would have to travel to nearby Atlantic City in New Jersey to partake in gambling on a New York City vacation.)
Category
Las Vegas
New York City
Cost per person
per week
$661 (budget)
$1,785 (mid-range)
$5,164 (luxury)
$615 (budget)
$1,676 (mid-range)
$4,926 (luxury)
source1, source2
New York City is just plain expensive. A large portion of your expense is based on where you decide to stay during your vacation.
Just like Las Vegas, New York City has several renowned, first-class hotels and resorts, in addition to hundreds of more affordable but still expensive options.
Staying in a New York City hotel is one aspect that will easily raise the overall cost of the trip to a Las Vegas price point. The cost of living in New York City is also a likely factor that makes a vacation there so expensive.
The cost of living in Las Vegas is nowhere near as expensive once you get away from the tourist areas on the Strip, which is an important fact to keep in mind since a vacation to Las Vegas and a residency in the city are two entirely separate things; New York City is expensive across the board. 
Las Vegas vs. New York City: Transportation
Another similarity between these two cities is the ease of available transportation when on a vacation. Many of the main attractions that characterize a New York City or Las Vegas vacation are easy to reach via plentiful transportation options that include taxis, Uber, bus, shuttles, and more.
Las Vegas has a benefit in that the majority of tourist destinations are located either on the Strip or in downtown Las Vegas. So you won't have to spend much of your vacation traveling from place to place to see everything.
Additional Las Vegas transportation options include a monorail, a hop on hop off bus as well as a couple of free trams between some of the casinos.
You can find out more about getting around Las Vegas without a car in our complete guide here.
New York City has the benefit of a comprehensive subway system. Although New York City is much more spread out, the subway system will easily take you to any of the Big Apple's boroughs within a relatively short amount of time once you get it all figured out. 
No matter which city you choose, you will never have to stress about transportation. 
Las Vegas vs. New York City: Notable Attractions
The number one biggest factor in a New York City vacation is going to be all of the available attractions, which will easily fill a one week vacation very quickly. The Statue of Liberty, the Empire State Building, the Museum of Modern Art, all of these attractions need no introduction.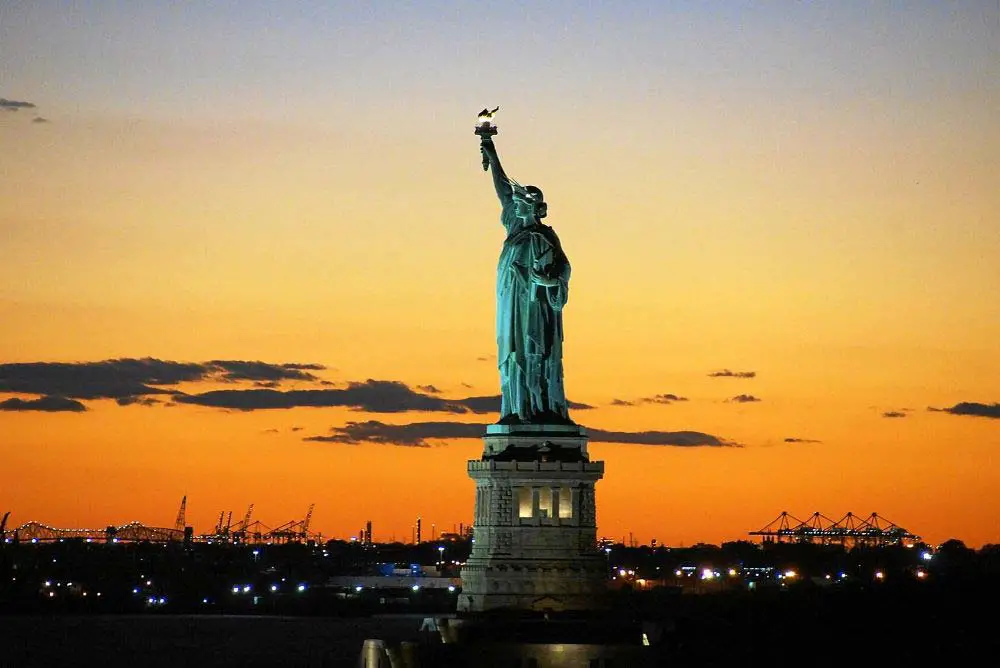 Apart from the above-mentioned must-visit attractions, you could easily spend an entire day simply strolling through Central Park, which is particularly stunning during the autumn months.
Finally don't forget Broadway! With more than 40 theatrical productions available at any given time, you'll never want for entertainment.
Las Vegas attractions you'll know by name include several famous casinos, including the Bellagio, Caesars Palace, the Venetian, Paris Las Vegas, and the Wynn. These are some of the most over the top and opulent casinos you'll find anywhere in the world.
In fact, you can even get a slice of New York City by visiting New York – New York Casino and Hotel during your Las Vegas vacation. So, if you'd like to combine the best of both cities, staying at this hotel would fulfill the vibe fairly adequately.
A little ways up the Strip you'll find the stunning Fountains of Bellagio, which is located in the front of the Bellagio Hotel and Casino–you'll want to be sure to view the fountains both during the day and in the evening hours.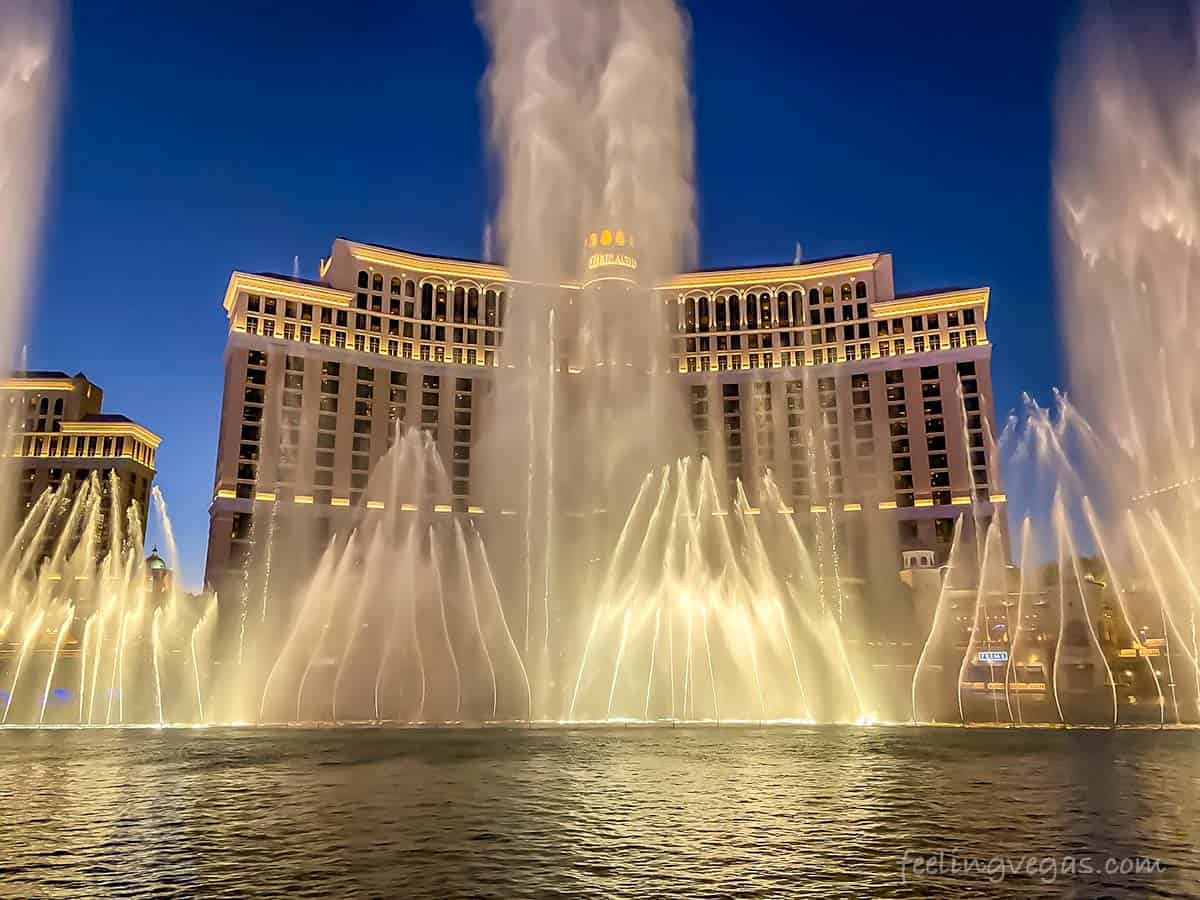 Much like New York City, Las Vegas offers an abundance of shows and entertainment. From headline entertainers to large production shows to one-man comedy acts and everything in between, Las Vegas can entertain you no matter what style of entertainment you prefer!
If you enjoy games of chance, you'll think you've died and gone to heaven! Las Vegas has a never-ending supply of slot machines and casinos. If you're not that into the gambling don't worry, there is so much more to do from world-class shopping to adventure tours to attractions galore.
Without a doubt, New York City is defined by the huge amount of attractions it offers any vacationer but, to be honest, so is Las Vegas. Which city you choose really depends on the type of things you'll want to see and do.
Las Vegas vs. New York City: Weather
In terms of weather, these two cities couldn't be any more different. Las Vegas is located in the Mojave Desert, which means dry weather nearly all year and warm temperatures with some minor exceptions during the winter months (January & December).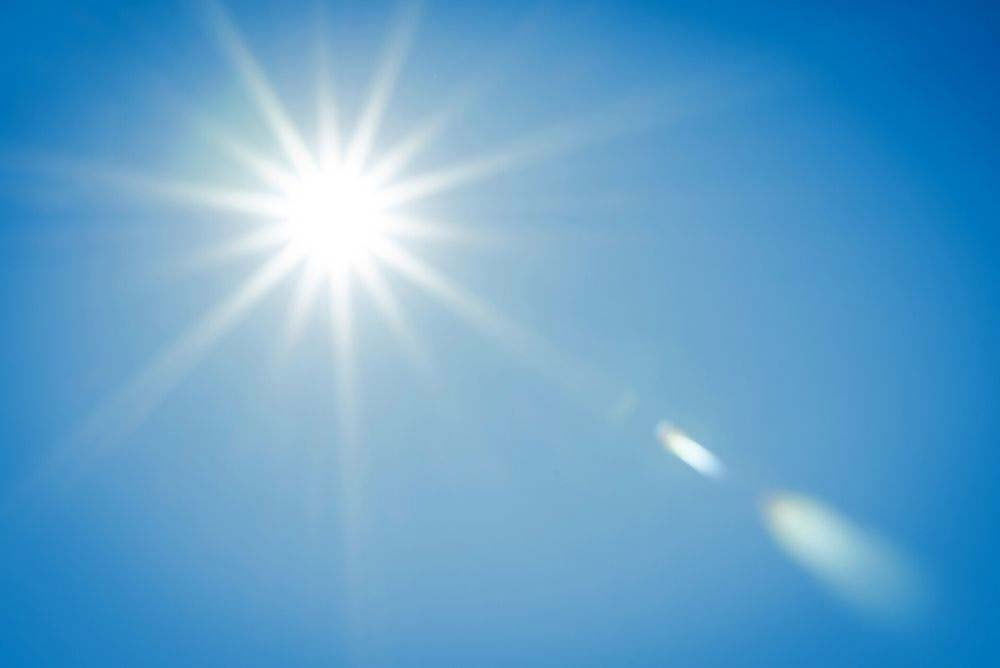 While Las Vegas in known for being excessively hot, this is only true during the summer months. With over 300 days of sunshine annually the odds of having nice weather during your vacation are high! Even during the summer, there is plenty of air conditioning and pools to keep you comfy.
New York has four distinct seasons with far more humidity.  With cold winters and hot and humid summers, the ideal times for vacationing in New York are in the spring and fall.
Las Vegas vs. New York City: Food and Drink
Visiting either Las Vegas or New York is a foodies dream come true!
Each city features a wide array of international food and drink options. Everything from casual bites to upscale dining can be had nearby. Finding a restaurant to suit any particular taste or craving is easy in both cities.
It goes without saying that bars and lounges are also plentiful in both locations. Las Vegas, however, is difficult to rival when it comes to interesting and unique themed bars. For instance, you can stop and have a drink inside a giant 3-story Swarovski chandelier made entirely of crystals at the Cosmopolitan!
Las Vegas vs. New York City: Activities for Kids
Both cities are pretty equal when it comes to attractions for children. A New York City highlight is the Museum of Ice Cream which is not your average museum.
Filled with interactive exhibits and treats for your sweet tooth, this is the most delicious museum you've ever been to.
The kids will also enjoy the Natural History Museum, taking a walk on the Brooklyn Bridge and the Children's Museum of Manhattan.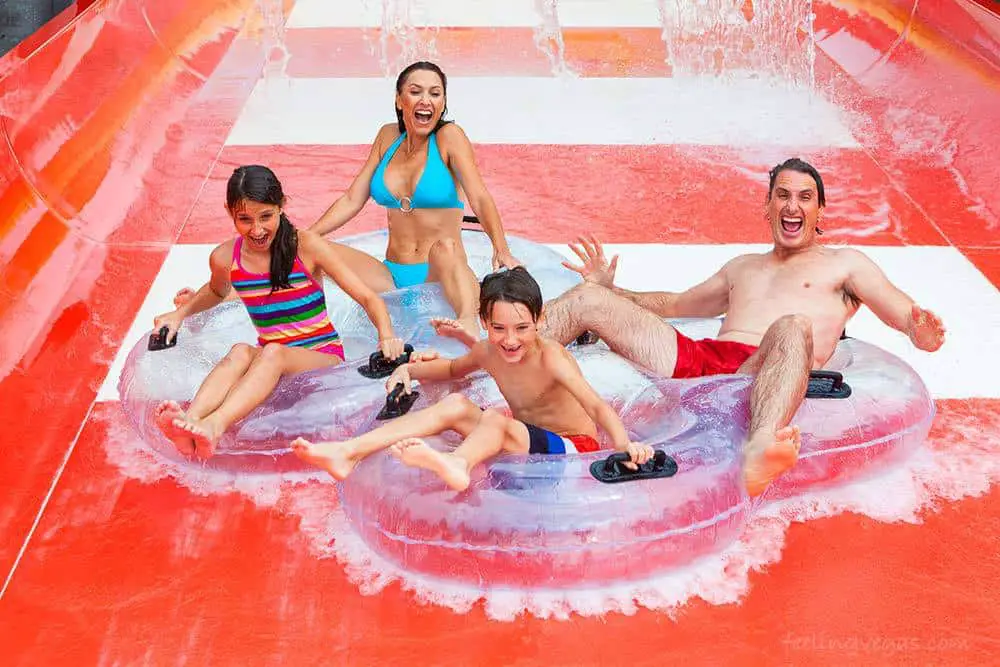 In Las Vegas, you can visit the Discovery Children's Museum, a fun and educational stop that the kids will love. There's also, plenty of other spots you'll want to visit if you're traveling with children. These include M&M's World, Cowabunga Bay Waterpark, and Springs Preserve.
While Las Vegas has historically not been considered a kid-friendly destination, that has changed greatly over the last decade or so.
Today Las Vegas is filled with kid and family-friendly activities. You can find a big list of ideas for a fun-filled family vacation in Las Vegas in our article here.
Las Vegas vs. New York City: Nature Attractions
When it comes to nature, New York City has a lot of parks and green spaces, some of which are so large it can feel like you're out away from it all but, in fact, you're in the middle of one of the largest cities in North America.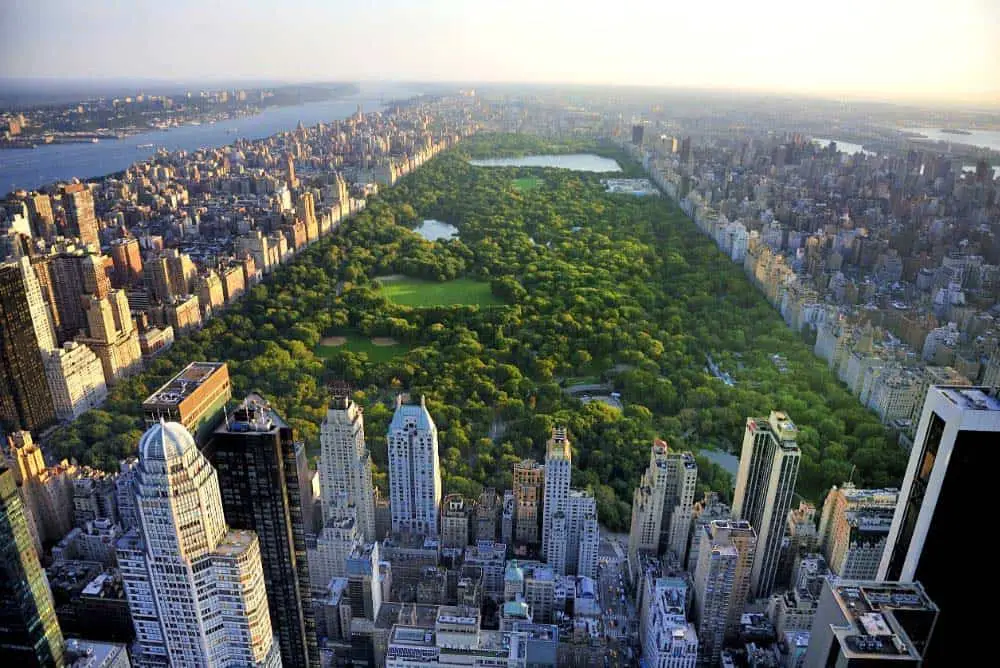 Take the most famous, for example, Central Park. Covering 843 acres, Central Park is a green space filled with trees, grass, ponds, walking/biking trails and so much more.
It feels a bit like a national or state park, only it's surrounded by a concrete jungle.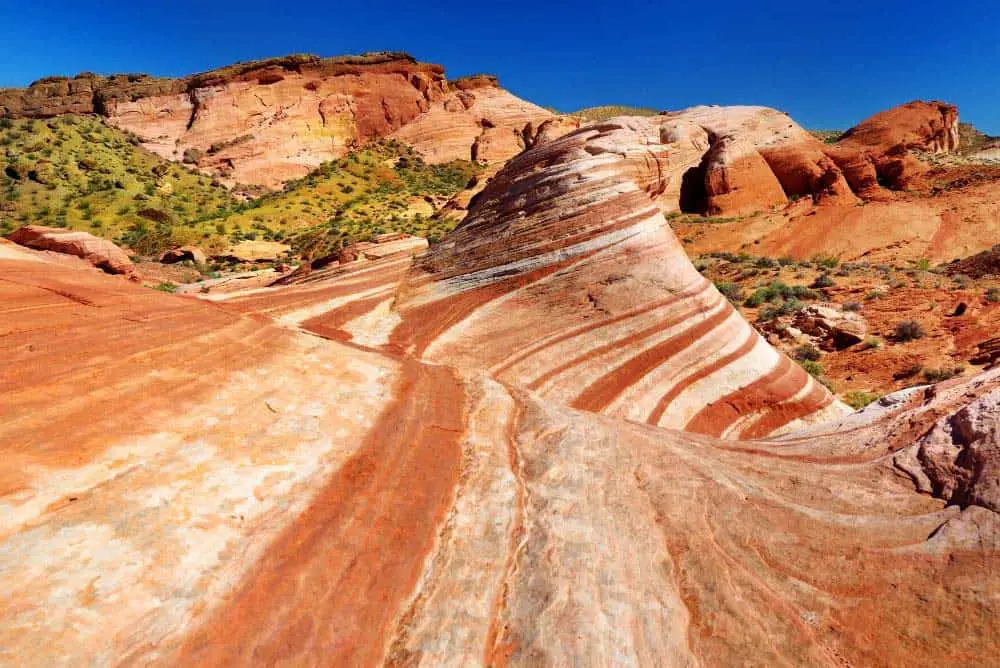 Las Vegas, on the other hand, has a bit more in the way of natural attractions once you venture a bit off the Strip. Highlights include Red Rock Canyon, Valley of Fire, and Wetlands Park.
In fact, if you're willing to explore the desert outside the city you find that some of the country's best state and national parks literally surround the city of Las Vegas.
Conclusion
Choosing between New York City and Las Vegas can be difficult; Sin City offers a lot of activities in a smaller, contained area. These activities tend to be flashy, energetic, and exciting!
The Big Apple offers many activities as well spread out over a much larger area, with the buzz and energy of a big, close-in city.
Both cities should be on your bucket list but if you have to choose just one, I'd recommend Las Vegas. Whatever it is you want out of your vacation (excitement, activity, shows, attractions, gambling, or relaxation), Las Vegas can satisfy them all. It's really like several vacations in one!
Other Las Vegas Travel Comparisons
Find out how these other destinations stack up against Las Vegas.
San Diego vs. Las Vegas: Which is the better vacation? – Article here
Las Vegas or Los Angeles for Vacation: How to Decide? – Find out here
Las Vegas vs. Miami: How Do They Compare? – We tell you here
Las Vegas vs. San Francisco: How to Decide?
Nashville vs. Las Vegas: Which Is Better for Vacation? – Find out here
Reno vs. Las Vegas: And the winner is – Find out in our article here
Palm Springs vs. Las Vegas Vacation: Which one's right for you?
Las Vegas or New Orleans for Vacation: How to decide?
Las Vegas vs Orlando: Best for vacation? Find out here