Las Vegas vs. San Francisco Vacation: Which Is Better?
(This article may contain affiliate links. If you click through and make a purchase, we will receive a small commission at no additional cost to you. )
If you're thinking about vacationing in either San Francisco or Las Vegas you're probably wondering where you'll have a better time? Both locations have iconic attractions, so choosing a vacation between the two could be a difficult task.
Both cities offer amazing options for a fun vacation. San Francisco is a great choice for its beaches, parks, famous trolleys, and the Golden Gate Bridge, while Las Vegas is an excellent choice for its glitzy extravagance, iconic casinos, shows, celebrity performances, and endless attractions.
The following chart compares the costs and vacation highlights between Las Vegas and San Francisco:
Category
Las Vegas
San Francisco
Cost of Stay: Weekly
$1,785 per person
$1,207 per person
Transportation
Monorail, shuttle buses, trams, taxis, Uber, Lyft, local bus service
Bay Area Rapid Transit, Trolleys, San Francisco Bay Ferries, Golden Gate Ferries, Uber, Lyft, taxis, local bus service
Notable Attractions
– Las Vegas Strip
– Fountains of Bellagio
– Iconic Casinos and Hotels
– Downtown area
– Golden Gate Bridge
– Alcatraz Island
– Haight Ashbury District
– Palace of Fine Arts Theatre
Weather
Warm and dry most of the year
Mild with four distinct seasons
Food and Drink
International cuisine, Western US cuisine, numerous bars and lounges
Seafood, international cuisine, numerous bars, and lounges
Activities for Kids
– Discovery Children's Museum
– Springs Preserve
– SeaQuest
– Downtown Container Park
– High Roller Observation Wheel
– Pier 39
– Exploratorium
– Sea Lion Center
– Fisherman's Wharf
Nature Attractions
– Red Rock Canyon National Conservation Area
– Valley of Fire
– Hoover Dam
– Wetlands Park
– Golden Gate Park
– San Francisco Botanical Garden
– Golden Gate Promenade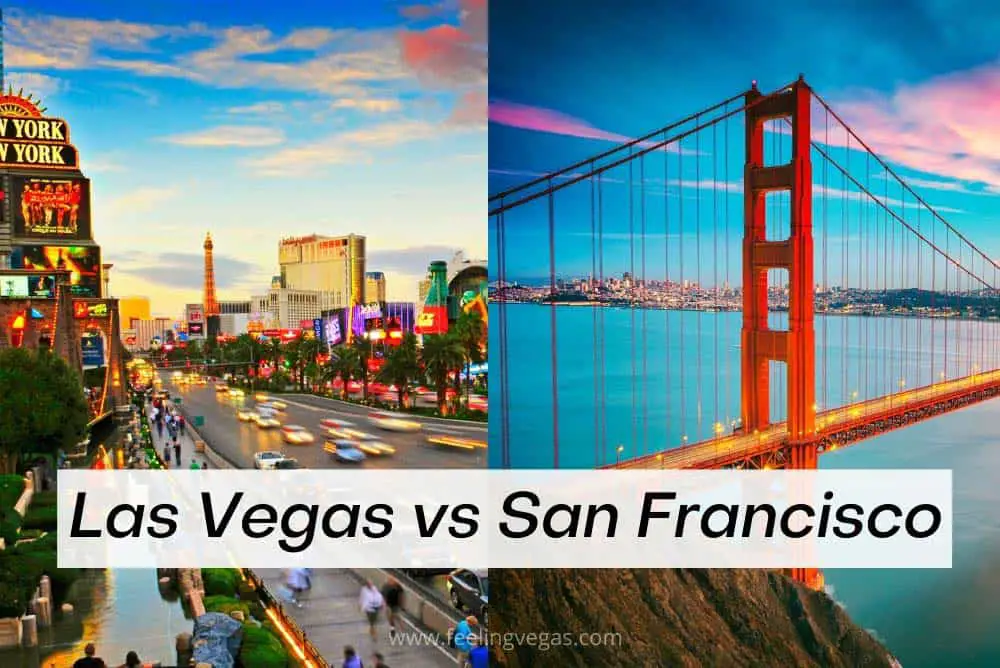 San Francisco and Las Vegas are both sizable and frequently visited cities in the United States. Each of these destinations, however, offers a completely different vibe to visitors.
When choosing between the two cities for vacation, the decision is ultimately going to be made on the overall cost, as well as the notable attractions you'll want to see in each place, so read on to learn more. 
Las Vegas vs. San Francisco: Cost of Stay
Category
Las Vegas
San Francisco
Cost per person
per week
$661 (budget)
$1,785 (mid-range)
$5,164 (luxury)
$476 (budget)
$1,207 (mid-range)
$3,075 (luxury)
source1, source2
You have likely heard that San Francisco is one of America's most expensive cities to live in, yet the same can also be said for a standard, one week vacation in the city!
The average cost for a mid-range trip to San Francisco will run you about $172 per person per day.
San Francisco is filled with notable landmarks and areas that are popular throughout the year, which is one reason why it's costly to even visit San Francisco. The culture and variety of things to do in this city are immersive and vast, which is enough to put it close to Las Vegas on overall costs. 
The number of things to do, see and spend money on in Las Vegas is truly immense, in addition to this, gambling is another factor that can make any Las Vegas trip expensive. You can count on the average cost for a mid-range stay in Las Vegas to be around $255 per person per day.
Even if you don't gamble the costs could still be quite expensive. Just staying in one of the nicer hotels on the Las Vegas Strip is costly, and the expense only continues to rise simply because it is impossible to truly experience Sin City without a fair amount of cash, however, the same can be said for visiting San Francisco.
Comparing the cost between the two cities is odd in the sense that Las Vegas is overall a much cheaper place to live than San Francisco, yet the prospect of having a true Las Vegas vacation is tantamount to paying a high insurance premium.
You can spend a lot of money when vacationing in Las Vegas, even though San Francisco is the more expensive city.  Las Vegas doesn't have to be expensive though. It really depends on how large you wanna live while you're in Vegas!
Las Vegas vs. San Francisco: Transportation
San Francisco is much larger than Las Vegas from a geographical perspective. The San Francisco Bay Area alone is so widely spread out that several options for transportation have been implemented to adequately cover the area.
The Bay Area Rapid Transit (aka BART) is a subway system that easily connects locals and vacationers alike to all parts of the Bay Area. Additionally, various trolly and ferry services are iconic staples of the city's culture, which are widely used by tourists and locals. 
So transportation will certainly not be a problem during a San Francisco vacation.
Las Vegas is also well-served by numerous transportation choices. While, sadly, a subway system is not one of them, Las Vegas has an abundance of transportation options including a monorail system, free trams, a hop on hop off bus, Uber, and more. 
Las Vegas also has the added benefit of having the majority of destinations of interest to tourists located close to one another, either on the Strip or in the downtown area. So you won't have to spend a great deal of your vacation time traveling from spot to spot.
You can find out everything you need to know about getting around Las Vegas without a car in our article here.
Las Vegas vs. San Francisco: Notable Attractions
This category will likely not make the decision any easier; San Francisco and Las Vegas have several notable things to experience. The Golden Gate Bridge in San Francisco is the Statue of Liberty of the Western United States; it's a must-see attraction in any traveler's itinerary.
Additionally, Alcatraz Island and the Haight-Ashbury District are similarly well-known attractions that form the core of any San Francisco vacation. 
Las Vegas itself is an endless series of attractions. From the many iconic hotels and casinos (Bellagio, Caesars Palace, Paris Las Vegas, etc.) on the Las Vegas Strip, to the artsy party vibe in the downtown area, you'll never run out of things to do and see in Vegas. In addition, there are also many nearby attractions such as Hoover Dam, Lake Mead, and Red Rock Canyon for you to enjoy.
Staying at a hotel and casino on the Las Vegas Strip is just one vacation inside of an endless possibility of vacation choices throughout the city.
You can have as wild or relaxing of a vacation as you want and since Las Vegas is open for business 24/7, you can simply step out of your hotel room at any time of the day or night, to continue your vacation experience.
Las Vegas vs. San Francisco: Weather
The weather is drastically different when comparing these two cities. San Francisco has a mild and temperate climate throughout the year, and all four seasons play out in perfect harmony. The summers are comfortable and long while the winters are cold, wet, and short.
The average temperature range throughout the year in San Francisco is 45 degrees to 72 degrees Fahrenheit. It never really gets too hot or too cold in San Francisco. (source)
Las Vegas is generally dry, usually warm, and in the summer months is downright hot! This won't matter too much, however, unless you plan on spending a lot of time doing outdoor activities.
The temperatures in Las Vegas range throughout the year from 38°F to 105°F. (source) Summer provides the perfect season to enjoy Las Vegas' beautiful pools, while spring and fall are ideal for other outdoor activities.
Las Vegas vs. San Francisco: Food and Drink
Finding food and drink will never present a problem in Las Vegas or San Francisco. Elegant restaurants stand side-by-side with less casual dining options in both cities. A large selection of international cuisine is available in both cities, as well.
In addition, to both the casual and fine dining experiences found in Vegas are the large number of restaurants operated by celebrity chefs. Establishments such as Gordan Ramsay's Hell's Kitchen Las Vegas are always in popular demand.
There are numerous options for liquor, wine, and spirits in both cities but as you can imagine, Las Vegas really outdoes itself when it comes to uniquely themed bars and cocktails! You'll never be far from an amazing bar in Vegas!
Las Vegas vs. San Francisco: Activities for Kids
Your kids will likely not get bored in either city, yet San Francisco does have a slight edge in this category. The Exploratorium in San Francisco is an endless wonderland of science, technology, and visual art that will also please most adults.
Additionally, the sea lion center at the Bay Ecotarium is one of the best exhibits for live sea lions in the country.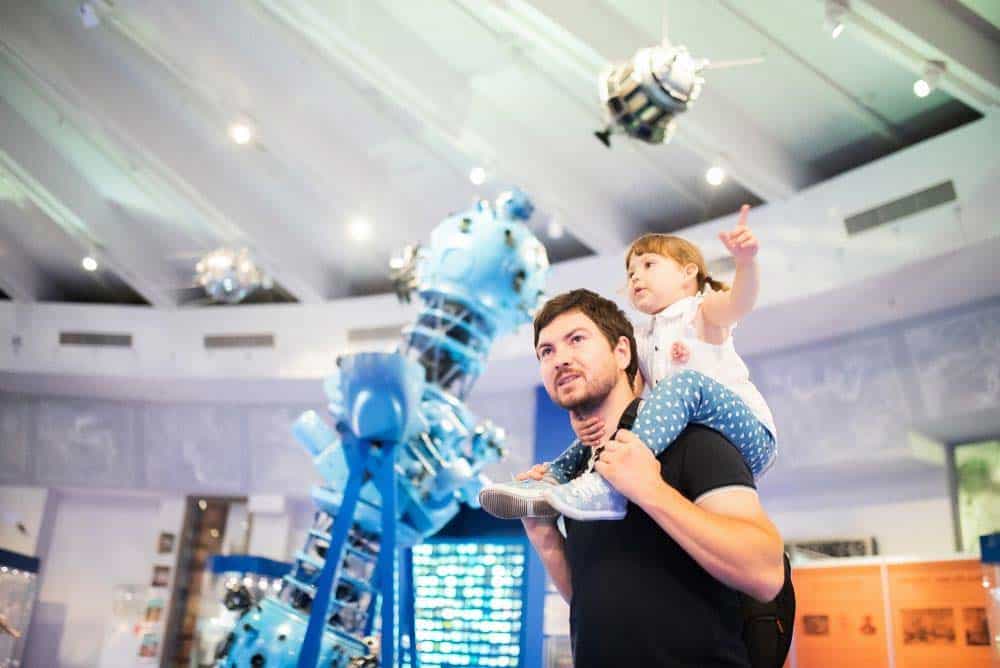 Las Vegas has been growing a lot in terms of activities for kids. Kids visiting Las Vegas will enjoy the Discovery Children's Museum (similar to the Exploratorium in S.F.), it's home to science, tech, and activities that children will love! The Springs Preserve is another favorite for kids visiting Las Vegas. The Springs have 180 acres of displays, gardens and nature walks that are perfect for a family outing.
For more child-friendly activities in Las Vegas check out our article 44 Things to Do in Las Vegas for Kids and Families.
Las Vegas vs. San Francisco: Nature Attractions
Although the nature and landscapes are very different, both cities have a lot to offer in terms of natural attractions.
The Golden Gate Park and San Francisco Botanical Garden offer lush, scenic views that are a necessity when vacationing in San Francisco, and you can't forget the spectacular beaches and coastlines of the Bay Area!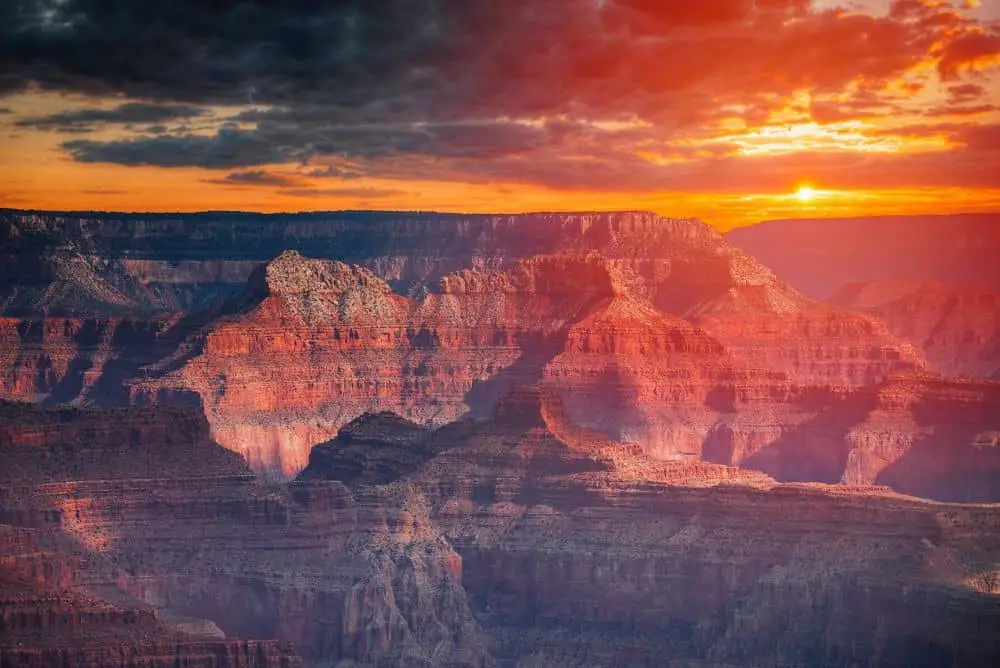 Las Vegas has an equally stunning desert landscape to take in. Vegas itself is literally surrounded by state and national parks that rival natural attractions found anywhere else in the world!
You can see the variety of outdoor and nature offerings by checking out the many tour options available daily from the city.
Both cities are stunningly beautiful and are quite equally matched when it comes to natural attractions.
Conclusion
So as you can see, both Las Vegas and San Francisco are amazing vacation destinations. Both cities should be on everyone's wish list for a visit. If you want to see landmarks and immerse yourself in a unique culture, San Francisco is a safe bet.
Having said that, I think that Las Vegas is the better choice because of the sheer amount of things to do, see, and experience within a relatively small area. You could come to Las Vegas multiple times and have a different vacation each and every trip.
Honestly, either city is a great choice for a vacation, but Las Vegas is simply irresistible. 
If you'd like learn more about prices and deals in Las Vegas be sure to check out our Vegas Visitor Resource page for information and discounts.
More Las Vegas Travel Comparisons
Find out how these vacation destinations stack up against Las Vegas.
San Diego vs. Las Vegas: Which is the better vacation? – Article here
Las Vegas or Los Angeles for Vacation: How to Decide? – Find out here
Las Vegas vs. Miami: How Do They Compare? – We tell you here
Las Vegas vs. New York City Vacation: Which one?
Nashville vs. Las Vegas: Which Is Better for Vacation? – Find out here
Reno vs. Las Vegas: And the winner is – Find out in our article here
Palm Springs vs. Las Vegas Vacation: Which one's right for you?
Las Vegas or New Orleans for Vacation: How to decide?
Las Vegas vs Orlando: Best for vacation? Find out here