Las Vegas or Los Angeles for Vacation? How to Decide
(This article may contain affiliate links. If you click through and make a purchase, we will receive a small commission at no additional cost to you. )
If you're beginning vacation planning but are torn between Las Vegas and Los Angeles, you may be looking to learn a little more about each destination. They're both exciting, both have great climates and – fortunately – they are not too far apart. A drive from Las Vegas to LA might be just what you need to get an unforgettable experience from both cities.
Las Vegas or Los Angeles for Vacation? 
There's no need to choose just one. Start in Las Vegas for a leisurely afternoon at the swimming pool and a dazzling night out on the town. Later the next morning, a four-hour drive in the tranquil desert will lead you to Los Angeles, a town full of picnics at the beach, legendary Hollywood sites, and high-end shopping.
We're going to explore this question by starting with the idea of hitting both cities in one trip. Upon reading about both destinations, you may also decide that you'd rather make this trip a one destination stop. That's okay too. You can always visit the one you didn't choose on your next trip west.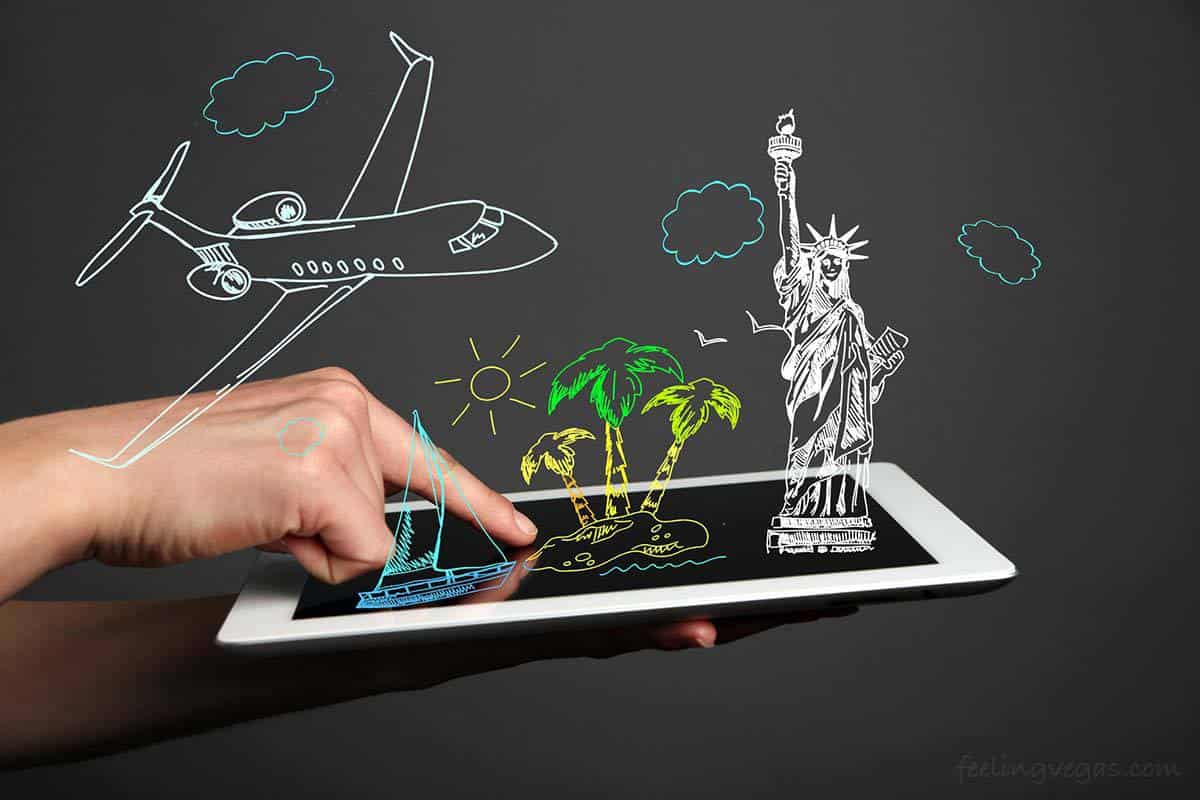 A Day in the Life of Las Vegas
Both the cities are known as two of the top entertainment destinations in the world, filled with fun things to do and lots of famous celebrities to bump into if you're lucky.  For this virtual journey, we'll choose Las Vegas as the starting point.
A Day in Las Vegas
Get started by driving down the one-and-only Las Vegas Strip . The Strip is approximately four miles long and is one of the most famous travel destinations in the world. Both sides of the Las Vegas Strip are filled with huge casinos, attractions, and non-stop entertainment.  Start at the iconic "Welcome to Fabulous Las Vegas, Nevada" sign and head north into the middle of the Strip.
Here are just a few ideas of things to do and see along the Vegas Strip:
Stop for a baguette and cafe au lait at the quaint French café. It's located near the base of the massive Eiffel Tower replica at the Paris Las Vegas Hotel and Casino. Be sure to catch the view of the Strip from the top of the tower to get a lay of the land. Get tickets here for the Eiffel Tower view.
The Bellagio Hotel and Casino is located across the street and is one of the most upscale hotels in all of Las Vegas. Don't miss the amazing glass ceiling in the hotel lobby created by artist Dale Chihuly. This a spectacular spot to admire the huge glass sculptures. And don't miss the fountains out front; depending on what time of day you are there, you can expect a show every 15 to 30 minutes. Learn more about the Bellagio Hotel and Casino in our article here.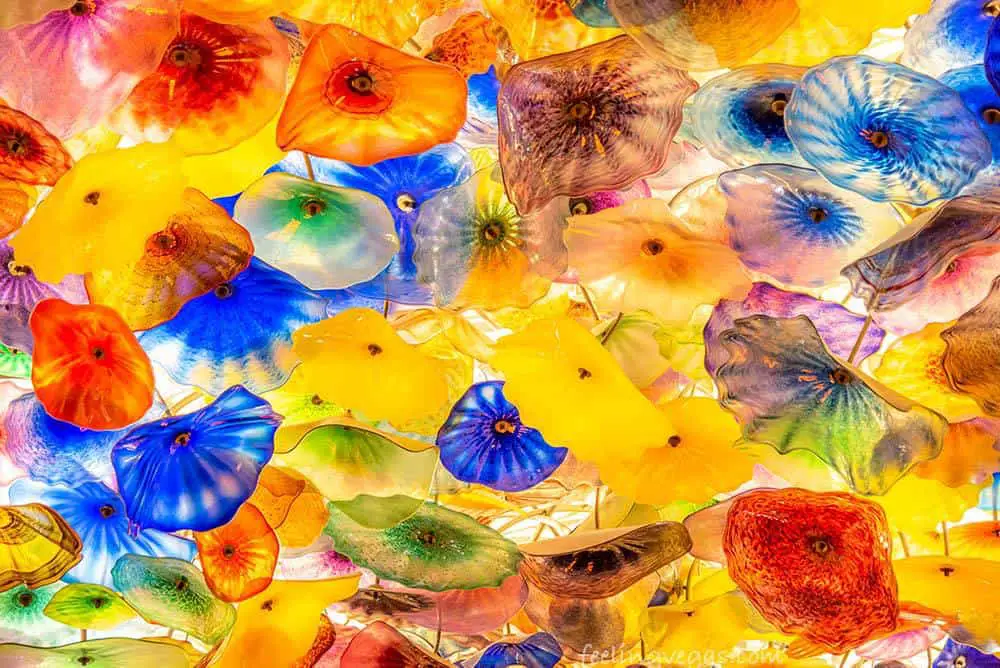 Art and design enthusiasts will also be fascinated with the whimsical Spanish-themed lobby and mosaic floors as well as the impressive fountain in the luxurious Hotel Wynn Las Vegas.
Tour downtown Las Vegas to find some of the brightest neon-clad casinos in Old Vegas. Very retro. While downtown, check out the numerous antique neon signs which are located at the Neon Museum. Read here to learn more about the Neon Museum on our website.
Keep an eye out for celebrities wherever you go, especially in the evenings at the bigger casinos.
A Night in Las Vegas
Le Cirque at Bellagio offers numerous dining options, while Twist at the Waldorf Astoria receives the highest rankings on its excellent cuisine. Or have dinner at a restaurant that offers an amazing view of the Bellagio Fountains.
After dinner, don't miss one of the most amazing shows in town performed by Cirque du Soleil. Visit here (vegas.com) to see all the different Cirque du Soleil shows currently playing in Las Vegas.
Go to the upscale XS Nightclub at Wynn afterward, or quaff a private label drink at the Voodoo rooftop bar at the Rio. To call it a night, sip a cocktail, overlooking the city lights in the 107 Sky lounge found on the 107th floor of the Stratosphere Tower.
If you'd like to know more of the Best Things To Do in Las Vegas, check out this comprehensive list of tours and the list below for some different ideas:
The Strip
Mandalay Bay Casino, Aquarium and Beach
The Venetian Casino and Grand Canal
Paris, Las Vegas and the Eiffel Tower Experience
Bellagio Casino and Fountains
The Mirage Casino and Volcano
MGM Grand Casino
Caesars Palace Casino and The Forum Shops
Cirque du Soleil
The Mob Museum
Who Should Visit Las Vegas?
Travelers who enjoy the following should choose Vegas as their next holiday destination:
Nightlife
Entertainment
Unique cuisines
Amazing shows
24/7 party atmosphere
If you are energetic and fascinated with lights, music, entertainment and over the top displays of abundance, then vibrant Vegas is the place for you.
Vegas keeps changing at a fast pace with new entertainment options sprouting up daily.  Whether it's your first trip to Las Vegas or you've visited many times before, there are always new things to do and see here.
Weather in Las Vegas
Vegas is a perfect travel destination throughout the year be it spring, summer, fall, or autumn.  The weather is lovely throughout the year (wikipedia).  The scorching heat can make it a bit on the warm side during summer but that's the best season of the year for poolside activities. 
The temperature may reach as high as 110˚F in the summer. However, if you enjoy lounging poolside, you can still spend your day in the luxurious shade of the cabanas, safe from the scorching sun.
Vegas weather could be a drawback to some visitors during summer, but hotel pools and day clubs grab a huge crowd and offer an endless pool party. 
In winter, the climate is very pleasant.  Overall, rainy days are quite scarce throughout the year. The truth is, there is no "off" season in Las Vegas. Las Vegas is a year-round destination.
Check out average Las Vegas temperatures month by month here (vegas.com).
Sight-Seeing Places Close to Vegas
Just a short drive North of Las Vegas, is Mount Charleston, a green oasis in the middle of the desert.  Mount Charleston can keep you entertained with:
Hiking Trails
Ski Area
Campgrounds
Picnic Sites
So in less than an hour's drive from Las Vegas, you can visit a completely different kind of landscape at Mount Charleston in the Spring Mountain range.
There is also an abundance of National Parks located near Las Vegas.
Zion National Park in Utah:  within 160+ miles and 2.5 hours away from Vegas 
Death Valley National Park in Eastern California: within 120+ miles and 1.5 hours away from Vegas 
Grand Canyon National Park in Arizona: within 120+ miles and 2 1/2 hours away from Vegas 
Joshua Tree National Park in California: within 190+ miles and a little over 3 hours away from Vegas
A Grand Canyon Day-Trip from Vegas
If you'd like to see one of the most magnificent sites nearby, you can travel to the West Rim of the Grand Canyon. Just 2 ½ hours away from Vegas, the West Rim is one of three distinct but completely separate areas you can visit at the Grand Canyon. The West Rim is the closest to Las Vegas. This is a spectacular place to admire the beauty of nature.
You can drive your own vehicle, rent a car (find out if you should rent a car in Las Vegas in our article here), or take one of the many guided tours to the Grand Canyon from Las Vegas.
Here's a list of just a few things you can see and do on a trip to the West Rim of the canyon:
Grand Canyon Skywalk – A glass bottom, horseshoe-shaped bridge that juts out over the Grand Canyon.
Eagle Point
Grand Canyon West zipline
Helicopter tour over the canyon (see our article here to choose the best helicopter tour company)
The fact is you can spend two days, a week or more in Las Vegas, have a great time, and still not see everything. How long you spend just depends on how much time you have because there's always more to do and see in and around Las Vegas.
Now that you have an idea of what you can expect from a Las Vegas trip, let's jump in the car and see what Los Angeles has to offer.
A Day in the Life of Los Angeles
When you've had your fill of Las Vegas, hop in the car and drive about four and a half hours (depending on traffic) to the California City of Los Angeles.
My best tip: If you're driving from Las Vegas to Los Angeles, plan your trip so you're not leaving Vegas on a Sunday. Sundays are when most people leave and the traffic to Los Angeles can be especially heavy.
Now that you're heading to Los Angeles these are some of the top sights you should consider seeing:
Disneyland
Universal Studios
Hollywood Walk of Fame & Grauman's Chinese Theater
Beverly Hills & Rodeo Drive
Santa Monica Pier
Hollywood Sign
But don't stop your exploration at just the major tourist attractions, there is so much to see and do in Los Angeles.
Keep in mind, however, that the greater Los Angeles area is spread out over a wide distance and one city spreads into the next. For instance, it will take at least an hour of driving (could be much more) to get to Disneyland from Hollywood depending on the traffic. So plan accordingly.
A Day in Los Angeles
Here's how you could spend a day in Los Angeles (L.A.).
Go on a fun drive to the beautiful shores of Santa Monica beach, through popular Beverly Hills. Relax on the beach, before enjoying a trendy brunch in one of the many restaurants overlooking the Pacific Ocean.
Explore the Getty Center Art Museum and its magnificent grounds for some L.A. arts and culture or the Los Angeles County Museum of Art, where modern art is on display at the largest art museum in the Western U.S. (source)
The museum is located near The Grove, an elegant shopping area and the Original Farmers Market, which is open all week. It's a favorite location for fresh and gourmet goodies.
Explore the innovative Art museum called The Broad, to the northeast of downtown L.A. The art installation named the Infinity Room gets great reviews. Also, in the same neighborhood is the Grand Central Market and food vendors selling artisan sandwiches and other delicious bites.
You can enjoy visiting Griffith Observatory in Griffith Park with many astronomy exhibits and one of the locations used in the movie "La La Land." Griffith Observatory is also a great place to see the downtown skyline of Los Angeles.
At the north-west edge of the park is the famous Hollywood sign. Take the winding streets of Hollywood Hills to Lake Hollywood Park for the best view of the sign.
A Night in Los Angeles
Here are some tips on how you can spend your afternoon and evening in L.A.
Head toward the Pacific Ocean via iconic Mulholland Drive–the scene of so many movies! Then head towards Malibu.
Experience the fresh seafood at Geoffrey's oceanside restaurant in Malibu and enjoy spectacular views of the ocean at sunset as you dine.
If the moon is out, take a walk along the water at Zuma beach.
Alternatively, stay in town and dine at République, with its traditional French menu or Bestia with its creative Italian dishes. Both make fantastic dining choices in the city center.  The places are always fully reserved so you may have to book a place well in advance.
After dinner, you could pay a visit to the glamorous Bar Marmont in West Hollywood, the legendary Château Marmont (an evening destination for decades), or feel the rhythm in The Edison nightclub in trendy downtown L.A.
Making the Trek from Los Angeles to Disneyland
You just about can't come to Los Angeles without planning a visit to Disneyland.
Disneyland is THE most popular family-friendly destination in southern California! Disneyland is packed with fun and excitement that you just wouldn't want to miss. 
Disneyland is located in the City of Anaheim, California. It's about an hour away from downtown Los Angeles depending on traffic (it could take much longer if the traffic is bad).
Disneyland, now known as Disneyland Park, was designed, built, and completed under the direct supervision of Walt Disney. It was open to the public in 1955 (source).
Though there are 12 other Disney Theme Parks in the world, this park is the original. Nowadays Disneyland consists of two different theme parks that are located next to each other.
Disneyland Park
Disney California Adventure Park
These two parks have different entrances and require different tickets.
At Disneyland Park, Main Street is the heart of the park where the iconic Disney Castle is located. Main Street has huge number of shops, cafes, and attractions. From there you will spread out into the rest of the park. Disneyland Park features 9 major attraction areas to enjoy:
Adventureland
New Orleans Square
Critter Country
Frontierland
Mickey's Toontown
Fantasyland
Tomorrowland
Star Wars: Galaxy's Edge
At Disney California Adventure, the park is divided into 4 sections:
Golden State
Hollywood Pictures Backlot
Paradise Pier
Avengers Campus
These areas in both parks offer rides, shows, parades, and characters in costume. Both parks will delight visitors of all ages.  It normally takes about four full days to see and do everything in Disneyland and California Adventure including Downtown Disney.
Famous Places in Hollywood
Los Angeles is an amazing city and has its own unique charm but for most of us, the first thing that comes to mind when we hear "LA" is Hollywood!
We all dream of movie stars and love to hear the rags to riches stories of Hollywood biggest stars; it's a paradise for cinema lovers and aspiring actors. 
Hollywood's Walk of Fame is a side-walk where the names of famous entertainers and fictional characters from movies are displayed.  Approximately 10 million people visit the Walk of Fame every year. (source)
You'll also want to visit at least one of the movie studios if you're visiting Hollywood. Some of the most well-known studios in the world are in Los Angeles, namely:
20th Century Fox
Warner Bros. Pictures (studio tour /viator.com)
Paramount Pictures
Dreamworks Studios
Universal Pictures
Sony Pictures Entertainment
Metro-Goldwyn-Mayer Studios
Columbia Pictures
If you want to see the best that Hollywood has to offer but skip the driving in crazy traffic, then I would recommend taking a tour like this one (Hollywood City tour).
A tour will get you to all the best spots in Tinseltown and leave you free to relax. Plus the tour guides will share with you all of the behind the scenes Hollywood and movie history.
Beaches, Shopping, Museums, and Nightlife in Los Angeles
Here are some stops you can't pass up during your trip to the City of Angels:
People watch and do some unique souvenir shopping at Venice Beach. Enjoy the quirky shops, numerous galleries, street performers, muscle beach bodybuilders, and more. This is perfect for people who would like to chill out in the sun, get active on the beach, or do some shopping.
Visit the famous Zip Code 90210. Beverly Hills is a must-visit in L.A. I would recommend you take a segway tour to capture everything it has to offer. Rodeo Drive is, without a doubt, one of the most famous streets on the planet.
With more than 100 world-renowned stores and hotels comprising its three amazing blocks within the Golden Triangle, you will be both mesmerized and amazed at the street's splendor and charm.
15 Best Museums to Visit in L.A.: Check out one or more of the best museums in Los Angeles. A list can be found here.
Everyone dreams of visiting Los Angeles, with its bright lights, sunny beaches, and top-notch shopping.
Universal Studios Hollywood
If you are a true movie fan, then you'll love visiting Universal Studios' Theme Park. At Universal Studios (discount tickets) you'll find movie-related thrill rides, live shows and, of course, the famous studio lot tour.
Here are the top 10 things to see and do at Universal Studios:
The Simpsons Ride
The Walking Dead
Despicable Me Minion Mayhem
Transformers: The 3D Ride
Water World – A Live Sea War Adventure
Revenge of the Mummy – The Ride
Jurassic Park – The Ride
Raptor Encounter
Harry Potter: The World of Wizarding
Studio Tour – Behind the Scenes Tram Ride of the Studio Lot
I grew up in southern California and have been to Universal Studios and on the studio tour many times. It's a blast!
So…Los Angeles or Las Vegas?
Every year, Las Vegas and Los Angeles each welcome over 40 million visitors. There is so much to do and see in each place. In a single trip, you can experience the atmosphere of both cities by drawing up a list of the key locations you want to see and then hitting the road.
So the best option, if you have the time, is to choose both cities!
Check out our article Best Times to Drive From Los Angeles to Las Vegas (Explained) if you'd like to drive to Vegas from L.A. or the other way around. It will save you from a ton of time sitting in traffic!
But what if you only have time on a trip to visit one of these cities? How do you choose?
Here's what I think. While both cities have amazing sights and activities, the majority of the things to do and see in Las Vegas are mostly located within a few miles of each other. So if you only have a few days or even a week to spend, I would choose Las Vegas. That way you get the most enjoyment for your time while spending the least amount of your vacation driving from place to place.
If you have more than a week, Los Angeles is a viable alternative. There are so many fun things to do and see in the L.A. area but they tend to be spread out and you will spend a lot of time in the car getting from place to place.
Both Las Vegas and Los Angeles, are filled with amazing opportunities to have fun with family/friends and capture life long memories. If you only have a few days, you'll have to pick one city or the other to truly get a taste of all there is to experience. But if you plan enough time to visit both, you'll experience the best of both worlds!
More Las Vegas Travel Comparisons
Find out how these vacation destinations stack up against Las Vegas.
San Diego vs. Las Vegas: Which is the better vacation? – Article here
Las Vegas vs. Miami: How Do They Compare? – We tell you here
Las Vegas vs. New York City Vacation: Which one?
Las Vegas vs. San Francisco: How to Decide?
Nashville vs. Las Vegas: Which Is Better for Vacation? – Find out here
Reno vs. Las Vegas: And the winner is – Find out in our article here
Palm Springs vs. Las Vegas Vacation: Which one's right for you?
Las Vegas or New Orleans for Vacation: How to decide?
Las Vegas vs Orlando: Best for vacation? Find out here
If you found this article helpful, please SAVE THIS PIN to one or more of your boards on Pinterest. Thank you!