Las Vegas vs. Orlando Vacation: Which Is Better?
(This article may contain affiliate links. If you click through and make a purchase, we will receive a small commission at no additional cost to you. )
Las Vegas and Orlando are, without a doubt, two of the most popular vacation destinations in the United States. With this in mind, there are some stark differences between the types of entertainment and attractions offered by each city. Despite common misconceptions, both cities offer attractions for children and adults alike. So, is Las Vegas or Orlando better for a vacation for all age groups, and which is better overall?
The multiple theme parks in Orlando are designed for kids, making Orlando an excellent vacation choice if traveling with children. By comparison, Las Vegas has a much more adult-themed leisure and party atmosphere and is a great vacation choice for singles, couples and those looking to let loose.
Here is a chart comparing the highlights between a Las Vegas or Orlando vacation:
Category
Las Vegas
Orlando
Cost of Stay: Weekly
$1,785 per person
$1,686 per person
Transportation
Monorail, shuttle buses, taxis, Uber, Lyft, local bus service
Local bus service, taxis, Uber, Lyft, trollies, shuttle vans, theme park buses, and vans
Notable Attractions
– Las Vegas Strip
– Fremont Street
– Fountains of Bellagio
– Iconic Casinos and Hotels
– Walt Disney World
– Universal Studios
– SeaWorld
Weather
Warm and dry most of the year
Hot and wet most of the year
Food and Drink
International cuisine, western US cuisine, numerous bars and lounges
Southern cuisine, international cuisine throughout Walt Disney World, numerous bars and lounges
Activities for Kids
– Discovery Children's Museum
– Sharks Reef
– Downtown Container Park
– High Roller
– Waterparks
Majority of theme parks are targeted towards children
Nature Attractions
– Red Rock Canyon National Conservation Area
– Valley of Fire
– Hoover Dam
– Lake Mead
– Mt Charleston
– Bay Lake
– Exotic Animal Experience
– Discovery Cove
– Audubon Center for Birds of Prey
– Lake Eola Park 
Orlando is essentially the vacation capital of the United States. With numerous theme parks and activities for children, Orlando, Florida is a dream destination for families around the world.
On the other hand, while Las Vegas has long been considered to be a top destination for adults, there are a growing number of activities for kids and families to enjoy as well!
Since both adults and children alike will love an Orlando or Las Vegas vacation, this article will explore how vacationers of any age can have a fun trip to either of these cities.
Read on to find out what factors to consider when deciding between the two and which city is better overall when it comes to your next vacation.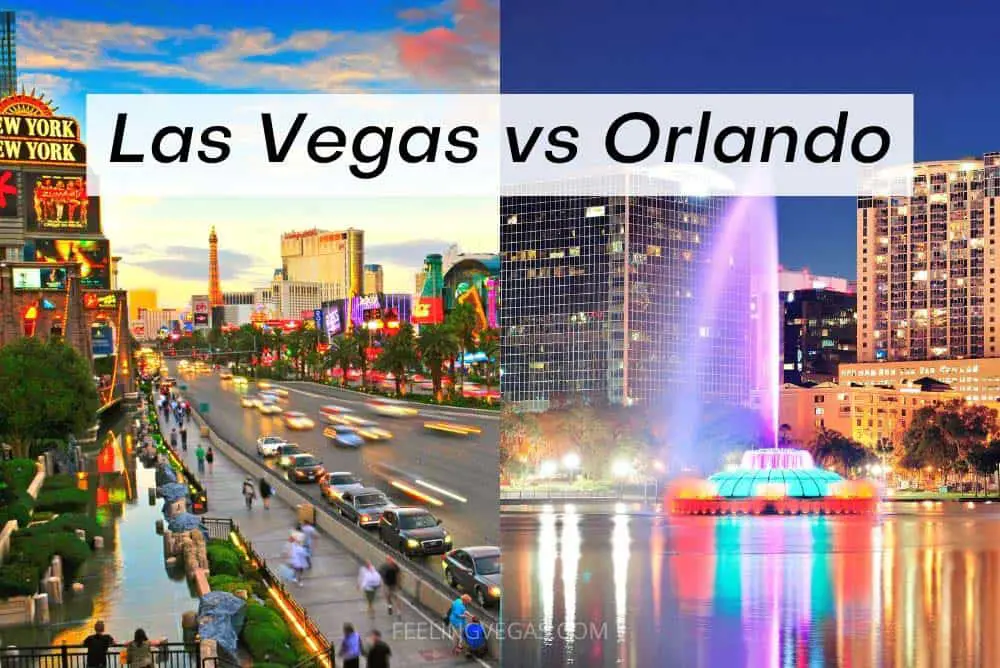 Las Vegas vs. Orlando Vacation: Cost of Stay
What makes both Las Vegas and Orlando so similar in vacation comparisons is the fact that each of these destinations has a similar tourism model: resorts, activities, and extracurricular spending.
When utilizing one of Walt Disney World's resort packages, for example, guests are paying large premiums that combine a hotel stay with food plans, park tickets, and additional add-ons.
These costs can far exceed the standard, one week model (see table below) for a single person. 
Category
Las Vegas
Orlando
Cost per person
per week
$661 (budget)
$1,785 (mid-range)
$5,164 (luxury)
$618 (budget)
$1,683 (mid-range)
$4,942 (luxury)
source1, source2
The same variable exists with a Las Vegas vacation, although the package trip model is not as widely used when it comes to a Las Vegas visit.
A standard, one week vacation to Las Vegas for a single person is costly based on the large amount of spending that is possible when you add in gambling or expenses for activities that can and likely will occur when you are spending time in Las Vegas. 
The same unexpected expenses can also just as easily occur in one of Orlando's theme parks, where restaurant tips, alcoholic beverages, and souvenirs are not covered by a vacation package.
In the end, both destinations are expensive, but you have a better understanding of up-front costs with an Orlando vacation than what could potentially be the final price of a Las Vegas vacation.
Transportation in Las Vegas vs. Orlando
Getting around in Las Vegas is not difficult by any means, shuttle buses, a monorail system, trams, taxis, and ride-sharing apps are all available, as is local bus service, to get you where you want to go.
Orlando is just as easy, yet it could be a bit trickier if you want to travel outside of one of the theme park resorts. 
Since most Orlando vacations are usually inside of one of the theme parks, in-park travel is similar to what you would find in Las Vegas: monorails, shuttle buses, and even ride-sharing apps if you are staying in an outside hotel.
Getting somewhere in Orlando outside of a theme park resort will require a taxi or ride-share.
Las Vegas vs. Orlando: Notable Attractions
The notable attractions of Orlando are undoubtedly the theme parks: Walt Disney World, Universal Studios, and SeaWorld. This is not to say that Orlando is not an exciting city itself, yet the main attractions are definitely the resorts that have made the city well-known around the world.
Each theme park in Orlando generates millions of visitors each year, making it the number one vacation destination in the country.
Las Vegas also welcomes millions of visitors each year, although Sin City is certainly more popular with single adults and couples.
This is also the major contrast between these two cities, Las Vegas is designed for partying and relaxation, while Orlando requires a bit more activity and a lot of walking in the theme parks.
Las Vegas casinos are such amazing and over-the-top properties that guests can spend hours or even their entire vacation within the luxurious surroundings of a single resort. 
Top resorts in Las Vegas include, Caesars Palace, Bellagio, Wynn, New York-New York, Paris Las Vegas, and the list goes on and on. In addition to the resorts, Las Vegas is filled to the brim with world-class attractions, tours, shows, and shopping!
Each city has a similar formula when it comes to entertaining guests. Welcome visitors into a resort and overwhelm them with so many fun things to see and do they never want to leave! 
Best Vacation Weather: Las Vegas or Orlando
Orlando is wet, and Las Vegas is dry; there is much more to the weather of each city, of course, yet those are the two primary differences. Both cities are generally warm to hot, yet Orlando is located in the tropics region, which means it has high humidity.
Las Vegas has 300 or more days of sunshine every year and while it can get hot (I mean really hot) in the summer months the lack of humidity makes things somewhat more comfortable.
The great thing about Vegas and the weather is that even when it gets really hot, there is a ton of entertainment available inside the air-conditioned casinos and resorts.
It's also worth noting that during the majority of the year (with the exception of June, July, and August), the weather in Las Vegas is very nice!
Orlando while not as hot as Las Vegas in the summer, is very humid which can become uncomfortable very quickly.
It's also more difficult to escape the weather because theme parks require you to be outside most of the time. Also, and this is true year-round, be sure to pack an umbrella when vacationing in Orlando as it can rain quite frequently. 
Food and Drink Options
Even though the city of Orlando has a large amount and variety of quality restaurants, if you're primarily spending your vacation time at one or more of the theme parks your food choices will be somewhat more limited.
While some of the theme parks, like Walt Disney World, will have a selection of higher-end restaurants, you can generally expect to be spending time in lines at one of the overpriced theme park cafeterias.
There's plenty of food but theme park food is generally nothing to rave about. Get in, eat and get back to the rides and attractions!
Las Vegas on the other hand is a food lover's dream. Las Vegas is filled with some of the most exclusive restaurants in the world specializing in fine international cuisine. In addition, there are many restaurants run by celebrity chefs that can be found all over the Las Vegas Strip.
Hell's Kitchen by Gordon Ramsay is just one example (find out how much it costs to eat at Hell's Kitchen in our article here).
Of course, Las Vegas has restaurants and food for any budget, including the famous Las Vegas buffets. And since Las Vegas is a 24/7 city you can find food and drink any time of the day or night!
Bars and lounges are everywhere in both cities, but Las Vegas has some of the best-themed bars you'll find anywhere. While you can get a beer or glass of wine at an Orlando theme park, in Las Vegas you can get a fancy cocktail in a bar made completely of ice!
Las Vegas vs. Orlando: Activities for Kids
It's pretty undeniable that Orlando is the unofficial capital of vacations aimed at children. It's obvious when you look at the allure of all the theme parks. Adults, however, enjoy Orlando just as much as their kids, yet the opposite is likely true when it comes to a Las Vegas vacation.
While Las Vegas has a ton of activities for kids (we've created a large list of things to do in Vegas for kids and families on our website), it's hard to beat several dedicated theme parks, making Orlando the number one choice for families.
Nature Attractions in Las Vegas & Orlando
Surprisingly enough, there are many outdoor excursions to be had in Las Vegas. Any Las Vegas vacation, more than a couple of days long, should include a trip to the Red Rock Canyon National Conservation Area (you can find out all about Red Rock Canyon on our article here).
This vast and stunning view of the southwest landscape is simply unforgettable. 
If you're willing to go a bit further afield, Las Vegas is surrounded by some of the most magnificent state and national parks in the western United States, including Valley of Fire State Park.
If you are vacationing at one of the Orlando theme parks, it may be a bit harder to get away, yet a tour of the Bay Lake area surrounding Walt Disney World is equally stunning. We also particularly enjoyed our time at Lake Eola Park, located in the downtown area, when we were in Orlando.
Conclusion
Two tough choices, yet two equally amazing vacation possibilities. A vacation to any Orlando resort, which is usually attached to a theme park, is going to entail a lot of physical activity, which for some people, may not be an attractive option when considering a vacation.
Both destinations are frequently crowded, yet Las Vegas has a much more leisurely atmosphere than Orlando. Children, however, will likely enjoy Orlando more for obvious reasons. 
If you have a family with many kids, Orlando is hard to ignore, but Las Vegas is clearly the better option for adults looking for a relaxing getaway.  
More Las Vegas Travel Comparisons
San Diego vs. Las Vegas: Which is the better vacation? – Article here
Las Vegas or Los Angeles for Vacation: How to Decide? – Find out here
Las Vegas vs. Miami: How Do They Compare? – We tell you here
Las Vegas vs. New York City Vacation: Which one?
Las Vegas vs. San Francisco: How to Decide?
Nashville vs. Las Vegas: Which Is Better for Vacation? – Find out here
Reno vs. Las Vegas: And the winner is – Find out in our article here
Palm Springs vs. Las Vegas Vacation: Which one's right for you?
Las Vegas or New Orleans for Vacation: How to decide?