10 RV Parks Between Las Vegas and the Grand Canyon (South Rim)
(This article may contain affiliate links. If you click through and make a purchase, we will receive a small commission at no additional cost to you. )
Whether you are coming from a long weekend in Vegas and are looking for a spot to regroup for a day or two, or you need a pit stop before heading to the South Rim of the Grand Canyon, you're going to need a place to park your RV. Looking for some recommendations?
10 RV parks between Las Vegas and the Grand Canyon. The route between Las Vegas and the South Rim of the Grand Canyon is popular for traveling in an RV.
Here are the best 10 RV Parks along the way:
RV Park at Circus Circus Las Vegas
Las Vegas RV Park
Duck Creek RV Park and Resort
Lake Mead RV Village at Boulder Beach
Kingman KOA
Tradewinds RV Park
Route 66 KOA/Seligman
Grand Canyon/Williams KOA
The Grand Canyon Camper Village
Trailer Village RV Park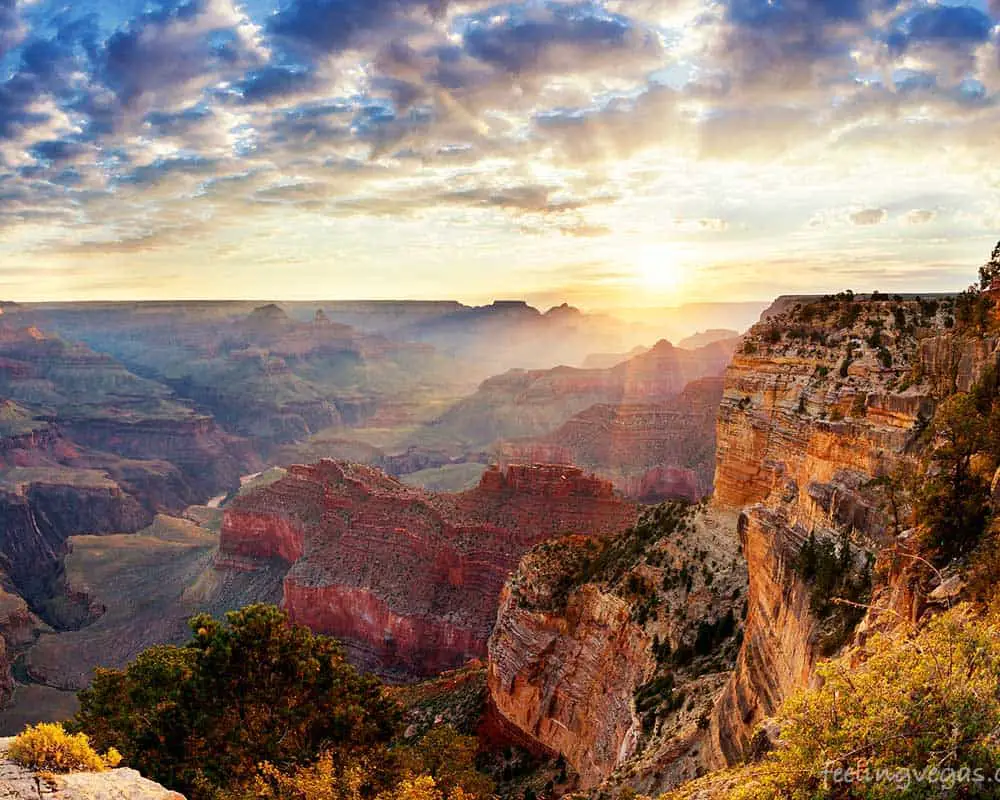 It's roughly a five-hour road trip from the glamorous bright lights of Las Vegas to the wide-open wonder of The Grand Canyon's South Rim. For many people, this could be a once in a lifetime bucket list type of trip. So, take your time and enjoy the ride!
I've got you covered with a great list of RV campgrounds between here and there.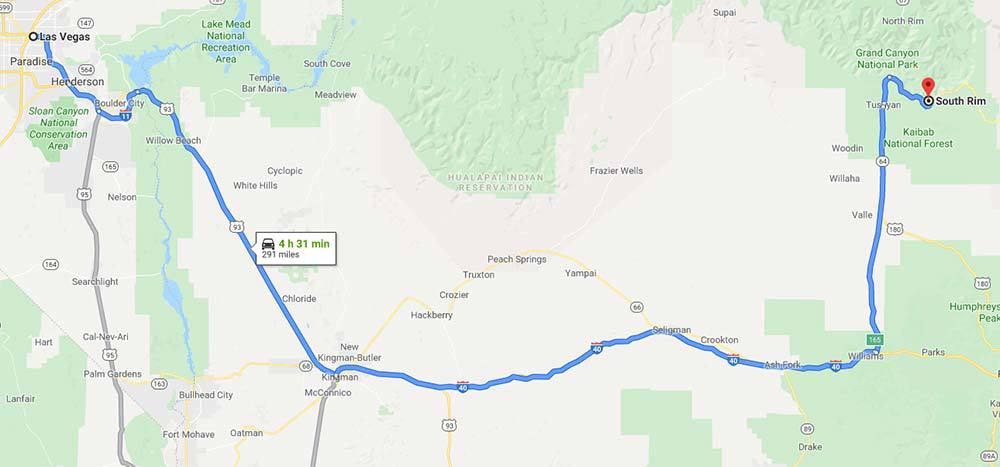 Note: I wrote this route as if you are starting in Las Vegas because, in fact, thousands of people do it this way each year (many of them in rental RVs). You can, of course, use this list in reverse by starting at the Grand Canyon and ending your journey in Vegas.
We've done it from both directions and I promise it's just as fun either way!
The 10 Best RV Parks Between Las Vegas and The Grand Canyon
Remember, it's just as much about the journey, as it is about the destination. So relax and don't worry about a place to stay – just pick one or more of these ten RV parks to stop at along the way.
Las Vegas is a perfect jumping-off point to start your RV trip to the Grand Canyon. So let's get started with a few RV camping spots in Vegas!
1.    RV Park at Circus Circus Las Vegas
The Circus Circus RV Park is a strictly no-frills RV Park, but it's basically as close to the Las Vegas action as you can get in an RV! We promised you parks from Vegas to the Canyon; this one is right in the heart of the party.
Are you traveling with children? This park is kid-friendly, as well as pet-friendly. In terms of amenities, it's got a pool and hot tub on-site for your enjoyment, as well as a pet park for your furry friend.
Even though it's a no-frills park smack in the center of town, it still offers sewer and electricity hook-ups. And, they can accommodate large rigs, good news for the big guys!
The biggest advantage of this property is obviously the convenience. Literally, in a parking lot directly off the Strip, you can walk out of your front door and into a casino or go for an exciting stroll down Las Vegas Boulevard.
Get the most out of your visit by purchasing a bus pass to get you all around without the extra walking. Save some energy for the Grand Canyon!
Tip: Since Circus Circus is a bit of a way away from the most active parts of the Strip, you may want to find some transportation. You can find out all about how to get around in Las Vegas without a car in our article here.
2.    Oasis Las Vegas RV Resort
One step further off of the Strip, and a few steps above in terms of the amenities offered in this park vs. the last one. The Oasis Las Vegas RV Resort really does offer an "oasis" setting with their family-friendly beachfront pool and waterfalls, where you and the kids can chill out for the afternoon.
Take advantage and get away while you can to the adult pool and spa or the manicured green for 18 holes of putt-putt golf. While the kids are distracted, slip away to the full-service fitness center, or throw a load in at the laundry facility. They also have a dumpsite on the property.
When you are all relaxed and ready for a big night out, the action is just a block away. A short refreshing walk (refreshing if it's not too hot that is), and you are in the center of anything but a relaxing oasis.
Are you catching one of the famous Vegas shows? Doing some gambling and taking in some sights? Heading to the thrilling rides at The Stratosphere? Whatever your pleasure, Vegas can bring it – and you're just down the Strip.
Note: Although the park is located just off the Strip, it is down on the far southern end. You'll still need some transportation to get into the thick of the action, further north, on the Strip.
From here on out, we will be heading farther away from the Strip, and closer to the main jump-off point for the drive to the Grand Canyon.
3.    Duck Creek RV Park and Resort
If you have never been to Las Vegas, you may not realize that you can see mountains from almost anywhere in the city. The Strip is so bright and so built up that it is easy to forget that you're surrounded by such breathtaking natural beauty.
With the cozy location of this RV park, you get the best of both worlds. Getting farther from the bright lights, but still only a short drive away should you decide to go back and play your last $20 on the nickel slots or catch another celebrity impersonator show on the Strip.
You and your family can enjoy the nearby Silver Bowl Park, picnic area with grills and tables while your four-legged friends get to stretch out and play with other happy pups in the pet park. Then later head back to Duck Creek to take a refreshing dip in the pool.
This site is capable of accommodating most RV's with the longest sites at 72 feet long. Under 10 miles from the action on the Strip, this park provides a resort-like atmosphere, without the high prices that you might expect from a resort this close to the Vegas action.
After Duck Creek, we'll be leaving Las Vegas behind and starting our journey to Grand Canyon National Park.
(For a full list of places you can park your RV while in Las Vegas, check out our article here.)
4.    Lake Mead RV Village at Boulder Beach
Lake Mead is one of the amazing bonuses that you will get on your trip from Las Vegas to the Grand Canyon. It is truly breathtaking against the towering mountain backdrop. The Lake Mead RV Park has an incredible location, and almost every site has a grand view. Everyone gets an RV spot with a view here!
Enjoy a game of horseshoes while your dinner cooks on the BBQ grills in the relaxing picnic area. Then, after dinner, take a short walk down to picturesque Boulder Beach for an amazing sunset.
Bonus: Hoover Dam is just a few miles away from this campground so you may want to include it as part of your journey to the Grand Canyon. You can learn more about visiting Hoover Dam in our article here. In it, I let you know where you can park your recreational vehicle while at the dam.
This park has 110 sites with sewer, wi-fi, electricity, and cable hookups. Pet-friendly and family-friendly, this park is the complete package, plus some.
If you are interested in making this a business trip, Lake Mead Village offers professional meeting rooms or a large deck for gathering your group with views of the lake!
5.    Kingman KOA Journey
It's no surprise to most RV enthusiasts to find more than one KOA on this list. Popular for a good reason, KOAs are reliable, easily accessible and part of a discount membership program. I highly recommend checking out and becoming a part of KOA for great perks across the country!
At Kingman's KOA location in Kingman, Arizona you will feel right at home. Isn't the RV life wonderful and unique in that way? Home is truly wherever you park it. Roll in, pull out your chair and relax.
Your furry friend will love the pet playground, and your kids will get excited about the mini-golf course, fun train, and calendar of planned activities, all of which give you a chance to socialize with the other families that are on adventures of their own.
Get out and share your stories with each other. You may gain some helpful tips for your journey from your fellow campers.
6.    Tradewinds RV Park
Along the route from Vegas to the Grand Canyon, you will find the quaint Tradewinds RV Park. Close to many attractions, it's also fit for outdoor thrill-seekers, as well. How does renting an ATV to explore the desert sound? Rock climbing dreams also come true in Golden Valley, Arizona so bring your gear!
Take advantage of locally offered adventures like horseback riding, golf courses, antique shops, museums, coal mining museum, and ghost town attractions as well as a rodeo and a zipline!
You will find a long list of things to do outside of the RV Park, but when you come back home there is still more fun to be had. Take advantage of all the campground has to offer, such as poker tables, bocce ball, huge patio and bar, pool tables, and lots more to keep you and the entire family busy.
7.    Route 66 KOA/Seligman
Surely you have heard of Historic Route 66. Well, this RV Park is literally on the historic highway! This KOA can accommodate a rig of any size with full hookups, including cable.
The excitement of being on Route 66 can be enhanced by grabbing a malt at the local drive-in. And, in the spring, classic cars line up, bringing you right back to the good old days!
Take the family on a self-guided tour of historic Seligman, snap plenty of pictures while you are there to have memories to treasure forever. This is a really interesting town and is well worth stopping to explore.
Want to spend your time inside the RV park? There's plenty to keep you, and the family entertained. Volleyball, playground (human and pet), and a relaxing picnic area to enjoy the gorgeous local desert sunset await you. A stay at the KOA is always fun!
8.    Grand Canyon/Williams KOA Journey
You are almost there!! This modernized KOA is in Williams, Arizona which is just about an hour away from the Grand Canyon, the Grand Destination! The Grand Canyon KOA advertises itself as the best base camp for exploring everything the local area has to offer.
Are you ready to enjoy a gourmet coffee fireside before you go off into the wild? Or relax around a huge campfire while stargazing with your loved ones. Without the abundance of light pollution found in Las Vegas and all other big cities, you may be able to see more constellations than you've ever seen before.
This KOA can accommodate the biggest rigs we've seen at any RV campsite, up to 100 feet in length. It's also pet-friendly, kid-friendly, and just all-around friendly. You will love this KOA RV Park!
9. The Grand Canyon Camper Village
This lovely RV campground is one of our favorites for many reasons. First of all, they are the only private full-service Campground within 20 miles of The Grand Canyon National Park! Literally the only one.
That, plus the fact that they are open year-round makes them a very popular spot to park your motorhome or trailer for day trips into the National Park.
Note: The official entrance to the South Rim of Grand Canyon National Park is located just one mile north of the campground.
Another reason to love this park and its location? The famous General Store is within walking distance. This gem of a shop is quaint, and they offer a surprisingly wide variety of goods. If you are hungry and looking to dine out, or catch a movie to relax, you are also within walking distance from a few restaurants and an IMAX theater!
Catching one of the National Park Trolley Busses from here is easy, just ask the concierge to point you in the right direction. When planning the ultimate RV trip to The Grand Canyon, you really couldn't ask for a better place to park your home!
10. Trailer Village RV Park
You made it! If staying near Grand Canyon National Park isn't close enough for you, how does an RV Park inside the National Park sound? The Trailer Village RV Park is the only RV campground in the park with full RV hookups.
Open year-round with paved pull-through sites it's as close as you can camp in your rig to the South Rim of the canyon. The campground can accommodate motorhomes and trailers up to 50 feet in length.
The RV park is located in Grand Canyon Village which is the main center of activity on the South Rim. From here you can easily participate in the following activities:
Shopping
Hiking
South Rim Shuttle bus
Restaurants
Horseback Rides
Scenic Train
Mule Trips into the Canyon
Important Note: Reservations are not required but it is highly recommended to have a prior reservation as this campground is full much of the year.
Tips for the Route
As destinations go, Las Vegas and the Grand Canyon are extremely different from one another, but they often attract some of the same crowd because of how relatively close they are together. Many thousands of people visit the Grand Canyon from Las Vegas each year.
On our list, we worked our way from the Las Vegas Strip towards the canyon, giving you information on each RV camping spot along the way to help you make an educated decision of where to stop during your adventure.
Here are a few more bits of information that will help you plan your journey.
What Time of Year is Best for a Grand Canyon Trip?
Planning your trip around the time of year is a good idea. The season and the weather may determine what part of the Grand Canyon you visit:
North Rim closes for a few months during winter. Approximately December to May, depending on the weather.
During an extreme winter, the North Rim entrance will close for however long it takes to thaw and be deemed safe for visitors.
The best time of year to visit any rim of the Grand Canyon is May-September. Even if you are expecting warm temperatures, don't forget to pack long sleeves and pants for cool nights and early mornings.
What is the Difference Between Grand Canyon's Rims?
North Rim
Though this is the least visited rim for sightseeing tourists, it may be the most popular for outdoor enthusiasts and more experienced hikers. When the North Rim entrance of the canyon closes for the winter, the only way you can get in will be to hike or ski there, which does require a special permit.
The North Rim is gorgeous and has very little development compared to the South Rim. In addition, it's not easy to get there. Even though the North Rim is just a few miles away from the South Rim as the crow flies, to drive will take you well over four hours. Don't even consider it during winter.
South Rim
The Grand Canyon's South Rim receives the most visitors per year making it the most popular entrance. Grand Canyon Village is located at the South Rim. Canyon trail rides, Hopi House, guided hikes, river trips, general store, campgrounds, and restaurants can all be found here.
When people talk about the Grand Canyon, they're usually talking about the South Rim. With the most accessible overlooks into the canyon, the South Rim is the place to visit if you are only going to see one area.
West Rim
Less than three hours away, the West Rim is the closest part of the Grand Canyon to Las Vegas. And, will often be the area most of the tour buses (vegas.com) that run from Vegas to the canyon will drop off their loads of passengers.
The recent addition of the very popular Skywalk attraction, a glass-floored walkway that cantilevers out over the edge of the canyon 720 feet up, draws many visitors!
Not only can you walk out over the edge of the canyon, you can also catch a zipline down to the base of the canyon, at the West Rim. The 3,500 feet of zipline takes you soaring 1,000 feet over this gorgeous view.
If you are a thrill-seeker, this could make you feel like you've hit the jackpot! When you're zooming 50 mph you will feel like you are literally flying.
East Rim
Is there an "East" Rim? Of course, there is. You do not hear much about the east, as compared to the rest of the canyon rim access points. That is partly because it is the least easily accessible of all of the points.
However, there is some camping and hiking permitted along the East Rim, the majority of it falls on sacred Navajo land, for which you will need a guide to hike through.
Hiking the Rim
Are you ready for the hike of a lifetime? When traveling to The Grand Canyon, most people plan on doing a bit of hiking and walking during their time at the canyon. But then there are those that travel to the canyon with the plan to hike the entire thing. Bless your heart.
Are you cold-blooded and ready to trek through the snow and harsh elements that winter in the canyon can bring? Or, are you a sunny sky and warm weather hiking type? Either way will require a bit of prep before you step out on the trail.
The suggested route to take would be North to South, or visa-versa starting at one of two trails. The North Kaibab Trail is 14.3 miles at 8,241 elevation, with a descending hike, whereas the Bright Angel Trail is only a 9.6-mile hike at 6,860 elevation with an ascending route.
Packing for a long hike:
Comfortable boots and clothes
Sunscreen and hat/glasses
Water and food (pack for round-trip and emergency back-up)
Compass and/or GPS
Basic first aid kit and flares
Just Keep Driving!
Once you're back behind the wheel of your rig, it is easy to want the adventures to continue forever. Let's take a closer look at some more local attractions that you can add to your list if you have the time.
Antelope Canyon: Just under a two-hour drive away is incredible Antelope Canyon. Famous for its mesmerizing swirling painted appearance and natural breathtaking panoramic beauty.
If you are interested in taking the trip to Antelope Canyon, you must book a reservation with a native tour guide. Access to the Canyon is not permitted without a guide! (google map)
Sedona: Approximately two hours south is Sedona, Arizona. A dream trip for a lot of people because of its spiritual energy vortex. Said to span over 22 miles, this vortex attracts all types of people looking to experience the uplifting energy. (google map)
Petrified Forest National Park: Drive just about three hours east to the Painted Desert and Petrified National Forest to experience the gorgeous fossilized colorful petrified wood in the Rainbow Forest. You will not regret the extra few hours it took to drive to this super cool destination! (google map)
As you can see there are some amazing things to see on your way to and from the canyon. I encourage you to take it slow and spend some time in each location.
I hope you enjoy your RV journey from Las Vegas to The Grand Canyon and get to experience the west in your own special way.
Happy RV'ing!