When you're planning your trip to Vegas, you'll need to consider where to park your car. Whether you're driving to Las Vegas or renting a car from the airport, you don't want to waste money on paid parking. Luckily, there are many Las Vegas Strip hotels that offer free parking for guests that stay with them.
Here are 19 Las Vegas Strip hotels with free parking for guests:
Caesar's Palace
Harrah's Las Vegas
Bally's Las Vegas
Flamingo Las Vegas
The LINQ Hotel + Experience
Planet Hollywood
The Cromwell
Paris Las Vegas
Rio Las Vegas
Treasure Island Hotel & Casino
Circus Circus
The Venetian Resort
Tropicana Las Vegas
The STRAT Hotel, Casino & SkyPod
SAHARA Las Vegas
Resorts World
Wynn and Encore Las Vegas
Best Western Plus Casino Royale – Center Strip
Travelodge by Wyndham Las Vegas Center Strip
If you're a Nevada resident with a state driver's license, or if you're a part of a hotel member's club–good news. You might be able to find more opportunities for free parking in Las Vegas. This list is primarily for out-of-state travelers looking for Las Vegas hotels with free parking for resort guests.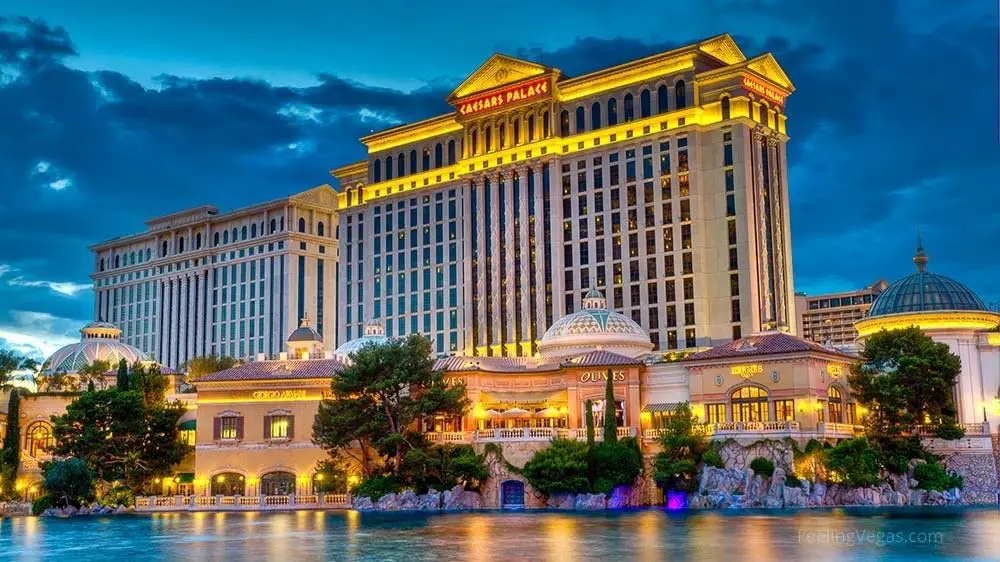 (This article may contain affiliate links and we may earn a commission if you make a purchase.)
1. Caesar's Palace
For quality, fun, themed Las Vegas hotels with free parking, check out the hotels run by Caesars Entertainment. All of the Caesars Entertainment hotels in Las Vegas offer free parking for guests, and Caesar's Palace is no exception.
Caesar's Palace brings the decadence of the Roman Empire to the 21st century. You can watch live shows in the Colosseum, buy your favorite designer brands at the Forum Shops, and swim in the Garden of the Gods Pool Oasis. You'll also have access to over a dozen restaurants by celebrity chefs like Gordon Ramsay (Hell's Kitchen).
Caesar's Palace has a wide range of rooms, from a simple king room to the highly-themed, multi-room villas. This immersive, luxurious hotel is a great way to escape your everyday life and fully enjoy your vacation.
If you're not staying at Caesar's Palace, but you want to enjoy the casino or shops, you can find the complete Caesars Palace parking fee schedule here.
2. Harrah's Las Vegas
Harrah's is much less themed than some of the other Caesars Entertainment hotels, instead offering guests a more modern, adult Las Vegas experience that includes free parking for hotel guests.
Enjoy any of the comedy, burlesque, or musical shows, or unwind at one of Harrah's many bars. You can eat fresh oysters and watch a dueling piano performance, all without leaving your hotel.
There's no shortage of things to do between the casino, nightlife, entertainment, and restaurants.
And because Harrah's is right on the Strip, you have easy access to dozens of other casinos, restaurants, shows, and resorts.
If you want the luxury of Caesar's Palace without the themed decor, Harrah's is the hotel for you.
Find out which Las Vegas Strip resorts offer free parking for non-hotel guests.
3. Bally's Las Vegas
Bally's has the feel of a classic Las Vegas hotel but with all the modern amenities you'd expect from a Caesars Entertainment resort.
This hotel is a little limited in terms of dining and entertainment, but that's fine. You'll still be staying on the Strip, which means you can easily go from your room at Bally's to one of the other nearby casinos. It's a simple, budget-friendly hotel–a comfortable place to rest your head in between days spent at casinos or watching shows.
Bally's is one of the more affordable casino hotels on the Strip, and the free parking for guests makes it even better for your wallet. Take the money you saved on parking and treat yourself to the slots!
4. Flamingo Las Vegas
Flamingo is a fun and exciting choice of Las Vegas hotels with free parking for guests of the hotel. This over-the-top hotel is decked out in bright pink, and it has plenty of fun for everyone.
Watch one of the burlesque shows or RuPaul's Drag Race LIVE!, or unwind by the free-to-enter wildlife oasis. (Yes, you can see real flamingos at Flamingo.) There's an adults-only party pool and a kid-friendly pool with a water slide.
Whether you want to spend your days playing in the casino, browsing the shops, or treating yourself to dinner at Bugsy & Meyer's Steakhouse, Flamingo has something for you.
5. The LINQ Hotel + Experience
The LINQ Hotel is probably best known for its 500-foot-tall (152 m) High Roller Wheel, but it has so much more to offer guests.
The casino and rooms are done up in futuristic, urban decor. With over twenty dining options, this hotel can satisfy all your cravings without you needing to leave the building. Chill out at the ICEBAR, glide over the LINQ Promenade on the Zipline, and take in the view of the city on the High Roller Observation Wheel.
The LINQ is full of things to do, and it won't have to worry about additional parking costs breaking your budget.
6. Planet Hollywood
Planet Hollywood is a hip hotel that promises to make you feel like a movie star. The sleek, chic interior and bustling atmosphere bring a bit of Hollywood to Nevada.
With numerous dining and shopping options in addition to the casino, you won't run out of things to do during the day. And in the evening, you can watch Criss Angel's magic MINDFREAK show or catch a concert at the Zappos Theater.
The pool at Planet Hollywood boasts the only surfing location on the Strip, the FlowRider. This unique attraction lets you surf or boogie board without visiting the ocean. All of this entertainment comes with free parking if you're a hotel guest.
7. The Cromwell
The Cromwell is Caesars Entertainment's only boutique hotel. You'll get a much more personalized experience here than at some of the larger resorts on the Strip.
Stylish and sophisticated, the rooms at the Cromwell are more expensive than most of the other Caesars properties. However, you'll be getting a quieter hotel and more attentive staff since there are only 180 rooms.
At the Cromwell, you'll find an upscale Italian restaurant, eclectic shopping at Curios, and a dual beach club-nightclub on the roof. And because this hotel is on the Strip, all the other shows and bars of Las Vegas are only a walk away.
Plus, remember, as a Caesars owned property The Cromwell offers free parking for all its guests.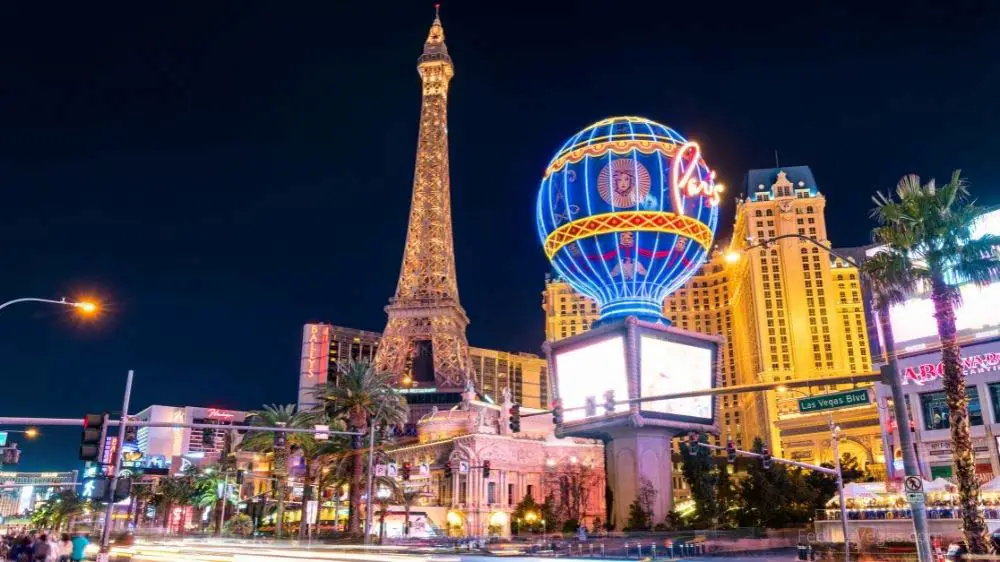 8. Paris Las Vegas
Paris Las Vegas offers guests a romantic, European atmosphere without needing to leave the continent.
Paris Las Vegas features a half-sized replica of the Eiffel Tower that guests can visit to view the Strip from 40 stories high. There are over a dozen dining options, seven bars to choose from, and a rooftop pool right under the Eiffel Tower. And a trip to Paris wouldn't be complete without browsing the shops on the cobblestone Le Boulevard.
Rooms at Paris Las Vegas can get a little pricey, but the atmosphere is unmatched, and all guests can park at the hotel for free.
9. Rio Las Vegas
The last of the Caesars Entertainment hotels on this list, Rio Las Vegas offers fun and flair at a reasonable price.
Rooms at Rio Las Vegas are very affordable, especially if you book weekdays. Between Rio's low rates and free parking, you'll be saving plenty of money to spend on attractions all over the Strip.
This hotel is a casual, fun place to stay. You can watch Penn & Teller's magic show, play KISS-themed minigolf, or hit up the rooftop nightclub.
Parking at all of these hotels might be free for guests but what about the resort fee? Find out the current resort fee of every major hotel in Las Vegas in our Resort Fee Guide.
10. Treasure Island Hotel & Casino
The Caesars resorts aren't the only Las Vegas hotels with free parking. Treasure Island is one of a few other options for free parking when you're staying on the Strip.
Treasure Island has something for everyone. There's entertainment to suit all tastes–from the Marvel Avengers exhibit to Cirque du Soleil to a drag show brunch at Señor Frogs. You can spend your days playing at the casino, enjoying the many restaurants and bars, or lounging by the heated pool.
Treasure Island even offers free valet parking to guests, not just self-parking. (Of course, tipping the valet is encouraged.)
11. Circus Circus
Of all the Las Vegas hotels with free parking, Circus Circus is probably the best value. Self-parking at Circus Circus is free to everyone, not just hotel guests, and there are countless ways to pass the time.
This hotel is a fantastic choice for families looking to visit Vegas. The rooms are affordable, and there are games and attractions that everyone can enjoy.
Kids and parents alike can play at the Midway, full of classic and modern arcade and carnival games. There's an entire indoor amusement park with two roller coasters, a water park, and free circus acts every day. And that's all in addition to the casino, shopping, and dining.
If you're booking a family trip to Vegas on a budget, Circus Circus is the hotel for you.
12. The Venetian and The Palazzo Resorts
The Venetian and The Palazzo are two of the more expensive Las Vegas hotels with free parking for guests. But the cost is worth it. Whether you stay in the Venetian Tower or the Palazzo Tower, your room will be plush, luxurious, and spacious.
The Venetian and Palazzo bring the grandeur of Renaissance Italy to the modern day. With a variety of upscale restaurants and bars to choose from, you'll be sure to eat well during your stay. Treat yourself to a day at the four-star spa, or spend time relaxing at one of the many pools.
Your stay at The Venetian and The Palazzo are all about luxury and indulgence, minus having to pay an extra fee for parking.
13. Tropicana Las Vegas
Valet and self-parking are both free at the Tropicana Las Vegas.
There is a wide range of rooms at the Tropicana, from the deluxe bedrooms to luxurious villas. With decor inspired by the lush beach, you'll feel like you're vacationing on your own private island instead of in the Nevada desert.
Though the Tropicana pool is only open seasonally, the decadent spa is available year-round. Spoil yourself with a massage followed up by frozen cocktails at Chill'm. And if you want more variety for dining and shopping, the rest of the hotels on the Strip are just an easy walk away.
14. The STRAT Hotel, Casino & SkyPod
The STRAT dominates the Las Vegas skyline, and it also happens to be one of the hotels that offers free parking for guests and non-guests alike.
This hotel is for thrill-seekers and fun-lovers. There are three amusement park rides on the roof of the SkyPod, so you can get an intense adrenaline rush and a beautiful view of the city. You can also try the world's tallest sky jump, a controlled descent jump from over 800 feet (244 meters) in the air.
If you'd rather just take in the view, you can spend your day in the SkyPod with a 360-degree view of the Strip from over 100 stories up.
Rooms at the STRAT are cozy and chic, the food is high-quality, and you can treat yourself to a good time at the casino or magic shows. This hotel has everything, even free parking.
15. SAHARA Las Vegas
Parking at SAHARA Las Vegas is free to everyone, guests and visitors alike.
This hotel has an intimate, adult atmosphere, from the rooftop pools to the trendy restaurants and bars. The luxurious rooms and suites have chic decor with a touch of 90s nostalgia.
It's moderately priced among the Las Vegas hotels with free parking, and it makes for a quiet getaway from the flashier, more active resorts. If you'd rather sleep somewhere that prioritizes ambiance over thrill, SAHARA could be right for you.
16. Resorts World
All guests and visitors are welcome to the complimentary parking at Resorts World.
Check out the luxury rooms available at all three of the hotels within Resorts World, and treat yourself to meals from the dozens of dining options. Resorts World takes you on a culinary world tour with restaurants inspired by street food from all over Asia and upscale international cuisine.
There's a day club, nightclub, casino, massive pool complex, and giant theater for A-list artists, so you will always have something interesting to do.
Hotels Within Resorts World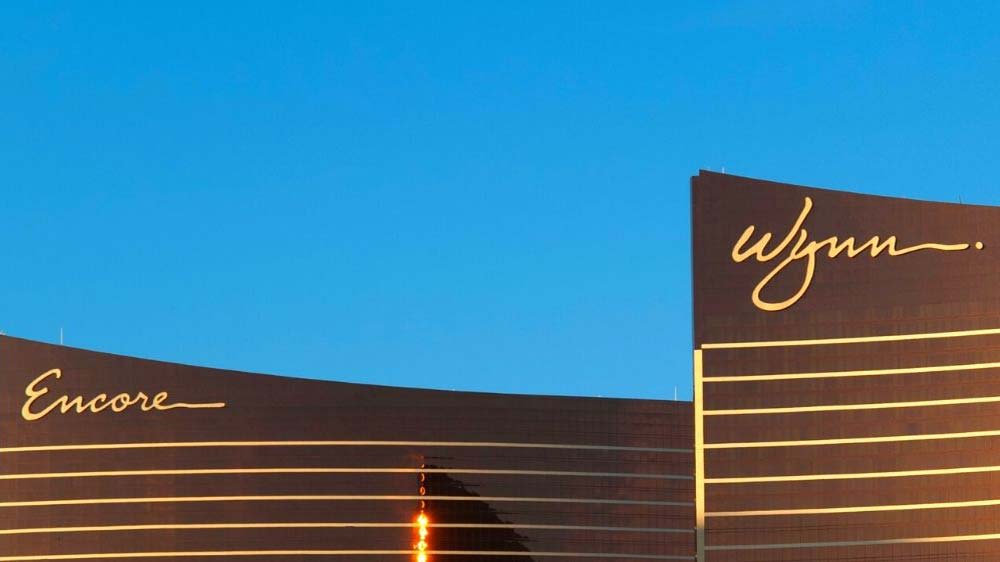 17. Wynn and Encore Las Vegas
Wynn Las Vegas is made up of two hotels, Wynn and Encore. Self-parking at both the Wynn Las Vegas and Encore is free for hotel guests.
These are luxury hotels with sleek decor and indulgently comfortable rooms. There are plenty of choices for casual and fine dining, a spa that offers nutrient IV treatments, a multimedia show on the Lake of Dreams, and a golf course right in the heart of Las Vegas.
Wynn is an upscale, modern hotel experience that will make your stay in Las Vegas a pampered one.
18. Best Western Plus Casino Royale – Center Strip
Unlike nearly every other hotel on the Strip, Best Western Plus Casino Royale does not charge a resort fee. (Resorts fees are mandatory charges on top of your room rate that hotels use to cover certain amenities, sometimes including parking.) The parking at Best Western Plus Casino Royale – Center Strip is truly free with no hidden charges.
The rooms at Best Western are comfortable, but this hotel doesn't have all the flair of a typical Vegas resort. It's no-nonsense, somewhere to relax between hitting up casinos, restaurants, shows, and attractions. And because there is no resort fee, you can count on Best Western to be one of the more affordable Las Vegas hotels with free parking.
19. Travelodge by Wyndham Las Vegas Center Strip
The Travelodge by Wyndham, like the Best Western Plus Casino Royale, has no resort fees on top of your room rate. This hotel is one of the most affordable places to stay on the Las Vegas Strip, and it has free parking for guests.
The Travelodge's rooms are simple and unthemed. This hotel is a comfortable, budget-friendly place to stay between gaming at other resorts' casinos.
If you want to enjoy the atmosphere of more intense, themed hotels without actually paying for the entire experience, book a stay at the Travelodge. You'll be an easy walk away from the more famous casinos and resorts on the Strip.
Wrapping Up
There you have it, the Las Vegas Strip hotels with free parking for guests. Visiting Las Vegas can get expensive, so it's a great idea to choose a hotel where you don't have to pay an additional fee to park.
Sources: