Seats on The High Roller in Las Vegas (What to Know)
(This article may contain affiliate links. If you click through and make a purchase, we will receive a small commission at no additional cost to you. )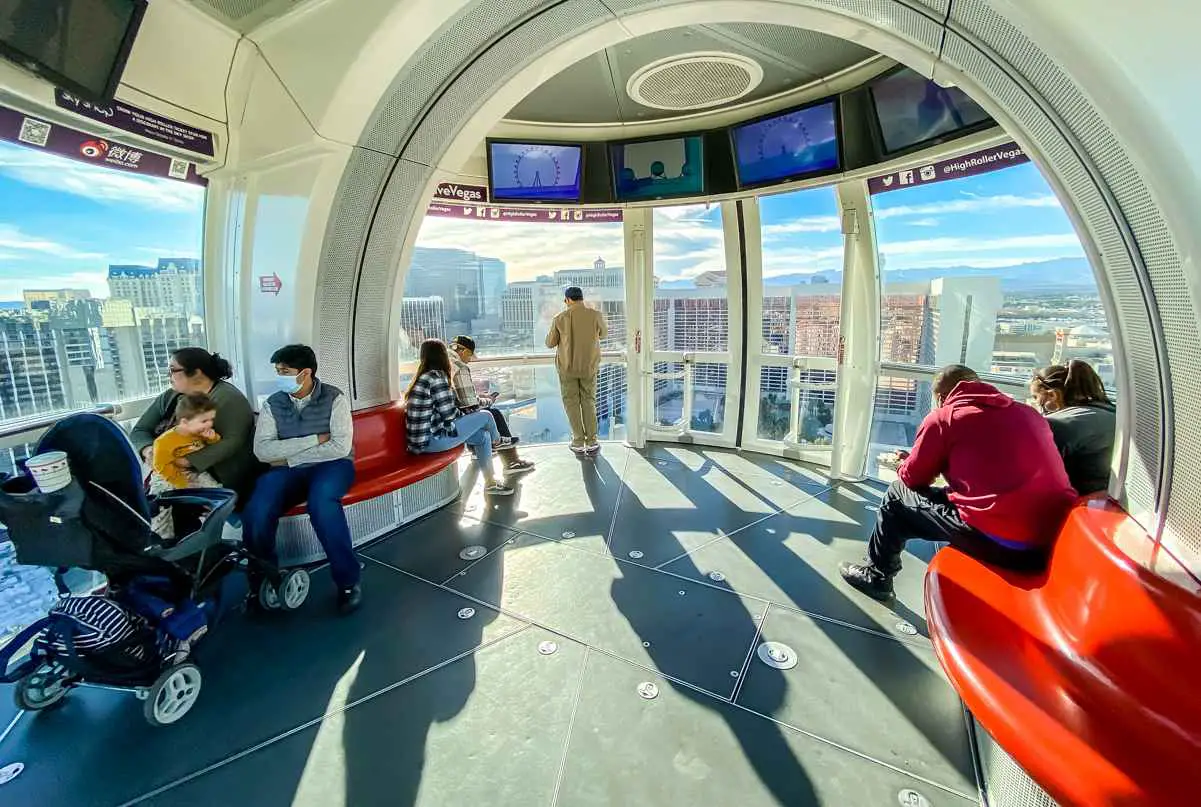 If you're visiting Vegas, you must make time to go for a ride in the High Roller. This giant Ferris wheel is the world's second tallest and offers a fantastic view of the strip as well as the whole city. The High Roller is a top-rated destination in Vegas, so you need to consider certain aspects of your ride, especially if you'd like to avoid standing for the thirty-minute-long trip around the wheel. But does the High Roller have seats?
The High Roller in Vegas has limited seating, consisting of two benches per pod. People usually stand and move around to enjoy all the views. However, if you can't stand for long periods, secure a seat by riding the High Roller during less busy hours or ask an attendant to help find you a seat.
In this article, I will explain everything you need to know about seating on the High Roller wheel in Las Vegas.
Seating on the High Roller (Las Vegas)
Most cabins or pods in the High Roller have limited seating space. There are two built-in benches inside the pod, and they can each fit about six average-sized adults. You'll have no trouble finding seats if you're in a pod with only a few people.
However, if you're in a pod with more people, you may not be able to sit if other people have already taken the benches. You can try to enter first to better your chance of grabbing a seat. Alternatively, you can ask an attendant to help you if you cannot stand for long periods of time.
If you can, you may prefer to stand throughout the ride as it offers you a chance to walk around and see all the different views. Because the pod keeps moving, the best views may require that you move throughout the duration of the ride. However, if you can't stand for a long time, take a seat, and you will still have a great time.
Are There Seats on the Happy Half-Hour Pods?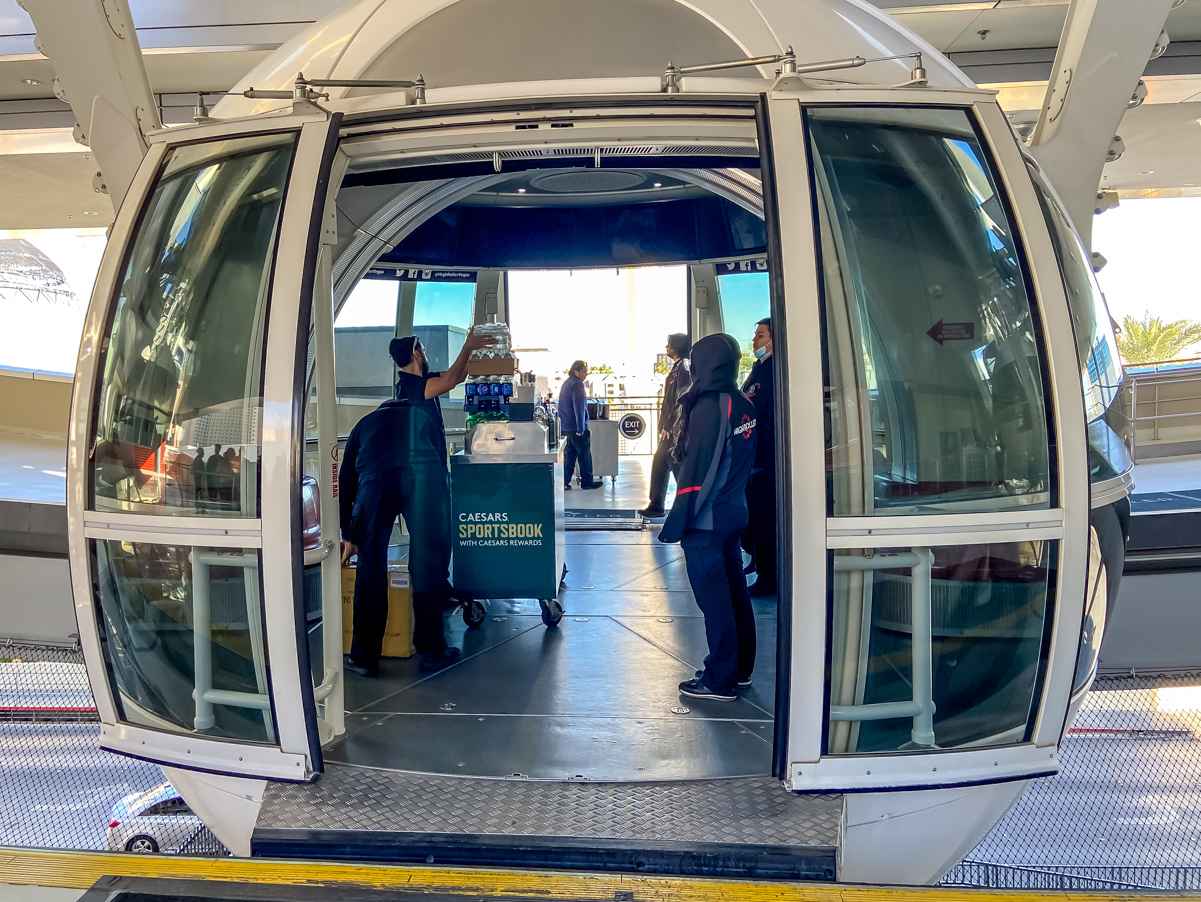 Unlike the regular pods at the High Roller, Happy Half Hour Pods feature a bar that gives unlimited drinks while you're on the ride. It's a bit more expensive than a standard ride, but most customers recommend it if you like having a drink or two while enjoying the amazing view from the High Roller.
The Happy Half Hour pods, in general, tend to be more crowded, and the available seating (which consists of the same two benches as on the regular pods) tends to fill up faster. Typically, however, people hang out near the bar, get their drinks, and walk around to enjoy the view.
If you need a seat on a Happy Half-Hour pod, your best move is to notify an attendant before getting on the ride, and they will be more than happy to help you.
You can learn more about the Happy Half-Hour pods and bringing drinks on the High Roller in my article: The High Roller Bar: Drinking high above the Vegas Strip.
Are the High Roller Pods Handicap Accessible?
The High Roller rides are accessible to everyone. All the pods in the Ferris wheel are handicap accessible, with specially built ramps. Moreover, there is plenty of space inside each pod for wheelchairs or other mobility vehicles. Choosing less busy times is advisable for a better view and more room to move around.
When Is the Best Time To Ride the High Roller?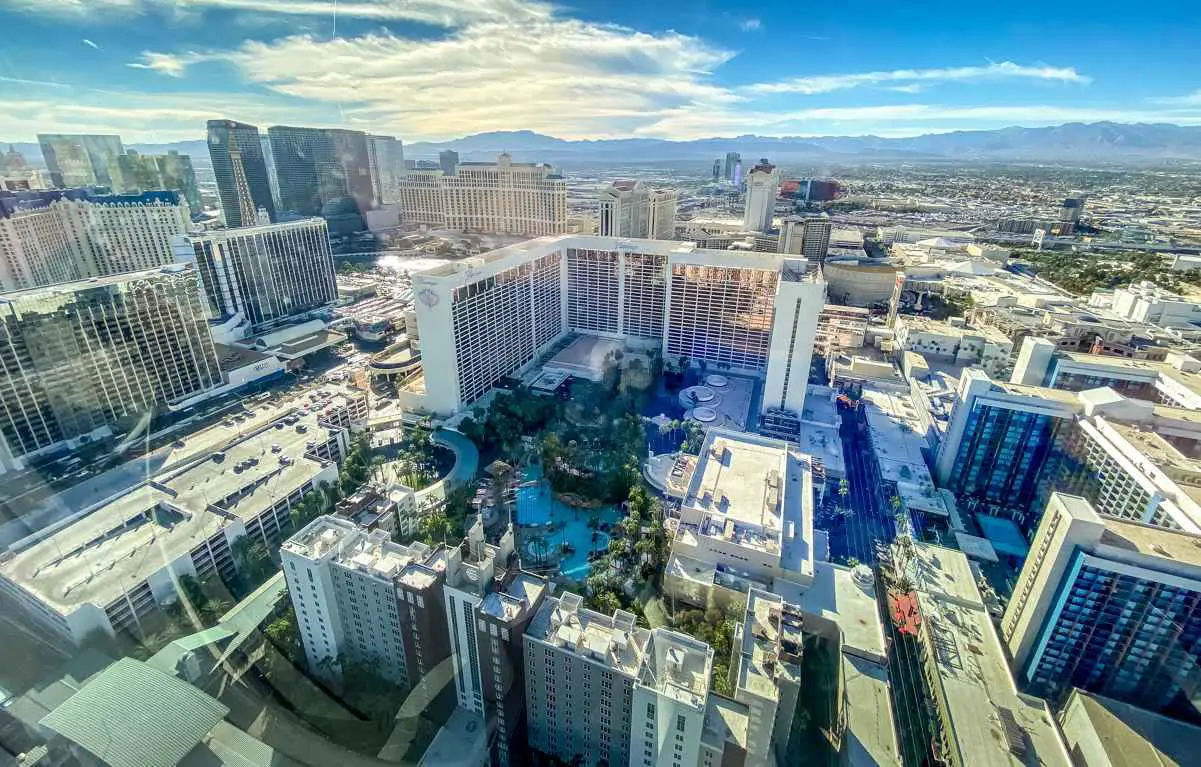 Some times of the day are more convenient than others for going on the High Roller. Typically, most people want to get on a ride during sunset or at night to enjoy the beautiful views, while early afternoons and very late nights are less popular.
If you want to enjoy the best views and don't mind standing or having more people around, you should go on a ride during these popular hours. However, if you want to find a seat more easily or are not fond of a crowded pod, you can go during the early afternoon or later at night.
The High Roller is open from 2 PM to 12 AM every day of the week.
Find out more about riding the High Roller in my in-depth article: High Roller Ferris Wheel Las Vegas (Cost, Tips & Discounts). It includes more information on the prices, and discounts available, plus some additional tips.
How Many People Does a High Roller Pod Fit?
If you'd like to visit the High Roller at its busiest time, you may wonder how many people you may need to share the pod with. Theoretically, every High Roller pod can fit 40 people. However, your chances of sharing a pod with 39 other people are slim.
Generally, the attendants don't fill the pods to capacity if they can help it. In busier times, you may have roughly 20 to 25 people around you, but typically, it's more likely for there to be approximately 10 to 15 people in a pod.
Can I Get a Private Pod Just for Myself?
If you want to go during slower times, you may be lucky enough to have the whole pod to yourself!
That said, the pods are generally shared unless you want to book and pay for a private pod. For more information, check out my article on whether it's necessary to share high roller pods and how you can book one for a private group or party.
How Long Does a Ride Last?
The typical High Roller ride lasts 30 minutes, but you need to account for the additional time you will spend in line waiting to enter and exit the Ferris wheel. In total, it may take you an hour, give or take, which you should keep in mind when considering whether to find a seat in the pod. Standing for 30 minutes may be fine, but a whole hour can be tiring.
How Much Does It Cost To Ride the High Roller?
The price of a trip around the High Roller ranges depending on your age, time of day, and whether you're on a regular pod or a Happy Half-Hour pod.
| High Roller / Time of Day | Cost |
| --- | --- |
| Adult Daytime Tickets | $23.50 |
| Adult Nighttime Tickets | $34.75 |
| High Roller Happy-Half Hour | $60.00 |
| Youth Daytime (ages 7-17) | $8.50 |
| Youth Nighttime (ages 7-17) | $17.50 |
| Children Under 6 years old | Free |
Generally, adult tickets cost between $23.50 and $34.75, while youth tickets run between $8.50 and $17.50.
Seats on The High Roller – Conclusions
The High Roller is a must-visit attraction in Vegas, offering amazing views of the entire city. High Roller pods can fit 40 people but have seating for no more than twelve people. However, you can find seating if you ask an attendant or go during less busy times.
You can go on a High Roller ride every day, from 2 PM till 12 AM. Afternoons and late nights are less busy, but the view is magnificent during sunset or early evening, which is when most people choose to ride.