9 Best Massage Places in Las Vegas (Non-Resort Options)
Las Vegas is the city that never sleeps, and there is always something going on. A great way to unwind after a busy day in the city is to enjoy a relaxing massage. But where's the best place to get a great massage in Vegas?
While all the top Las Vegas resorts have top-notch (and expensive) spas offering massages, you'll often find that one of the local Vegas massage parlor's will be a better choice.
This article will discuss why these non-resort massage spots are the best and explain the main benefits they offer.
Here are the nine best massage places in Las Vegas outside of pricey resorts:
1. Luxury Thai Spa Massage
(This article may contain affiliate links, which means we might earn a small commission if you click and make a purchase. Thank you!)
Luxury Thai Massage offers clients a broad range of massage and spa services and is located at 2555 Montessouri St (google maps).
You can choose from:
A powerful Swedish massage
A gentle hot stone massage
A couple's massage
and much more
Luxury Thai Spa Massage also offers high-quality beauty treatments, such as facials, skin extractions, and eye treatments, making it an excellent choice if you want to spoil yourself with a few Las Vegas spa treatments at the same time.
Their team of highly experienced massage therapists has a deep understanding of how massage can help with various physical concerns, including circulatory problems and muscle tension.
Previous clients have remarked that Luxury Thai Spa's massage therapists listen attentively to your concerns and customize treatments accordingly.
They operate from 9 am to 9 pm, and reservations can be made by calling them or booking on their website.
2. Miraculous Massage & Facial Spa
Miraculous Massage & Facial Spa is located at 5803 West Craig Road (map) and is hidden well away from the busyness of The Strip. They have plenty of parking available as most people drive to this massage parlor.
One of the most popular massage services here is the Swedish massage, which previous clients seem to have enjoyed the most.
Before the massage, your Miraculous Massage masseuse will discuss your needs and any concerns you have. This commitment to customer service and personalized massage are two of the things that make this place great.
In addition to a massage, you can also enjoy a facial. Prices for facials range from $65 to $80, and you have the choice of:
A classic European facial
A standard facial
Microdermabrasion
If you're desperate to unwind, allocating a few hours for a massage and a facial at this studio is an excellent idea.
They also sell gift cards if you want to spoil someone else, and you can bring your partner along for a couples massage.
The atmosphere at Miraculous Massage & Facial Spa is peaceful, quiet, and incredibly relaxing, making it perfect if you want to escape from Vegas's chaos.
* Before booking a massage from one of these locations, be sure to check here for a discount (Groupon).
3. CBD Mobile Massage
If you don't feel like traveling to a massage parlor for treatment, why not use a mobile massage service?
CBD Mobile Massage conveniently comes to you wherever you are based in Las Vegas and can save you a lot of time as you don't need to battle through Vegas traffic.
As its name suggests, CBD Mobile Massage uses CBD oil for its massages. This oil is thought to have pain-relieving, anxiety-reducing, and stress relief properties, especially when rubbed into the skin.
They operate throughout Las Vegas and provide:
Deep tissue massage
Couple's massage
Prenatal massage
Chair massage
Sports massage
They also offer:
Cupping
Aromatherapy
Thai massage 
Their prices range from $130 for a one-hour basic massage to $440 for a two-hour couple's massage.
To book a mobile massage therapy session, make an appointment on their website. It's a top-rated company so try and book as well in advance as possible!
4. Bangkok Thai Spa Massage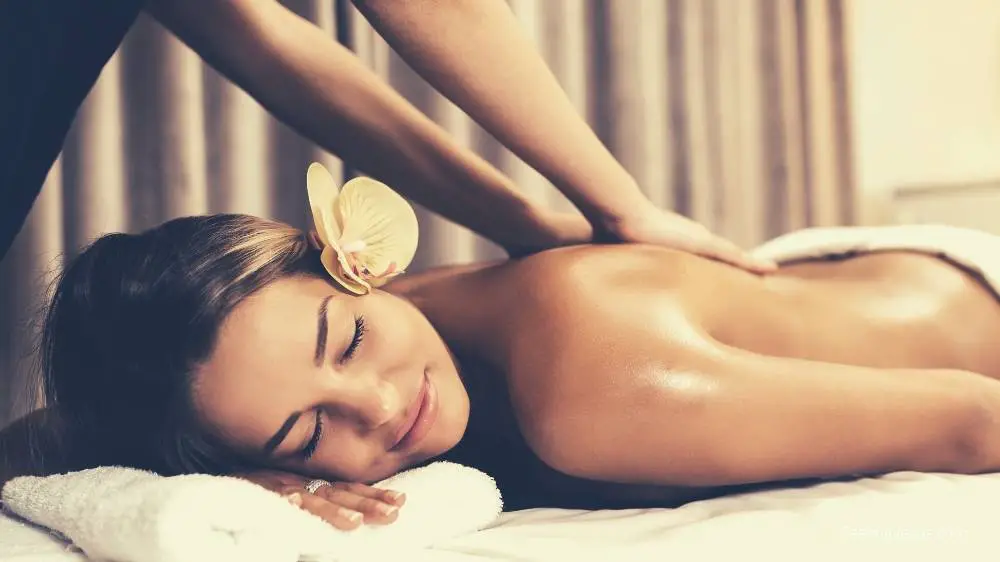 Bangkok Thai Spa Massage is conveniently located near Chinatown Plaza and The Orleans Hotel & Casino. Their address is 4825 West Flamingo Road (map), and they offer free parking on site.
With almost 500 excellent reviews on Yelp, you can't go wrong with this massage parlor if you're looking for a great massage at a reasonable price.
Like many massage parlors, Bangkok Thai Spa Massage specializes in Swedish deep tissue massage. However, they offer many other options, including Thai, hot stone, facial and shoulder massages.
All their massage therapists have been trained in various massage techniques and will ask you which intensity you prefer before starting.
A standard, 1-hour massage is only $80, while a sports massage, prenatal massage, or original Thai massage will cost you $100. They also offer gift certificates if you're looking to give someone a great experience for their time in Las Vegas.
Making an appointment at Bangkok Thai Spa Massage is essential as they are typically booked up for several days in advance. The best way to make a booking is on their website, where you can get an immediate response.
5. Palms Wellness and Spa
Palms Wellness and Spa is situated at 983 East Sahara Avenue (map), a short drive from The STRAT Hotel and Hilton Grand Vacations on The Strip.
Palms Wellness and Spa ticks all the boxes if you're looking for a serene and upmarket massage experience. As soon as you walk through their doors, you are struck by the peaceful (and almost too quiet) atmosphere.
They don't offer an extensive range of massage services, but their signature 50-minute massage or their premier 80-minute massage should satisfy most clients. You have the option of adding on some aromatherapy or a luxury foot scrub, each at $20.
A Vegas spa treatment at Palms Wellness and Spa feels like a luxurious experience, but their prices are reasonable. The 50-minute massage costs only $95, while the 80-minute massage is $125.
If you are a new client, they offer a $15 discount for a 20 or 50-minute massage, making them a bargain, considering the prices you pay at the leading Vegas hotels.
6. Paradise Massage
As the name implies, Paradise Massage is located on Paradise Road (map), only a stone's throw away from The STRAT Hotel and the Sahara Hotel.
They have a parking lot, but if you're catching the Deuce bus, your stop will be at The STRAT, followed by a 10-minute walk.
Prices at Paradise Massage are reasonable, and most clients comment on the exceptional value for money. For instance, a full-body, 90-minute massage costs only $105, while a couple's massage will be double this price.
Paradise Massage comes highly recommended online, and customers leave an average of four and a half stars, not bad for a highly-competitive industry.
One of their most popular services is the aromatherapy massage. After chatting with you about any health concerns, your therapist will use suitable essential oils to address your issues.
7. Massage Nirvana Day Spa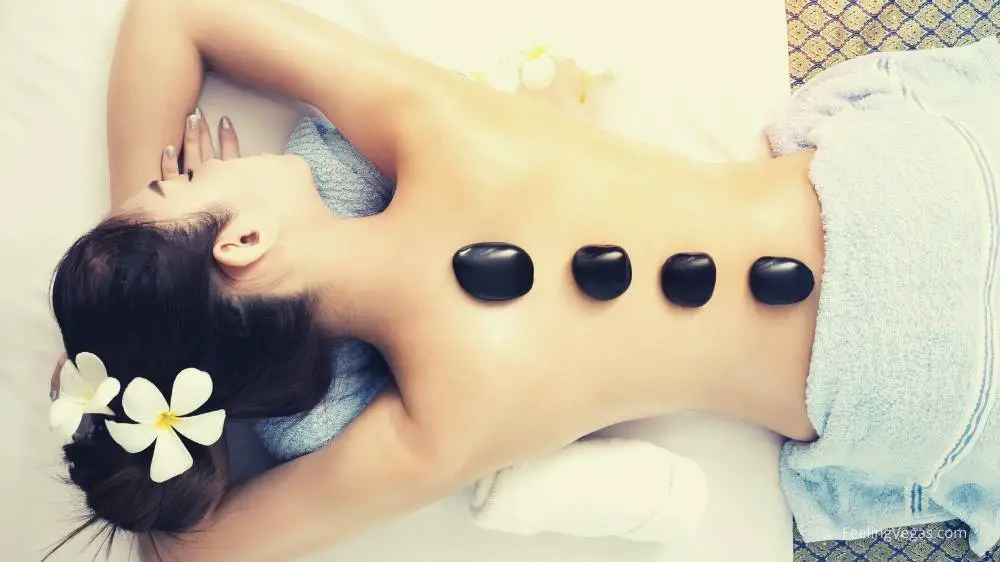 Massage Nirvana is a newcomer to the massage industry in Las Vegas but definitely worth a mention.
This lesser-known massage parlor is in the Montage Shopping Center on South Fort Apache Road in the western part of the city (map).
The shopping center has ample parking and it's worth the drive if you're staying in a hotel on or around The Strip.
They have an interesting range of personal massages available, including the following:
Signature massage (choose from either a Swedish or therapeutic massage)
Deep tissue massage
Sports massage
Hot stone massage
Prenatal massage
Reflexology massage
Massage prices range from $69 to $198, and you can also add aromatherapy to your massage for only $10 extra. 
Their operating hours are from 10 am to 7 pm throughout the week, and it's best to make an appointment online.
8. XY Foot Spa
After a busy day on your feet in Las Vegas, it can be incredibly soothing to experience a professional foot massage.
Many folks don't enjoy the intensity of a body massage and prefer a relaxing foot massage instead. If this sounds like you, XY Foot Spa is an excellent option.
Their address is 4083 Spring Mountain Road (map) in the Chinatown area of the city. Most people travel to XY Foot Spa by car or Uber, and they have a safe parking lot in a popular strip mall.
There is another nearby foot massage business called YY Foot Spa, and guests often mistake the two firms. If you've made a booking with XY Foot Spa, it's a good idea to double-check the address before you arrive.
Specializing in a range of foot massages, you can choose from:
Reflexology
Standard
Deep tissue foot massage
A 60-minute standard foot massage will only set you back $30, while the most luxurious foot treatment (a 120-minute hot stone and sea salt treatment) costs a mere $70. Compared to spa prices at the main Vegas hotels, these prices are a bargain.
XY Foot Spa prides itself on its foot messages' quality and will give you a refund if you're not happy. They specify that you need to let them know that you need a refund within ten minutes or would like to switch to another masseur.
9. Siam Thai Spa & Massage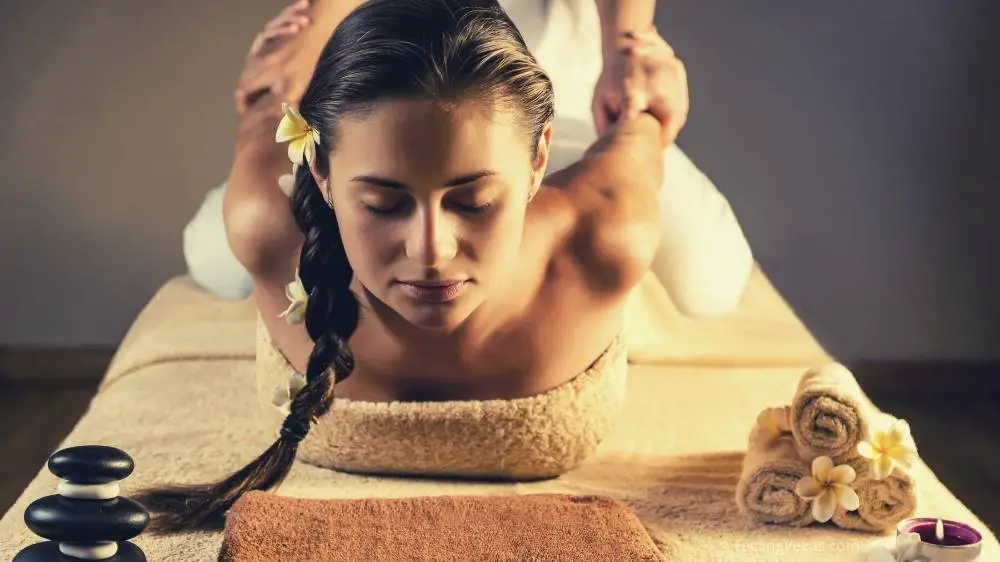 Siam Thai Spa & Massage is another Las Vegas hidden gem massage business.
Situated in the Silverado Ranch area (map), it is tucked away from The Strip and in a quiet location by Vegas standards.
When arriving here, don't let its typical strip mall exterior fool you! As soon as you walk in, you forget you are in greater Las Vegas and are greeted by your friendly and serene therapist.
The massage studios are elegantly decorated, clean, and conducive to deep relaxation.
Whether you choose deep tissue, Swedish, Thai, hot stone, or combination massage, you will likely walk away much more relaxed with soothed muscles.
Siam Thai Spa & Massage is part of the Asian Massage Stores franchise, which has other branches in:
Miami
Coral Gables
Hialeah
North Miami Beach in Florida
It's impossible to book a massage online, and calling them is best (they answer their phones quickly).
You can find this incredible massage studio at 9400 South Eastern Avenue. As mentioned, it is in a pleasant strip mall, and there is plenty of parking.