There are five companies that own or operate most of the hotels and casinos on The Strip in Las Vegas, they are:
Caesars Entertainment
Genting Group
Apollo Global Management
MGM Resorts
Wynn Resorts
The Las Vegas Strip is a 4.2-mile stretch of glitzy resorts, world-class shopping and dining, and exciting entertainment including the Bellagio Fountains, the Linq High Roller, Icebar, Fashion Show Mall, and more.
More than 30 hotels and casinos line this section of Las Vegas Boulevard and they play host to over 42 million visitors each and every year. (source)
That's a lot of cash flow! So, who exactly is profiting? Here's a breakdown of who owns Vegas casinos, including those at the helm of the major public companies in charge.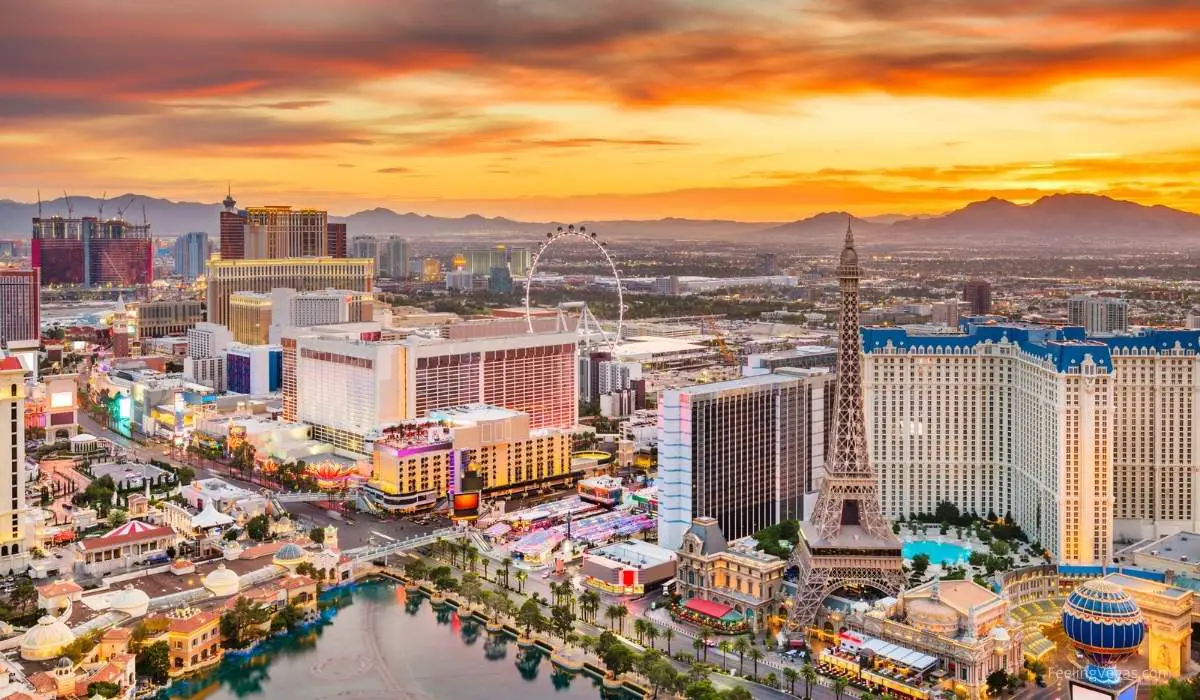 Caesars Entertainment's Las Vegas Properties
Caesars Entertainment is a powerhouse on The Strip in Las Vegas, and elsewhere around the world.
Gary Carano is executive chairman of Caesars Entertainment group, and other key people include CEO Thomas Reeg and President and COO Anthony Carano. The Carano family has an 11 percent stake in the company.
This hotel group operates more than 50 properties in the USA, Dubai, and Canada, eight of which are found on the Las Vegas Strip.
Bally's Las Vegas         
Bally's Las Vegas sits in the middle of the Las Vegas Strip and is one of the older resorts on Las Vegas Blvd., built-in 1973. At that time, it was known as the MGM Grand Hotel and Casino and was one of the largest resorts in the world.
Now, it's home to 68,000 square feet of casino space and more than 2,800 hotel rooms.
Caesars Palace
Caesars Palace is modeled after ancient Rome, and its theming and appearance in movies such as The Hangover make it a popular hotel for tourists.
Caesars Palace was built in 1966.
It has 124,000 square feet of gaming space and nearly 4,000 hotel rooms.  
The Cromwell
The Cromwell is a smaller hotel compared to its giant counterparts on The Strip, located just across the street from Bally's.
The hotel was the former location of Barbary Coast until Caesars Entertainment overhauled it in 2014. It is an adults-only resort with 41,000 square feet of casino space and 190 boutique hotel rooms.
Flamingo Las Vegas
The Flamingo Las Vegas is the third hotel to ever open on the Las Vegas Strip, originally opened by Las Vegas mobster Bugsy Siegal in 1946.
Today, it's home to 3,450 hotel rooms and more than 72,000 square feet of gaming space.
Harrah's Las Vegas
Harrah's Las Vegas first opened in 1972 as the Holiday Casino.
It now has a carnival and Mardi Gras theme, just over 2,540 rooms, and more than 88,000 square feet of casino floor.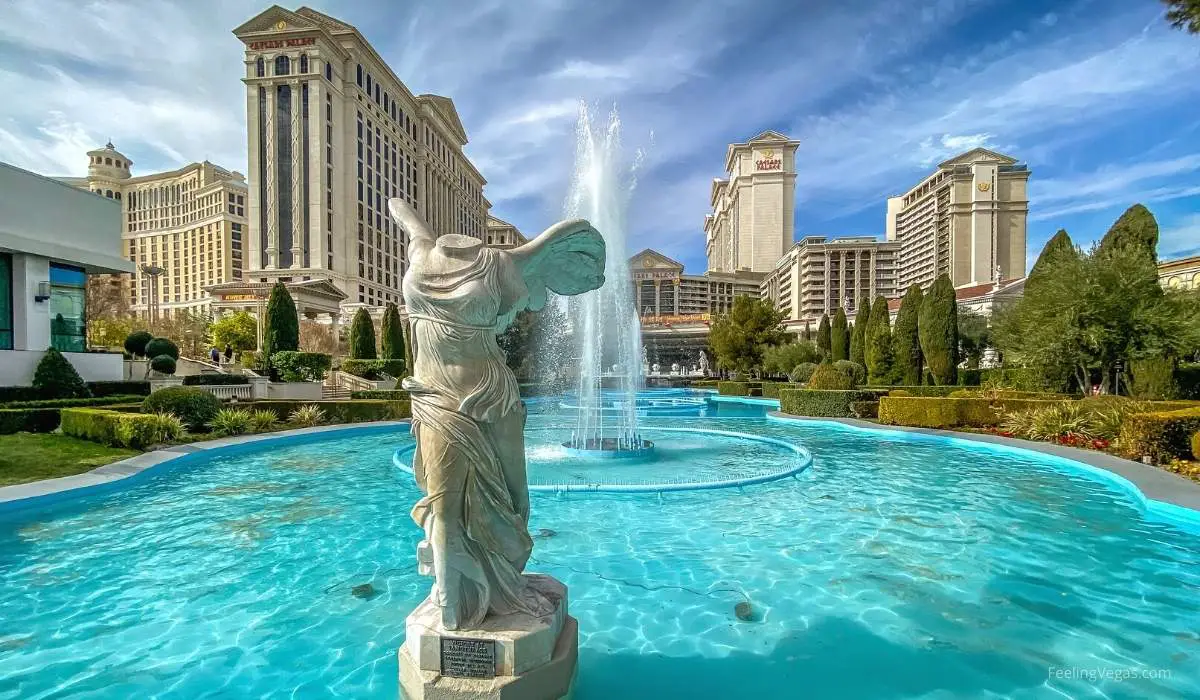 The LINQ Hotel & Casino
Formerly known as The Quad and the Imperial Palace before that, the Linq's central location, giant ferris wheel, and outdoor promenade with shopping and dining make it a popular spot for tourists.
The Linq has more than 2,200 rooms and almost 34,000 square feet of gaming space.
Paris Las Vegas
Paris Las Vegas, directly across the street from the Bellagio Fountains, is hard to miss: it features several famous French landmark replicas including the Montgolfier balloon, La Fountaine des Mers, and a half-scale Eiffel Tower.
Planet Hollywood Resort & Casino
Planet Hollywood Resort & Casino sits in the former home of the resort known as Aladdin, which was demolished in 1998.
Planet Hollywood is known for its musical residencies, including Shania Twain, Britney Spears, and John Legend.
Genting Group's Properties in Las Vegas
Genting Group is one of the largest casino companies in the world, but this Malaysian giant surprisingly only owns one resort in Sin City.
With more than 70 casinos around the world, Genting Group decided to play its hand on the Las Vegas Strip when it opened its first resort in Las Vegas in 2021.
Genting Group is helmed by Tan Sri Lim Kok Thay, the chairman and director of the company, originally founded by Lim Goh Tong and Mohamed Noah Omar back in the 1960s.
Resorts World Las Vegas
Resorts World Las Vegas opened on the north end of Las Vegas Boulevard in June 2021, more than ten years after the last new hotel – The Cosmopolitan – opened on The Strip.
The three-hotel complex is comprised of Hilton, Crockfords, and Conrad, and features more than 117,000 square feet of gaming space.
Apollo Global Management Properties
Las Vegas Sands Corp is the biggest casino company on the planet, yet it only owned two hotels on the Las Vegas Strip, The Venetian and The Palazzo, and those have now been sold.
Both properties are currently owned by VICI Properties and operated by Apollo Global Management. The sale closed in early 2022 for $6.25 billion dollars. (source)
The combined properties employ over 8,000 staff and have more than 7,000 hotel rooms between them.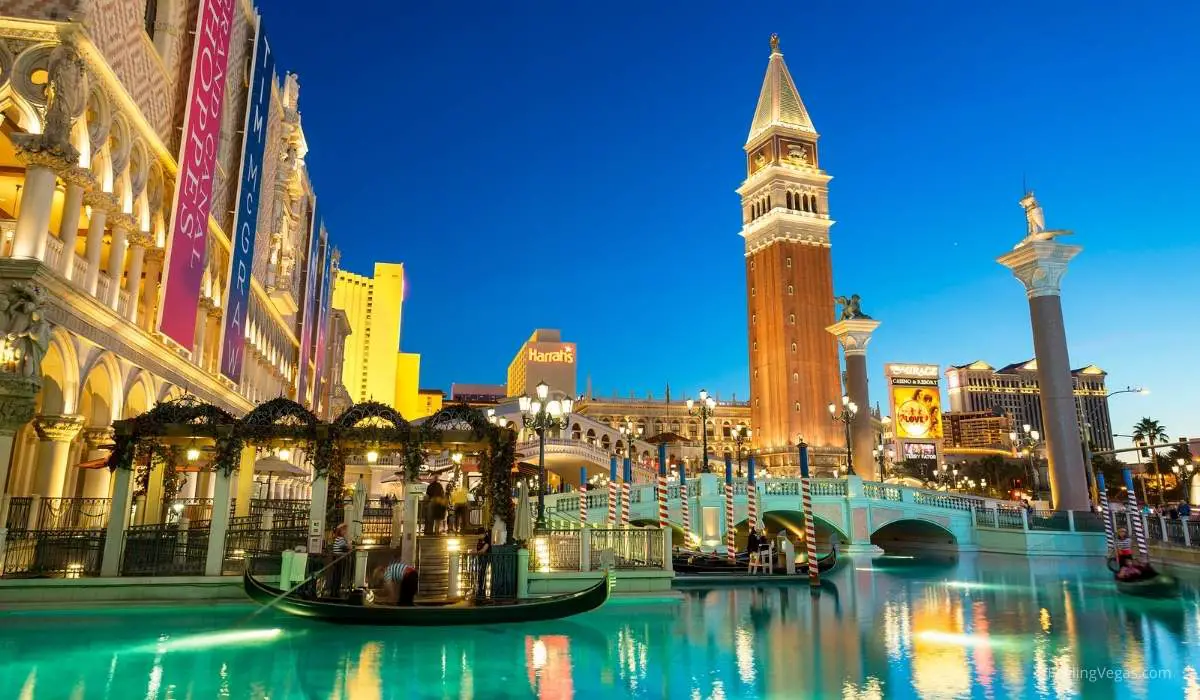 The Palazzo
The Palazzo Resort sits next to its sister hotel and casino, The Venetian, toward the north end of the Las Vegas Strip.
This luxury resort has one of the tallest buildings in Nevada and houses more than 3,000 all-suite guestrooms.
The Venetian
The Venetian Las Vegas is modeled after the city of Venice, Italy, and even features a working waterway through the Venetian shopping area called The Grand Canal Shoppes where more than 500,000 tourists per year ride the gondolas.
It has more than 4,000 guestrooms and more than 138,00 square feet of gaming space – making it one of the largest casino floors in the world.
MGM Resorts Properties in Las Vegas
Kirk Kerkorian still owns 39 percent of the global hospitality company he founded in 1987, MGM Resorts International.
The brand operates an impressive 12 resorts on or just off the Las Vegas Strip, plus a handful of events and convention centers.
Bellagio
The Bellagio is well-known on the Las Vegas Strip for its nightly fountain show, which features sky-high fountains of water timed expertly to music and lights.
The Bellagio has just under 4,000 guest rooms and more than 156,000 square feet of casino.
The Cosmopolitan
The Cosmo, as tourists call it, is the second newest resort on The Strip. It opened in 2010.
The two-tower high-rise hotel has more than 3,000 rooms and 110,000 square feet of gaming space.
Aria Resort & Casino
Opened as a gaming option inside of CityCenter, Aria is a five-diamond AAA hotel with just over 4,000 guest rooms. (source)
It has an impressive LEED Gold Certification for its energy efficiency and features more than 150,000 square feet of gaming space.
MGM Grand
A massive hotel and casino property, the MGM Grand is known for its extensive entertainment options including shows, concerts, nightlife, and attractions.
The MGM Grand opened in 1993 and is the single largest hotel in Las Vegas with 6,852 rooms and 171,500 square feet of gaming space.
The Signature at MGM Grand
Located next to its sister property (MGM Grand) The Signature at MGM Grand is a non-gaming resort featuring upscale amenities and all-suite rooms.
With just over 1,700 rooms, The Signature offers a quiet respite from the flurry of action, while still being close to everything the Strip has to offer.
Vdara
Located next to Aria, you'll find Vdara, a non-gaming resort, condo, and spa building.
It does not have a casino and forbids smoking. Vdara is home to nearly 1,500 rooms.
Park MGM
Park MGM was formerly known as the Monte Carlo, but it got a revamp and rebrand in 2016.
It now has just under 3,000 guest rooms and 102,000 square feet of gaming. It was the first property on the Strip to go 100% smoke free.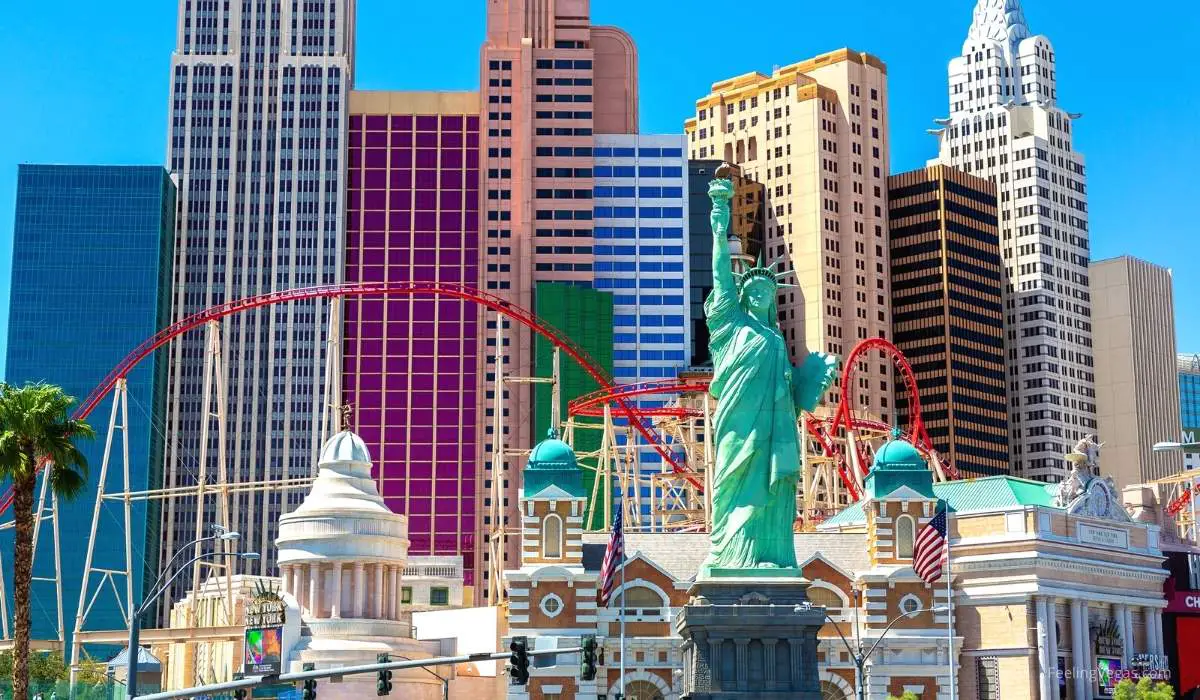 New York-New York
New York-New York is immediately recognizable as the resort is modeled after the New York skyline and even features a replica Statue of Liberty and a roller coaster on top of the property.
New York-New York features 2,024 rooms and an 84,000-square-foot casino.
Excalibur
You can't miss Excalibur if you're headed to Las Vegas. This Strip hotel is themed and looks like a medieval castle and is named after King Arthur's mythic sword.
The Excalibur resort was built in 1990 and has 3,981 hotel rooms and a 96,656 sq. ft. casino.
Luxor
Perhaps the most defining building on the Las Vegas Strip, the Luxor is a pyramid-shaped casino and hotel based on the great pyramids of Egypt.
The hotel has more than 4,400 guest rooms and 120,000 square feet of casino space.
Mandalay Bay
The luxe Mandalay Bay sits at the southern end of The Strip and features a massive convention center and arena.
It has more than 3,200 rooms and 135,000 square feet of gaming space.
Delano
The Delano sits just behind Mandalay Bay and shares the casino and amenities. With a little over 1,100 rooms, Delano is very close to the action on the Strip while providing a more relaxing atmosphere.
Wynn Resorts Vegas Properties
The high-end Wynn Resorts company was founded by Steve Wynn in 2002.
CEO Craig Billings now runs the company, but Elaine Wynn, Steve's former wife, still owns an eight-percent share. Steve Wynn sold his entire stake in 2018 for more than $2 billion.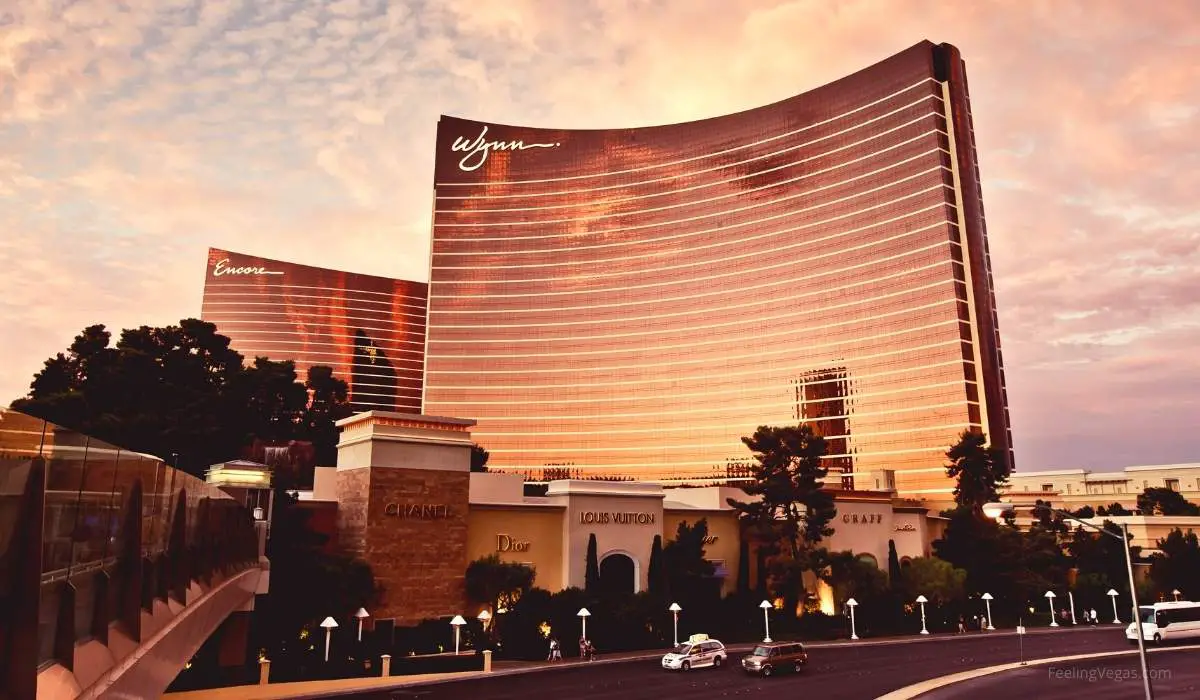 Wynn
The Wynn resort commands some of the highest prices on the Las Vegas Strip because of its luxurious reputation.
The Wynn has more than 2,700 rooms and a casino that's 111,000 sq ft.
Encore
The Encore resort sits just behind the Wynn and lives up to its sister resort's luxe reputation. Between the two hotels, the property has more five-star awards from Forbes Travel than any other resort in the world.
Property Investment Companies: A Growing Las Vegas Trend
Historically, the major Las Vegas hotels and casinos were operated by the same company that owned them, however, there is a relatively new trend taking place along the Vegas Strip. Some of the big-name casino companies (starting with MGM Resorts) have begun selling their physical resort buildings to investment property companies.
The casinos in turn then rent the properties back from the new owners and continue to manage and operate the property. At this time, the number one property investment company in Las Vegas is VICI Properties.
So even though visitors are more likely to be familiar with the names MGM Resorts and Caesars Entertainment, VICI Properties is likely the single largest property owner on the Las Vegas Strip and their properties include some of the crown jewels on Las Vegas Boulevard:
Caesars Palace
MGM Grand
The Venetian
Park MGM
Excalibur
Luxor
Again, the strategy at VICI Properties is to build a huge portfolio of entertainment destination properties and lease the rights to operate the properties to companies specializing in hospitality management.
FAQ – Las Vegas Casino Ownership
Are Las Vegas casinos privately owned?
In the past, many Las Vegas casinos were privately owned. Today, however, the majority of mega-resorts in Las Vegas are owned by public corporations or investment companies, such as MGM Resorts, Caesars Entertainment, and VICI Properties.
Who is the wealthiest Las Vegas casino owner?
The wealthiest individual casino owner in Las Vegas was Sheldon Adelson (Las Vegas Sands Corp) with a net worth of over $30 billion dollars. Mr. Adelson passed in early 2021.
Are any Las Vegas casinos owned by Native American tribes?
The Palms Casino Resort is owned and operated by the San Manuel Band of Mission Indians and is the only major casino and hotel property on or near the Strip fully owned by a native American tribe.
Who owns the Bellagio casino and hotel?
The Bellagio property is owned by The Blackstone Group, a property investment company that leases the property back to MGM Resorts to operate.
Who Owns Vegas Casinos – Conclusion
While no single person owns a hotel on the Las Vegas Strip, some founding members are still majority shareholders in the companies at the helm of these mega resorts.
There are, however, two companies who are all in on their resort and casinos on the strip: MGM Resorts and Caesars Entertainment (along with VICI Properties) go home with the biggest payout for casinos owned or operated on the Las Vegas Strip.