The 5 Best Places To Take Your Dog Swimming in Vegas
While Las Vegas is known for its nightlife and neon lights, it's also known for being really HOT. Being in the desert, there are plenty of pools that people can lounge by during the day to cool off or they can choose to stay inside to protect themselves from the heat. But let's say you're in Vegas with your dog. Fido's hot too! So you may be wondering:
Where can I take my dog swimming in Las Vegas?
Lake Mead
Desert Breeze Aquatic Park: Dog Daze of Summer
Black Mountain Aquatic Complex: Doggie Paddle and Play Day
Westin Lake Las Vegas
Canine Bodyworks and Aquatics
I've come up with the best spots to take your dog swimming in Las Vegas. While there are natural lakes to enjoy with your pets, there are also fun water parks and facilities designed with pet swimming in mind.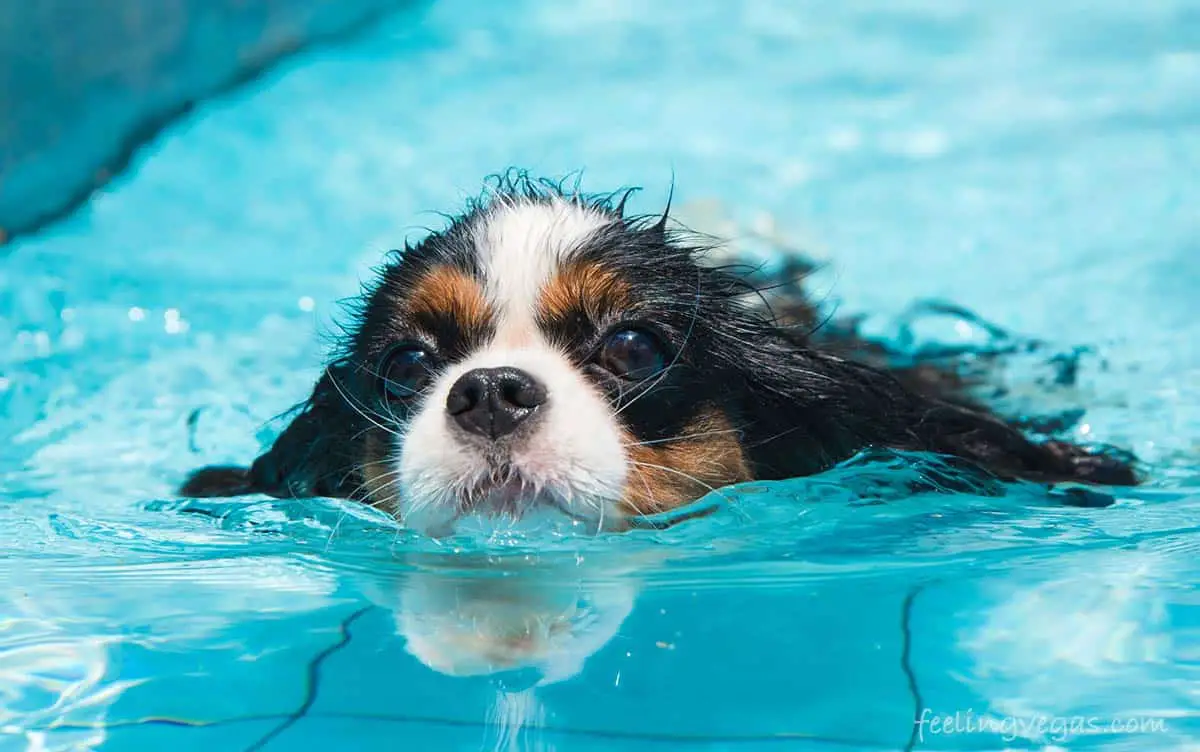 (This article may contain affiliate links, which means we might earn a small commission if you click and make a purchase. Thank you!)
Las Vegas is somewhat limited in the places you can go swimming with your dog in public, but I've pulled together the best ones and a few other tips for keeping your pup cool when it's hot outside.
Best Places For Dogs To Swim In Las Vegas
You will always want to take your dog to water areas that are pet-friendly and safe. Places where your dog can swim and play with reckless, joyous abandon.
The following list offers places that check off those boxes. Unfortunately, many of the lakes and national parks in Las Vegas and the surrounding areas restrict dogs from public beaches and want to keep them out of bodies of water to protect wildlife.
Many of the hotel resorts are pet-friendly (for small dogs under a certain weight) but do not let dogs swim on the hotel properties. The closest you can get to swimming with your dog at one of the hotels is by staying at the Cosmopolitan Hotel, where one of the dog runs is close to a pool.
While this is somewhat limiting, there are still a few places around town for your pooch to get in the water.
1.     Lake Mead Recreational Area
The Lake Mead Recreation Area is considered one of the most pet-friendly national recreational areas in the country, according to the National Parks Foundation. This is primarily because of the ability to take your dog on an extensive trail system and hikes throughout the park.
Lake Mead does not let dogs have access to many of the public beaches that are designated for visitors. The only real way to access the lake is via the hiking trails surrounding the lake. Follow these trails, and you'll be able to take your dog off-leash and down to the water.
There are many coves located around the lake that your dog can swim in without disturbing beaches or other visitors. Just make sure there is a safe entry and exit point, and it's not too rocky.
There are designated areas where dogs are allowed to be off-leash. These are the places in which your dogs can swim. Look for signage to show you where these areas are.
Be mindful that many of these locations are a bit rockier, which can be more difficult for you and your dog to traverse. Also, be aware of coyotes that are known to be found around the lake in less-traveled areas. This is especially a concern for small dogs.
When you do find a place to swim with your dog, make sure that the water is not too deep and that they are easily able to swim to shore. There are boats on Lake Mead as well, so be sure to stay away from open waterways.
Also, it's important to remember to clean up after your pets everywhere you go. After all, this is a nationally protected conservation area.
2.     Desert Breeze Aquatic Park: Dog Daze of Summer (Dog-Friendly Pool in Las Vegas)
The Desert Breeze Aquatic Park is open to humans year-round, but at the end of summer each year, it's the dogs' turn! You can bring your dog to the water park so they can enjoy the pools. This event is offered annually, and you should check their calendar as it is often only one-day. It is typically held in early September as students are going back to school and summer ends.
Registration for the event typically opens in late July and fills up quickly. This event is put on by Clark County. Proof of vaccinations is required to participate in the event, so if you are traveling to Vegas during this time, make sure you can show proof of these medical records.
They typically split the day up so that small dogs can swim in the early morning and dogs 50lbs and over get access to the pool around 10 am.
In addition to swimming, this event also has a bunch of fun activities going on. There are different dog contests with categories related to size, talent, and tricks! Humans are not permitted to swim with the dogs during the event, and dogs must be kept on a leash outside of the facilities.
They only let dogs swim once a year in the fall because this is the time of year they perform pool maintenance, and the pool is drained for the season right after the event. I've been to a few of these events, and after the dogs are done swimming, the water is pretty dirty.
3.     Black Mountain Aquatic Complex: Doggie Paddle and Play Day
The Doggie Paddle and Play Day is held every year at the Black Mountain Recreation Center Aquatic Complex in nearby Henderson for your dog to enjoy at the end of summer. The dogs are divided by weight class throughout the day to keep similar-sized dogs together.
The pool areas feature a floating entrance platform making it easier for the dogs to get in and out of the deeper water.
This is another event that requires registration. It became so popular in recent years that they have expanded the event to two days! These doggy pool days in the Las Vegas area are typically held on different days at the end of summer, giving you multiple opportunities to take your dog swimming in Vegas.
Check out our article here to find out if you can walk your dog on the Las Vegas Strip, where you can stay, and more fun things to do with your dog in Vegas.
4.     Westin Lake Las Vegas
Weston Lake Las Vegas (TripAdvisor) is one of the most-pet friendly resorts in the Las Vegas area if you plan to bring your furry friend with you. While they cannot swim in the pool, there are plenty of activities they can enjoy with you on the lake. You can enjoy many water sports on Lake Las Vegas with your dog, including paddle boarding and kayaking.
You can take your dog out into the lake with you, giving her the opportunity to take a quick dip in open water. Be mindful that this water can be deep, and they should not stray far from the board or shore.
To stay at the resort, dogs must be under 45 pounds, and there is an additional fee. Dogs are allowed everywhere except the pool and restaurant areas. The property is expansive and will allow you to roam all over with your dog in a natural setting. It's very nice.
Book a room at the pet-friendly Westin Lake Las Vegas for your next Las Vegas visit (TripAdvisor).
5.     Canine Bodyworks and Aquatics
In addition to swimming for fun, Canine Bodyworks and Aquatics (website) is one of the only water therapy facilities for dogs in the Las Vegas area. While this place does not offer free swimming in pools, it is a great option for dogs who want to learn to swim, need assistance in swimming for therapeutic reasons, or need to lose weight.
This is one of the area's only dog-specific pools and swimming locations. While it costs money for individualized sessions with the therapist, it may be a great solution, especially for aging dogs that may start to experience joint problems.
They emphasize making your dog feel comfortable in the water so that it can get the most out of the session. Owners may want their dog to learn to swim in a safe and comfortable environment before taking them out on their own. This therapist is highly regarded by clients and offers a service that was not previously available in the Las Vegas area.
They even offer what they call "Canine Land Massages". These are 45-minute therapeutic massages. It's like a spa day for dogs!
Other Water Options For Your Pup
While there are not a significant number of places where your dog can actually swim, there are plenty of places and ways for them to cool off. Some dog parks in the Las Vegas area have "splash pads" specifically for dogs or water features to cool off in. While these areas are not deep enough for swimming, it is a great solution if you want your animal to enjoy the water and get a chance to cool off.
These are two dog parks you should check out if you want your pups to cool off while they play:
Heritage Bark Park: Located in nearby Henderson, this dog park has been compared to Disneyland by visitors. With multiple areas for all-sized dogs and a splash pad to cool off, this is a great place to take your dog for some water fun. The splash pad and the clean and spacious facilities are definitely the highlights for many visitors.
Barkin' Basin Dog Park: Located in Las Vegas, is a popular dog park for off-leash fun with your pup. It's a large area with separate areas for both large and small dogs. Water spigots are located throughout the dog park for dogs to drink water and cool off in the warm Vegas weather.
Finding swimming areas for dogs in the Vegas area is a bit difficult. There are not many public swimming locations for dogs exclusively, and the nearby national recreation areas only allow limited access for dogs to swim. Attending the events at the summer's end is your best opportunity to officially take your dog swimming in Vegas.
The best option for dog-friendly pools in Las Vegas is if you have friends who will let your dog swim in their pool or have access to a private beach in the area, this might be the most consistent option for swimming! If not, you'll need to look for the more remote locations on Lake Mead or Lake Las Vegas, or wait for one of the puppy swimming events.
Can dogs get fleas in Las Vegas? Find out in our article here.
Swimming Safety For Dogs
Whether in a lake or a pool, you'll want to make sure your dog friends are in a safe environment. Making sure they are good swimmers or taking the necessary precautions if they are not is important to ensure their safety.
For dogs that are not the best swimmers, try to keep them in shallow water. You should be near them or have your eyes on them at all times. Investing in a life vest for your dog may be a good idea in case they get too far from shore or the shallow end of a wading area. Life vests are great for puppies, new swimmers, or dogs that are not the most buoyant.
I was surprised at how cheap I was able to buy a dog life jacket from a listing on Amazon. Both of my dogs have one. It helps them enjoy the water and gives me some peace of mind if I take my eyes off them for even a second.
Some dogs may love the water but are not the best swimmers. Body shape has a large impact on this. Larger dogs with shorter legs have a more difficult time swimming. Think of a bulldog. They have big chests and small legs, which does not make them the best in water. Dogs like this also have breathing problems, which allows them to tire more easily with increased exertion.
One of the main issues you should be aware of is related to letting your dog swim in natural bodies of water. These areas can be contaminated or contain harmful bacteria that can make your dog sick. You can let them swim, but make sure you bring water to keep them hydrated. This will prevent them from drinking lake water in large amounts. A little splash shouldn't hurt.
How to Keep Your Dog Cool in the Las Vegas Heat
While there is not a plethora of public swimming options for your dog in Las Vegas, there are multiple ways you can keep your pup cool in hot weather and give them a chance to play with and in water. Las Vegas boasts warm temperatures for most months throughout the year, making some cooling options helpful to have available.
Here are some fun and creative ways to keep your pooch cool in warm weather and get to have a great time in the water:
Buy a kiddie pool: If you can't go to a pool or body of water for swimming with your dog, bring one to them. Big box stores, outdoor stores, and online retailers will sell these. Fill them up with cool water and let your dog splash around! You can easily store them and reuse them on days they need a quick dip. Plus, this is conveniently at your home, requiring no travel time. I found this specialized dog pool on amazon that's both foldable and portable!
Use a cooler: If you have a small dog, fill a full-sized cooler with water and a few ice cubes. They can chill in the water to cool off and then run around shaking it off.
Use a hose: A lot of dogs love to play with the streaming water of a hose. This is often wasteful, so be mindful of water usage. Using a mist feature on a hose nozzle is a great way to cool them down and keep the experience fun.
In addition to water activities like those mentioned for your dog, there are some other tips you can try to keep your pets cool in the heat:
Ice Cubes: Add ice cubes to your dog's water dish for a refreshing way to keep their water cool. Our dogs love to eat ice cubes!
Wet towel: If it is hot outside or your pup just ran hard, wet a towel with cool water and place it on their back. You can dampen a blanket or towel and keep it in the freezer for easy access. You can also use a bag of frozen veggies or an ice pack to place on their head or neck as well.
Popsicles: Dogs like cool treats too! You can make ones with fruit juice (as long as none of the ingredients include artificial sweeteners) or water with a bit of bouillon.
Shade: One of the easiest ways to prevent overheating is to have access to shady areas if they are outdoors. The direct sunlight for many hours can be overwhelming and lead to heat-related illnesses.
Exercise times: With the Vegas heat, try to walk or exercise your dog in the early morning or evenings when the sun is not as intense, and the temperatures are not at their highest.
Protect paws: Walking on hot cement or concrete can irritate or burn your dog's paws. If you can't avoid being outside when the ground gets hot, consider buying little booties to put on their paws for walking around in these temperatures. These dog booties from amazon are waterproof and will protect your dog's feetsies from hot pavement and rocks.
All of these ideas can be used for any dog to prevent overheating and help them if you notice signs of heat exhaustion. Dogs who are visiting Las Vegas and are not used to the heat should be watched extra closely for these signs.
Check out our article 20 Best Dog-Friendly Restaurants in Las Vegas for the top places to dine with your dog in the Vegas valley.
Swimming for Dogs in Las Vegas
For any dog visiting Las Vegas, you should make sure that you are taking the necessary precautions to keep them cool and safe. Check for signs of overheating with changes in behavior or physical conditions.
Using the tips listed above can help cool them down even if you are not near a pool. Staying hydrated and keeping their body temperature down is essential.
I've mapped out the best places to take your dog swimming in Las Vegas! While the options aren't endless, these recommendations will sure be lots of fun. Whether you are headed to Lake Mead for a beautiful day of hiking and a way to cool off after or plan to check out the local aquatic parks for their dog swim days, Las Vegas is a very pet-friendly place for your pup!
Bring your furry friends to Vegas and enjoy all it has to offer, including some great swimming opportunities your dog will love!