How Much to Tip Vegas Street Performers? (Vegas Tipping)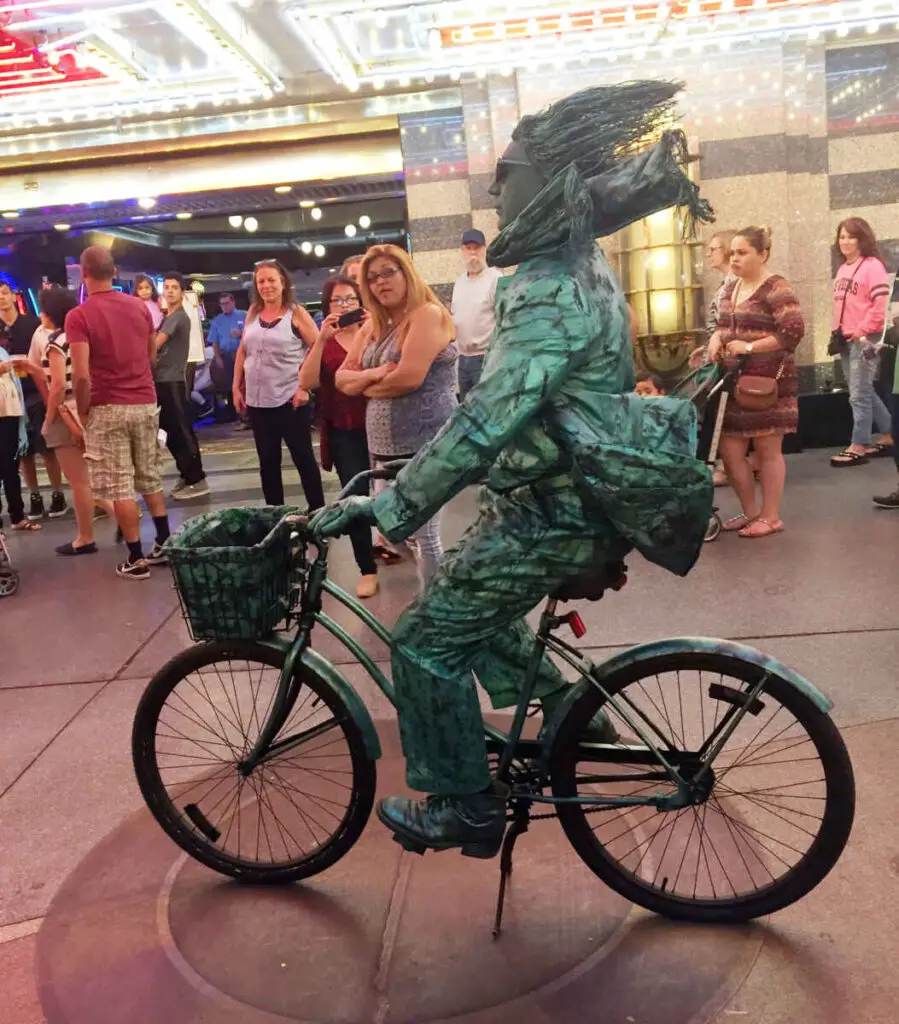 (This article may contain affiliate links, which means we might earn a small commission if you click and make a purchase. Thank you!)
Walking the streets of Las Vegas is an exciting experience, especially when you get to see all the sights and sounds the city has to offer. One of the things I always enjoy watching is the street performers.
Street performers in Vegas run the gamut from showgirls, singers, Chippendales guys, topless nuns, guys you can kick in the balls, dancers, and musicians. But are you supposed to tip street performers? And if so, how much to tip?
Tipping street performers in Las Vegas isn't necessary, but if you choose to, you can tip anywhere from $1 to $5 (as that's the average tipping amount), but there's no limit on how much you can tip street performers. However, you should tip the performer if you want to take a picture with them.
The rest of this article will review how much Las Vegas street performers make and what aspects determine how much they'll make during their performances. I'll also go over the various types of street performances you'll likely see in Las Vegas and other ways buskers, or street performers, might make their money. Let's get started!
Unlock the Secrets of Tipping in Sin City: Check Out Our Ultimate Las Vegas Tipping Guide
How Much Do Vegas Street Performers Make?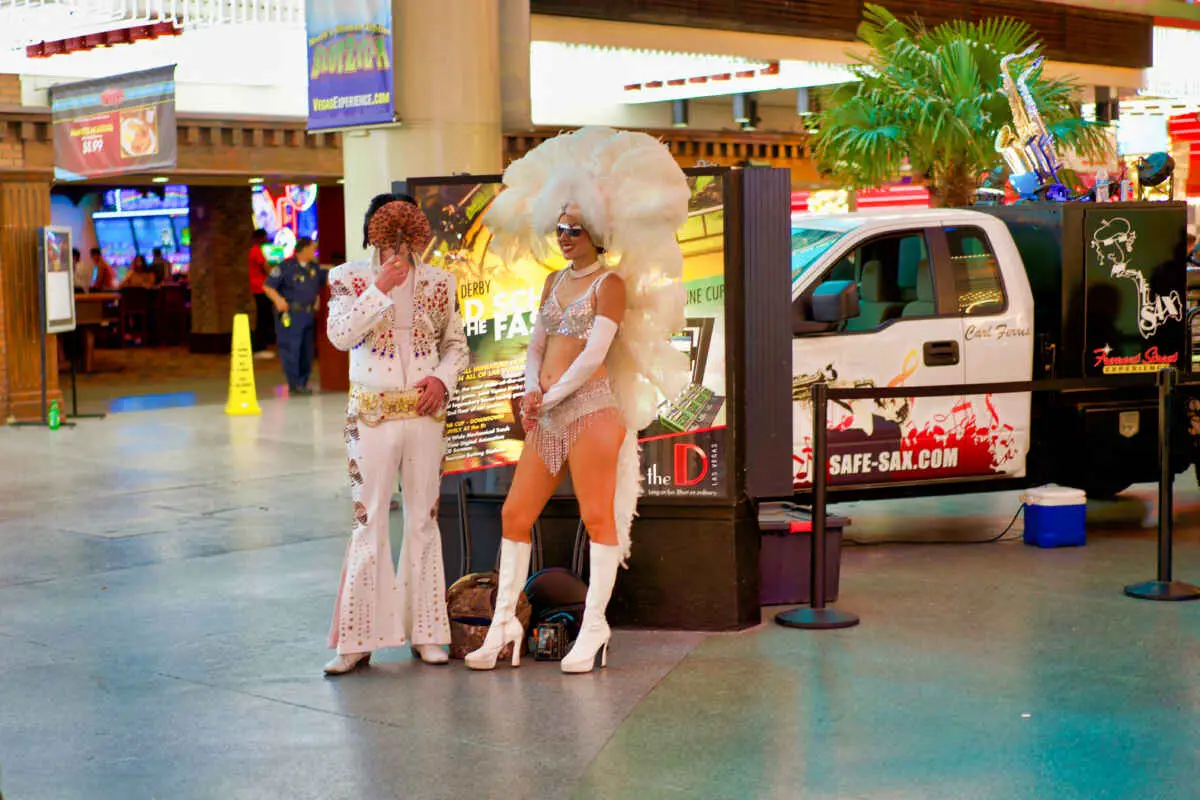 According to ZipRecruiter, Vegas street performers make an average of around $38,000 a year. 
However, this can change depending on each street performer, as they rely entirely on tips. Some days, they may make more than others, depending on how much they're tipped for their activities.
Additionally, before you assume all street performers make this much money, or decide to start a new career as a Las Vegas street performer, you have to consider the following:
The type of performance the street performer is doing
The area the street performer is in
The day of the week or the time of year
The skill level of the performer
Therefore, it's important to remember that not every street performer who embraces this Vegas lifestyle will make the same amount of money. But, if you see a street performer in Las Vegas that you enjoy, you should consider tipping to support them.
Let's get into more detail about what determines how much Las Vegas street performers make.
The Street Performer's Type of Performance
The type of performance the street performer does is essential in how much money he or she will make. Some performances will draw more crowds than others, and while skill level is also necessary to consider (more on that later), if the performance is interesting enough, people will undoubtedly tip.
For example, singers and musicians are known for making good money in tips as Las Vegas street performers. Everybody enjoys music, and if the performer is good enough, he or she will gather crowds. Additionally, musicians can have CDs or other merchandise for sale on the street, which can bring in even more money.
However, less exciting or loud acts, such as the people who make flowers from palm fronds, may make less money. Nevertheless, this boils down to personal preference.
Areas in Las Vegas Where You Will See Street Performers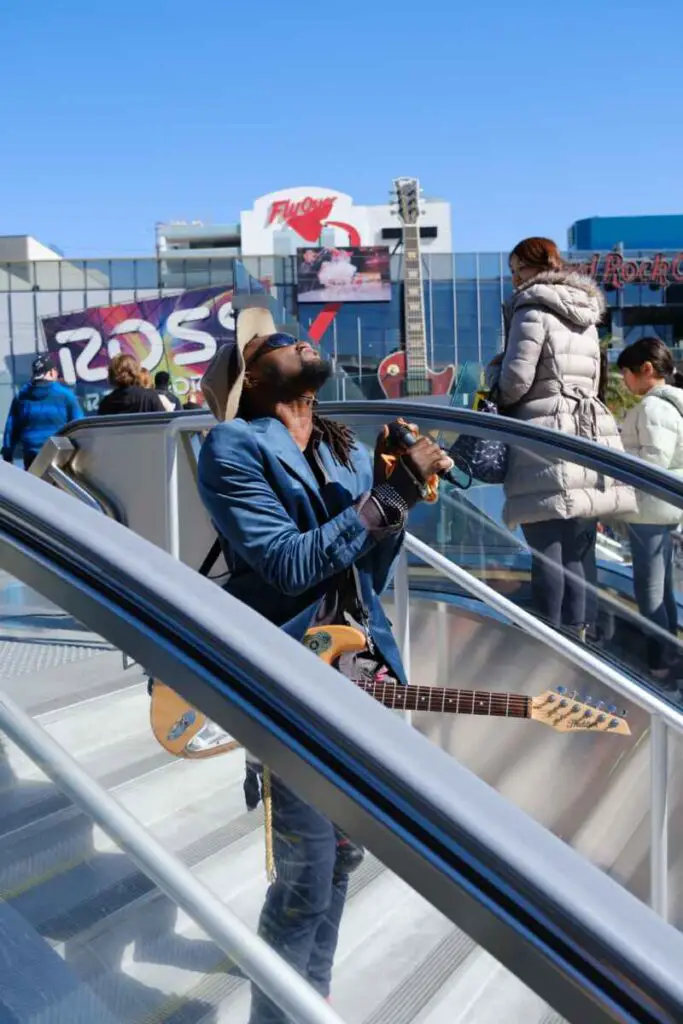 The area of Vegas the street performer is in is vital to how much money he or she will make. If the performer is in an area that doesn't have much in the way of crowds or isn't a typical tourist area, they probably won't make as much.
Additionally, some areas in Las Vegas prohibit street performing (or busking) either altogether or during specific times.
The two areas to see Vegas street performers are on the Las Vegas Strip and downtown on Fremont Street.
On the Strip, it is customary for the performers to either set up on or near one of the pedestrian bridges crossing Las Vegas Boulevard or one of the other nearby streets. Alternatively, street performers who have an act that is more mobile (like the showgirls you can take pictures with) will roam up and down the busiest sections of the Strip.
The Fremont Steet Experience downtown is another place to catch many street performances. In fact, in my opinion, Fremont St. is not only the best place to look for buskers, but it's also half the fun of heading to downtown Vegas, as you'll never know what you'll see!
However, they do have regulations that often make it hard for them to be able to perform. Fremont Street only allows performers to perform in designated areas from 3pm to 1am, and these spots are assigned via a lottery system.
There are 38 numbered circles in the covered area of Fremont St., and the circles are the only spots where street performances can take place. So while Fremont Street is undoubtedly a good spot for performers to make money, the amount of time they can ply their trade is limited.
Precautions Street Performers Must Take When Performing on the Las Vegas Strip
Street performers work hard for tips, especially on the Las Vegas Strip. Since 2012 when new ordinances were implemented, the rules for street performers on The Strip have become very strict — with a lot of police interference and security if the rules aren't followed. 
Performers aren't allowed to "obstruct the sidewalk," meaning anything on the ground or in the way violates the rules. This includes any gear the performer has, the tip jar, and even the performer himself.
So, as a Las Vegas street performer, you must continually move around, have your tip jar near you in some way, and have very little gear left on the ground. With all this work to provide you with some entertainment, they should definitely be given a tip if you enjoy what they're doing!
The Day or Time the Street Performer Performs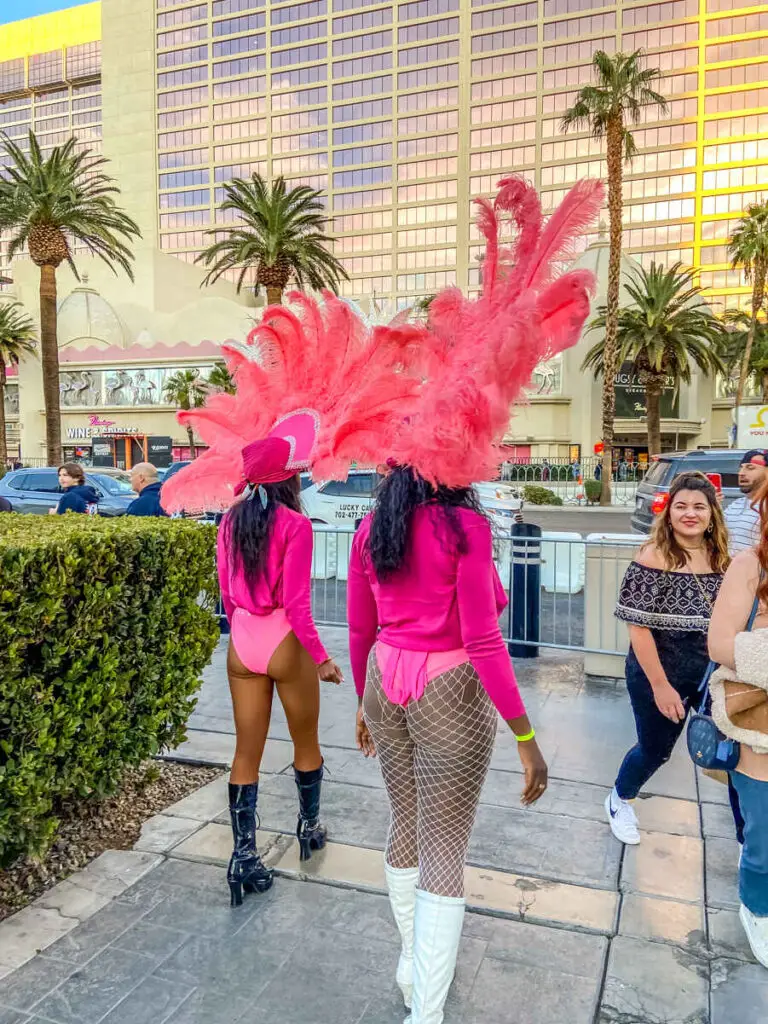 While Las Vegas is typically always busy, there are times of the day when these areas are busier than others. And, with more people in the area, the performer will likely make better tips.
Street performers usually work from the afternoon/evening until the early morning hours. While people are out and about in Las Vegas at all hours of the day and night, you're more likely to see big crowds from mid-afternoon until well into the night. So, street performers working at this time will likely make more than those working at other times.
This is also the same with the day the street performer is performing. Weekends in Vegas typically draw far bigger crowds, so those working on the weekends likely make more than during the week. However, this all depends on the performer's skill and how many people are around and willing to tip.
The Street Performer's Skill Level
Lastly, the performer's skill is one of the most important aspects to consider when determining how much money street performers make in Las Vegas. 
A street performer can be in the perfect spot on The Strip or Fremont Street during the busiest time of day but still not get a single tip if they're not putting on a good enough show. A person belting out a song in the wrong key or playing the guitar horribly won't be able to draw in tips like someone with an ear for music.
Additionally, with Fremont Street being the second most popular street in Las Vegas, street artists must be skilled to appeal to the high volume of tourists visiting the area. The pedestrian street also features live music, a light show on the canopy overhead, and the best people-watching in Las Vegas, so it's definitely worth a visit.
(While you're there, you may also want to visit the Toy Shack. [The Toy Shack in Las Vegas (PHOTOS & What To Know)] (coming soon)
Therefore, skill level is critical when it comes to determining how much money street performers make.
How Do Buskers Get Paid?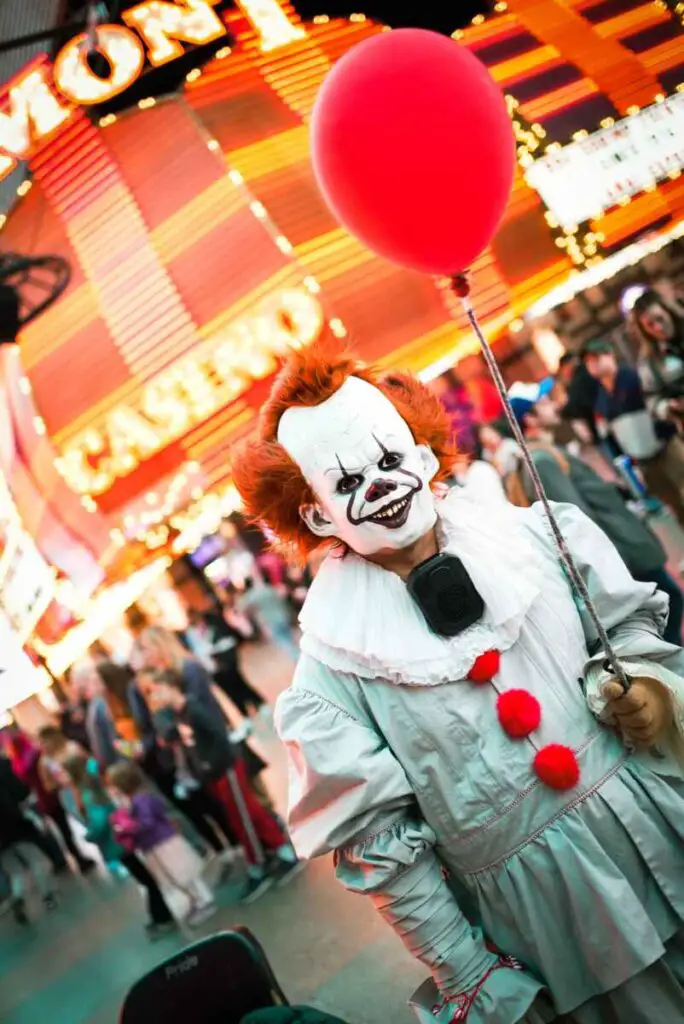 Busking, another term for street performing, is known for being performers who rely on tips. However, do buskers also get paid for playing on the street?
Buskers get paid through tips. When performing on the street, performers work solely for tips. However, some buskers get paid to perform while also working for tips, but you're more likely to see this in shopping centers than on the street in Las Vegas.
An example of a busker getting paid to perform can be in a shopping center or public area on a piano. You'll often see pianists playing for several hours in these areas without many people tipping — this is a sign they're getting paid to pay.
Do Buskers Make Good Money?
Buskers can make good money, depending on how much time and energy they put into their performances. As mentioned above, most buskers in Las Vegas earn an average of $38,000 a year.
However, street performers can make even more if their performances are excellent and they do other things to increase their revenue, such as promoting themselves on social media or selling merchandise related to their performances. Nevertheless, busking and street performing can make people relatively good money.
Keep in mind, however, that there are no benefits, sick days, or paid time off. A street performer who makes a full-time living has to work hard.
Types of Street Performing You're Likely To See in Las Vegas
Las Vegas is full of attractions, some costing you a lot of money (such as casinos) and others that are relatively cheap or even free! Experiencing all of the attractions in Las Vegas during a trip there will be hard. However, you can experience the fun, everyday excitement of the city just by walking the streets and watching the street performers.
You'll be able to see a wide variety of performers on the streets of Las Vegas. I'll go over some of these in more detail below and discuss the Vegas tipping etiquette of each.
Musicians
Musicians are a common sight on the Las Vegas Strip and Fremont Street. You'll likely see all kinds of musicians, such as guitarists, drummers, violinists, and many more. Sometimes the musicians might be singing along with playing, but there are many times when you'll find them simply playing their instruments.
Most of the time in Las Vegas, musicians will have their tip jars strapped to them or their instruments in some way. You can tip musicians anything you'd like, but a good guide would be to tip anywhere from $1 to $5. 
Additionally, while you can video or take pictures of the musician while he or she is playing, it's impolite to ask them to stop playing for a photo with them. Therefore, either tip and move on or wait until the musician takes a break before politely asking for a picture.
Showgirls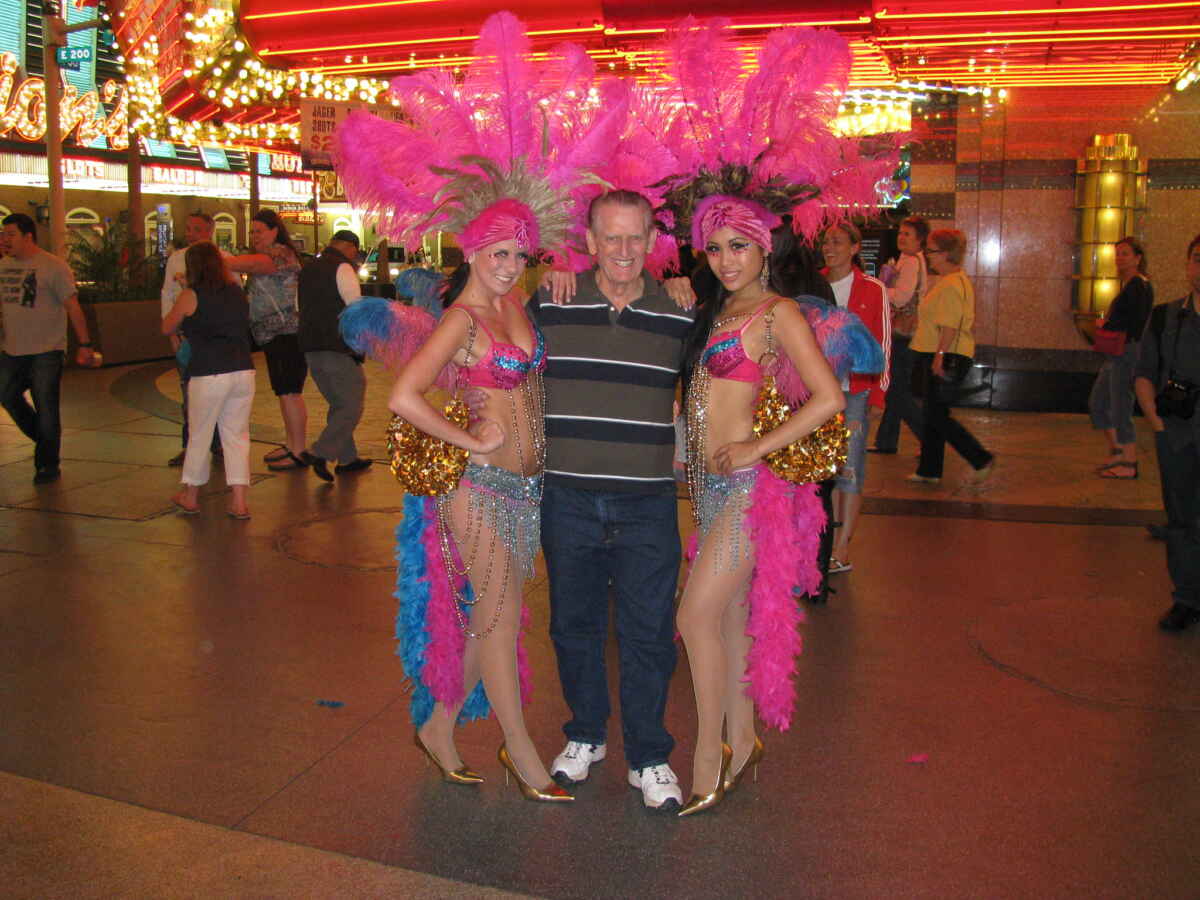 Showgirls are an iconic part of the Las Vegas experience, and it's not uncommon to spot them strolling along the Strip or in downtown Vegas. These ladies are considered street performers, and while they don't typically perform in the traditional sense, their elaborate and dazzling costumes are a spectacle in and of themselves.
Tourists and locals alike often approach showgirls for photos, eager to capture a piece of the glitz and glamour that Vegas is known for. With their feathered headdresses, sparkling sequins, and sky-high heels, showgirls are a true embodiment of the city's larger-than-life personality.
While showgirls in full costume will readily pose for a picture or take a selfie with you, they will, however, expect to be tipped. Again, $1-$5 or whatever you're comfortable with will be a good tip. Remember that with one-on-one interactions such as this, it's a good idea to tip based on how much time you've spent talking or taking pictures with the performer, as that's time they could have spent working on getting another tip.
Street Dancers
Breakdancers and dance crews are regularly found performing downtown. Due to how much room one of these performances takes up, it is less likely to find them on the Strip. So, if you enjoy the dancing the performer is doing and want to support them, dropping a few dollars in their tip jar is polite.
These types of performances are loud, full of energy, and always draw a crowd. You'll often see a dozen people or more dropping money in the tip bucket at the end of each routine.
Naughty Street Performers
Certainly, the most head-turning street performers in Sin City are what I'll call the naughty performers. These are the scantily clad performers you'll see at night on Fremont Street. I've seen everything from topless nuns with pasties to guys in full KISS face paint wearing Borat-style thongs.
If you're not easily offended, then these are just plain fun! If it's not your thing then just walk on by. However, these folks are here for you to take pictures with, so grabbing a photo and tipping a few bucks is all part of the fun!
You may also see acts that are difficult to describe in polite company. For a while, there was a guy I saw several times on Fremont Street that would allow you to kick him in the balls as hard as you could. For a few dollar tip, you got two tries at it. That's freakin nuts! (pun intended 🙂
I haven't seen him for a long time. Probably because this act was a really bad idea. This goes to show that some of the performers on Fremont Street can be pretty short on skill while still being high on the entertainment value scale.
Singers
Singers are another common occurrence on the streets of Las Vegas. You can find singers singing anything from opera music to today's pop hits; most of the time, the performer will put an exciting spin on it. 
There are some amazing singers on the streets of Vegas, and like musicians, it's polite to tip them $1 to $5 if you enjoy their performance. While most singers don't mind if you record or take pictures during their performance, always wait until after their performance to talk to them or ask for a photo.
Magicians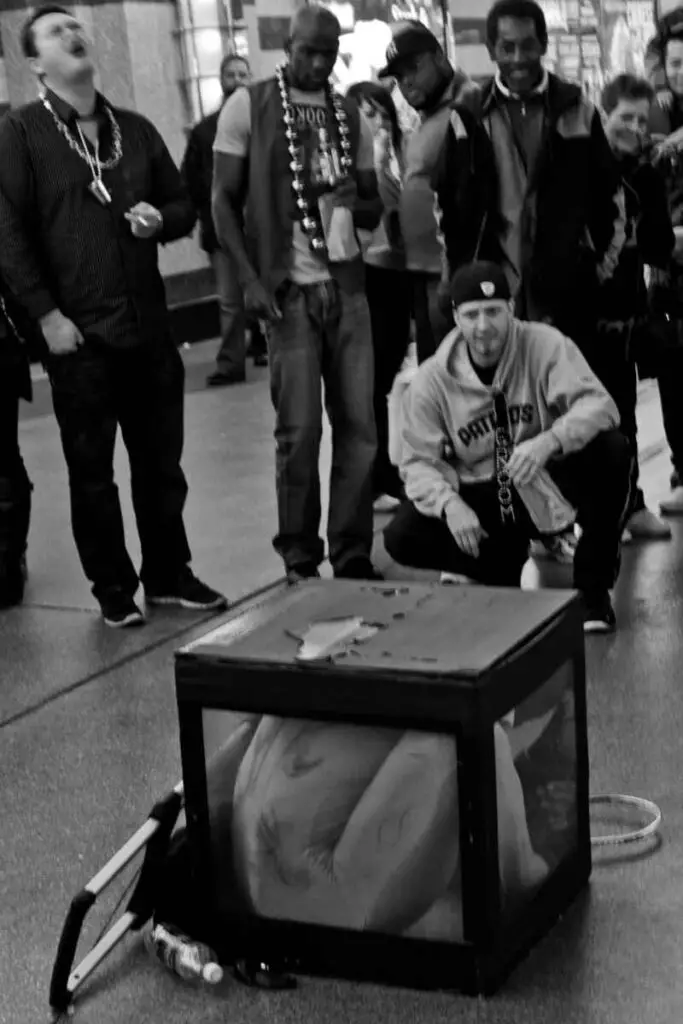 Magicians are an interesting type of street performer. While they're not as common as musicians or dancers, their uniqueness can draw a crowd — especially if their magic tricks are believable and exciting.
This type of street performance is also unique because it could involve participants, including random people on the street. So, if you're picked as a participant, you should probably tip the performer something as a thank you.
Like other performers, magicians will have a tip jar close by, so be on the lookout if you want to support their performance.
Living Statues
Lastly, you might see some living statues on the streets of Las Vegas. Living statues are interesting performers because they don't move — they stand as still as a statue.
These street performers are often entirely covered in body paint to mimic the look of a statue, and they'll likely switch between several different poses during their performance. If they're not moving, drop a tip in the jar, and they are sure to come to life!
Tipping living statue street performers anywhere from $1 to $5 is ideal, but you can always tip more if you really enjoy their performance. Here's a YouTube video example of a living statue street performer in Las Vegas:
Do You Have to Tip Street Performers in Las Vegas?
Tipping street performers is not legally required, but it is considered a customary practice in Las Vegas. Street performers rely on monetary donations as their primary source of income, and their performances are often entertaining and enjoyable.
If you enjoy their show and appreciate their talent, it is common to show your appreciation by leaving a tip.
My Tip for You About Vegas Buskers
People performing on the street in Vegas are generally very cool people. You might, however, be encouraged to take a picture with a character on the street who seems very friendly and casual but once the picture is taken, become very pushy.
Even when you give them a tip, they complain and want more. While this is a very rare occurrence, it does happen from time to time. Simply know that you do not have to pay them no matter what they say, as it is not legal for a performer on the street to demand payment in Las Vegas.
If someone is gesturing for you to come and take a picture with them, you can either say "no thank you" and move on or go ahead and have some fun with them with the expectation that you will leave a tip.
However, if you do not have cash on hand or did not enjoy the performance, it is perfectly acceptable to simply walk away. Ultimately, tipping street performers in Las Vegas is a personal choice, and supporting their hard work is appreciated.
Had a taste of Vegas street acts and want to see more spectacles? Why not buy tickets to V — The Ultimate Variety Show! To learn more about this show, check out my post covering whether V — The Ultimate Variety Show is worth your time and money.
Final Thoughts
You can tip street performers as much as you'd like, but most people choose to tip anywhere from $1 to $5. Las Vegas street performers depend entirely on tips, so if you enjoy the performance, it's polite to give them some money — especially if you ask them to take a picture with you, which is the case with many of the performers on the streets of Vegas.